The formal confirmation that Marc Marquez will go into battle on a Ducati MotoGP bike in 2024 has been met by widespread excitement but also more than a hint of trepidation from his peers.
The six-time champion will be taking over a Ducati GP23 that has won eight races and seven sprints so far this year - and though it won't be top of the line anymore in 2024, recent older-spec Ducatis have a strong record not just being competitive at the start of the season but throughout.
Marquez's former Honda stablemate Cal Crutchlow, now in semi-retirement as a Yamaha test rider, suggested last month that putting Marquez on a Ducati created a genuine risk of a total walkover.
And while none of the current full-timers quite went as far when asked about Marquez's prospects in light of the recent confirmation of his 2024 plans, many suggested this development would pose a considerable challenge.
"He's going to make our life really difficult. For everyone," said Yamaha rider Fabio Quartararo.
"Marc is the reference of the last 10 years, and he will be on a really competitive bike.
"I think he will make our life super difficult. I'll stay calm though, because it's something that's not in my head right now."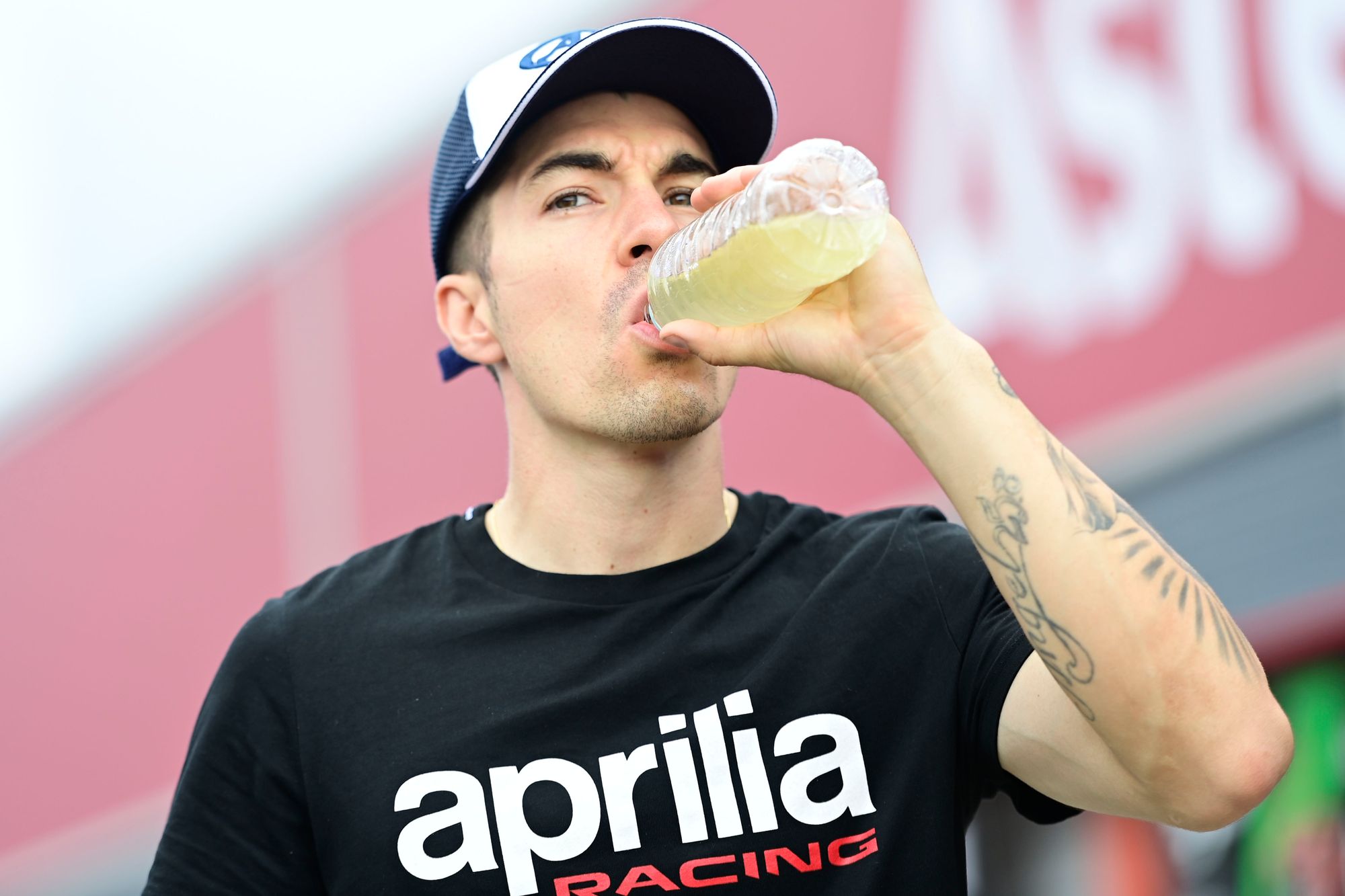 "I see one more Ducati strong. One more!" said a traditionally jovial Maverick Vinales, before suggesting it could create complications "inside Ducati".
"But I see every rider that goes there, super fast. Pfff. S**t."
"I'm happy for Marc," said Vinales' Aprilia team-mate Aleix Espargaro.
"Because, at the end of the day, life is short, and you need to decide whatever you feel happy with. For sure it hasn't been an easy decision for him. Because to leave the biggest brand in the world and to go to... we can call it one of the smallest teams in MotoGP, it's a tough decision.
"But full credit to him, he made a bet and I'm also very happy for the Gresini team.
"I've been working with them a lot of time [when Gresini ran the Aprilia programme], I love Fausto [Gresini, late team founder], I love Nadia [Padovani, team CEO], and for sure they will have the best rider in the world now. It's going to be a fun story."
Espargaro added that it was "not difficult" to estimate how Marquez would go on a Ducati.
"You just need to see which riders are really fast with the Ducatis. All riders. Marc is the best. So... I mean, it's very easy.
"You never know, I said also when Marc was winning, I said this guy can win the next 20 years and look at the mess. With the injury, with the improvement of the Italian brands and not the Japanese brands. Everything can happen. The world changes completely in six months. Everything can happen.
"But for sure he's one of the, if not the most talented rider ever, so... I cannot say this but which is the best bike now? You know. So put it together, and you will see."
Quartararo's Yamaha team-mate Franco Morbidelli pointed out that Marquez had six more world titles across the three grand prix classes than anyone else on the current grid (eight versus two for the likes of Pecco Bagnaia, Joan Mir and Johann Zarco).
"For sure he's capable of great things, let's see how great. If he's still going to be able to beat the field or not, you know?" Morbidelli added.
The Ducati camp view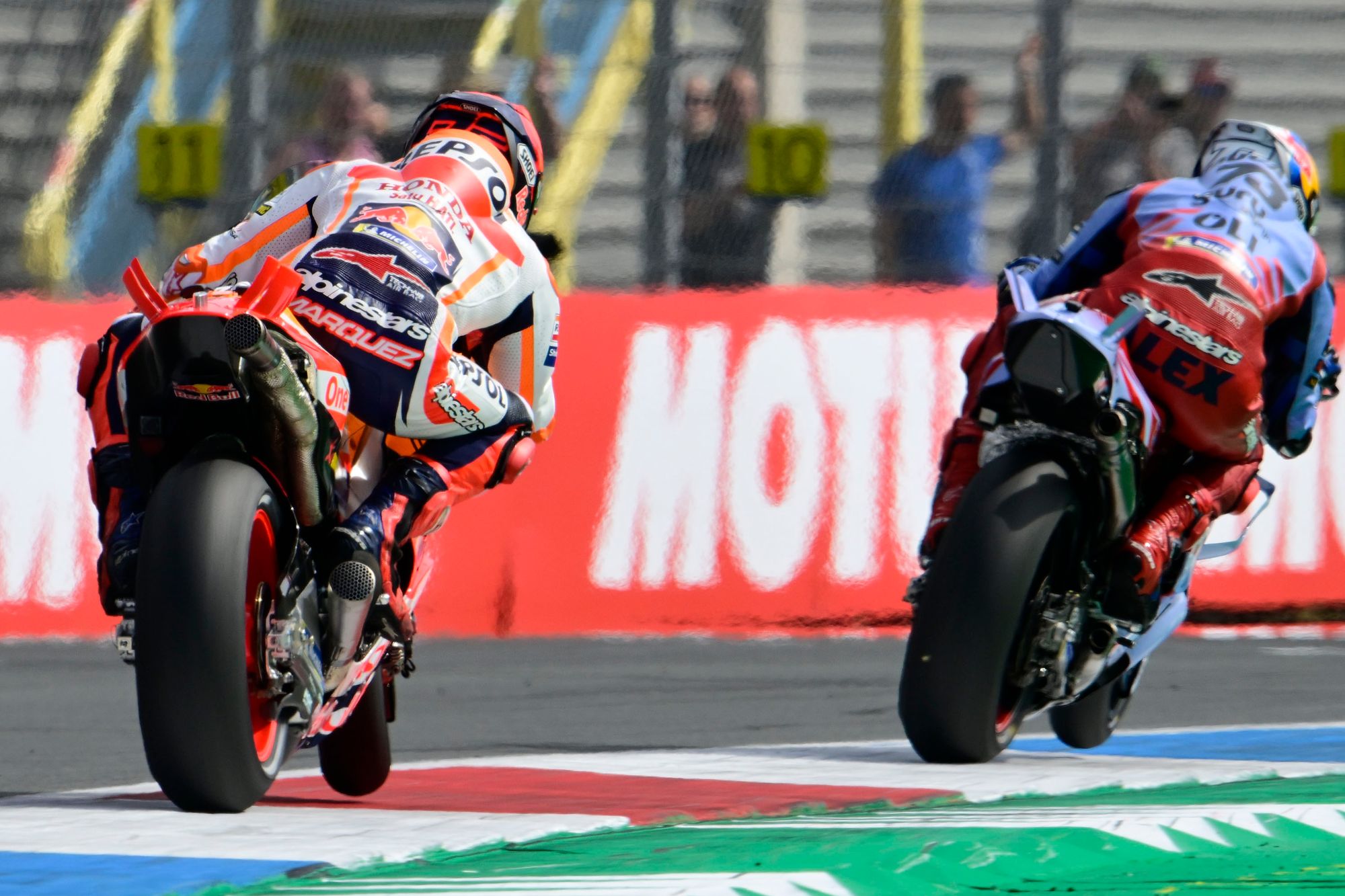 Morbidelli, who is taking a Pramac Ducati ride next year, will be one of the seven riders taking on Marquez within the same manufacturer next year.
Another one of those riders, reigning champion Pecco Bagnaia, described Marquez's Gresini move as "good for us, good for the sport".
"For sure Marc will find a good base, the best base for sure," Bagnaia said. "He will feel comfortable and it will not take too much time to be better and faster than the situation he's in right now.
"I think it will be nice to share data with him, will be interesting to see what he's doing. But it will be a good competition also for him - we are eight very competitive riders, it will be interesting."
Bagnaia predicted that Marquez will top the post-season test in Valencia because he'll be trying to push the bike over one lap. "Then next year, he will have a really good bike - our bike is very competitive, you can brake very hard as he's doing already with Honda. The engine is fast.
"I don't know if he'll be fighting for a championship, but he will be in the top five for sure."
Bagnaia's title rival Jorge Martin said he did expect a Marquez title challenge, though emphasised the adaptation from Honda after such a long time may not be so straightforward.
"For me it's great," said VR46 Ducati's Luca Marini, who will have the same bike as Marquez next year.
"For all of us it will be a great opportunity to see his data, to find something that lets us improve more."