KTM and Gas Gas motorsport boss Pit Beirer has revealed an attempt to keep Miguel Oliveira within the brand family in MotoGP, bidding to break up Oliveira's expected move to RNF Aprilia.
The Portuguese rider has been replaced in KTM's works line-up by Jack Miller and was not receptive to the marque's offer to demote him to the satellite Tech3 team, instead exploring options at Gresini Ducati – where the seats are now filled – and the new Aprilia satellite team.
Yet with the Friday announcement of Tech3 officially rebranding itself as the Gas Gas factory team for 2023, Beirer also let it slip that he hoped the change in status would help change Oliveira's mind about departing – even though the team has already recruited Pol Espargaro.
"The second rider in the team we cannot confirm yet," Beirer said. "There is still also a chance to keep our friend Miguel in the family. Nothing is decided for the moment. Let's wait a little bit more."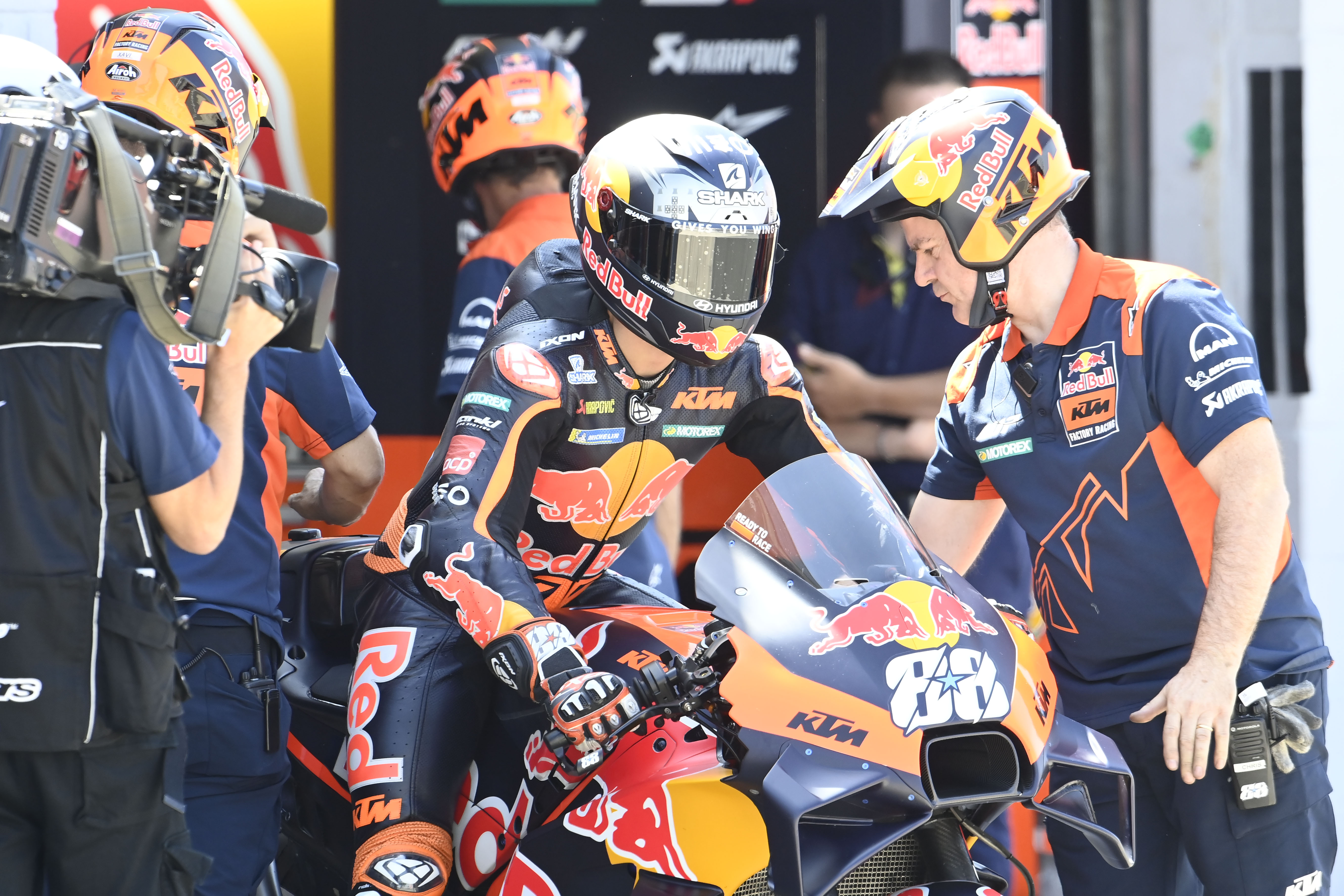 Pressed on whether a renewed offer was made to Oliveira, Beirer said: "We're just repeating our offer, yeah! We keep him in the loop.
"We know it's maybe not the most easy chance, and he maybe in the beginning didn't understand what the future could bring, but today it's a bit more easy to talk about the future, if you see the bike, the project, and that we can name it a factory team, and he can be also a leader for the young riders.
"Yes, he will have a new proposal today."
It was never thought that the financial terms were the sticking point for Oliveira and thus "a repeat offer" in different colours could theoretically appeal. At Gas Gas, he would be promised "identical" spec bikes to the KTM RC16s, whereas at RNF Aprilia he would have to settle for year-old RS-GPs.
But Beirer's hint that Oliveira might be receptive is a remarkable development – not just because a move would pair Oliveira with Espargaro, who he had a brief public spat with during 2020.
More notably than that, it would leave Tech3 rookie Remy Gardner suddenly needing to find new employment, despite having looked odds-on favourite to retain the seat thanks to both his own credible form and the disillusionment surrounding team-mate Raul Fernandez.
Asked about his plans on Thursday, Gardner said: "I'm hoping after the weekend, to know something. Let's see."
Should Gardner lose out to Oliveira on the Gas Gas ride, it would create a fascinating situation in terms of the RNF line-up, with neither ride filled and both Gardner and the KTM-angering Fernandez on the market alongside RNF incumbent Darryn Binder.