Ducati MotoGP rider Jack Miller dominated the Japanese Grand Prix at Motegi, as Fabio Quartararo's main title rivals both non-scored.
Quartararo had an extremely muted run to eighth, yet ended up with a significant increase to his championship lead as Miller's team-mate Francesco Bagnaia crashed out on the final lap while trying to overtake him.
A severe blow to the title aspirations one of the three main contenders was dealt already on the formation lap, as Aleix Espargaro struggled to get off the line and detected a reported electronic problem – coming into the pits to discard his RS-GP and switch to a spare bike as he forfeited his sixth place on the grid. He would only recover to 16th place in the end, scoring no points.
Starting from pole for the first time since 2019, Marc Marquez lost the lead almost immediately off the line, with KTM's Brad Binder pouncing on him from from the front row.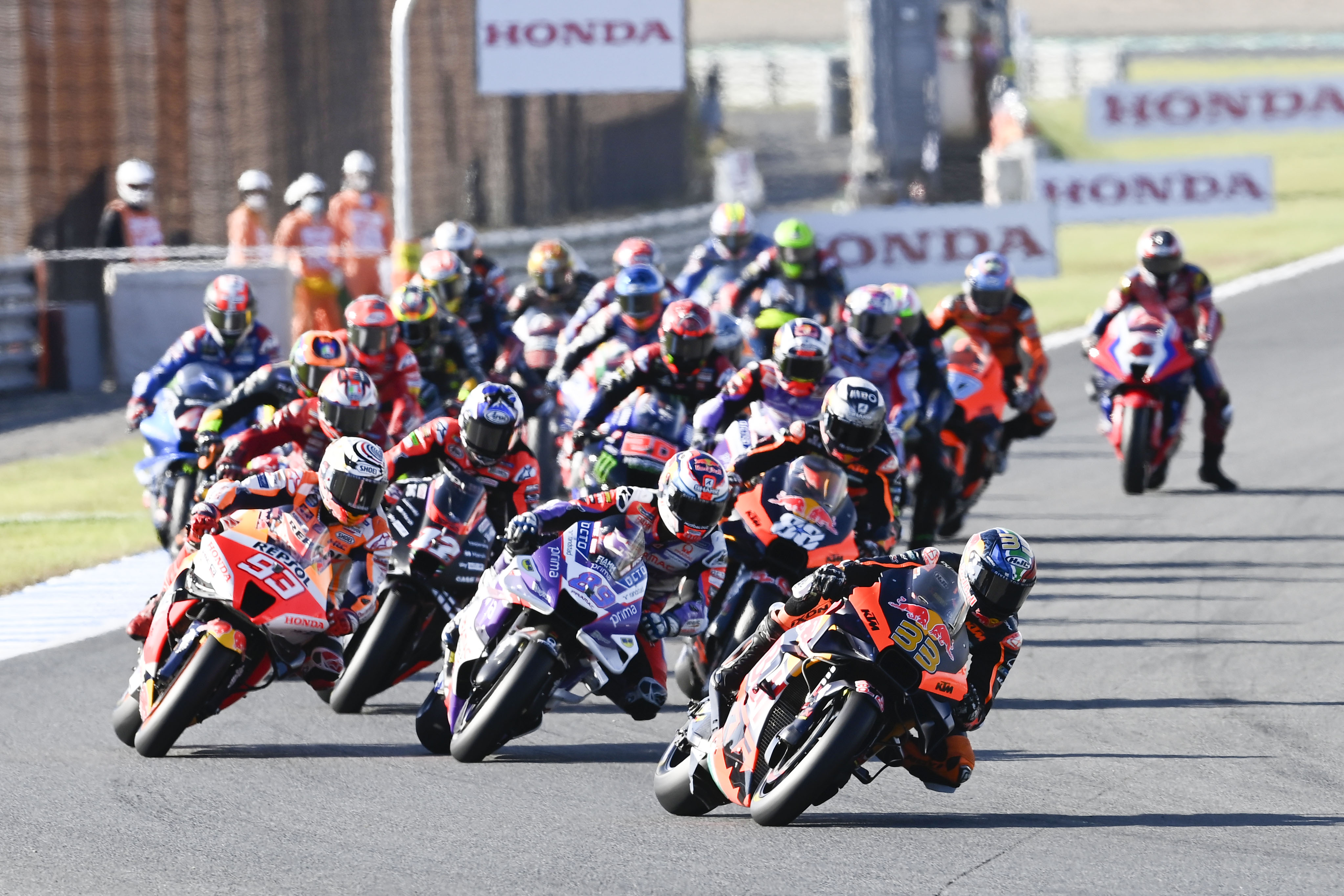 And while Marquez was shuffled down to fifth by the end of the opening lap, Binder himself yielded to Pramac rider Jorge Martin at Turn 7, before a Miller pass at the 90-degree Turn 11 on the following lap established a Ducati 1-2.
The next lap after that, Miller completed a pass for the lead at the same corner, albeit having to fight off a spirited counter-attack from Martin at the next turn, before the pair then broke away from the pack.
But Martin just couldn't live with Miller's pace, and by the halfway mark the Aussie's lead was up to nearly four seconds.
It continued to grow, albeit at a more gradual pace, from there, with Miller then easing off at the end to celebrate his fourth MotoGP win and his first of the season by 3.4s.
The Ducati 1-2 wasn't to last, however, with Martin ultimately buckling under late pressure from Binder.
The South African, who like Martin was making his Motegi MotoGP debut, fell behind team-mate Miguel Oliveira after his early spell in the lead – but an unseen Oliveira error gave him the place back, and his podium hopes were in little doubt after that.
But he went one better, reeling in Martin and picking off the Pramac man down the inside of Turns 1 and 2 on the final lap, with Martin settling for what is his third podium of the season.
Behind them, Marquez, en route to authoring Honda's best finish since May, battled his way past Oliveira for fourth place with two laps to go despite running the soft rear tyre. Oliveira himself managed to hang on to fifth over Luca Marini (VR46 Ducati).
Marini had picked off Maverick Vinales as Vinales ran wide at Turn 1 on the 14th lap, the Aprilia man going on to complete a rather quiet race in seventh. A swing in the title race unfolded right behind him.
Neither Quartararo, nor Bagnaia made meaningful progress from their lowly grid positions early on, and neither seemed to have great race pace – with Bagnaia being picked off by a forceful move from his 2023 team-mate, Gresini's Enea Bastianini, when he'd got stuck behind Pol Espargaro.
But Bagnaia's pace did recover and, having eventually repassed Bastianini in an equally forceful manner, he arrived at the back of Quartararo, only to slide out of the race as Quartararo appeared to close the door on a late semi-lunge of Bagnaia's.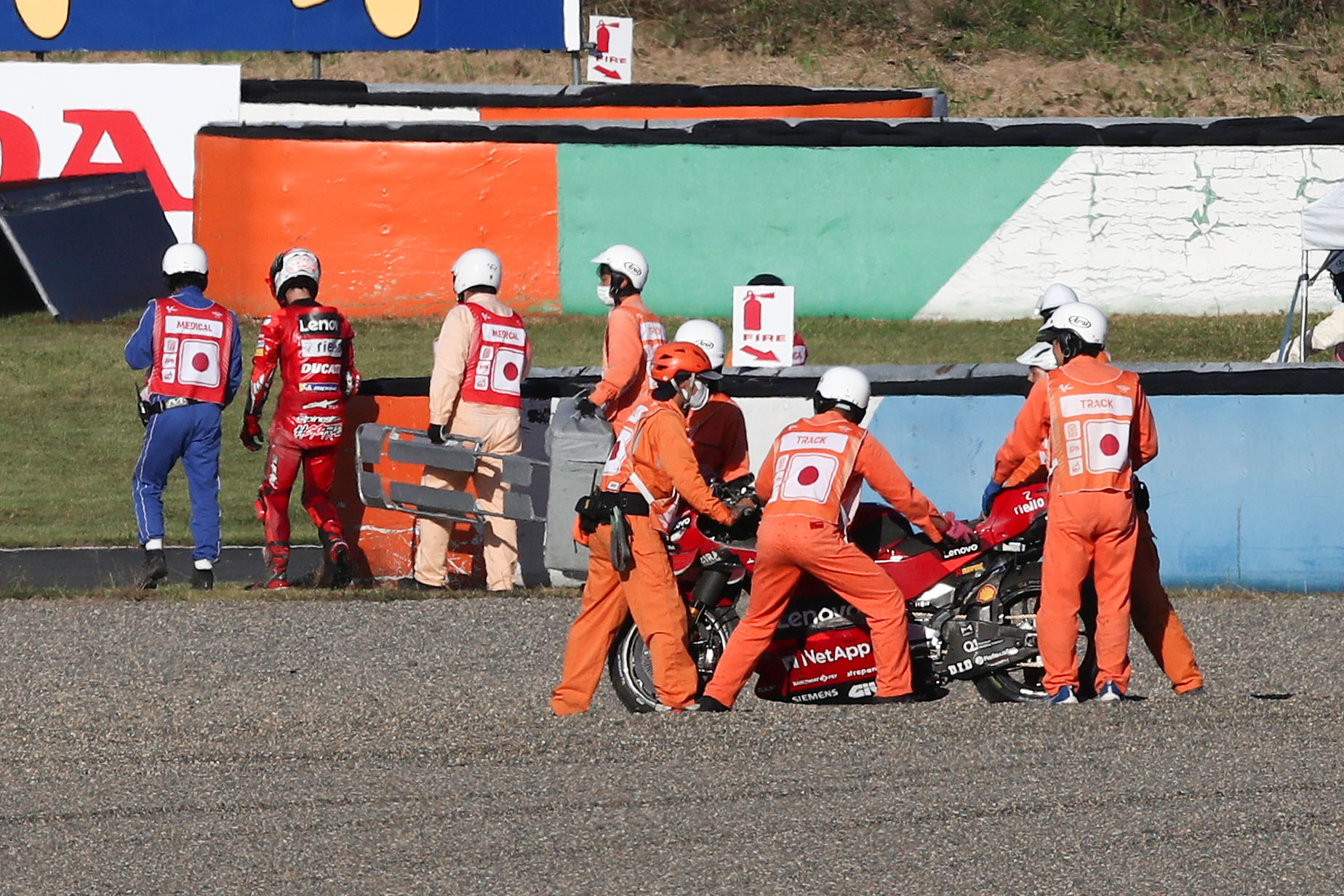 It meant the Yamaha man extended his points lead to 18 over Bagnaia, with Aprilia man Espargaro a further seven down and Bastianini now 49 behind after finishing ninth.
VR46 Ducati rider Marco Bezzecchi completed the top 10, ahead of Pramac's Johann Zarco – who was running firmly in the top 10, suddenly seemed to develop a major issue and then just as suddenly recovered his pace – and Honda rider Espargaro.
In addition to Bagnaia, there were crashes for RNF Yamaha's Darryn Binder and Honda wildcard Tetsuta Nagashima.
Suzuki tester Takuya Tsuda had his bike erupt into flames on the 12th lap, while the other GSX-RR was brought into the pits by Alex Rins at the conclusion of lap 14.
Race Results
| Pos | Name | Team | Bike | Laps | Laps Led | Total Time | Fastest Lap | Pitstops | Pts |
| --- | --- | --- | --- | --- | --- | --- | --- | --- | --- |
| 1 | Jack Miller | Ducati Lenovo Team | Ducati | 24 | 22 | 42m29.174s | 1m45.198s | 0 | 25 |
| 2 | Brad Binder | Red Bull KTM Factory Racing | KTM | 24 | 0 | +3.409s | 1m45.745s | 0 | 20 |
| 3 | Jorge Martin | Pramac Racing | Ducati | 24 | 2 | +4.136s | 1m45.424s | 0 | 16 |
| 4 | Marc Marquez | Repsol Honda Team | Honda | 24 | 0 | +7.784s | 1m45.93s | 0 | 13 |
| 5 | Miguel Oliveira | Red Bull KTM Factory Racing | KTM | 24 | 0 | +8.185s | 1m45.669s | 0 | 11 |
| 6 | Luca Marini | Mooney VR46 Racing Team | Ducati | 24 | 0 | +8.348s | 1m45.842s | 0 | 10 |
| 7 | Maverick Viñales | Aprilia Racing | Aprilia | 24 | 0 | +9.879s | 1m45.937s | 0 | 9 |
| 8 | Fabio Quartararo | Monster Energy Yamaha MotoGP | Yamaha | 24 | 0 | +10.193s | 1m45.939s | 0 | 8 |
| 9 | Enea Bastianini | Gresini Racing MotoGP | Ducati | 24 | 0 | +10.318s | 1m45.993s | 0 | 7 |
| 10 | Marco Bezzecchi | Mooney VR46 Racing Team | Ducati | 24 | 0 | +16.419s | 1m46.023s | 0 | 6 |
| 11 | Johann Zarco | Pramac Racing | Ducati | 24 | 0 | +16.586s | 1m46.036s | 0 | 5 |
| 12 | Pol Espargaró | Repsol Honda Team | Honda | 24 | 0 | +17.456s | 1m46.213s | 0 | 4 |
| 13 | Alex Marquez | LCR Honda Castrol | Honda | 24 | 0 | +18.219s | 1m46.144s | 0 | 3 |
| 14 | Franco Morbidelli | Monster Energy Yamaha MotoGP | Yamaha | 24 | 0 | +19.012s | 1m46.232s | 0 | 2 |
| 15 | Cal Crutchlow | WithU Yamaha RNF MotoGP Team | Yamaha | 24 | 0 | +19.201s | 1m46.025s | 0 | 1 |
| 16 | Aleix Espargaró | Aprilia Racing | Aprilia | 24 | 0 | +25.473s | 1m46.09s | 0 | 0 |
| 17 | Fabio Di Giannantonio | Gresini Racing MotoGP | Ducati | 24 | 0 | +27.006s | 1m46.449s | 0 | 0 |
| 18 | Raul Fernandez | Tech3 KTM Factory Racing | KTM | 24 | 0 | +29.374s | 1m46.563s | 0 | 0 |
| 19 | Remy Gardner | Tech3 KTM Factory Racing | KTM | 24 | 0 | +29.469s | 1m46.721s | 0 | 0 |
| 20 | Takaaki Nakagami | LCR Honda IDEMITSU | Honda | 24 | 0 | +43.294s | 1m46.579s | 0 | 0 |
| | Francesco Bagnaia | Ducati Lenovo Team | Ducati | 23 | 0 | DNF | 1m45.616s | 0 | 0 |
| | Alex Rins | Team SUZUKI ECSTAR | Suzuki | 14 | 0 | DNF | 1m46.015s | 0 | 0 |
| | Darryn Binder | WithU Yamaha RNF MotoGP Team | Yamaha | 14 | 0 | DNF | 1m46.558s | 0 | 0 |
| | Takuya Tsuda | Team SUZUKI ECSTAR | Suzuki | 11 | 0 | DNF | 1m48.082s | 0 | 0 |
| | Tetsuta Nagashima | HRC Team | Honda | 9 | 0 | DNF | 1m46.769s | 0 | 0 |