MotoGP title hopeful Aleix Espargaro says the error that forced him into the pits moments before the start of the Japanese Grand Prix at Motegi cost him a '100 percent' victory bid.
Espargaro looked in contention for a big points haul after qualifying sixth but pulled into pitlane at the end of the formation lap, quickly swapping from his main Aprilia RS-GP to a spare bike he hadn't ridden all weekend due to wet weather and the condensed schedule.
He could only recover to 16th, six seconds out of the points, after starting from the pits.
Speaking to media after the race, Espargaro said that his main RS-GP was mistakenly set up with an extreme fuel-saving setting that he wasn't unable to switch out of during the formation lap.
That was quick! 🔥@AleixEspargaro hops onto the spare bike and off he goes!#JapaneseGP 🇯🇵 pic.twitter.com/pLPvG6LEKP

— MotoGP™🏁 (@MotoGP) September 25, 2022
"They made a mistake and they didn't remove the fuel-saving map, which doesn't allow you to go over four or five thousand RPM," he said.
"We call it 'eco map', to save fuel. The bike doesn't go more than 100kph, not more than five thousand RPM.
"So… yeah. I tried everything on the sighting lap, was not working, and I changed the bike on the pits, but the second bike had the soft rear tyre [instead of the preferred medium].
"I can't ride with that tyre. I knew it from the beginning, the bike was just pushing the front. I just tried to stay out on track. I was also very nervous, making a lot of mistakes, so I just decided to stay out on track to wait for a red flag or whatever, but didn't arrive."
Asked by The Race whether he thought the fatigue from a swift turnaround between the Spain-based Aragon race and the Japanese GP may have contributed, he said: "I don't think so. I'm tired, everybody's tired. This is our job. This is a mistake that can happen everywhere.
"It's a big mistake, big-big-big, huge mistake. And… this cannot happen. But we're humans. We're a team. And I will try to win [next weekend] in Thailand."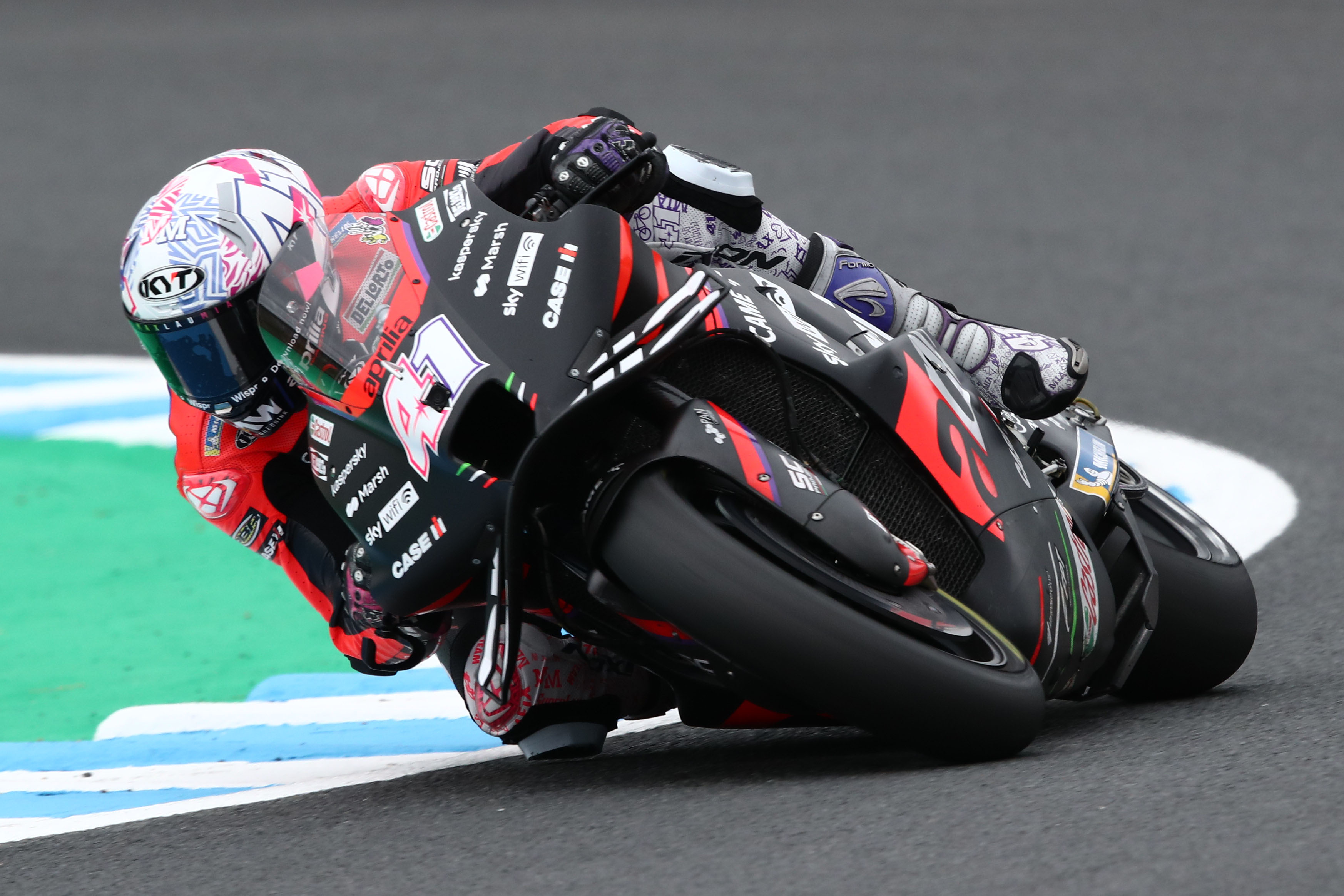 The Motegi race ended up a Jack Miller walkover, but Espargaro believed that he had the pace to run with the Ducati man, on evidence of his pace with the soft rear that he couldn't stand.
"To win [was possible]. 100 percent.
"The soft tyre I hated from the last three races, I never used the soft tyre, even in qualifying I suffered. And even like that I was in [1m]46.0[s] for many laps. So with the medium tyre and my other bike, I'm sure I could stay in 45-half, at least at the level of Jack. It's a shame."
The damage to Espargaro's title credentials was limited by the fact his main rivals Fabio Quartararo and Pecco Bagnaia both struggled, Quartararo finishing eighth and Bagnaia falling on the last lap while in pursuit of the Frenchman.
"This is worse. For me this is worse," said Espargaro, who is now 25 points back from Quartararo with 100 available.
"Because I lost a big opportunity. If they finished first and second, worse for the championship but I would not be that angry, that sad.
"I'm very sad because I knew today I was faster than them. And it's very difficult to be faster than Pecco and Fabio. It's very rare for me. And… it's a big loss."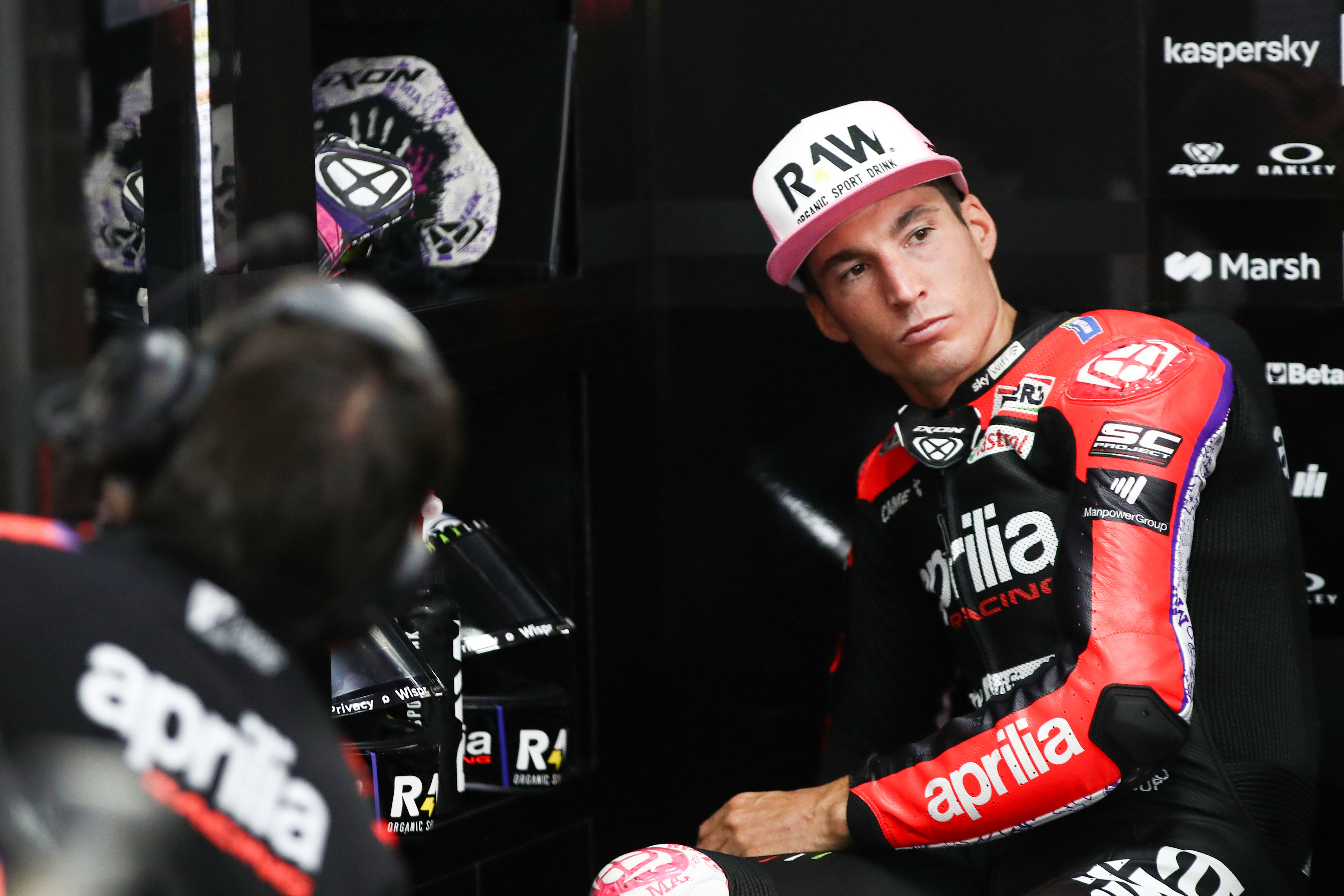 On how he would look to move on from the disappointment, he said: "I don't know. Now I will go to the box. I have no strength, I don't know how to do it, but I need to support them, because it's a mistake, it can happen.
"I don't care about the championship. I want to win in Thailand. It's the only thing on my mind. To try to win in Thailand."
However, even the fact that the Buriram race would be coming up so soon was scant consolation. "I would prefer to go home with my family, sincerely, but this is my job."