MotoGP title contender Jorge Martin clearly feels his Thailand Grand Prix victory was something of a statement win - a triumph pulled off in rival Pecco Bagnaia's "comfort zone".
And Martin certainly has a point, but a post-race revelation about the parameters his race was run in is something that should be at the back of his mind, too.
Martin was clearly not overflowing with confidence coming into Sunday's 26-lap race, despite having topped all the main sessions of the weekend prior - both Friday practices, Q2 and the sprint.
That was probably because the situation had been pretty similar at Mandalika and Phillip Island, two tracks where Martin had looked even more in control, and yet in both cases the big 25-point haul slipped through his fingers.
"It was a real relief, to finish today in the top," he admitted after the grand prix.
"Yesterday, I wasn't even happy, I didn't enjoy the moment, [winning the sprint] I was just focused on today. Without sleeping for four days, and finally today I will sleep well.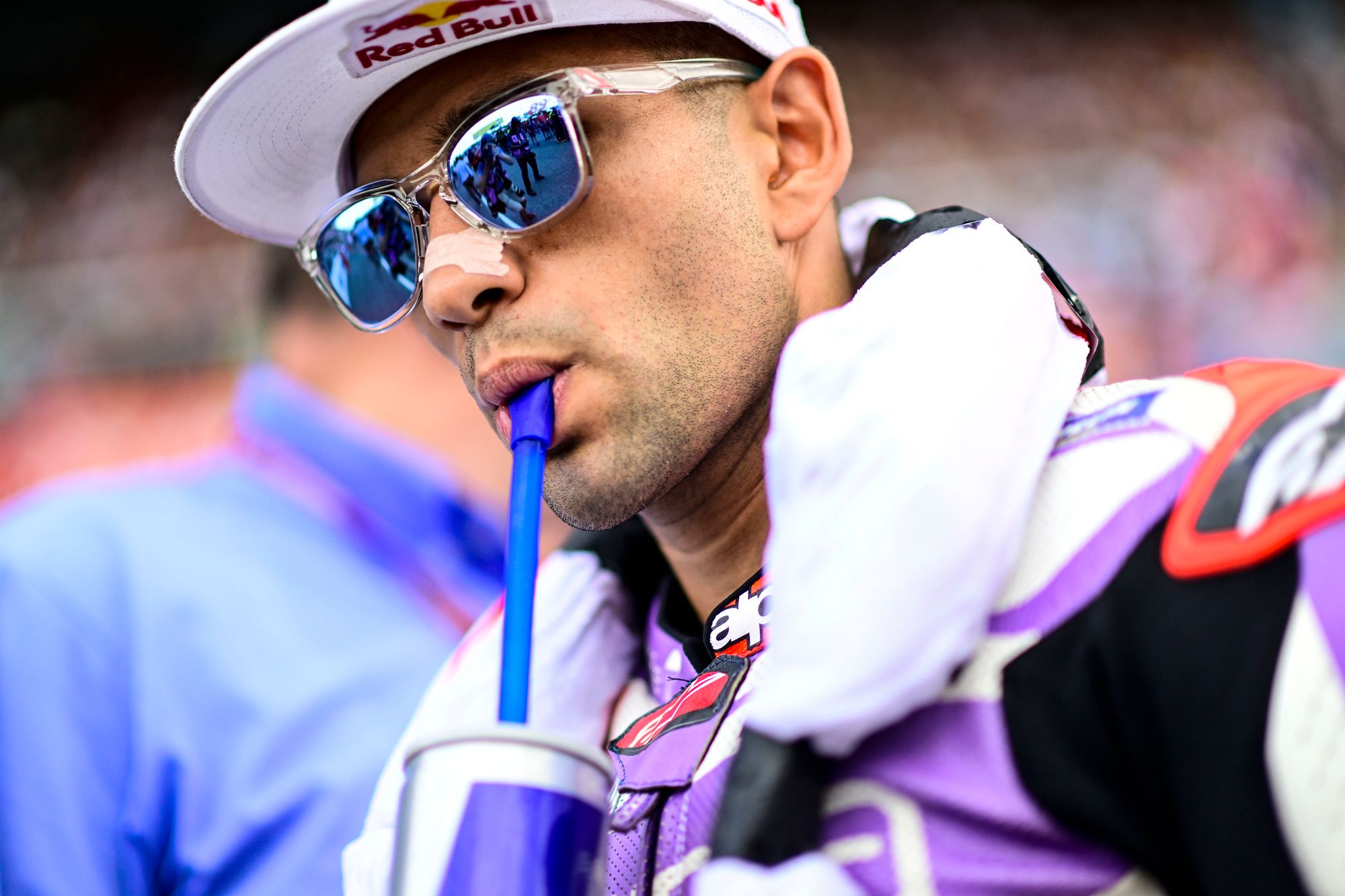 "The last two races were tough for me, I think more Mandalika than Australia, because Australia in the end was tyre choice, we did a mistake, but the mistake I did in Indonesia was huge. I had a three-second gap and I crashed, it was really painful.
"Today the pressure was high, to win was important for me, mentally I think it gave me a really big motivation for the next races."
But it was about the style of the win, too, not just the fact of the win itself - a win that brought him to within 13 points of Bagnaia.
Martin had led nearly 100 laps on Sundays already this year coming into the Thailand Grand Prix, yet the way he was pacing himself in the opening laps felt relatively unfamiliar, especially compared to the recent weekends.
After 10 laps in Indonesia, he was 2.5 seconds clear of Maverick Vinales. After 10 laps in Australia, 2.2 seconds clear of Brad Binder. This time, Binder was just two tenths behind as the 'laps completed' counter ticked over into double digits.
The compressed pack behind him told a story, and Martin leaving so much in reserve in the early going probably indirectly helped Bagnaia fight through more easily after dropping back to seventh early on.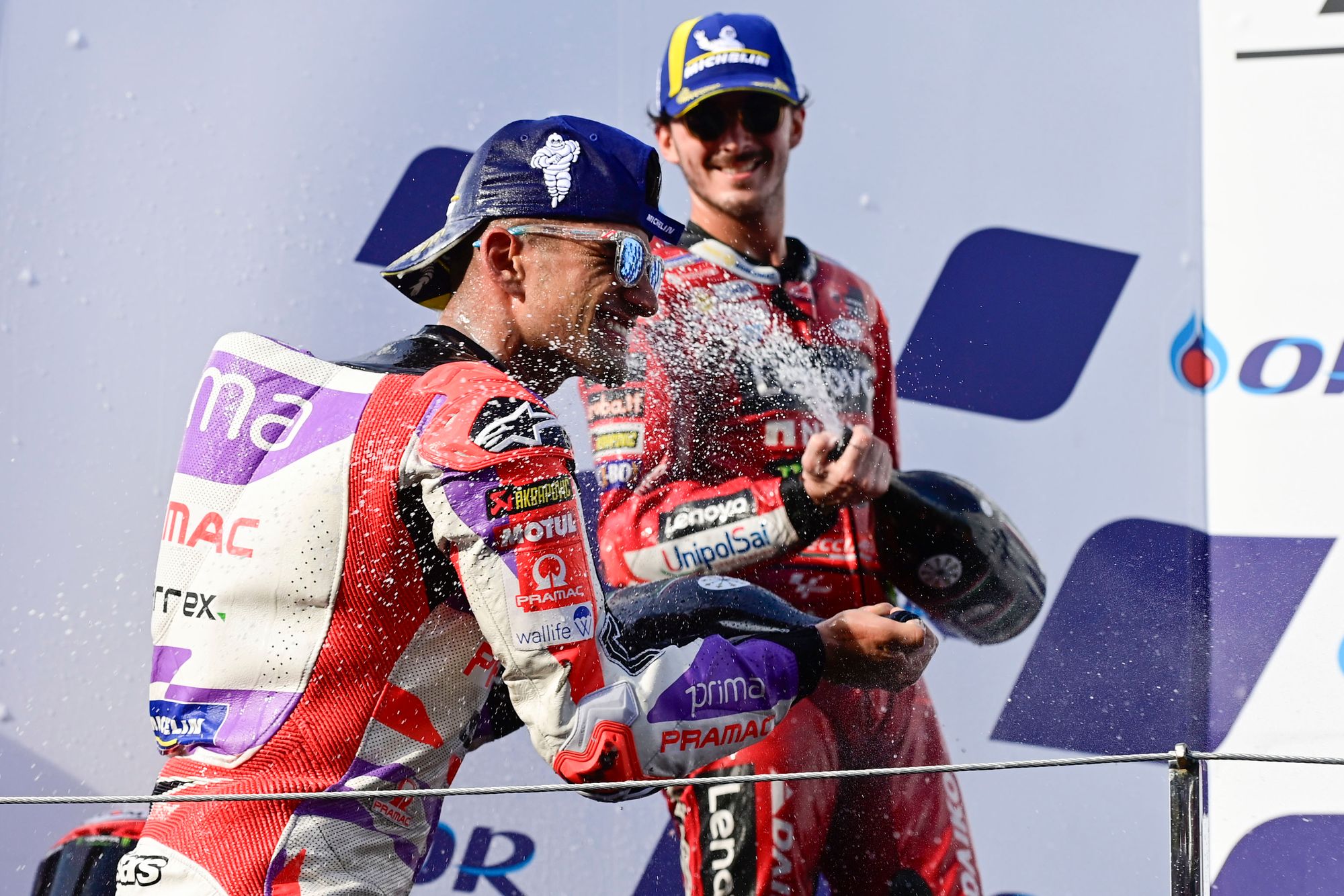 But the vibe from Martin after the sprint already was that he knew this was how it was going to have to be, because he did not seem convinced about being able to outlast Binder and Bagnaia over a grand prix distance without being clever about it.
"Today I changed my strategy. Instead of pushing like crazy the first 10 laps, I tried to just keep that two tenths, one tenth, to the second one, to save tyre," he told MotoGP.com's After the Flag.
Still, though, even as he arrived into the race's closing stages with tyres seemingly in decent shape, he was wondering whether his rivals had outfoxed him anyway, and whether settling for second or even third was on the cards.
"Normally, when there was a big battle, [in the past] I was struggling a bit to overtake or to brake hard, but today I had that confidence I could use to gain back positions, to fight back with Brad. And I didn't expect.
"When they caught me in the last part of the race, I think they were a bit faster than me. Even if I managed a lot the tyre, they were a bit stronger. But I was able to fight back all the times.
"I think both Brad and Pecco are the strongest in braking. To be able to beat them in battle, I think it's an unbelievable feeling. For sure it gives me a lot of confidence, but also at the same time shows me that I can be one of the strongest in braking."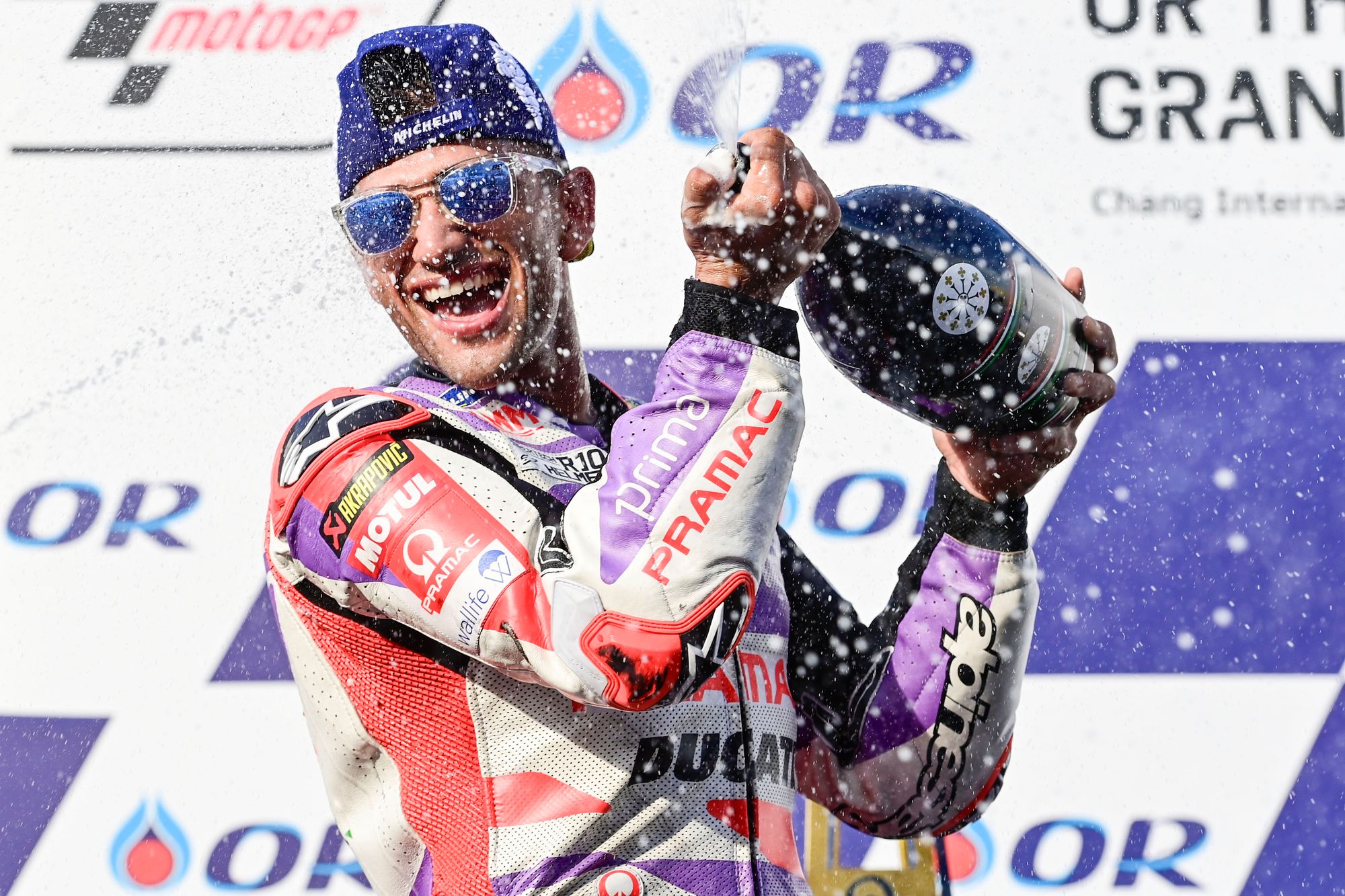 Again, Martin's style of winning is usually more associated with your classic Jorge Lorenzo race - start on pole, 'see you later', pace-manage once the gap is already there. The desire for a race like that, rather than the risk of being roughed up in the pack, is what led him down the wrong tyre choice alley at Phillip Island.
But here he couldn't help but accept that possibility - but, in having the confidence that he had the bike under him to defend well and strike back when he needed, he effectively emulated an archetypical Bagnaia win instead.
Bagnaia, of course, isn't MotoGP's first 'tactician', so maybe shouldn't be the first example here. Except he's the example that came to Martin's mind.
"I think when Pecco caught us, he was thinking to win because in the battle he's super strong. We know from the other races that when there's a battle he normally wins, no? So to beat him in his comfort zone I think was super important."
So, that's the symbolic value of the victory - and the extra five points taken out of Bagnaia shouldn't be ignored, too.
At the same time, there are two caveats that Martin would be wise to keep in mind.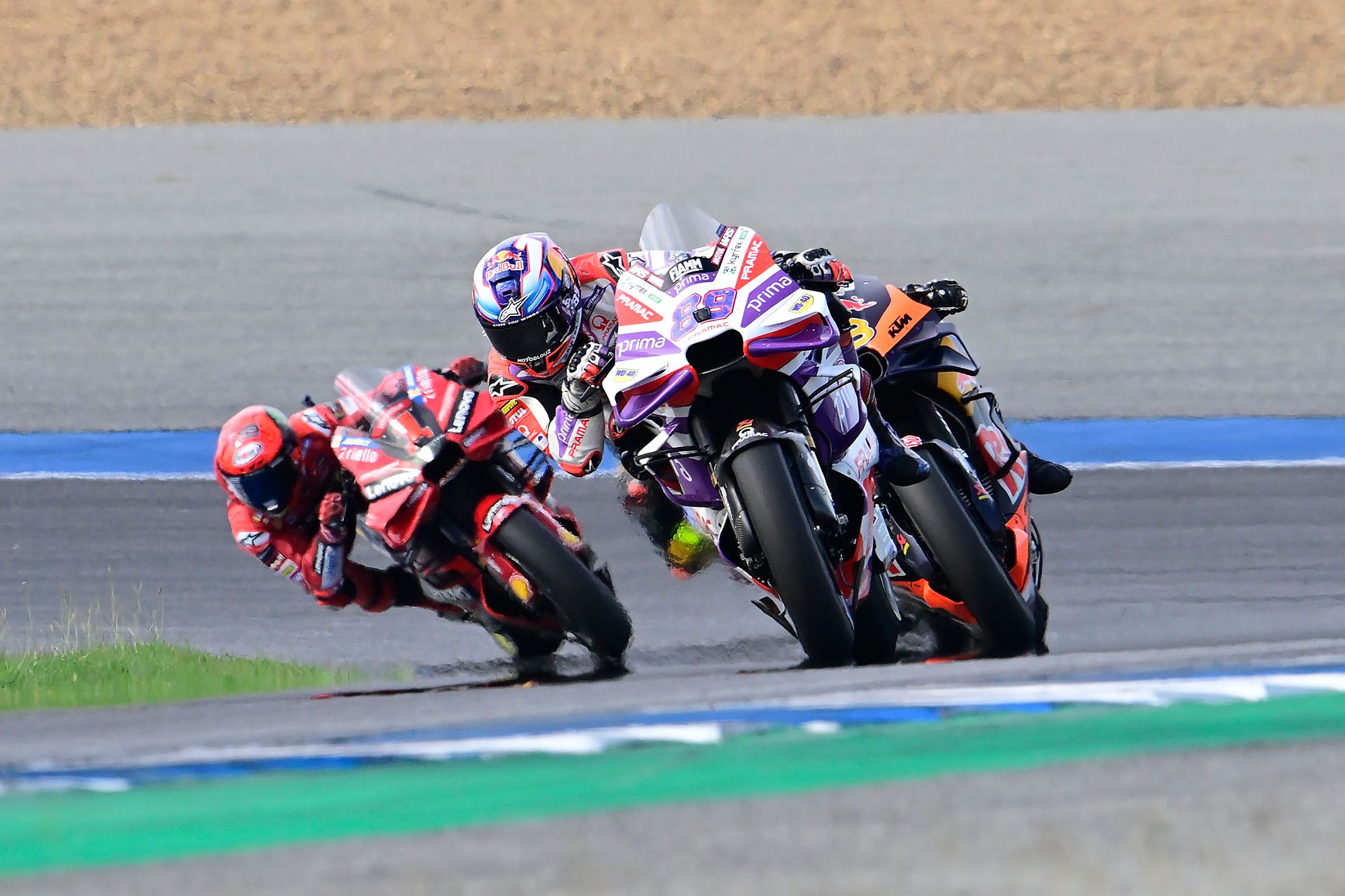 The first one, the smaller one, is that this was still very much a winnable race for Bagnaia, and that it would've been doubly so had the reigning champion consolidated the fourth place he'd gained at the start.
If he continued in fourth for several laps, instead of being roughed up by Binder and consigned to fighting out some extra battles further back as a result, he would've been an even sterner late-race challenge. Of course, the fact he was in a position to be roughed up by Binder to begin with is reflective of Bagnaia's relatively troubled recent single-lap form - but you'd still back him to make early-race gains more often than not.
The other caveat is a bigger one - Martin received a post-race warning for breaching the tyre pressure parameters, meaning he ran more than 50% of the race laps with the front tyre pressure below the minimum.
It's easy to see how that happened - he spent more of the race in clean air than basically anyone else, so didn't get the 'benefit' of the heat from the bike up ahead spiking the tyre pressure. But Martin and his crew will have expected this kind of race, running in clean air, which suggests they got some of the calculations wrong.
It puts an asterisk on his win. Not in the sense that it is a somehow less valid win - the current MotoGP tyre pressure rule is a particularly tricky one, with compliance clearly wildly dependent on the circumstances of your race, meaning it's nowhere near as simple as declaring that Martin went into battle with an illegal machine or anything. And in any case his compliance in the previous races meant he could afford this 'joker' of a warning.
But if the runs the same type of race again in the future and again can't keep the tyre pressure in the right window, that'll now be a three-second penalty. In a title fight as close as this, it almost doesn't bear mentioning that this could be potentially ruinous.
So, a big win, an impressive win - but given Bagnaia's Sunday prowess and the points Martin had spotted him in Indonesia and Australia, Martin still finds himself walking a title fight tightrope - even if he's proven his arsenal is more robust than some may have believed.