Defending MotoGP champion Pecco Bagnaia hinted the aggression level in the 2023 title race has escalated after a pair of forceful moves by rival Jorge Martin in the Qatar sprint.
There were two fairly meaningful flashpoints (both, effectively, collisions) between Martin and Bagnaia in the 11-lap race - and though Bagnaia's demeanour post-race suggested those were far from his primary concern, he also made it clear that he had taken note.
"I think it's cool that it was him doing that," Bagnaia said of Martin, seemingly without a hint of sarcasm. "So it's opening a situation that I like."
He said the same in a separate conversation with MotoGP.com, albeit specifying that the "situation" he was talking about "could be interesting for tomorrow".
CLASH #1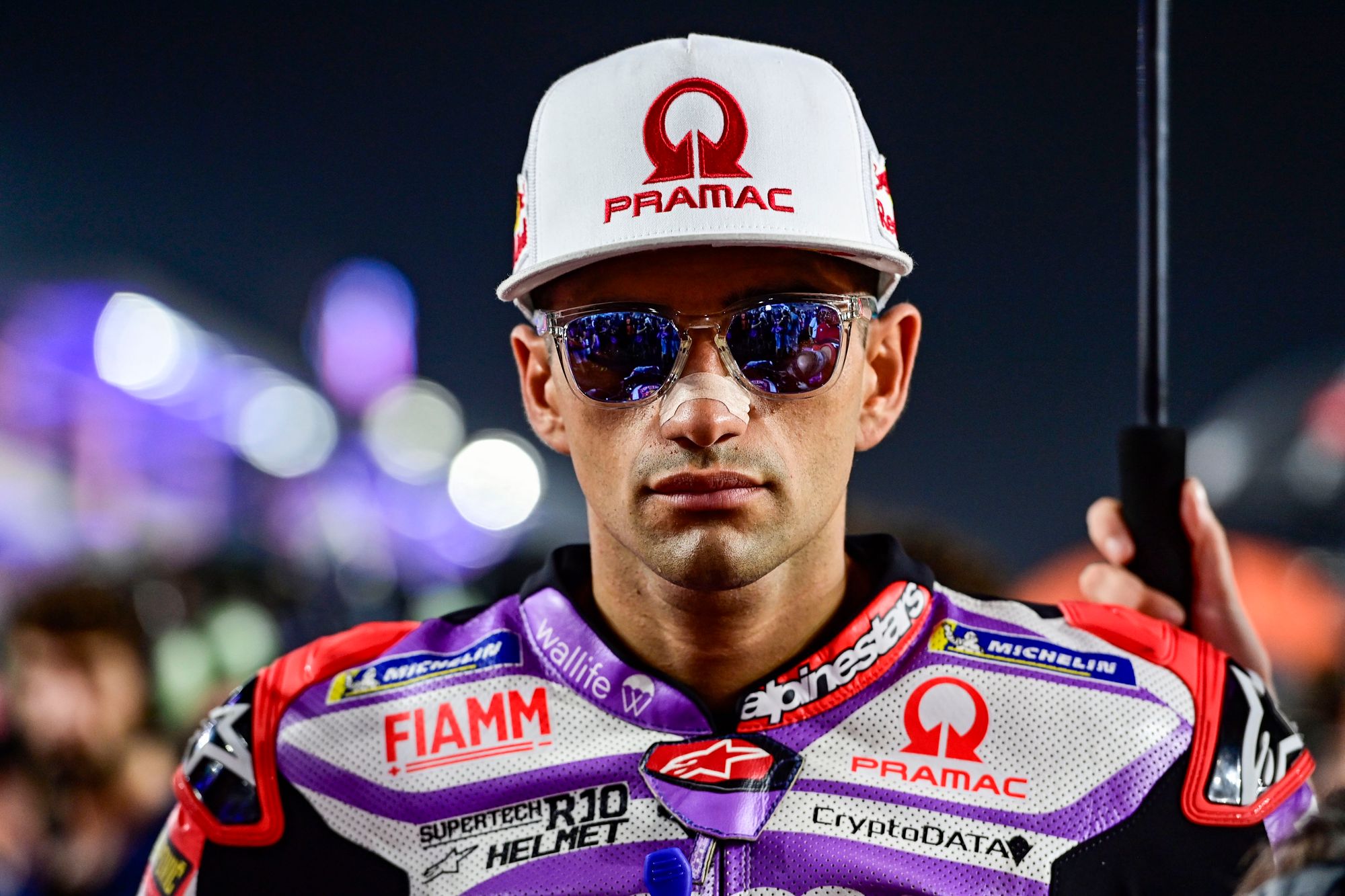 Bagnaia had lined up one place ahead of Martin on the grid in fourth, but arrived into the Turn 1 braking zone slightly behind and on the outside.
Seemingly aware that Bagnaia was on the outside, Martin took as wide a line as he could get away with, nudging Bagnaia to the side, although ultimately the championship leader wasn't too badly compromised going through the corner and at least retained fourth place.
Martin likened the incident to the penultimate lap in Thailand, when he blocked off Bagnaia's audacious two-in-one round-the-outside attempt for the lead by easing off the brake and happily taking both himself and Bagnaia wide.
"It was similar, I had the inside so he could do nothing," he said.
CLASH #2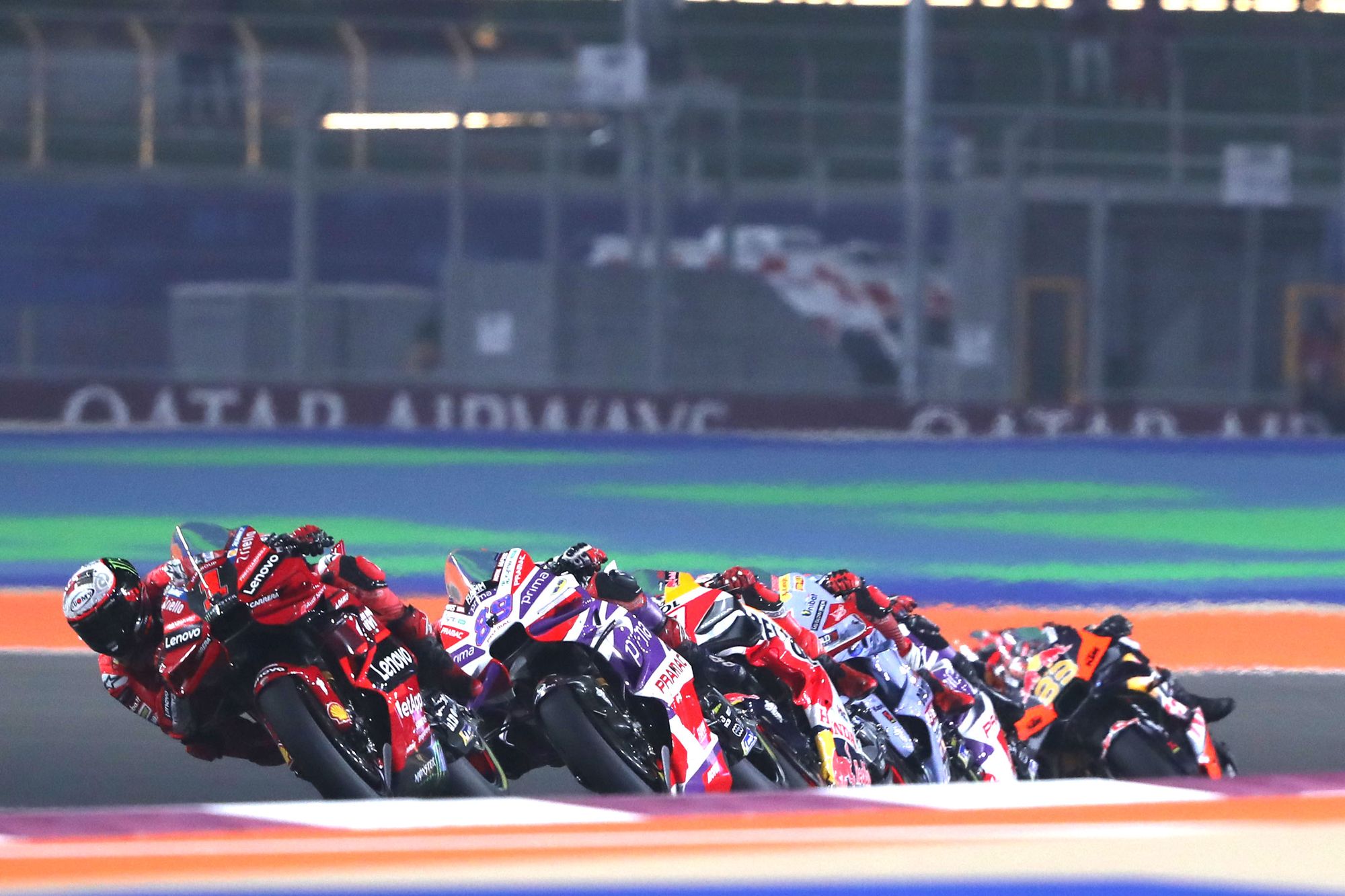 Given their respective pace that should've been enough on the day, but Martin, surprised by how high he'd ended up given his practice starts through the weekend have been very poor, very quickly made a costly error while in Alex Marquez's wheeltracks.
A messy entry into Turn 4 allowed both Bagnaia and Marc Marquez to get past him. But Martin overtaking the elder Marquez with ease on the main straight set up another encounter between the title rivals - and this time Martin launched his Ducati into Turn 4, his front wheel pushing up against Bagnaia's shoulder and compromising the Italian's line through the corner to the extent that Fabio Di Giannantonio got through as well.
"It's a difficult place to overtake but I saw I had more speed, so I had to try it, and he kept the outside," said Martin.
"I think it wasn't that risky - maybe the situation, when he closed the line you had the risk, but it wasn't a crazy move, I think."
MARTIN'S VIEW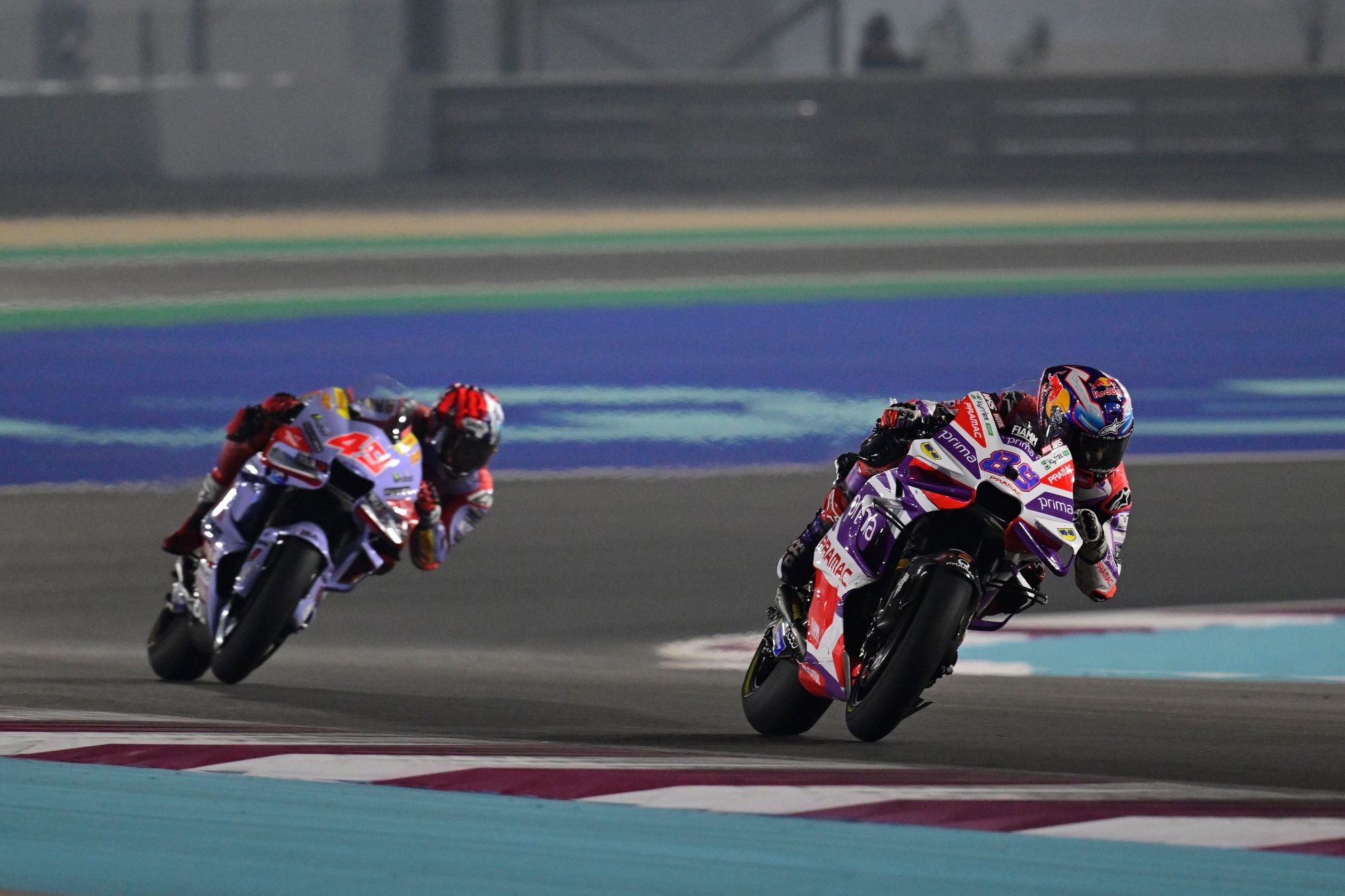 Martin certainly didn't indicate that he was racing Bagnaia with a higher-than-usual level of aggression, pointing out that he also "took some risk" to overtake Alex Marquez and Luca Marini.
The move on Alex Marquez was in effect a carbon copy of the Bagnaia overtake, albeit the Gresini rider looked much more tentative on the braking for Turn 10 and therefore yielded immediately.
And the last-corner battle with Marini was never going to look as aggressive as Martin had exited the previous corner not far off being alongside the VR46 man, and the ball was effectively in Marini's court as to whether to try to somehow lean on Martin from the outside or just accept the loss of position.
"It's difficult to overtake because you have a really narrow line [at Lusail, due to dirt off the racing line] so you have to take a lot of risk to change the line and to overtake because there's only one good line," said Martin.
"But I was able to understand where and when to make the moves."
Martin, however, also emphasised that he felt he had been risking more in pushing to stay ahead of Di Giannantonio late on than in any of the actual overtakes.
BAGNAIA'S BAD RACE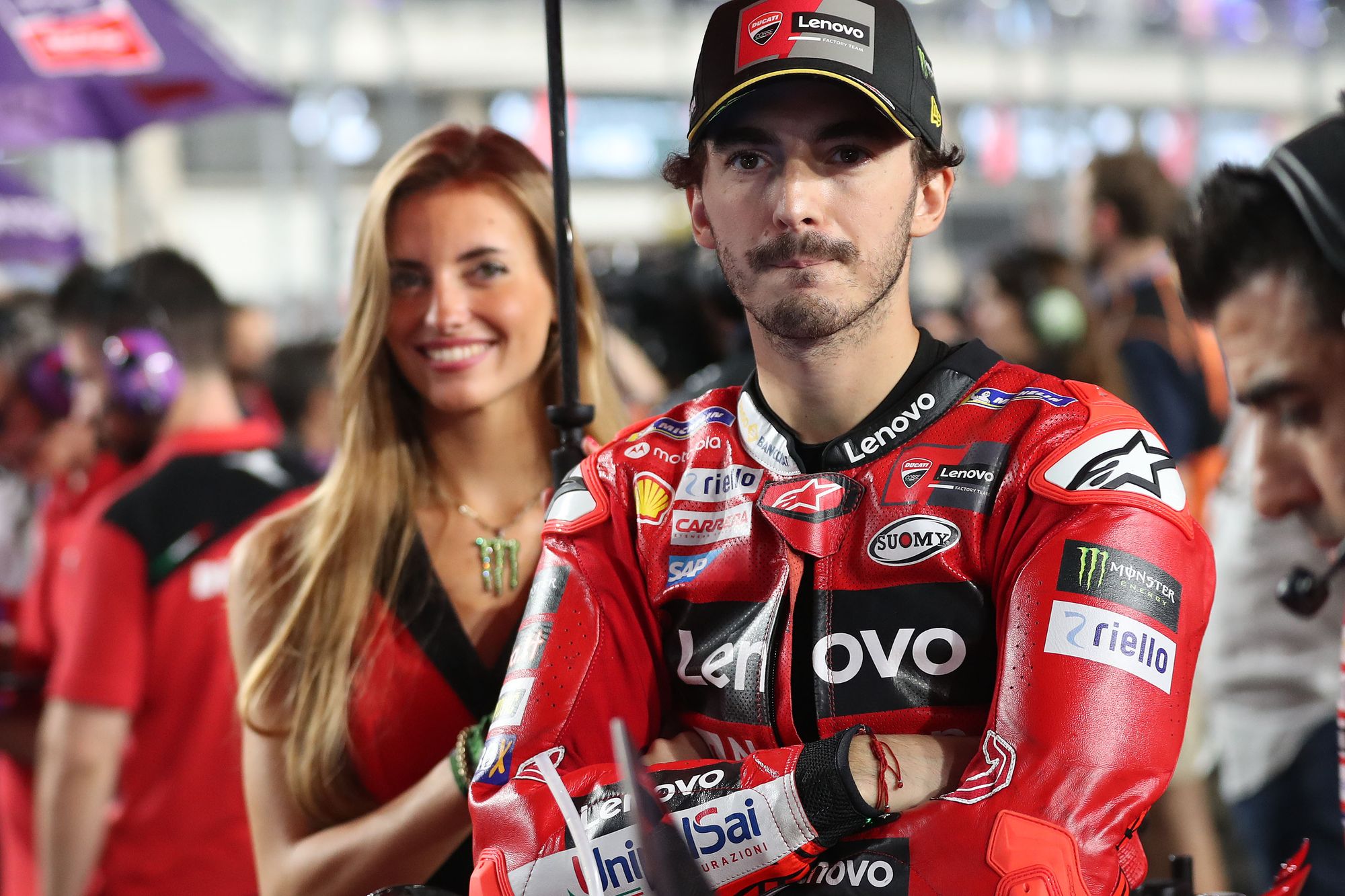 Bagnaia, ultimately, was much more irritated by his own meek showing than specifically being roughed up by Martin.
Having gone into the race expecting to have the pace to win, he found himself with a "different feeling" and a puzzling lack of rear grip, finishing only fifth as Martin charged to victory.
Bagnaia was generally confounded, pointing out that he'd been rapid and much more consistent on used rubber through practice.
The sprint was therefore "quite strange".
"I was struggling to exit [corners] in the same way as the guys I had in front," he said. "As soon as I was opening [the throttle], I was sliding a lot, spinning a lot, and this was different compared to all the rest of the weekend."
Bagnaia's comments raise the question of whether he believes he had a lower-quality rear tyre. He certainly didn't say that, and never openly suggest any culprit, but described himself as "unlucky".
"I'm quite angry with what happened," he also said. "Because losing seven points like this is a pity situation."
DO THE CLASHES CHANGE ANYTHING?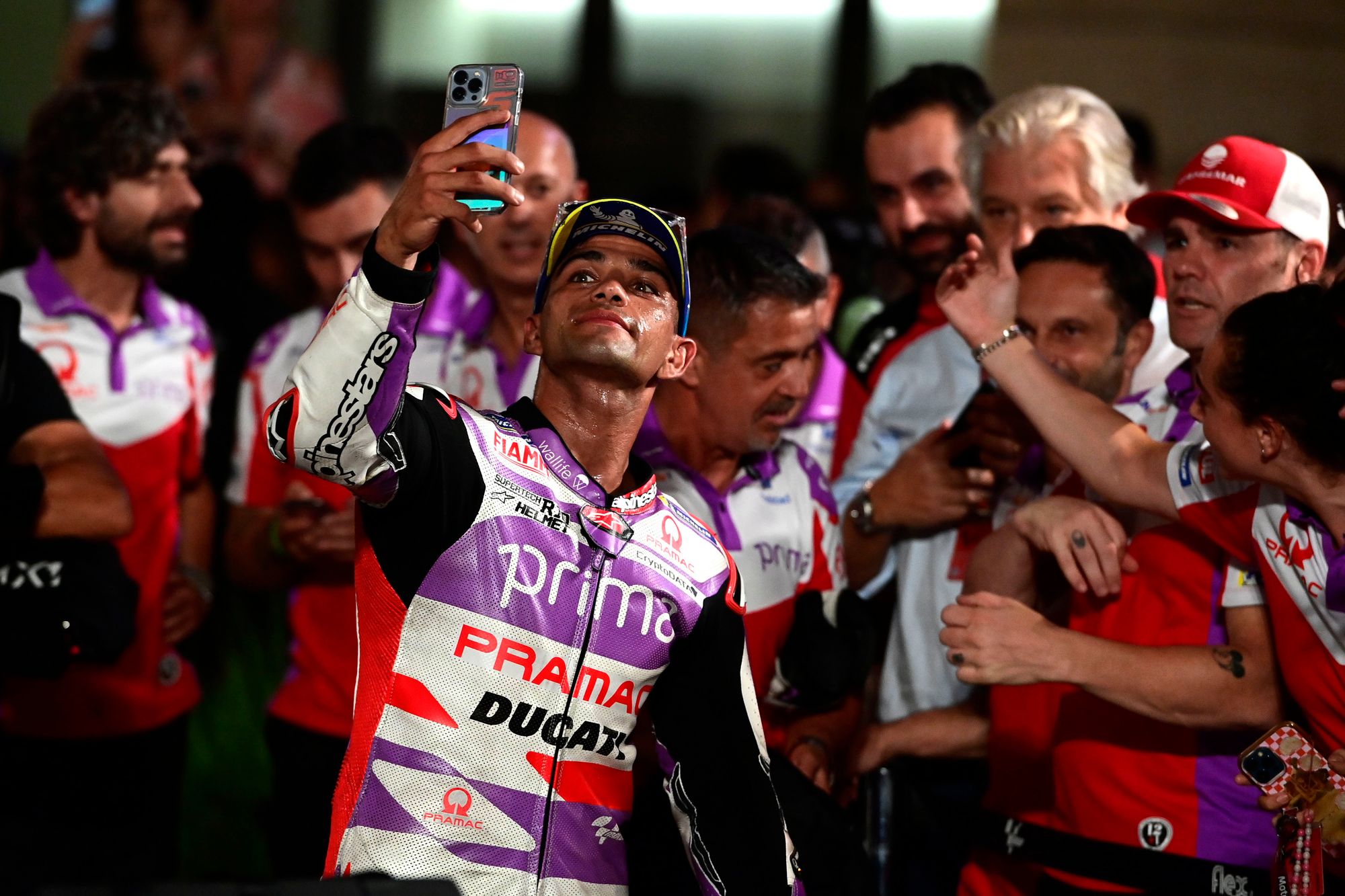 In any case, given the trend in Bagnaia's performance in this latter part of the season, there should be every reason to expect him to be a sterner challenge for the win - and to Martin specifically - over the longer-distance Sunday race.
"Tomorrow will be different for sure," he said.
"I think, even more in the long race, that we are very strong, stronger."
Perhaps Martin's elbows-out approach on Saturday will give Bagnaia the mental freedom to uncork an aggressive move or two on Sunday, or to specifically prioritise beating Martin over fighting for the best possible race position - so, being open to running wide together if need be.
This could really be the case because Bagnaia, while hardly a shy overtaker, has long seemed as someone who takes great care of being seen as winning the right way - and he could hardly be blamed for ratcheting up the aggression now that he's been raced this way.
In all likelihood, though, this was always inevitable in a situation where the pair are split by single-digit points with this little racing left. They're now just seven apart with two GPs and a sprint remaining.
At this point, any move - not a collision, not a crash, but even a simple overtake that takes a rival wide - could potentially be the one to decide everything.
It would be naive to expect the two 2023 title fight protagonists, both champions in various classes of grand prix racing, not to be keenly aware of that.