Pramac Ducati rider Jorge Martin might have completed another double and tightened up the MotoGP world championship title race to only three points behind reigning champion Pecco Bagnaia at the Japanese Grand Prix, but he was far from the only standout in a chaotic and shortened weekend, thanks to the Motegi weather playing its own role in proceedings.
The weather put the whole grid on edge, especially title contenders Martin, Bagnaia, and Marco Bezzecchi. There far more to lose than to gain for them - but exactly the opposite for others far more free and able to take big risks, as ably demonstrated by the Sunday podium return of Honda's Marc Marquez after an absence of nearly a year.
But there was drama all up and down the MotoGP grid at Motegi, and while the attention might have been rightly on the frontrunners, the heavy rain hid plenty of other notable performances that helped us in shaping this weekend's rider rankings.
Scoring the grid in order based on their performances not just in the main event but also Saturday's sprint race, it's obviously all subjective - but comes not just from their final race result but takes into account things like the machinery they're on and the pre-race expectations.
1 Jorge Martin
Started: 1st Sprint: 1st Race: 1st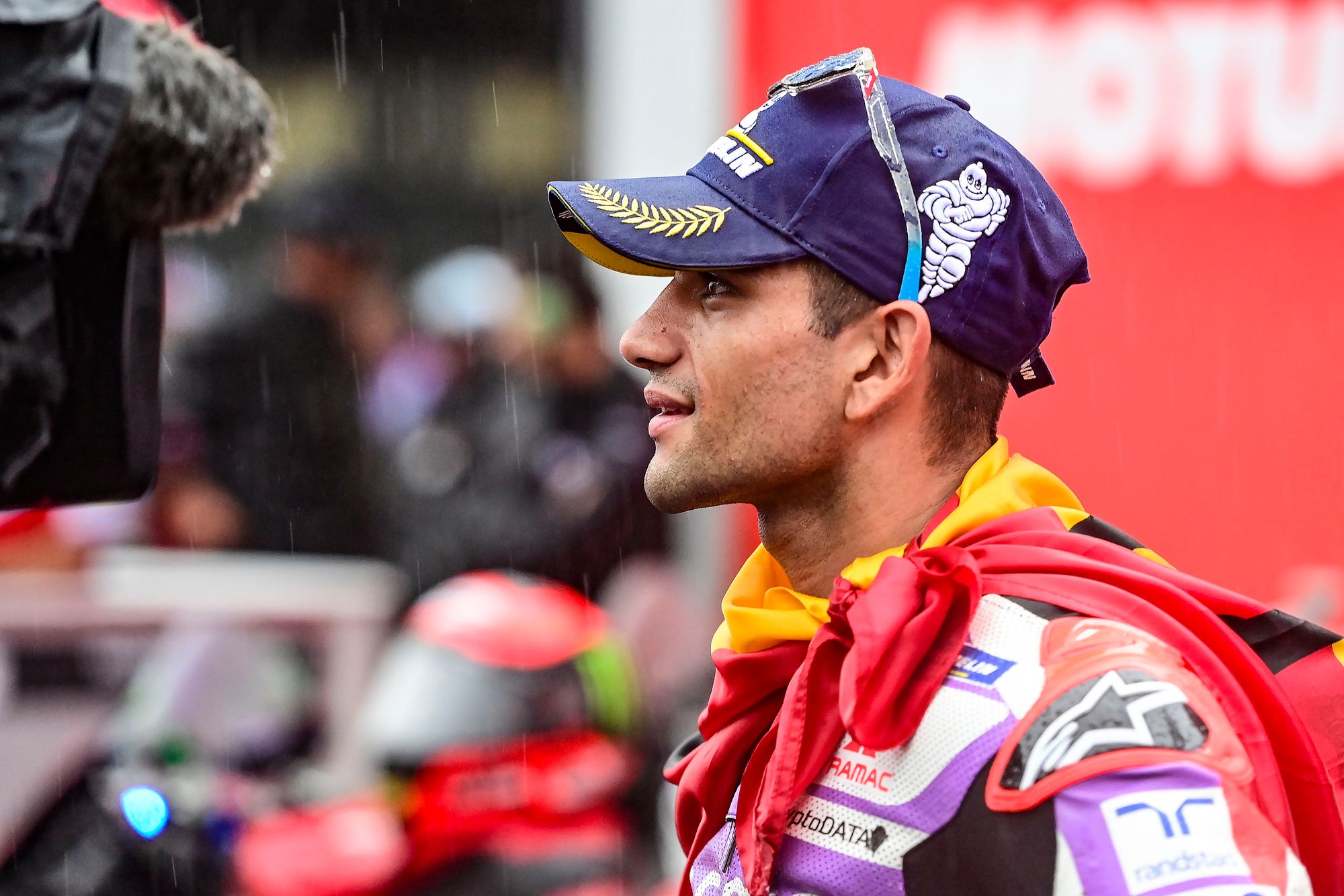 There can't be anyone else on top of this week's ratings given the champion's ride that Martin delivered throughout the weekend - especially in conditions it would have been very easy to make mistakes in.
The Pramac racer never put a foot wrong to take not just the absolute maximum points haul possible home from Japan, but to keep the momentum very much in his favour and make sure there's everything to play for as the battle between him and Bagnaia goes down to the wire in the final six rounds of the season.
2 Marc Marquez
Started: 7th Sprint: 7th Race: 3rd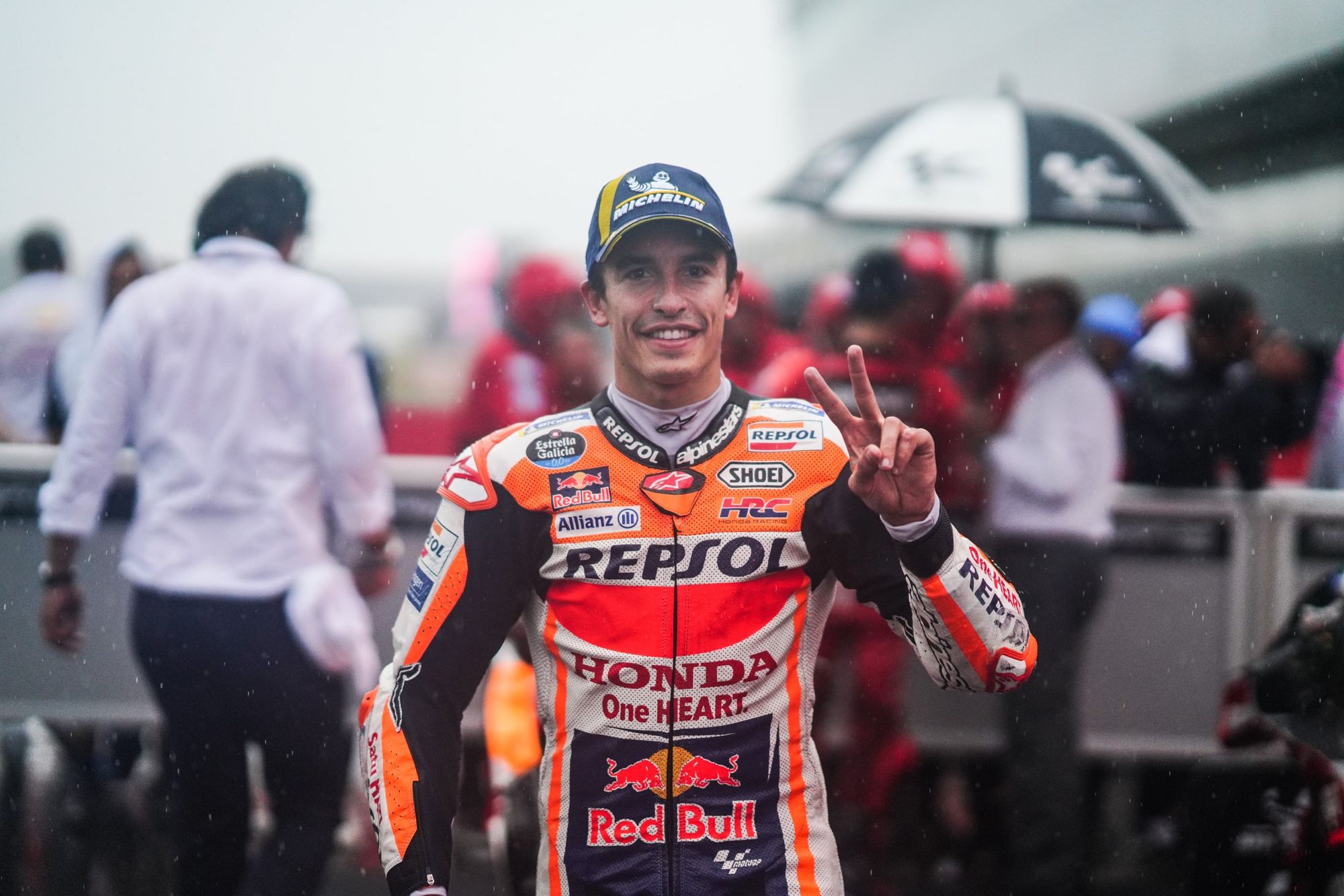 It's been a long time since we've seen Marquez produce his signature move: sticking a Honda RC123V into situations where it has no right being.
Sure, it was a wet race. Sure, it only went half distance. Sure, his sprint performance didn't keep up.
But none of that took away from a reminder of just what the six-time MotoGP champion is capable of when things go right.
And you have to imagine that another 12 laps in similar conditions wouldn't have featured him hunting down Bagnaia for second.
3 Pecco Bagnaia
Started: 2nd Sprint: 3rd Race: 2nd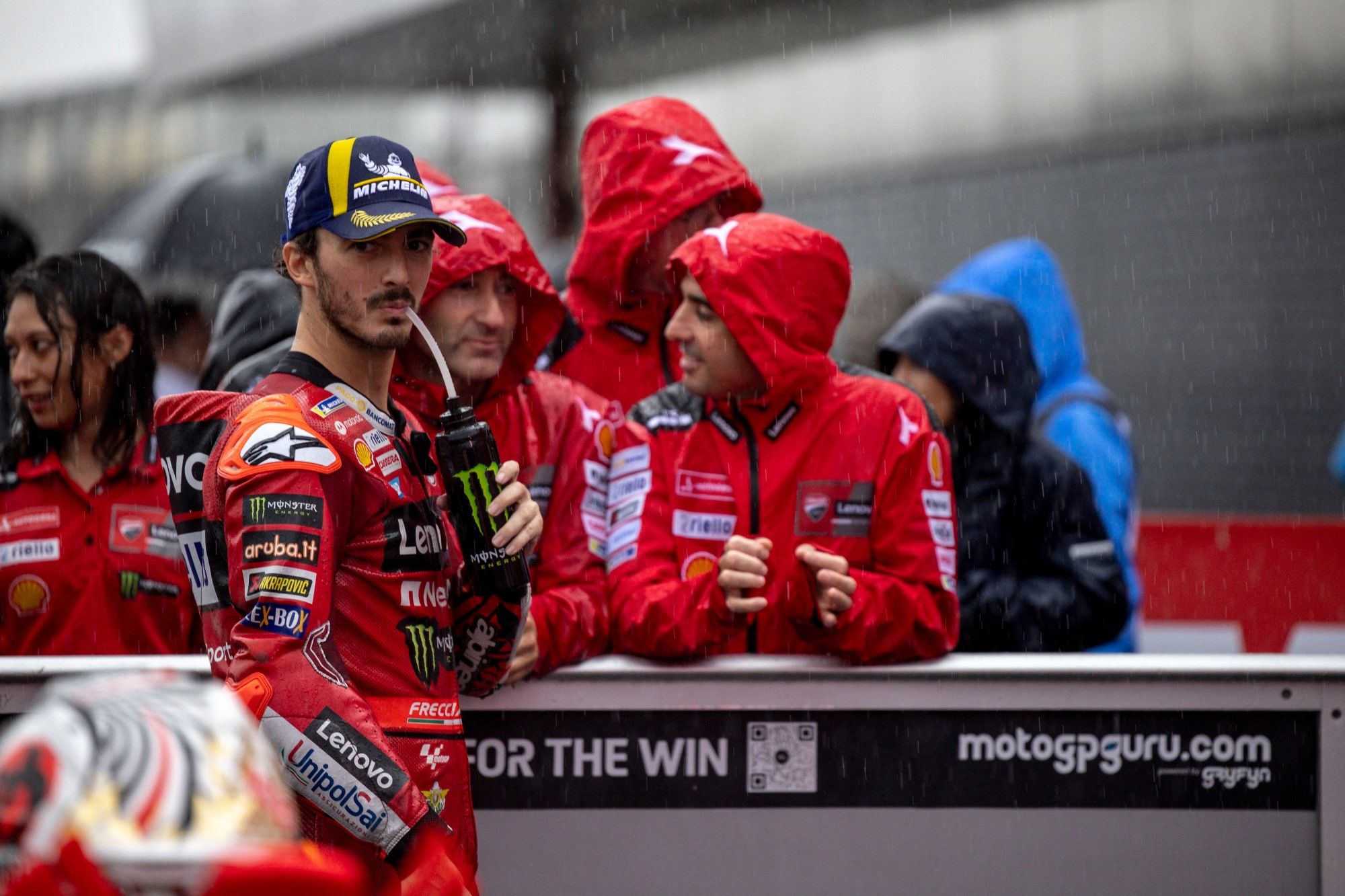 There are two ways to look at Bagnaia's weekend. Either you take it as a disappointing outing and acknowledge that he lost valuable championship points to his biggest rival, Martin. Or you look at it as a positive: he limited the damage on a weekend where his bike still wasn't quite right and conditions were very easy to make mistakes in.
Sunday was a day where you couldn't win a championship, but where one could have been lost - and Bagnaia didn't lose.
4 Fabio Di Giannantonio
Started: 6th Sprint: 8th Race: 8th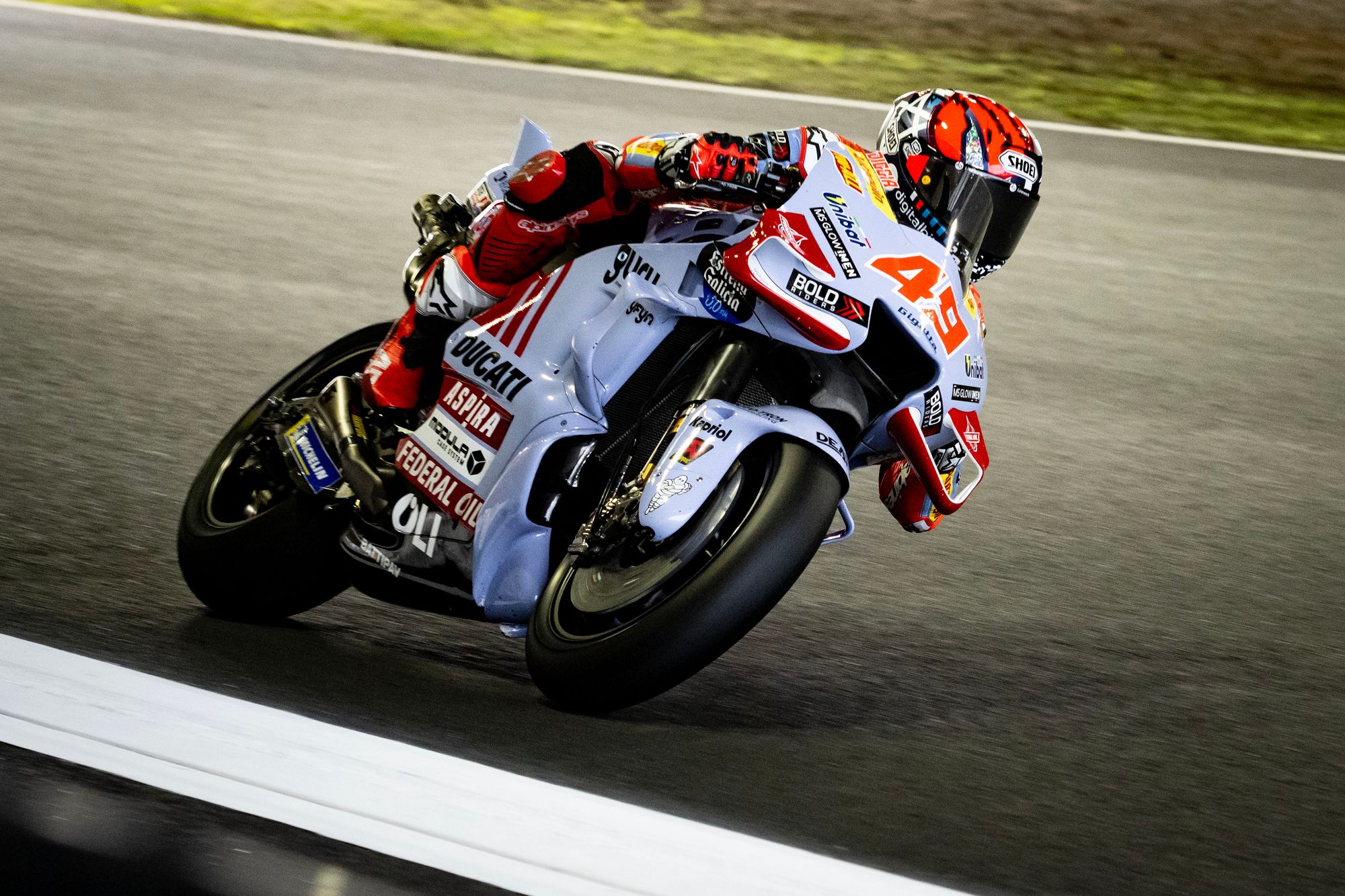 Fabio Di Giannantonio's future remains up in the air, and as he keeps telling the media, all he can do to control it is to deliver results.
He's also been adamant for a while that the speed he needs is also there, but that his issue has been linking it all together on a race weekend.
Two points-scoring finishes, for the first time, proved that the hard work is paying off, and while it might not help him retain a Gresini Ducati seat for next year against Marquez, it might well make him top of the shopping list for anyone else listening.
5 Raul Fernandez
Started: 11th Sprint: 10th Race: 9th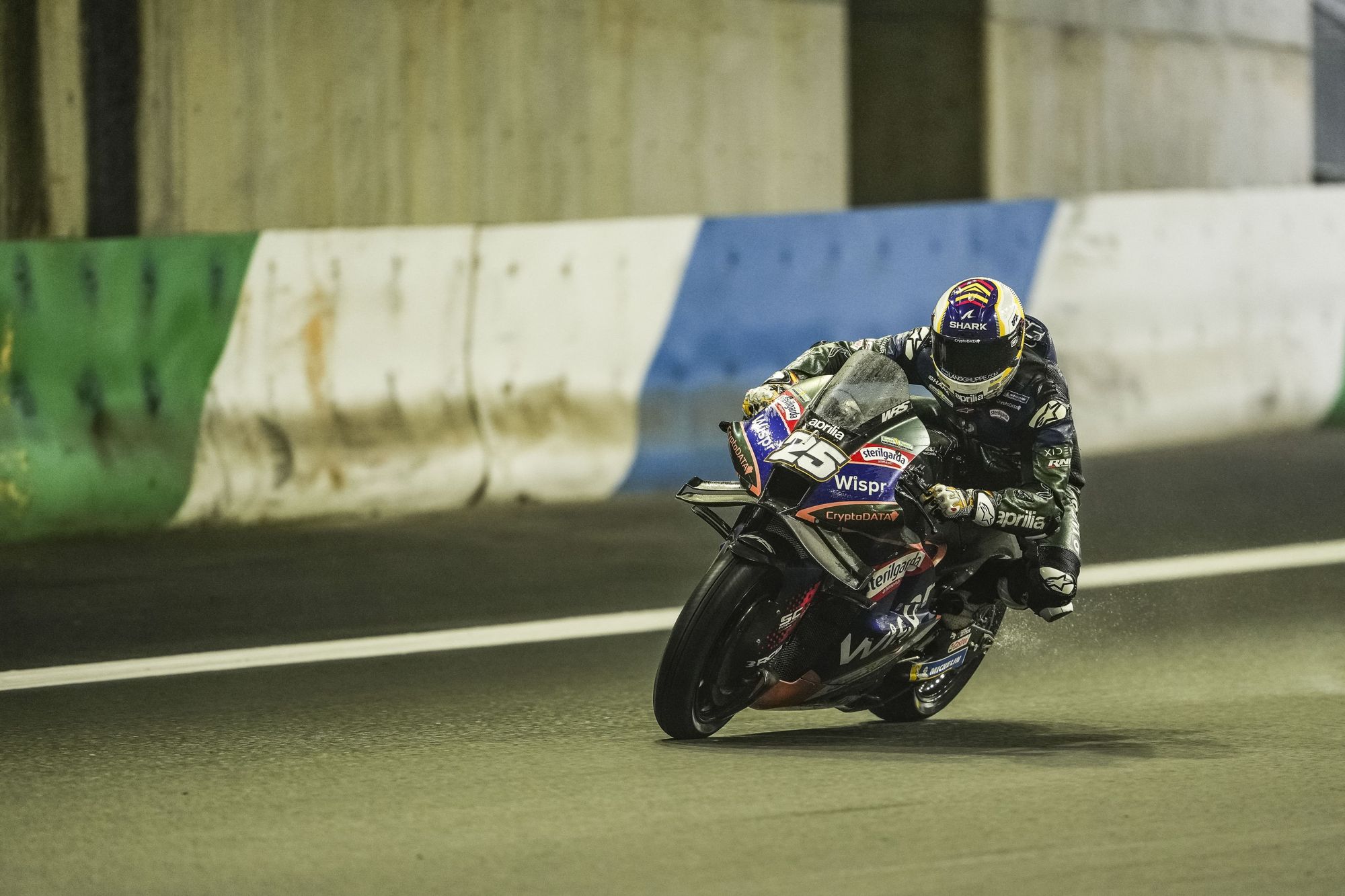 For months, Raul Fernandez has been telling us that he's making slow but steady progress.
For a few races, he's actually been proving his point - and Motegi was no exception, with Fernandez comfortably inside the top 10 in both races and on track to score even more on Sunday without a long-lap penalty that he was, unsurprisingly, particularly aggrieved about afterwards.
But the reality is that it's not individual results right now that are impressing, it's his overall performances. If that momentum continues, then the results will naturally come.
6 Michele Pirro
Started: 21st Sprint: 19th Race: 16th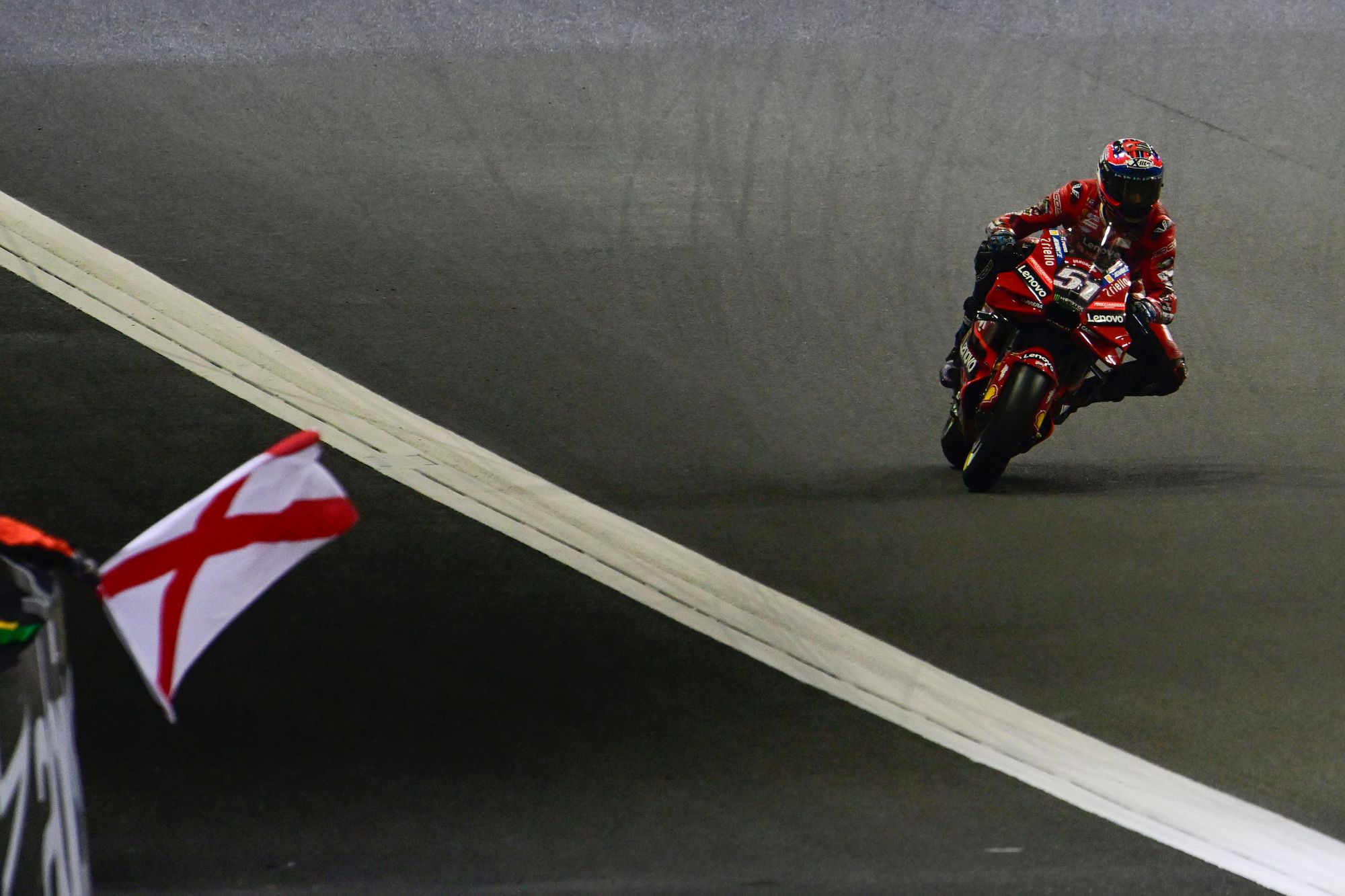 Let's be honest, Michele Pirro's this high on the list for one reason and one reason only: the gamble to stay out on track on slick tyres - and make it work for quite a while.
Sure, he eventually had to come in for wets, but for a very real moment the race leader's huge gamble looked like it might, just might, pay off as the rain started to ease off.
In the end, it didn't, but who doesn't love an underdog willing to take a risk?
7 Augusto Fernandez
Started: 13th Sprint: 12th Race: 7th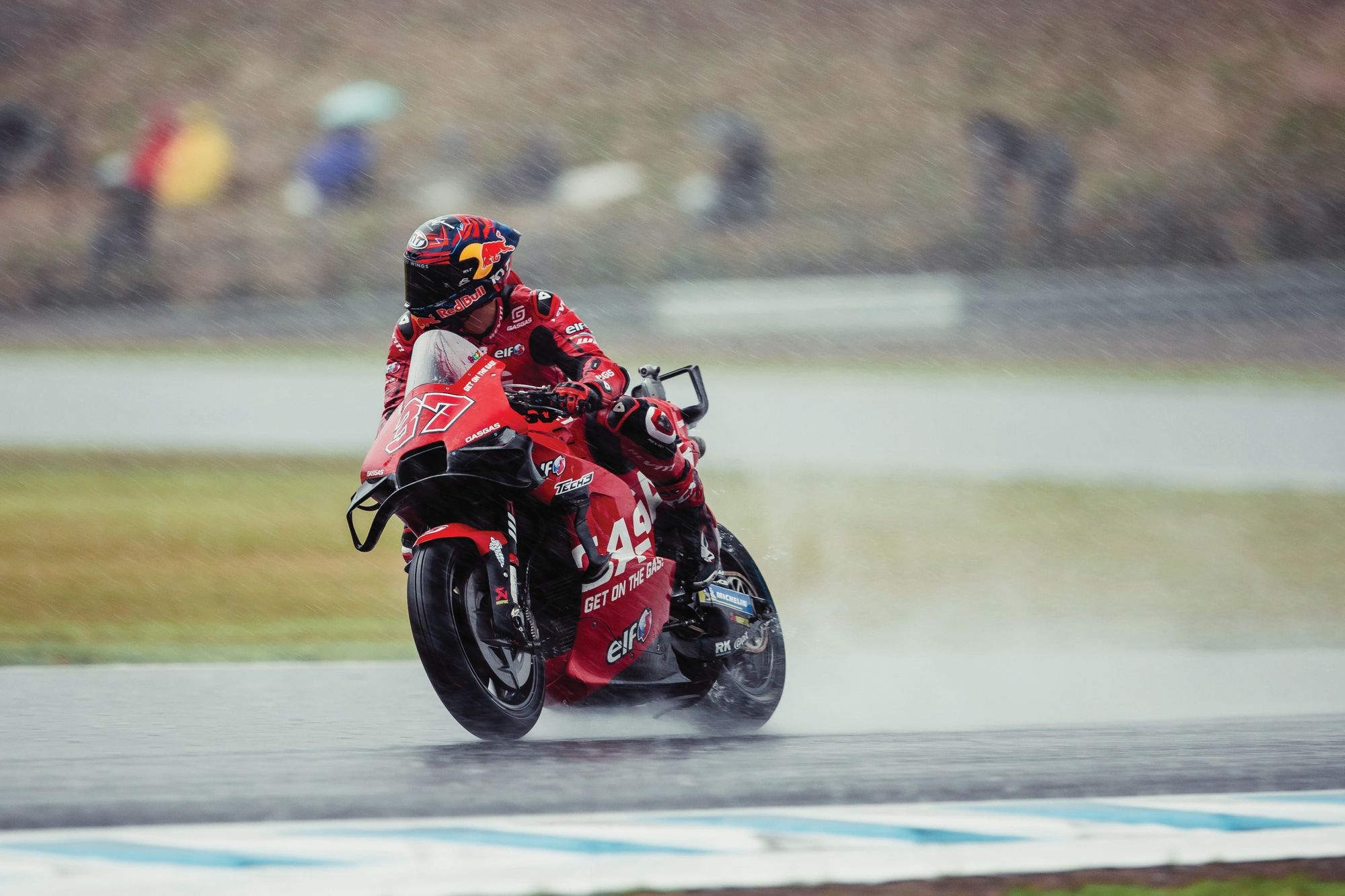 If Sunday's wet race went its full distance, then there's a very real change that rookie Augusto Fernandez would have ended it as KTM's top rider. His form's been increasing as his experience grows, especially since the summer break, and at a time when his future and the KTM teams' 2024 plans are still up in the air, it couldn't have come at a better moment.
There's still more to come from him this year, in both the rain and the dry, as he continues to establish himself.
8 Jack Miller
Started: 3rd Sprint: 4th Race: 6th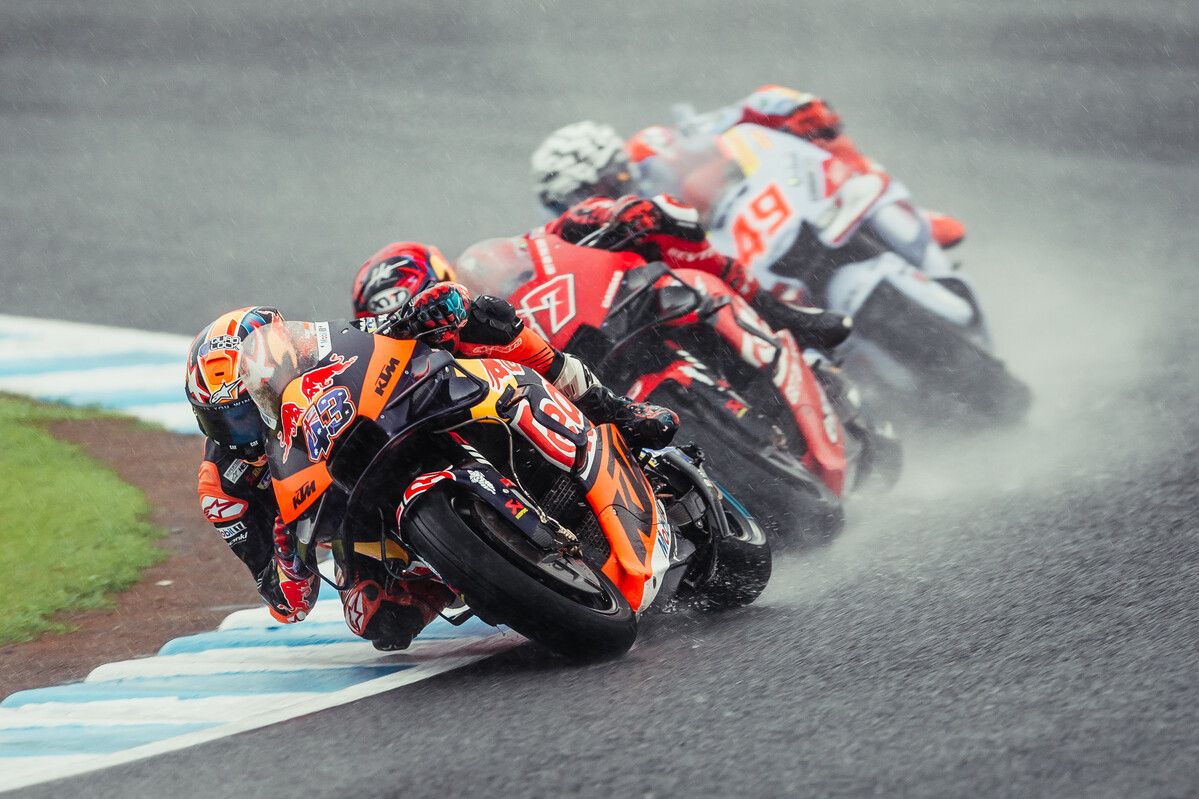 To say that the benefits of KTM's new carbon fibre chassis had an immediate impact on Jack Miller's rather disappointing form of late is something of an understatement.
Immediately launching the Australian back onto the front row and to two strong results, it's by far the best that he's looked in weeks, and bodes well for the coming races - including, crucially, the trip home to Phillip Island.
9 Cal Crutchlow
Started: 19th Sprint: 18th Race: 13th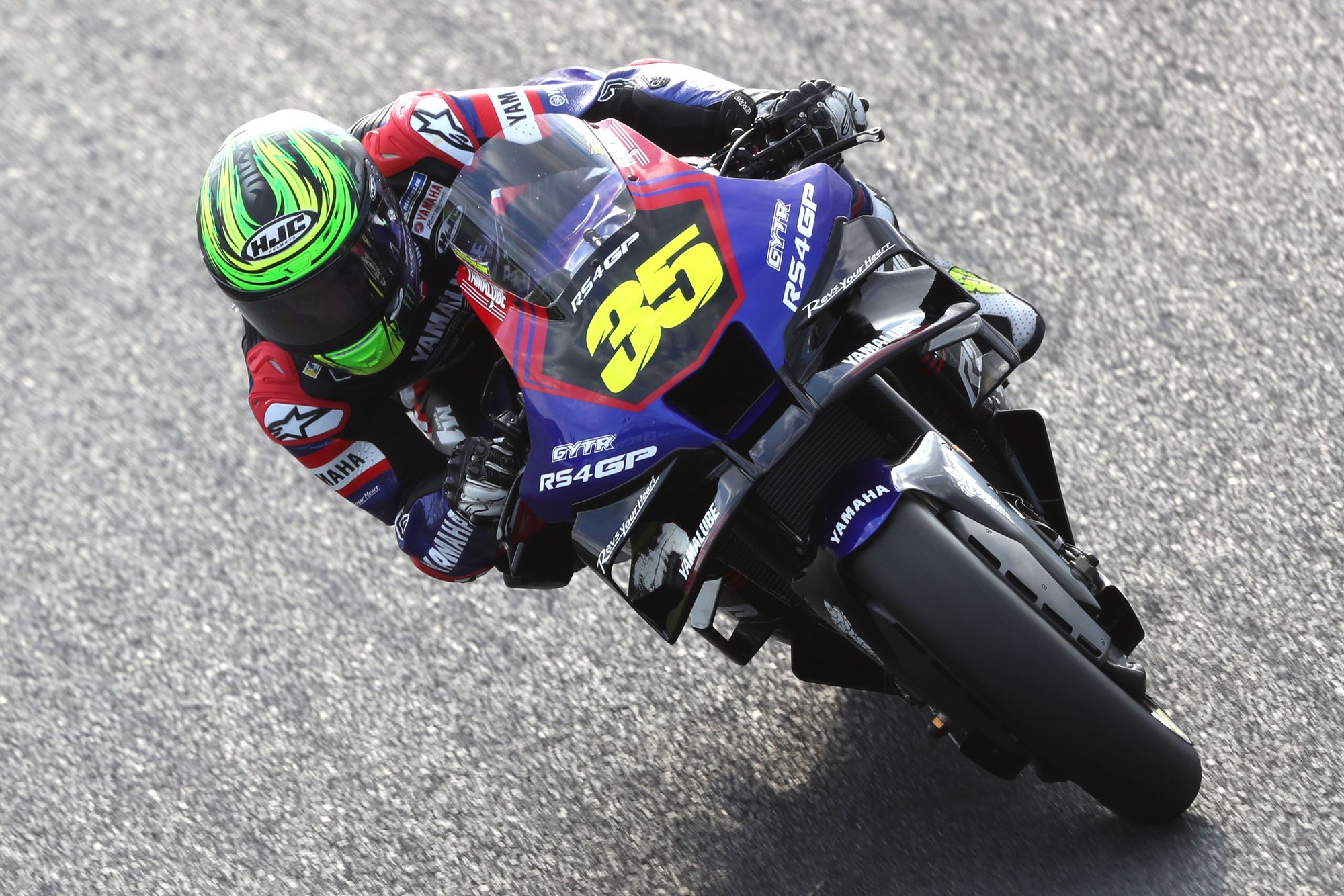 To jump back into the madness of modern MotoGP and not just look fast but to do so on a Yamaha M1 that's been disappointing all season long in the hands of its factory duo is no mean feat, and Yamaha should be rewarding Cal Crutchlow well for his wildcard performance.
Not just outclassing fellow test riders like Pirro and Stefan Bradl, who've done a hell of a lot more race miles this year, but also making Yamaha's regular racers look rather average in the process, it bodes well for how behind-the-scenes development is going.
10 Johann Zarco
Started: 10th Sprint: 5th Race: DNF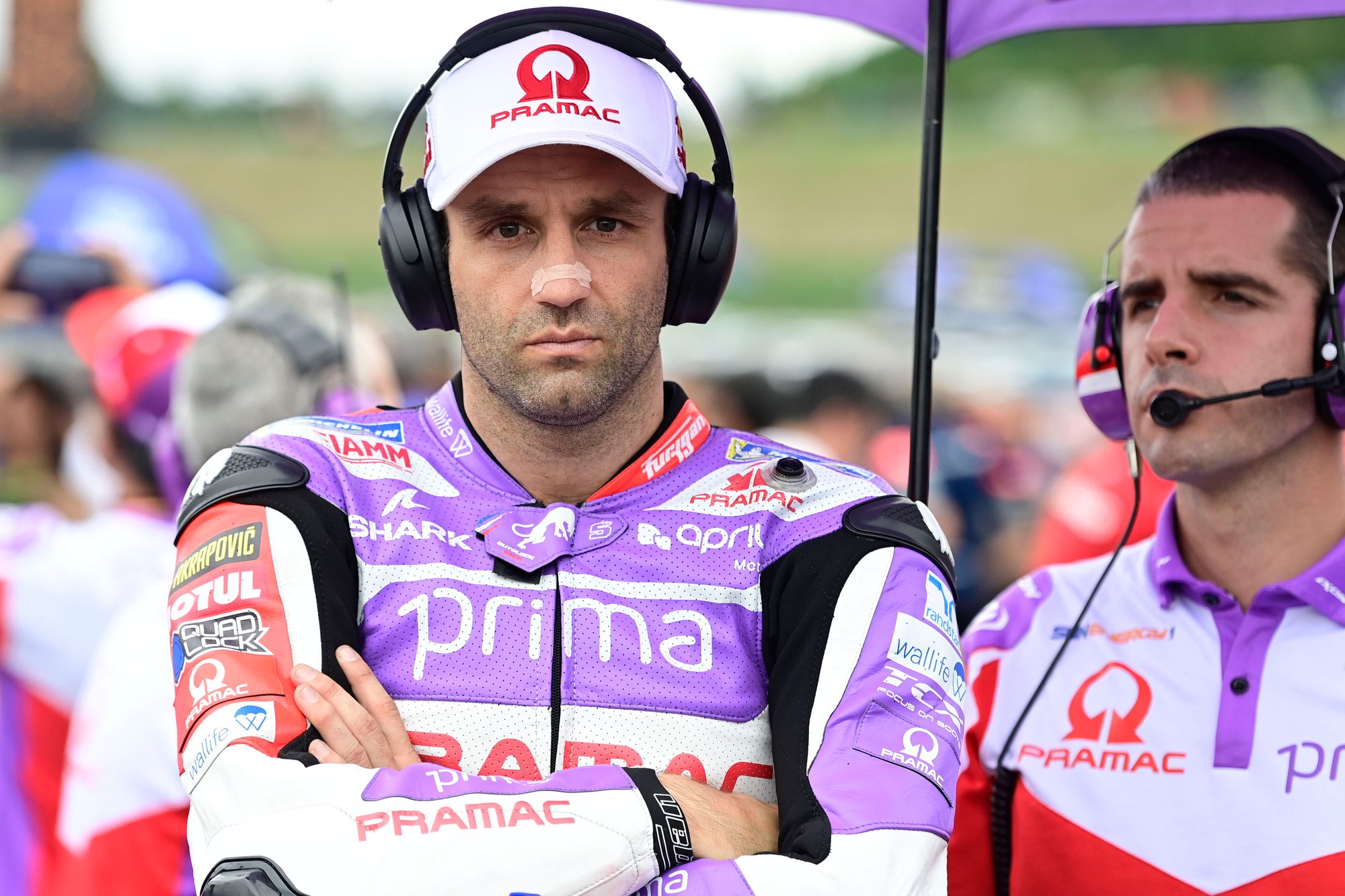 For a while during Sunday's wet race, it looked like Johann Zarco was on track for a top result - one that potentially would have been a win had he not been compromised at Turn 1 by Maverick Vinales having to avoid a corner-overshooting Bezzecchi.
Able to regroup and on track for a decent result, Zarco was the first one caught out by conditions as they got worse and worse.
Aquaplaning himself into the gravel trap and then denied the opportunity to have the sixth place he finished in counted, it was an unfair end to the Frenchman's weekend.
11 Miguel Oliveira
Started: 16th Sprint: 14th Race: 18th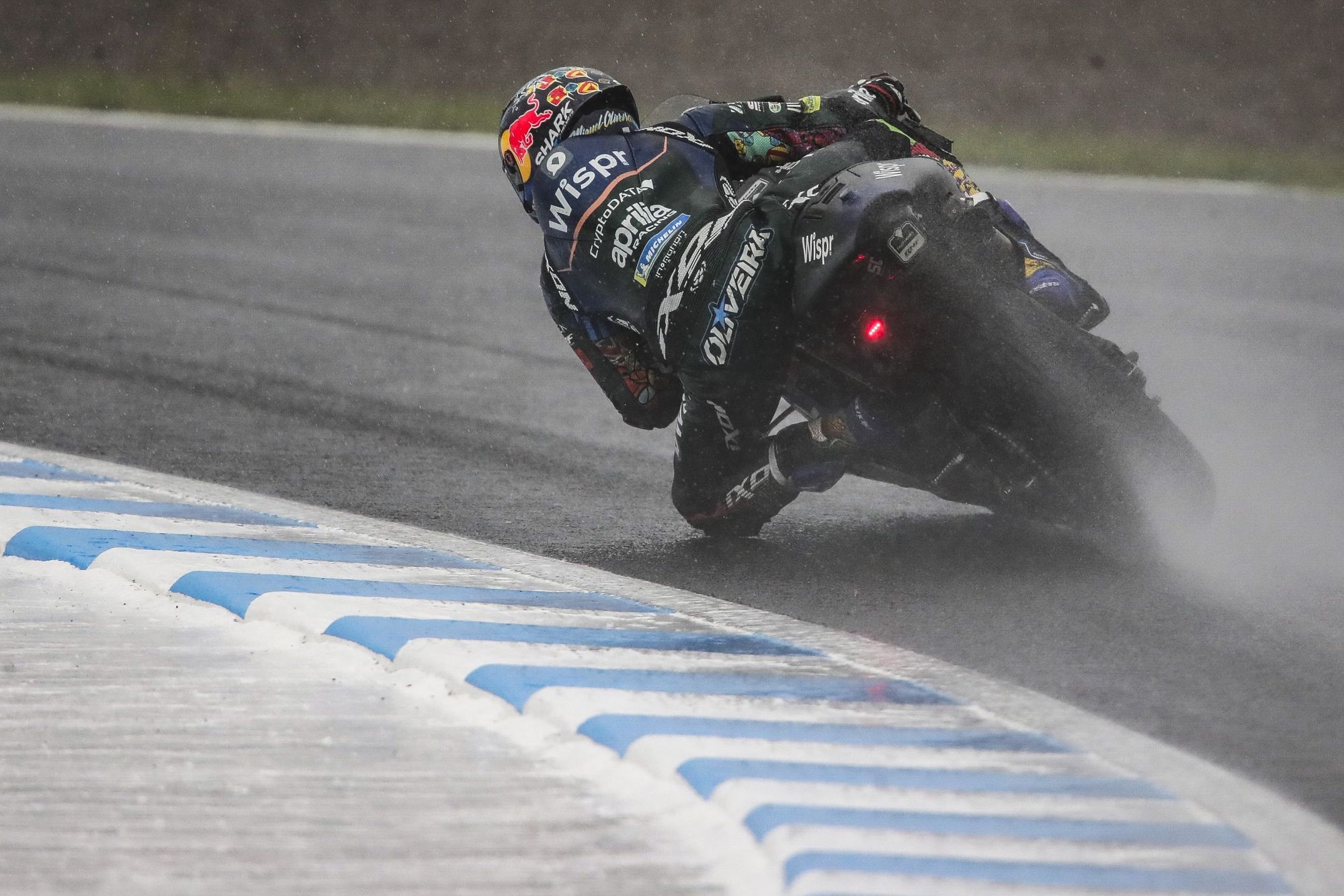 There should have been a chance for Miguel Oliveira to deliver one of his textbook wet weather performances on Sunday afternoon - but, unable to see anything mid-pack, he instead ended up watching from the sidelines.
Combined with a tough qualifying and rather lacklustre sprint performance where he got outperformed by junior RNF team-mate Fernandez, it makes for a rather disappointing weekend.
12 Stefan Bradl
Started: 20th Sprint: 20th Race: 14th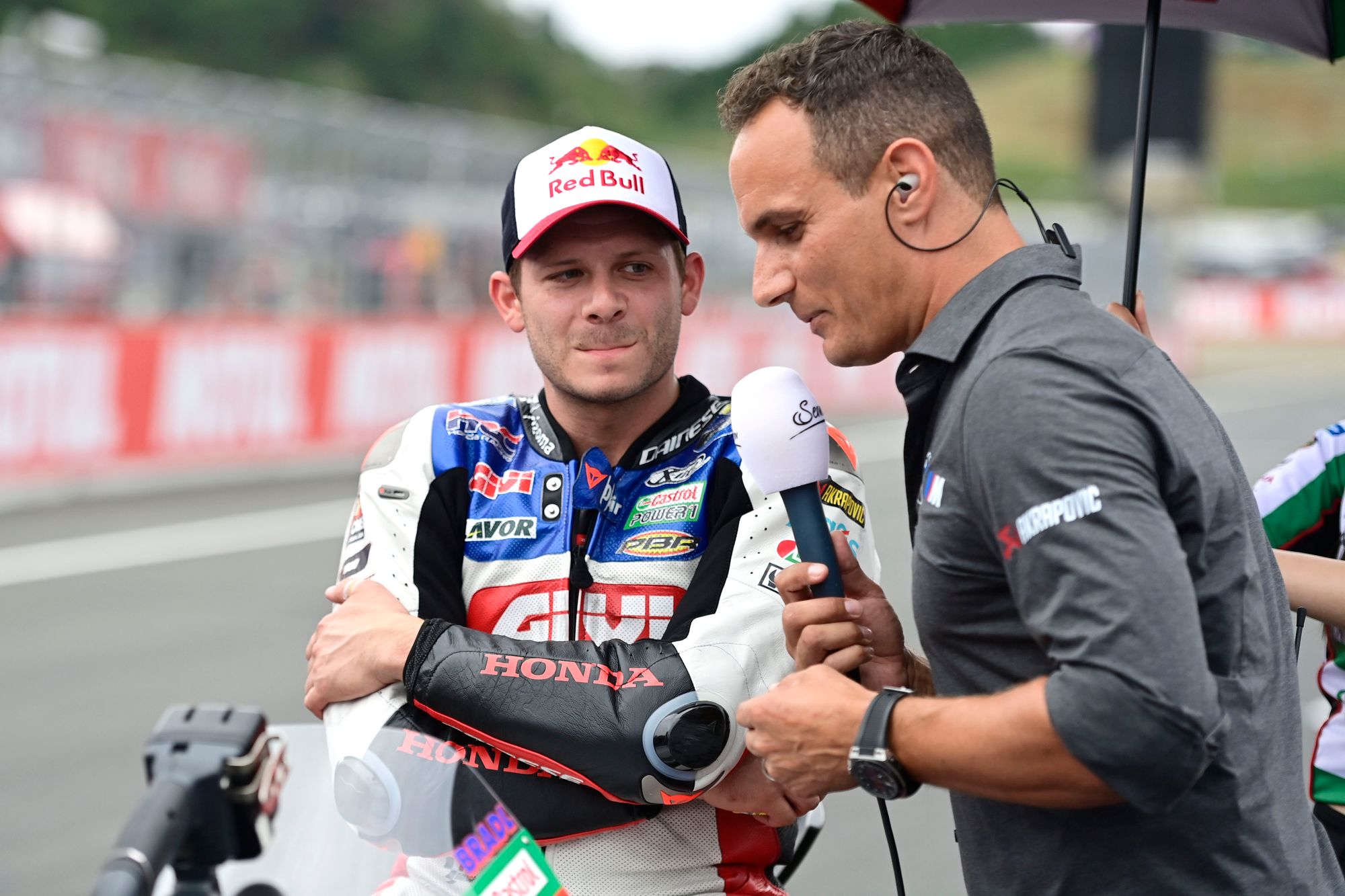 Yes, the circumstances of Sunday's wet race helped his case, but credit where it's due: Bradl jumped onto Alex Rins' LCR Honda only on Saturday morning ahead of the final practice session, and still managed to come home inside the points.
Making a risky move to stay out a lap longer than the rest on slicks put him into a half-decent spot. He was then particularly unhappy to see the (eventually aborted) restart coming after the red flags.
13 Aleix Espargaro
Started: 9th Sprint: DNF Race: 5th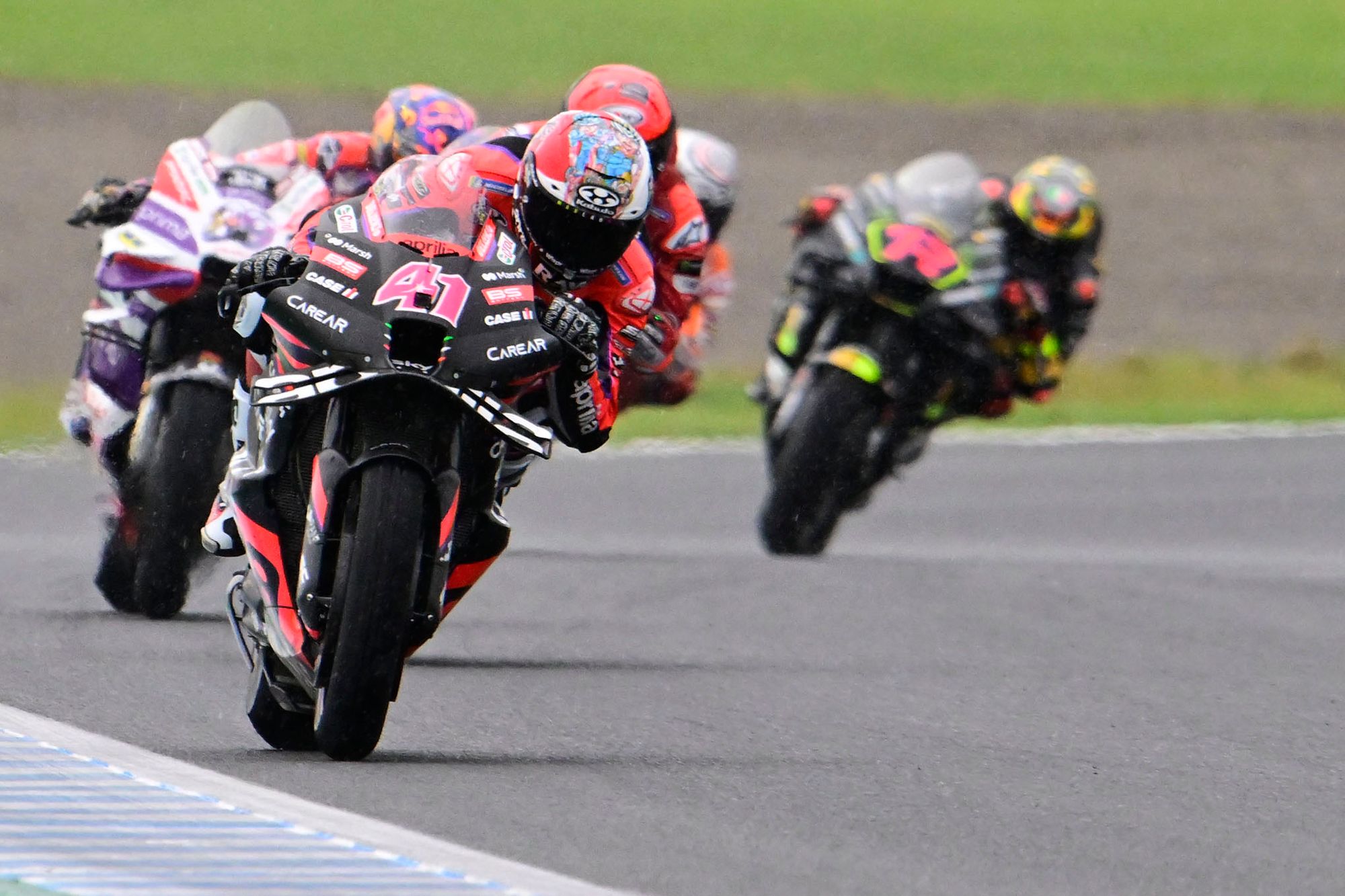 It wasn't really a weekend to impress on an Aprilia for any of its line-up, but credit where it's due for Aleix Espargaro: his performance on wet tyres in the early stages of Sunday's race was a significant step forwards considering the woes that he and the team had earlier this season in similar circumstances.
Left frustrated by yet another mechanical problem in the sprint, he leaves Motegi at least content that Aprilia has buried one demon even if there are obviously still improvements to make.
14 Brad Binder
Started: 5th Sprint: 2nd Race: DNF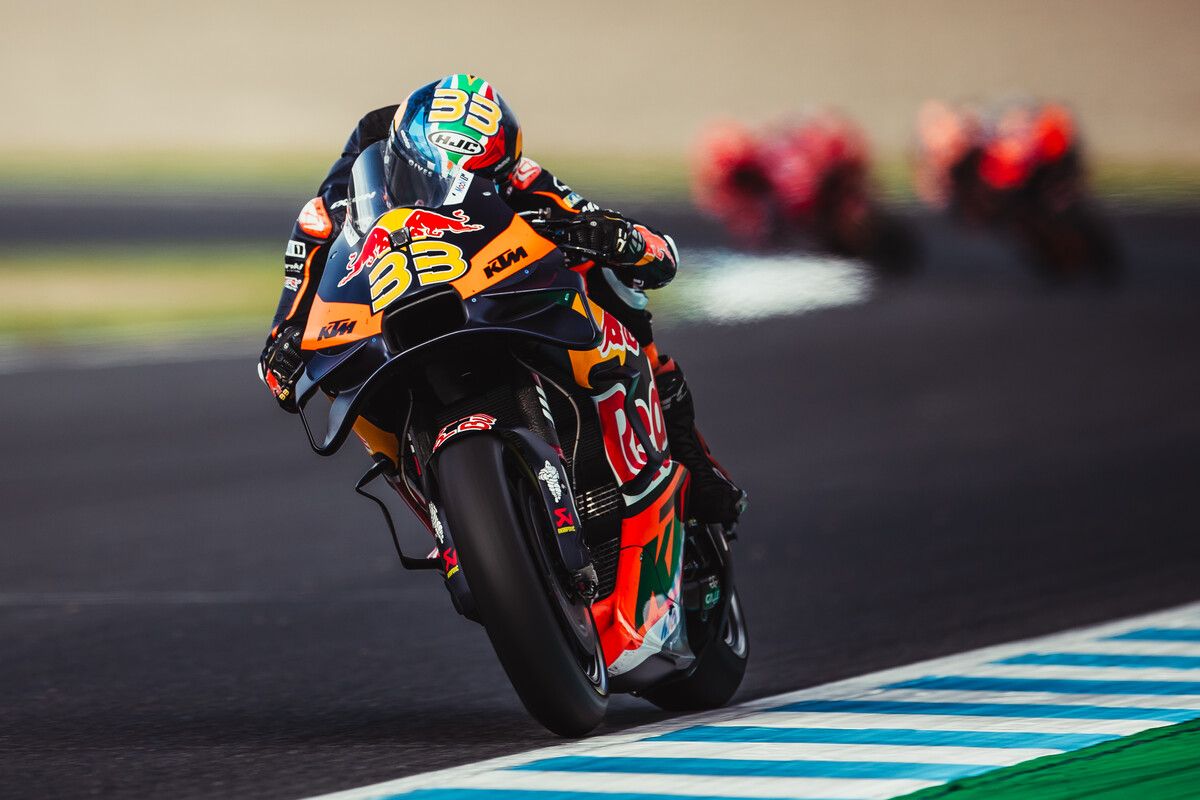 Working this weekend with KTM's new carbon-fibre frame and seeing an immediate improvement, Brad Binder's qualifying performance was one of the best of the season and his sprint podium looked more than comfortable.
Caught out by conditions in the rain, though, after a hold-up during the bike swaps, he threw away valuable points in the battle for third in the championship.
15 Joan Mir
Started: 15th Sprint: 13th Race: 12th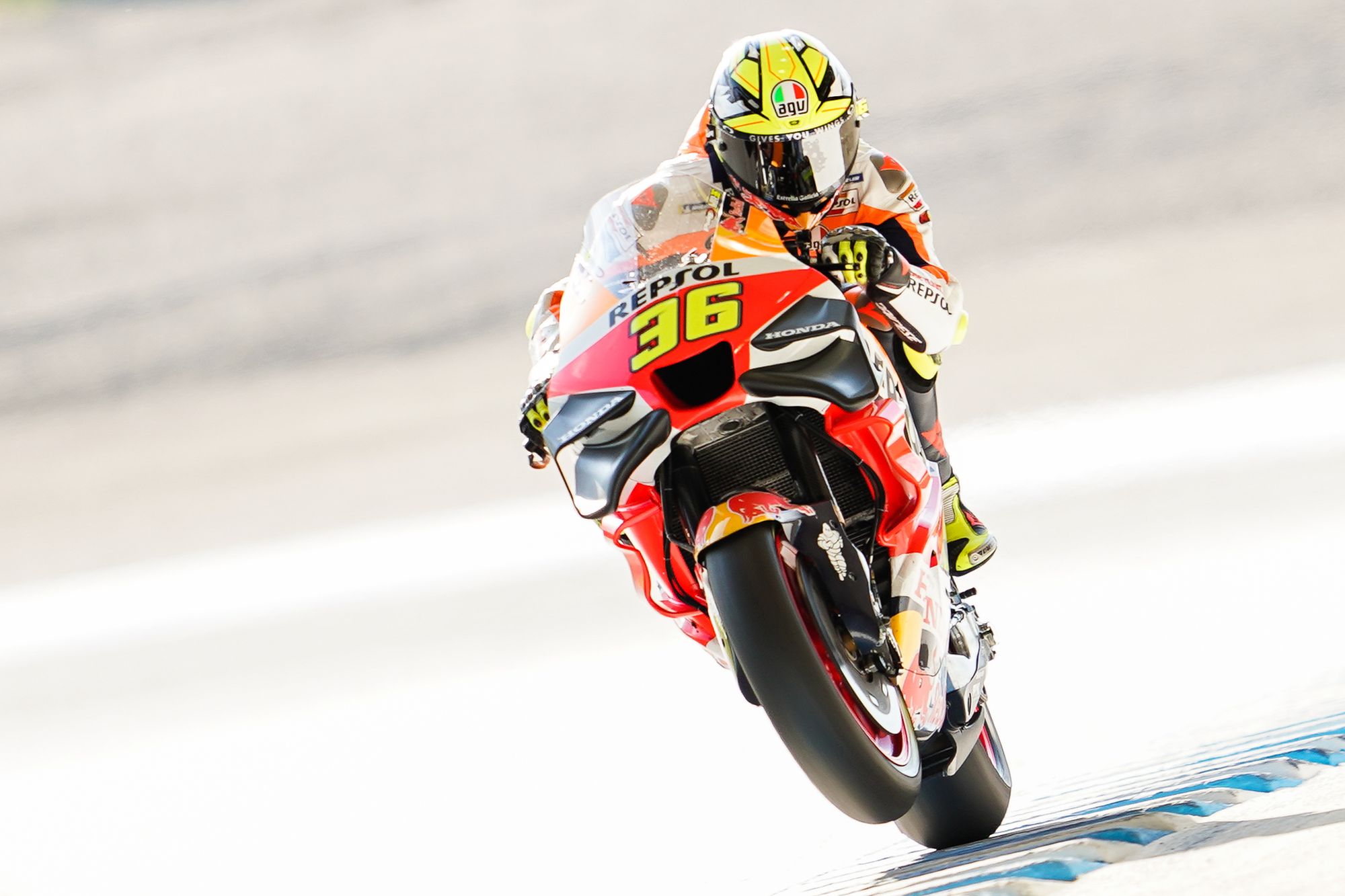 After the highs of the weekend before in India, Joan Mir went to Honda's home race in Japan with high expectations - and was immediately brought back to reality when the RC213V returned to form.
There was some potential for success in the wet, just like team-mate Marquez managed, but visibility problems as his visor fogged up turned what could have been a second good result in seven days into yet more frustration and disappointment.
16 Marco Bezzecchi
Started: 4th Sprint: 6th Race: 4th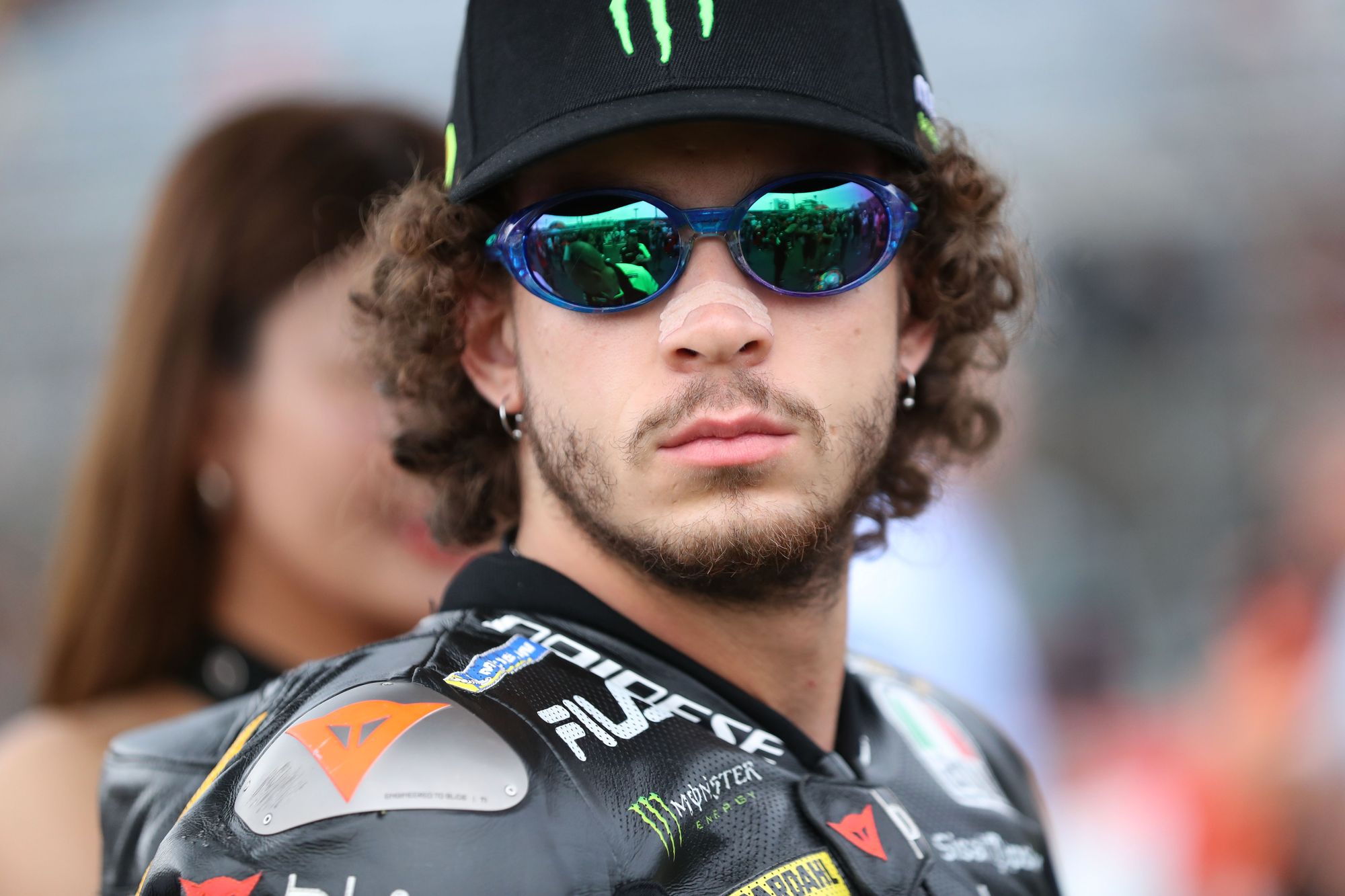 On paper, this weekend's results weren't awful for Bezzecchi. However, it won't be the fourth place in Sunday's wet race that he'll remember this weekend for - but rather, because it was the one where Bagnaia and Martin stretched away their championship advantage over him, perhaps beyond reach.
And if that's not the main memory to take away from it, dumping Vinales into the gravel at Turn 1 probably comes a close second.
17 Fabio Quartararo
Started: 14th Sprint: 15th Race: 10th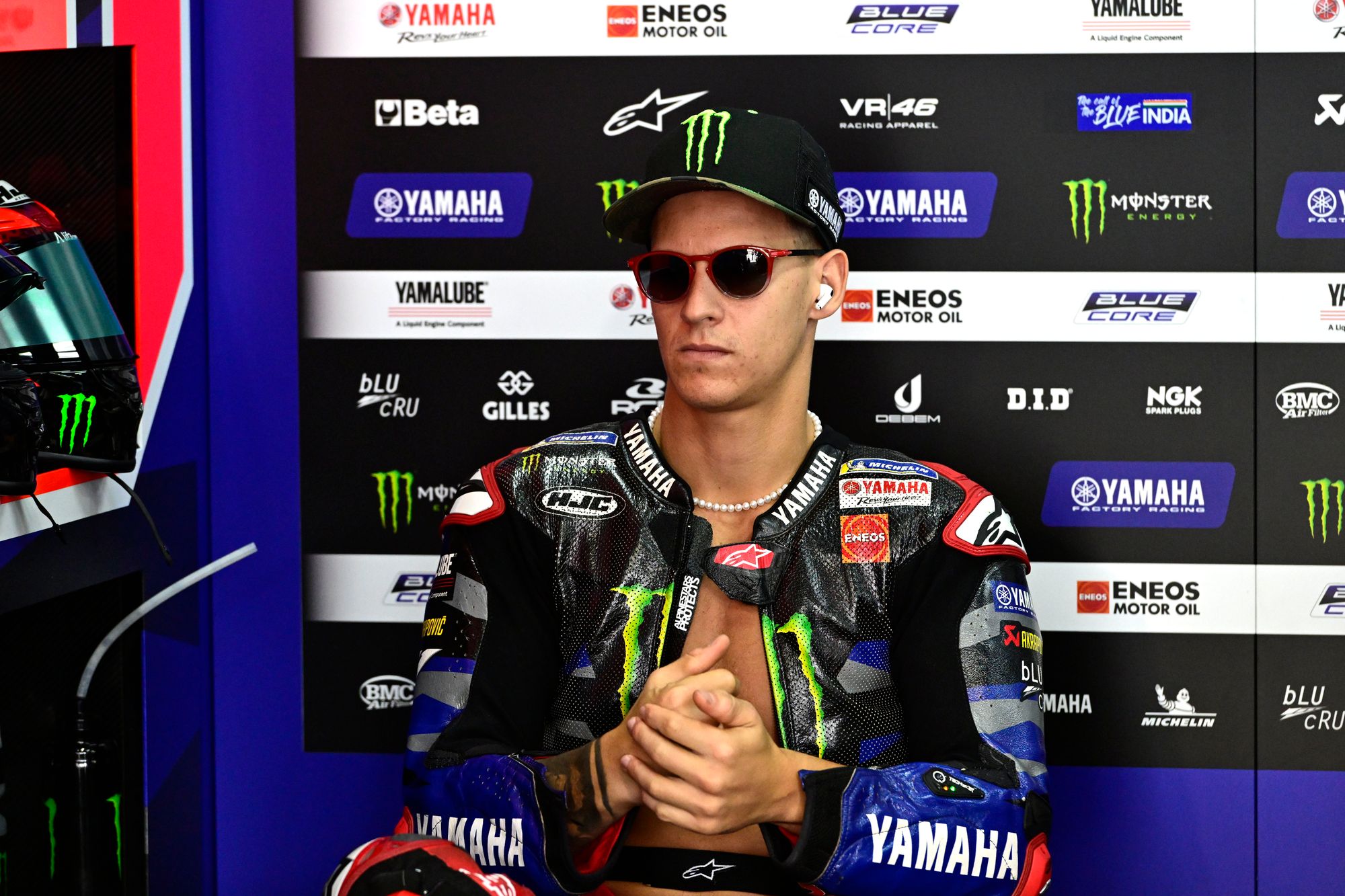 There was certainly nothing to get excited about from yet another rather mediocre weekend for Yamaha rider Fabio Quartararo, with the 2021 world champion once again simply reaching the limits of his bike early in the weekend and stagnating from there on.
Staying out, he believes, a little too long in the flag-to-flag race and missing his opportunity to potentially finish a few places higher on Sunday, that prospect wasn't enough to get him too excited as he continues to accept his lot in life with the current M1.
18 Maverick Viñales
Started: 8th Sprint: 9th Race: 19th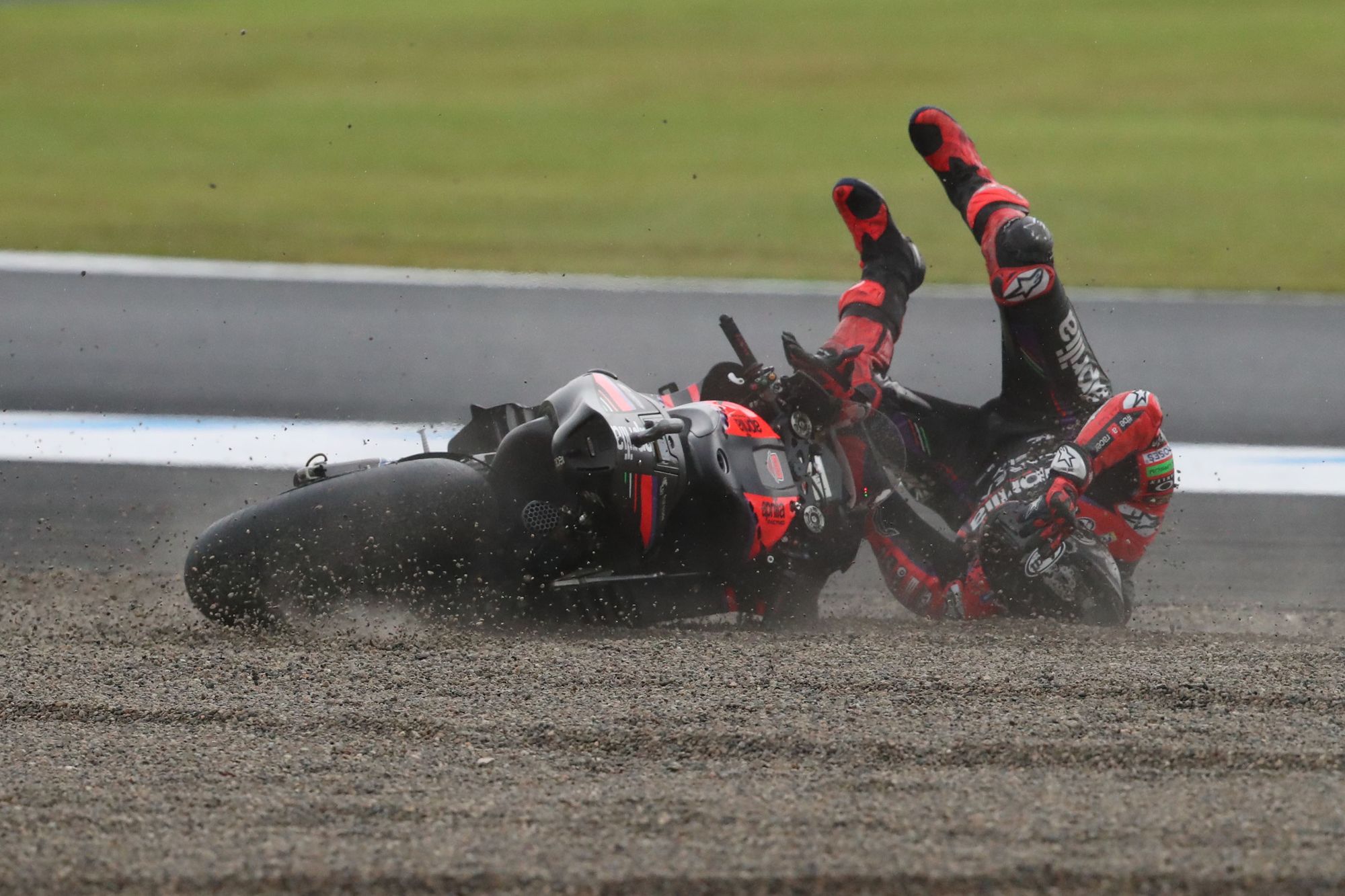 It wasn't easy to see much of Vinales this weekend as he never really figured much at the sharp end.
Just about scoring a point in the sprint race, any hopes he had in the main event were ended in the gravel trap at Turn 1 thanks to Bezzecchi.
Not really one to remember for the Aprilia racer.
19 Taka Nakagami
Started: 18th Sprint: 17th Race: 11th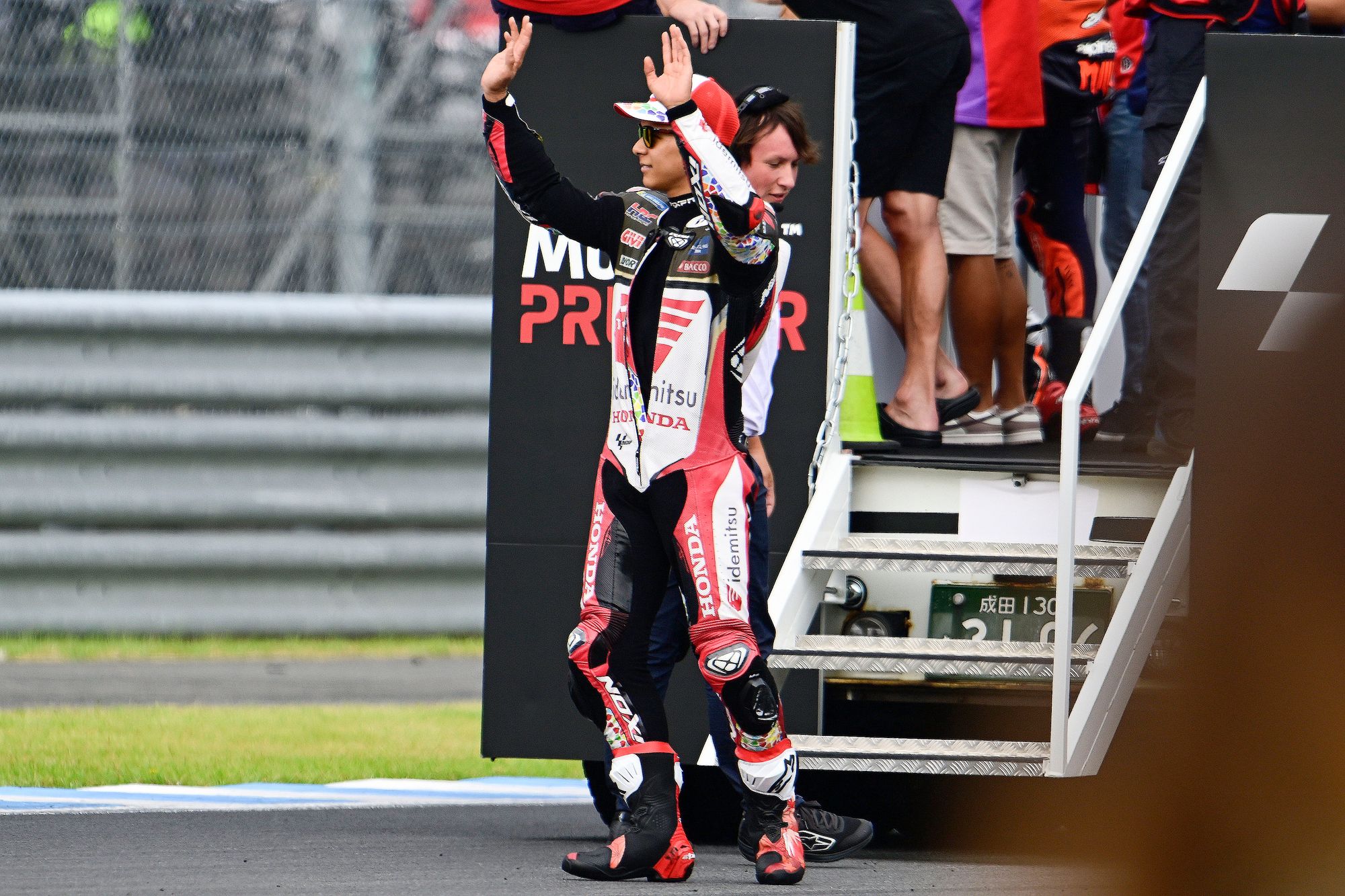 A rather anonymous home race for Taka Nakagami - the local hero never really got his weekend going despite the other Honda riders once again displaying decent pace in both the wet and the dry.
Only unusual circumstance led to him finishing ahead of Mir and, once again, test rider Bradl wasn't far away from him.
20 Pol Espargaro
Started: 12th Sprint: 11th Race: 15th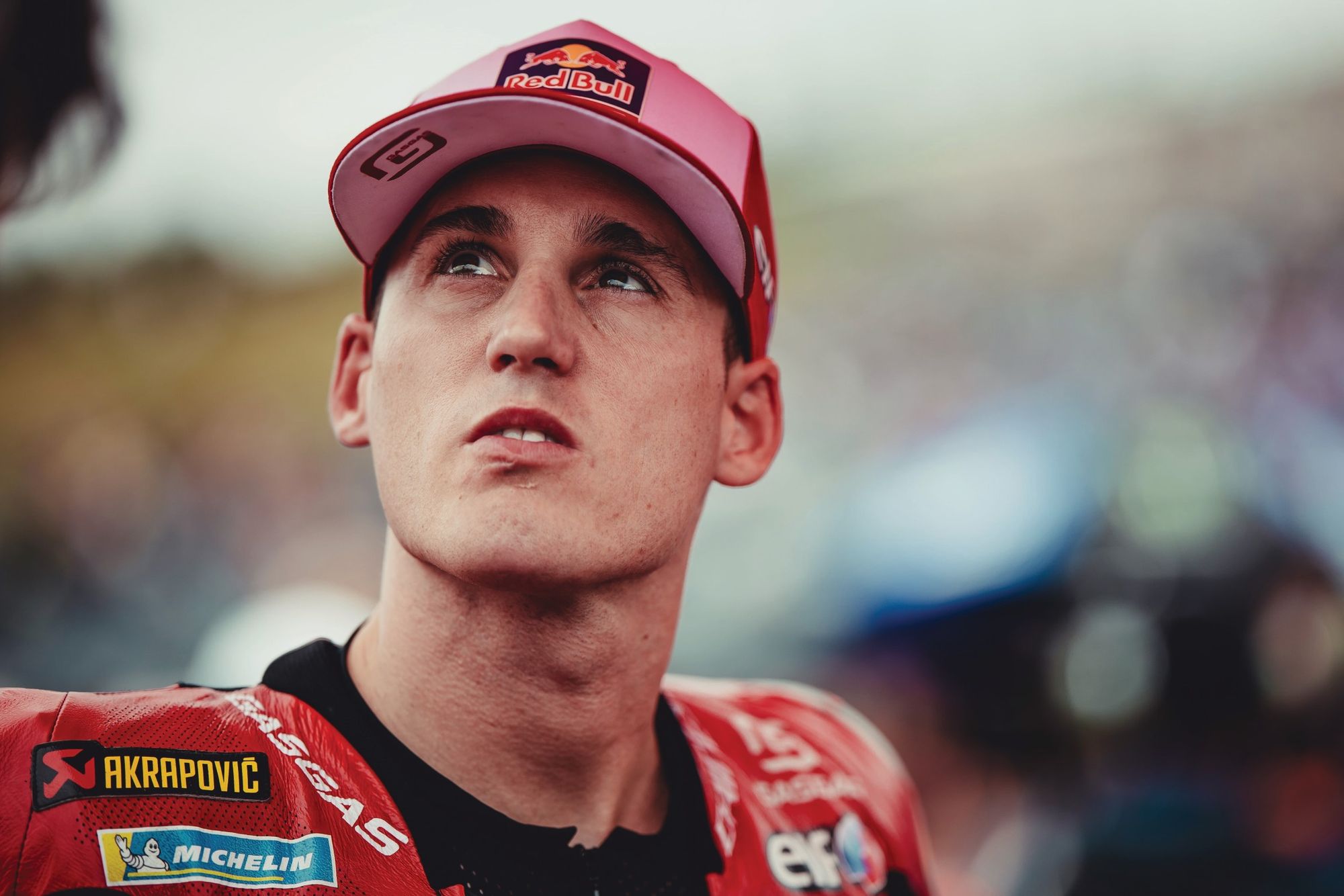 Last weekend in the extreme high temperatures of the Indian GP, it was understandable that Pol Espargaro (still not fully recovered from his life-threatening injuries at the season opener) was going to struggle physically.
But there were none of those limitations in Japan, yet he still ended up not just far back, but beaten by rookie Gas Gas team-mate Augusto Fernandez.
At a time when every KTM rider is on thin ice, no one wants to be the latest to show weakness - meaning it wasn't great timing for Espargaro.
21 Franco Morbidelli
Started: 17th Sprint: 16th Race: 17th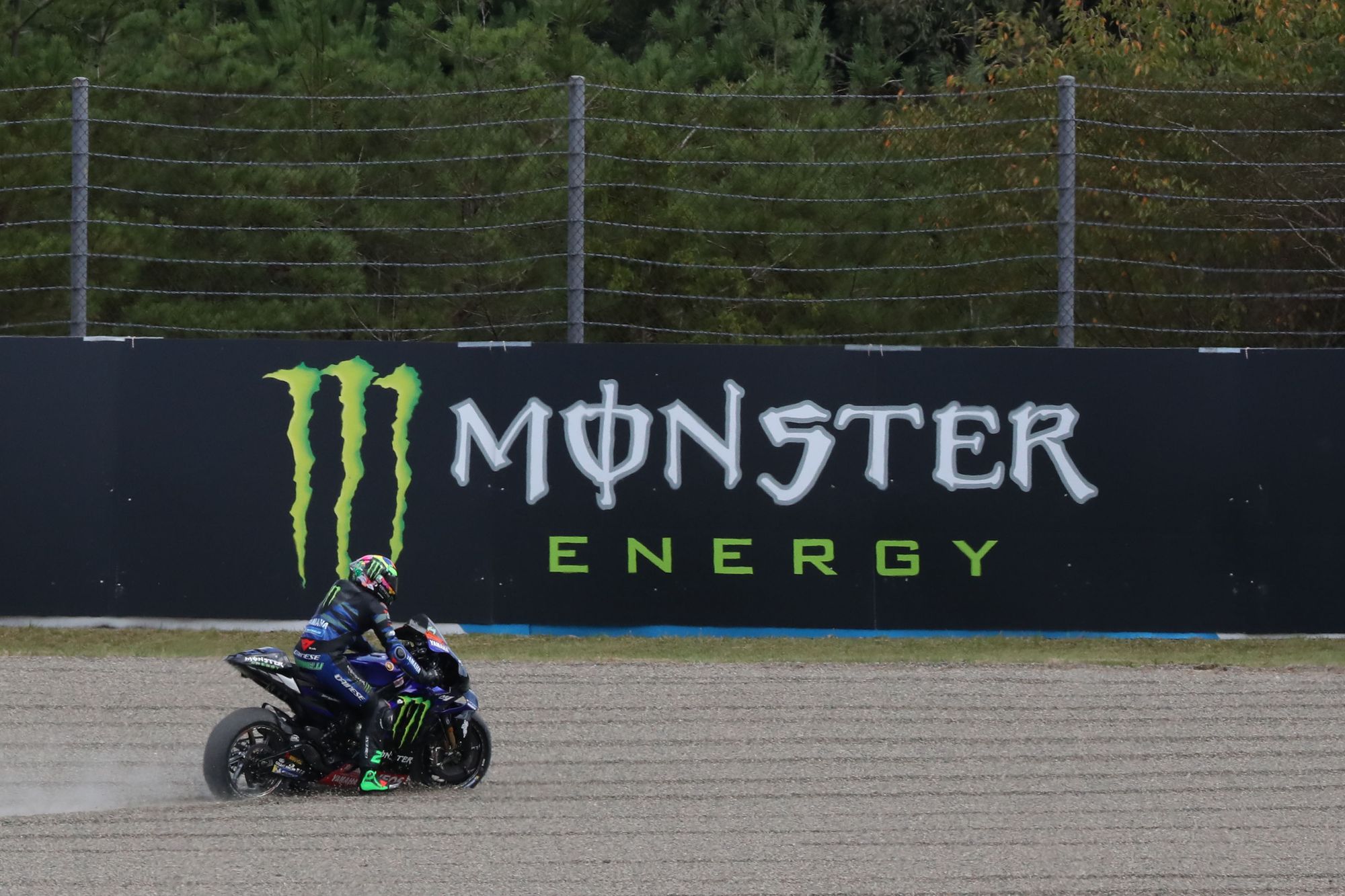 It's one thing to be the worst Yamaha on the grid when it's just you and team-mate Quartararo - but this weekend Franco Morbidelli managed the same thing with wildcard test rider Crutchlow also racing.
Crutchlow, in his first appearance of the season, handily outperformed Morbidelli - and, with a Pramac Ducati at the other end of the timing sheets, it's another example of why the Italian's Yamaha departure cannot come soon enough.