Pecco Bagnaia hadn't really won like this before. Of his 16 MotoGP grand prix wins before Indonesia, 11 had come from first or second on the grid. Four more were from row two, and another from row three - but none from as far back as 13th.
So, after such a difficult weekend, suddenly coming away with a much-increased points lead following what was effectively the biggest points swing available on Sunday, Bagnaia was clearly more boisterous than usual.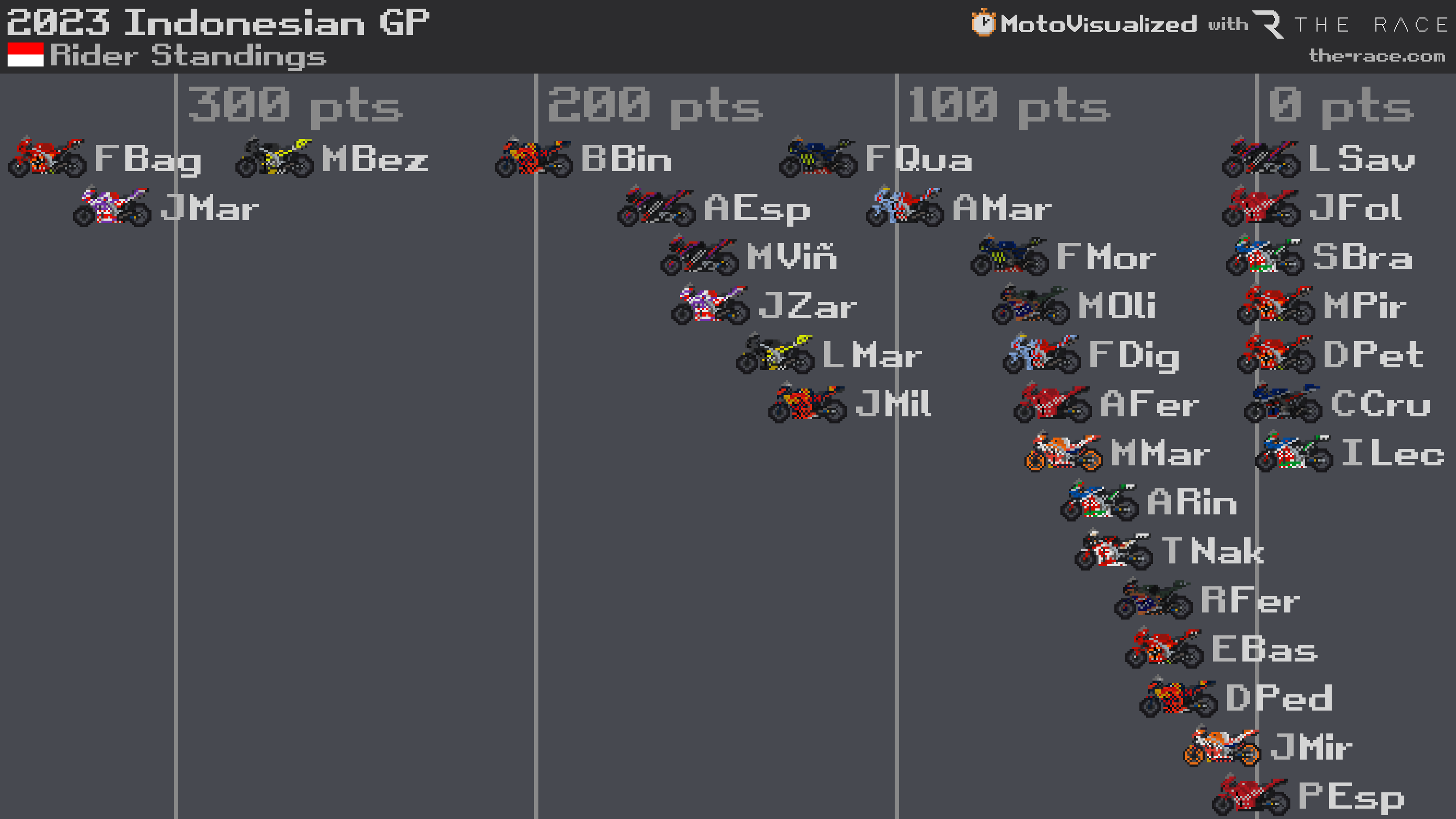 Hence a pointed gesture - theatrically cupping his ear while on the cooldown lap, and doing so again while heading onto the podium, though that was easy to miss given just moments before that Maverick Vinales had danced onto the podium in a Batman costume.
In any case, we know it was a pointed gesture from Bagnaia because he said so.
"Many times people speak too much before, and it's better to wait, see the results and then speak. Because [that's how] I prefer," he offered as an explanation during the post-race press conference, prompting an impish 'oooh' smile from fellow podium finisher Fabio Quartararo.
And not everybody was very convinced, most notably three-time MotoGP champion Jorge Lorenzo in his role as a pundit for Spanish broadcaster DAZN.
"Those gestures don't feel right," he said. "Don't poke the beast, this is not over. Keep your enemy calm, don't piss him off."
That, mind you, potentially presupposes that Bagnaia's celebration was aimed at title rival Jorge Martin, for which there is pretty little evidence - unless the reigning champion took issue with Martin's suggestion that all the pressure, by virtue of status, was on his factory counterpart.
Instead, it is the vague concept of 'the critics' and 'the haters' in the crosshairs, as Bagnaia reaffirmed when asked by The Race to clarify whether it was a message to anyone in particular.
"Was not to someone, was to people. That are always speaking too much before. It's better to wait, until we finish the season, before starting to speak. It's for those people."
Bagnaia was very careful not to imply that "those people" encompasses his MotoGP peers, many of them having pointed to Martin as the title favourite in the days prior. Among those to have done so was future Ducati stablemate Marc Marquez, who also suggested: "Pecco now is suffering what is to defend a title. That sometimes it is more difficult to defend a title than to win."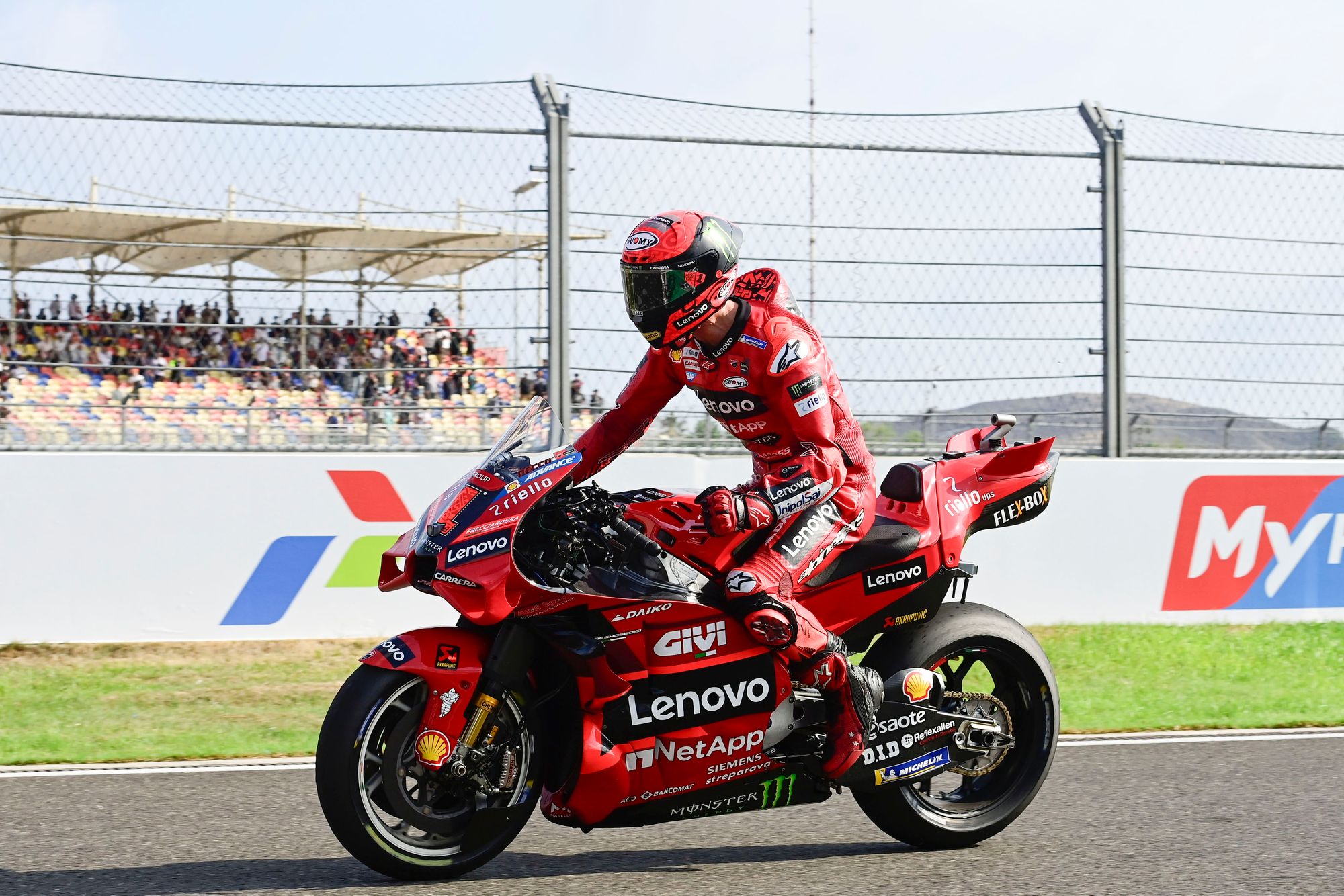 Even if Marquez's words weren't the specific impetus, they were at the very least almost certainly in the same vein as the kind of discussion Bagnaia pointed to as premature.
In any case, though, Lorenzo - who then spent a decent chunk of Sunday defending his thesis on Twitter to people pointing out his various elaborate celebrations - also made a very pertinent point: "It suits him [Bagnaia] to keep a low profile, and he has been a little lucky that Martin made that mistake."
Bagnaia's Mandalika Sunday ride was a top-drawer one, but a closer look at it makes it clear it wasn't some form-breaking anomaly that suggested Bagnaia will reliably be able to make up for low grid positions if he needs to in the future.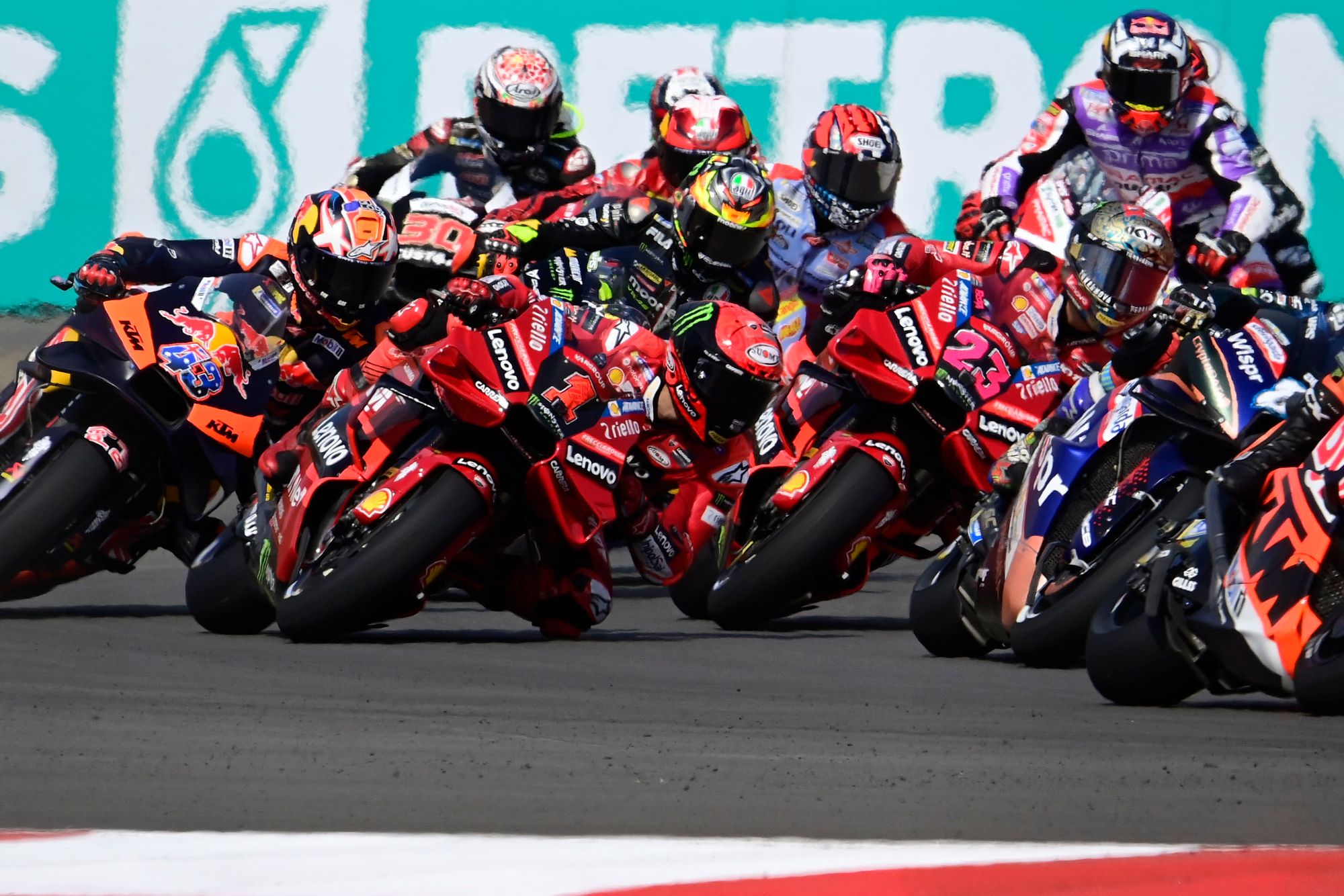 He was fighting for 12th or so coming through Turn 1, but was promoted to 10th by Marco Bezzecchi getting a bad run out of the corner and seemingly impeding Jack Miller, then managed to dive down the inside of overly-cautious team-mate Enea Bastianini for ninth.
Miguel Oliveira was dispensed in lovely fashion at Turn 7, but then Bagnaia watched Marc Marquez and particularly Aleix Espargaro overcook the entry into Turn 10, which got him past both - although it took Bagnaia very bravely sticking around the outside of Espargaro at Turn 12 to cement the move.
Brad Binder clobbering Luca Marini up ahead meant two more places, and from there on all it took was gobbling up Quartararo on the run out of Turn 12 (as Quartararo struggled a little in the early going, his Yamaha famously not on song with fresh tyres this year) and taking care of Vinales for the lead many laps later with a run out of the Turns 7-8-9 complex that looked to be Vinales' Achilles' heel during the races.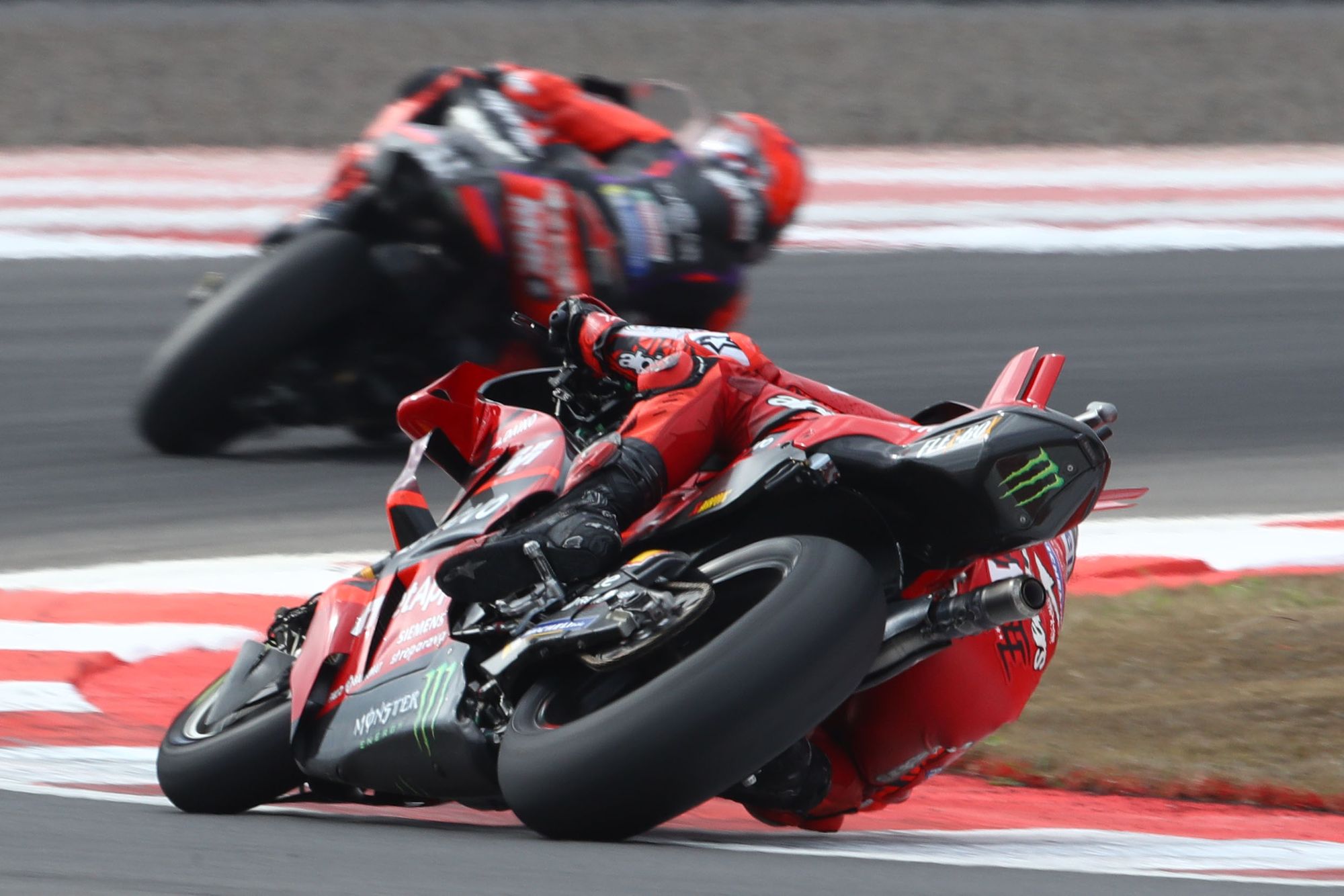 Unimpressive? No. Definitely don't take it that way. Bagnaia had to be smart and incisive, as he so often is on Sundays.
But, as in virtually any charge, it required some lucky breaks here and there, and he was definitely at least a little fortunate that all the fellow Ducatis in particular that he needed to get past were either dealt with during the relative chaos of Turn 1 or removed from the equation without any influence from Bagnaia.
Martin, of course, was the headliner of those Ducatis, dropping it from a three-second lead (four seconds over Bagnaia) on lap 13. He was on the soft front tyre relative to Bagnaia's hard front, but it was not going to make a four-second difference, especially with Vinales between them.
"I'm happy that I'm the fastest, today nobody was even close to my pace," Martin said, himself no stranger to a cocky quote.
There's a lot to be said for actually finishing that race, which certainly cannot be taken for granted given only 14 riders did so, but under normal circumstances Bagnaia would've left Mandalika with a 12-point deficit rather than an 18-point lead.
It is important not to downplay the impact of the win, given how relentlessly Martin was outscoring Bagnaia and the Italian's own revelation that he feels 100% fit now for the first time since all the way back at Le Mans in May - when, in a crash with Vinales, he broke a talus bone and injured his hand, before then hurting himself again at Barcelona last month.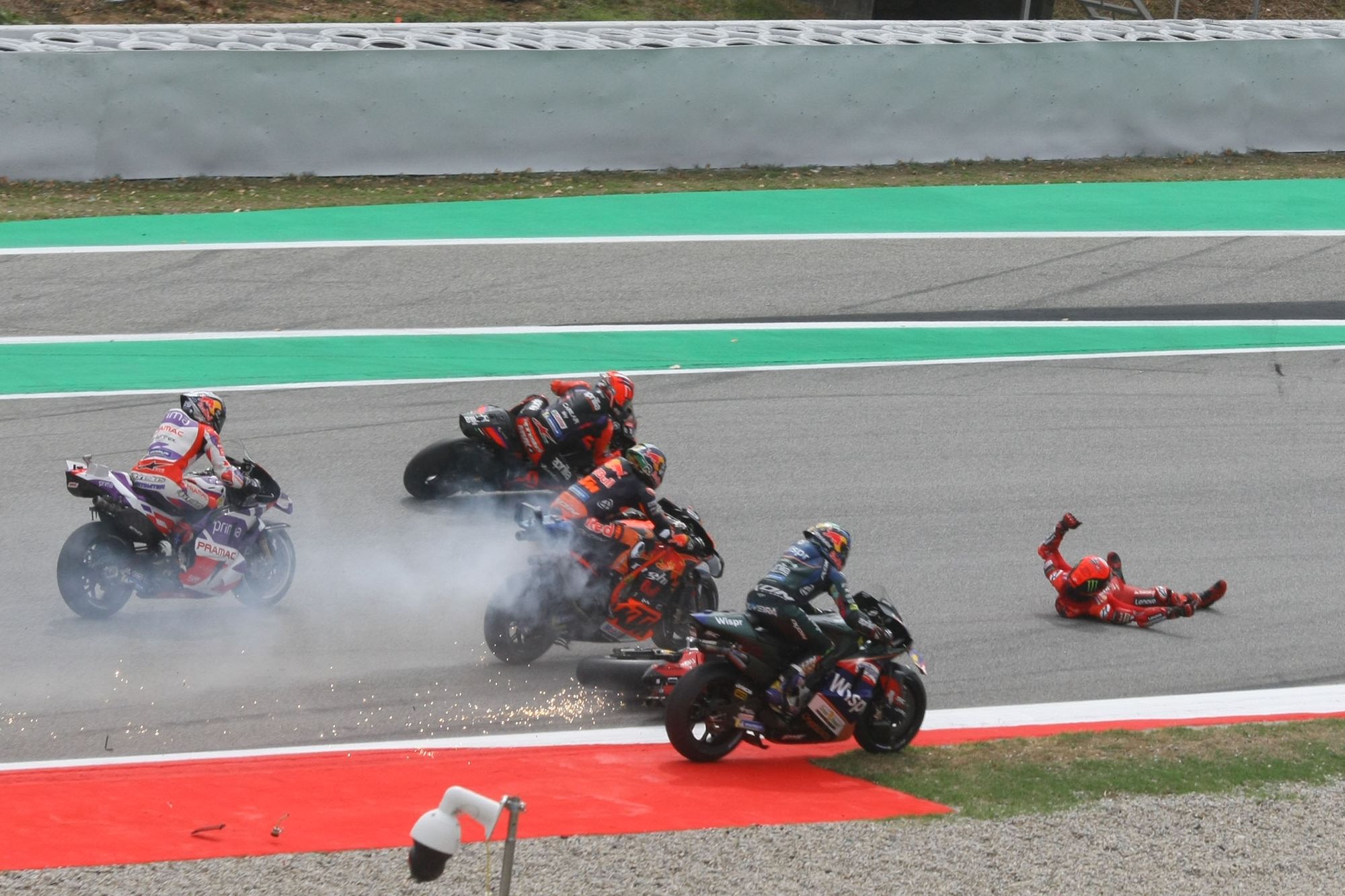 It has been "really difficult" since that latter accident, in which a violent first-corner high-side ended with Binder's KTM hitting his legs as he lay on the track.
"Maybe he saw that I was struggling a bit and his ambitions increased," said Bagnaia of Martin.
"Jorge is very, very strong, absolutely, but I was working a lot to find again my feeling on the bike.
"And it was a long period without a result like this, because it's true that I was finishing on the podium, but I was always following others, I was never being on the top like today."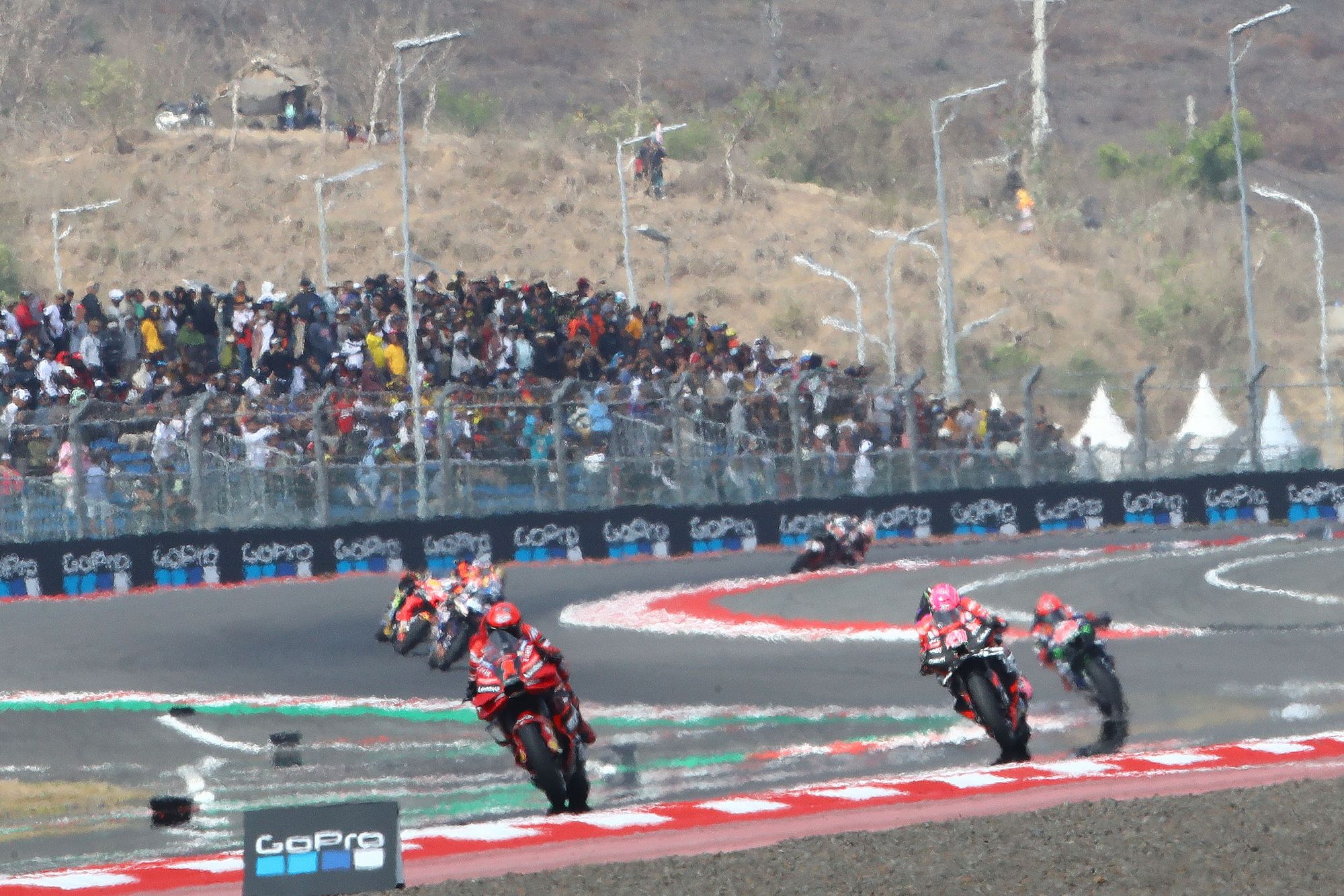 But just as some of Martin's triumphs contained question marks regarding to Bagnaia's fitness, so does this one on Bagnaia's side - also because, while in-weekend improvement is nothing new for Bagnaia, Sunday's race didn't represent an obvious answer to his Friday and Saturday struggles.
He was using the medium rear in the full-distance race, whereas Saturday was all about the soft rear. And it's hardly novel that Bagnaia feels more competitive when moving to that harder rear tyre.
"It's not the first time, also in other tracks, when we raced to the soft and then we moved to the medium, I was faster, and with a better feeling.
"I don't like it when the bike is too aggressive, too nervous, and with the soft rear tyres normally the bike starts to be too aggressive. And this is something I don't appreciate."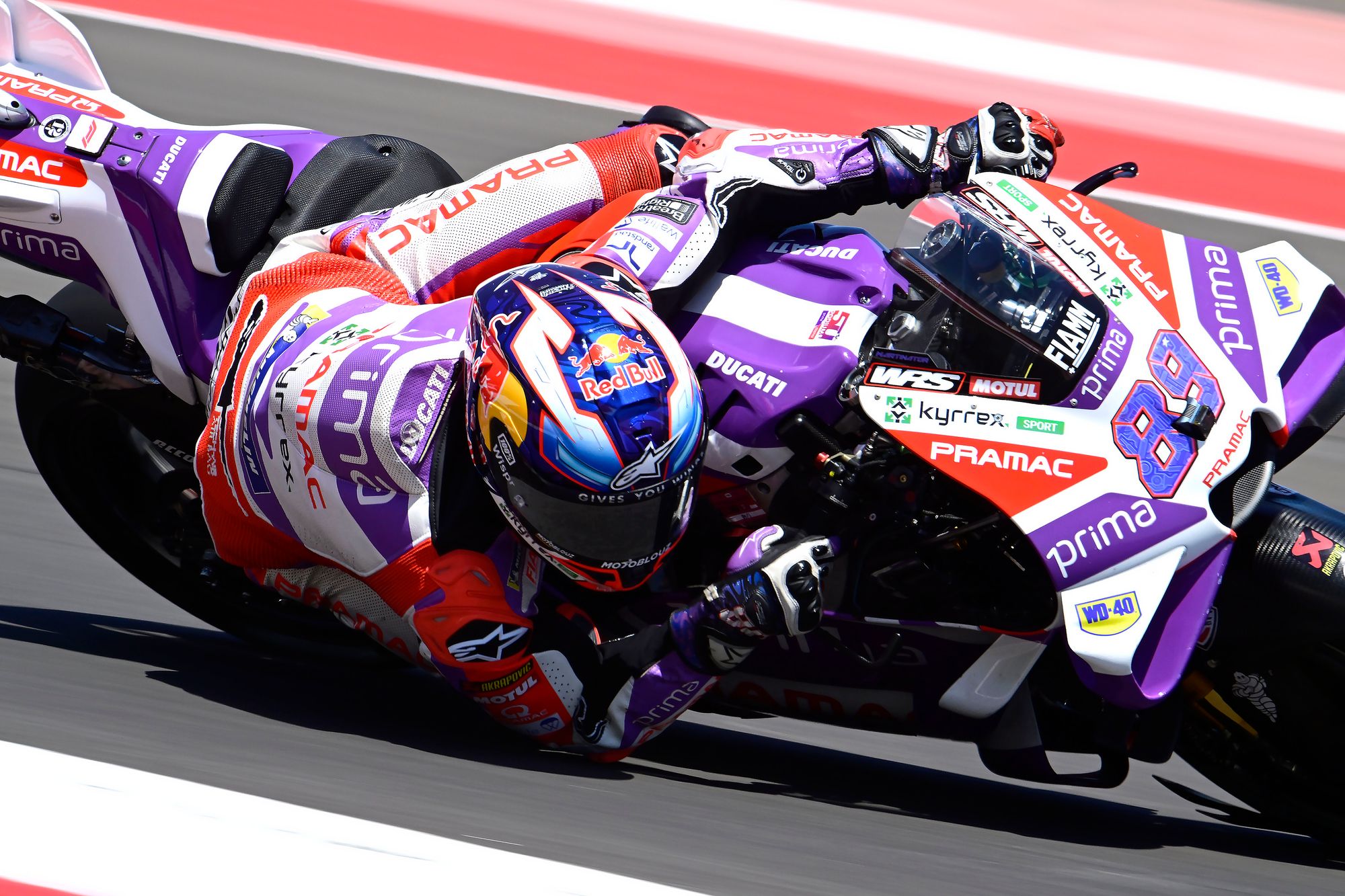 It's something that he can't relax about just yet, because while Mandalika represented something of an extreme, with Bagnaia knocked out in Q1, it is eminently possible that there will be qualifying sessions coming up in which Martin smashes the pole record but Bagnaia can only place on the second row.
That dynamic is one the Indonesian GP doesn't really change. and it's not one to feel comfortable with with just an 18-point lead.
Then again, it would've been a particularly uncomfortable one with a 12-point deficit.