As tension rises in a 2023 MotoGP title showdown increasingly defined by individual mistakes, Pecco Bagnaia and Jorge Martin seem locked in a battle to 'out-chill' one another.
And there was plenty of that throughout the Indonesian Grand Prix weekend alone - whether it be Martin having to continued to insist, despite his recent results, that the all the pressure remained with Bagnaia to win the title given his factory status, or Bagnaia putting on a brave face in light of his Friday and Saturday disappointments.
On Sunday, it was Martin's turn to put on a brave face after he crashed out of the uncontested lead of a race Bagnaia then won from 13th on the grid.
And he did a good, convincing job.
But he wasn't particularly believable about it - not in the sense that he's not being honest in conveying his feelings about the matter, but in the sense that it's probably a necessarily-blinkered view that, for most, should be impossible to share.
"I'm happy that my speed is there, I've been fast in all the tracks. It's been 14 races without a mistake," Martin said.
"It's just statistics. It was coming sooner or later and finally it was here.
"So, still in the races remaining I feel confident that I can be fighting for a victory."
Firstly, "14 races without a mistake" is a bit of selective memory even if Martin is only referring to the Sunday GPs. He did, after all, dump off Alex Marquez (and himself) on the opening lap at COTA in April.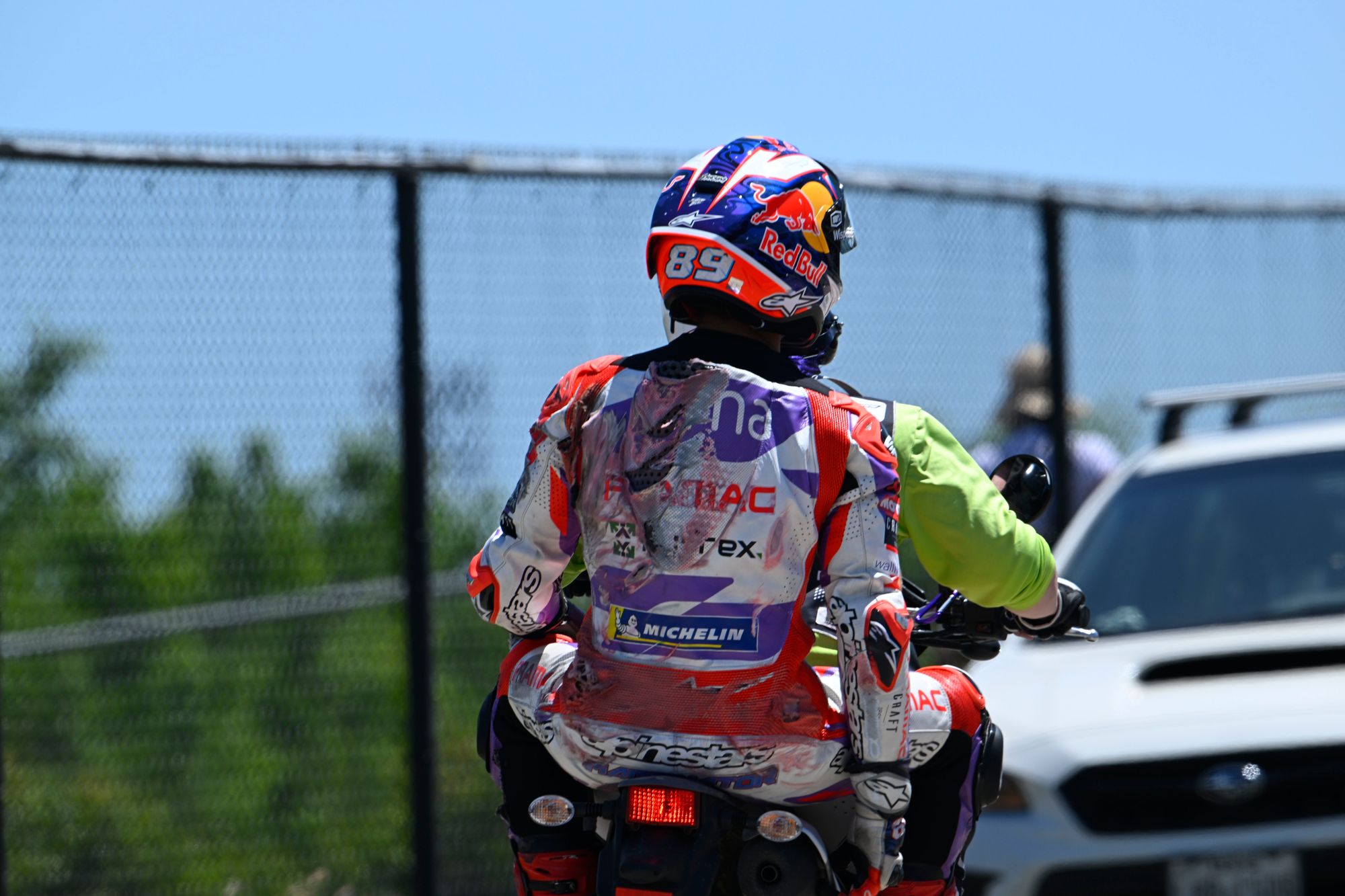 And, just from a pure "statistics" point of view, a long run without retirements doesn't necessarily increase the chance of a retirement in every subsequent race - although Martin's point of being unlikely to maximise every available opportunity over the six-round head-to-head kicked off by Mandalika was valid.
But this was not the time to make a mistake.
Riders crash, sometimes when pushing, sometimes when seemingly in complete control. That's fine. There's no real reason to excoriate them for individual mistakes - it's a really tough sport.
But, just in pure mathematical terms, Martin's error was as costly as they get. Literally, you could not create a bigger in-race points swing with a single-bike crash. Martin gave up what looked a nailed-on 25 points, and in making the battle between Bagnaia and Maverick Vinales one for the lead rather than for second, spotted Bagnaia an extra five points.
The crash itself looked innocuous, and that's because it was. While Bagnaia in his post-race comments was almost suggesting that he suspected a Martin crash was coming because of how high the pace had been at that point, Martin's own claim that he had been in control and actually eased off a little once three seconds clear of Vinales seems to ring more or less true.
"I had three seconds so I already did the hard work," said Martin. "It was just making laps to finish, it is what it is.
"It's not easy when you are in front, with those seconds, to keep the concentration for sure. But I felt I was running in a safe mode.
"When I saw 2.8s [of a lead], I was really surprised. I said 'OK, it's time to maybe keep calm now'. And yes, I was a bit wide in corner 10, then it seems like it was a bit dirty, so when I go into 11, I lost the front doing the same as the lap before.
"The dirt of corner 10 that made me crash.
"But, s**t happens."
The exact nature of that previous-corner mistake, Martin says, was an error of just "one metre".
"I think I did an amazing race until that point. I am the fastest at the moment. I have to be calm, still 10 races to go. Still a long way."
This is all true, and the 18 points he now trails Bagnaia by is far from an unassailable gap.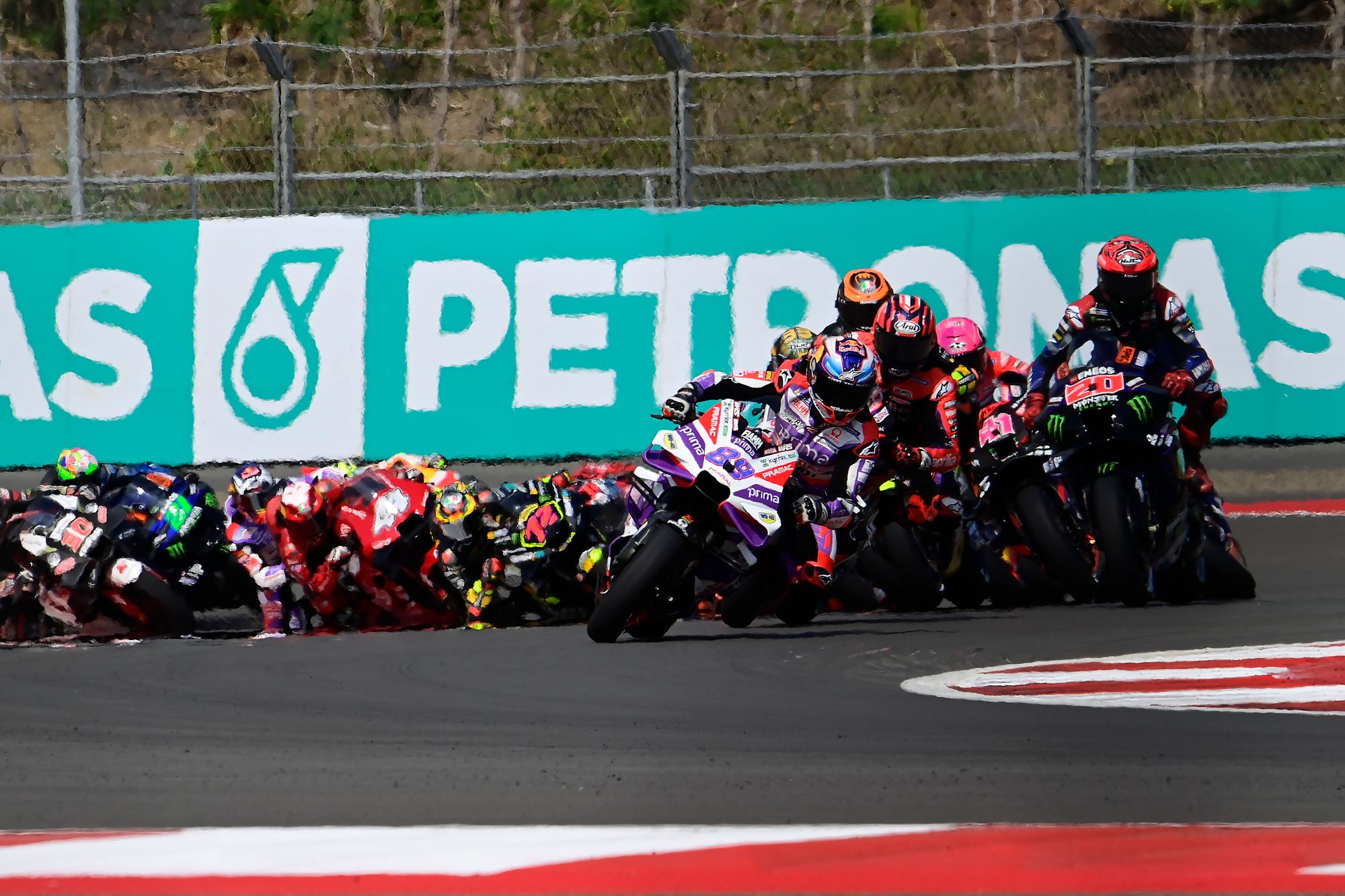 But Martin looked to have Bagnaia on the ropes at Mandalika, and instead he fell out of the ring in the final round. This was an unmistakable chance to assume control of this title race, and it went begging. And instead of stewing over his situation and a potential powerlessness in the face of a massive title collapse, Bagnaia now gets to breathe a lot easier coming into Phillip Island next weekend.
It's not over. But this was a 30-point swing - and there's an exceptionally good chance the 2023 title race will be decided by much less than that.