Enea Bastianini has not been a title threat the way he would've hoped this year, through a season-altering injury and a less-than-smooth adaptation to the new Ducati, but he has now had his say in MotoGP's title race anyway.
Factory team-mate Pecco Bagnaia would've been in a better position - that much seems almost certain - had Bastianini's latest injury absence covered Indonesia, too. But in returning at Mandalika, Bastianini was first the difference between Bagnaia making Q2 and ending up stranded in Q1 and then kept him at bay through the sprint.
Though it was clearly not a good day for Bagnaia in any case, Bastianini was a major factor in the 10-point swing between him and main title rival Jorge Martin, of the Pramac squad, now seen as probably the marginal favourite for the crown, especially given Bagnaia will have to start 13th again on Sunday.
"I don't know how to say it in English - I never say bad words in English - but I'm pissed off... that's correct?" said Bagnaia. He then pivoted to an Italian "mi girano i coglioni" - same meaning but much more colourful in the direct translation of "my balls are spinning".
So why isn't the works Ducati team making his life a little easier through reining in Bastianini, who isn't really fighting for anything in terms of championship position?
Because that's not how Ducati does things - and because, this time, it just really isn't worth it.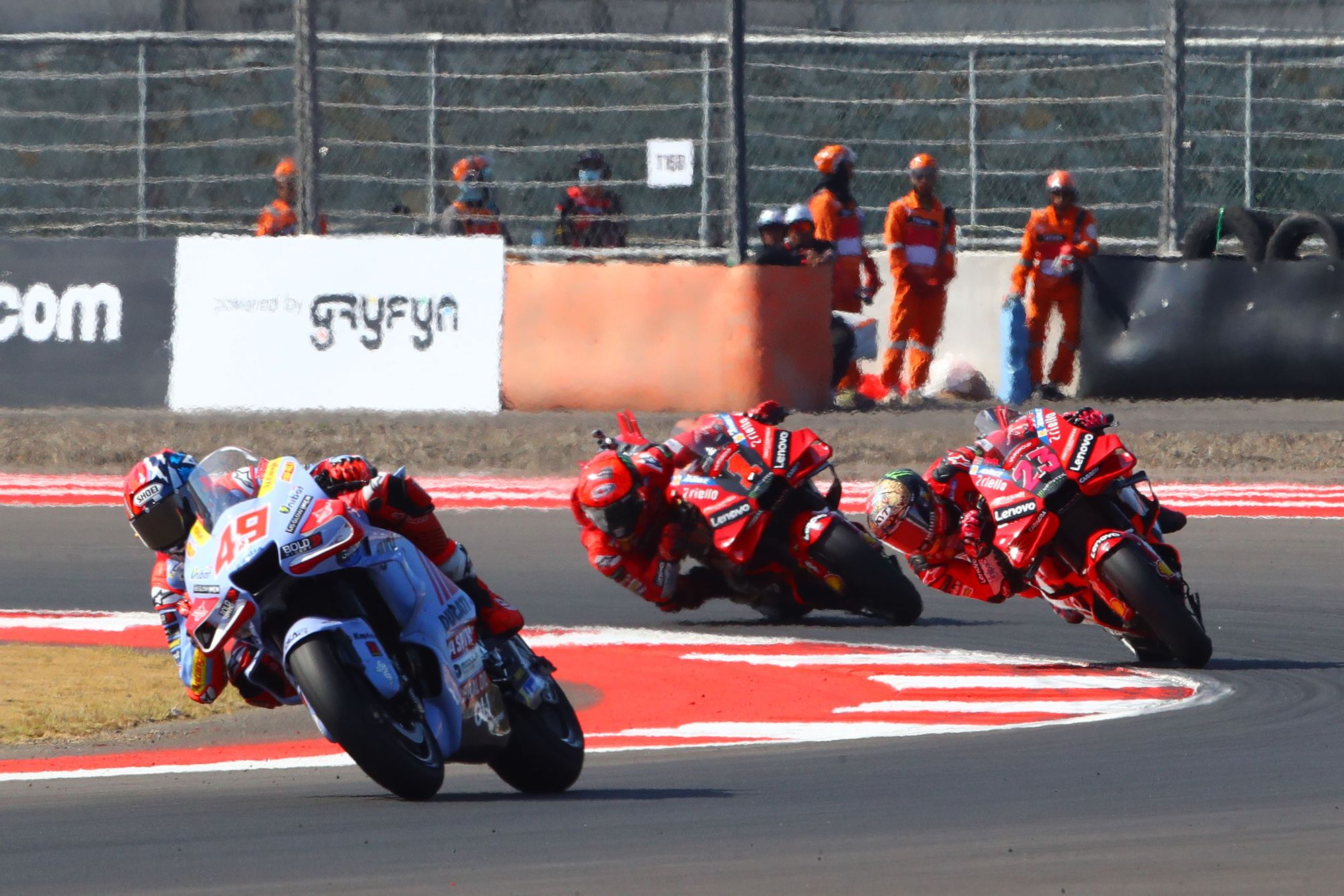 It was worth it last year, when Bastianini was hounding Bagnaia in multiple races, increasing the risk of disastrous mistakes or at the very least lost points in what was a chase after the points-leading Yamaha of Fabio Quartararo.
Ducati is known to have privately discussed certain racing matters with its camp as Bagnaia closed in on Quartararo, and it had rules of engagement in place in demanding that its riders take it easier against one another - but it never actually put a thumb on the scale, not really.
And it ultimately got away with it.
The stakes were higher for any team orders that year - Bastianini would've had to be asked to give up genuine victory bids, rather than a Q2 appearance or a seventh place. But the pay-off would've been higher, too.
This time, Ducati knows all too well that the riders' title is going to go to one of its riders. And though Bagnaia might be its franchise rider, its representative in works colours, his peace of mind and serenity is not worth intervening for even if Ducati hadn't already set a precedent last year.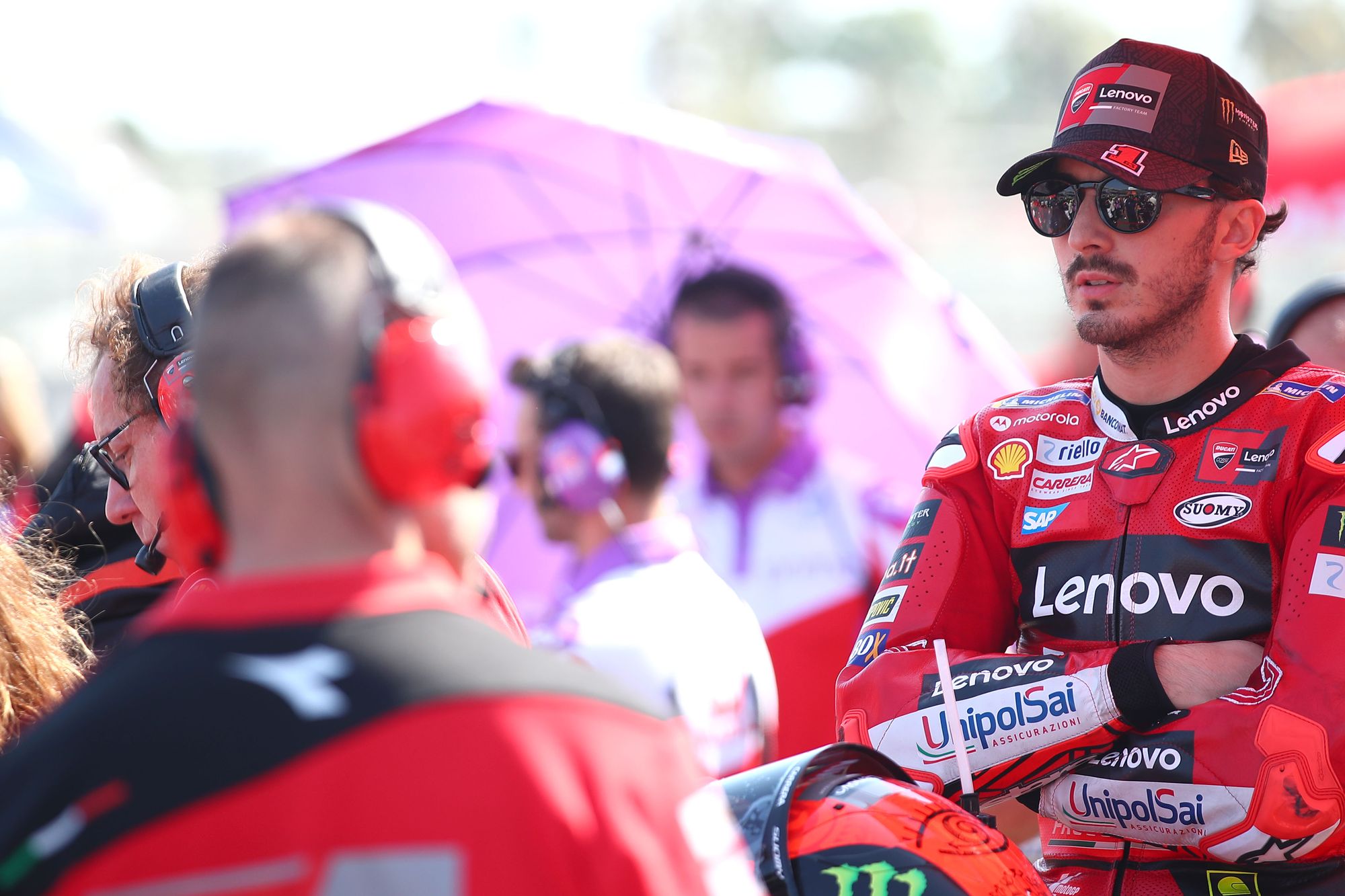 The Q1 situation was reminiscent of when Andrea Dovizioso raged against Danilo Petrucci denying him Q2 at Aragon. It was slightly different, as Petrucci did so through tucking in behind Dovizioso, but championship implications were in any case a factor.
But it was a different title fight, and it's not like Ducati had interfered at that point, either.
Bagnaia would've been guaranteed to have a more fruitful sprint and a much more positive Saturday outlook if he got to Q2 here, as even his Q1 time would've put him fifth on the grid in the pole shootout.
But when Ducati passed on Martin for a factory team promotion last year, it said he would still be a factory rider in everything but the colour of the bike. And that means it cannot show any favouritism at all in his head-to-head battle with Bagnaia.
And the best part about it for Ducati is that Bagnaia clearly knows that.
"Why block a rider, coming back from injury for a long time, and say to him, 'don't improve your laptime because you have to let Pecco through'?" Bagnaia said of the Q1 predicament.
"It's difficult to understand maybe for you - but for my point of view, in the race it's another story, but in qualifying it's normal it's like this."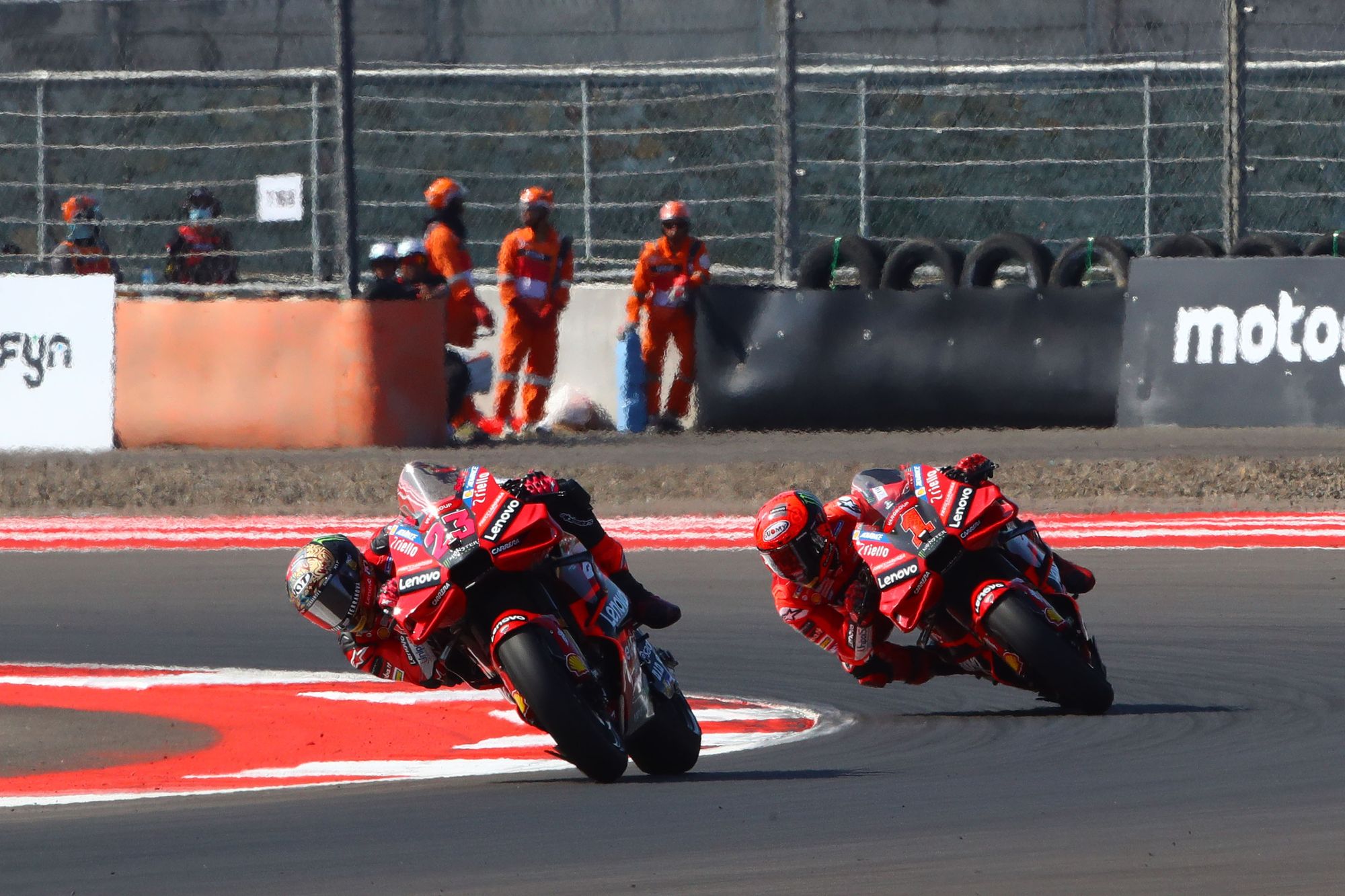 But even when it came to the sprint he didn't sound bothered by the lack of an order.
"I will look crazy saying it, but he didn't have team orders last year, so..." he began when asked about it.
"Last year was [a different team but] the same bike, I was fighting for a championship. We will never have this kind of team orders. It's normal.
"We are eight riders, all the same, not the same package but the same possibility to fight for top positions. This is the strategy from Ducati and from the start I accepted it.
"Today the only way possible to go through Enea was to push him out. And I don't want to. It's not the way I like to race. I don't want to."
Bastianini said he never thought about letting Bagnaia past. "I spent a lot of time at home watching the races, I was really angry. My objective was only to finish the race and to enjoy."
Again, Ducati would've been perfectly justified in prioritising Bagnaia in 2022. But not this year.
Kudos to it, in any case, for being consistent - and, as it stands, for staying out of what is proving to be an increasingly enthralling title fight.