When MotoGP first headed to the tropical island of Lombok in 2022 for the return of the Indonesian Grand Prix, it produced spectacular drama.
And this year's event clearly felt the need to live up to that standard, delivering a race weekend that'll be remembered for years thanks to the spectacular dips and dives of the championship battle as first Pecco Bagnaia and then Jorge Martin took turns in struggling.
However, the focus on the incredible scenes at the front almost feel a bit unfair on some of the race's other protagonists, pulling focus as it did from some of the strongest, bravest and toughest performances of the season as the grid's battered cohort of racers took on tricky conditions and came out smiling.
It means, as always, plenty to talk about as we judge the grid on their respective results, with perhaps some much higher or lower than their finishing positions in our traditional race weekend rankings when circumstance and expectation are taken into account.
Scoring the grid in order based on their performances not just in the main event but also Saturday's sprint race, it's obviously all subjective - but comes not just from their final race result but takes into account things like the machinery they're on and the pre-race expectations from them.
1 Fabio Di Giannantonio
Started: 7th Sprint: 6th Race: 4th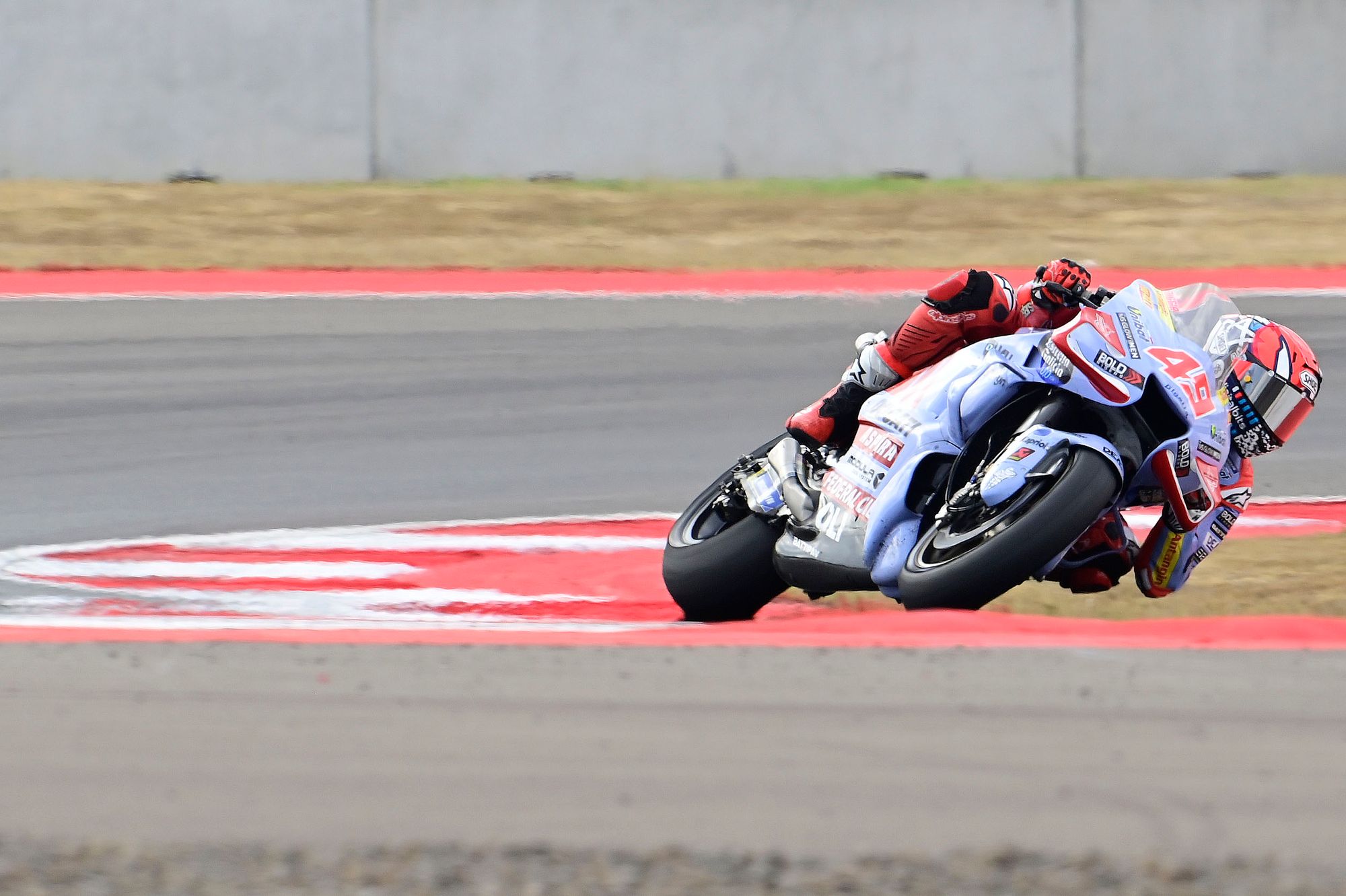 Pressure has a very strange way of acting upon racers. Sometimes, it can make them crumble, but other times it turns them into superheroes - just like it did for Fabio Di Gianntonio on the weekend when it was finally officially confirmed that he's job hunting for next year as Marc Marquez takes his Gresini Ducati ride.
Rising to the challenge rather than letting it get to him, he delivered a season's worth of promise when it mattered most with an outstanding fourth place on Sunday - his best result in the premier class, and a great platform to go looking for a new ride from, especially with a good sprint race performance to show that it wasn't a fluke.
2 Pecco Bagnaia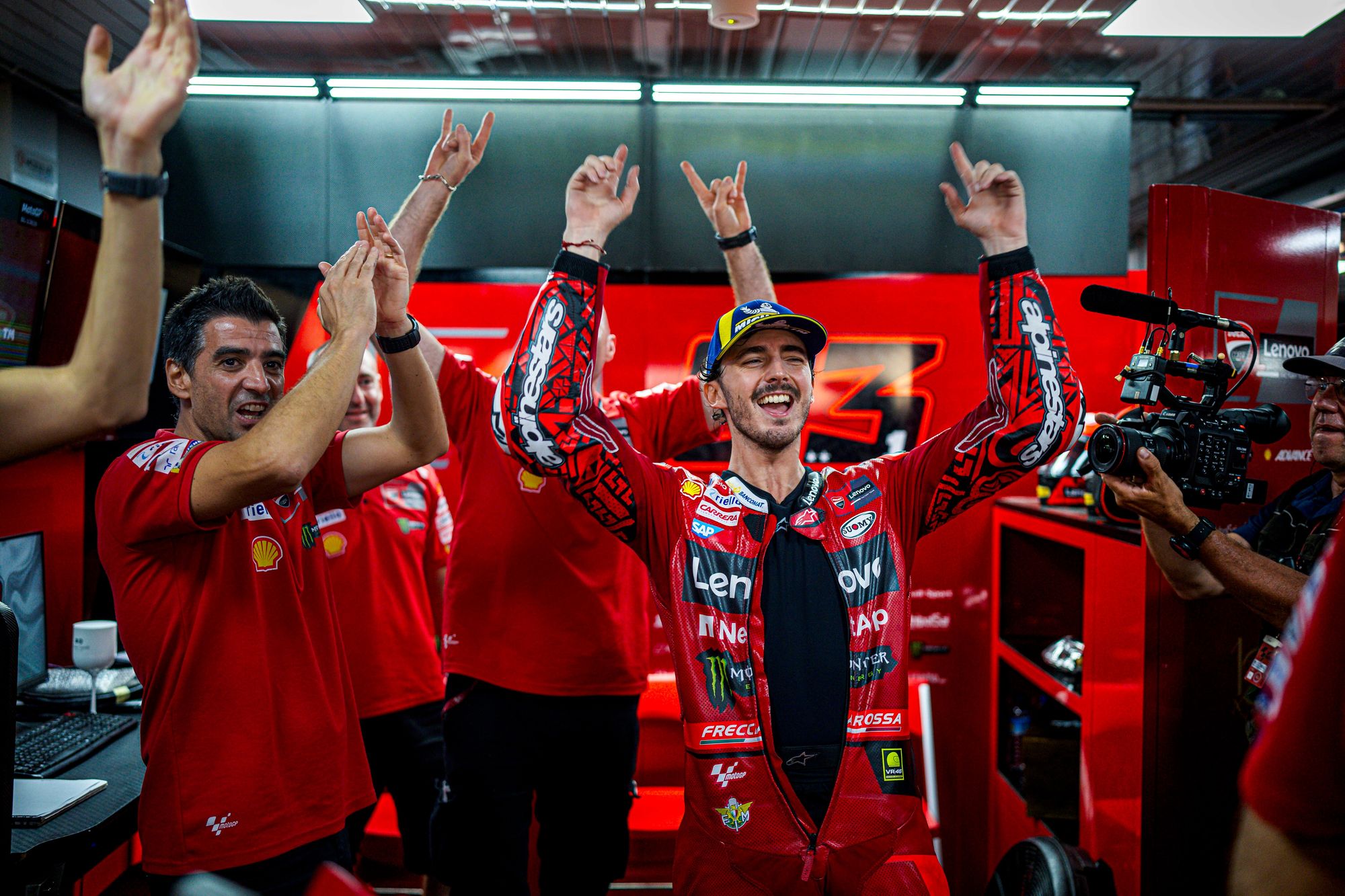 Started: 13th Sprint: 8th Race: 1st
At lunchtime on Saturday, this looked like it was shaping up to be a very bad weekend indeed for reigning world champion Pecco Bagnaia. Starting 13th on the grid and lacking form, his sprint race didn't show much improvement as he struggled to score just a few points.
Credit to him, though, he dug deep - Titanic deep - on Sunday and, after a perfectly aggressive opening lap, set himself back on track not just for the victory but arguably for a defence of his title.
3 Marco Bezzecchi
Started: 9th Sprint: 3rd Race: 5th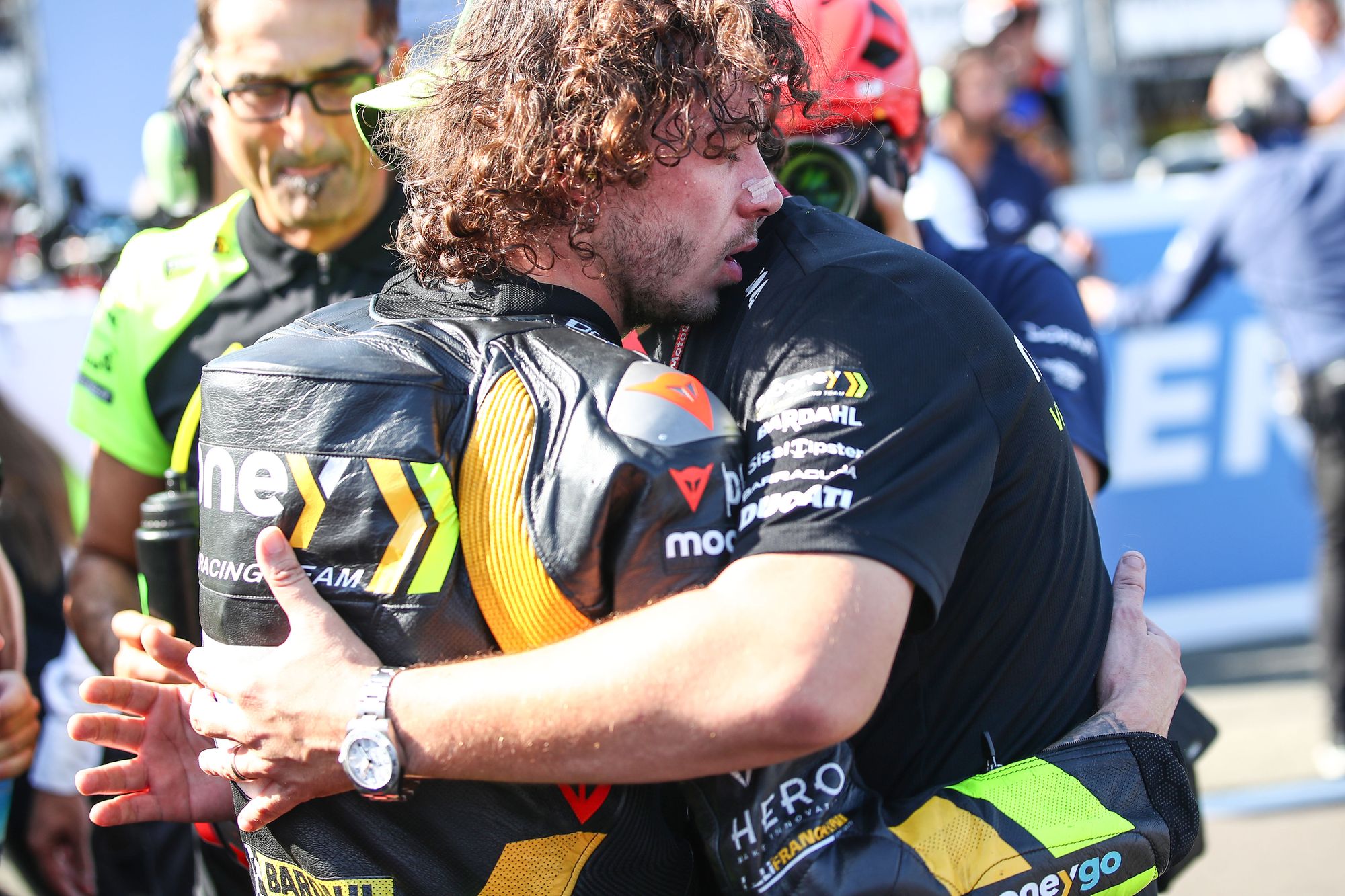 When Marco Bezzecchi announced that he was coming to Mandalika only days after undergoing surgery to plate a broken collarbone sustained while training, few expected too much from him.
Yet, not only did he come home with a sprint podium and lots of valuable points, but Jorge Martin's unexpected crash from the lead means Bezzecchi also accomplished something of a minor miracle and kept his title aspirations alive. A heroic ride.
4 Fabio Quartararo
Started: 4th Sprint: 5th Race: 3rd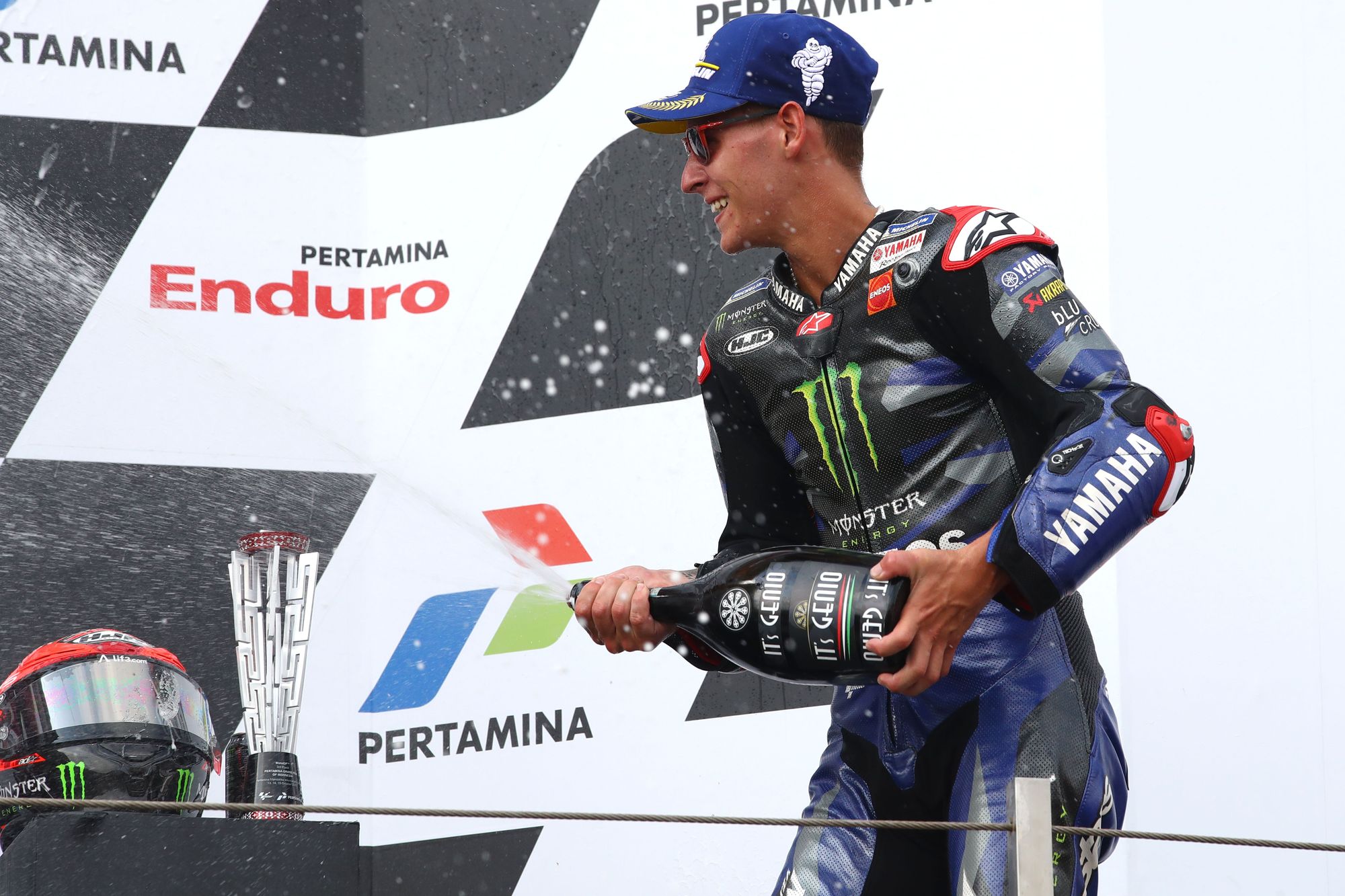 Ahead of the weekend's action getting under way, Fabio Quartararo made a bold claim when asked about Yamaha's Mandalika prospects by The Race: that a podium would be possible.
Credit to him, then, on delivering on that with a barnstorming ride to third on Sunday that left him more frustrated than elated, showing as it did just how much he's limited right now by the acceleration issues of the Yamaha. Nonetheless, it's a welcome return to the podium and a good way to start the calendar's most intense period.
5 Luca Marini
Started: 1st Sprint: 2nd Race: DNF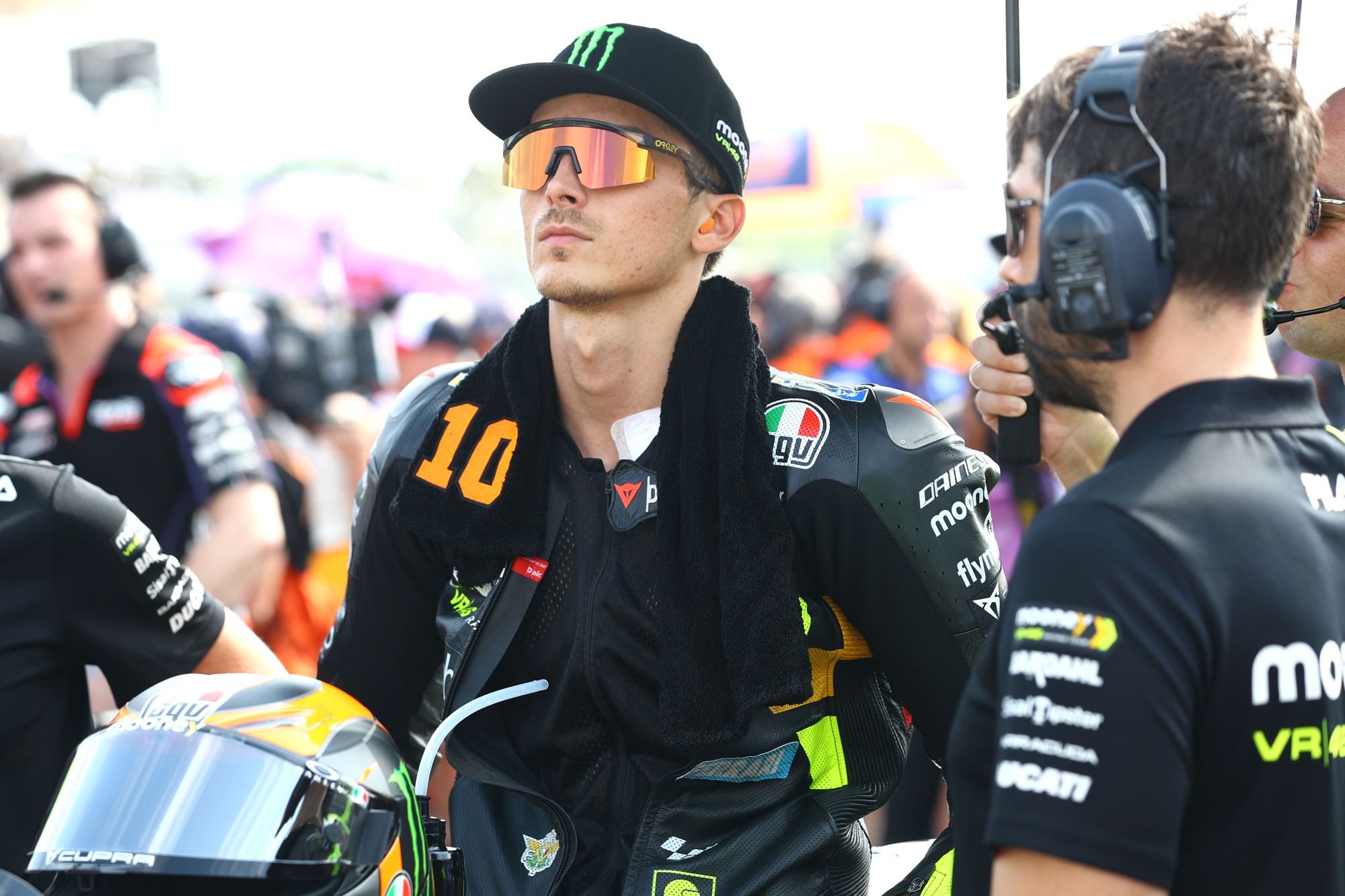 For someone who came into the weekend with a shoulder injury only very freshly plated up and still healing, a maiden pole position for Luca Marini is absolutely testament to how much he's developed as a MotoGP racer.
He was able to convert it into a fighting podium in the sprint race but a repeat wasn't to be on Sunday when he got unfortunately taken out by an errant (and deeply apologetic) Brad Binder. Considering Marini's own long lap penalty served in the race for doing the same thing recently to his own team-mate, he can't complain too loudly, though, and it has to be a weekend to build on rather than rue.
6 Maverick Vinales
Started: 2nd Sprint: 4th Race: 2nd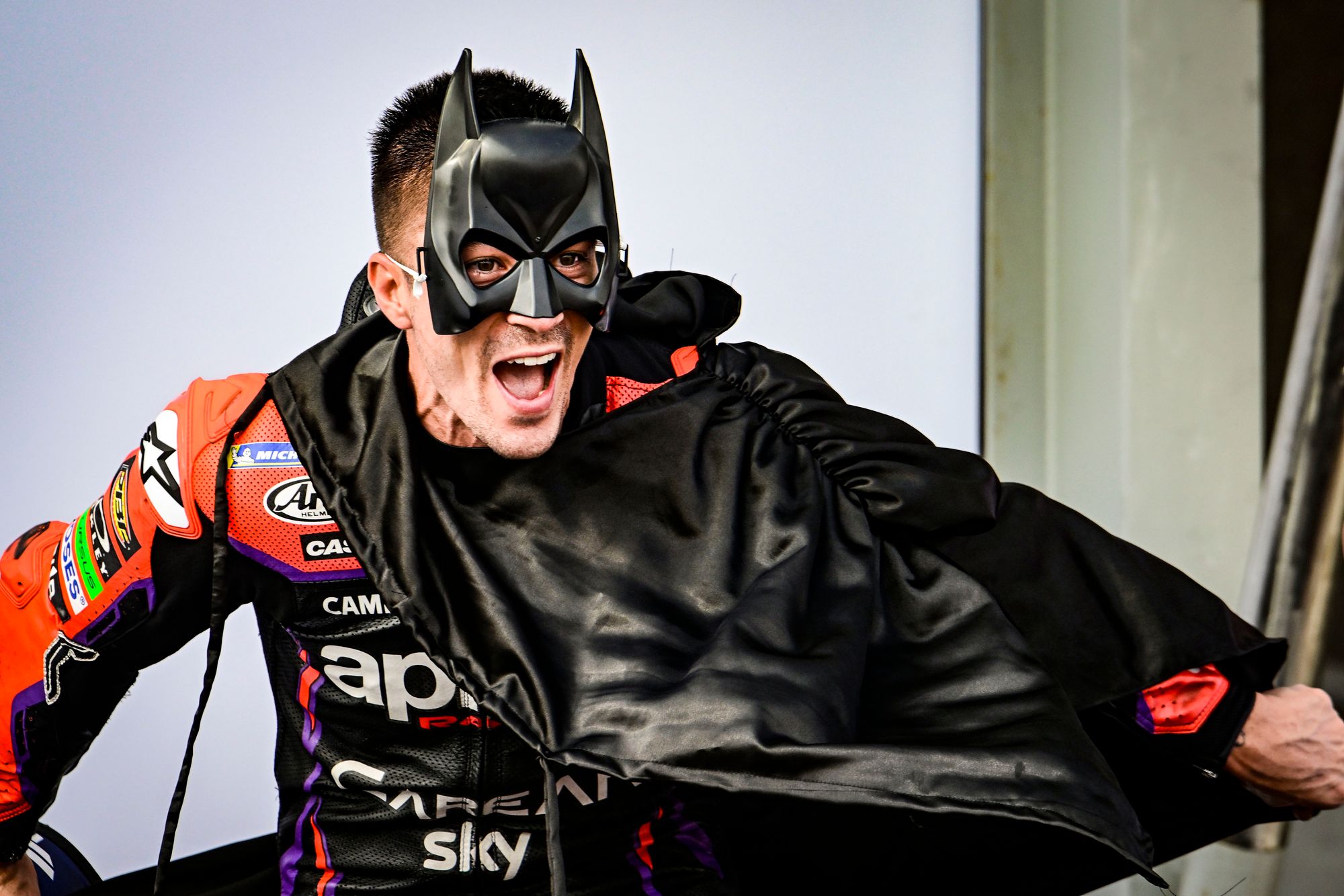 Still the prime contender to become MotoGP's first winner on three different brands of bike, Maverick Vinales again demonstrated why at Mandalika by looking right until the closing stages of Sunday's race to be in the mix.
With his start issues now fixed, it's tyre-life issues that still have to be perfected. But make no mistake about it: Vinales is edging ever closer to a return to the top step of the podium on an Aprilia.
7 Alex Rins
Started: 21st Sprint: 18th Race: 9th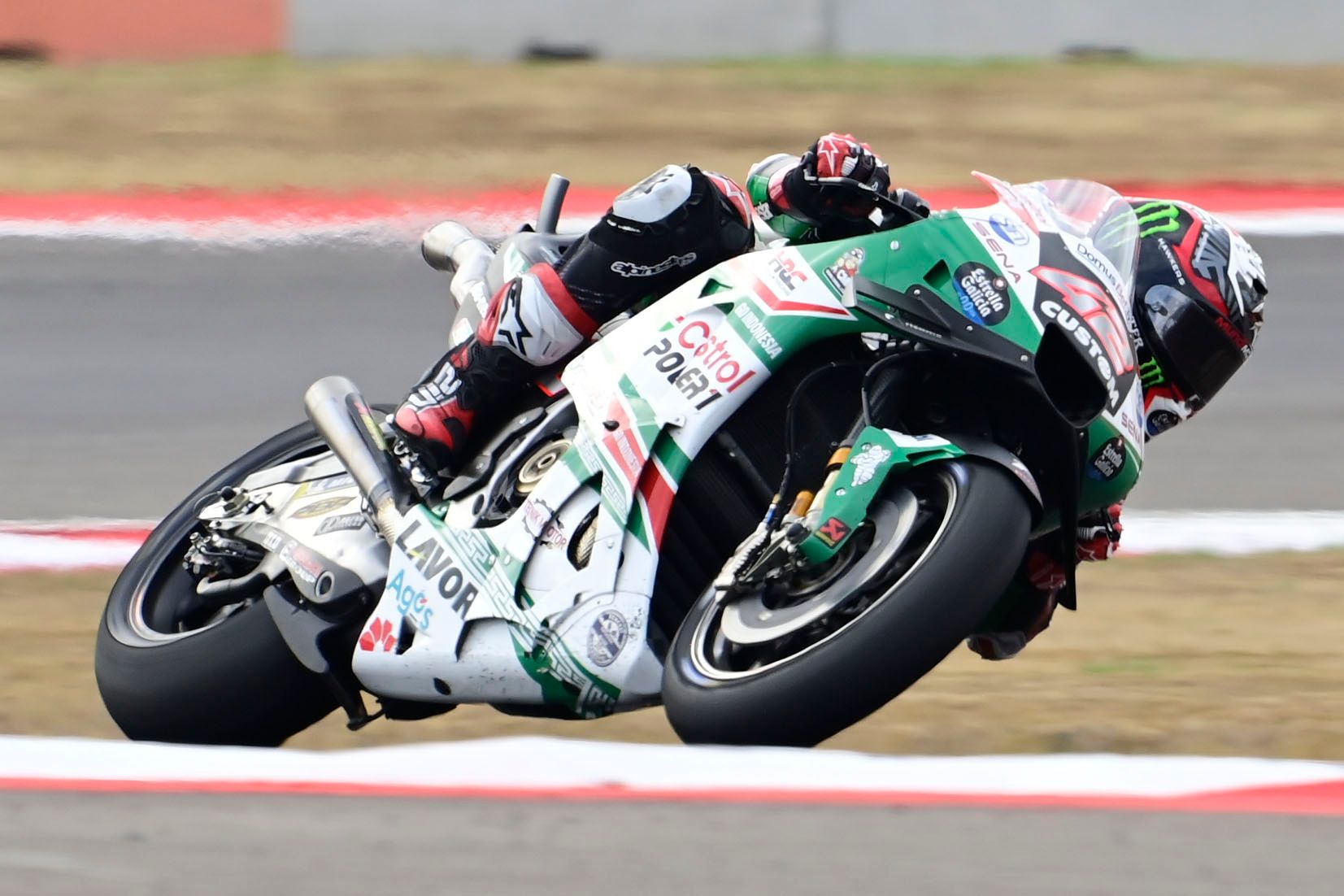 It hasn't been an easy road back to fitness for LCR Honda racer Alex Rins, and while he might have been back on the bike in Indonesia that doesn't mean he's at his full physical capacity yet - or, really, even anywhere near it.
That makes a fighting top-10 finish on Sunday all the more impressive and, while he might have been aided by an attritional battle in front of him, measuring his result against team-mate Taka Nakagami's makes it look even stronger.
8 Enea Bastianini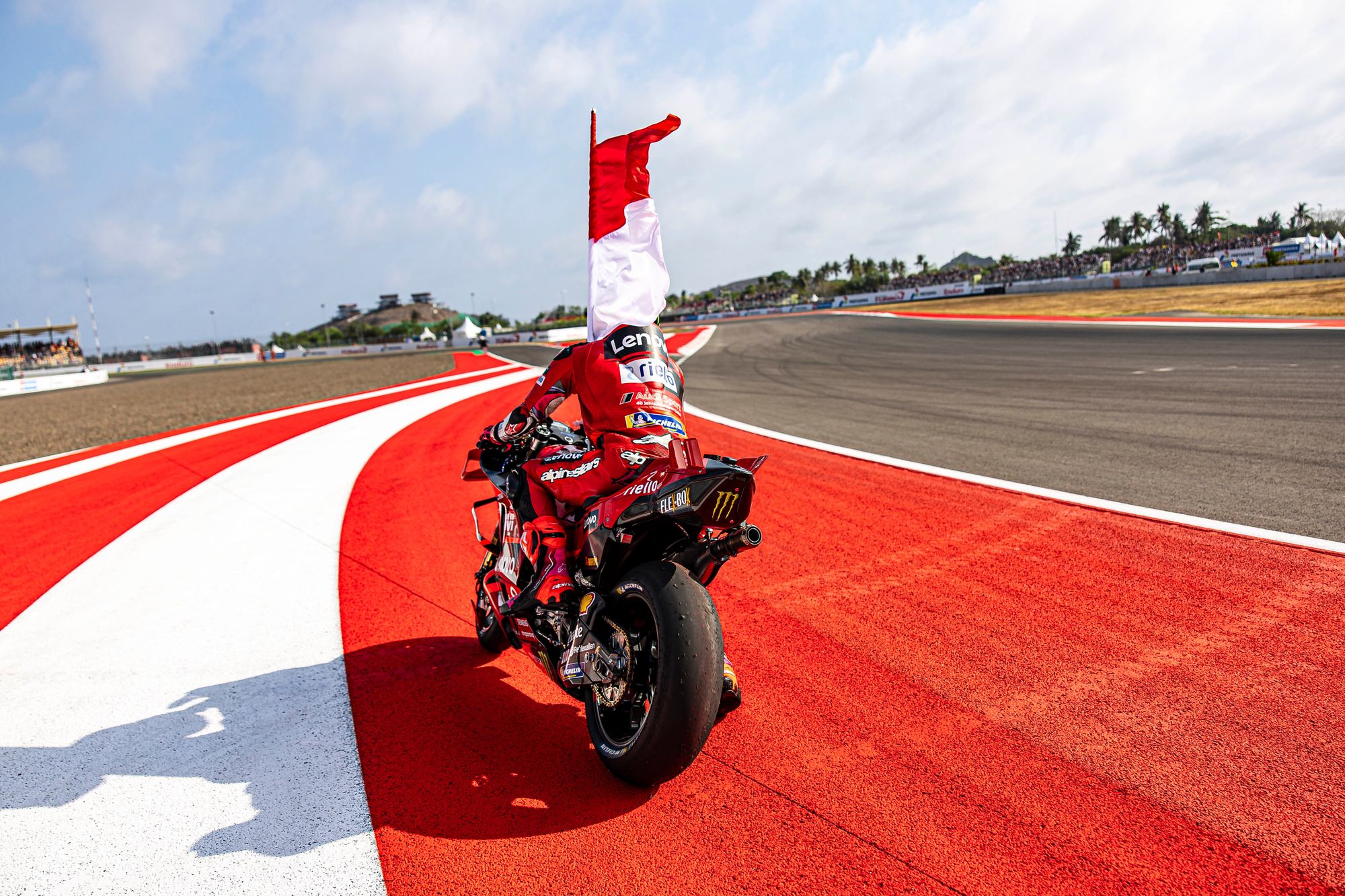 Started: 11th Sprint: 7th Race: 8th
As first weekends back from long stints away through injury go, Enea Bastianini's was spot on.
He perhaps didn't improve the temperature within the factory Ducati garage by first demoting his title-fighting team-mate Bagnaia out of Q2 then battling with him in the sprint, but it was nonetheless the sort of weekend that Bastianini needed to get his confidence back again, and should be one that bodes him well for the remainder of the season now.
9 Jack Miller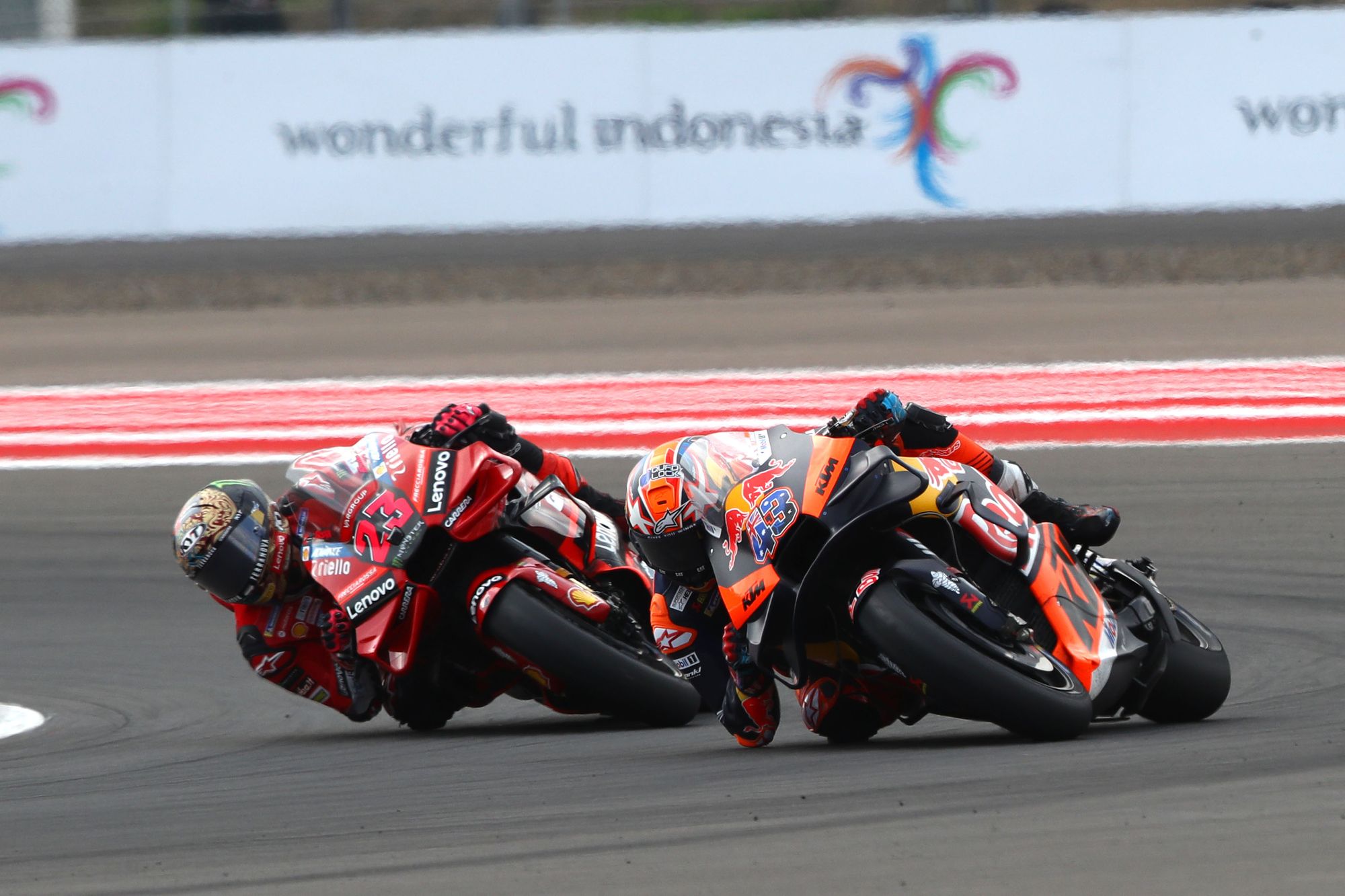 Started: 10th Sprint: 9th Race: 7th
Not a great weekend for Jack Miller, but not a terrible one.
Able to be there or thereabouts even as he and his fellow KTM riders seemed to be lacking something in comparison to previous races, and being hot on the heels of team-mate Binder in Sunday's race, he walked away both with points and as the only one of the manufacturer's four racers to score in both races.
10 Miguel Oliveira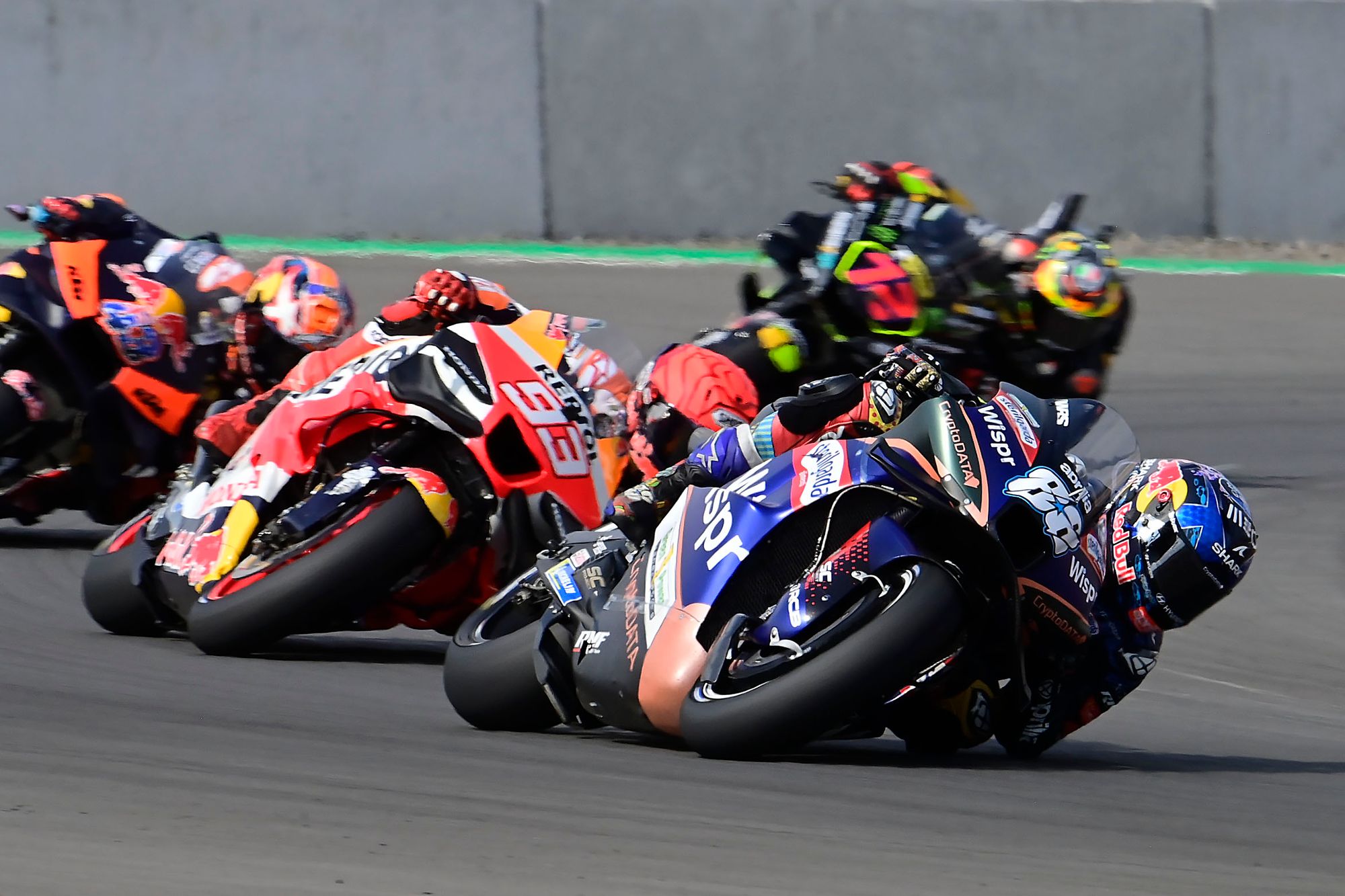 Started: 12th Sprint: 10th Race: 12th
Issue number one for Miguel Oliviera in Sunday's race started before he even left the garage when he, like most of the Aprilias, elected for a soft rear tyre that proceeded to completely desert them early in the race.
That left him a sitting duck for former team-mate Binder, whose customary aggressive move didn't quite work - relegating Oliveira to deep into the gravel and even more frustrated than before with his weekend.
11 Taka Nakagami
Started: 20th Sprint: 11th Race: 11th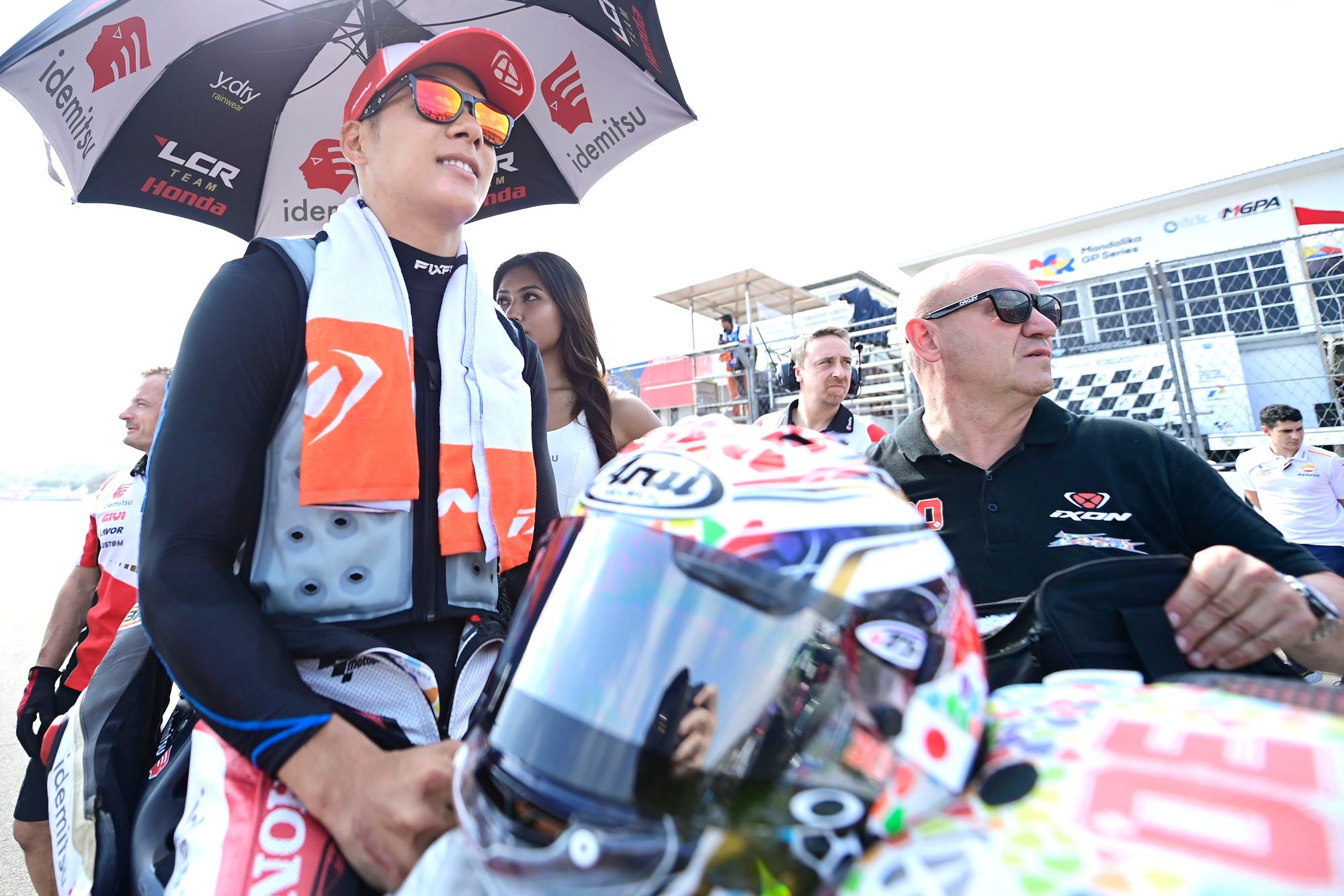 One of only two non-Aprilia riders to take a gamble on the soft rear tyre, it wasn't quite as much of a disaster for Nakagami as it was for the Aprilia trio - but he nonetheless was never going to achieve much once the reality of the conditions became apparent.
Beaten even by team-mate Rins on his return from a months-long injury break, it wasn't a race to remember.
12 Raul Fernandez
Started: 17th Sprint: 14th Race: 13th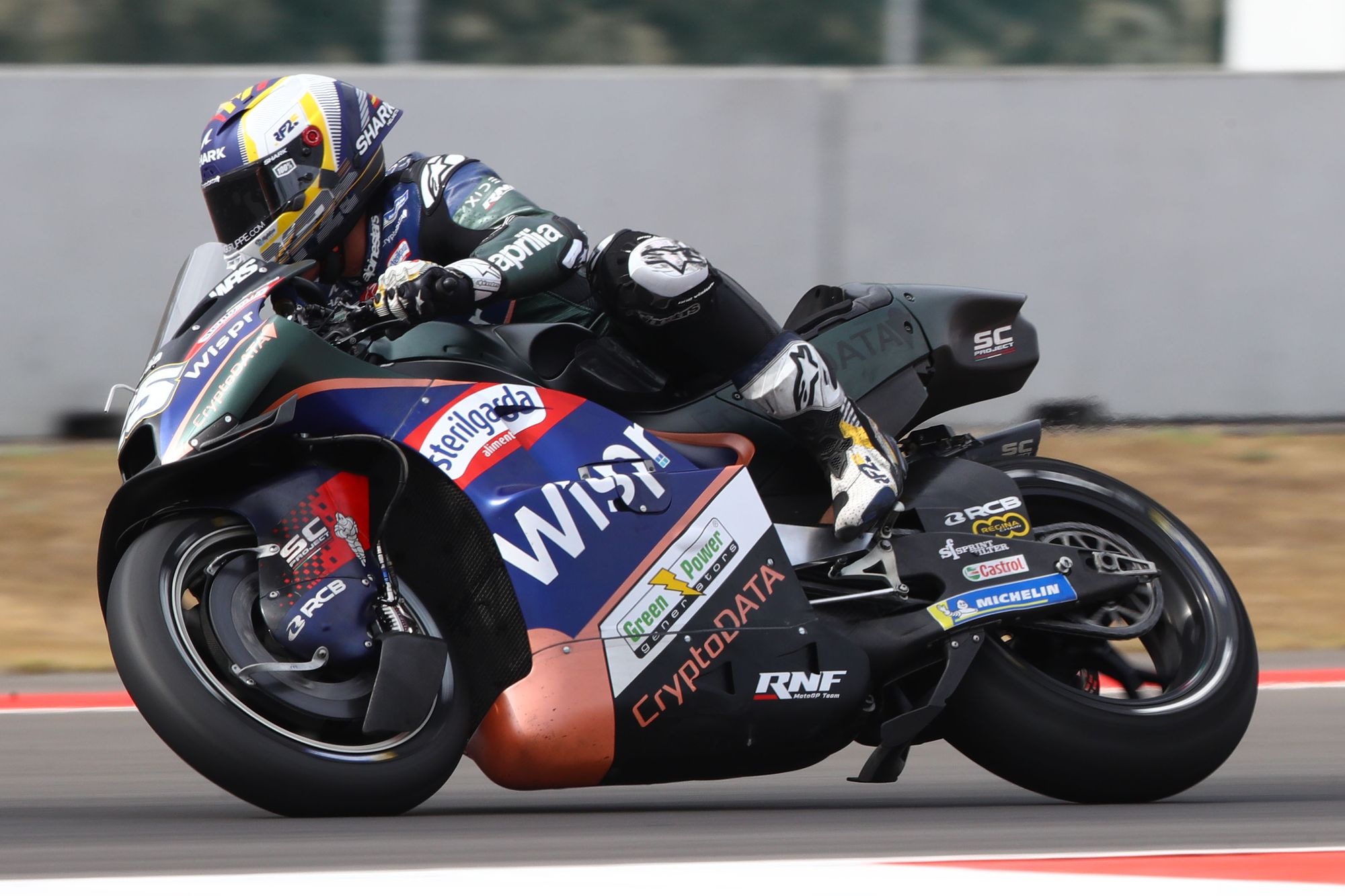 Another Aprilia racer who went for the wrong rear tyre option and almost immediately regretted his decision, the relatively inexperienced Fernandez is easier to forgive for such a mistake than his counterparts, whose lead he followed.
Once the soft started to fall apart, his race became an exercise in damage control and while he might have essentially finished last, he at least made it to the finish line in tricky circumstances to gather more data and experience.
13 Franco Morbidelli
Started: 15th Sprint: 15th Race: 14th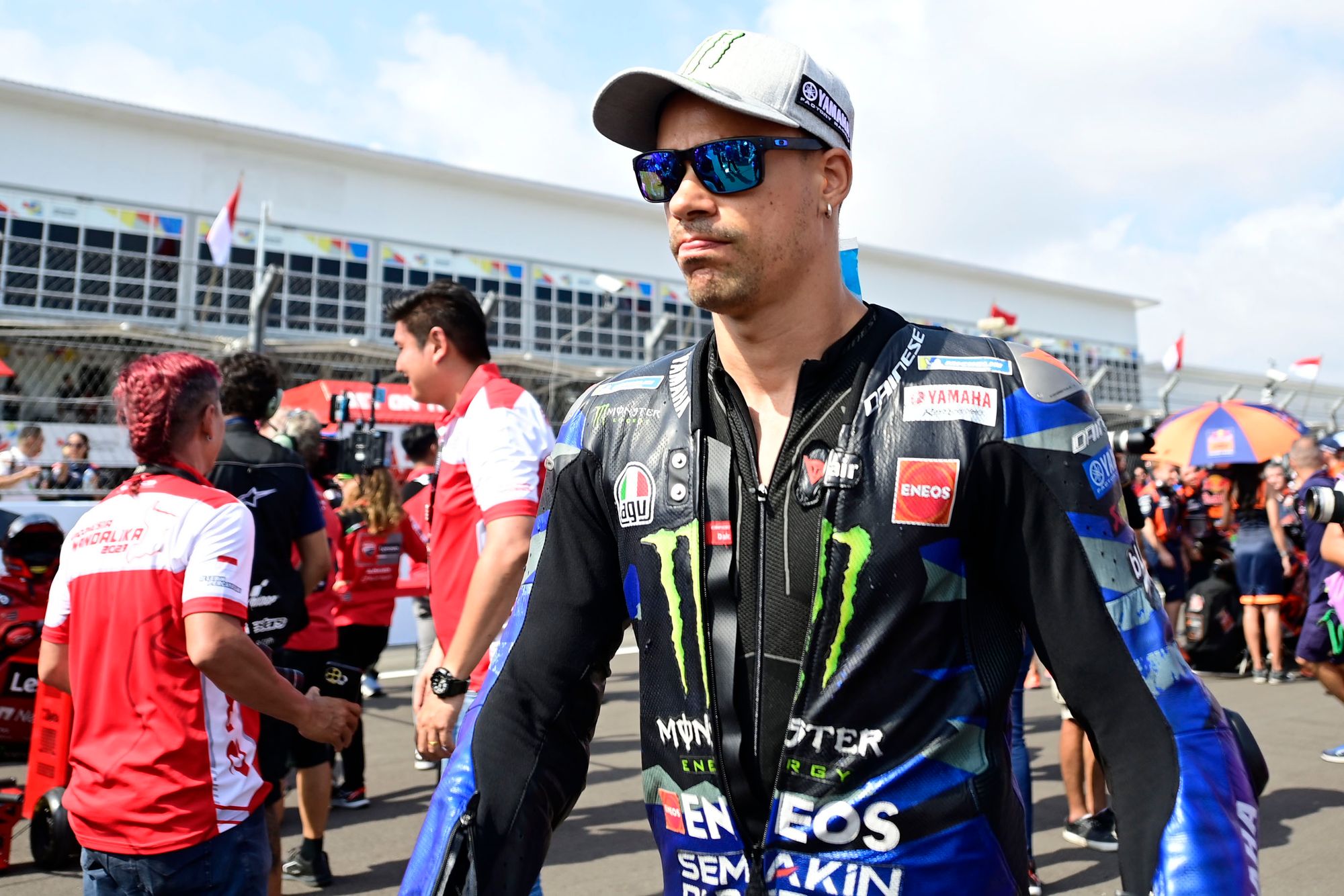 There's not really too much to say about Franco Morbidelli's rather lonely race. Forced into the pits early on with an electrical issue, he was able to rejoin but did so a massive four laps down. From that point onwards, it was just a case of circulating and gathering data all by himself on track.
A result taken out of his control was made all the more disappointing by his team-mate Quartartaro showing that it was a day where the Yamaha was able to perform.
14 Augusto Fernandez
Started: 18th Sprint: 13th Race: DNF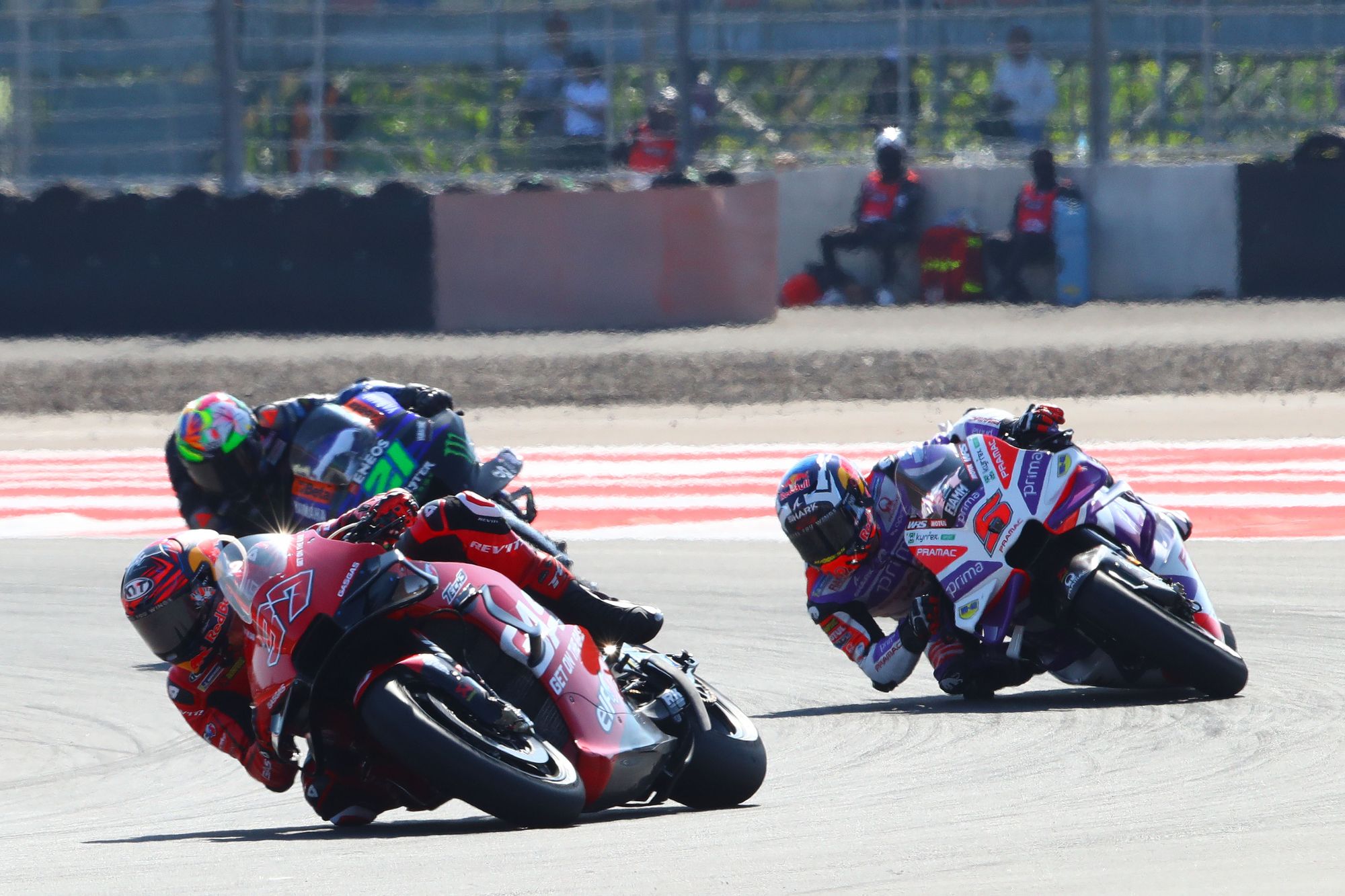 It's not been often that we've seen consistent rookie Augusto Fernandez fail to make it to the chequered flag on a Sunday this year.
But after a steady but unremarkable sprint race, the pressure was on from early on in the main race race when a mistake ran him very wide and left him, as a result, chasing to make up time. With tricky track conditions anyway, that proved to be a recipe for disaster.
15 Johann Zarco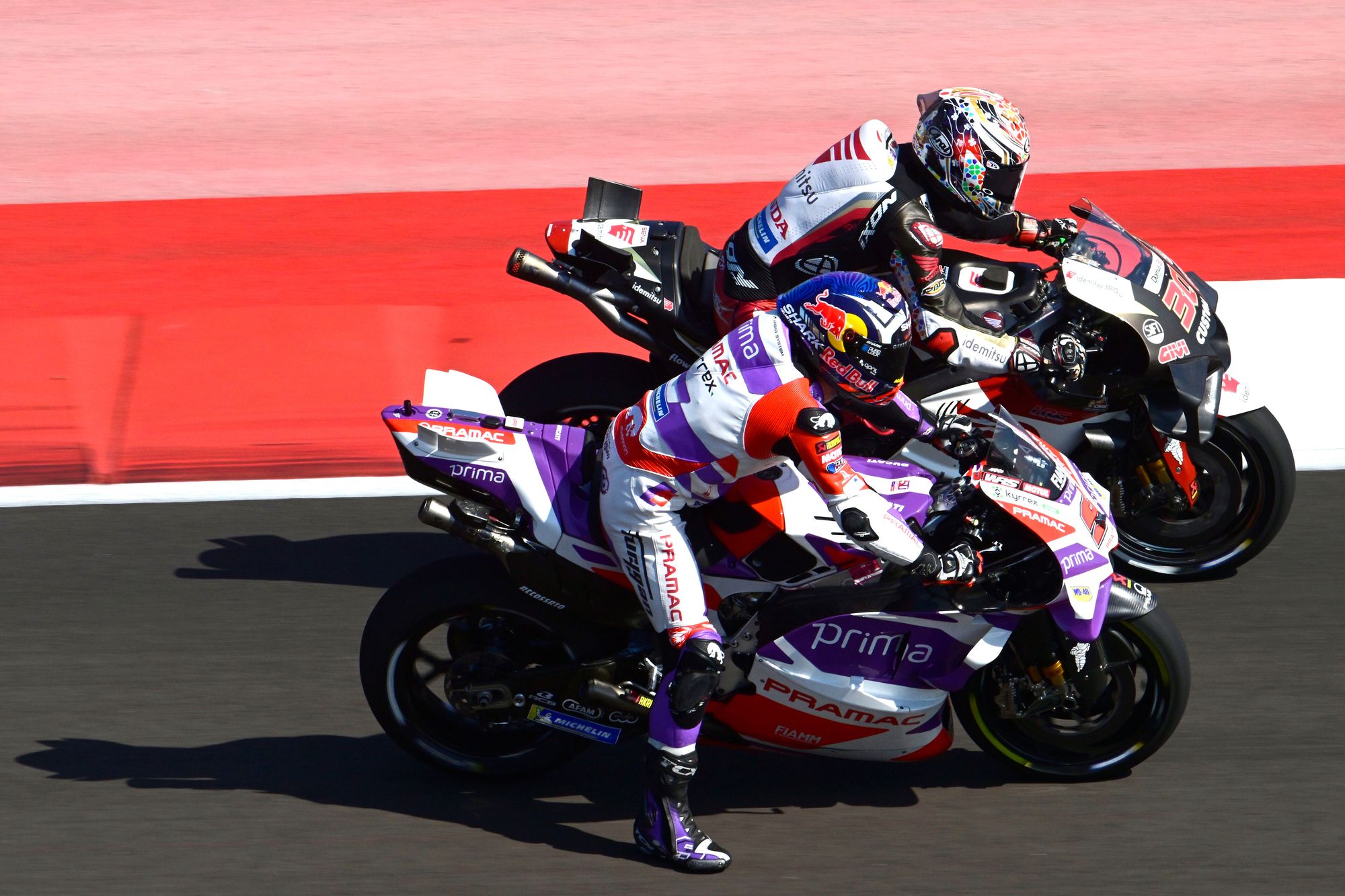 Started: 14th Sprint: 12th Race: DNF
What started out as a rather lacklustre low weekend in the typical Johann Zarco rollercoaster of troughs and peaks ended with even less to show than expected after his poor qualifying - albeit through no fault of his own this time.
Struggling all race with a rear ride height device stuck in the lowered position, it was actually to his credit that he made it as far as he did with no suspension before crashing - but it would have hurt more had he had pace to be closer to the front in the first place.
16 Pol Espargaro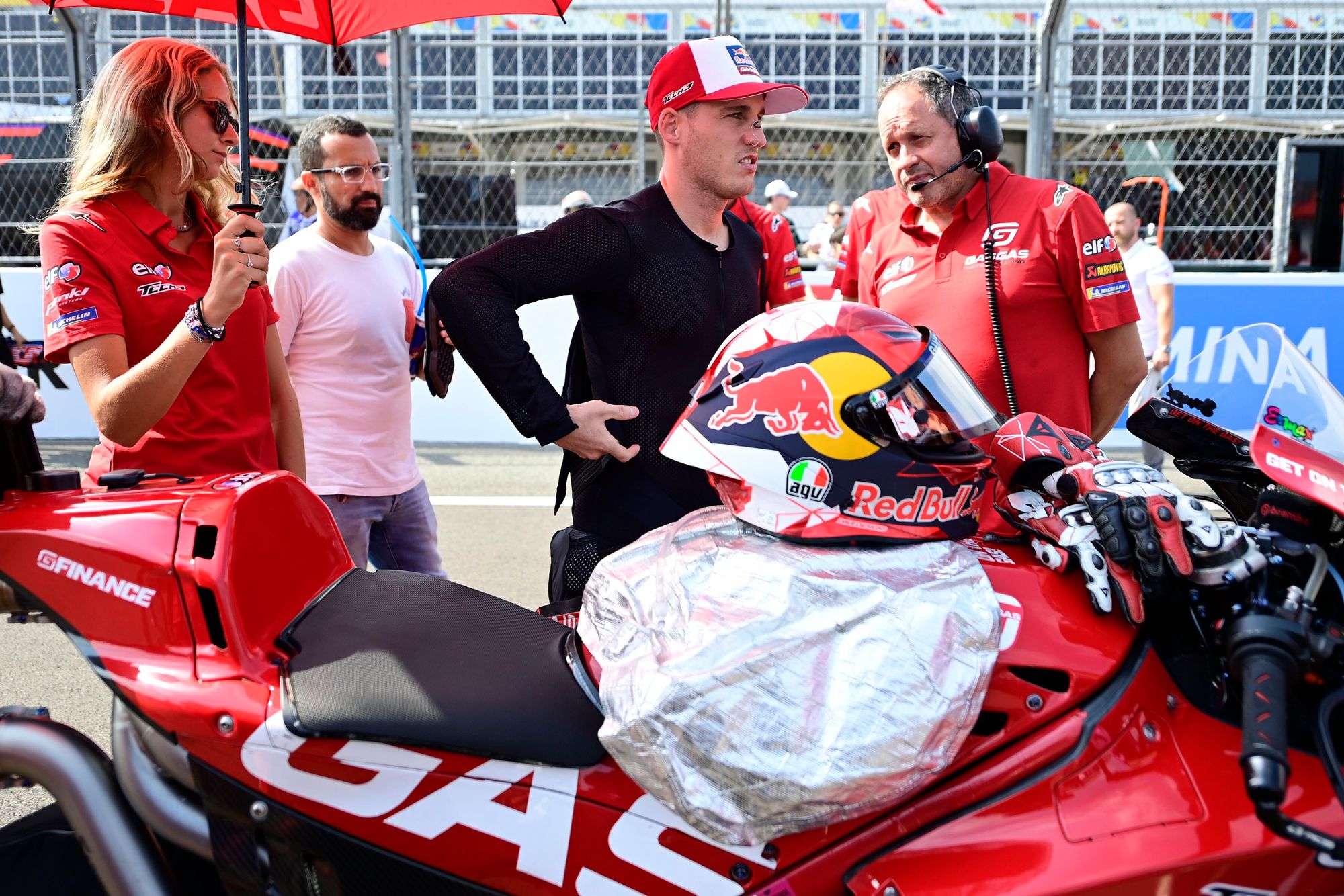 Started: 16th Sprint: 17th Race: DNF
Sometimes we see factories struggling and it's only when things come to a critical mass that you get the explanation why, but that was very much the case with KTM and Gas Gas here.
Battling chatter issues on corner exit that left their bikes with no brakes, Pol Espargaro ran afoul of it at the most inopportune time: riding on a soft rear tyre that was already causing him problems. A disappointing end to what may well be the start of the end of his time in the premier class.
17 Brad Binder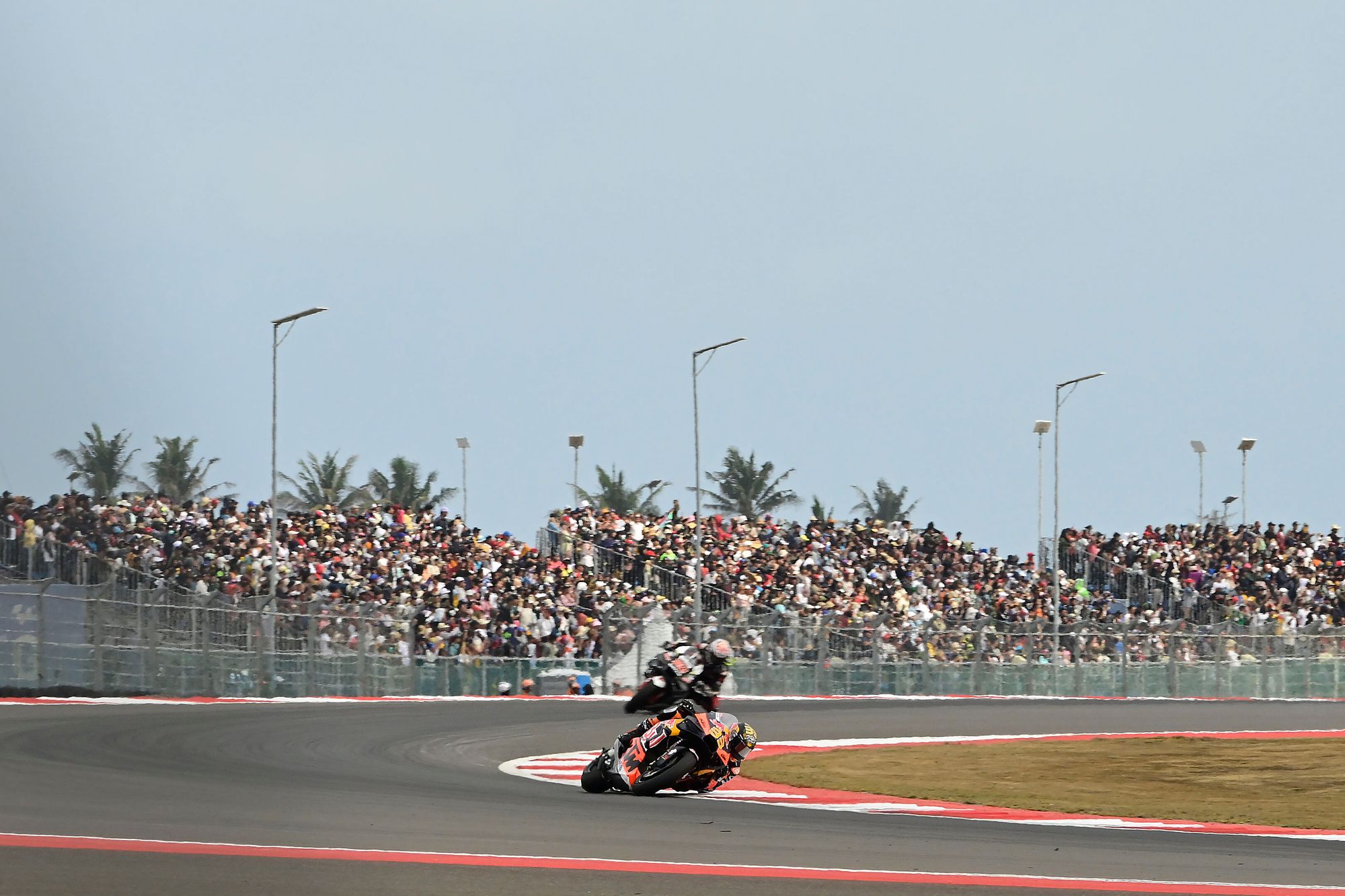 Started: 5th Sprint: 19th Race: 6th
It's hard not to feel a little sorry for Binder after the Mandalika weekend. Twice taken out, including in the sprint by Aleix Espargaro, and twice the person handing out the hits, the only one to get penalised was him - again, twice.
Still, sixth after two long lap penalties for contact that was at least partially the fault of an issue with his KTM means that he's lucky to have ended Sunday's main event with something of a silver lining - certainly more of one than his victims Marini and Oliveira had, anyway.
18 Joan Mir
Started: 19th Sprint: 16th Race: DNF
This was still far from a success and yet another weekend on a Repsol Honda with zero points for 2020 world champion Joan Mir, but at least he ended this one feeling like there are hints of an improvement in the works.
Confident that he's adapting to the bike now, even if he's still crashing consistently on it (just about the only thing he's doing consistently), there might be hope - but for now there's still no performance.
19 Jorge Martin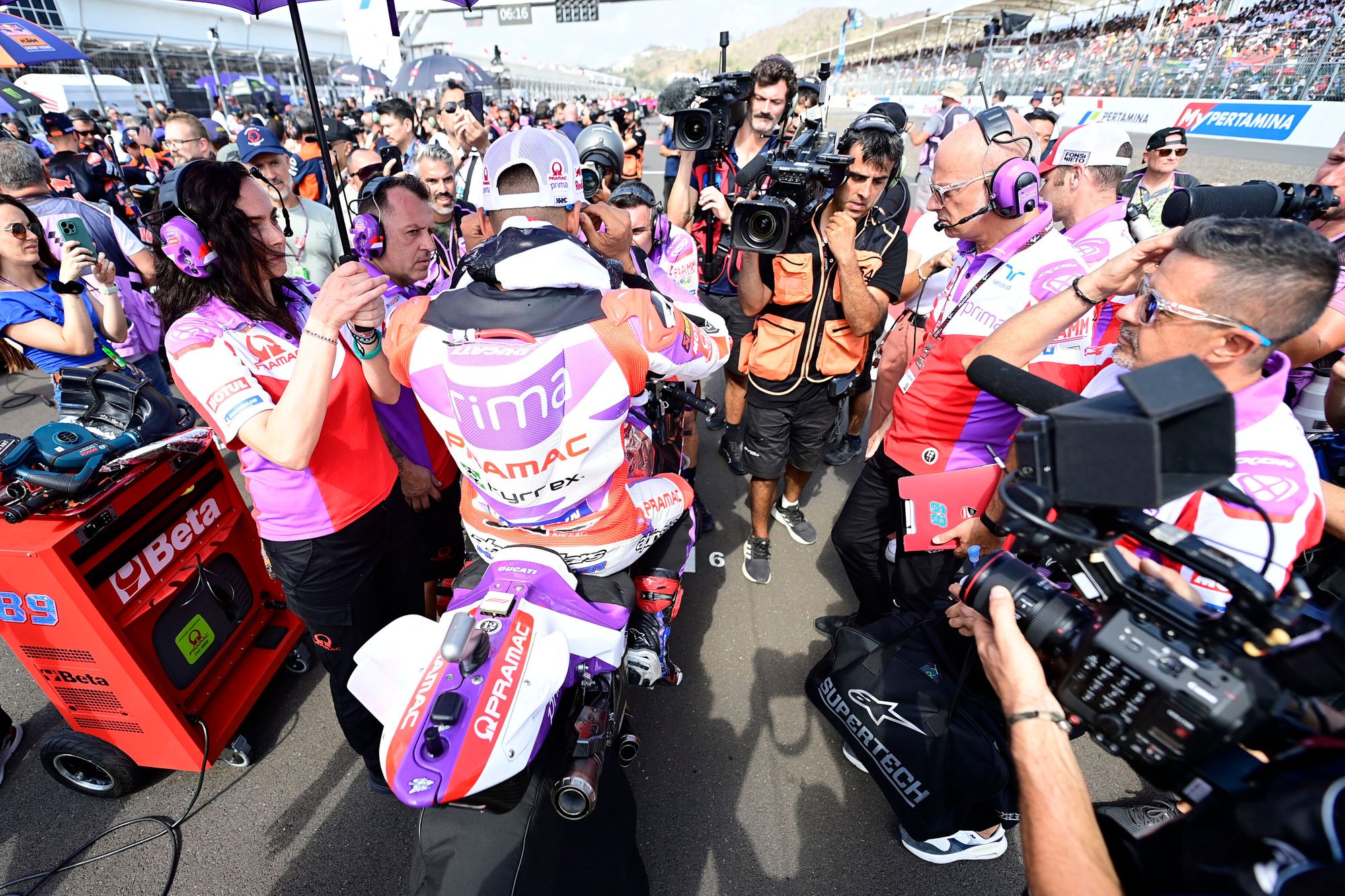 Started: 6th Sprint: 1st Race: DNF
If you were to pick one word to describe title contender Martin's weekend, it's hubris.
What looked set to be one of the best weekends of his career, with the championship lead finally in hand and a chance on Sunday to deliver a decisive blow to Bagnaia, ended up quite the other way around after he crashed from a comfortable lead with no one near him.
It was a completely unforced error and one that's hard to see as anything other than overconfidence or a lack of concentration. This might well be a weekend that he regrets for a long time to come.
20 Aleix Espargaro
Started: 3rd Sprint: DNF Race: 10th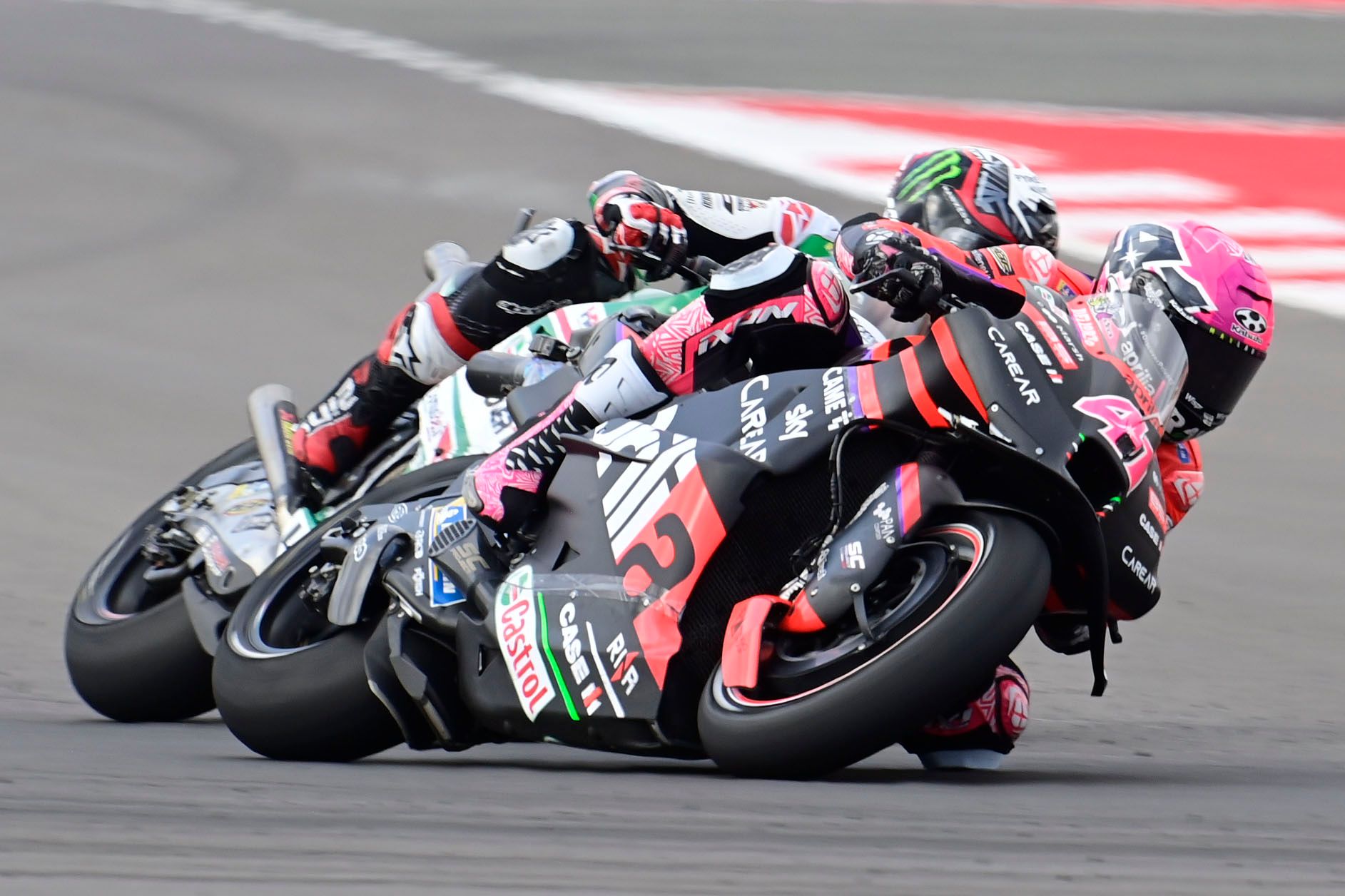 It's straightforward: a rider of Espargaro's experience should have known better than to gamble on a soft rear tyre he was told not to use and to think he knew better than Michelin.
Having already recorded a non-finish in the sprint through a rather silly move on Binder, he doubled down on that as his Sunday form - which was good enough to potentially even fight for a win - disappeared rather quickly and suddenly.
Simply put, he should have known better and he paid the price.
21 Marc Marquez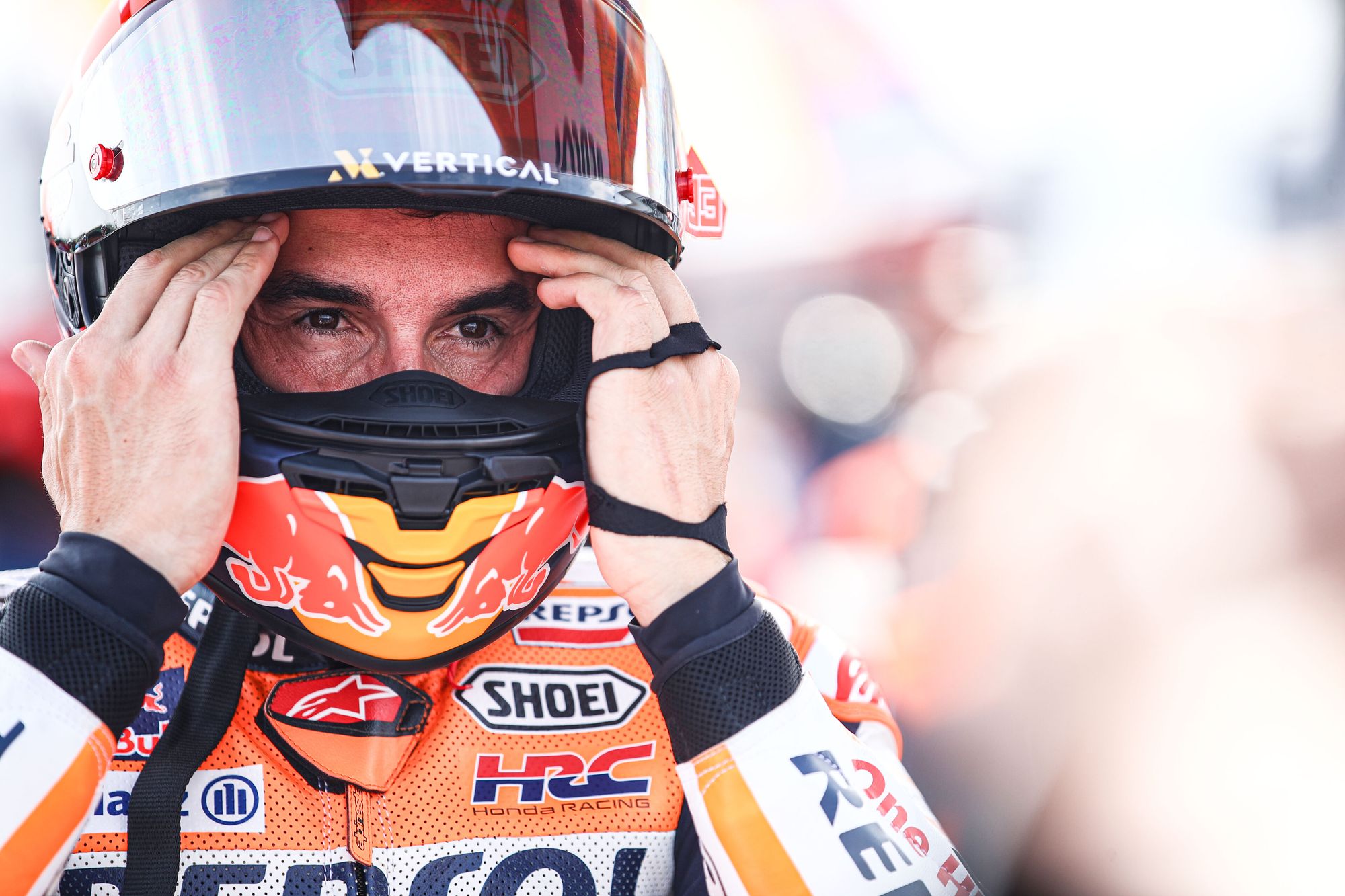 Started: 8th Sprint: DNF Race: DNF
You've got to ask yourself what Marc Marquez is doing at the minute on the Repsol Honda.
His future is secured for next year, his current bike is something of a hazard, and, given that every time he pushes on it he crashes, the sensible strategy at this point would very much be to simply play it cool and see out the year intact.
Unfortunately, he doesn't really have that setting, as demonstrated by his double DNF in Indonesia.