Usually, when you're involved in a first corner pile-up, you don't come back to win after falling to 16th, but that's exactly what happened to Chip Ganassi Racing's Alex Palou.
But post-race, the renewed championship leader still questioned the decision-making of race control in the way it ordered the field after the collision.
Turn 1, Lap 1 at the @Portland_GP proved to be treacherous once again. #INDYCAR pic.twitter.com/NE8fklPRrN

— IndyCar on NBC (@IndyCaronNBC) September 13, 2021
After Scott Dixon was clipped from behind by Felix Rosenqvist, that duo, Palou and the late-braking Alexander Rossi had to take to the runoff.
While they didn't lose many positions, IndyCar elected to send the group led by Palou to 16th-on-back as it prioritised the drivers who made the corner.
Basically, anyone who took the normal line and succeeded in driving through the Turn 1 and Turn 2 corners as intended moved ahead of those who used the run-off, gifting Pato O'Ward the lead from seventh on the grid.
At that point, you can understand Palou being upset as his nine-point deficit to points leader O'Ward of Arrow McLaren SP was due to blossom to 50 points at that stage.
It turned out however that this re-ordering – which allowed those drivers sent to the back to pit and take on more fuel – turned out to be the best strategy as those initially trying to do a two-stop bailed on it and the cautions fell at just the right time for Palou and his rivals.
However, Palou still questioned the re-ordering after the race.
"I didn't see any replays, so I don't really know what happened there," said Palou.
"I know Scott [Dixon] was on the inside. I got hit at some point. On the inside, I couldn't really go there, so I knew I had to go through the chicane.
'@TownsendBell explains how re-ordering the cars will work. #INDYCAR pic.twitter.com/gLIjZMhEou

— IndyCar on NBC (@IndyCaronNBC) September 12, 2021
"I made it through the chicane, and I said, okay, I only lost like five positions, which is a lot, but I said, at least I'm not out.
"And then IndyCar decided that that was not penalising enough, and they put me in the back, which I don't know what they want me to do at that point.
"Do they prefer me to like completely stop the car and make that corner, making the race unsafe? So I'll ask Kyle [Novak, IndyCar race director]. I think it was not right.
"It's true that they gave us the option of doing that strategy that gave us the win today, but still, I think it didn't really make sense.
"Some IndyCar doing IndyCar things."
Palou is rarely critical of anything and always uber-positive, so this mild outburst is significant and perhaps comes with the context of growing frustration at how his season has gone with regards to being on the wrong side of the rules.
Speaking to The Race earlier in the season Palou had criticised IndyCar's engine rule that effectively means engines used in testing pre-season are part of your pool for the year.
So when Palou lost an engine in a test it was already almost certain at that point he would have to take an extra engine and receive a six-place penalty at some point in the year despite not even starting a race weekend yet.
In the end, a crash at Indianapolis in qualifying and then a failure at the same venue's road course produced two more penalties including a nine-place one at Gateway such is the rule for unapproved engine changes for ovals.
He has certainly been hard done to and could be even further than 25 points ahead given the adversity he has faced.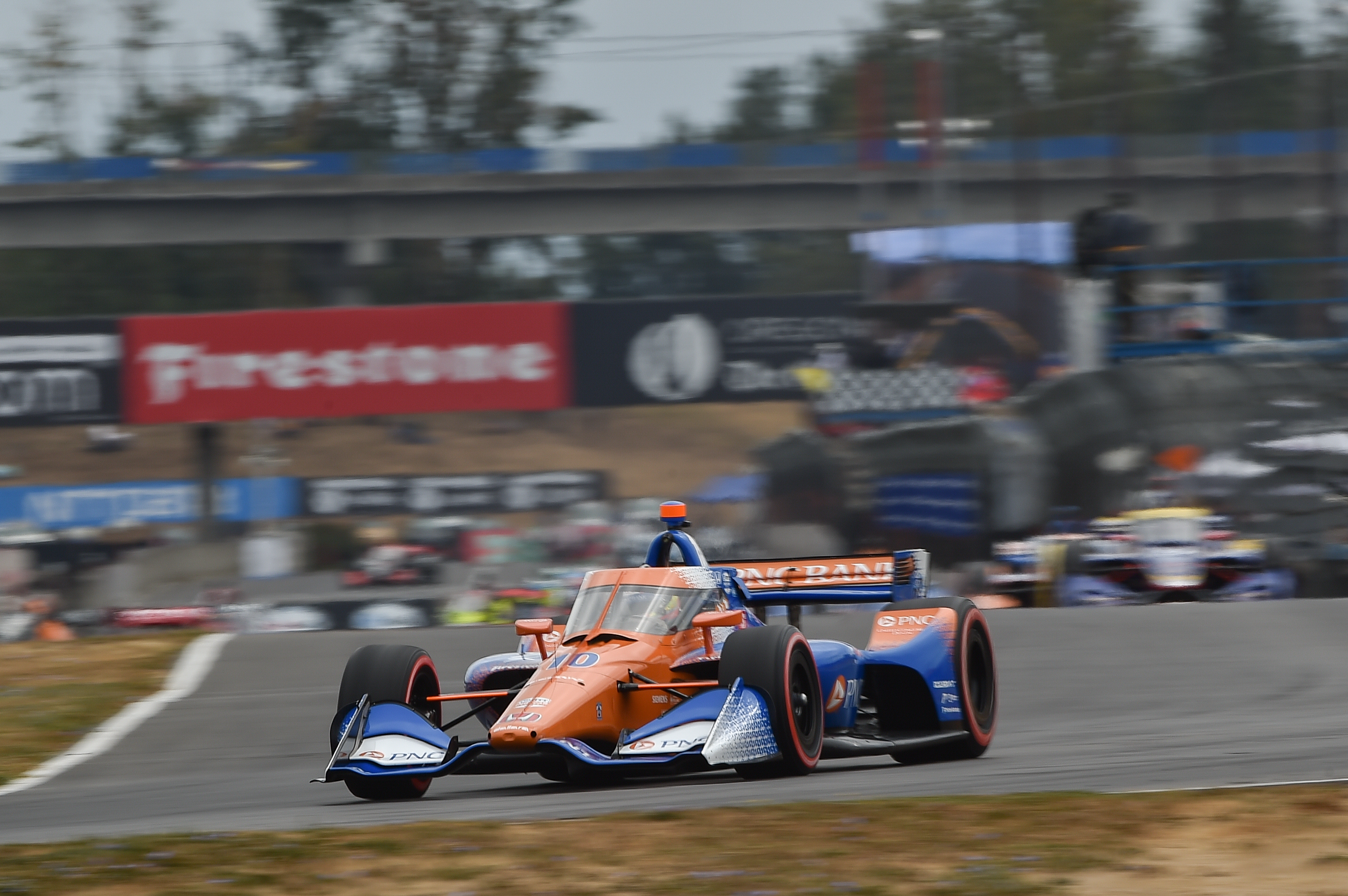 His Ganassi team-mate Dixon rarely flat-out criticises IndyCar but he certainly had strong words about the restart ordering decision…
"Just starting with the start, I filled that gap because I figured Rahal or somebody was going to try and scoot down the inside of us," he said.
"I bailed out of it and then got hit from behind, I think it was Felix [Rosenqvist], and that caused a bit of an interesting moment for all of us on the start there.
"Then race control, it was just the craziest thing I've ever seen, and I've been in racing a little while. I don't know what they were thinking or how that came about, but put all of us at the back of the field.
"Be interesting to go talk to them later and see how they came up with that scenario."
One of the problems with applying precedents is that so often they depend on circumstance, and if this incident had happened at, say, Mid-Ohio, the cars would have gone off into the grass, lost a lot of time and IndyCar would identify the culprit responsible for causing the incident and penalising them.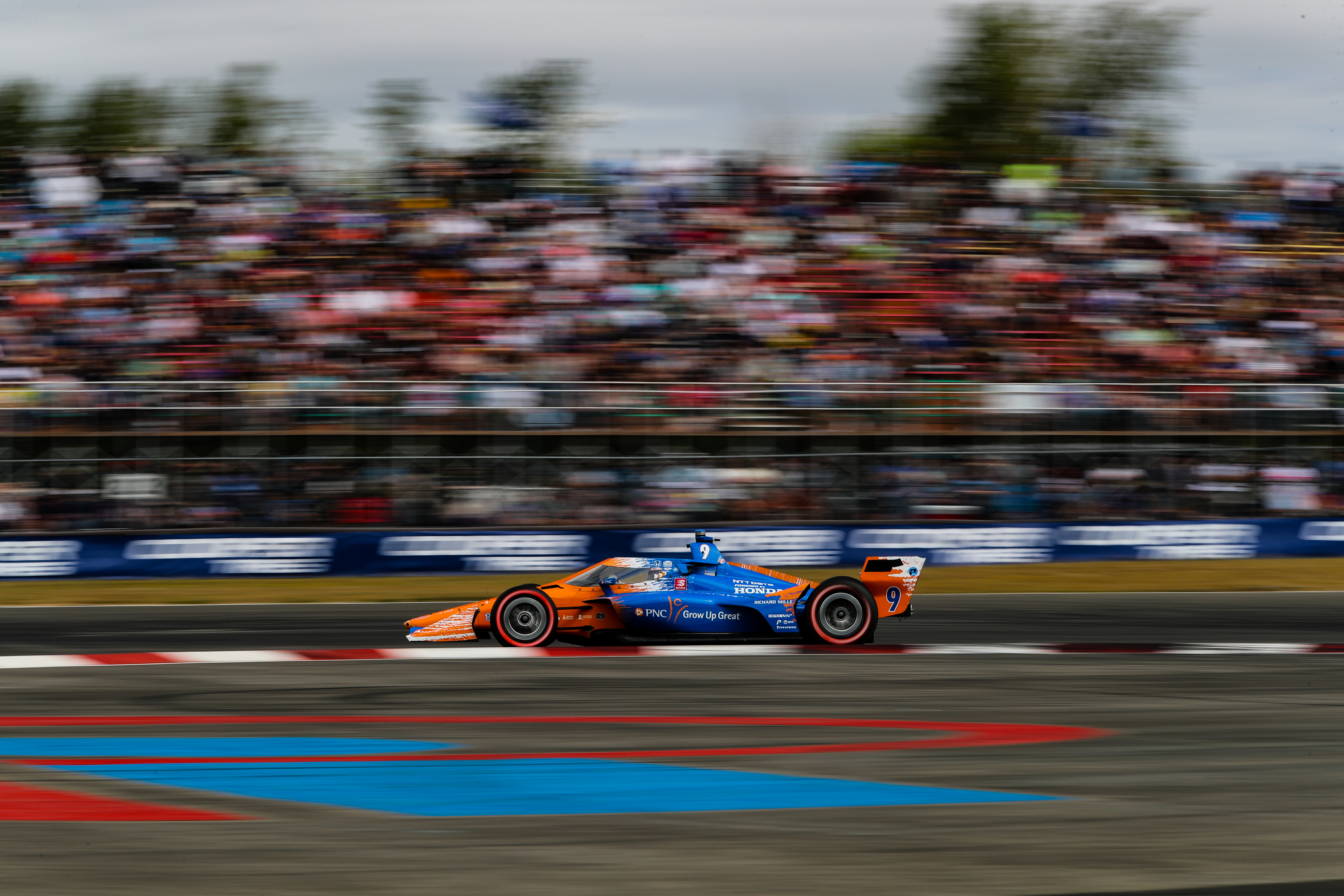 Unlike in Europe, run-off outside a heavy braking zone at Turn 1 is uncommon in America, so part of the reason I think the leading drivers got angry with the reordering decision is that they all flew down the run-off and barely lost any time.
The reordering process was reportedly discussed in the driver briefing, so if that was indeed the case, the drivers shouldn't be surprised at what happened. At a track where incidents are so common, why shouldn't IndyCar place a huge emphasis and advantage to the drivers actually staying on the track?
I totally understand IndyCar's decision. OK, it penalised Dixon and Palou who were hit or run off the track respectively, but IndyCar can't make rules up depending on the track, it has to have clear and understandable rules for all circuits.
Also, this track has repeatedly caused problems at Turn 1 and the strictest possible penalties need to be applied in a bid to stop heavy contact. With Rosenqvist, Romain Grosjean and Callum Ilott there were three instances of unavoidable contact on that corner alone, so admittedly it has failed so far to improve things.
Returning to the Mid-Ohio example, the drivers staying on the track would naturally be rewarded because those going on to the grass would lose more time than they would in a runoff like Portland.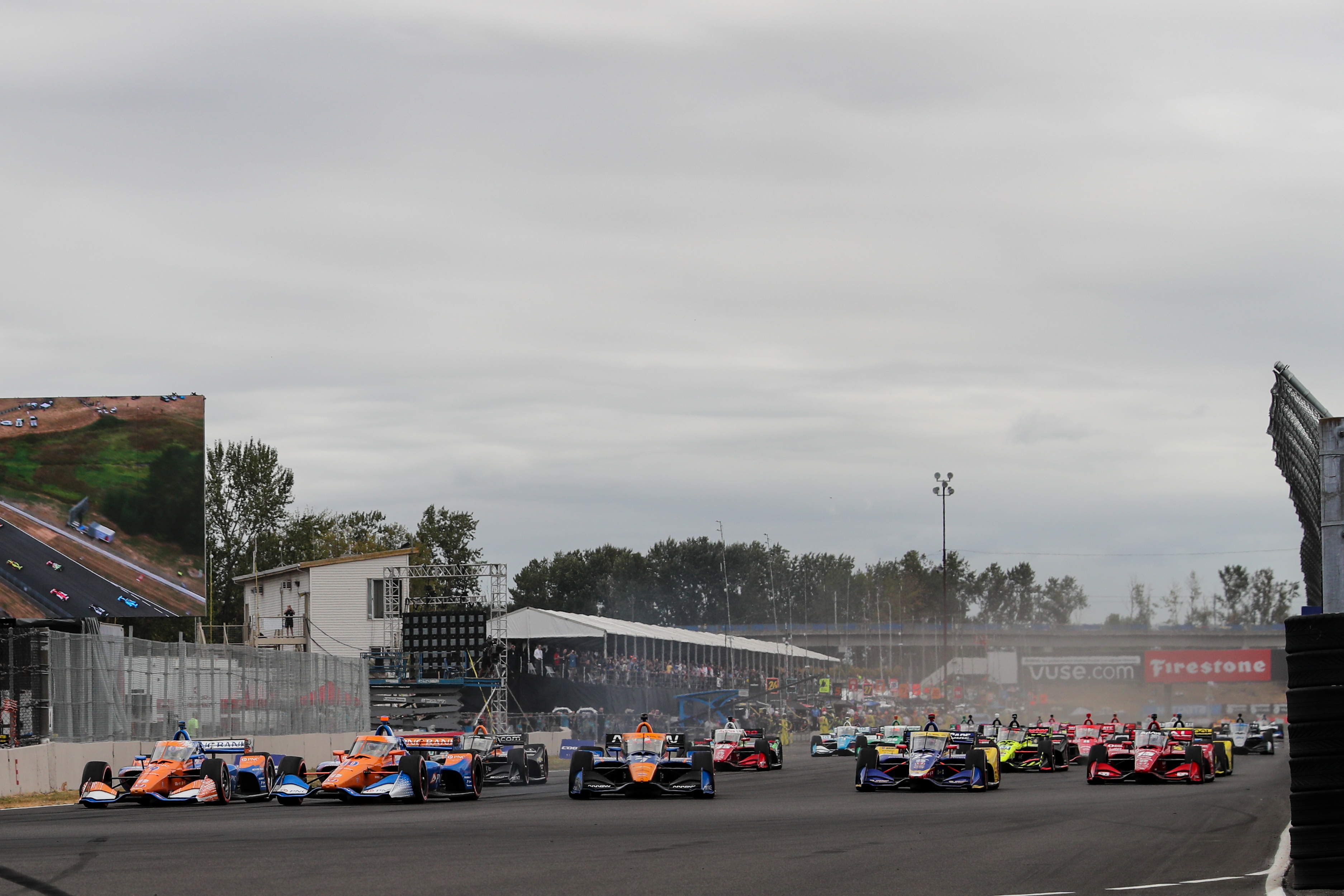 The only way IndyCar should have changed what they had done would be to allow Dixon and Palou to hold position based on the fact that one was hit into the path of the other and the incident was out of their control. That might have been a better outcome, but would require race control to take time to discuss, and use opinion to judge.
Rosenqvist caused the incident, and so was seemingly pushed to the back of that group as a penalty, although the interpretation of his and his team's comments on his role in the incident was unusual. Craig Hampson told Rosenqvist over the radio that he reckoned the championship contenders would be happy with what he had done, referring to the fact he hadn't taken them out. But ultimately he still hit Dixon and caused the incident.
"We got unlucky at the start of the race when we avoided the collision that was about to happen in Turn 1," said Rosenqvist in the team's post race release, which doesn't really make sense.
Rossi was blameless in terms of not hurting anybody else's race, but he went straight on of his own accord having braked far too late. So while the penalty to join the others at the back might seem harsh, the alternative was him either taking the lead of the race or handing a position to O'Ward had he stayed ahead. Hardly seems fair Rossi would stay up front and Palou and Dixon didn't.
It's a hard one to unpick with many variables that complicate things. While it was bad for Dixon and Palou to drop to the back having done nothing wrong, that's what would have happened at any other race without so much run-off.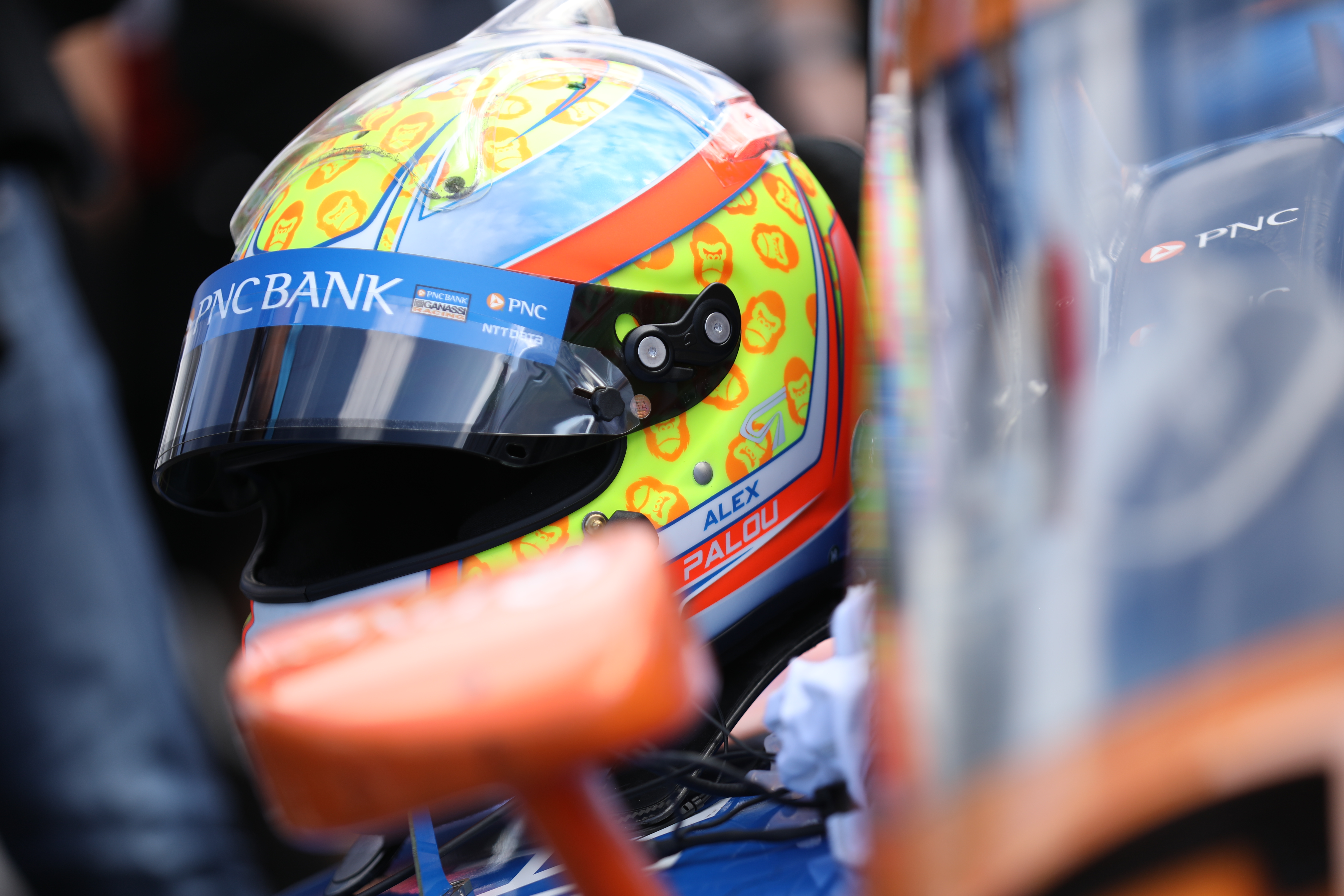 So, the only alternative was for race control to start moving the field around based on opinion/debate and that's not really ideal either. Especially while your 9 laps into a race under caution and people are waiting for you to set the order and get the race going.
Ultimately it didn't matter as the very thing that penalised the people who had done nothing wrong allowed them to take the win where they may otherwise have been undercut by someone further back attempting what was the race winning strategy of a three stopper.
Of course, IndyCar should analyse this as it should all contentious incidents, but I think it made the right call and it worked out in the end.