Jeff Gordon is one of NASCAR's best and most successful drivers, but that could have been so very different had he taken a different path towards the Indianapolis 500 and even Formula 1 when it was offered to him.
Those who know Gordon's story will be aware of Jackie Stewart calling his house, trying to persuade him to come to Europe, and his career as one of the best sprint car drivers in the country in his youth was the typical path leading to the Indy 500.
That was the one race Gordon particularly wanted to win.
Now, as vice president of the Hendrick Motorsports team he went on to dominate NASCAR and become one of America's most famous athletes with, he has been crucial in backing 2021 Cup Series champion Kyle Larson's Indy 500 entry with Arrow McLaren in 2024.
In an exclusive interview with The Race, asked if he felt he was almost living vicariously through Larson, Gordon says: "Absolutely.
"When I look back at my career when it transitioned from sprint cars and USAC and being in open-wheel cars, pursuing IndyCar and hoping for that to happen, especially at the Indianapolis Motor Speedway, and then the NASCAR opportunity coming along and being one of the best things that happened in my life as a race car driver, I sort of put the Indy 500 in my rear-view mirror and just put everything I could into Cup and that paid off.
"Kyle comes along at a different time and there's more openness to do other kinds of racing. It's very important to him, he's stuck with it and I applaud that.
"Seeing him, not only have the desire to go and do it but be excited about it, and for me seeing Hendrick Motorsports do the Garage 56 programme at Le Mans, with the Rolex 24 Hour race we were sort of involved with Action Express [is excellent].
"NASCAR is the heart and soul of the company, but we love motorsport, you look back at the history of Rick Hendrick and Hendrick Motorsports, they've touched a lot of different forms of motorsports.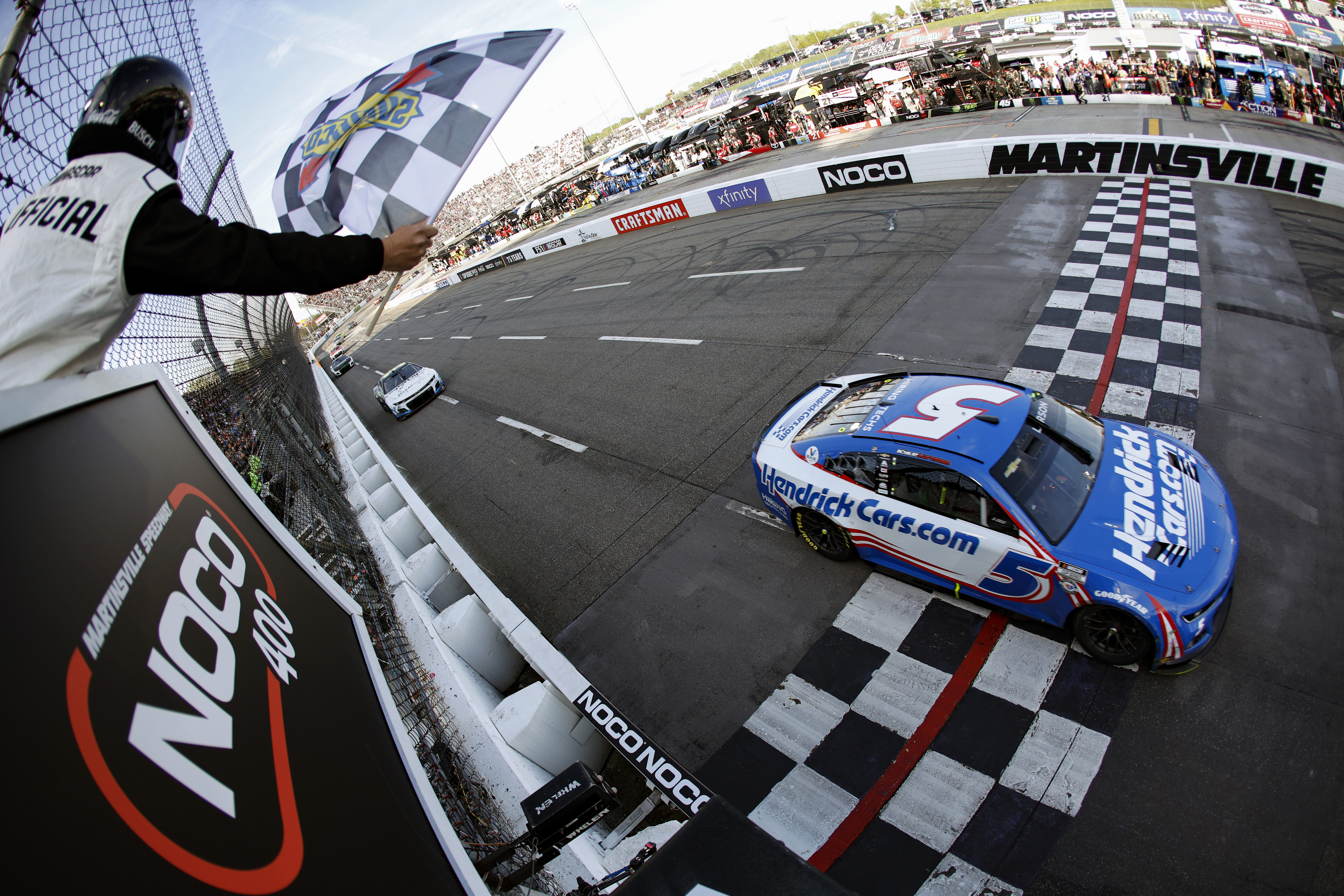 "So to me, it's about when the right opportunity comes along and it can be something fun, exciting, and even grow the company in a way that we can learn from the way McLaren operates their team and vice versa, we can share ideas and philosophies, and make each organisation better, so there's a lot of advantages to collaborating like this."
Back when Gordon competed, it was a very rare occurrence that drivers at Hendrick would be able to race outside of the Cup Series. It's commonplace now but Gordon would not get the chance to contest dirt races regularly or try the Indy 500 like he'd always dreamed of, and like Larson now gets to do.
The exception to that was Gordon's 2003 Williams Formula 1 test with Juan Pablo Montoya, where he impressed the team with how quick he got up to speed. He may be one of NASCAR's most successful road course racers, but even he was surprised by how well he delivered in that test.
Jimmie Johnson was the last NASCAR champion to drive an F1 car in a car swap with Fernando Alonso initiated by McLaren in 2018. Is Gordon hopeful that Larson could get a similar chance to drive an F1 car, like he did with Montoya?
"I love seeing the crossover," Gordon says.
"I would like to see it done the way it has [been] in the past. McLaren, they already have experience at this with Jimmie Johnson, of doing this kind of swap where a Formula 1 driver drives a stock car and vice versa.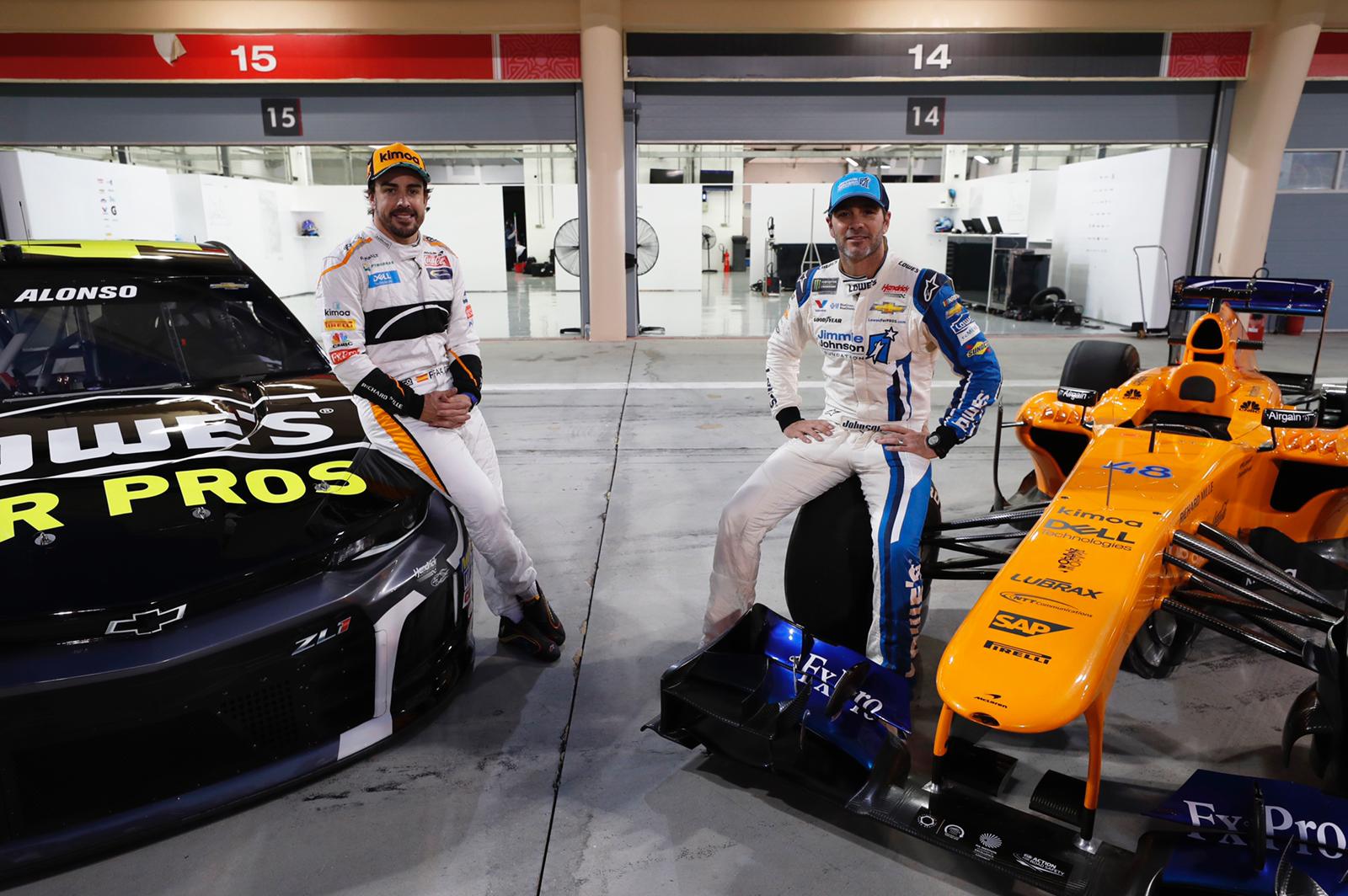 "So what I love about that is how much the F1 guys love the stock car.
"I just assume it's going to be way more beneficial for us stock car guys to drive that car because of how much grip it has and how it performs.
"It seems to almost work equally in reverse where even though there isn't even a brake number for where you have to brake in the stock car and the grip level is so low, they seem to love the fact that it's more in their hands.
"It just goes to show they are true talents behind the wheel.
"I know that Kyle, if he got that opportunity, would not only excel, but he'd enjoy it. Of course we would love to see the relationship turn into some type of opportunity like that if it presents itself."
It's impossible now to say how close Gordon was to competing in F1, and the level of success and stardom he achieved in his pomp in the late 1990s and early 2000s perhaps show that he made the right decision to stay in NASCAR given the uncertainty of how long or successful an F1 career may have been. Remember, at that stage, Gordon had done basically no road course racing.
Larson hasn't had the same links to F1 given he finds himself in a different period of history where grand prix drivers are almost exclusively taken from the F2 support series, with even an uber-competitive IndyCar field being overlooked.
It's an interesting parallel, because Larson's success in dirt racing has led some fans, onlookers, and even media to declare him one of the best drivers of all time due to his success in different formulae.
Gordon wasn't being declared the best driver in the world in his youth, but he certainly pushed the boundaries when it came to a dirt racer from America making a name around the world and how his success was interpreted, which continued into his NASCAR career.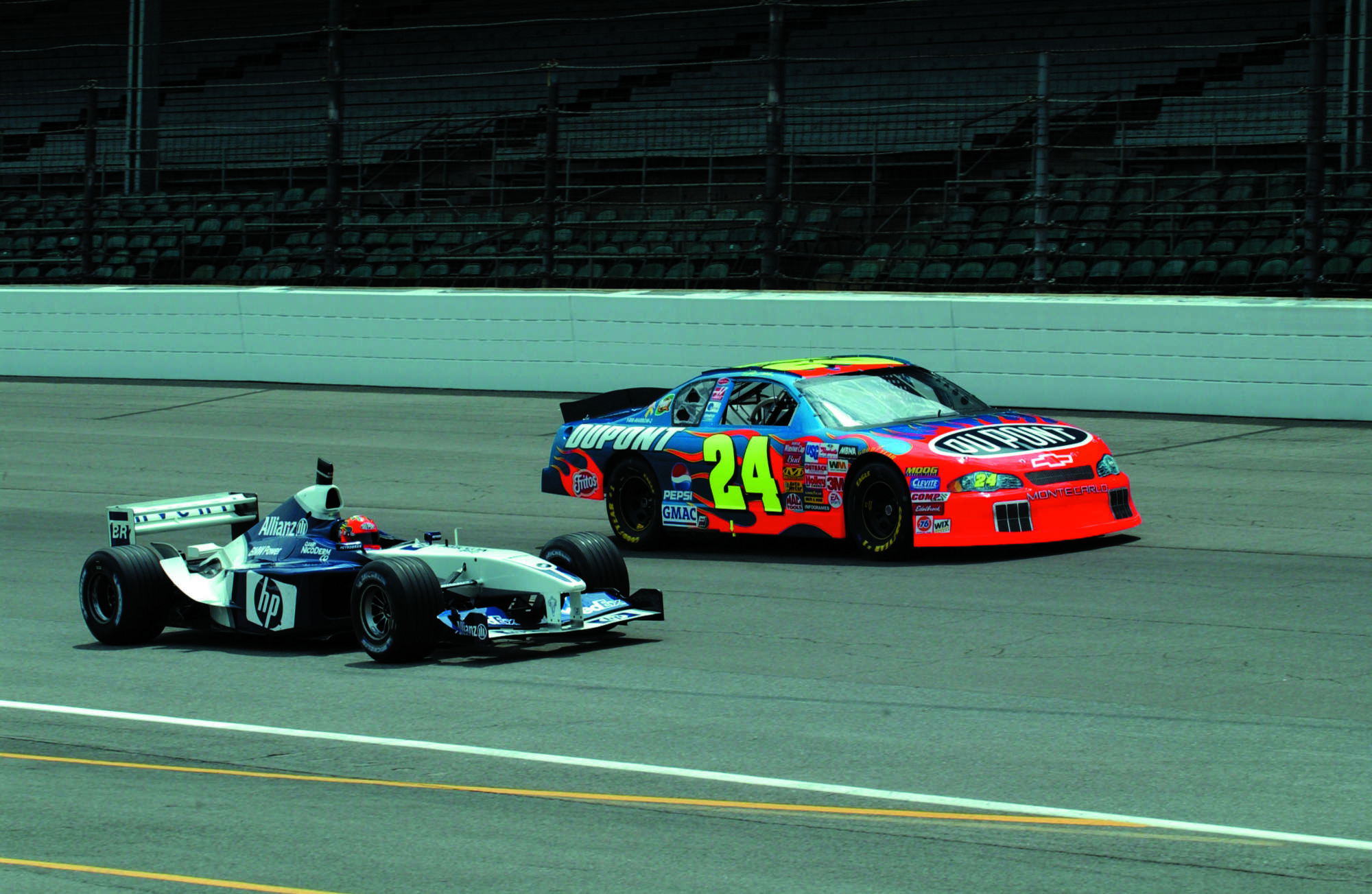 He was certainly well respected by 2003 when he got his F1 test and that restarted discussions about a switch with Williams or Jaguar when he was 32, only two years older than Larson is now.
It begs the question, would Larson be actively linked to F1 in Gordon's day?
"Kyle can race on any different type of track in any car, I really started becoming fond of road racing because of the success I was having in NASCAR on the road courses, so any challenge or opportunity to get behind the wheel of an amazing car on a road course, was something I jumped at," Gordon adds.
"But at the same time I respected the process of what it takes to be one of the elite in Formula 1.
"There's a reason why there hasn't been an American for a long time that's been able to compete at the highest level because of the nature in which we're brought up and the type of racing we do.
"I think Kyle would respect that same thing but he's also a guy that maybe, I've always been the type of race car driver where if I thought I wasn't going to be successful at it or I didn't think I could put in the amount of time and effort to get the experience to be successful at it, I probably didn't look at it as doing it for fun, that didn't seem fun to me.
"Kyle is a little bit different. I think Kyle feels like, 'I've got the ability to do it well' but also, 'This is a fun challenge'. The fun was being competitive for me, contributing and winning.
"Kyle has the ability to balance out both."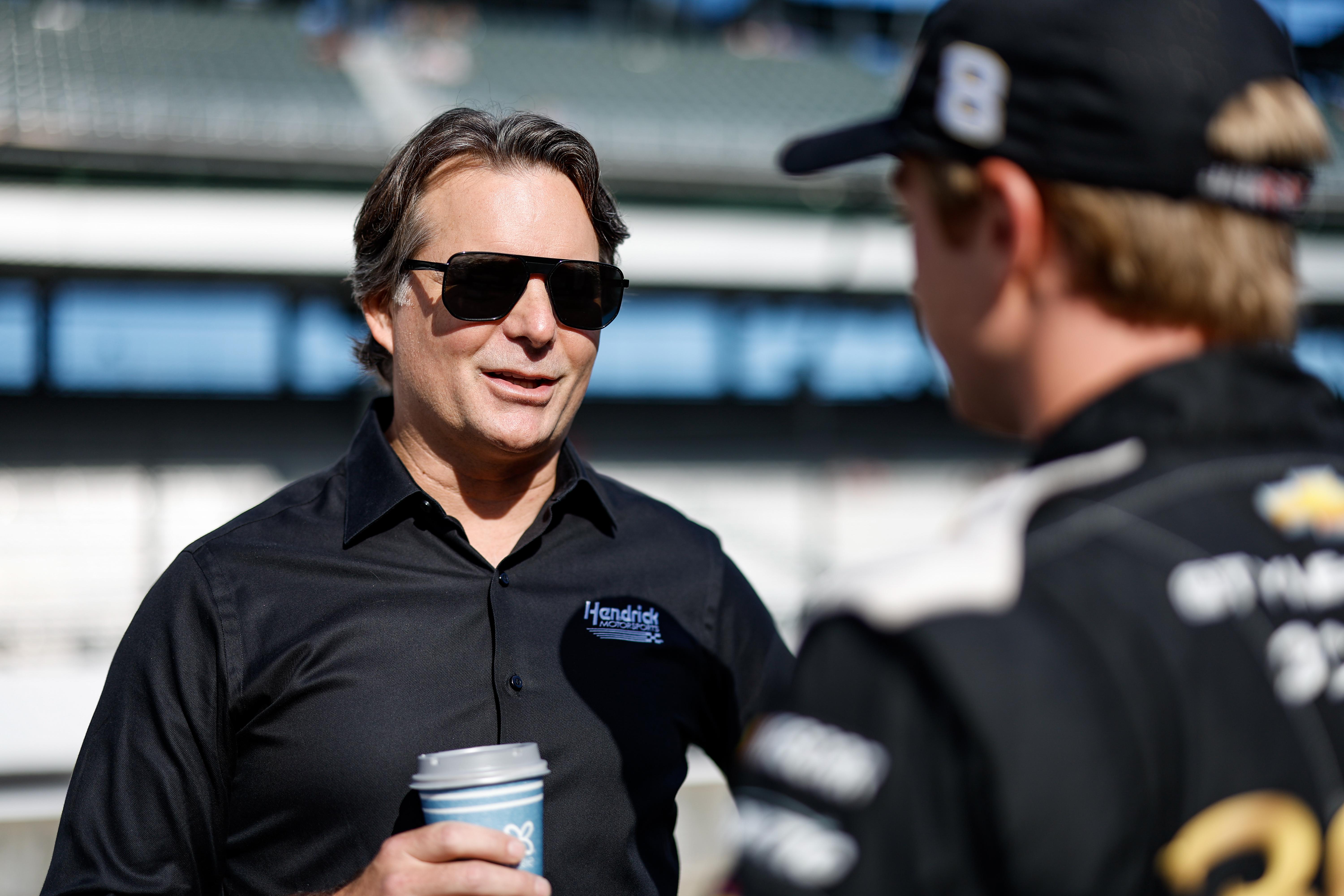 It's a typically modest answer from Gordon, but it's clear how highly he rates his driver.
"I'm glad I didn't have to race against him!" he laughs. "I'm glad he wasn't my team-mate at Hendrick Motorsports like Jimmie Johnson was.
'Kyle's extremely talented. I've known it for many, many years. In my opinion, he's like the modern day Mario Andretti.
"He's just a guy that can get into any type of race car and just excel at it.
"Again, he has confidence in his own ability to be able to do that because he's done it many, many times. So I think he's looking forward to the challenge.
"This is certainly going to be a big departure from anything: high downforce, rear-engined car, Indianapolis doing 230mph or 240mph, whatever it's going to be.
"He's looking forward to it.
"With his confidence and the team's capabilities I think he has the ability to go and surprise a lot of people even with a limited amount of time."
We'll know in a week whether Larson will be attempting the 2024 Indy 500 with a winning team, with many picking McLaren as a pre-race favourite to take the fight to Chip Ganassi Racing just as it did last year.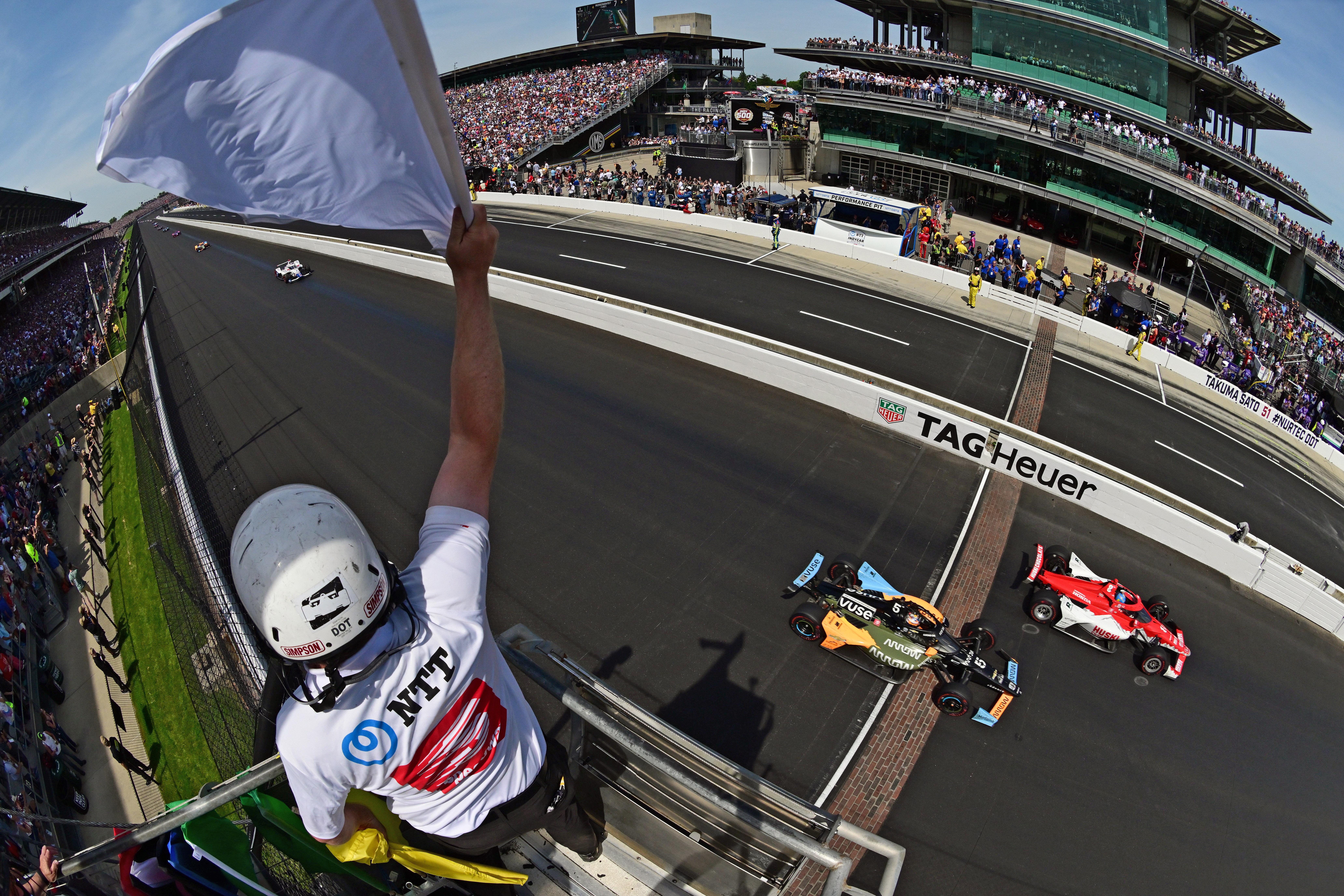 The Larson deal is interesting on multiple levels as you get the idea that the involvement between McLaren and Hendrick could expand and help both teams in their respective series.
In addition, Gordon will get to help live out his Indy 500 fantasy through his star and protege Larson, who is about as close a version of Jeff Gordon as you could get in 2023.