"I love Laguna Seca," said Romain Grosjean after Sunday's race where his rollercoaster ride to a third IndyCar podium will be etched onto the brain of anyone who watched it.
Starting 13th, Grosjean immediately began to carve through the field at the start, ran two long middle stints – despite still making some of the best overtaking moves of the season – before a short stint on softs at the end produced prodigious pace and pass after pass.
There's no wonder he "felt a bit like [Alex] Zanardi, which is not a bad thing", alluding to the two-time CART champion's famous moves at the venue, after Sunday's race.
With so much to digest from arguably Grosjean's best IndyCar performance yet – at a track he was excited to race on because of his affinity for Gran Turismo when he was younger – The Race has broken down the key moments.
Qualifying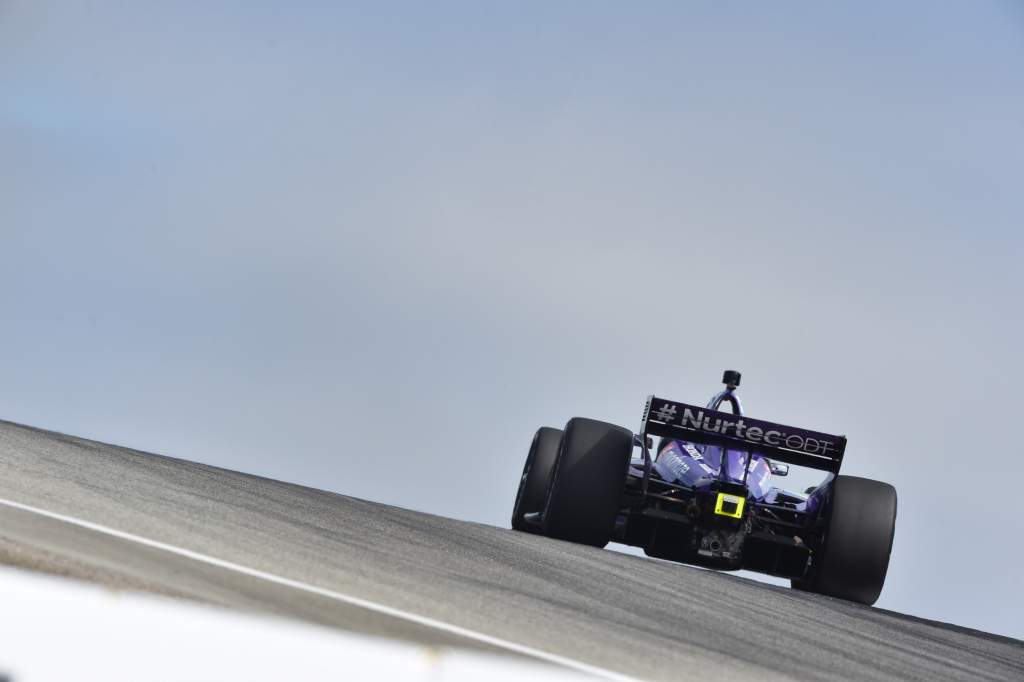 After being ninth in the first practice session hopes were high for Grosjean and the Dale Coyne Racing team. But for what feels like the millionth time this year, their qualifying hinged on a frankly ridiculous margin of 0.0027s.
That's how much Grosjean missed out on IndyCar's version of Q2 by to Scott Dixon.
"Our Nurtec ODT car was very quick again today in qualifying but unfortunately I got caught up behind another car on my fast lap and that cost us some time," said Grosjean.
"The time lost meant that we were not able to make it into the Fast 12."
"Starting in the middle of the field isn't ideal, but we will fight our way back up the tomorrow," he promised.
A calculated start
Grosjean jumped Max Chilton, James Hinchcliffe and Graham Rahal on the first lap alone!
He did this by positioning himself on the inside of Turn 2 despite the outside having been the prevalent line this weekend.
Unlike in most of his IndyCar career so far, he made up spots here not by being super aggressive on the brakes, but actually by being conservative. He held the inside line and got a fantastic exit on the inside of the track at the exit of Turn 2, which should have put him at a disadvantage for Turn 3 on the outside.
However those on the outside of the corner struggled to get the power down and Grosjean was able to accelerate cleanly off the corner, providing this initial boost in positions that, at this point, put him in a good position for a top 10 in a race where people expected overtaking to be difficult.
Amazing overtakes
You could really count those overtakes at the start among this group, but we've given that a category of its own so we'll move on to highlight the others.
Some reported that Grosjean made 15 moves on track for position but some of those were including passes made where drivers were going in, were in or coming out of the pits or falling down the order with issues, so we've narrowed it down to 13 overtakes and hopefully not missed any out!
---
Grosjean's overtakes for position
Lap 1 past Hinchcliffe, Chilton and Rahal
Lap 7 past Askew
Lap 10 past O'Ward
Lap 30 past Dixon
Lap 36 past McLaughlin
Lap 51 past Hunter-Reay and McLaughlin
Lap 79 past Pagenaud
Lap 80 past Ericsson
Lap 81 past O'Ward
Lap 84 past Rahal
---
The corkscrew was where Grosjean did most of his bidding, and the move on Askew there proved he could make overtakes at the corner Zanardi made famous for 'The Pass' in 1996.
The corner has an out-of-bounds limit where Zanardi did his bidding inside the kerb, so that move isn't repeatable, but that only makes overtaking at the corner even more difficult. You can see where the comparisons are coming from just through Grosjean's bravery on the brakes, something The Race IndyCar Podcast host JR Hildebrand reckoned Grosjean had totally nailed in his adaptation after the Road America weekend where he was equally daring slowing the car.
On lap 30 came what I think has to be one of the moments of the season. I don't personally remember Scott Dixon ever being overtaken at the corkscrew. In fact I can count on a couple of fingers the number of times someone on the same strategy has properly overtaken Dixon this season over 15 races.
Never raced here before? Doesn't look like it.

What a pass, @RGrosjean.

WATCH LIVE:
📺: @nbc // @peacockTV
📲: INDYCAR APP – https://t.co/vyuISIyifv pic.twitter.com/TsGNS5z2f8

— NTT INDYCAR SERIES (@IndyCar) September 19, 2021
The six-time champion was struggling towards the end of a stint on a used set of hard tyres where Grosjean had had a fresh set, but you could argue Grosjean's pushing to get to Dixon had taken just as much out of his boots.
The move just felt symbolic as it feels like it may be illegal for someone to pass somebody of Dixon's stature at the corkscrew. Something Austin Powers would declare "not cricket", not sporting.
At that point I'd considered that one of the moves of the season because of the overtake itself and the context, but his pass on Pato O'Ward later in the race was just as impressive.
.@RGrosjean is charging within the top 5.

The No. 51 sits in P4 with 13 laps to go.#INDYCAR // #FirestoneGP

WATCH LIVE:
📺: @nbc // @peacockTV
📲: INDYCAR APP – https://t.co/vyuISIyifv pic.twitter.com/As0aFh2orH

— NTT INDYCAR SERIES (@IndyCar) September 19, 2021
This time Grosjean had a much bigger tyre advantage, on a fresh set of softs compared to O'Ward's used hards, but the complexity of the move is what made this special. He drove around the outside of Turn 3, which is very rarely done indeed, to take the position away from the championship contender. It was a lovely effort.
Crashing at the corkscrew
Unfortunately for Grosjean it wasn't all passing perfection.
WHOA, @RGrosjean and @JimmieJohnson!#INDYCAR pic.twitter.com/10825PTKyK

— IndyCar on NBC (@IndyCaronNBC) September 19, 2021
He smashed into the side of Jimmie Johnson – on the pace of the leaders at times and on his way to his best IndyCar finish – when trying to lap the Chip Ganassi Racing driver who was keen to hold up Grosjean to help team-mate Alex Palou keep second place.
Sadly Grosjean totally misjudged this one, coming from way too far back. That might have worked on Johnson earlier on in his transition to IndyCar but this was his best race yet and he was totally caught off guard by the audacity of the move.
"That… I thought our day was over," said Johnson.
"I couldn't believe that he threw it in there that late on me.
"Luckily we both saved it. I thought I lost my wrists with the [steering] wheel whipping around. I was worried about a penalty for being inside the green but luckily I didn't get that penalty and we got our career-best finish."
Grosjean repeatedly apologised immediately after the race and in the post-race press conference.
"I'm sorry we made contact with Jimmie," said Grosjean. "I was definitely going in. I think Jimmie probably didn't see me. He was pushing hard to protect Alex from me, which is the game. So we made a bit of contact."
Later Grosjean made a cheeky reference to the blue flag rules – totally irrelevant to Grosjean driving into the side of Johnson, especially in this case where Johnson was not so much slower than Grosjean as he may have been earlier in the season, and thus wouldn't have been expecting a move there.
IndyCar rules are that blue flags don't mean you have to give way – you race to stay on the lead lap and for track position.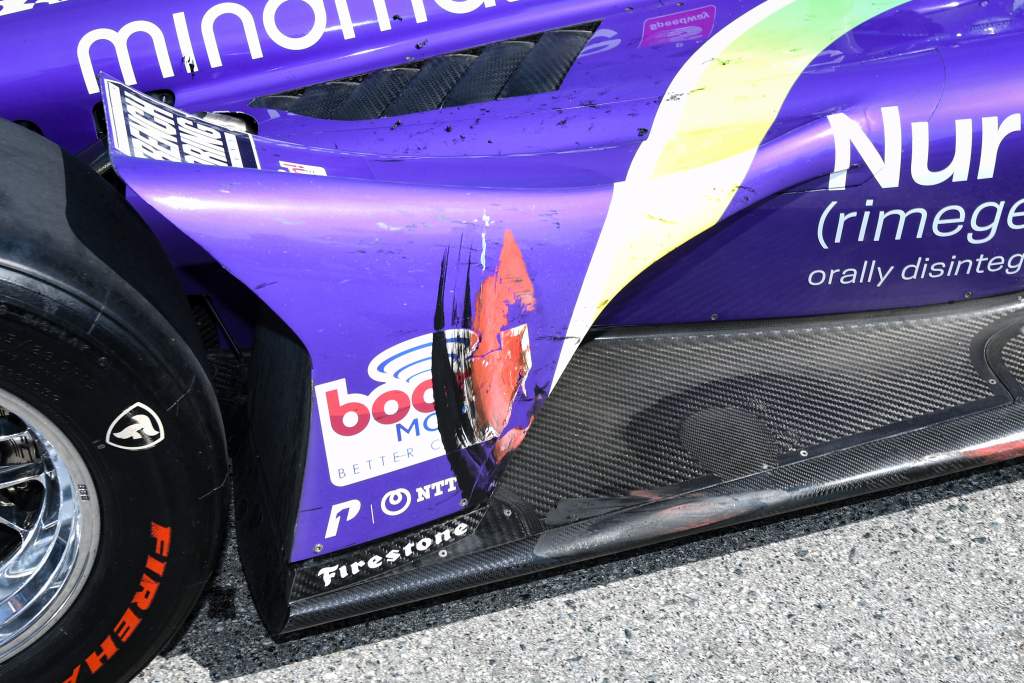 "Yeah, there was a bit of vibration going on after the touch," Grosjean said when asked about any damage.
"Again, I'm sorry for that one. It's again the blue flag rules that some drivers have been complaining about.
"Yeah, at one point there were three backmarkers between me and Alex.
"They're not in the race, they shouldn't be here. Let's see what we can do and work on that. That will definitely avoid incidents like today."
He does have a point that blue flags have been controversial at multiple points this season and Grosjean felt that traffic caused him to lose a first win from pole at Indianapolis in May, which may be where this slight tangent stems from.
Strategy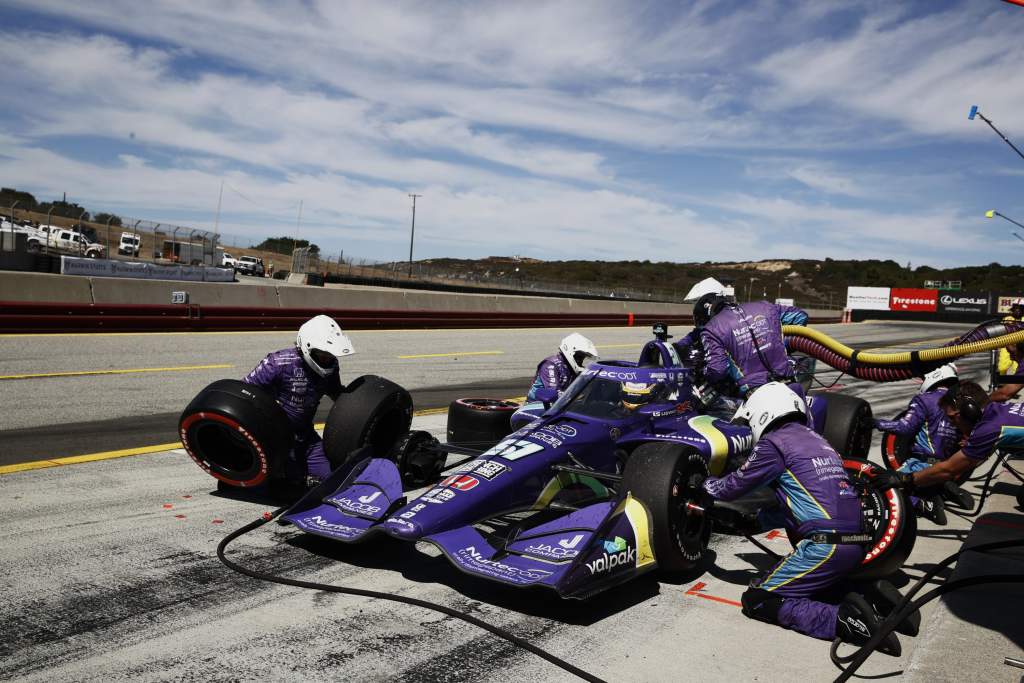 The work to do all his overtaking at the end came in the first stint for Grosjean. Unlike most other teams he and Dale Coyne Racing initially believed before the race that the harder tyre would be the one for them, so started on the soft reds aiming to ditch them within the first 10 laps.
While some drivers went ahead with that strategy, Grosjean actually bailed on it because of how good his fresh softs were at the start.
"Through the first stint the plan initially was to come very early in, like lap six or seven, put the blacks, because we were feeling the blacks were going to be a better tyre," said Grosjean.
"Pato was on blacks and he was struggling a lot, while on reds it was actually getting good, [I] passed Ericsson, Dixon, Pato, some more on the first stint.
"I realised that we were pretty good on those tyres.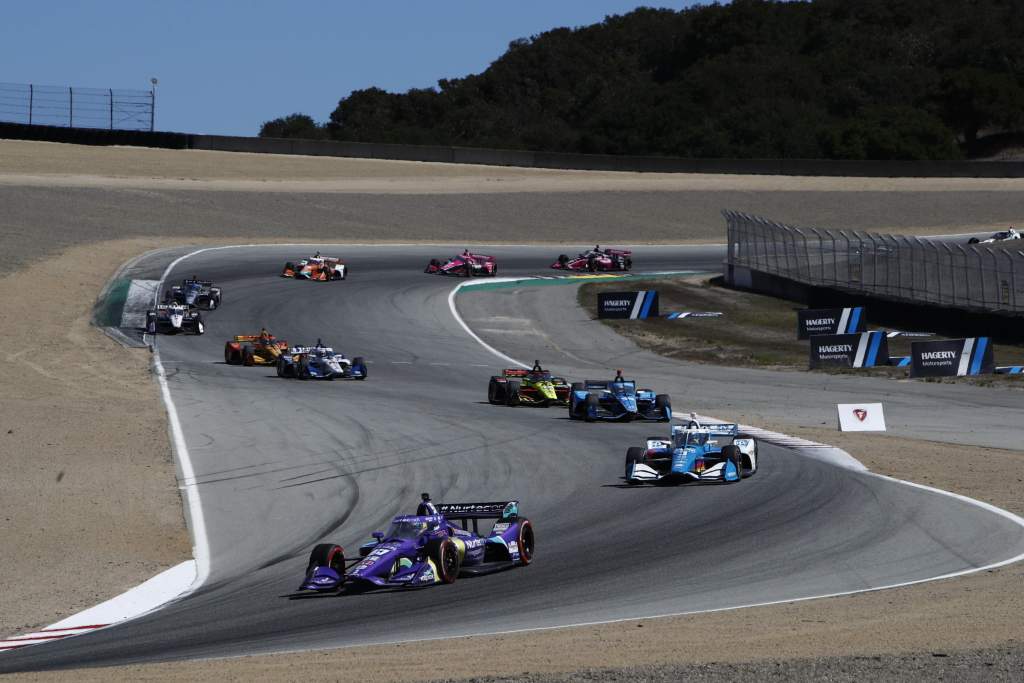 "We put the black and it didn't feel good. So I told my engineer, 'let's go long, long, long'. The last stint we're just going to go as hard as we can on the reds and make up for it.
"Now it's easy to say, but I wish we would have pitted five laps earlier [at the last stop] because the tires were still very good at the end."
So Grosjean extended that first stint on reds to 20 laps while others bailed early, then he continued to do longer stints than some of his rivals with a 25- and a 27-lap stint respectively on the black tyres mid-race. It didn't hurt his pace too much as he was still able to overtake.
---
Grosjean's strategy
– Started on fresh soft tyres
– Pit stop number one on lap 20 for fresh blacks (20-lap stint)
– Pit stop number two on lap 46 for fresh blacks (25-lap stint)
– Pit stop number three on lap 73 for fresh reds (27-lap stint)
– 22-lap stint to the end
---
He then stayed out much longer than his rivals with that aforementioned 27-lap stint – the winner, Colton Herta, stopped on lap 68 while runner-up Palou stopped on 66 – as Grosjean took his fresh set of reds on lap 73.
When he emerged from the pits, only one car ahead of Grosjean – Rahal – was on soft tyres like him. O'Ward, Pagenaud and Ericsson had used blacks as did Palou, while Herta had saved fresh hards for the end.
Two laps after his stop Grosjean set the fourth-fastest lap of the race amid his overtaking spree, before he reeled in Palou's advantage from over 11 seconds to under four.
However, as Grosjean got really close Palou was able to pick up the pace slightly, had more push-to-pass, and then the clash with Johnson cost Grosjean more valuable time.
His assessment that he should have pitted five laps earlier may be correct with hindsight, but the late stop did guarantee he'd have much better tyres on a degradation-heavy circuit, so it was the right call in the moment.
Despite the contact with Johnson, which he was probably lucky to avoid a penalty for but 'no harm no foul' as they say, this was a searing drive from Grosjean.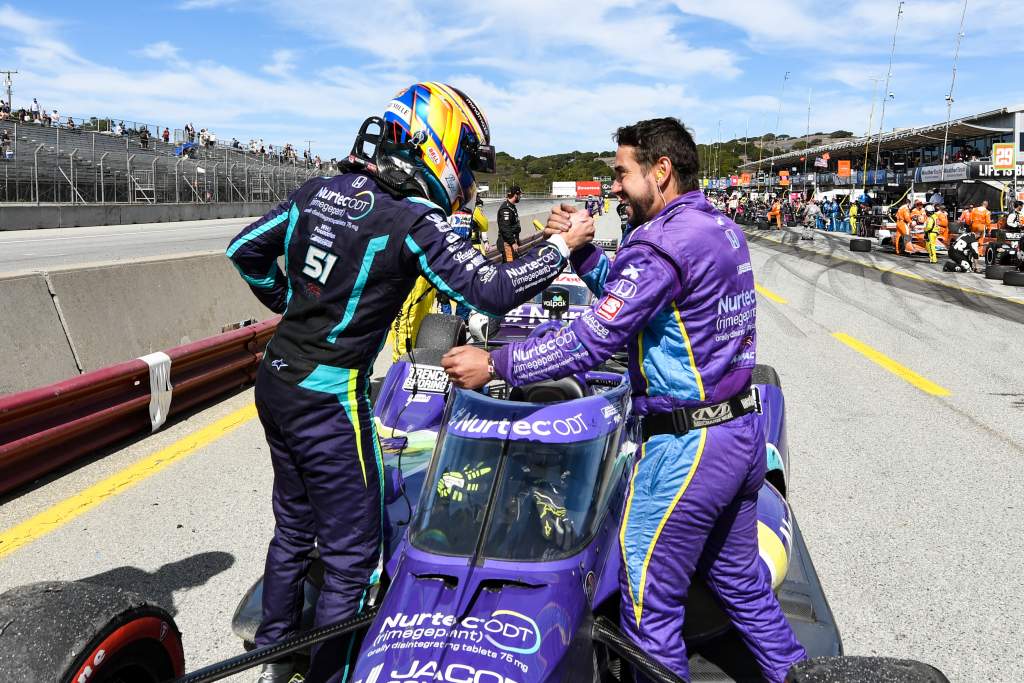 He's made the most of his debut year with Coyne, but you shudder to think what he'll be able to achieve with the resources of Andretti where he is expected to move next year, which won the race with Herta and locked out the front row in qualifying.
Next up is Long Beach. Grosjean and Coyne have struggled on street circuits at times but the last one at Nashville felt like a step forward. Grosjean will be hoping to end his first year in style at a track Honda loves.