In an occasional series, The Race's writers and contributors make the case for something they love – or loathe – about motorsport past or present.
As IndyCar gears up to stage a pivotal race at Laguna Seca, Matt Beer looks back at a three-year run of CART races that have a prime spot in the track's folklore.

Detroit. Road America. Mid-Ohio. Gateway. Portland. Laguna Seca… that the list of 1990s CART venues now back on the IndyCar calendar keeps growing is very pleasing for those of us who grew up with American single-seater racing's heyday.
And personally, Laguna Seca – which made it back onto the schedule in 2019 for the first time since 2004 and after a COVID-prompted gap hosts IndyCar again this weekend – is the one that's most evocative (at least until someone revives the overtaking-fest that was the Cleveland airport track).
It is, of course, 25 years on from 'The Pass', Alex Zanardi's last-lap move on Bryan Herta through the glorious plunging Corkscrew corners to snatch victory in 1996.
View this post on Instagram
As a 16-year-old Zanardi-superfan, I leapt some distance off my chair when that happened – or rather three days later when I'd badgered someone in my home town who could afford satellite TV to VHS tape a Eurosport re-run of a race I'd been avoiding the results of (which in those days only meant not dialling up Ceefax page 360 and making sure you got hold of a video before Autosport magazine came out on Thursday).
But it's not that Corkscrew moment that gives Laguna such a special place in my CART-adoring heart.
Or rather, it's not just that moment. That's just the start of a trilogy.
The fairytale magic of Zanardi's first CART stint across 1996-98 – three years of impossible drives, wins-from-the-back and effervescent personality – was only missing one thing. A proper rivalry.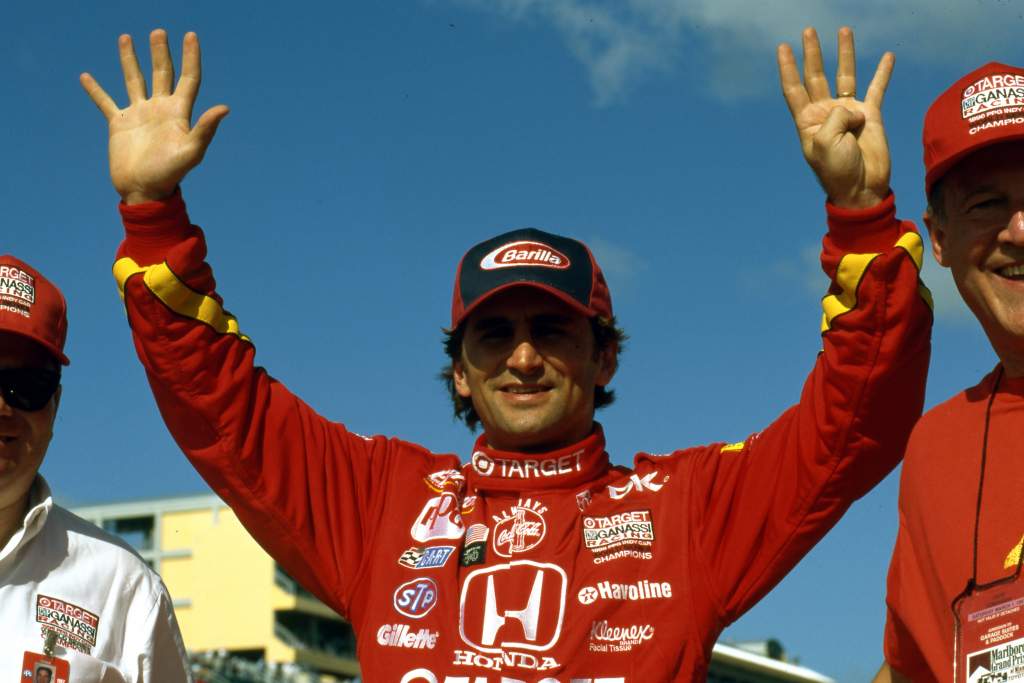 Ganassi being the best of the teams with the golden hat-trick of Reynard chassis, Honda engine and Firestone tyres stymied the chances of a proper Zanardi vs the US establishment (represented by Al Unser Jr and Michael Andretti) storyline.
Fellow rookie sensation Greg Moore's Mercedes engines at Forsythe didn't let him get close enough often enough – despite Moore being the talent who would've pushed Zanardi hardest.
Gil de Ferran was ostensibly Zanardi's 1997 title rival once Paul Tracy's Penske career began to implode, but hamstrung by Goodyear tyres at Walker Racing de Ferran was really giving vain and distant chase through consistent finishing.
Team Green had the Reynard-Honda/Firestone golden ticket and by 1998 it had the drivers to exploit it in Tracy and Dario Franchitti, but a sketchy start to the season left them with too much ground to make up as Zanardi had a relative cruise that season.
So the closest thing CART had to an arch-rival for Zanardi ended up being Bryan Herta, and that was a storyline based almost entirely on three races at Laguna.
That 1996 move had extra bite because it was Ganassi dropping Herta that opened a competitive CART door for Zanardi (who otherwise may well have been in the Arciero-Wells drive that went to the late Jeff Krosnoff, and grappling with the then-awful Toyota engine).
Goodyear-shod Rahal driver Herta, yet to win a race, had overtaken Zanardi in the middle stint when the Ganassi car blistered a tyre, and looked to have everything in hand until Zanardi launched his car down the inside at the Corkscrew half a lap from home.
Had backmarker PJ Jones not taken Zanardi out in Vancouver a week earlier, that pass might have made him champion at the first attempt too – with the caveats that this hypothetical outcome still required Zanardi to get an absolute maximum score in Vancouver, and his eventual champion Ganassi team-mate Jimmy Vasser surely wouldn't have relinquished third at Laguna to Scott Pruett on the last lap so easily if it had been a title-deciding position.
The crestfallen Herta was very much the odd man out at Laguna that afternoon as the world celebrated the audacity of a Zanardi move that in retrospect wasn't so much a track limits violation as flagrant corner-cutting and hugely relied on Herta leaping out of the way as a Target-liveried missile flew towards him – yet still, despite all that, feels glorious in its sheer imagination 25 years on.
As impressive as Zanardi had been throughout his rookie season, that was the first proper 'Zanardi moment', the first obvious dash of the magic that would inspire his wins from the back at Cleveland the following year and Long Beach in '98.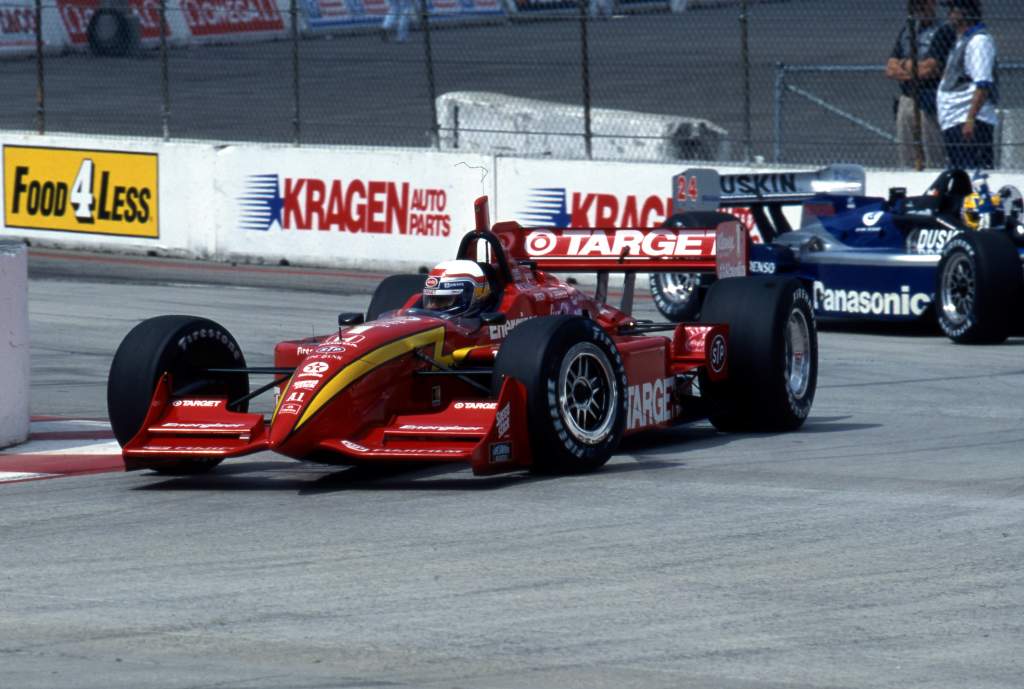 And given the way his car bounced through the dirt and over the high kerbs, making sure he actually completed the move on the shellshocked Herta at the Corkscrew exit wasn't totally straightforward. Though I'll readily admit that the Zanardi-defending theory a sixth form friend and I expounded at the time at CART-sceptical F1-obsessed relatives that Zanardi had really made the pass on the plunging downhill turns after the Corkscrew was, on reflection 25 years on, biased nonsense.
The 1996 pass is the well-known bit of the Zanardi/Herta/Laguna story. But it certainly wasn't the end.
Twelve months on, Zanardi was back at Laguna on the cusp of the title. But also on probation and freshly fined $25,000 for putting Herta in the wall in Vancouver a week earlier. And under considerable flak from rivals over that incident, and further embarrassed by a very public declaration on the anniversary of 'The Pass' that any overtaking move in which all four wheels weren't on the track would lead to an order to relinquish the place. His wheel-to-wheel prowess certainly wasn't being celebrated now.
Occasionally Zanardi had a day when his irrepressible racing spirit translated as flying off the road a lot and shoving people into walls. Partly due to a problematic brake disc, Vancouver '97 was one of those and ironically it was Herta who suffered most – taken out of the lead (albeit a lead he was only occupying temporarily while trying to go off-sync on strategy) as Zanardi tried to unlap himself.
Herta was still hunting for his first win, a great chance from pole at Mid-Ohio that summer having been lost to a tyre blowout.
At Laguna he took pole by nearly half a second over front row partner Zanardi, and a second quicker than any other Goodyear runner. The rematch seemed beautifully set up.
Except the Goodyears weren't up to the fight over a race distance. Barely 10 laps in, Zanardi was all over Herta. A dozen laps of absolutely beautiful racing – some of the best of the era – followed as Herta positioned his ever-slower car however he could to stay ahead, and Zanardi tried everything in his repertoire to change that situation – looking inside and outside, locking up, shooting down the inside and running wide back to second. There was no way Herta was going to be able to hang on, especially as a queue of cars built up behind them, and no way Zanardi was just going to wait for the pitstops.
On lap 21 Zanardi was alongside Herta right around the outside of the first two corners, but Herta used the full width of the road on the exit, banging wheels with Zanardi and sending his opponent through the sand trap. The officials ruled it was accidental contact as Herta struggled for grip. Zanardi was convinced otherwise.
Three corners later, Vasser lunged down the inside of Herta and the Rahal car skittered off the road too. Zanardi recovered to third, Herta to sixth, as Vasser fended off Mark Blundell to take his first race win since the May of his title-winning year on the day Zanardi clinched the title. The Ganassi team-mates and good friends then collided on the slowing down lap as they drove wheel to wheel congratulating each other, leaving Vasser stranded trackside!
Fast forward another 12 months. Zanardi was already CART champion again by the time the 1998 championship reached Laguna Seca. And he had four races to go before leaving for Formula 1 and Williams.
This title hadn't required so many heroics – with even CART cars getting harder to overtake in by then, even Zanardi was doing a lot of his passing in the pits.
Long Beach had been a wonderful exception as Zanardi came back from a lapped 21st after an early pile-up that bent his suspension slightly.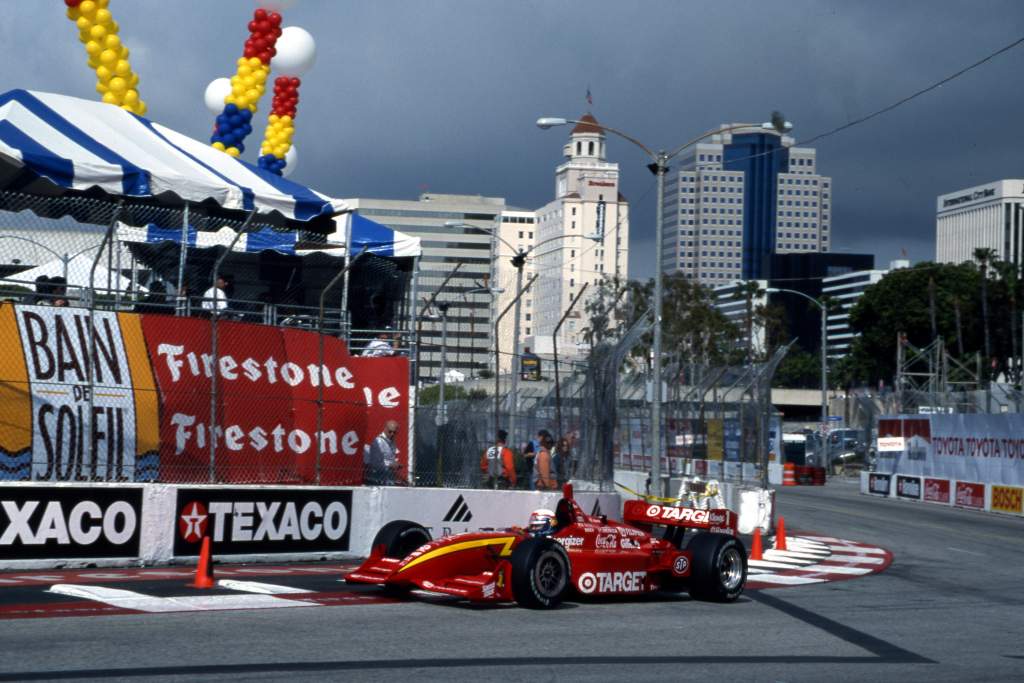 And who was leading there until an assertive Zanardi move…? Herta, obviously. Who ended up not even second there because Zanardi's pass allowed Franchitti to demote him to third too.
Herta was still winless come Laguna, where the weekend began with a bizarre post-chequered flag practice collision between Zanardi and Herta (obviously) at the Corkscrew (obviously).
Zanardi felt Herta had deliberately sped up when they came upon each other, but the officials ruled it was the champion at fault and he had to sit out a practice session as a punishment.
But on their way out of the stewards' room, the pair finally had the clear-the-air chat that had felt impossible amid all the rhetoric around their previous incidents.
And that set up the concluding chapter of the trilogy. Herta was on pole again, Zanardi only fifth on the grid after that compromised build-up. Yet it felt inevitable that by the final stint of the race it was Herta versus Zanardi for the victory.
In a two-lap dash after a late yellow, Herta absolutely hugged the inside through the Corkscrew, where Zanardi took an amusingly wide line as he braked very deep. Next time through, Zanardi appeared to hang back a touch there, then launched both outside and inside line probes on the run down the hill and into the tight final corner.
This time, Herta couldn't be jumped or shifted. He finally won his first CART race by 0.343s over Zanardi and the story arc started at Laguna two years earlier was complete. Herta was a victor and mutual respect between them was restored – both of which felt like outcomes that really had to happen before Zanardi's departure to F1 to give this tale the ending it deserved.
As a very slightly more mature 18-year-old who'd moved up from forcing people to tape CART off Eurosport for me to wiggling the TV aerial lead enough that a very fuzzy black-and-white Channel 5 picture was just about visible for its 1am CART highlights programmes, I was still slightly hoping Zanardi fired it down the inside of Herta to grab that last Laguna win at the final corner. But I also recognised even then that the role reversal was really the much more satisfying way for this trilogy to conclude.