When the coronavirus outbreak shut down the IndyCar season opener at St Petersburg before cars were able to hit the track, Arrow McLaren SP's driver Oliver Askew stayed behind.
Regardless of the panic people felt in that time with a new, threatening virus emerging, he still chose to stay and help his mechanics dismantle the team's pit area while his series debut was in tatters.
In spite of any fear over the future, that day, he stood with his team, united.
Now Askew stands alone. Dropped by the team, the reigning Indy Lights champion looks set for a spell on the IndyCar sidelines.
"I don't want people to be surprised if I don't race in IndyCar again because that's definitely a possibility," said the 23-year-old, speaking to The Race candidly for the first time since his release from AMSP was announced.
"So it's really, really unfortunate and that's just how the sport is. I was given an incredible, incredible opportunity and it's just the way it went down. The cards given to me weren't fantastic."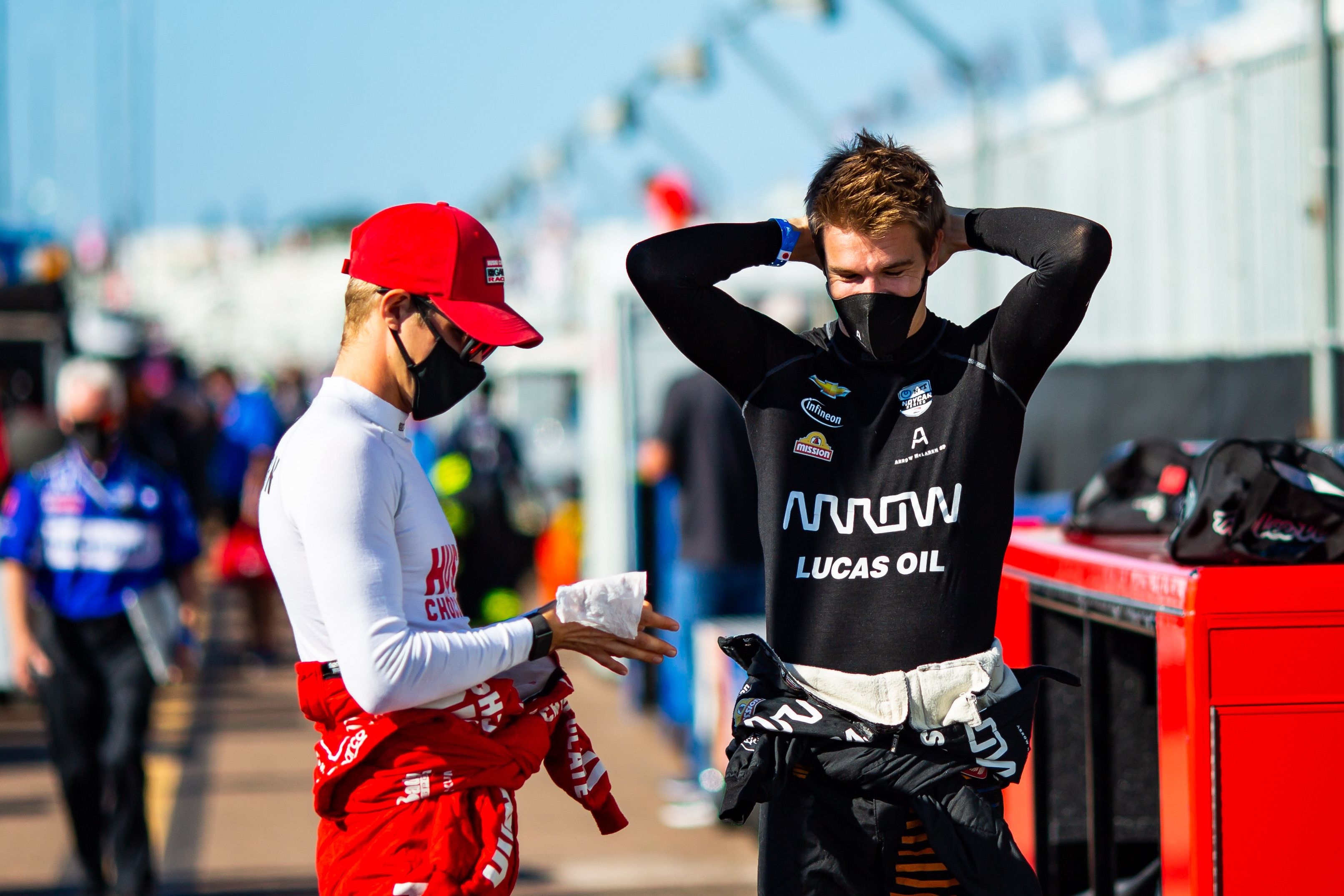 There are many factors at play in attempting to evaluate the decision Arrow McLaren SP made to part with Askew.
On one hand, his replacement Felix Rosenqvist is the kind of driver a team almost has to snap up when he comes on the market.
But however well-respected Rosenqvist is, he was only five points ahead of Askew in the points standings at the last relevant point of comparison between the two – before the Indianapolis 500.
Rosenqvist has struggled to match his European success while stateside. Ovals have mostly been a struggle and this season has been a mixed bag, the Swede finishing 11th when his team-mate Scott Dixon won the title with over 200 more points.
"I do feel that within myself I didn't show my true potential this year. I'm not sure if I'll ever get a chance to show my true potential in IndyCar" :: Oliver Askew
Perhaps more troubling is how little chance Askew got to prove himself. On announcing Askew and Patricio O'Ward for 2020 a year ago, McLaren's Gil de Ferran said: "We have taken time and care to make a driver selection that we believe is in the best long-term interests of Arrow McLaren SP."
The press release also stated: "Arrow McLaren SP are no strangers to developing young talent into championship winners." In Askew's case, the time he actually got to prove himself equates to seven races. That in one of the hardest years ever to be a rookie with shortened weekends, less simulator time, a new aeroscreen changing the car's behaviour and a lack of testing.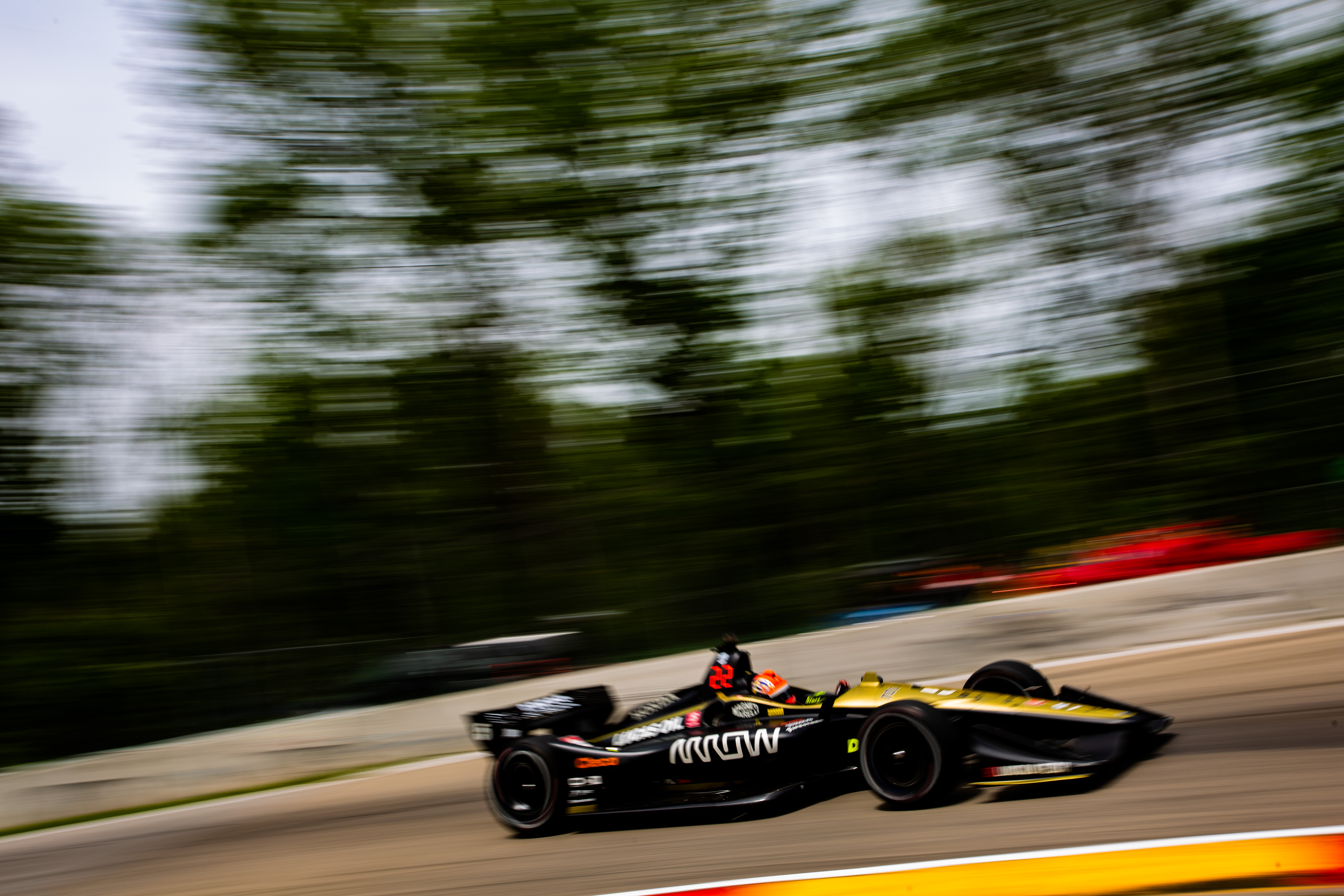 Arrow McLaren SP has a history of making cut-throat driver decisions – think back to its sacking of James Hinchcliffe last year. It appeared to reassure Hinchcliffe he was safe at the team before a switch from Honda – Hinchcliffe's long-term backer – to Chevrolet meant he was out of the door at the eleventh hour. That left him scrambling for budget and a seat.
However, judging purely on results, Hinchcliffe hadn't done enough to guarantee a seat. He may be the series' most popular driver, but that doesn't win races and championships. That's not all Hinchcliffe's fault, but there's a data set there that is enough to place doubt in the mind over whether continuing with him was beneficial.
The worrying thing with the Askew decision is, a team that has a great history of developing drivers in Indy Lights in its Schmidt era – and had claimed to be going in a direction of youth like its new F1 team partner – turned its back on Askew after such a short space of time. We don't know all of the reasons and maybe there was a deciding factor we aren't aware of. The physicality of the cars was new for Askew as well as some of the races, and adapting was always going to be tough.
It's a results-driven industry, but given the difficulty of 2020 and the flashes of potential Askew showed, swapping him for Rosenqvist seems harsh and unfair unless there's something behind the scenes yet to emerge.
Still, Askew has no interest in starting a war of words.
"I always have to respect any decision they make," he says. "I do feel that within myself I didn't show my true potential this year which is unfortunate because I'm not sure if I'll ever get a chance to show my true potential in IndyCar, honestly.
"So, yeah, for me and myself and knowing what I could do, it's definitely disappointing. But I respect their decision, if they don't want me to continue then that's fine."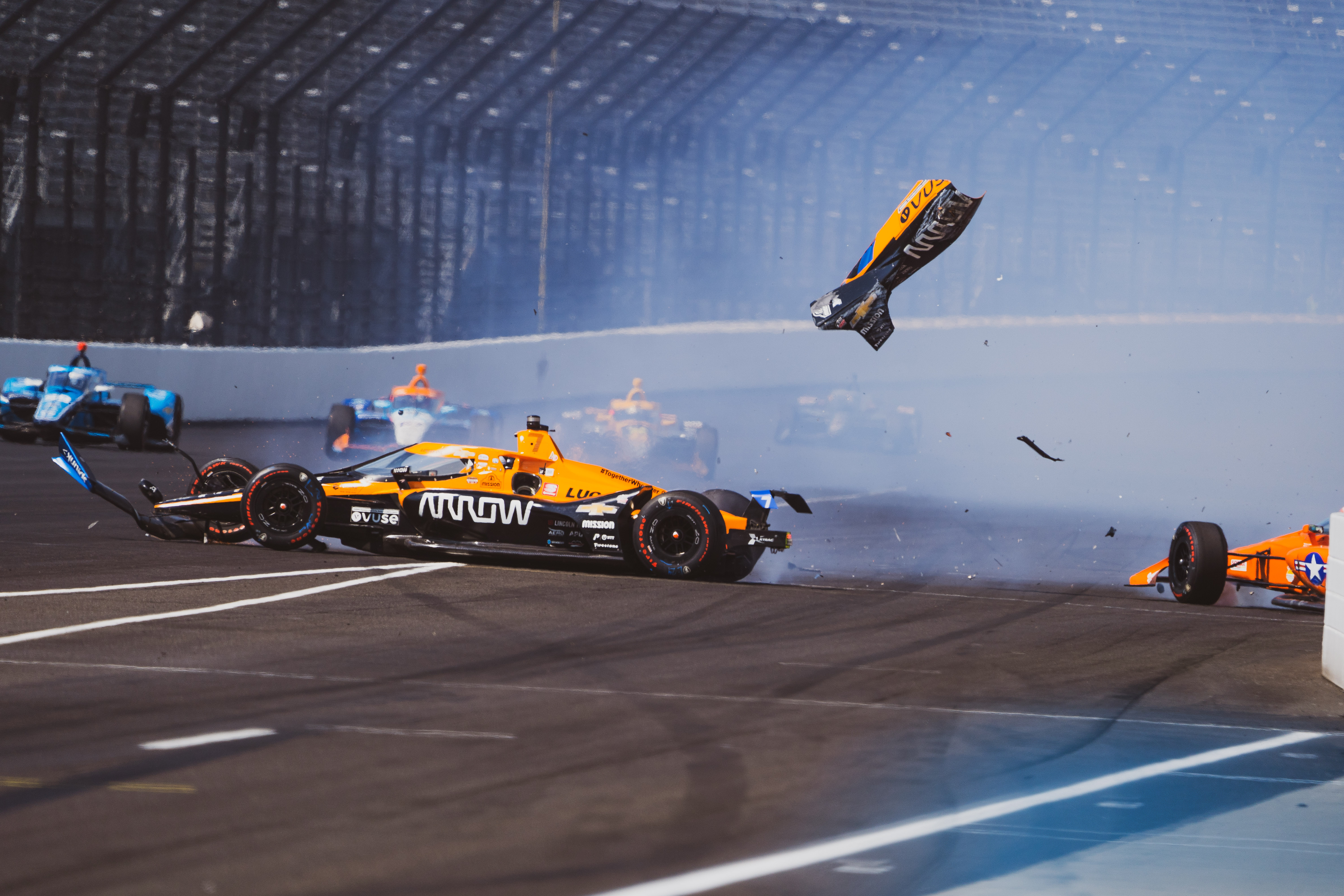 The turning point for Askew in his season – and potentially, his career – was the Indy 500 where he suffered a violent crash avoiding a spinning car ahead.
In the lead up to the event, he'd just scored two top-sixes at Iowa, and earlier in the season he made the 'Fast Six' fight for pole at his first attempt in his second IndyCar race.
In that Indianapolis road course race itself, he crashed trying to push on worn tyres, his biggest error of the season which can't really be defended. However, his team-mate O'Ward's season wasn't without silly errors, even if his high points were admittedly stronger. And also, that Indy round was Askew's first road-course race in IndyCar!
After the 500 it became clear something was not right and Askew raced on for four races – finishing between 14th and 19th – before stepping back to receive help. He missed two races getting treatment for concussion.
For what it's worth, it's fairly clear AMSP didn't make its decision purely on Askew's concussion or his form under it as that would be insensitive at best. But in light of that, you have to think he deserves another chance based on the fact his IndyCar career is basically being evaluated on a run of just six races in a very difficult year.
However, Askew says there are no regrets in the decision he made over his health, one drivers must take note of. The National Football League has shown us that concussions should not be ignored and even if it comes amid a fight to prove yourself and earn a seat, health always has to be the priority.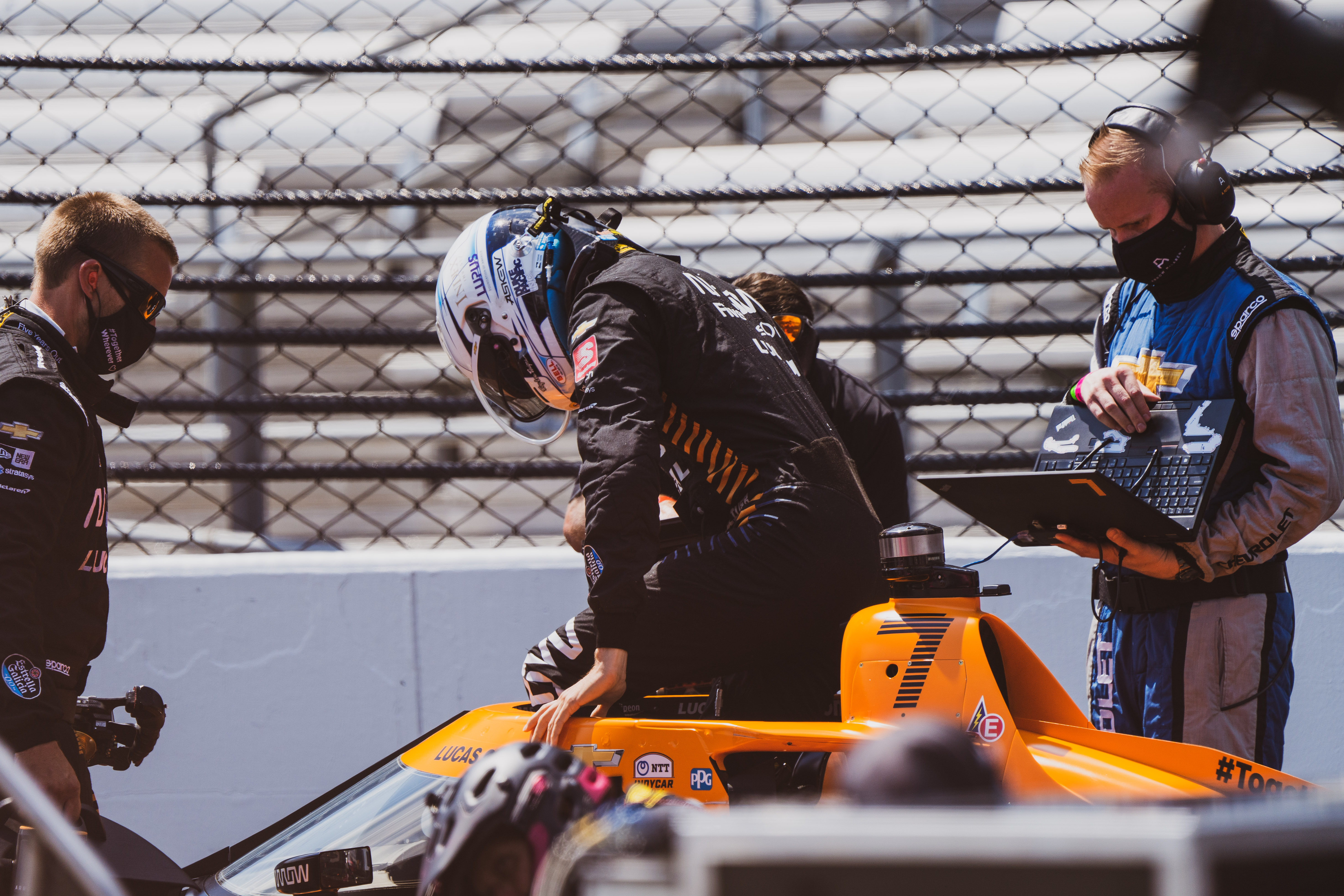 "I think actually, in most sports, concussions kind of go untreated and a lot of professional athletes turn their back on head injuries and kind of just push through it and hope for the best," Askew says.
"But for me, I knew it was affecting my mood, it was affecting my performance as an athlete and as an IndyCar driver.
"The issues I was going through, it was not easy for both myself and my family. A lot of people showed support and sent me messages and it definitely made me feel better about the decision we made.
"I don't have any regrets. You don't really hear about concussions so much in motorsports, but even if it does happen to someone in motorsports it's very important to take a step back and go through the proper tests.
Analysts and journalists alike in America get excited when youth hits the front. The youth narrative is at stake if Askew isn't given another chance
"Make sure that you're 100% to get back in the car when you have a shunt like that. I definitely, definitely learned something and hopefully other athletes can learn something as well."
Askew speaks so well given the adversity he's faced. This writer was there for the beginning of Askew's car career after his standout USA Scholarship drives in the UK and shortly after as he won the first Mazda Road to Indy scholarship in a shoot-out held at the Laguna Seca circuit in 2016.
It was my first trip to the States and despite the fact Askew was the favourite and clearly a force to be reckoned with, he was welcoming and as accessible as any other driver. He has been ever since including now, at his lowest ebb.
The scholarship earned him the cash to race in USF2000. He then graduated to Pro Mazda and Indy Lights as the ladder's poster boy for its main selling point – which is, if you have the talent, the scholarships on the Road to Indy can help you with the funding aspect.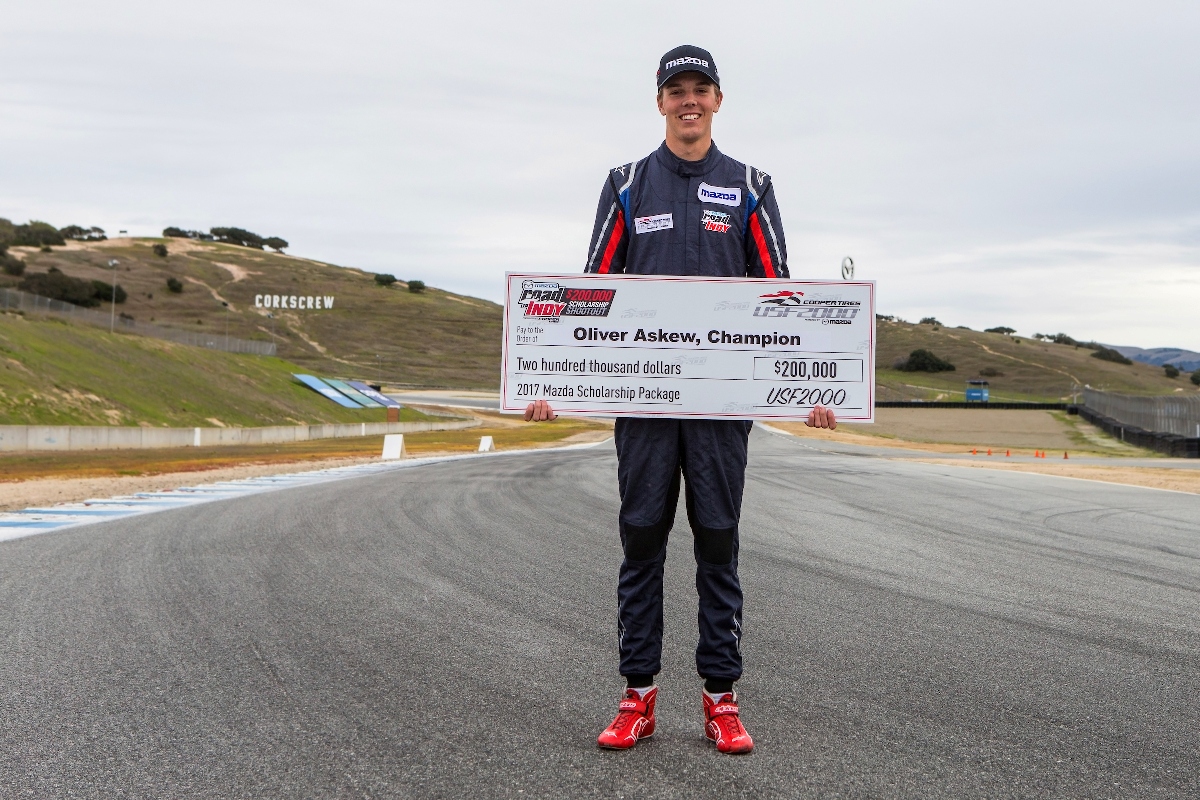 That's important for Askew. He started karting late and doesn't bring a tonne of family wealth with him. While IndyCar rookie of the year Rinus VeeKay progressed through the same ladder at the same time, he made his IndyCar debut at 19, not 23 like Askew, and what Askew has managed to achieve shows Road to Indy's potential.
It's one of the reasons IndyCar (as a whole, not specifically the series or its management) can't afford to let Askew fall by the wayside in this way. Not only does his lack of a drive after his concussion set a worrying precedent for when that happens in the future – drivers being too scared for their careers to step away and get help – it questions a key narrative the series boasts.
Analysts and journalists alike in America get excited when youth hits the front – think Colton Herta and O'Ward locking out the front row at Road America as an example. The youth narrative is at stake if Askew isn't given another chance.
The Road to Indy is supposed to help drivers like Askew who can't make their way up the ladder, not just extend the chances of those who already have the necessary backing. It succeeded in Askew's case, but will drivers commit to it in the future seeing Askew's plight?
Then there's the fact that Askew was racing his fourth full season in cars this year. He's gone from karting to IndyCar in fewer than four years.
Asked – given he had previously felt he hadn't performed his best this year – if he had done enough to secure an IndyCar return, Askew says: "I think for people who know what to look for and know what they're looking at understand that I did a pretty decent job this year for my rookie year and given the circumstance with COVID and limited testing and all that.
"I think people need to realise that this has been my fourth year in car racing and only three years ago, four years ago, back in 2017, I was running USF2000.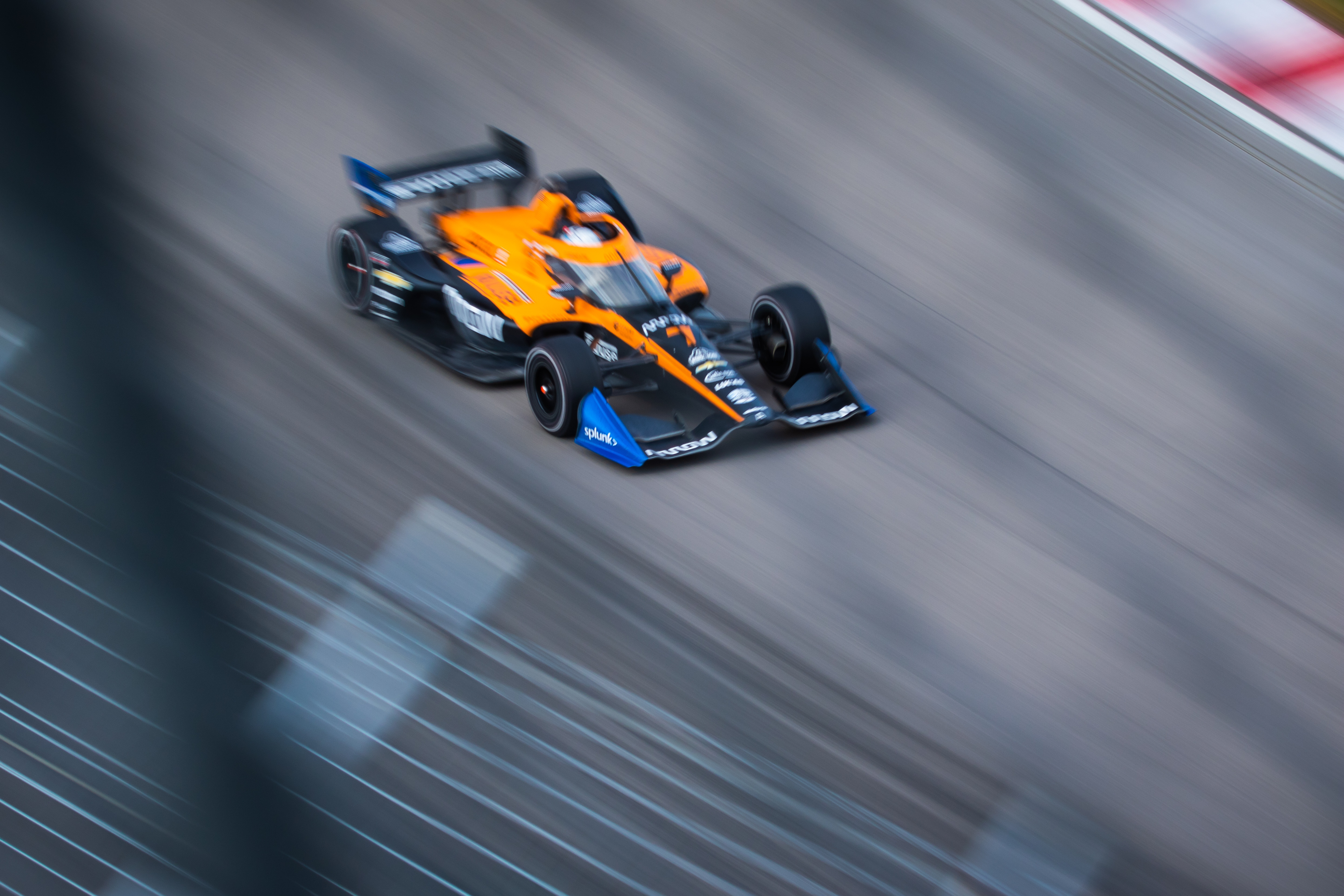 "So, I think given what we know and how short a time period I've had to progress to IndyCar, I think it's important for people to realise and hopefully the important people do understand that and aren't short sighted when they just look at my last half of the year.
"I hope that's how people look at it because that's definitely how I do."
Ultimately, as he says, IndyCar opportunities look bleak without the funding Askew needs and how late in the year it is. Only a handful of seats are actually not filled.
A part-schedule looks more likely. Perhaps he can persuade Andretti – which ran Askew when he won Indy Lights – to do what it did for Hinchcliffe and give him a part-season in a top car. Even that's unlikely without the backing Hinchcliffe boasts.
Askew isn't interested in stepping back to a smaller team, he's still thirsty to prove what he can do in top machinery.
"I think it's pretty late in the game, honestly," he adds. "I have a lot of interest in continuing in IndyCar with a good car.
"I don't feel like I can prove myself and continue to stay in IndyCar if I don't have the equipment behind me and obviously there's a quite a difference between the top four teams and the rest of the teams.
Not getting another IndyCar chance would be undeserved, but Askew is the perfect driver for a factory-backed sportscar team
"We'll see what happens. I'll continue to keep pushing and continue to find support behind the scenes with my support group and we'll see if we can continue.
"But you know, honestly, my main priority right now is to seek out a place where I can continue to grow in motorsport and … find a home.
"Because for the last five years I've been changing teams every off-season, going to a different category, and I just want to have the opportunity to to stay somewhere and to continue progressing within myself and within my ability so that's where my heart lies at the moment.
"Whether that's in IndyCar or not. Obviously IndyCar is a priority but if that's not where we land, you know…"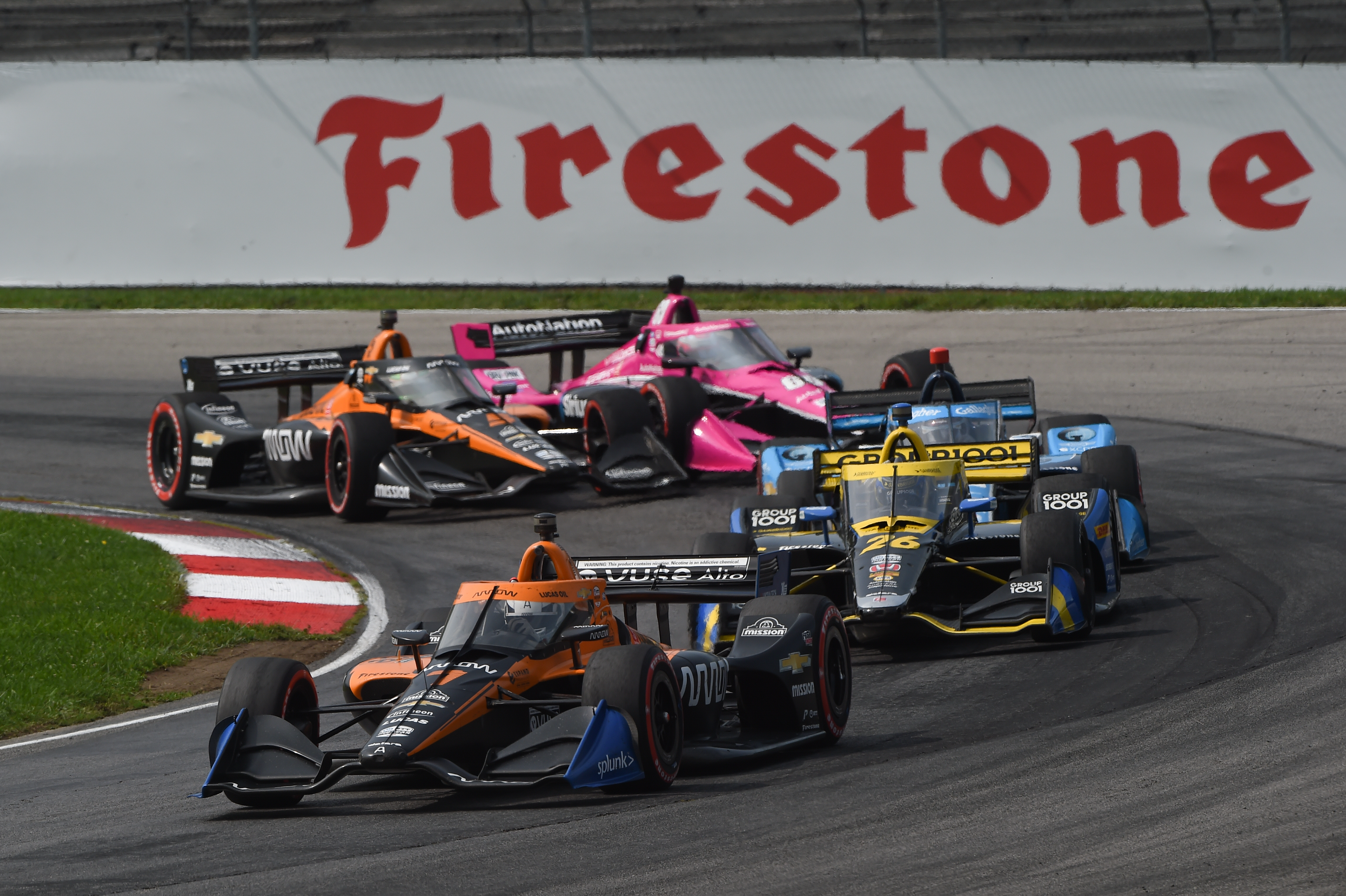 As restrictive and negative an impact COVID has had on his career, it may have helped to offer a glint of hope outside of IndyCar in sportscars. Askew is a silver-rated driver and due to the pandemic that ranking will be frozen until 2022.
That's a low rating for a driver of his quality and should make him a tantalising prospect for an IMSA or World Endurance Championship team moving forward. The WEC has mandated each LMP2 team – where many top drivers earn a good deal of salary – needs two silvers or a bronze for 2021, whereas previously it was one silver or bronze. So the stock of good silver drivers has risen.
Moving to Europe certainly isn't off the cards as he has Swedish roots, and has travelled overseas regularly before. Not getting another IndyCar chance would be undeserved, but Askew is the perfect driver for a factory-backed sportscar team. Well spoken, polite and team-orientated, PR-trained but always saying something interesting enough to keep real media interested, he's an ideal candidate – at least in the short term until his rating would be inevitably upgraded.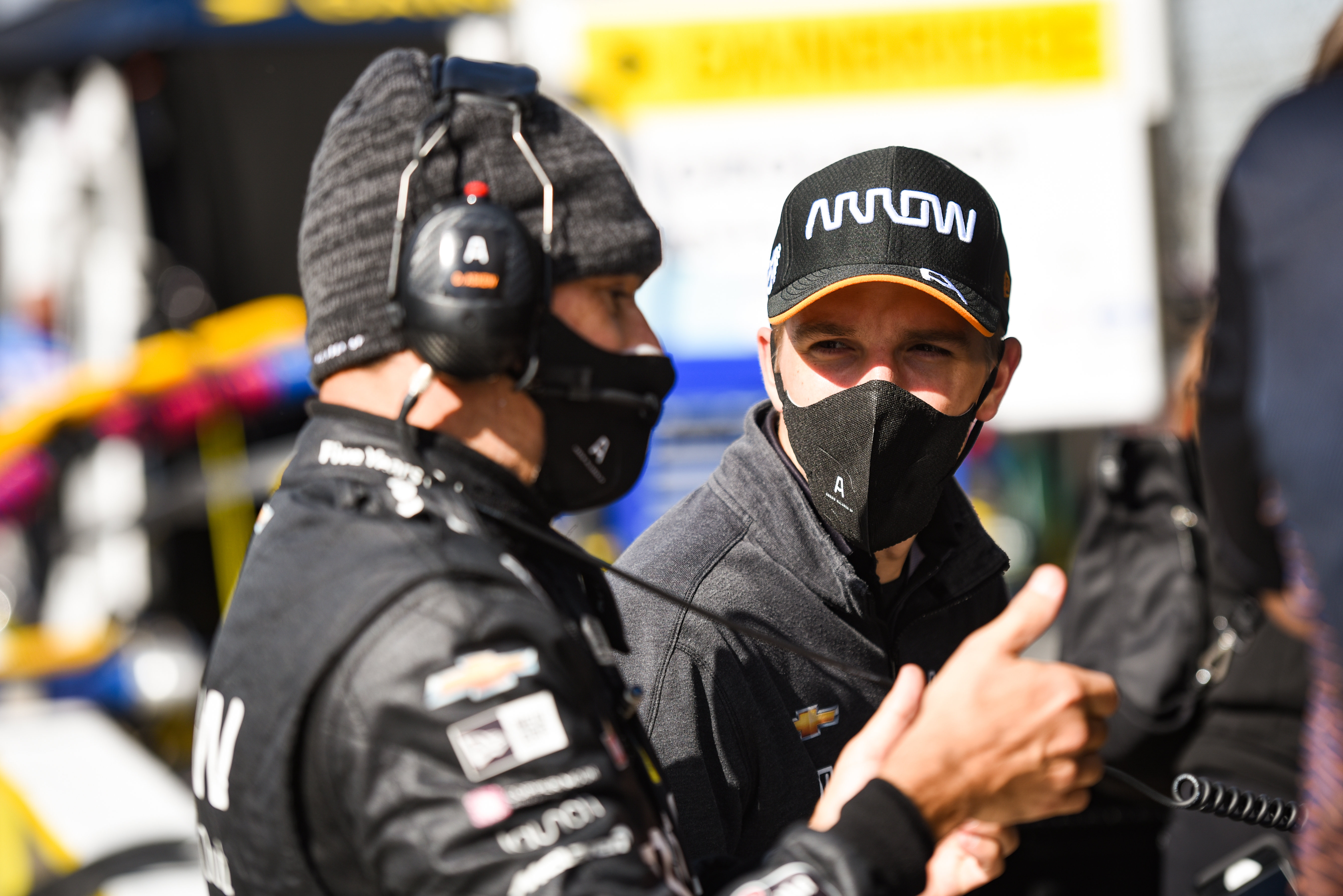 It feels like the perfect mixture of both would be at Meyer Shank Racing, which looks set to have a second car doing a part-schedule in IndyCar next year. It also has the backing of Acura in IMSA and has designs on racing at Le Mans in the future. On paper it's a perfect landing spot for Askew with its Andretti affiliation, but not one that is anchored in anything more than speculation at this stage.
For now, this weekend, Askew has gone back to his roots – as he often does – racing karts. The Jupiter, Florida native has gone just about as far away from home as possible to compete in a race in Las Vegas.
Not only does that show the true racer, but also that the motivation is still there to race and prove his talent, even if that's not in IndyCar.