If a motorsport genie had manifested itself at my door at the end of 2021, among my top wishes would have been to see Myles Rowe get a fair shot at showing what he can really do.
Luckily another genie, admittedly this one being the real-life Roger Penske, took care of the same wish; fast forward seven months and Rowe leads the USF2000 championship with two events remaining.
If you're unfamiliar with Rowe's story, here's a quick recap. Flicking between channels in an advertising break during golf, Rowe and his dad were wowed by the likes of Fernando Alonso in the sky blue and yellow Renault during his childhood.
In 2021, a multi-year hiatus from motorsport brought about by funding trouble was ended when Rowe was selected to drive for the Force Indy team, which had been launched in USF2000 with the help of Penske and IndyCar's Race for Equality and Change initiative with the aim of increasing African American representation in motorsport.
After a breakthrough win at New Jersey, that would be the last highlight as Force Indy elected to forego another season of USF2000 to jump up two rungs on the Road to Indy ladder to race in Indy Lights with Ernie Francis Jr. It left Rowe without a seat.
He started a funding initiative that raised over $200,000, and with Pabst Racing he has been able to take four wins, a further five podiums and a couple of pole positions to boot.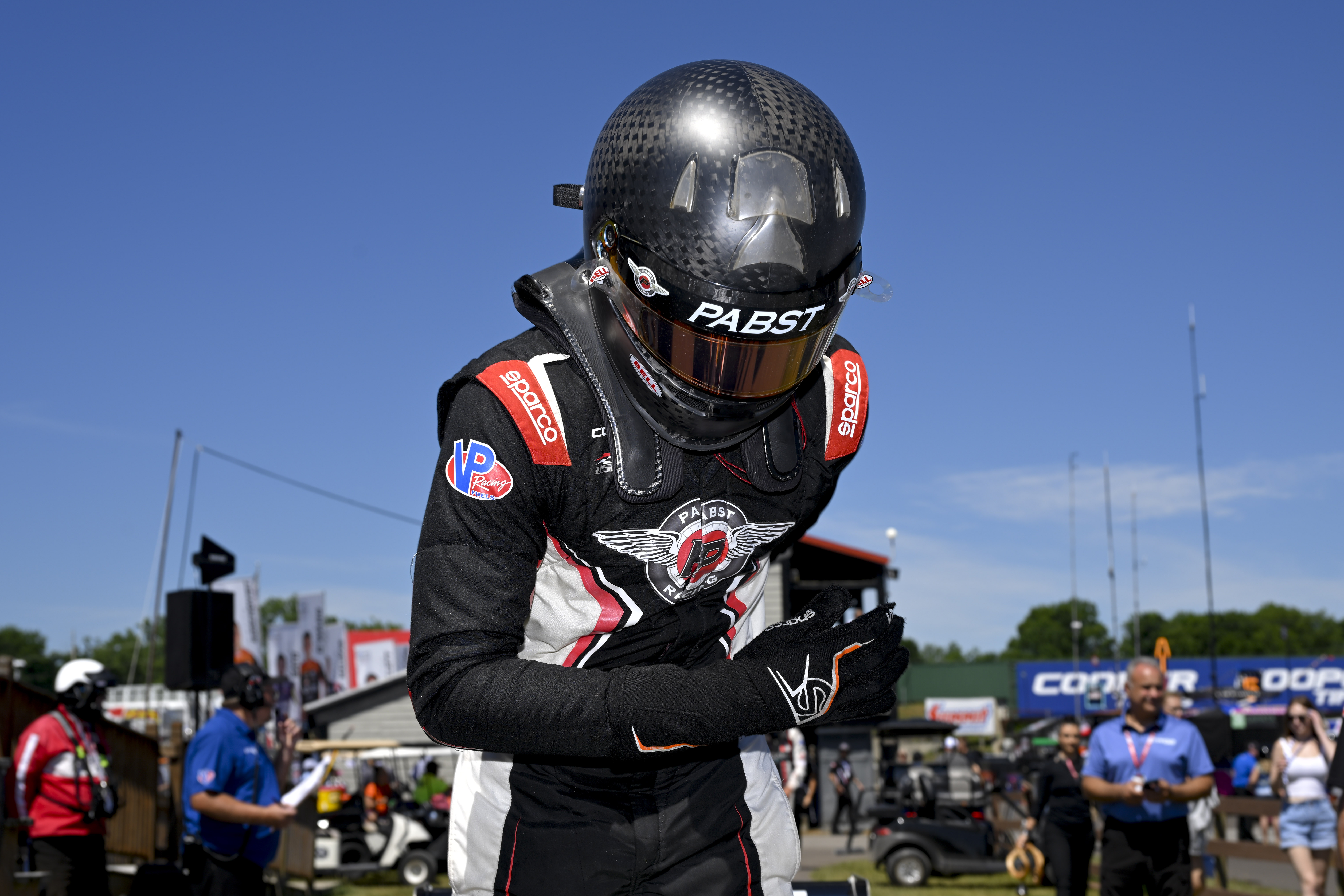 For any driver it would be brutal to be given the seemingly false hope of returning to win only to be left without a seat. But to Rowe's credit, he approaches it with a much more mature approach than that which is befitting of the 22-year-old driver, who is admittedly older than many of his peers in the USF2000 series.
"Last year was beautiful," he says. "I have no regrets about last year, I don't know why I would.
"From the start to the end, even the way it ended, I'm super happy with the whole team. We became really close and it was just super cool to start everything together.
"Not many drivers, especially development drivers, get put in that situation and I was really grateful to be in that position to do that.
"It made me a stronger person, a more disciplined person, and made me a better leader, I think.
"Me and other people thought it would last a little bit longer than it did. But regardless, it was the experience that counted and it might be over right now. But who knows, it might start-up again.
"Either way, the experience, I'm super grateful for it, there's nothing to regret, and there's really nothing negative about it."
It really was touch and go whether he would even be able to start the 2022 season in USF2000, and then a dramatic crash with Thomas Nepveu while battling for the win in St Petersburg shortly followed by redemption in the second race at the track showed Rowe could be a legitimate race winner.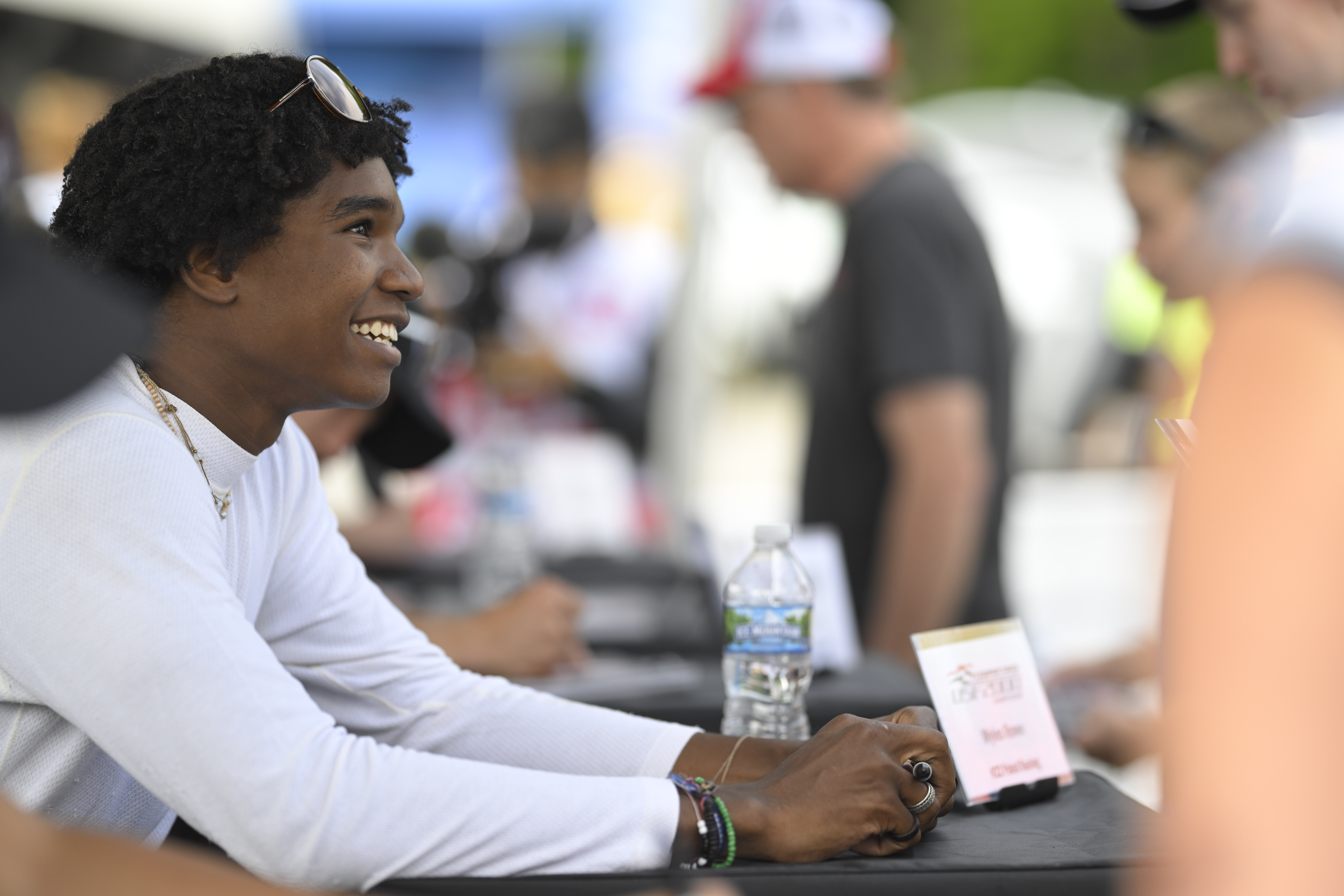 With half of the money needed to race in the series – rumoured to have been paid for by Penske himself – Rowe got to Barber, where his season could have ended but he took a pole and a win that helped keep him in the hot seat with Augie Pabst's squad.
A lesser person may have also directed ire towards Penske or its initiative for his run in USF2000 ending after a year, but Rowe is now sponsored by Penske Entertainment. He sees Penske and his company more as the saviour of his potential career, not the person who ended his 2021 hopes.
"It's been tremendous, he didn't have to keep on supporting me through this year," says Rowe of Penske.
"The only reason I started this year was because of him, and the only reason I'm finishing the series is because of him. He didn't have to do that sort of thing. So he's just a tremendous person.
"For that, whether he has his own reasons for it, or whether he just did it out of the goodness of his heart, it's just really, really awesome to see a person like him do something like that and support an up and coming driver.
"And support the development series bringing more natural talent, as people say, and yeah, I can't be more grateful for it."
If Rowe can secure the championship across the final five races – two in Toronto, three in Portland – he'd win the scholarship to make the jump up and race in Indy Pro 2000, the next step towards IndyCar.
While USF2000 is a relatively even playing field, the Force Indy team last year was always going to struggle somewhat coming in for year one.
With a season's experience back in racing and equipment capable of challenging for top fives, Rowe has delivered and elevated his game to another level.
His transition from last year to this may have surprised some, but not Rowe.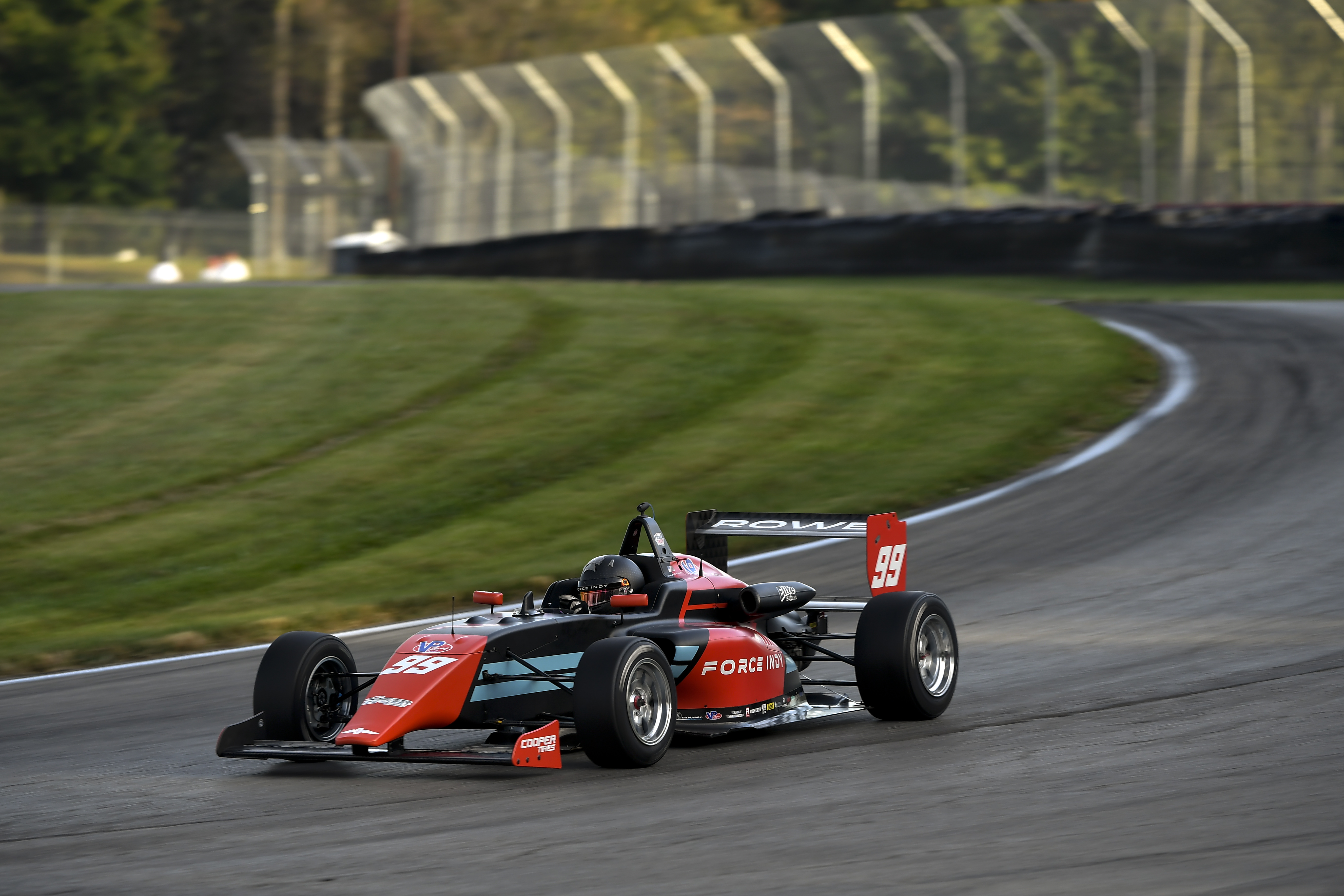 "I'm exactly where I expected to be at, honestly," Rowe explains.
"It was just a matter of getting the budget and having the team to do it. And I knew I had the team, it's just about having the budget to actually keep me there so that we can see that I could do what I knew I could do.
"I'm not surprised at all. And I'm fully prepared for these next few events.
"So there's still a lot of points to grab, a lot of points to lose. But I'm ready for it and I'm pretty relaxed about it.
"I don't think I'm going to win the championship. I don't think I'm going to lose the championship. I know, I'm going to be exactly where I'm supposed to be at the end."
Perhaps one of the biggest turnarounds for Rowe is that he has learned how to not overthink. Motorsport paddocks are littered with drivers dedicated 24 hours a day to car racing in its entirety. For Rowe, that may well have been detrimental to his performance through overthinking his opportunities at the track.
Now he's allowing himself to spend more time on his hobby and passion project – photography and cinematography – which you will know if you follow him on social media.
View this post on Instagram
"My aspirations are to get into storytelling, cinema, Hollywood, possibly, really making it into being an established director of photography or cinematographer, basically the guy establishing all the shots in feature films and such," says Rowe. "That would be really, really cool.
"In my experience, the people I've worked with said I've done really well and I can really capture the vision that they have, and visions that we collaborate on.
"I think it helps me also in a sense of, recently I discovered when I overthink a lot at the racetrack, trying to perform, it actually hurts me and I think working on the films and photos, it helps me kind of relax a little bit more and just run with my intuition.
"You can plan things: shots, landscapes, times, wardrobe, whatever it is, but you're not going to overthink it especially because you know everything will change once you get to the location or the set, sort of thing. And really you have to run off your intuition, and it's the same thing with racing on the track.
"You have to adapt to all the different situations and I think it helps with that as well."
Whether he ends up in Hollywood or in IndyCar, Rowe's self-belief, talent and bravery should see him through. The last two years have been full of hurdles but none of them have brought him down.
It can only be a great thing for motorsport if it can keep him for as long as possible. Who knows, in the coming weeks he might just be a champion and an extremely sought-after driver for 2023.