It's been disappointing to see what feels like a slowing down of the campaigning for equality in the world as it opens up from the coronavirus pandemic and returns to some sort of normality.
I don't think that was the motivation for the Force Indy squad to take its first win in the New Jersey USF2000 race at the end of August, but it certainly came at a welcome time for those believing more needs to be done to maintain the momentum of what was achieved in 2020 across many different cultures, races and backgrounds.
The Force Indy squad was set up ahead of 2020 as part of IndyCar's Race for Equality and Change initiative, which helped fund the team. Long term grassroots motorsport competitor, organiser and volunteer Rod Reid was tasked with steering the ship and Myles Rowe was chosen as the driver.
Rowe found motorsport through a twist of fate when the golf he and his father were watching cut to an advertising break and a flick of the remote fired a charging blue and yellow Renault Formula 1 car driven by Fernando Alonso onto the screen. Immediately the hunt was on to find a karting track.
It's been three years since Rowe was racing full-time, and that along with a totally new team at Force Indy meant a learning curve throughout the season.
New Jersey on August 28 was the 15th race of a season that the team had started well with a top 10 start in Barber, but had only scored four top 10 results across the season since then.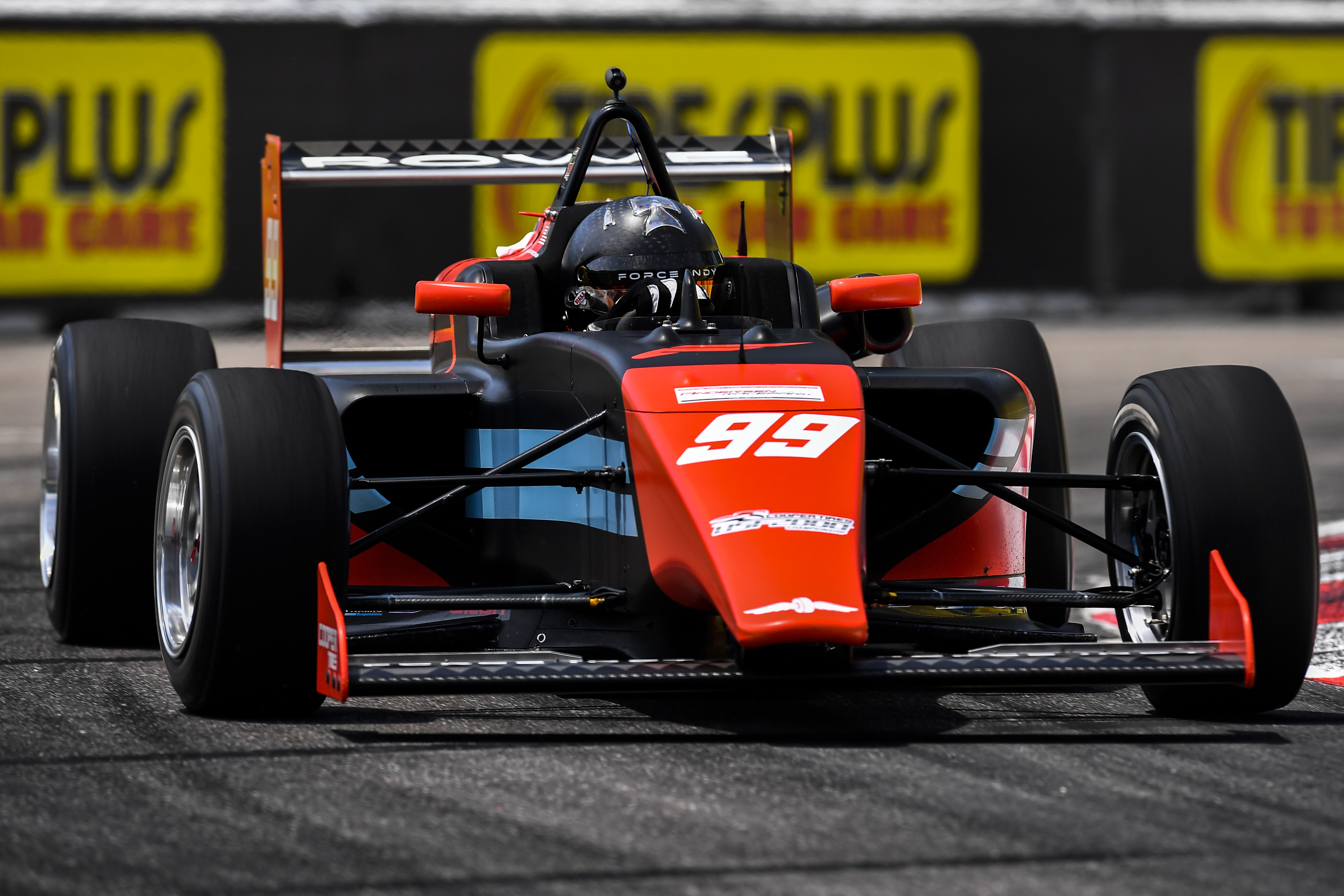 You can't just stroll into a championship like USF2000 and expect to be at the front unless you've poached some top engineers and had a driver that had raced regularly in the preceding three years.
The New Jersey race started on wets, some soon bailed for slicks, but it was those mixed conditions that gave Rowe that motorsport dream of the wet equalising the field and allowing him to go on the attack.
"The car is set up very well for the wet, but there's only so much you can also do to the cars," says Rowe in an exclusive interview with The Race.
"It was really my calmness and my ability, just from being able to feel out the lines pretty quickly and realise the traction and also realise whether it's getting wetter or drying.
"For some reason, I just really love the wet. I can just adapt to it super well.
"It was super cool to have a race that I could finally run in the wet because in my racing career I haven't got many wet races at all.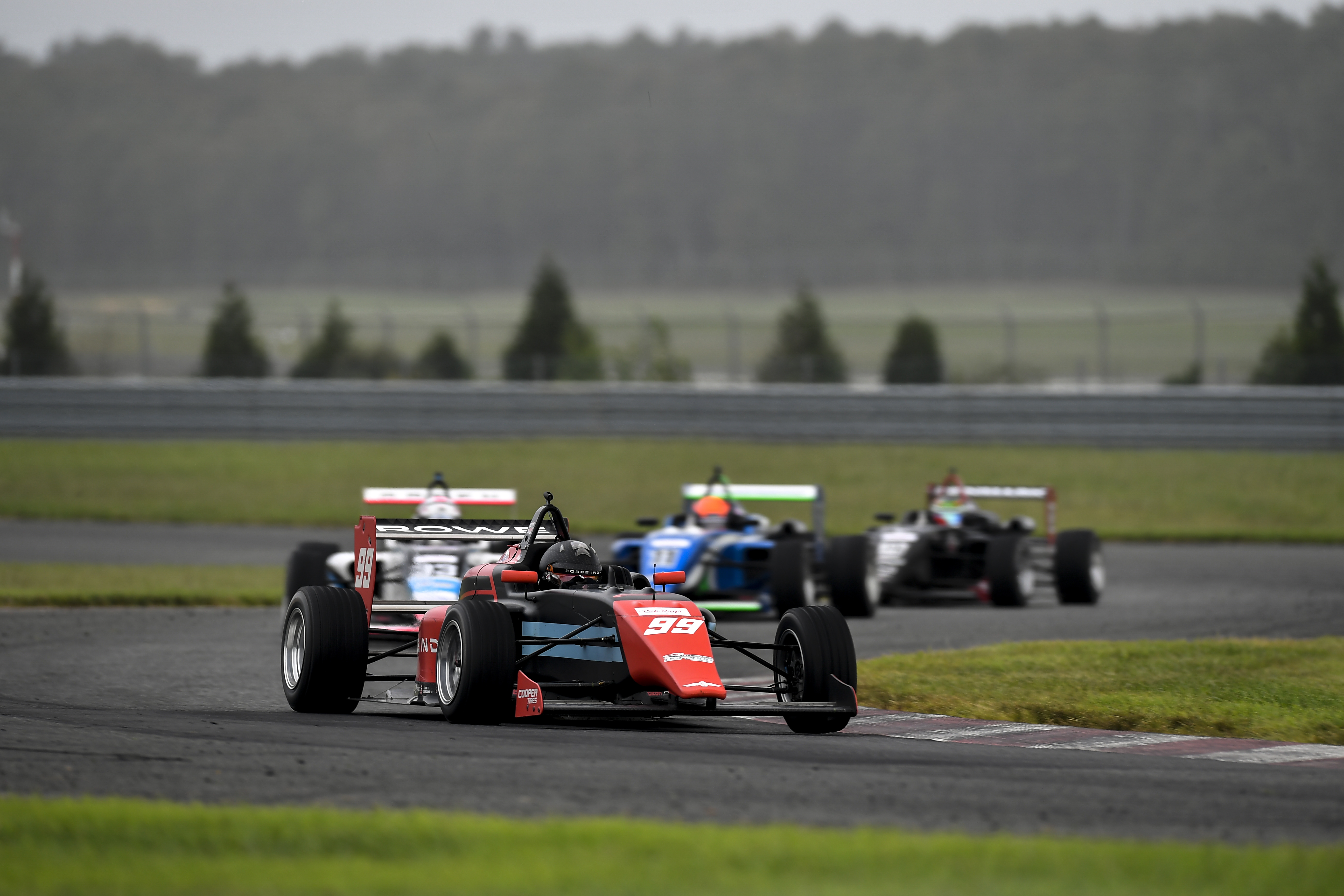 "In terms of a wet race, this was the second one, maybe the third one if I'm forgetting one. That's including karting too. It's really always a fun time for me."
It's hard to describe Rowe's race without making it sound like I'm wearing biased, rose-tinted spectacles, especially as in USF2000 it's not normal for someone to have so much of an advantage that they can drive on merit through the top 10 to win. He did make the most of others making mistakes in the conditions, but that's just a part of racing in the wet.
Team boss Reid was stood at the corner where Rowe made the last-lap pass for the win, but he was conflicted with what to hope for his driver. Earlier in the season, Rowe had made contact with Matt Round-Garrido while diving down the inside at Turn 4 for a podium at St Petersburg, and Reid was keen to protect a first top five of the season.
Congrats @mylesroweracing. Great drive!!! https://t.co/gzcHb2FUQ5

— Josef Newgarden (@josefnewgarden) August 29, 2021
"And then we got a call across the radio from my engineer, he said 'he's the fastest guy on the track five to six tenths a lap', and we were going, 'are you kidding me'," Reid added of his recollection from out on the sodden track.
"This is unreal. And we just did not have any idea if he could catch the leader, we just didn't think that was going to happen.
"He actually made the pass for first in front of me, and I literally just kind of squeezed my hands and thought 'don't spin, don't crash'.
"I didn't know what the two of them were going to do because they had not raced each other, you're talking about the points leader.
"When he [Rowe] went by, it was disbelief, I just looked at my spotter. I didn't even know what to say. I was literally speechless and kind of numb. And then the people around us started looking at us. And I was like, No! And then we just kind of let out a scream."
Unless you're in Reid's position, where you have been discriminated against and fought just to be on an even playing field with your rivals, it's impossible to understand the emotion behind this result.
With a team made up of African American mechanics, engineers, marketing, even PR members like the frankly excellent Tracey Royal and Majornette Jefferson, Reid has used the backing of the Race for Equality and Change not for a Hail Mary, but to build something. The mentorship Team Penske provides is a big part of that growth.
Reid's not just as focused on Rowe though as he is wondering how he can attract the African American engineers who – in lieu of knowing enough about motorsport to get into it or feeling the white-dominated arena isn't for them – can be attracted into the industry.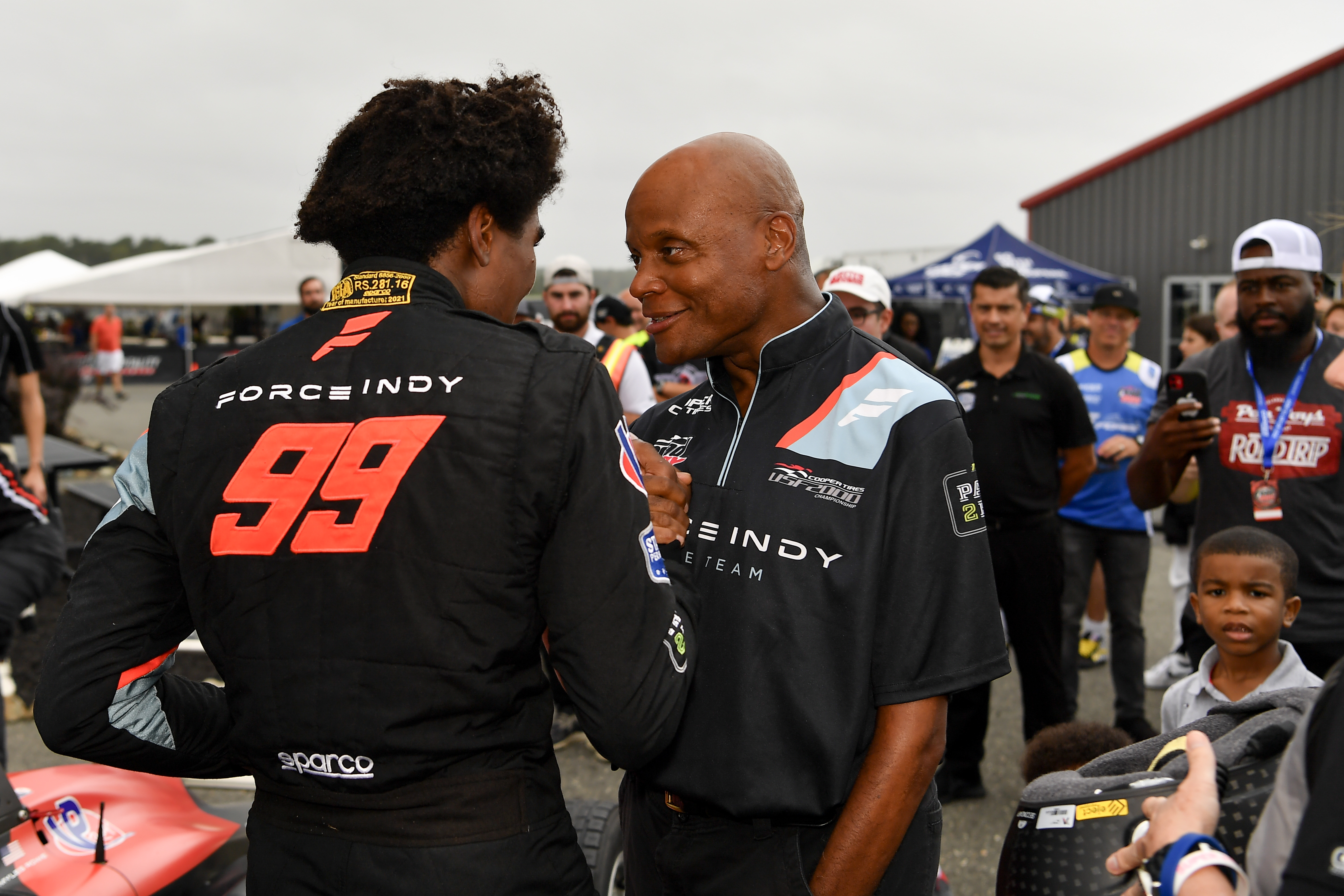 This win has changed everything. From the racing aspect, it's proven Rowe's ability and that the team can offer a winning package when the playing field is even, on a performance and opportunity level.
Off the track, when Reid is attracting everybody from new sponsor partners to grassroots mechanics, he can now legitimately claim to be an all-African American race winning team.
"I didn't initially think of it as an accomplishment as an African American, with an African American driver and African American team," said Reid (pictured below), who is a competitor and isn't here to make up the numbers.
"I didn't think of that accomplishment until I was being interviewed by, I think it was NBC Sports, and he said how does it feel to make history, and I said 'what do you mean?'.
"Because I had not thought of it from the standpoint of, we were the first African American driver and team to win an IndyCar-sanctioned event.
"I was like, wait a minute, really? There will only be one first!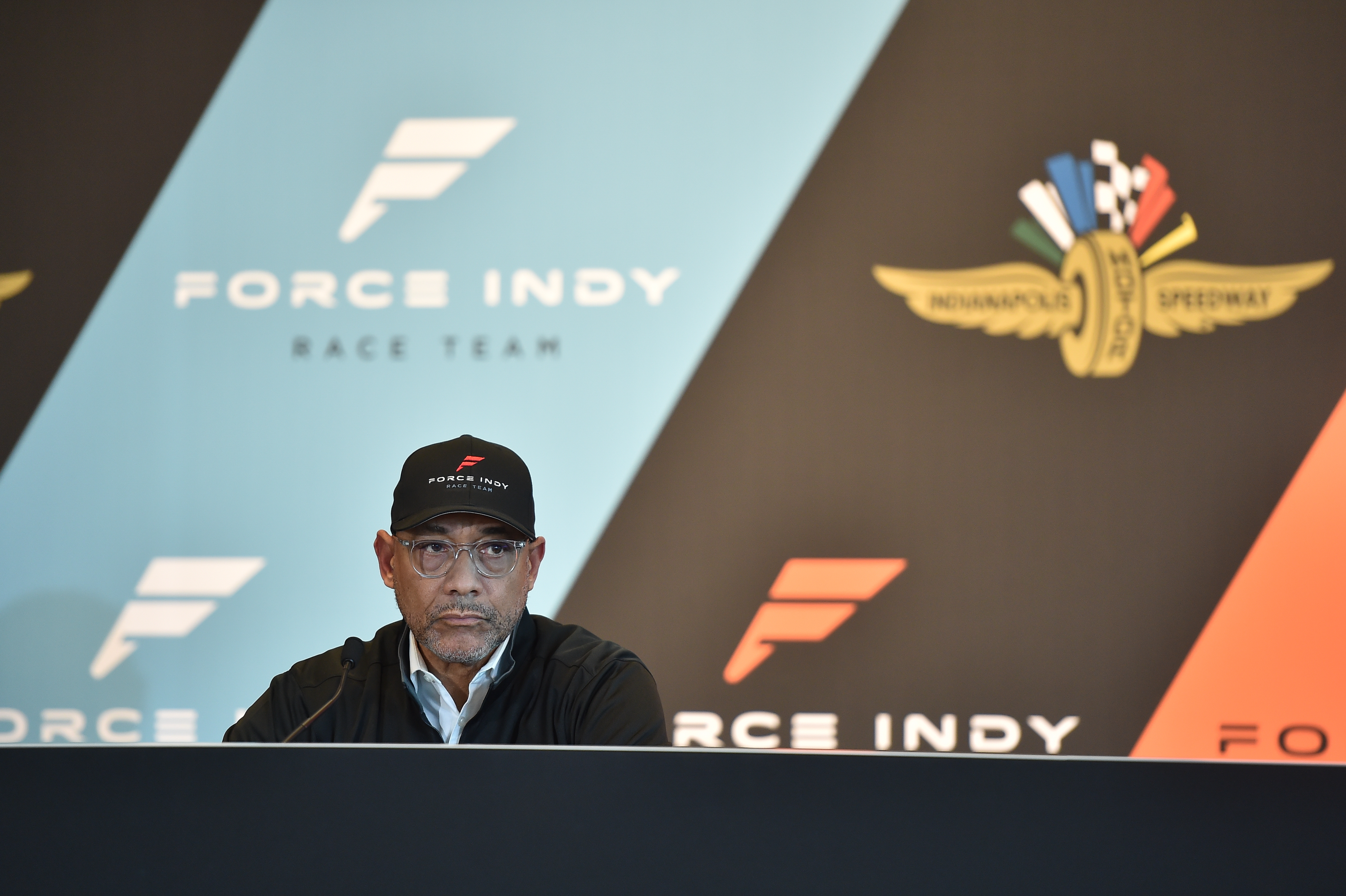 "I think what it means not so much to me but perhaps to the motorsports community to say that given an opportunity, it doesn't matter if it was in polo or soccer or whatever, you get an opportunity, and you give young people a chance, they can excel and matters not what their ethnic background is."
For Rowe, it was a chance to deliver on a season where he hasn't always had the machinery to do so, but hasn't always capitalised on it when he has either.
Rowe is acutely aware of what he represents as an African American driver and the face of this team, which can't have been easy when all the attention has been on this operation and he's just trying to find a way back to motorsport after so long out. That's pressure.
"This is one I'll remember forever," he said.
"It's just unique and yeah, just blessed to be able to be part of something like this. Something creating change.
"I'm happy I finally delivered a result that could create something more powerful."
I don't think we'll appreciate just how powerful this result actually is for a long time.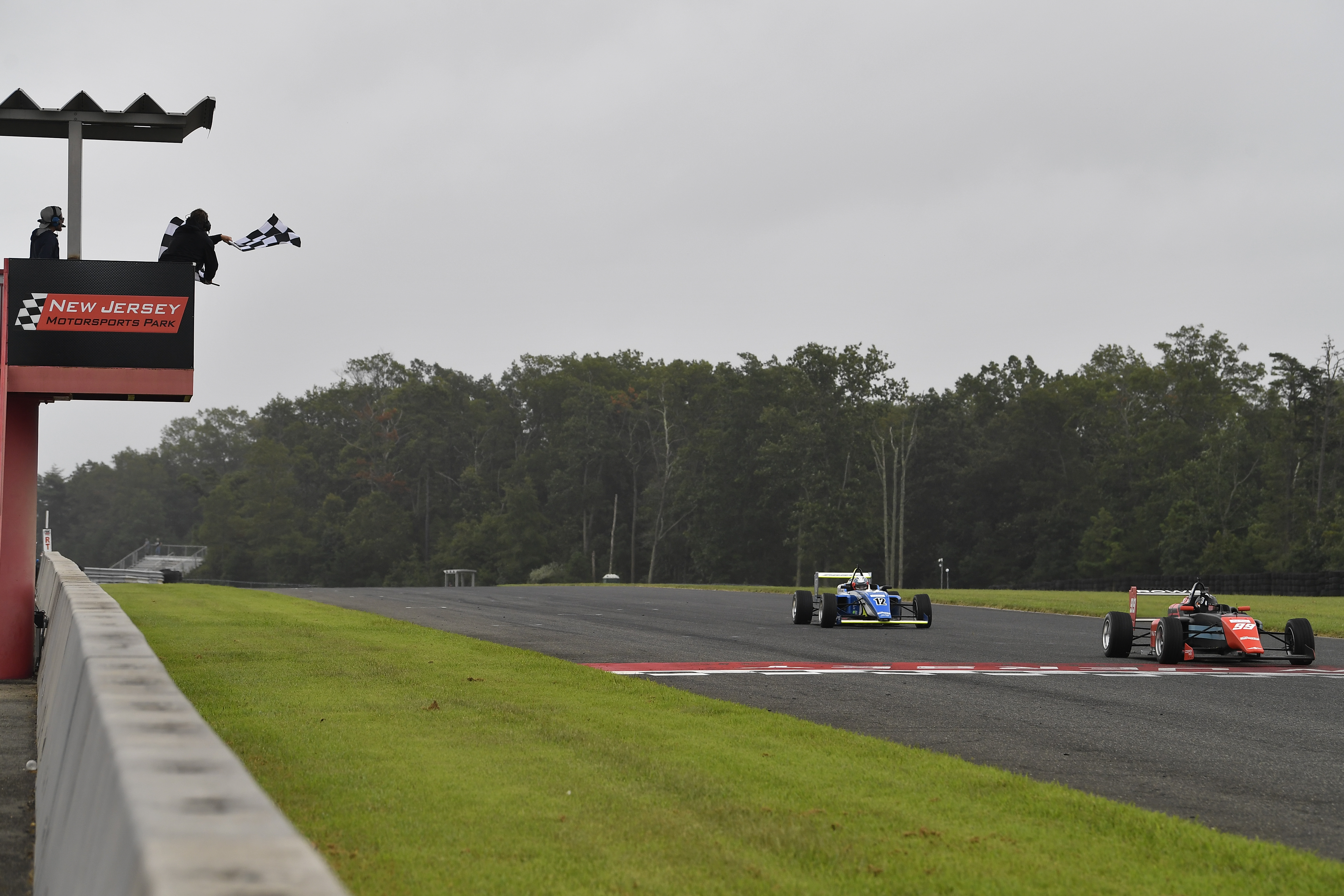 A busy off-season is coming up where Reid will juggle the personnel at his disposal and work out if the team is ready to step up to Indy Pro 2000 or not.
Rowe wants to stay in USF2000 as he has realised after three years away that a second year would help cement his return. It's not that he feels he'll need two years at every championship, just that he's wise enough to see there's more work to do to stabilise his return to racing and this is the place to do that, now.
A lot will depend on the plans of the Race for Equality and change, too. Nothing has been announced by way of that yet, but as you can see from the above, IndyCar and Roger Penske himself have already helped to create the opportunity of firsts for African Americans.
It's done similarly with Paretta Autosport in backing a predominantly female team at the Indy 500.
While other major championships, some global and bigger than it, have failed to do anything more than talk, IndyCar has acted. And everybody is reaping the rewards.
On the day though, it was the Force Indy team and Myles Rowe who executed. Regardless of how the opportunity was created, they delivered when it mattered most and that is the most powerful message of all for encouraging more equality in motorsport.