It was great to see a female driver back in an IndyCar earlier this week, but as happy as that storyline with Tatiana Calderon is, it really rammed home the bigger picture and the need to get Paretta Autosport back on the IndyCar grid.
Calderon's route to the IndyCar grid will follow a hypothetically similar path to many drivers. Calderon and her current backers will evaluate the best series for her, but inevitably funding an IndyCar drive is tricky and a career in sportscars might likely pave the way for a professional, paid career. So a difficult choice will likely have to be made.
Assuming Calderon does make it to IndyCar, she'll be among no or few females on the grid. As important as it would be to have one female driver, IndyCar went through a period in the late 2000s-early-2010s with multiple very talented female drivers on the grid – and where did that lead? By 2020, the Indianapolis 500 had no women on the grid for the first time in 20 years.
Unfortunately, there's no easy answer to the question of how to inspire more women to take up motorsport.
There are people like new team owner Beth Paretta, who is stimulating the grassroots, going into schools and drumming up interest in pre-teens.
Then there are series like W Series, which segregates drivers into an all-female series but has provided the greatest representation of female drivers on a Formula 1 weekend ever during its opening two rounds this season.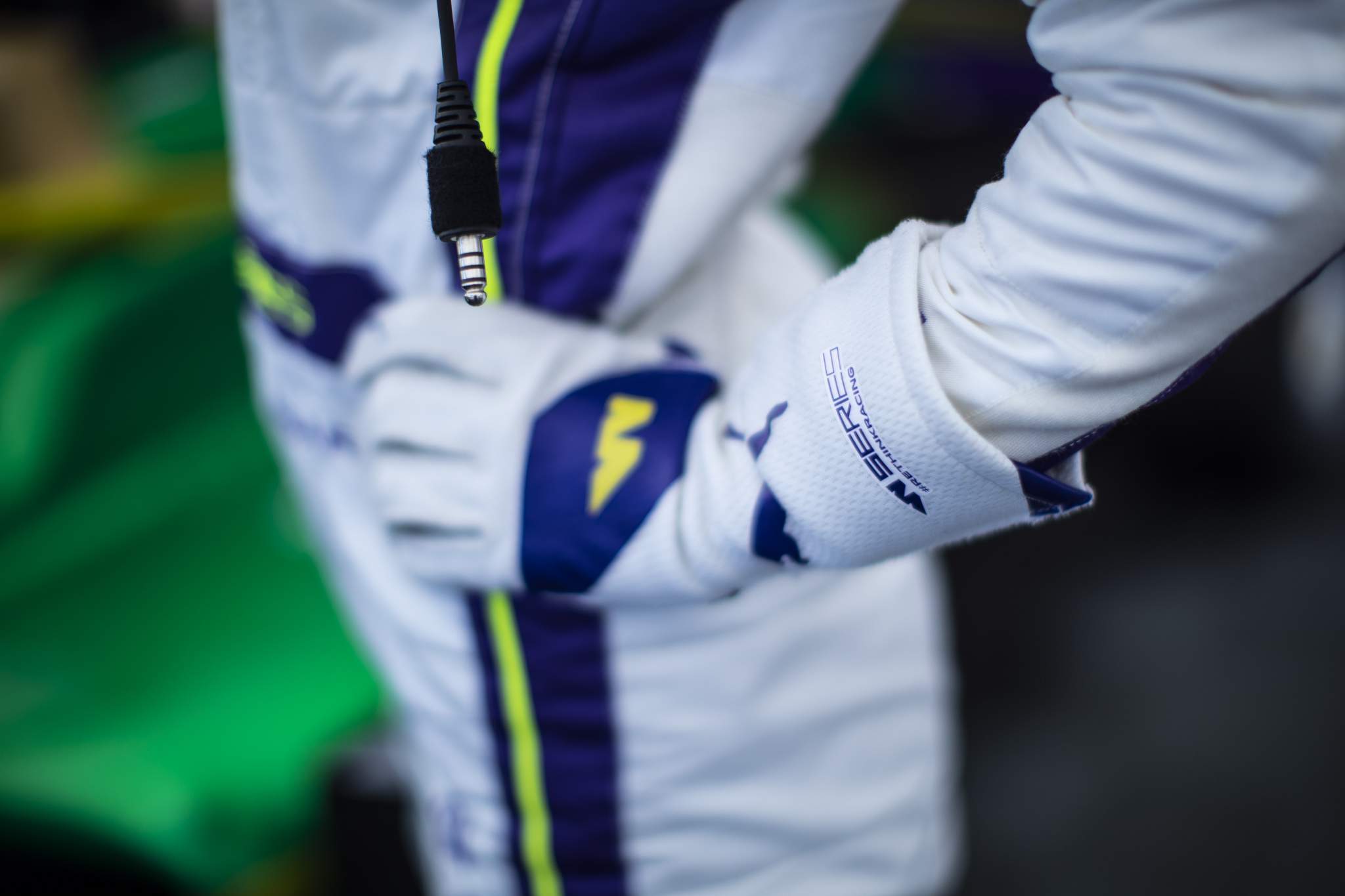 In IndyCar, with the help of the series and Penske's Race for Equality & Change initiative, Paretta Autosport has been founded with the target of taking women from all walks of life and bringing them into motorsport at the highest level. It's a lofty ambition, but in four months the team went from nothing to qualifying for the Indy 500 this year.
A big part of that was Simona De Silvestro – a previously established IndyCar driver who never really got a proper shot at front-running machinery between 2010-15 – but shocked the Penske team that offers engineering support for Paretta.
While we eagerly await to see if Calderon will be able to engineer a switch, we'll have just as much anticipation for wanting De Silvestro back in the series full-time as she is a proven driver at this level and after five years away from the 500 she proved immense with Paretta in 2021.
The Race understands that Penske's drivers were genuinely bewildered by De Silvestro's data after all the Penske cars struggled in practice and de Silvestro and Will Power – who has only qualified outside of the top nine three times in 14 attempts at Indy – were forced into bump day and risked not making the field.
Power crashed on his qualifying run and managed to keep the power on to finish his lap, in contrast to what initially looked like an average run from De Silvestro. It was far from it though.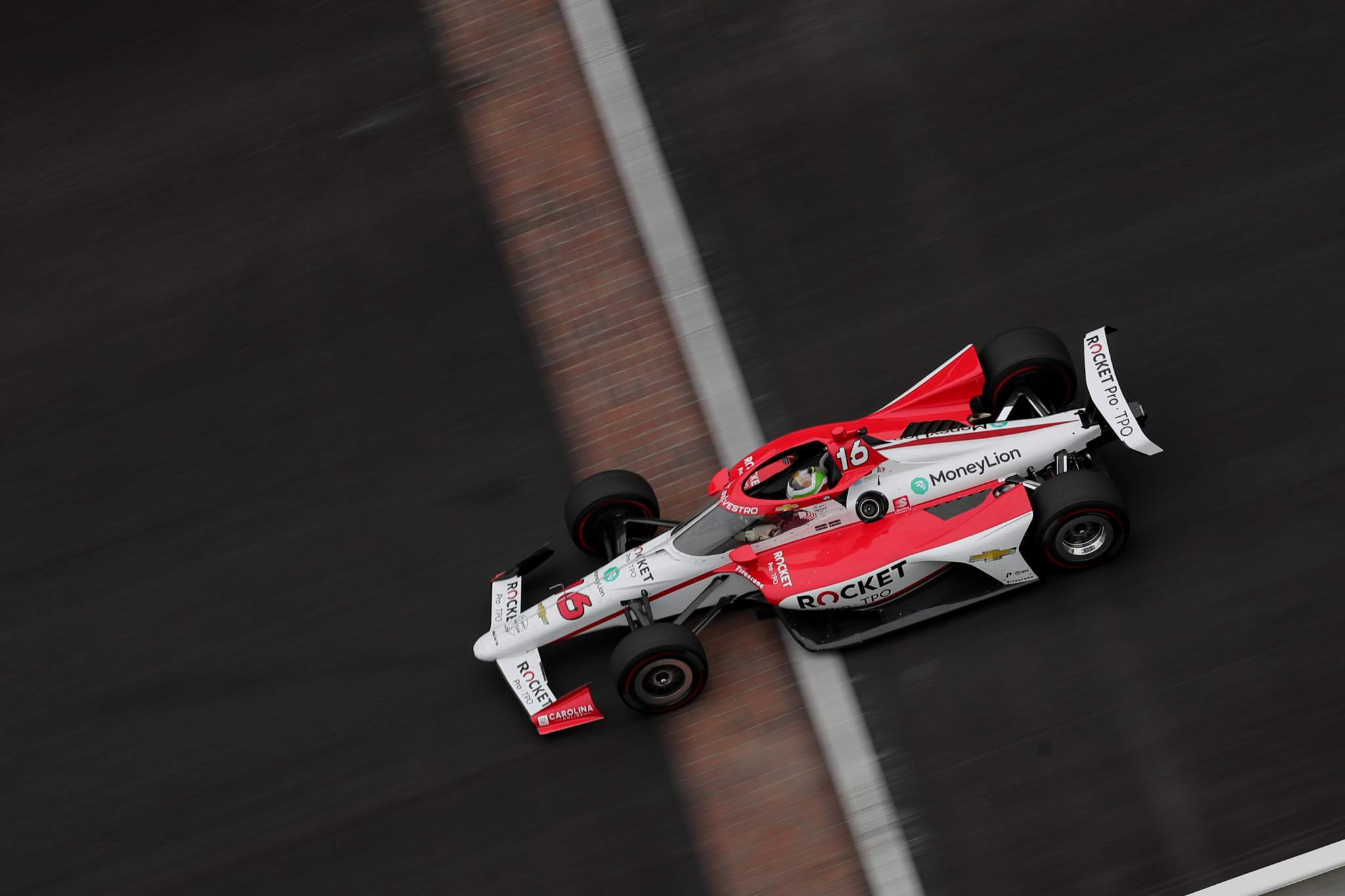 "Yeah, she held onto it and didn't lift," Power said after Indy. "More impressive than what I did, I reckon.
"She didn't hit the wall, but she was catching it multiple times a lap.
"She certainly wasn't scared of the car, put it that way…"
Paretta picks up the story, speaking to The Race exclusively after the 500.
"About Will Power making the comments about the data," explains Paretta, "I was talking to Roger [Penske] and Tim [Cindric] and [Scott] McLaughlin walked in, and he's like 'hey congratulations' and he said, 'I saw her data. I couldn't have done it. I don't know how she did it'.
"Cindric made another comment backing that up about just the lack of grip in the car. They already knew she was great, but it was just another level of respect.
"Ultimately, we absolutely qualified that car because of Simona's skill, because there were some things working against us in that car that we didn't deserve to qualify based on the car that we gave her."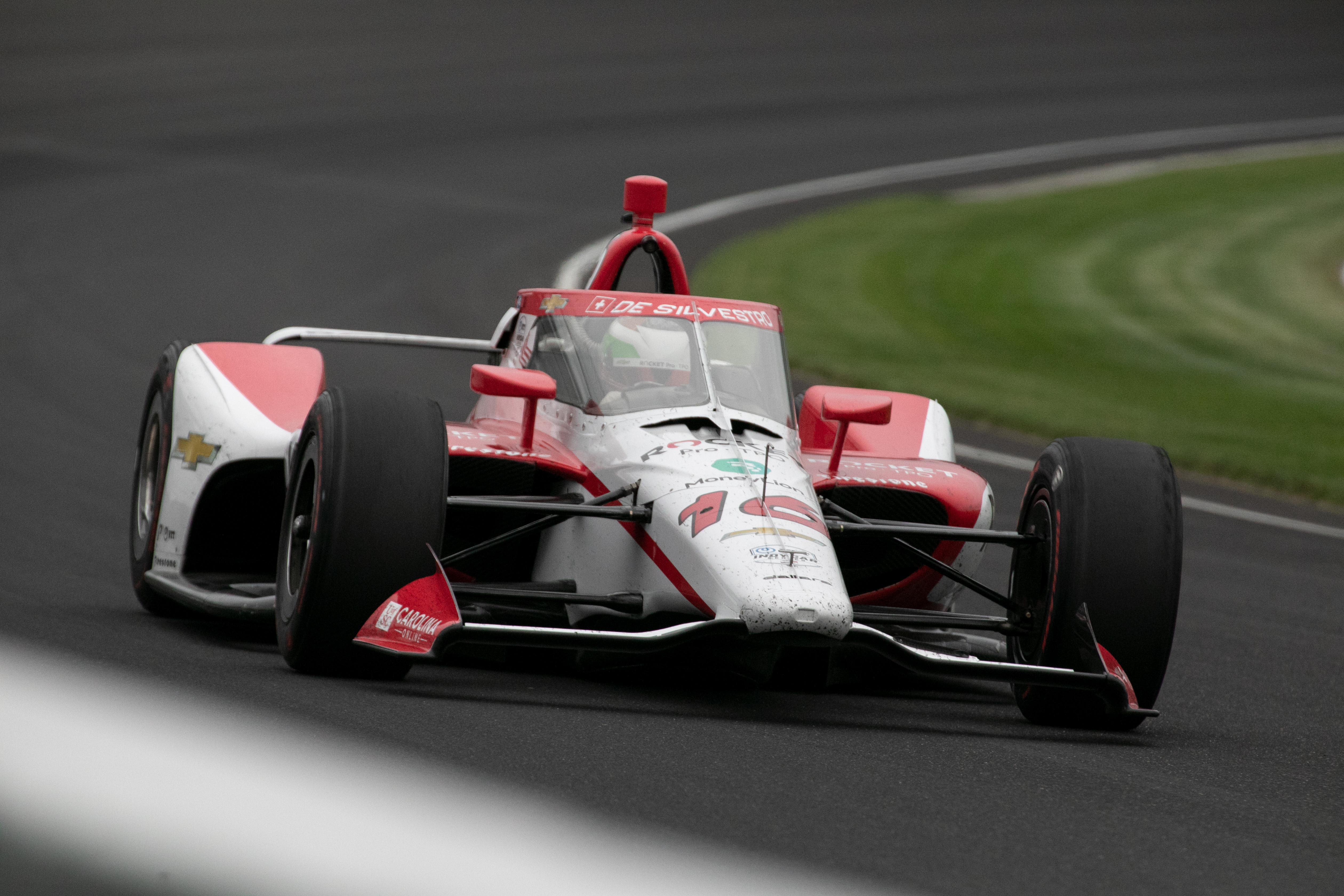 Paretta Autosport has made no secret of the fact that it hopes to race again this season, and full-time in the future. It has signed a sponsorship deal beyond 2021 with the University of South Carolina that appears to provide hope for those waiting for the team to return.
Not only is De Silvestro a big part of why IndyCar needs the team, but the structure of the team itself is also vital. It boasts a mostly female pitcrew that is expected to become all-female in the near future. Many of the team members have also been given their first break in motorsport by the team.
Attracting more people from outside of motorsport is going to be the key to encouraging more women to compete in the future.
It also works to install female members in the PR, marketing and communications and other key roles that can provide a non-driving way into racing.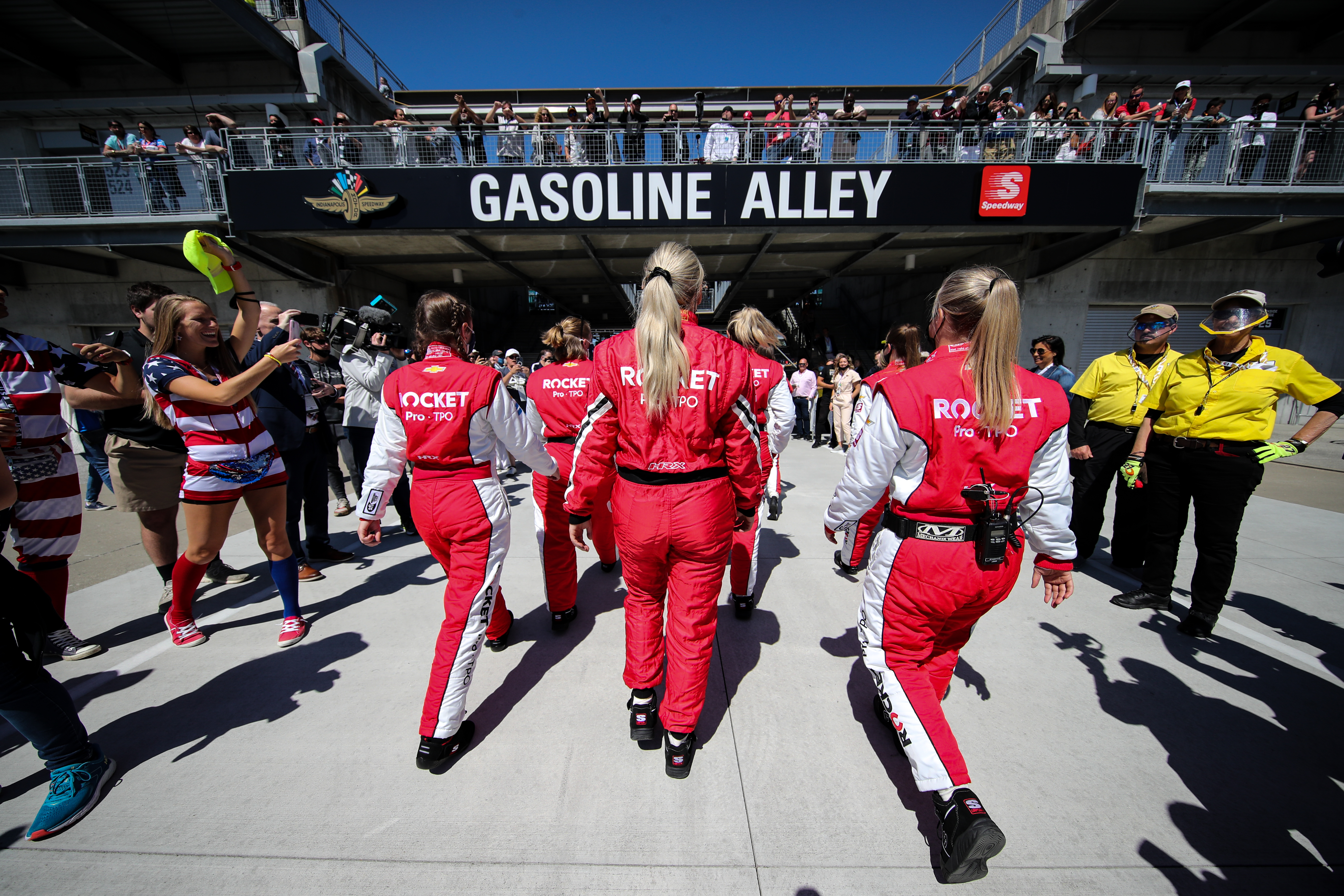 The team caused a stir when it arrived at Indy, attracting the attention of the likes of 39-time grand slam winning tennis player Billie Jean King among others.
Paretta's team became one of the first at Indy to have people queuing for the crew members' autographs as well as the drivers', while young girls at the track and watching from home adopted the 'Paretta plait' hairstyle sported by many of the crew members.
It's the decisions surrounding the pitcrew that mark out Paretta – for those that don't know her – as a true leader and someone who deserves to be a full-time IndyCar team boss.
"Those two weeks people kept asking me how many women over the wall and I knew what our goal was, but I didn't want to say because I, respectfully, wanted to protect them, because no matter what, there's still an element of sports psychology that's going on," Paretta told The Race in an exclusive interview after the 500.
"I wanted to see how they performed as the crowds got bigger every day.
"If any of them got in their own head in a negative way that they were like fumbling or something. I wanted to be able to pull one without anybody criticising or scrutinising it because they've only been doing this for four months.
"So I purposely was holding back. We knew at the beginning of April that we were going to have four over the wall. But I didn't want to tell anybody because I wanted to reserve the right, that if all of a sudden it was two, that you still saw that as progress.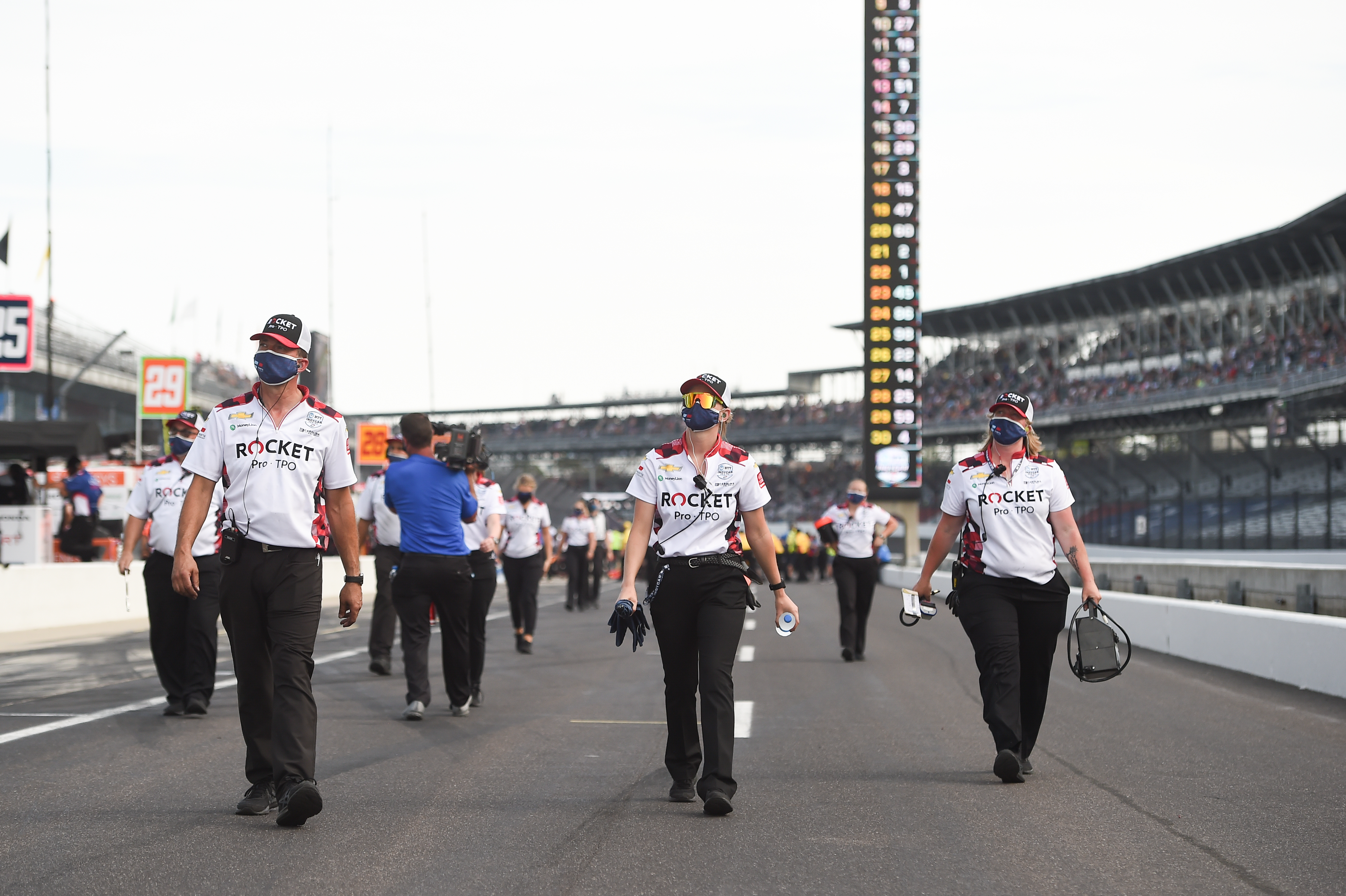 "And so those are little decisions that were happening behind the scenes and me being very careful."
With this big picture decision-making, support from Penske and De Silvestro at the wheel, the team would arguably be even more of a threat in the regular season than it was at Indy. Especially given Penske's recent track record at Indianapolis.
It's almost certain it will appear in at least one of the last three races of the year when De Silvestro's schedule in sportscars with Porsche quietens, and Paretta can negotiate the availability of the Penske personnel that have become part of its family as much as staff on loan.
It has to effectively loan personnel via an agreement with Penske, and everyone at Penske has jobs on other programmes.
Even with that decision looming, it's 2022 where the big decision lies. It would be great as argued for the team to go full-time, but Paretta must counterbalance that with having the right people and not doing too much too soon.
"The nice thing is for next year, for full-time, there are a few women who I know who I would have otherwise had on this program, but they were working on other teams full-ime, because they were already spoken for," says Paretta, who would have an easier job signing up these people for a full season than just a one-off race, even if it's the Indy 500.
"If we can do full-time, or when we can do full-time, you'll see some more faces, because this year they were on prototype programmes in IMSA or they were otherwise committed."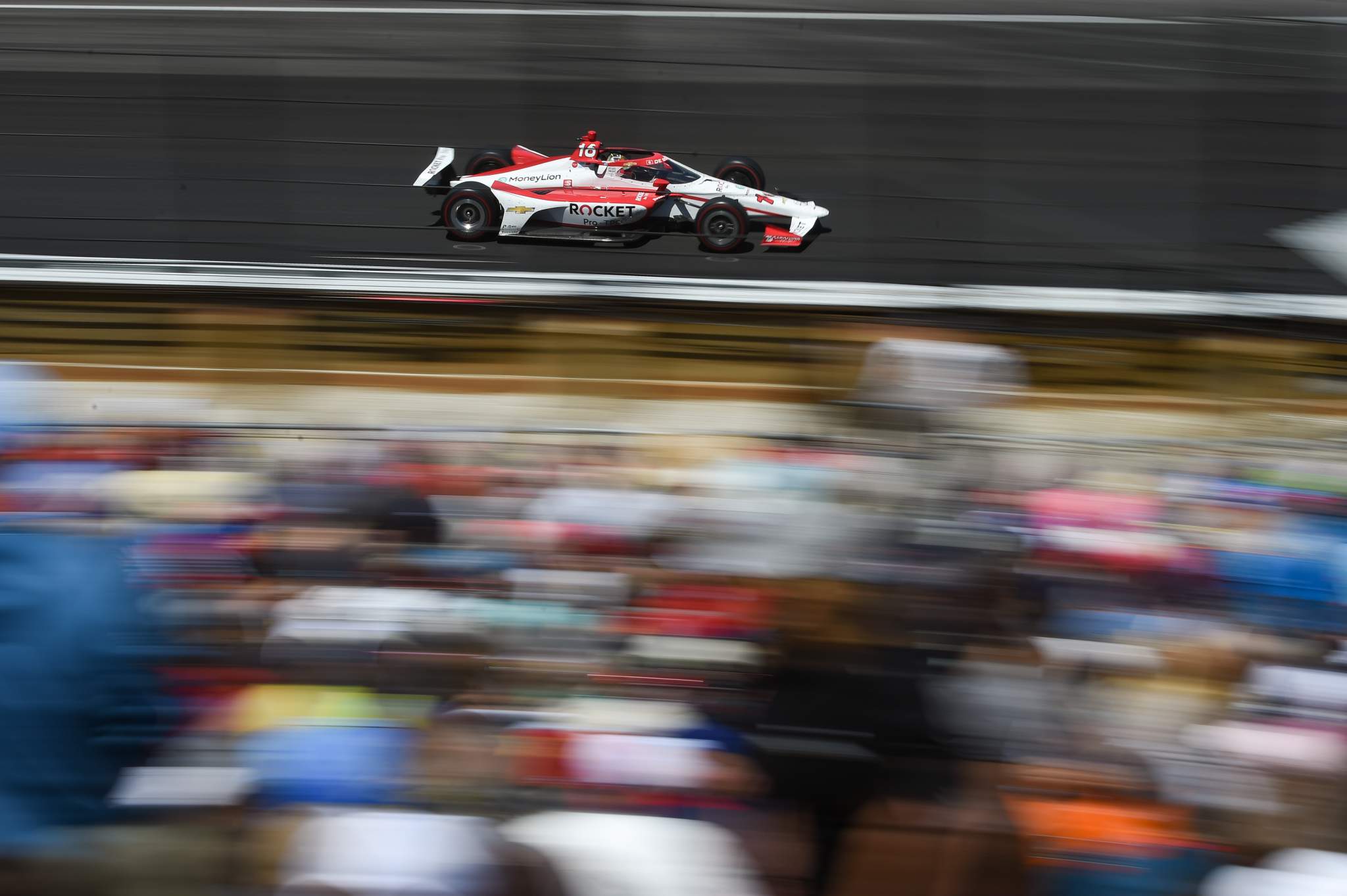 It's a tough ask, but so was getting the aforementioned pitcrew together for the Indy 500, and making the cut for the race. Even a team that came together in a similar timeframe with a lot of good people, Top Gun Racing, failed to make the start.
The dwindling of female competitors in IndyCar is no one person, team or series' fault.
But having a team that competes at the elite level but aims to inspire at the grassroots and from other walks of life outside motorsport would be a win-win for the series and females competing in IndyCar in the future.