It feels like these days we've lost the times when drivers would have face-to-face meetings in motorhomes in a bid to engineer silly season moves that would make blockbuster Hollywood movie scripts.
Now it seems everything is done through a group of middle managers – and drivers are often signed without even having spoken to senior members of the teams they are joining! Rumours of a move are leaked and the end result is rarely ever a surprise, or one that's been made by a driver putting all the effort in.
But on the IndyCar ladder there's one very hard-working driver who's bringing the personal touch back.
Indy Lights series leader Linus Lundqvist – 82 points clear after seven races – has been knocking on motorhome doors, doorstepping team bosses in the paddock and generally doing absolutely anything he can to get noticed and establish a relationship in hopes of making the step up for 2023.
"I know that I have to do it, because nobody else is doing it [for me]," Lundqvist tells The Race of his efforts to find a seat. With the majority of his support group back in Sweden, the work's left to him at many of the races now he has a visa and has lived in Indianapolis since the start of this year.
"One thing that I learned from my career is that even if you win, nobody's gonna come calling. You gotta call them and tell them that you're doing well. I've done this for a few years and it's been the same everywhere.
"But I think over here in the US, it is a little bit different. and people actually appreciate you doing that a lot more, which is very nice. And you get good feedback from doing it, which is nice. You get to develop a personal relationship with the team bosses, and the right people, which I think is good for the future.
"We'll see if it actually pays off!
"I still think that and I hope that the most important thing is results. And then secondly, is there everything around it."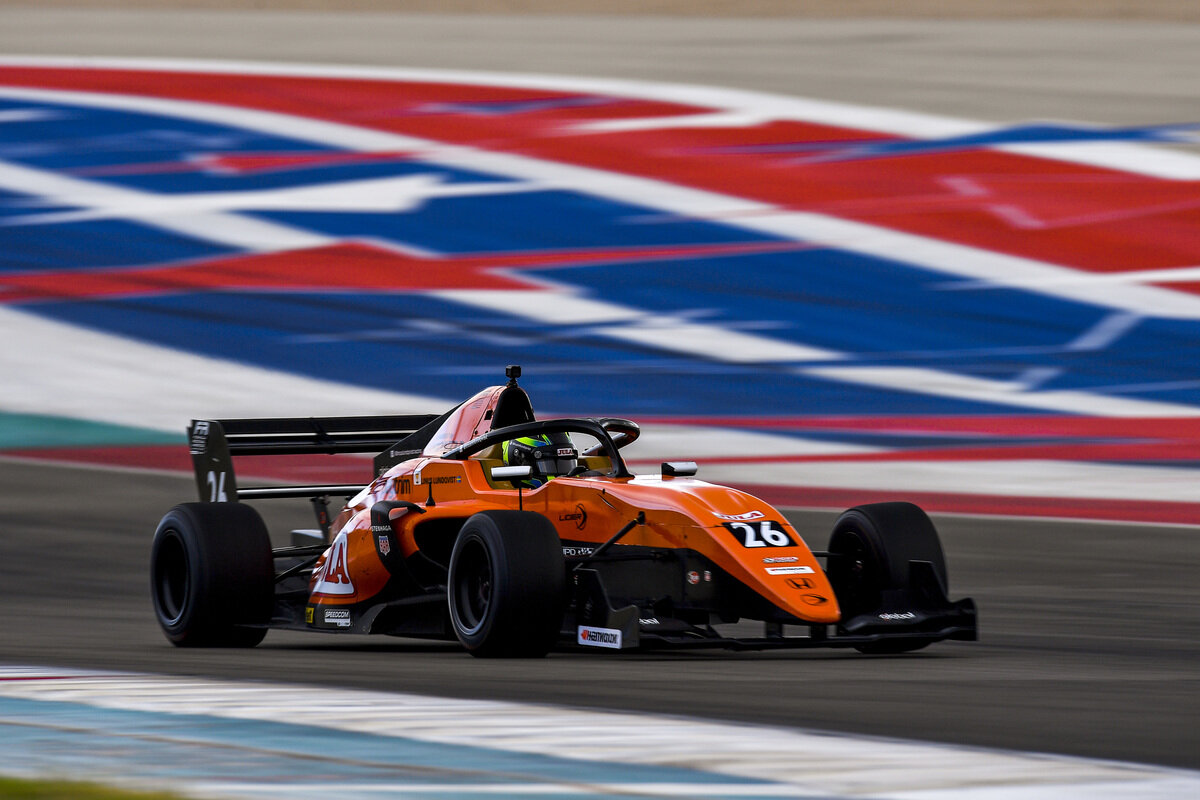 HMD Motorsports with Dale Coyne Racing driver Lundqvist has had to fight for the funding in every championship he's raced in.
The 23-year-old was a multiple championship winner in Europe, then switched to America during the COVID-19 pandemic. He raced in the Formula Regional Americas championship in 2020, and winning the title gave him a scholarship for Indy Lights in 2021.
Up against arguably America's best ever junior single-seater racer Kyle Kirkwood and a budding team-mate in David Malukas – both of whom are now in IndyCar – Lundqvist faced a tough challenge not knowing many of the tracks.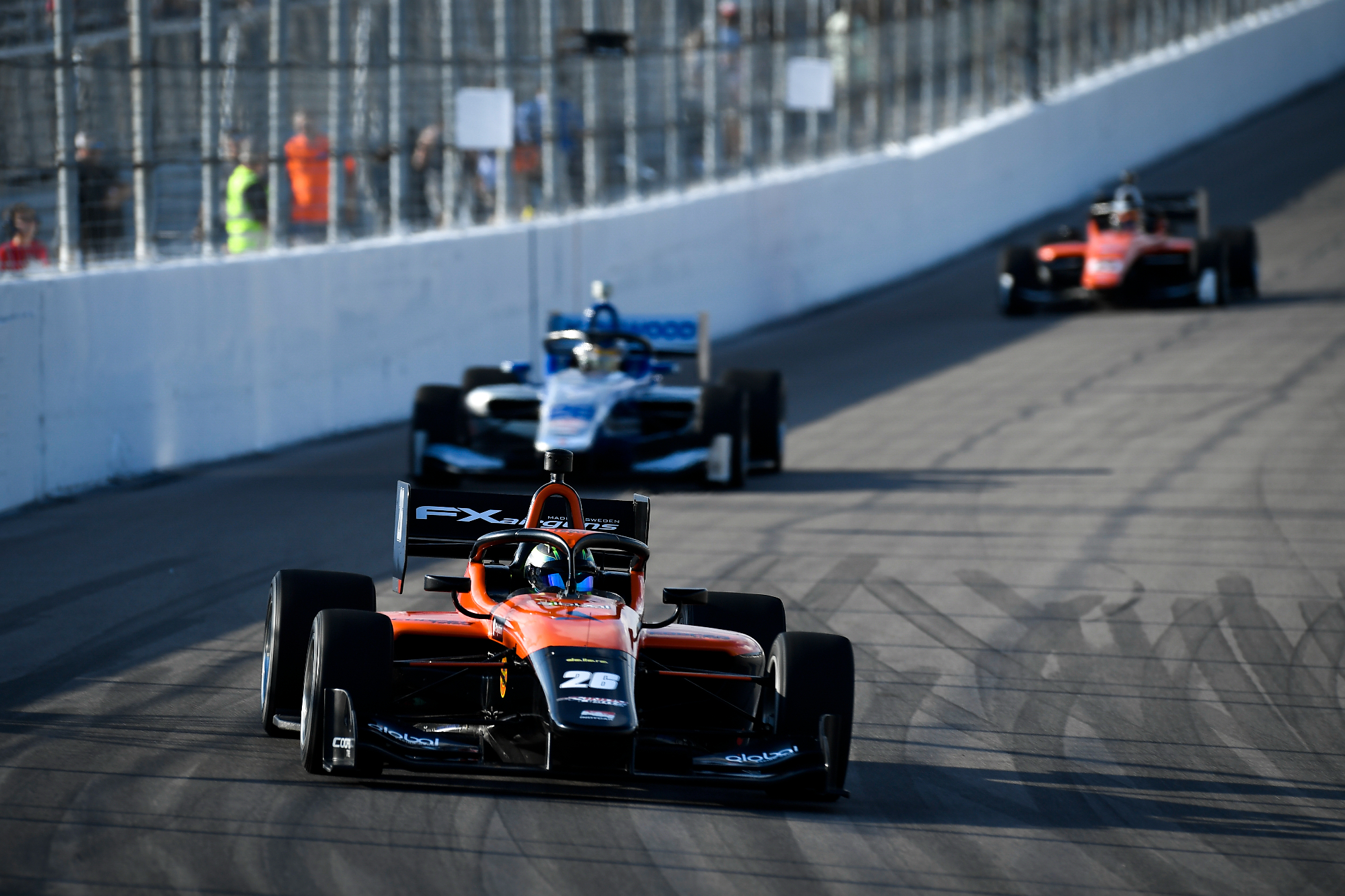 Ultimately, a tyre issue on Gateway's oval while running second, an ill-judged move in St Petersburg and a run of 14 races mid-to-late 2021 without a win condemned him to third in the standings, but it was still a good season for a rookie.
After seven races, it was the closest a second-placed driver had been to the points leader over the last five seasons in Indy Lights – three points behind Malukas – which you can see alongside how impressive his 2022 looks below.
---
2022
Linus Lundqvist 200*
Sting Ray Robb +57*
2021
David Malukas 168
Linus Lundqvist +3
2019
Oliver Askew 190
Rinus VeeKay +11
2018
Colton Herta 189
Pato O'Ward +6
2017
Kyle Kaiser 151
Nicolas Jamin 137 +14
*Points adjusted to old system for comparison after the IndyCar one was introduced for 2022
---
With four wins, a podium and two other top-five finishes from the seven races held so far, Lundqvist has a right to be pleased with his season.
"I've definitely worked on some things over the winter to try to be a little bit stronger," he says.
"Honestly, at the end of last year, I was super disappointed because we went in with a target to win the championship, and we didn't.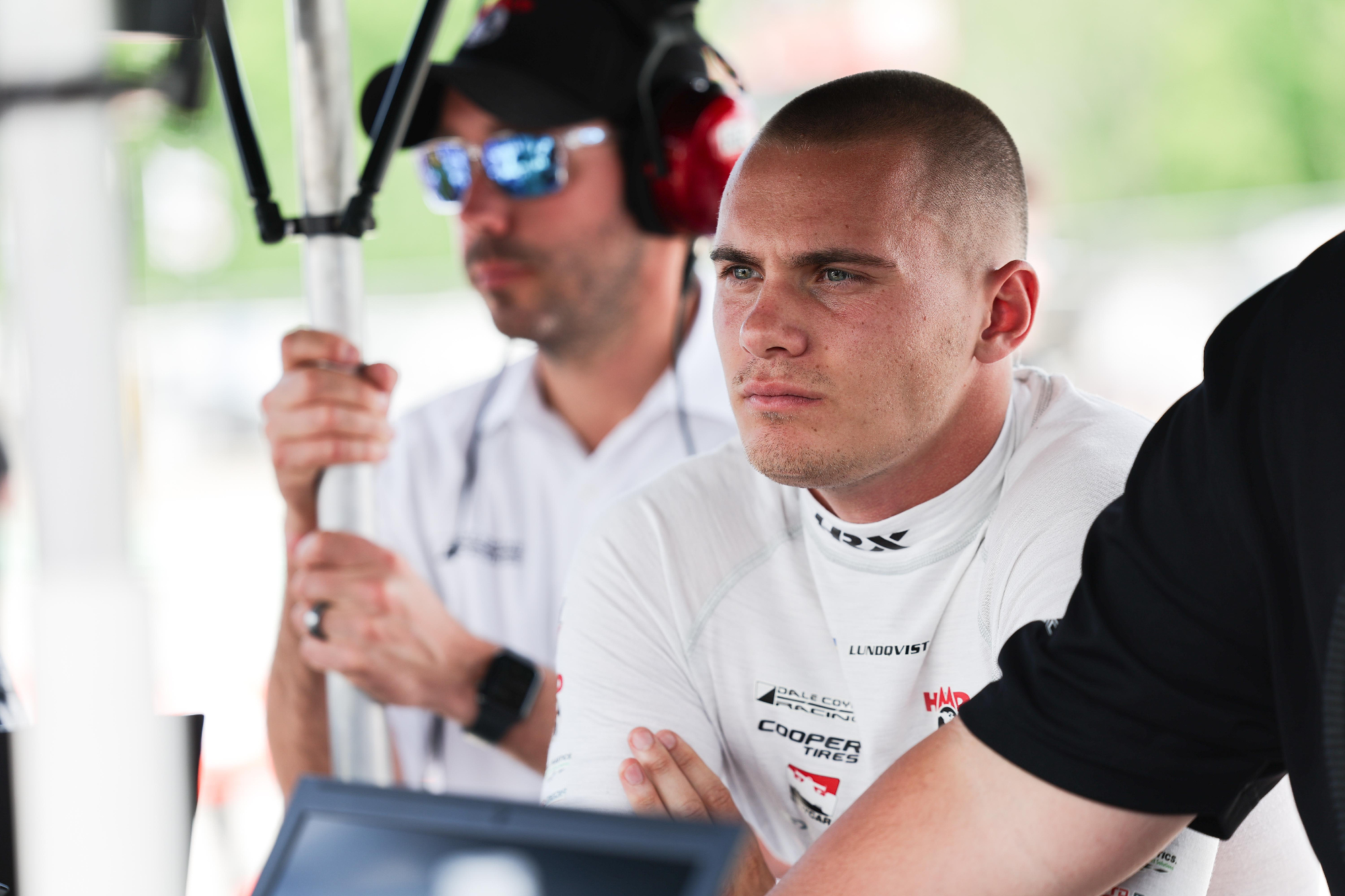 "But I think now looking back at it, I'm actually proud of the season that we did, because it was a lot of new things like that was my first year with the team [which was co-running the car with Lundqvist's FRegional Americas squad Global Racing Group]. First year in the car, eight out of the 10 tracks were new to me, never done an oval.
"So I think we ticked a lot of boxes last year, and we were still able to show that on our day we were as fast as anybody else.
"We took another step this year, we worked on what our weaknesses were. And I think another thing, just knowing the tracks and knowing the team, working with the same people, same engineers, same mechanics. So we all just took another step compared to last year."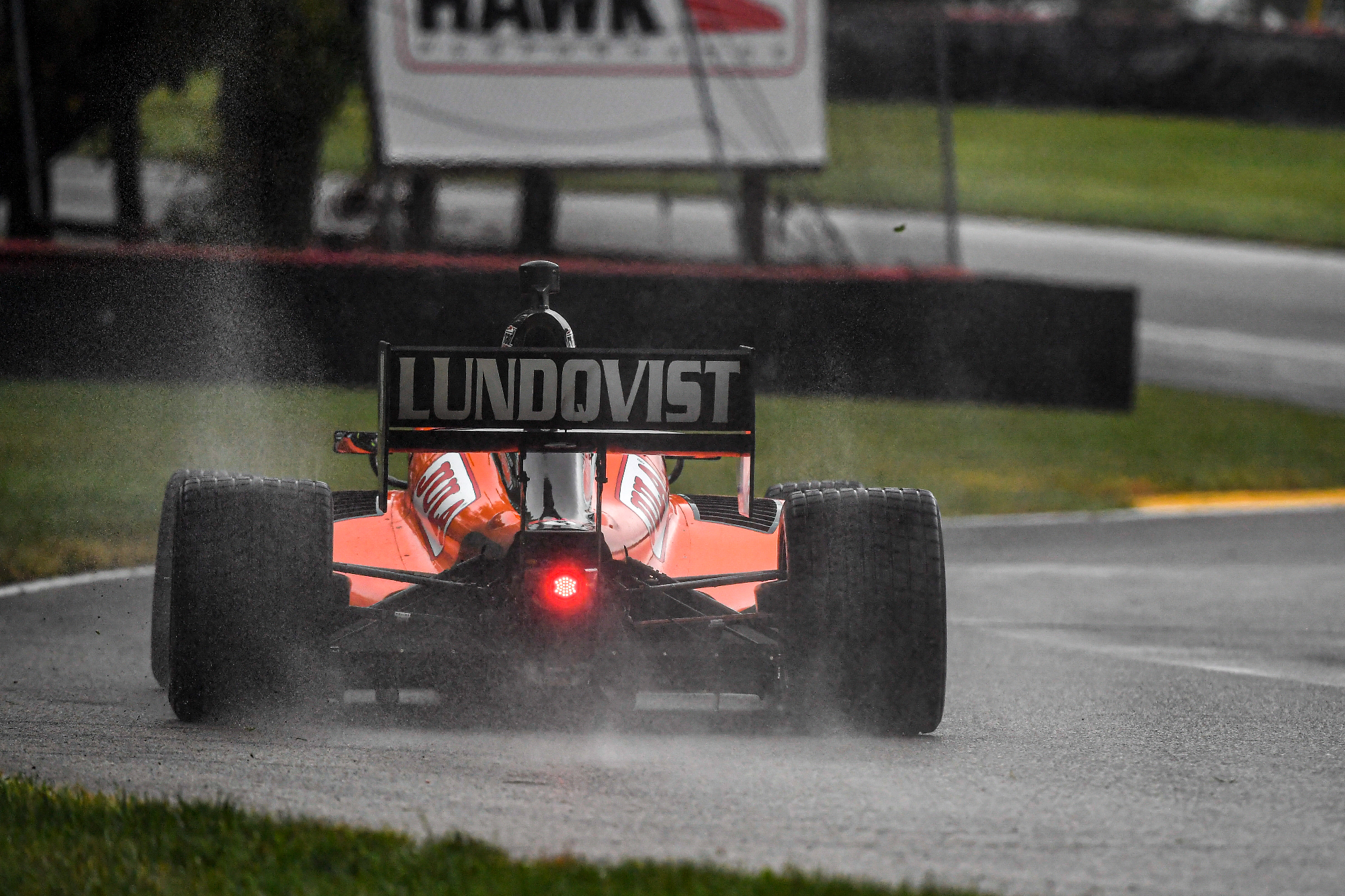 With IndyCar taking over the promotion of Indy Lights, it has led to the latter losing six races from its calendar and adopting the points system of the former.
But perhaps that makes Lundqvist's lead look even more impressive given there's less time for his rivals to overturn him than the chasers had in previous seasons when seven races wasn't even close to the halfway point.
Lundqvist showed the scale of his growth as a driver in the most recent race. Last year he had to make an impact as he was unknown to many, having not gone through Indy Lights' support series, and on occasion it felt like perhaps he tried too hard or went for risky overtakes when he should have taken the points available, especially up against his formidable rivals.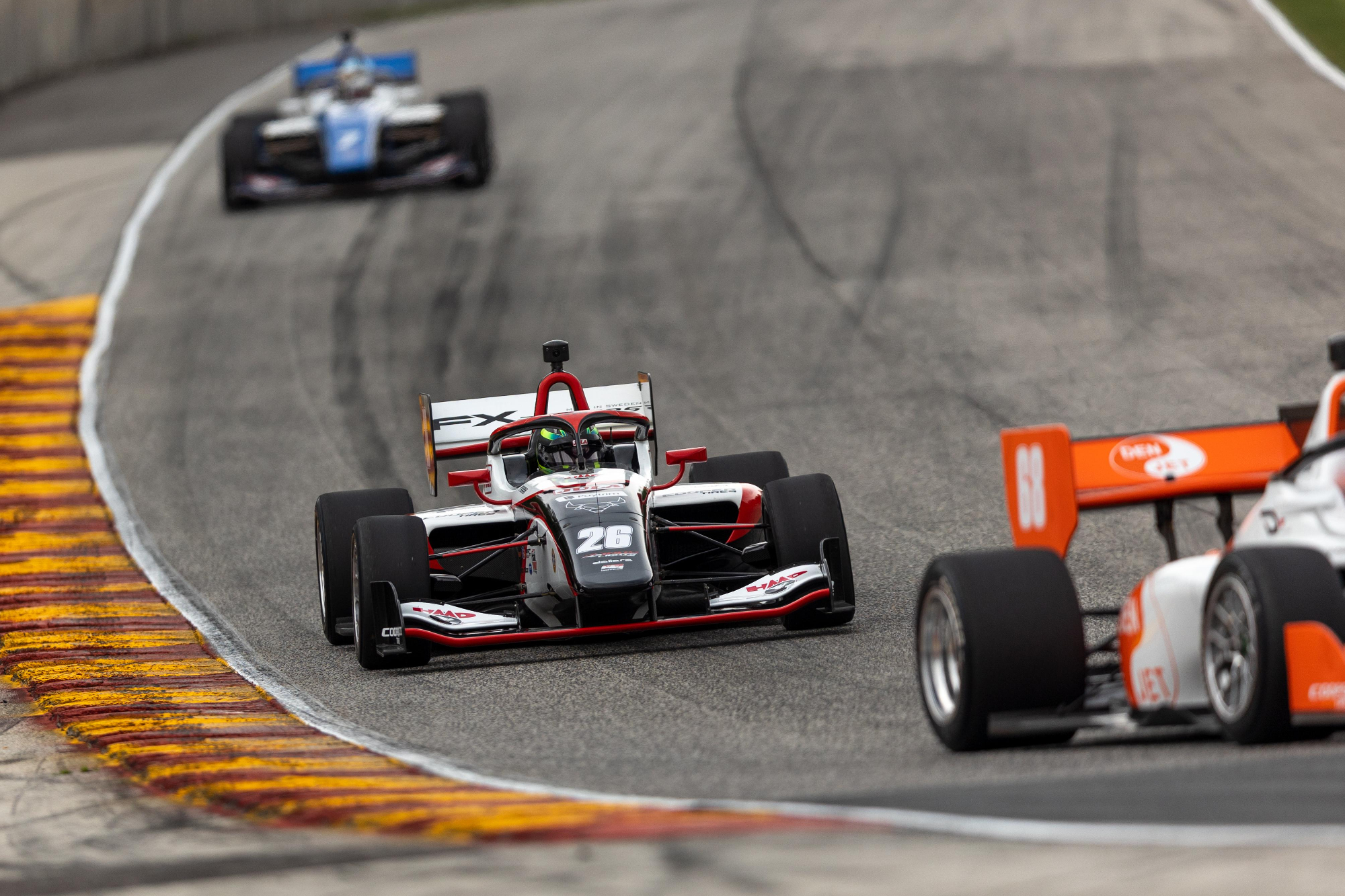 But at Road America two weeks ago it was clear he and his team didn't have the pace to take pole and lead from the front.
In the race, he hung back, acknowledging that the drivers around him are desperate for wins such is his points lead, and he let the race unravel in front of him to take a sensible fourth. It only cost him two points from his championship lead.
It won't be the race anyone remembers at the end of the year, but it's just as important in terms of its signal for how Lundqvist is growing as a driver as any of his victories are.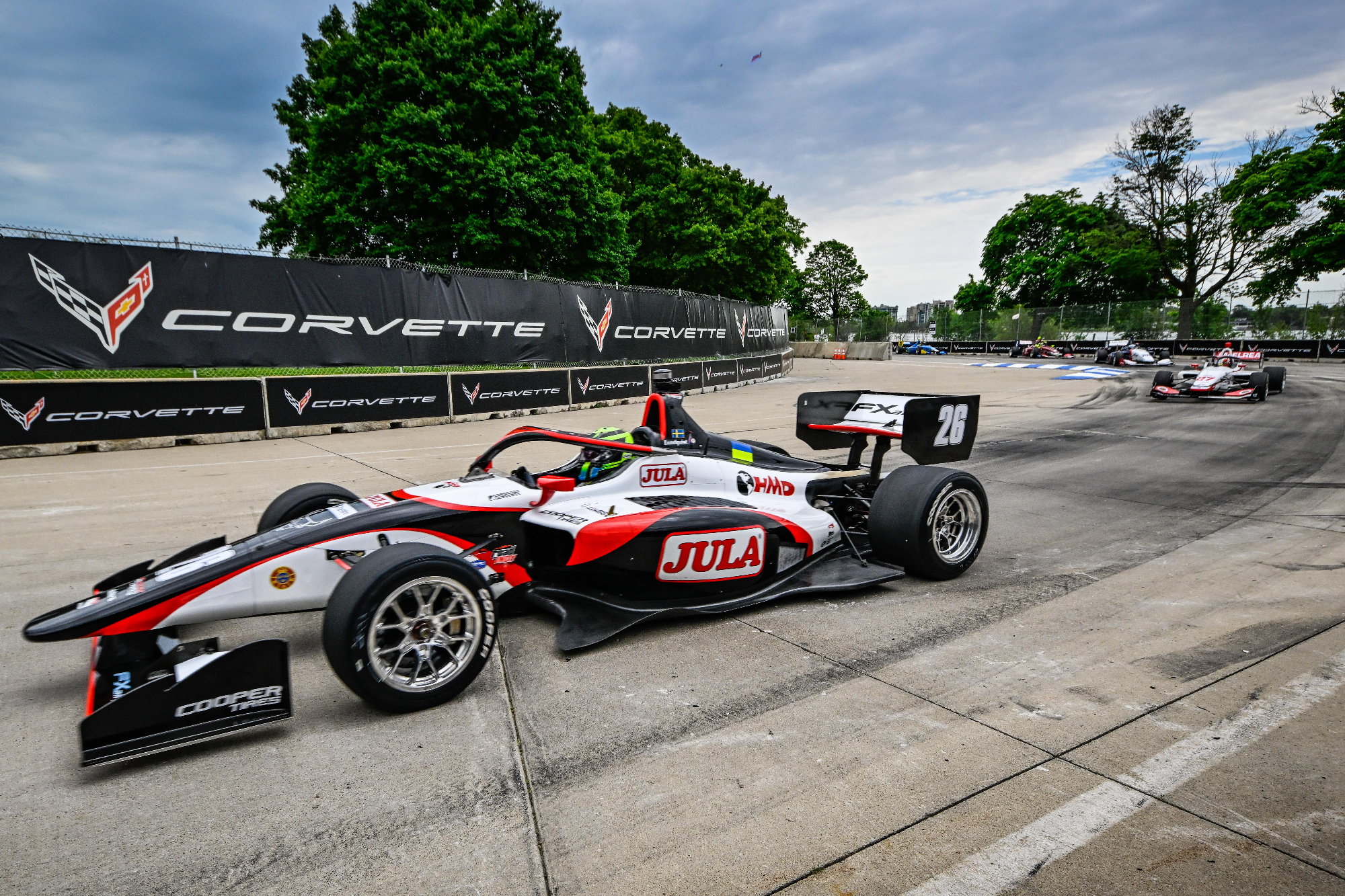 That being said, the Detroit weekend certainly felt like a gauntlet being laid down for his future chances as he took victory, pole and fastest lap in both races around Belle Isle. It was a crushing performance.
A lot of his learning has come from the Cooper tyre used in Indy Lights, which will switch to Firestone rubber – like in IndyCar – next year.
"Just getting on top of the tyre on the car, because it's very different to anything that I've driven before," says Lundqvist when asked to expand on where he's been working as a driver in 2022.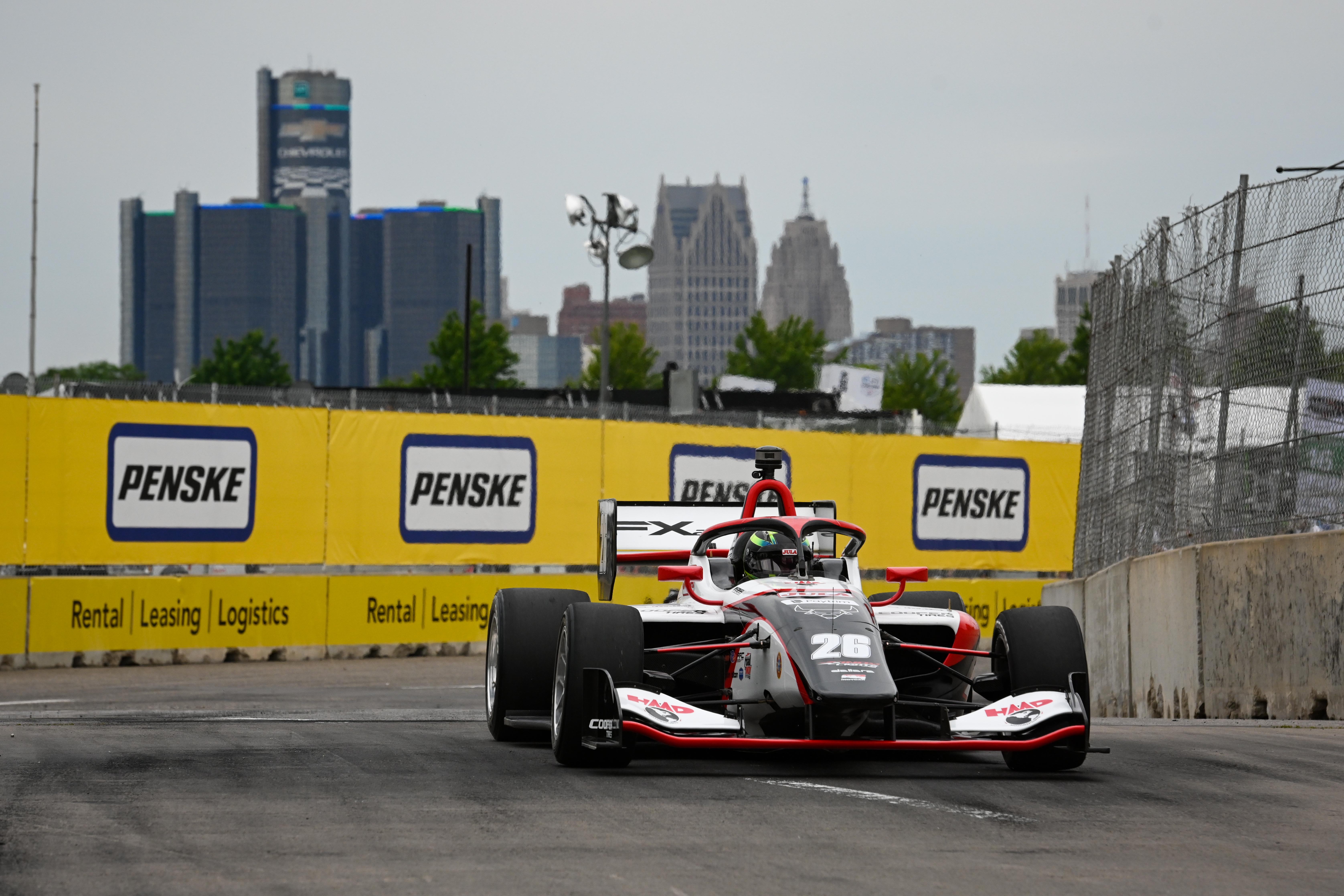 "This car and this tyre likes to be driven with like, a little bit of sliding, and they like surface temperature, et cetera. So you really have to be a little bit over the limit to be fast.
"In my career, it's always been the opposite, like be precise, hit your marks, and you'll be fast. Whilst here, if you do in theory the perfect lap, you're gonna be half a second down because you weren't over pushing.
"Obviously, there's a very fine line between that, but rule of thumb is that if you don't have a couple of moments in a lap, you're not fast enough."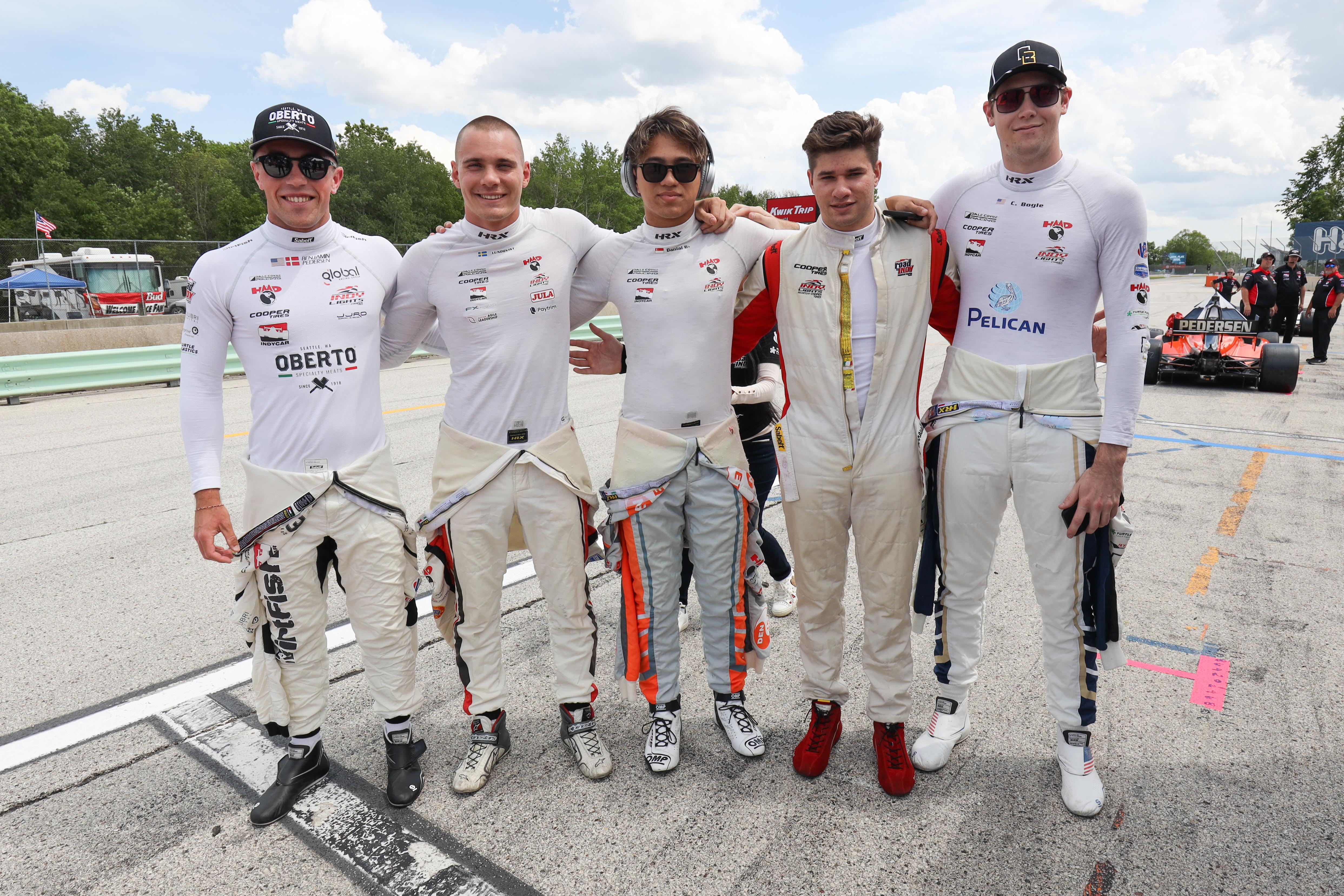 Being fast enough is the least of Lundqvist's worries these days. There's a handful of well backed drivers in Indy Lights, including his HMD team-mate Benjamin Pedersen [far left in picture above]. Although Pedersen has been outscored by 97 points, it's he who will be doing an IndyCar test at Indianapolis on Thursday with Juncos Hollinger Racing.
Becoming champion would not only give Lundqvist the chance to impress teams with his ability, it also offers a price worth over $1 million, so that might prove to be vital in terms of what he brings to the table.
He's showing at the moment that if motorsport wasn't about cash, he'd be on the IndyCar grid. But even with his form and points lead it's uncertain – with some very well-backed drivers in Indy Lights and current IndyCar drivers not wanting to move on.
"Honestly, I don't know, the focus is just to win as many races as possible and try to win the championship," Lundqvist says when asked how confident he is of a step up.
"I know that that's the best way for me to be in IndyCar next year.
"We had a good start. So we've been starting to talk to a few teams and see what can happen, but it's a little bit early to say anything about it.
"But I feel that if we continue like we're doing here, then I feel like we're gonna be on the grid next year."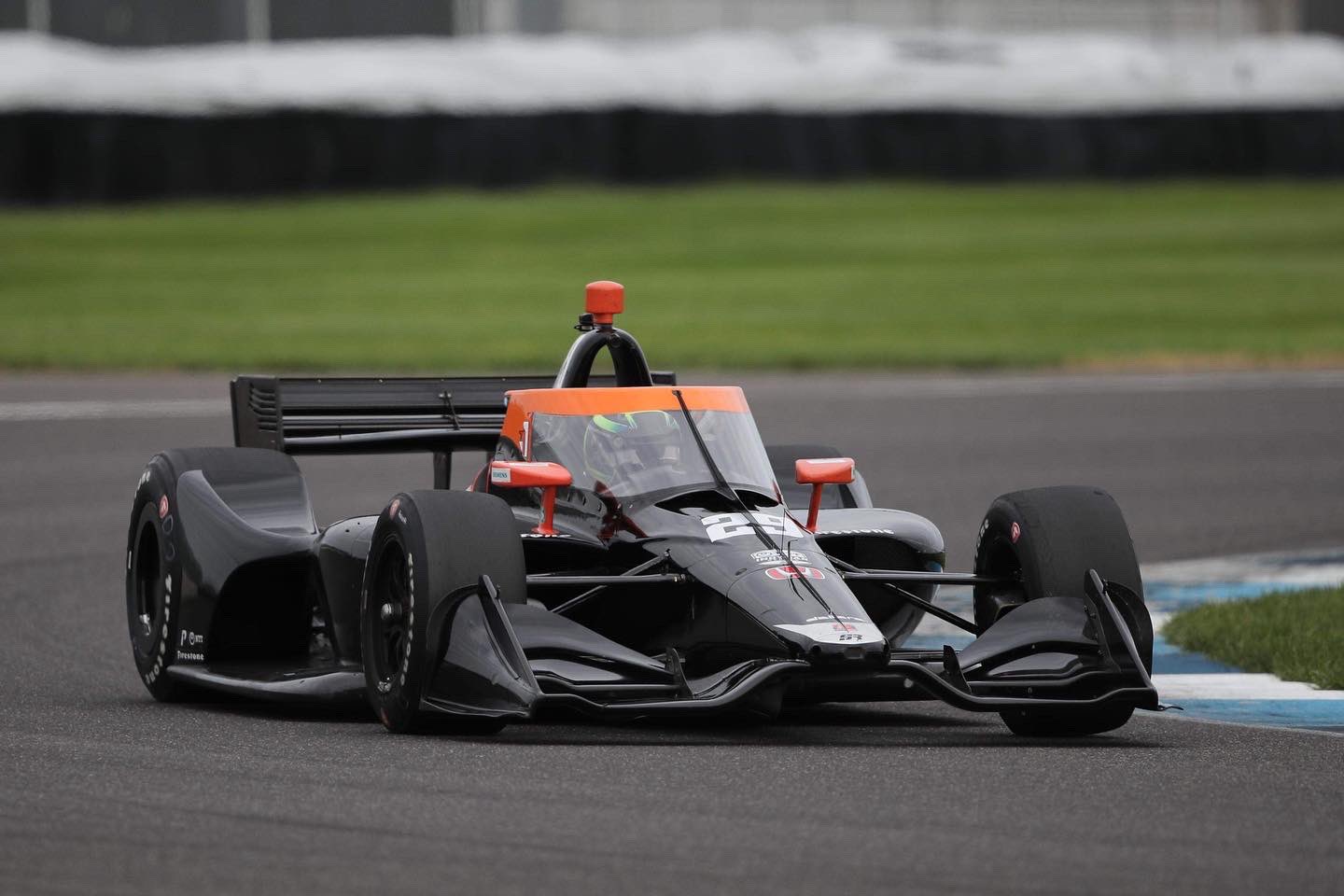 There's not many seats left on the IndyCar grid for next season. A logical home for Lundqvist would be through his current Indy Lights team HMD, which is now a title partner with Dale Coyne's IndyCar team on Malukas' car. In 2021 Coyne ran a third car at multiple races and doing so more often isn't out of the realms of possibility for 2023.
It wouldn't be unthinkable to place Lundqvist at Juncos or even AJ Foyt Racing either, the latter where Kirkwood has excelled. But the second half of 2022 will be crucial.
Fans who remember a different era of motorsport will certainly enjoy Lundqvist's approach in the paddock.
The likable Swede is leaving no stone unturned in his bid to reach IndyCar, and if he manages it we presume it would trump the current "best day of my life", which he says was his IndyCar test debut with Andretti Autosport last year!