When IndyCar agreed to Indianapolis being the final round of its iRacing Challenge, I'm sure it wasn't expecting its reigning Indianapolis 500 winner Simon Pagenaud and its golden boy race winner from Formula 1, Lando Norris, to come to blows in one of the most bizarre races at this level in motorsport history.
But the behaviour on display and the events that unfolded are far greater than just one race and have massive implications for the future of simracing.
All week in the build-up to the IndyCar iRacing Challenge finale, chaos had been commonplace.
Mayhem reigned in the practice races and sessions as pack racing – and excessive weaving which doesn't happen as much in real life at Indy – caused constant drama. Crashes galore were predicted for the race.
It's a shame really, as a trip to Indy in May – when the real-life build-up to one of motorsport's biggest races should have been underway – was something many people had called for.
IndyCar has been a frontrunner in the coronavirus period. Instead of F1's fun, quirky, and slightly silly approach with celebrity drivers and a glitchy game, IndyCar has gone full reality. Its races have been taken extremely seriously in the States, and guest drivers like Norris, Dale Earnhardt Jr and Jimmie Johnson have made sure that eyeballs have been on Indy – perhaps globally more so than if the real racing season had begun, such is the captive nature of the audience.
Let's go back to where the trouble really began on Saturday.
In the closing stages, Norris moved to the inside of Graham Rahal before Turn 2. They didn't touch, but Rahal moved up the track and into Pagenaud on the outside, creating an accident. The move was on and fair, as Norris was already on the inside exiting Turn 1 and for the short straight leading to Turn 2. Judge the incident for yourself, below.
Working after the restart, incident with @GrahamRahal, @LandoNorris and @simonpagenaud battling for the lead#INDYCAR // #INDYCARChallenge // @IMS pic.twitter.com/TAFlq42mzJ

— NTT INDYCAR SERIES (@IndyCar) May 2, 2020
This was unwise on Norris's behalf.
He had fresher tyres than his rivals and there was no need to go three-wide into Turn 2 when he would have got the move made on his fresher tyres. The benefit of fresh rubber was so strong that Norris had discussed strategies of pitting more with his strategists before the race.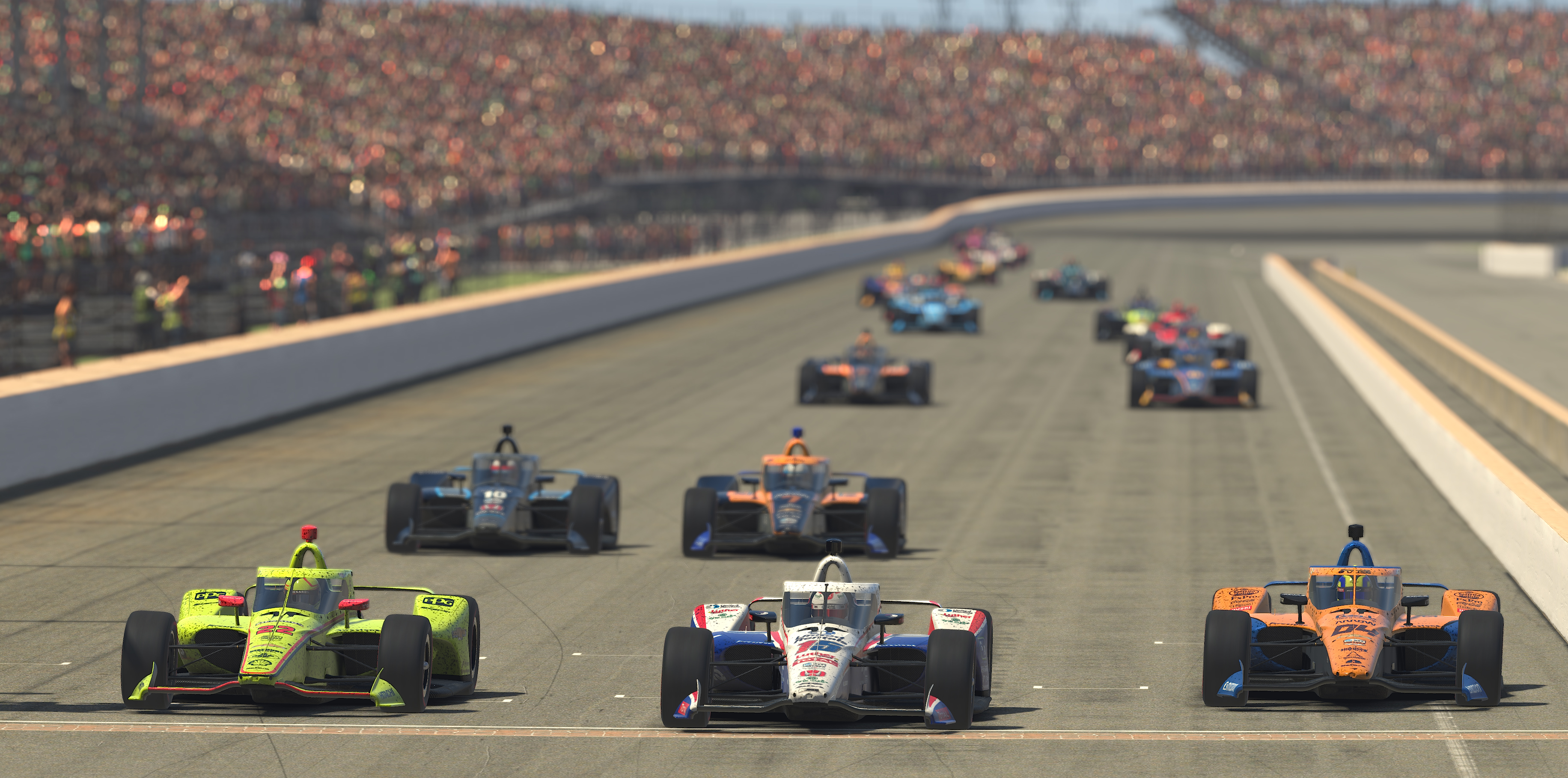 But for context, Norris made the move knowing other drivers further down the top 10 would emerge quickly and be a threat to his victory chances. He also knew how important getting out in front in clean air would be as proven by Will Power's pace earlier on. Norris had identified that when chasing Power, and the move on Rahal was a calculated risk. We can call it unwise now, but that's in hindsight. At the time Norris probably deemed it absolutely necessary if he was going to win.
Some of the other drivers told Norris he was having server connection issues – often dubbed 'netcode' – at the time he made the move on Rahal, which could explain why Norris says there was no contact but Rahal still got moved up the track into Pagenaud.
It was unfortunate for Pagenaud – but what followed was "not what you would expect from a champion", according to Norris's F1 boss Zak Brown. And it's hard to disagree. Pagenaud and his spotter both criticised Norris's move and then Pagenaud said he was going to "take out Lando".
That kind of behaviour shows a complete lack of understanding of the importance of the current period and what it means to have some genuine competition. That's a trap that has caught out multiple drivers.
Pagenaud would never deliberately take out Norris at 200mph in real life. So taking him out like that in iRacing shows disrespect for the realistic alternative IndyCar has created. And the bigger implication is, because of his and Norris's profile, the hard work from five brilliantly life-like races in the series has been undone by one moment of stupidity. Racing fans all over the world are watching the reaction that has unfolded this weekend and many won't remember or think about the previous five events. It will just be a passive 'well all that championship is, is a bunch of petulant drivers not taking things seriously'.
It's a surprise that someone so well presented as Pagenaud would do this, and someone who has admitted to putting five hours of sim work per day in for practice to wreck another driver like that. Perhaps he felt Norris's move on Rahal justified it. But it just looked petty.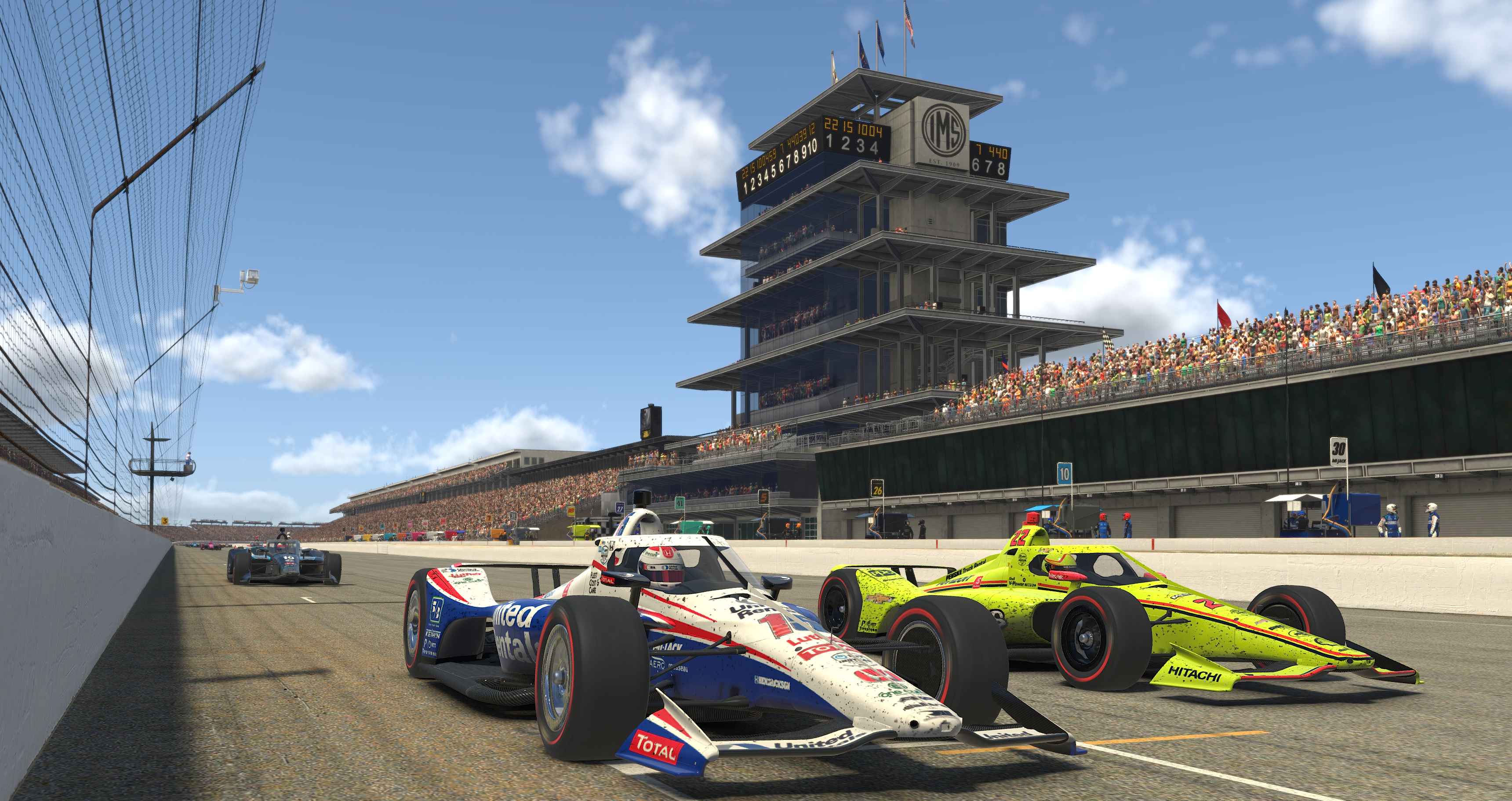 That wasn't the end of the drama. On the run to the finish line, Santino Ferrucci clearly steered left to take out leader Oliver Askew. Ferrucci looked to have a run on Askew and may have even won the race, but smashed him into the wall and erupted into laughter shortly after doing so. He did subsequently apologise, but this was undermined by the laughter and the excuses he'd opted for.
Askew reacted with his usual gravitas on Twitter, but the 2020 rookie was robbed of a maiden win and something that would have provided his career with a decent publicity boost. Now this race will only be remembered for the wrong reasons.
Just before the run to the flag, Patricio O'Ward led on the backstraight and was passed by Marcus Ericsson, before O'Ward clipped Ericsson's left rear at the final corner, taking them out of victory contention. O'Ward attempted to apologise – even if he didn't squarely take blame – and while Ericsson was unhappy, it's not a focal talking point from the race.
One driver made a mistake and apologised. Pagenaud and Ferrucci handled their incidents differently.
Much like the point that IndyCar has set-up a serious series, its teams have – up until now – taken the races extremely seriously as well, and that makes the likes of Pagenaud's and Ferrucci's behaviour all the more difficult to understand.
Had it been a public event on iRacing, Pagenaud would likely be facing a ban
Pagenaud has spoken about the benefit working with IndyCar engineers has had on his and Penske's victories. Pagenaud won the two previous oval rounds while McLaughlin won two races for the team as well.
As Norris pointed out after the race: "Maybe some people aren't taking it as seriously and they just think it's a game and it doesn't matter.
"But there's still a lot of other drivers, I had Jarv [Andrew Jarvis, engineer], the engineers and the guys doing strategy. We still put time into it, whether or not we're at home doing nothing, they're still working on it and they could be doing other things with their families.
"They're still wanting to take part and win a race still. Then some guys just get all selfish, don't care about any of it."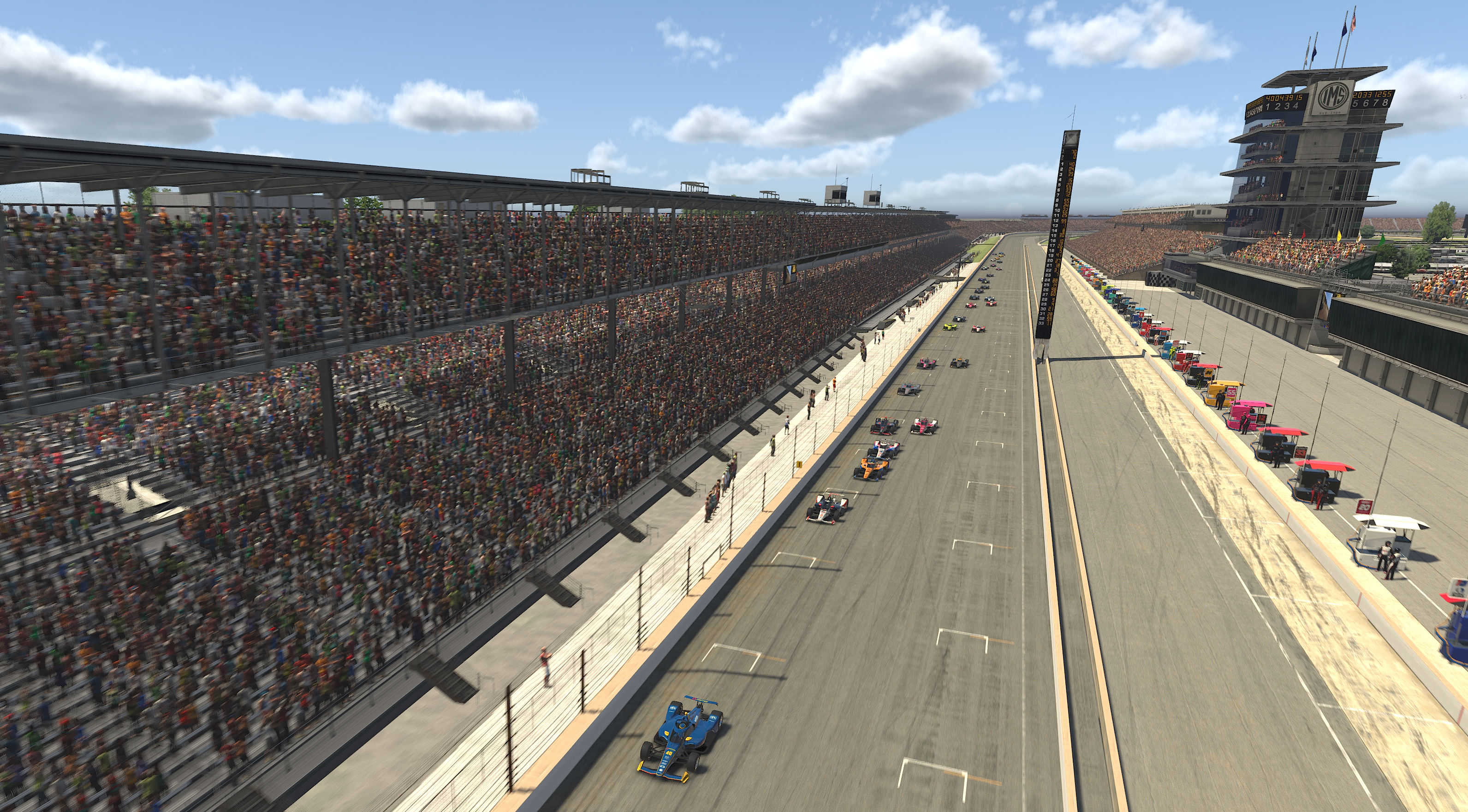 That heartfelt moment of clarity from Norris sums up the feelings of many, that the callous actions in the closing stages of that race didn't take into consideration the fact that not only drivers are at home right now, but so are strategists, engineers, tyre changes, secretaries, janitors.
Whatever role in the race team they have, they are part of it, and those involved in the iRacing series could have been spending time with family. Instead, they're left shallow and empty after a stupid incident ruined their day.
It's so important that drivers realise they are representatives of their teams when they compete online, even if they are doing things for fun. But these drivers have reached the highest level and know what they signed up for – extra scrutiny and publicity. Even if it's being done for fun, simracing should be done respectfully and drivers have to remember they are representing a team and sponsors, and a sport they love.
In recent weeks we've seen Bubba Wallace lose a sponsor after he was deemed to rage quit a NASCAR race, and much more seriously, promising young NASCAR driver Kyle Larson's career lies in tatters after he used a racist slur which resulted in him being dropped by Chip Ganassi Racing. Whether there's a captive audience at home or not, these drivers are being broadcast publicly and have to behave correctly. And as much as simracing has given drivers something to do during this pandemic, it may have cost Larson his career and dented the public perception of other racers.
Perhaps the biggest issue is how it affects simracing as a discipline.
If just one fan had tuned in for that IndyCar race, or is watching back now because of the social media interest in the growing number of feuds emerging from it, and has decided that esports is silly because it's just a bunch of drivers taking each other out when things don't go their way, it undoes a lot of hard work.
Not just hard work from drivers, teams and sponsors. But from the low-profile simracers who have built esports into what it is today.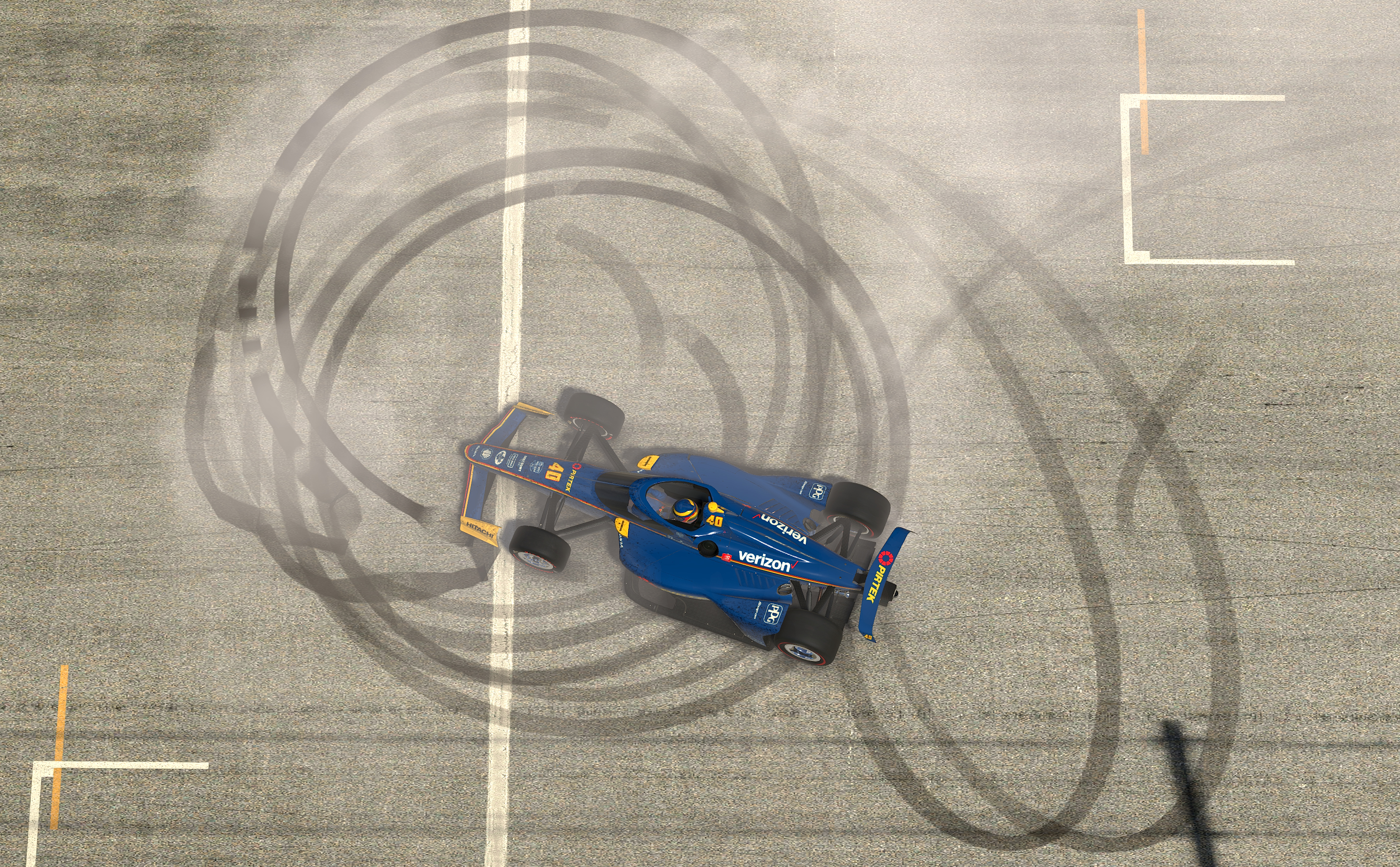 Not the pro-racing drivers, but the iRacing grassroots who have worked hard to earn a hard but fair environment to race online. Alright, it's not always perfect. But iRacing has policed its public championships well. The sport that these pros have parachuted into during this period is only there because of the dedicated legion of everyday online racers. The behaviour of some pro drivers goes a long way to undermine that hard work to the wider racing community.
And for those who are asking, no, Pagenaud is not likely to receive a ban. While he was in breach of article Article 6.10.3 of the iRacing sporting code states "deliberate, intentionally malicious, or retaliatory wrecking is prohibited", it was done in a private league, and iRacing VP Steve Myers said the company "are not in the business of policing anyone's private leagues".
Had it been a public event on iRacing, then he would likely be facing a ban. And that tells you all you need to know, really.
There are no winners from this. While it has provided attention for IndyCar, it's undone the hard work that created one of the best championships in this period – and potentially turned off future esports viewers. Or even justified those people who doubt the validity of esports – the likes of whom many of us have been able to prove wrong with the fantastic events out there for the last month.
Now those people have been given ammunition from the closing stages of Saturday's race at Indianapolis. That's a sad – and not at all deserved – blow for the esports community and its future. Lessons must be learned from this.