Porsche has explained the motivations behind its increased involvement in Esports and the benefit it believes it can bring to the sim racing community.
The German outfit has increased its involvement in sim racing over the past couple of years and has held live competitions at the Nurburgring as well as at its factory for the top sim racers in the world.
It also launched the Porsche Esports Supercup on iRacing last year with a $100,000 prize pool, and that figure is expected to rise 'enormously' for its second season this year.
Porsche's branded entertainment manager Sebastian Hornung spoke about the manufacturer's intentions at a recent Esports BAR conference in Cannes.
"Times are changing," Hornung said.
"The motorsport industry is changing. Real-world motorsport is decreasing, and we believe that Esports racing could be one important pillar for Porsche to reach out to a younger target group and to have more talents, but also a bigger fanbase.
"On the other hand, as a premium luxury brand, you need to provide a purpose for the community. We believe with the motorsport DNA we have and the core competence in racing, we can bring a benefit to the [sim racing] community."
He outlined the accessibility of racing Esports compared to other popular Esports disciplines as an advantage to Porsche.
"Racing has some advantages in terms of esports," he added. "It's wide and free, it's easy to understand, opposite to some other Esports categories. It spans generations, you can play it with your son, daughter, father, mother etc. Everybody is able to race."
One of Porsche's first steps into racing Esports was via an unconventional platform: Electronic Arts' mobile game Real Racing.
The winner of that competition, Danish brain surgeon Henrik Drue, was equally unconventional.
"When we returned to Le Mans in 2014 with our LMP programme, we needed reach and awareness, so what is better than a mobile game," Hornung explained. "Everybody has a mobile, everybody is able to have a short race on their mobile.
"We integrated our new cars with them. You had to beat our works driver's laptime, and then you could attend a special competition. The fastest one would win VIPs tickets to Le Mans. We'd have them invited into our hospitality, helicopter flights, meet and greets with the works drivers, the complete adventure package.
"We were a bit anxious about who won win that competition. Six years ago, we didn't have the limitations that we have now from the legal side. We thought maybe he'll be from Romania, 10 years old and doesn't speak any English or German.
"But in the end, we got the perfect match. One really nice guy. He was a brain surgeon from Denmark. When he's preparing himself before brain surgery, to cool down, he's using Real Racing to get that concentration. When he saw that there was a Porsche VIP prize, he really got into it and practiced for hours and hours. He won the prize, and for him it was a dream come true."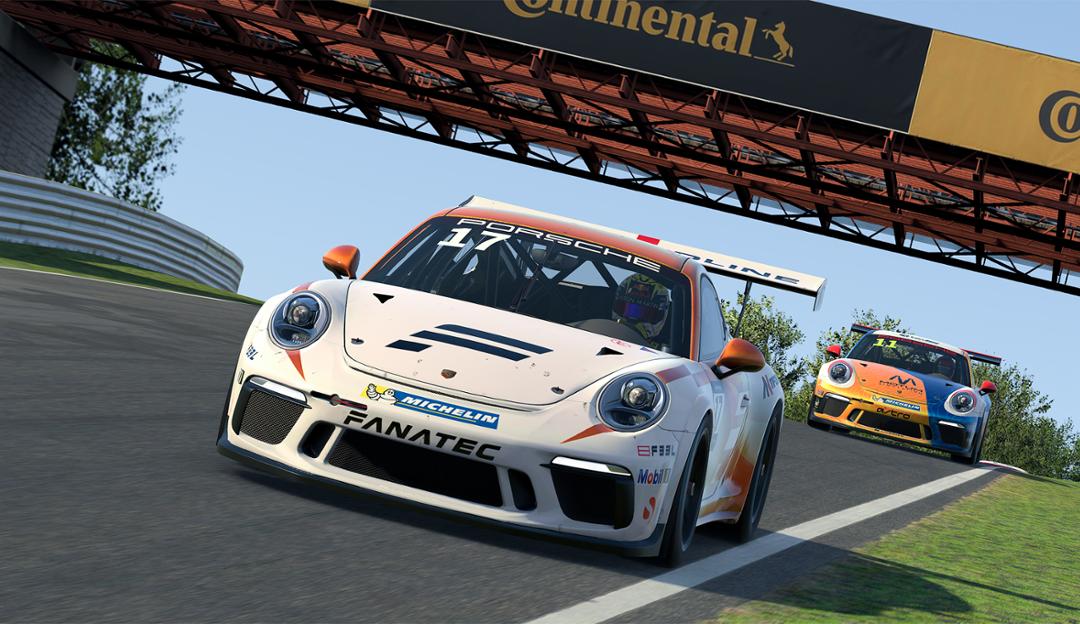 Porsche has since expanded to partner with iRacing for a number of high-profile sim racing events. It also uses video games to launch its real-life cars.
For example, Forza Motorsport 7 was announced with the yet-to-be-revealed Porsche 991 GT2 RS as its cover car.
"On Real Racing, we did a secret car reveal – the Cayman GT4, before the official press release," he said.
"With Forza, two years ago at E3, Microsoft revealed a car for us, the GT2 RS, the holy grail of the 991 history. The first time we showed it to the world was with Microsoft. That shows the brand and the management has seen the potential in games.
"Kids grew up with cars, toys and posters 20 years ago, now it's computer games. 20 hours a week with your favourite car or brand, that is time you can't get with advertising in a normal way. That is a firm part of our marketing approach, and Esports is a continued roadmap of that.
"Make a competition, become the loved brand for sim racing, and be in the relevant mindset to really make fans firstly, and then hopefully make customers out of fans."
Hornung concluded by reinforcing Porsche's desire to build a 'global ecosystem' for sim racing competitions.
"For us, it's an interesting journey, we are at the first step already, there's a lot more to come with our roadmap into esports racing," he said.
"Building up a global ecosystem and enabling local markets in the Porsche universe to set up individual esports racing experiences. That's just one part.
"The other challenge is we need to unite the Esports racing community and find the next big hero in sim racing."