While NASCAR blazed a trail at the beginning of the online racing boom and boasts the oldest major esports championship of established real-world series, some have questioned how much that translates to real life, especially in a series that is mostly about turning left a lot.
But one of its brightest talents spent five months on a sim preparing for a single race on the 33-round calendar. And it paid off with victory last weekend.
NASCAR has long been a hotbed of the motorsports gaming community, especially after the release of the Papyrus-based NASCAR 2003 game that launched everything from online racing leagues to a whole community designing and recreating the series' best paint schemes, a community that still thrives today 17 years on.
But in recent years, some top drivers have failed to see the benefit of full-blown manufacturer sims in the series, with the majority of races held on ovals where a perfect pre-race set-up isn't always vital with so many pitstops meaning changes are possible throughout. The track rubbering in and sometimes racing from day to night all place emphasis on reactive in-race adjustments and not a rapid qualifying machine or the perfect car to start a race.
Walking into the garage this morning at @HomesteadMiami getting ready for the big @iRacing Pro Invitational. pic.twitter.com/eS9aDmLrIU

— Chase Briscoe (@ChaseBriscoe5) March 22, 2020
However the rise in the accuracy of sims is undeniable, and while some NASCAR drivers may not feel the benefit, others have certainly used it to their advantage in recent years.
William Byron is an iRacing success story, now driving one of the most famous cars on the grid – the Hendrick Motorsports #24 once driven by Jeff Gordon. Timothy Hill has a cheap Logitech wheel attached to his desk and managed to win a race in NASCAR's iRacing championship set-up when the coronavirus really forced major series online.
But a rising star of NASCAR has taken sim preparation to a whole new level. And there's a reason why Chase Briscoe of Stewart-Haas Racing leads the Xfinity Series points and has five wins from 13 starts, and only three finishes outside the top 10.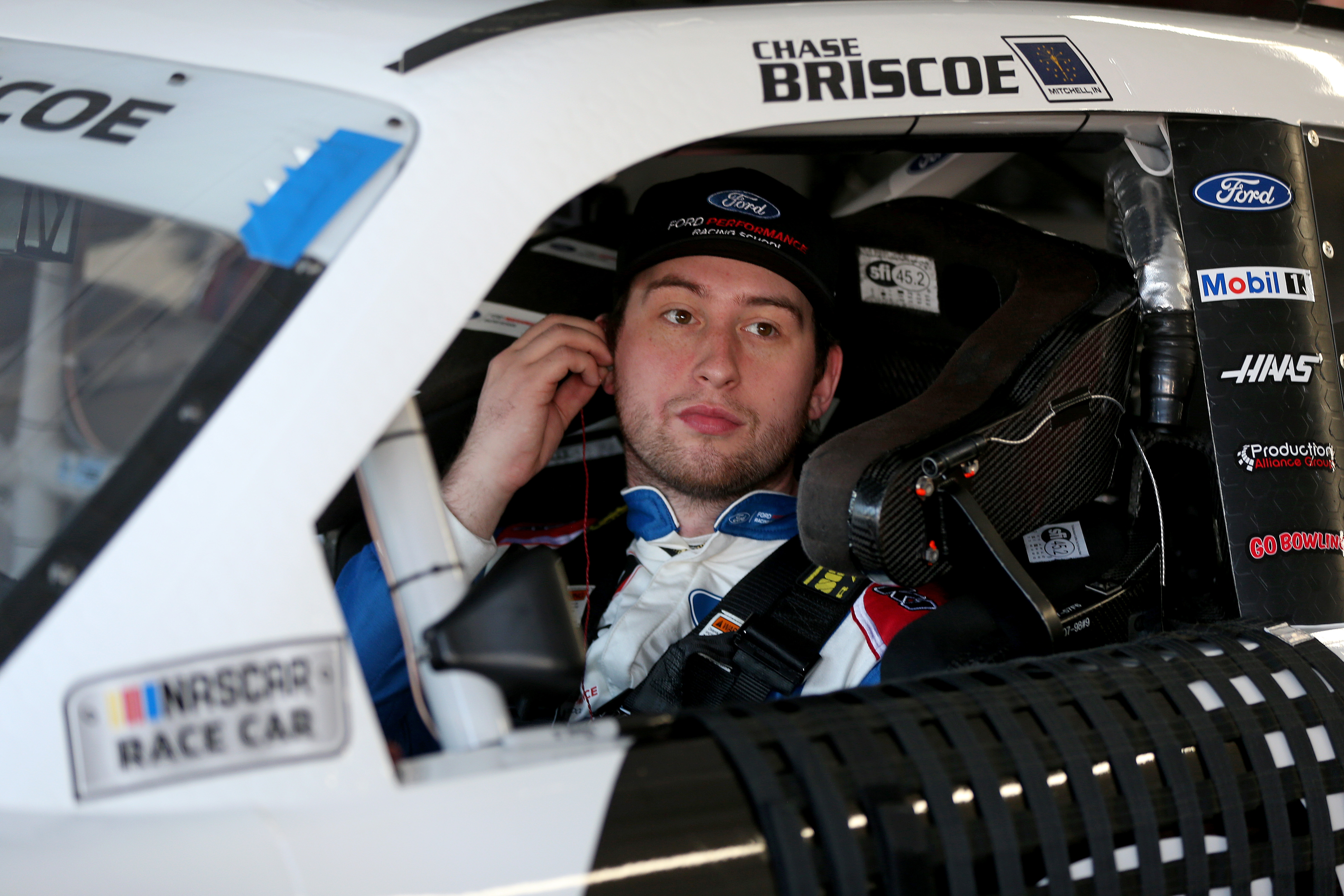 For context, Tyler Reddick won the Xfinity title last year with six wins from 33, and he won the year before with just two wins over the same distance, so Briscoe is doing something right.
The 25-year-old's rise has been rapid, winning the ARCA series in his first full year in 2016, taking the rookie of the year honours in NASCAR's Truck series in 2017 then bagging a full-time ride with Stewart-Haas, and now in his second year with the team at NASCAR's second level.
Some would argue that the Xfinity races have been more exciting than the top-level Cup Series this year. That was backed up by a phenomenal last couple of laps on Saturday on the Indianapolis road course, Briscoe passing Penske protege Austin Cindric and Champ Car race winner AJ Allmendinger – a recent Xfinity star – into Turn 1 on the last lap as chaos ensued.
It should be no surprise that Briscoe came to the fore at the last, given he's virtually done more laps of the track than any other NASCAR driver.
"Ford has a simulator in Concord, North Carolina," Briscoe told The Race last Friday, explaining the importance of his sim prep. "I'm pretty sure it's one of the old F1 ones that they've converted over to stock car stuff and they also use it for just their production road car stuff.
"So I've been on it, been practicing specifically for Indy since February, there every Wednesday, 8am until 12. So I'm always there for at least four hours and normally we're doing a couple different tracks, normally the one that we just came from the weekend before, as well as the one that we're going to the following weekend.
"Since February we've been practicing for Indy. We would never do that for any other race. With Indy being new, and we weren't sure we're going to practice, so we put in a lot of time and effort in."
Check this out!!! https://t.co/XS9YbMRtll

— Chase Briscoe (@ChaseBriscoe5) March 29, 2020
With a set-up from the Rlaps company, Briscoe does plenty of sim work at home too. And it's all paid off on this weekend specifically as he is an Indiana boy, growing up not far from Indianapolis. The track holds a special place in the hearts of Hoosiers, whether it's for race fans or beneficiaries of the boost to the local economy it provides.
You could see how much the win meant to Briscoe as he ceremoniously climbed the fence, like team co-owner Tony Stewart used to, and the whole team kneeled to kiss the bricks.
The sim work has been a massive part of that, here and at other circuits and ovals too.
While many say 'NASCAR only turns left, why do they need sims?', the fact that Ford, Chevrolet and Toyota are investing properly in the systems proves its merit.
It's also been vital in this period where Briscoe has been so successful. When the coronavirus pandemic kicked in obviously all motorsport went on to a sim, and Briscoe was well prepped for that with his home set-up.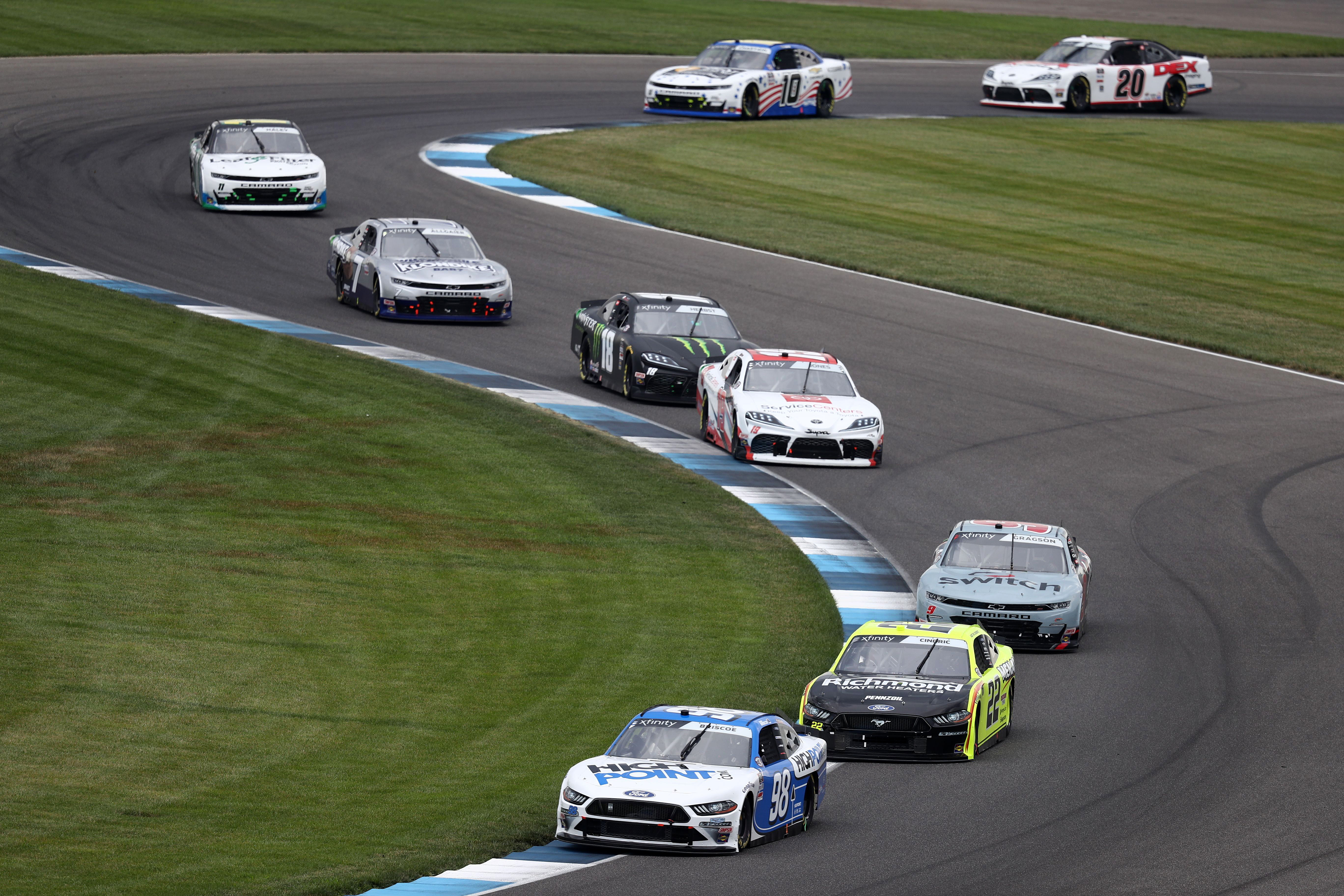 But once lockdown was lifted, NASCAR went to a 'no practice, straight into the race' strategy. That placed such an important focus on the sim and finding an initial set-up once lockdown lifting meant teams could prepare properly.
"Every track's different, some tracks you get more out of it than others, but for us right now getting no practice, the sim has really been our key thing," Briscoe adds.
"Because we haven't been having practices during this period or there's been less time.
"So there's a lot more emphasis on the sim than normal I think in general. Going back to last year [when you could practice] you still run through stuff in the sim that you might not try in real life to see if it works and there's other are some racetracks that work a lot better than others but for the most part I would say it's a key part of our preparation and going to the racetrack."
Indianapolis was not the first time Briscoe has won on new tracks, also coming out on top when the series made its debut on the Charlotte 'Roval' course in 2018.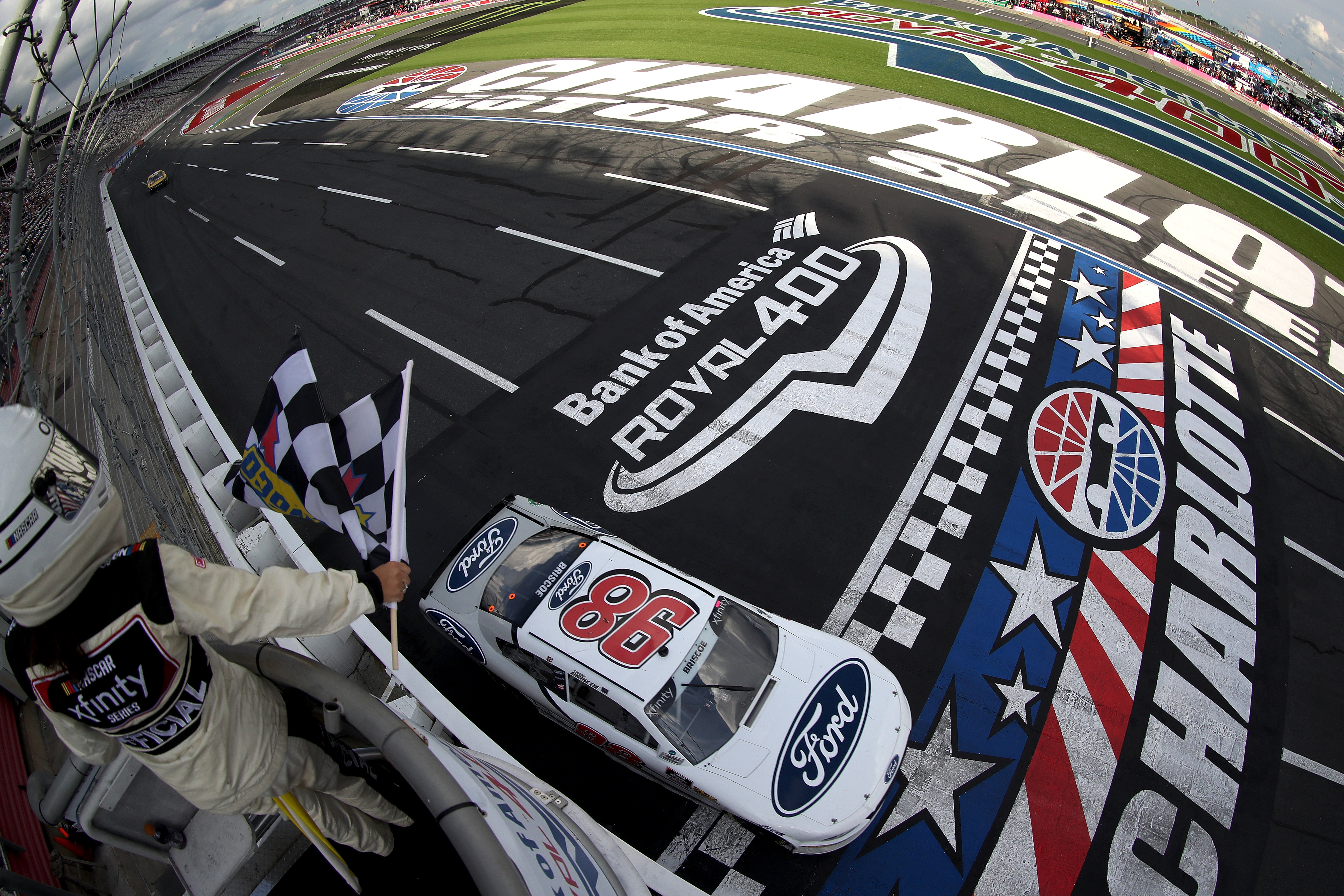 That track differed as it was a new build, so it hadn't been established as a circuit on simulators and games that you knew it correlated well to real-life.
This version of the Indianapolis road course has been in place since 2014 and used by IndyCar each year since so heading in Briscoe knew the sim was accurate and there would be a good chance of correlation.
On the argument of how important a sim can be on an oval, Briscoe rightly explains that oval sim prep is about giving the team a feel for set-ups and race simulations. On the road course, it's about picking braking points, familiarising yourself with the circuit and lines that do and don't work. If oval sim prep is for the teams, circuit work is all about the driver.
"Typically road course stuff we'll spend more time on, just because it's more for drivers," adds Briscoe. "Normally for the oval stuff, it's the same thing over and over for us, but the teams get a lot out of it.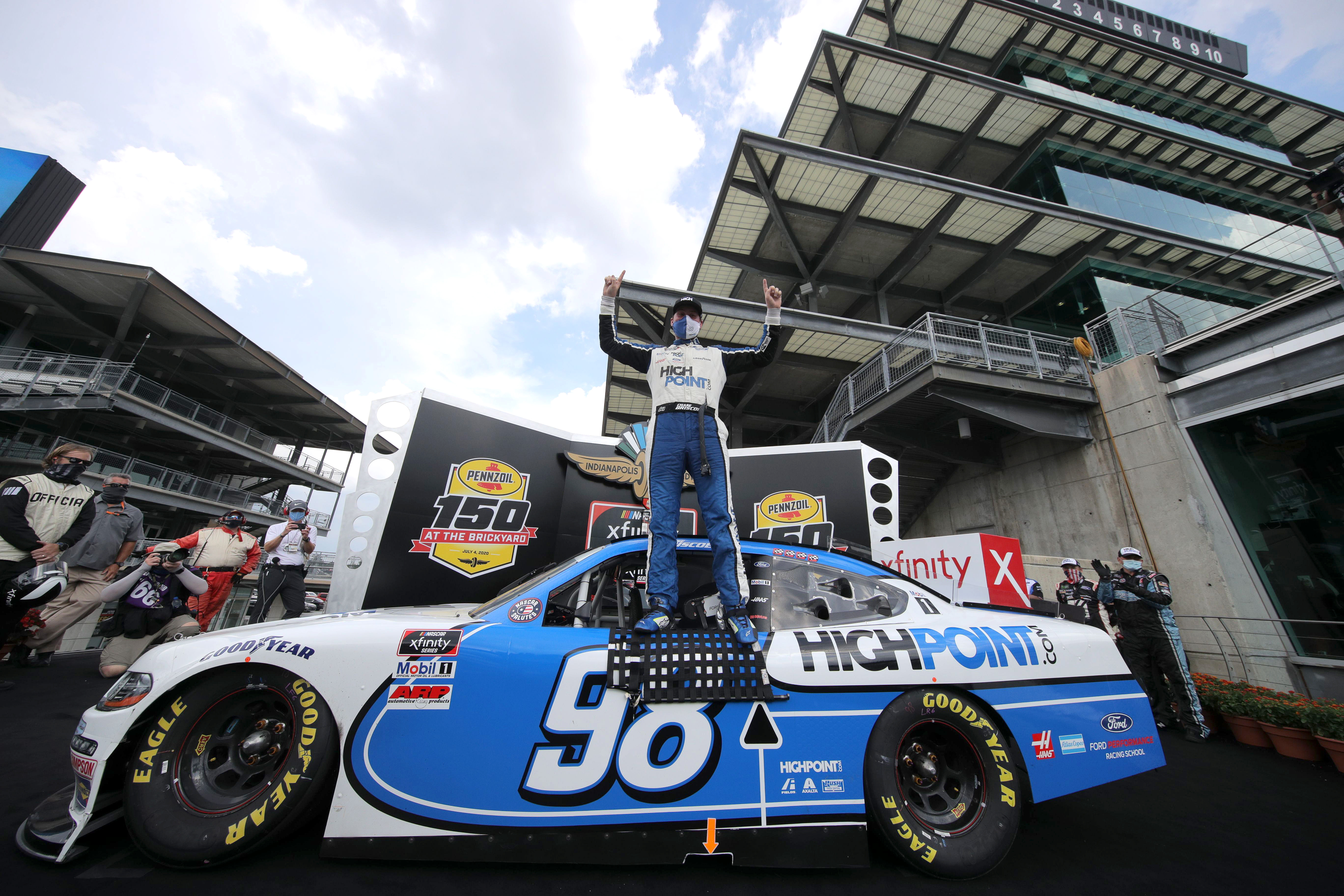 "Where the road course is kind of the other way around. I feel like drivers get more out of it than the team guys do.
"You never know how close it's going to be I don't think until you actually get there in real life, but I feel like I at least have a general idea of where to make speed and hopefully that'll kind of correlate over to real life."
Luckily the Indianapolis circuit correlated just fine for Briscoe as he bagged another win and proved once more his superstar potential.
He's also proving why some drivers who would have previously turned their nose up at five hours, one day every week, on a simulator are now rethinking that.
No days off. Landed in Charlotte just before 7am, all the guys went straight to the shop to finish up cars and we are in the sim at 9am preparing for Fontana. 👍🏼👍🏼 pic.twitter.com/naHAzrqIP3

— Chase Briscoe (@ChaseBriscoe5) February 24, 2020
"It's really given me an advantage and that's why all these manufacturers are putting so much money in these sims," concludes Briscoe.
"Ford's not the only one doing this Chevy has one, Toyota has one, so there's a lot of emphasis on them and it obviously works. Ford actually just built a second one, so we have two now, that's how serious we are about and how much we feel like it helps us."
The proof is in the pudding, and the pudding, in this case, is five wins notched and the likelihood of a plumb seat in the Cup Series next year.