Emanuele Pirro, the winner of the reversed-grid Legends Trophy race in the fifth round of The Race All-Star Series – Fully Charged by ROKiT Phones, says he has changed his opinion on esports after making his virtual racing debut recently.
The five-time Le Mans winner and double 12 Hours of Sebring victor led from pole to the chequered flag to become the fifth winner in as many races.
The Italian was asked by The Race last month to compete in the first event and accepted the invitation despite having to form his 'cockpit' around a dining chair and shoebox to elevate his screen.
"I have very basic hardware compared to some others and I sit in a normal chair with a desk," Pirro told The Race. "But still the [steering] wheel is still transferring all the kick-backs of the track and you feel it.
"I was not a big player of these things before you [The Race] got in touch with me and I never realised how close it is to reality.
"You have to know the physics of driving a race car to be quick on here. OK, there are no forces on your body but that is the only big thing that is different, I think.
"It is a big technical challenge and I have definitely changed my view on these simulations now and have more respect."
🏁 This man knows his way around @sebringraceway. 2 x #Sebring12 wins and victory in The Race All-Star Series – Fully Charged by @ROKiTPhonesUK #LegendsTrophy reverse grid race today! pic.twitter.com/iYRABL7mPy

— The Race (@wearetherace) April 11, 2020
Pirro believes that the correlation between real and simulated racing at Sebring proved a vital point in ensuring that inherent characters of tracks are not altered or neutered.
The former Audi driver has recently worked extensively with the FIA as a steward and also as a circuit consultant to ensure the safe upkeeping of tracks.
"Sebring was really tricky for these cars where weight transfer is very evident so you have to be very careful. But it is really a wonderful race track to be racing at even if you are not really there," he said.
"You know, I have been in the FIA circuit commission since three years and I try to persuade as made people as possible not to smoothen the surfaces to the maximum in order to not remove some difficulties.
"I even said last year that if Sebring were to be resurfaced it would take the character, challenge and beauty of it completely away."
Pirro also opened up on some of the banter which he enjoyed with other drivers on a specially set-up Whatts App group.
"Emerson [Fittipaldi] wasn't too happy when he found out about the track because he didn't know it and he said 'ahh, now I know who has chosen it' when he saw one of my Sebring trophies," recalled Pirro.
"So I got back to him and said 'now I know who chose the [McLaren] M23' and he came back to me and said 'this one must have had James Hunt's set-up for the car!' "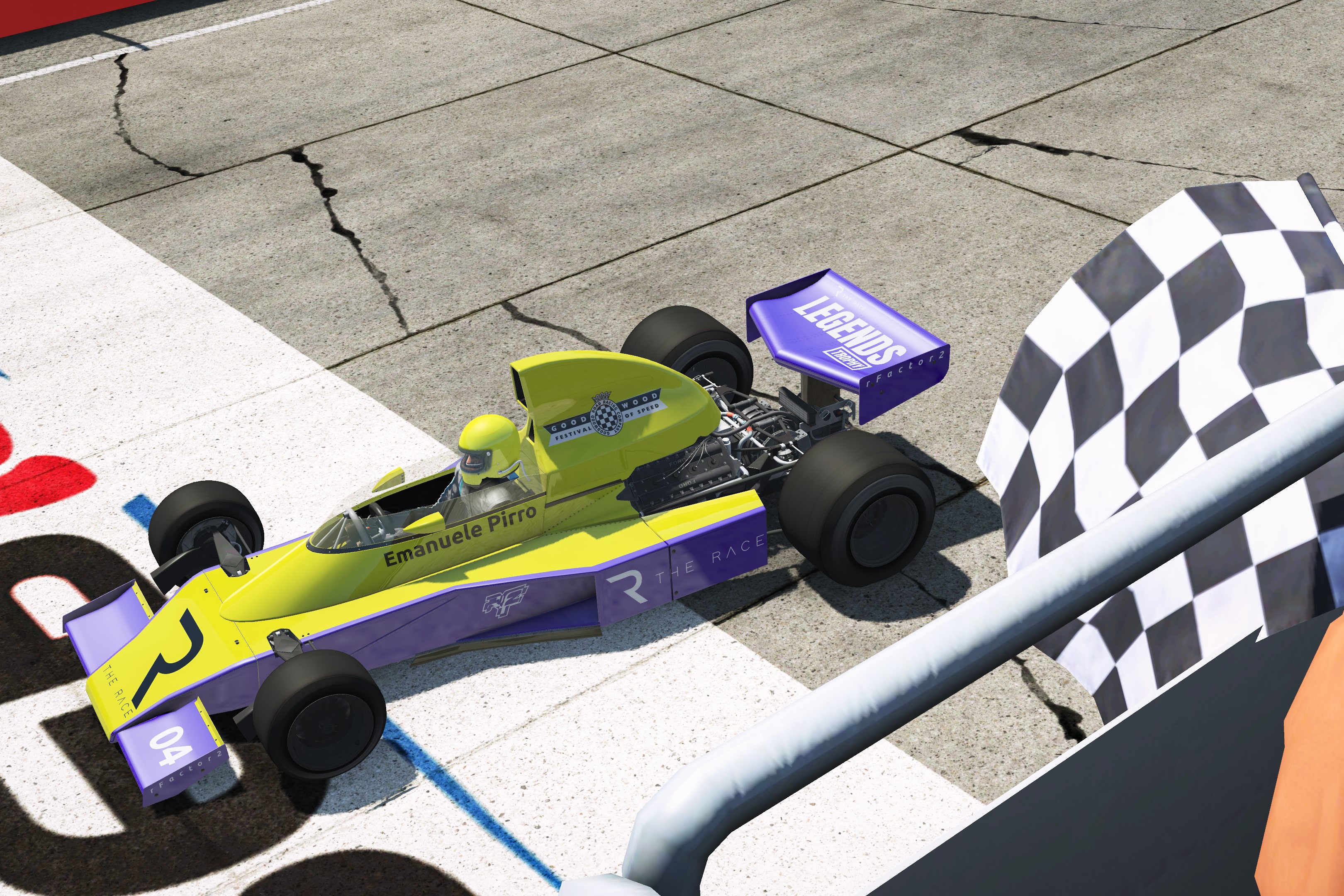 In the third installment of The Legends Trophy, drivers were able to choose a livery and partner to be represented on their cars.
"Actually there was a slight misunderstanding with my colours because I wanted a blue and yellow but it came out kind of violet but it was no big problem," Pirro said.
"The reason why I wanted those colours is because I've been reading Mark Donohue's The Unfair Advantage which is an incredible book about an incredible man, so I thought some Sunoco-style colours would look nice.
"For the logo I sent an email to Lord March to ask if I could have the Goodwood logo on the car and he was happy so he sent me the logo, and this is how it worked – because I really love Goodwood, as everyone knows."