Seven-time NASCAR champion Jimmie Johnson headlines the IndyCar iRacing Challenge entry alongside the series' current stars, while Robert Wickens is expected to take part as well.
Johnson is contesting his final full year in the NASCAR Cup Series in 2020, and has targeted a Le Mans 24 Hours entry and an IndyCar road course race among his top priorities when he becomes a free agent.
He was due to test with Arrow McLaren SP at Barber in April, but that has been cancelled due to the coronavirus outbreak.
Instead Johnson joins almost the entire 2020 series grid for the first of six iRacing-based rounds to fill the gap left by the championship's real-life race cancellations and delays.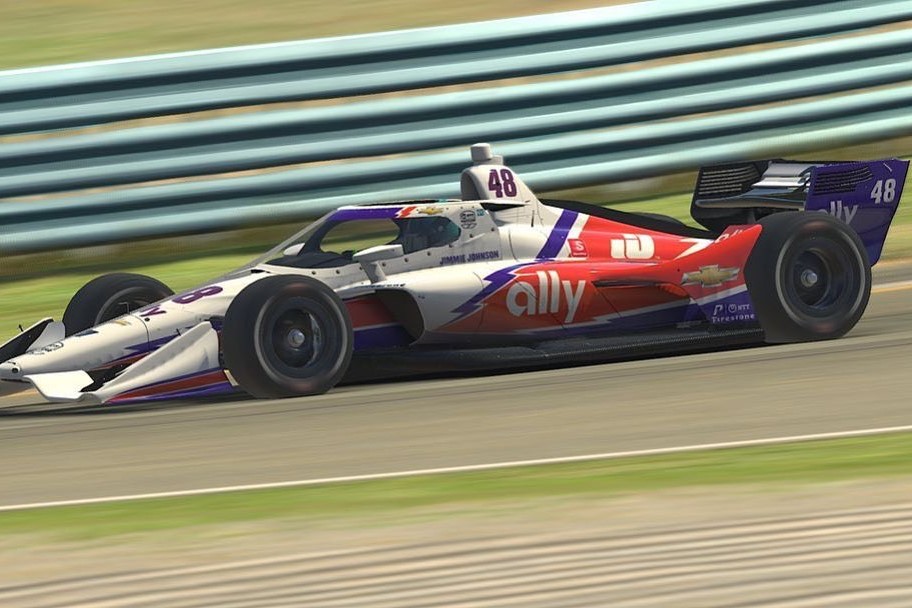 Fans voted Watkins Glen to be the venue for the season opener. The aeroscreen, which is due to make its debut in IndyCar racing this year, has been added to the iRacing version of the car as well.
Wickens has been recovering ever since a crash at Pocono in 2018 put his racing career on hold, but had hoped to return to action in the new virtual series.
On Thursday, he reported that the company backing him in the sim event pulled out, leaving a late scramble where Wickens turned to social media to find a replacement.
Just found out the company that was providing me a sim has decided not to support me anymore. Anyone in the Indy area that can help me out?! I need a steering wheel with dual axis analog paddles and a hydraulic hand brake. Trying to find a way to make this happen! #iracing #sim

— Robert Wickens (@robertwickens) March 27, 2020
Champ Car race winner Max Papis has since written that he's been working to get Wickens on the grid after all, and would supply him with equipment made by his company.
I'm working to help @robertwickens to race tomorrow We have @MPI_INNOVATIONS SIMABILITY HAND controll ready but we need a rig ..Anyone in INDY who has a RIG with Fanatec Club Sport Wheel Base that we can borrow for tomorrow pic.twitter.com/HHMFIAoOks

— Max Papis (@maxpapis) March 27, 2020
Since then, RACER has reported the necessary equipment for Wickens' participation is now in place after all, thanks also to the intervention of Cary and Todd Bettenhausen, the sons of late Indy 500 podium finisher Gary.
The final star interloper who is set to make the grid is ex-F1 driver Scott Speed, driving the #98 usually entered by Marco Andretti. The ex-Toro Rosso driver's participation has been confirmed by the Andretti outfit, which helped Speed to four titles across the Global Rallycross and Americas Rallycross series.
Double champion Josef Newgarden leads the current drivers and top team Penske alongside Supercars champion Scott McLaughlin, who was due to make his real-life debut in the Indianapolis road course race in May, which has now been rescheduled to July 4.
Indy 500 champion Simon Pagenaud is also part of the field alongside regular Penske team-mate Will Power.
Both of Arrow McLaren SP drivers Pato O'Ward and Oliver Askew are entered, while Andretti has a four-car entry led by Alexander Rossi, and joined by Indy Lights driver Kyle Kirkwood.
Marcus Ericsson and Felix Rosenqvist take part for Chip Ganassi Racing, while ex-Formula 1 driver Felipe Nasr leads Carlin's attack.
The race is due to take place at 1600hrs Eastern Time on Saturday, March 28. The winner of the race will be interviewed on IndyCar's Instagram page.
Regular NBC commentators Leigh Diffey, Townsend Bell and Paul Tracy will lend their voices to the broadcast.
Each race will take between an hour and a half and two hours, and will run every Saturday until May 2. A 10-minute qualifying session will set the grid.
Round two will be held at Barber on April 4, while the third race will be a 'driver's choice' track, raced on April 11.
Round four is a 'random draw' track (April 18), Circuit of The Americas hosts round five on April 25 and a non-IndyCar "dream" track will conclude the six-parter on May 2.
The races will be streamed on IndyCar's YouTube, Facebook, website and iRacing's Twitch channel. No champion will be crowned. IndyCar says it will "make a donation to one of its partner charities" as part of the proceedings.