Michi Hoyer won both races in the fifth round of the GT Challenge Series on rFactor 2.
He led from lights to flag in the 15-minute long sprint race, but even though he started from 10th in the main race he still saw the chequered flag first.
Behind the Burst Esport driver in the sprint race was Lorenzo Arisi in second, although a mistake from Arisi nearly cost him the place as he ran wide going around the final corner which allowed Vojta Polesny to pull alongside and cross the line less than a tenth after Arisi.
Goran Djordevic's mistake did cost him a spot on the podium, as with five minutes to go he ran wide into Tower corner, dropping from third to fifth.
Alex Siebel gained two places from where he started which meant he finished the sprint race in 10th, and got the honour of starting the main race from the front.
He wasn't able to capitalise from it, and neither was Matthew Beavis who started in second or Alejandro Lopez Arjona from fifth as all of them carried over drive-through penalties from incidents at the previous round in Imola.
That gave Tony Mella the race lead and Daniele Cannistraci second place.
Shortly afterward Cannistraci outbroke himself heading into the Hairpin turn and rear-ended Mella in front of him.
That sent Mella into a spin and whilst he recovered, Michi Hoyer had got ahead of him.
Sportingly Cannistraci decided to slow down and let Mella back ahead of him, giving Hoyer first place.
Hoyer's main championship rival Michal Sedlacek, was also able to catch up and pass the pair of Mella and Cannistraci.
That was before the two came to blows again as Mella cut across the front of Cannistraci's car under braking for turn 10, which meant Mella lost the rear of his McLaren 720S and skidded straight off the track.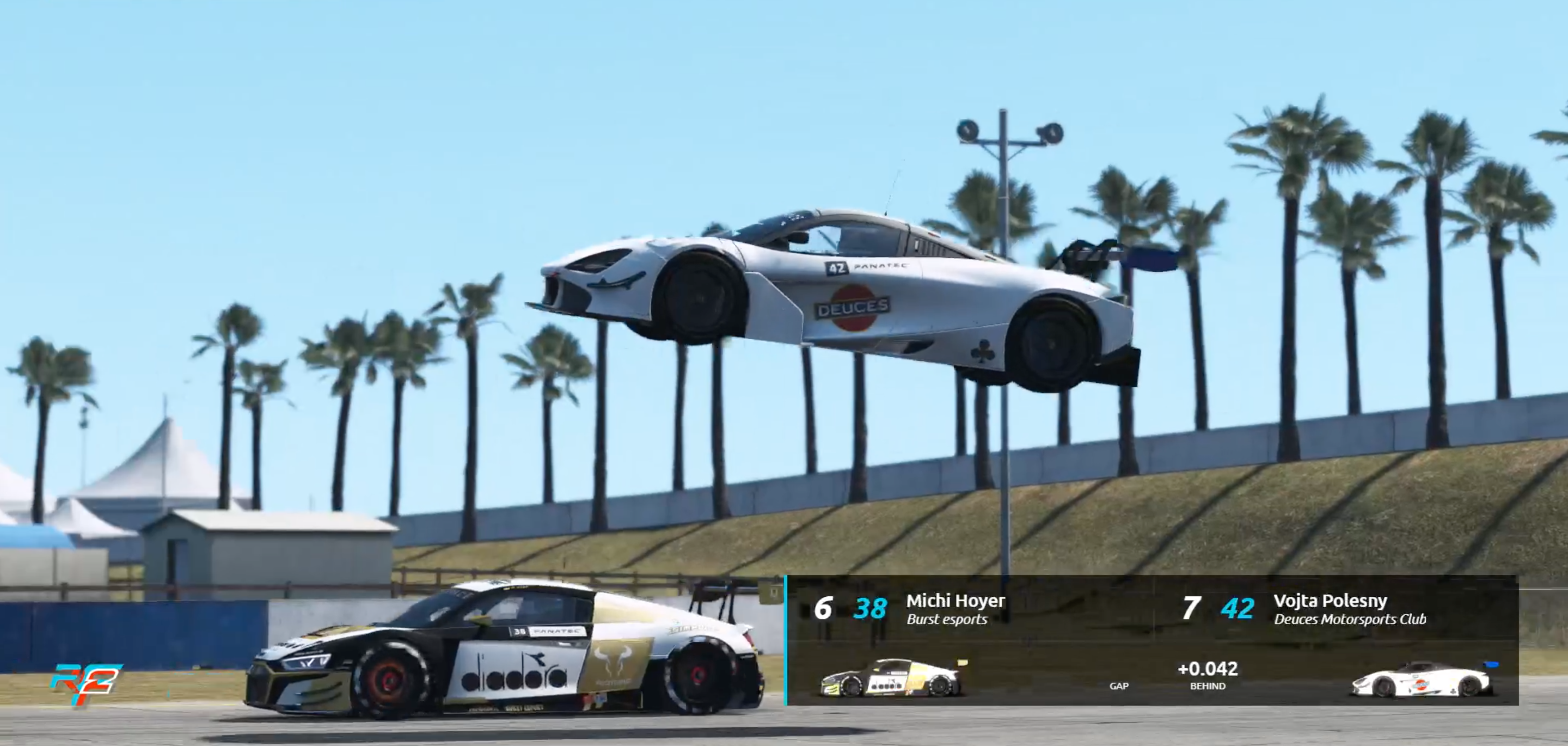 Cannistraci came out unscathed from the contact and carried his car home to third, behind only Sedlacek and race winner Hoyer.
Kevin Rotting kept out of trouble to finish in fourth place, whilst Djordevic came home in fifth despite dropping down to 11th in the opening few laps and then losing another when Nico Barclay punted him wide and dropped him to a low of 13th.
One driver who unfortunately had a chance at a podium finish taken away from him through unfortunate circumstances was Polesny.
He was behind Lopez Arjona before he had served his drive-through penalty, meaning Polesny was running in a net third place.
However he experienced a strange glitch going around the final corner as his car, for no reason, launched into the air and when he landed he hit the barrier and dropped to 20th place.
Hoyer finished the main race three and a half seconds in front of Sedlacek, the two of which were separated by only three points heading into this round of the championship.
Hoyer now heads the championship standings with a marginal points lead over Sedlacek.
The champion will be decided in two weeks time when the GT Challenge hosts it's final event around the Circuit de la Sarthe.
The main championship, the GT Pro Series, will tackle the fearsome circuit first as their championship finale takes place next week on May 11.