It's not uncommon for simracers to be offered the chance to test drive a real-life race car off the back of their skills in virtual racing.
Earlier this year both Kevin Siggy and Frederik Rasmussen, who between them won the previous two esports championships run by Formula E, were given the opportunity to drive a Gen2 Formula E car around the Circuit Ricardo Tormo in Valencia.
However, both drivers only completed a few laps and were kept behind the safety car the entire time.
More recently though, 22-year-old German Moritz Loehner had an entire test day in DTM Trophy courtesy of winning the DTM Esports Championship last year.
In a 510-horsepower Mercedes-AMG GT he set the second-fastest time in the test session at the Lausitzring. He was only 0.378s slower than the fastest driver of the day, the experienced Michael Schrey.
It was frankly a remarkable achievement considering that he had only got the required racing licence one week earlier.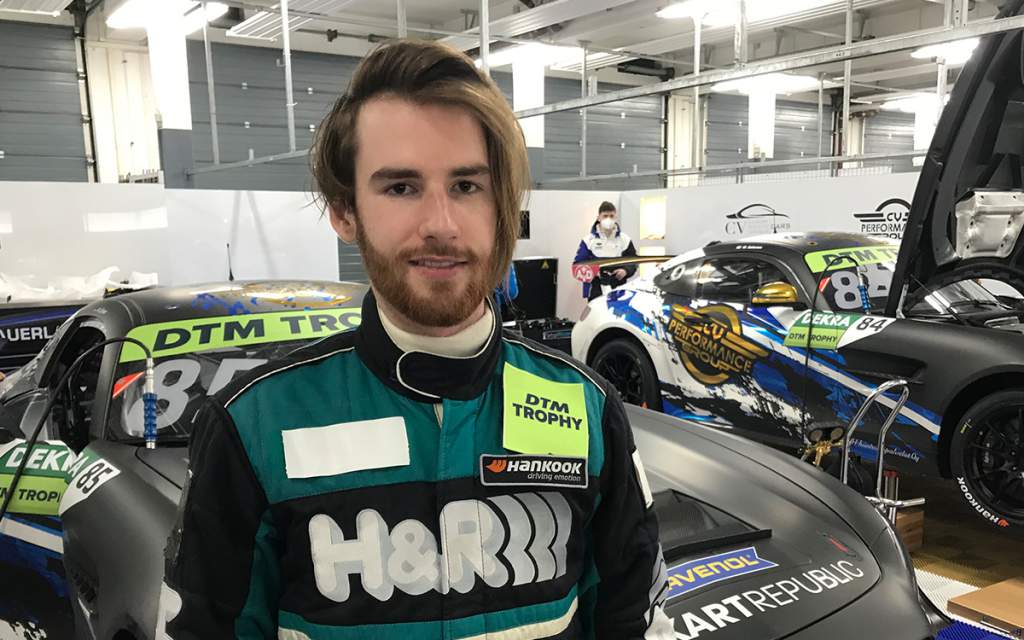 Loehner is far from a newcomer to top-tier simracing as he's taken part in high-level competitions, primarily on RaceRoom, since 2015.
He made the final of the Mercedes eRacing Competition in both 2016 and 2017, which meant he got to race against real-life DTM drivers years before his time in DTM's official esports championship.
It was RaceRoom's affiliation with multiple German motorsport brands, and the in-person events that it ran in Germany, that meant Loehner dedicated most of his time to that sim over any other.
"When RaceRoom came out and the competitive leaderboards started, because that wasn't the case to start with, I saw that I always went on top in the leaderboards," Loehner told The Race.
"It didn't take me a huge amount of time to drive fast times and compete with the top 10 guys.
"RaceRoom was one of the first sims I think that really pushed offline events because in 2016 we already had offline events at the DTM venues with the Mercedes guys and I qualified for the first two editions.
"That's where I really noticed that something is possible and that I had the pace to compete."
Outside of RaceRoom, Loehner was the runner up in both the 2018 and 2019 Porsche SimRacing Trophy events run on iRacing, finishing behind Maximilian Benecke in 2018 and the now two-time Porsche Esports Supercup champion Josh Rogers in 2019.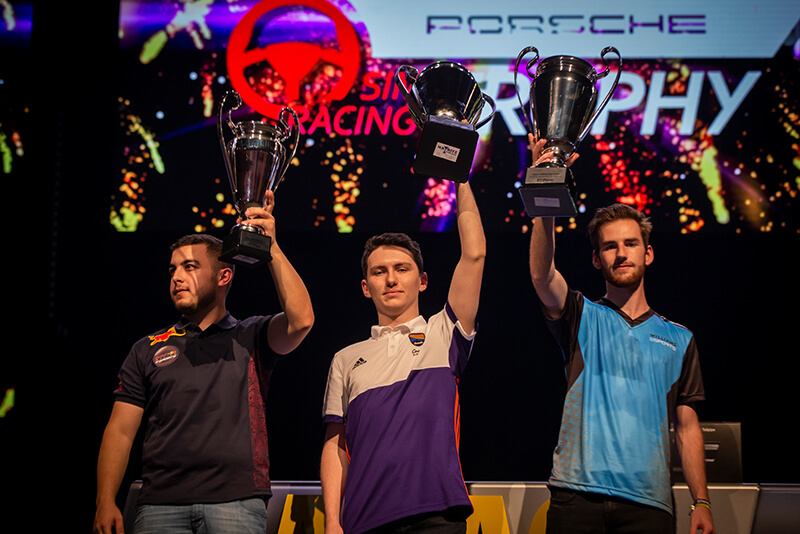 About two years ago though he decided to specialise in RaceRoom to try and maximise his time simracing and have the best shot of winning competitions.
"Years ago I was able to jump between the sims," Loehner said. "I did iRacing, Assetto Corsa, rFactor 2, RaceRoom all together, like jumping between sims week by week, basically.
"A few years ago it was possible to do that, because the competition just wasn't that high.
"But nowadays, you just have to focus on one game or maybe two games, otherwise you won't be able to compete anywhere near the top.
"That's why I said I would focus on RaceRoom because that's what I started with and that's what I feel the most comfortable with at the moment and it's the most fun. And, obviously, because I am also very successful there.
"In 2019, I won my very first championship, that was the first edition of the ADAC GT Masters Esports.
"That was a huge moment for me, because I was always the guy who was running in P5, P4 and I was never really the guy who won races or championships.
"But I top myself every year because in 2020, I won the Porsche Esports Carrera Cup Deutschland, DTM Esports, ADAC GT Masters Esports and a bunch of other races where I competed at the top and won one-off events.
"I can't even tell you what achievement is the best of all of those because the whole year 2020 was insane for me."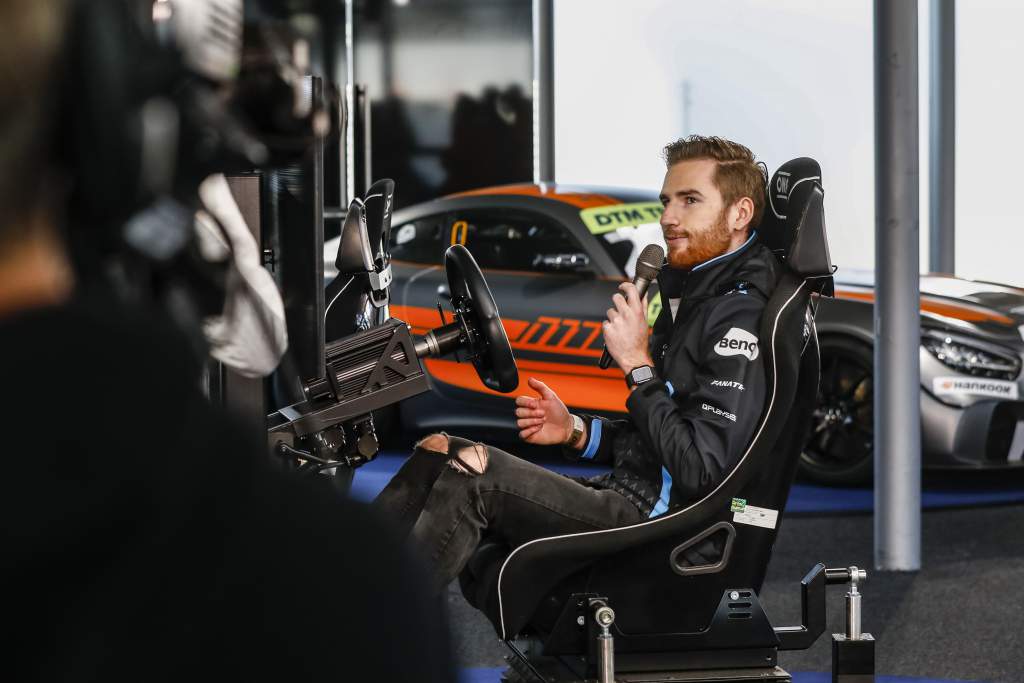 Despite his track record in RaceRoom competitions up to that point, heading into the final round of the DTM Esports Championship it didn't look like Loehner was going to be the champion.
Jack Keithley of Williams Esports had 122 points to his name compared to 106 for Loehner in second, and then the British driver went on to win the first of three races in the final to extend his advantage while Loehner finished in fifth.
However the final two races, at the Red Bull Ring and Hockenheimring respectively, were worth double points and Loehner won both of them to give himself the full 100 – plus an additional 12 points for taking pole position in both qualifying sessions.
Meanwhile, his title rival only finished sixth in both races which meant Loehner won the DTM Esports Championship by a margin of 24 points over Keithley.
On top of that he was also instrumental to real-life DTM race winner Sheldon van der Linde's crew winning the teams' championship.
"From day one when we got drawn as team-mates all of us made a WhatsApp group, I think Sheldon even insisted on it," Loehner recalls.
"So we instantly made a WhatsApp group, tried to help each other with practice and stuff which worked out good.
"But the only thing that was a bit hard for all of the real drivers, because I think at that point of the pandemic real-life races were happening again, and all the DTM guys were travelling from race to race basically. So they had no real time to practice, even though they all wanted to.
"So we only were able to coach him on the race day, a few hours before the actual race we were able to tell him 'okay, you have to drive like this, this line, braking points here' and give him tips.
"All the real racing drivers had a lot of issues to be fast, because I think they would have been able to at least get top 10 results if they really practiced a lot."
Loehner had previously won a real-world test drive through his talents on RaceRoom as he got to drive a GT4 Porsche off the back of winning the Super Racer competition.
On that occasion he drove around the Salzburgring in wet conditions, which gave him some experience that helped him in his DTM Trophy test drive.
"I learned how to properly brake in a GT4 car, to slam it way harder than I expected. That's a thing you learn by doing it more often, or having one test and actually seeing the data.
"I think the braking is the one thing I took with me from the first test day to the DTM Trophy test day.
"So in my DTM Trophy test it was all about finding the limit of the car, because you can't just jump in the front of it one time and see, 'at what point do I spin?' That's something you can't do in real life.
"You obviously know that you're in a very expensive car and that if you crash it's done, not like a sim where you can just escape and go again.
"But you do two laps, or maybe even one lap, and you're in the zone, your brain tells you 'this is just the thing you have done for years in the simulator'.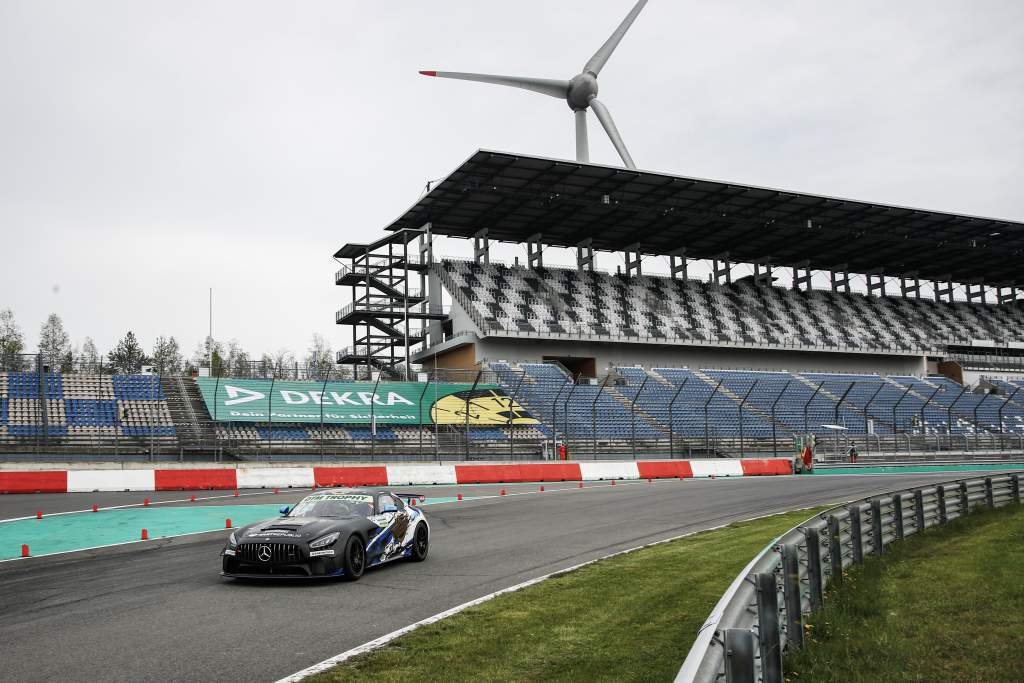 "You just have to learn a few new things like in Lausitzring for example, the last long left-hander just before you go straight on the start-finish line, there is a huge bump on the apex which there is in no simulator."
"If you are a little bit fit, if you work out and stuff, the g-forces don't do anything to you at all. So that was not a problem for me because I do a lot of workouts.
"In simracing you only don't have one thing and that's what you feel with your body, how the car moves. But you have that in real life, so you have one more thing that helps you with handling the car.
"So it really isn't hard if you're good in the simulator to jump into a real car and adapt to it. Especially since I also found out that if you get oversteer in the simulator it's sometimes really hard to catch the car to not spin but in real life it's so easy."
Currently Loehner works as a graphic designer and does simracing as a part-time job.
During his years simracing he's attracted the attention of a number of people involved in real-world motorsport and he hopes that a career there is possible in the future.
Yet despite Loehner gaining a number of useful contacts and there being interest in giving him a proper shot in real-world motorsport, he feels a lack of personal funding may mean those plans don't come to fruition.
"I think a lot of simracers always had the idea to do real racing as a job," Loehner said.
"When I was a little kid at the DTM when I watched the races, I always thought about how my name would look in the timetables, how would the commentators say my name and stuff like that.
"Over the last few years, I got a lot of good connections for the championships I won and the people I met.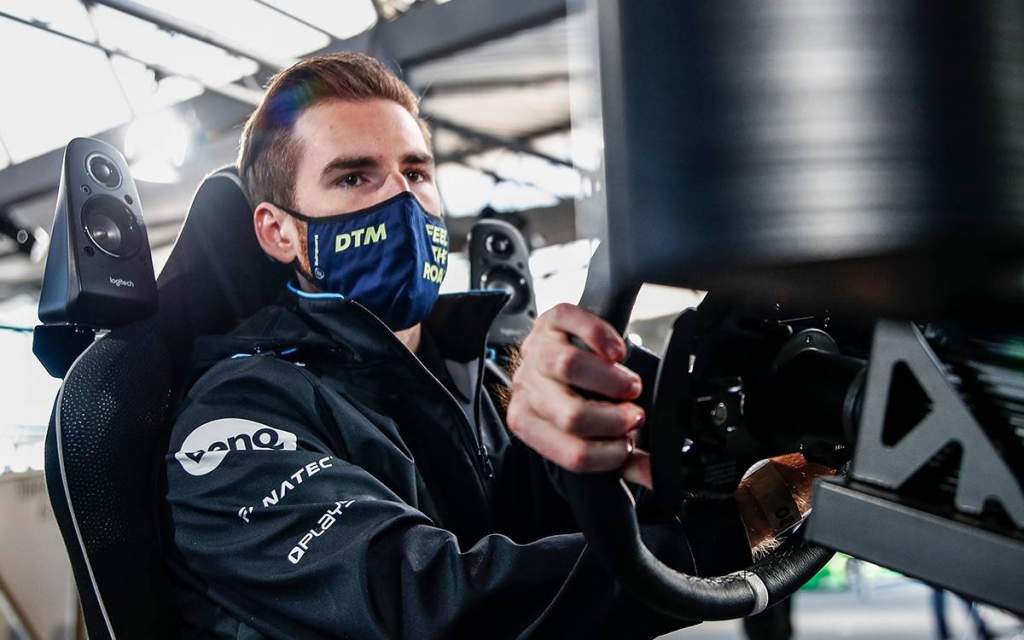 "Even now, after the DTM test, I'm in talks to do something more serious in real life but it is really hard to do real life racing without the financial support.
"Maybe with my connections, maybe some sponsors that are willing, maybe some championship series that are wanting to have simracers and develop the story of them.
"DTM would want to have me in there and develop the story from a virtual racer to a real racer but it is always very hard to get something done like this without money coming from the driver.
"But I would say if I get the opportunity to do real-life racing for one or maybe two years, with no spend from me at all, I would definitely say yes.
"Obviously that one or two years I would take the experience with me because if I said no to that, I would definitely regret it in my older life."