It's difficult to name another junior driver who is enjoying as much success in the real and virtual world as 21-year-old Brazilian Igor Fraga.
And it's that combination of real and virtual that's key to Fraga's story. Esports was a way for him to keep racing when the money dried up and he's used it to rejuvenate a career that is now thriving – with real momentum and support behind him from the gaming world as he rises through real-life racing.
Ahead of his debut in the Formula 1-supporting FIA Formula 3 series in 2020, the inaugural Gran Turismo World Tour champion elected to compete in the Toyota Racing Series in New Zealand.
Over the past decade, TRS has built a reputation as the toughest winter junior series around with Formula 1 drivers Lando Norris and Lance Stroll among its champions. It features a compact schedule of five successive weekends around five of New Zealand's challenging, unique tracks.
"If I wanted a chance, I needed to be nearly perfect that weekend" :: Igor Fraga
Title battles often revolve around a homegrown talent fighting a talented outsider, and 2020 was no exception. Defending series champion and Red Bull junior Liam Lawson faced off against Fraga, who had made his European racing debut in the previous year in the newly formed Formula Regional European Championship.
Fraga was successively rising up the junior ranks in the Americas prior to that, but it was his 2019 campaign along with his sim racing exploits that got people talking. He finished third in the FREC standings, as the highest-placed non-Prema driver and dominated the final weekend of the year.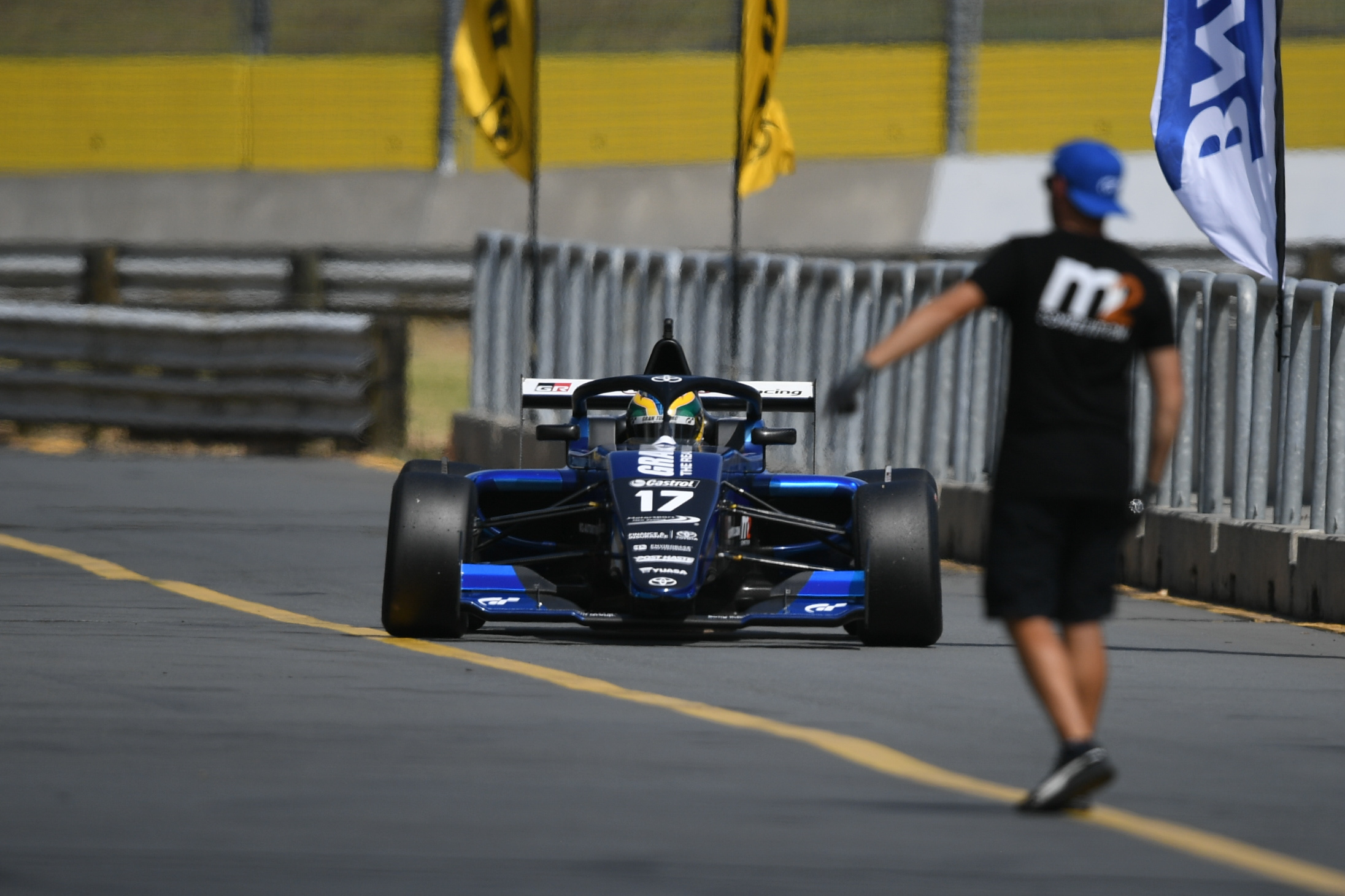 His knowledge of the F3 Regional car would pay dividends in TRS, which adopted that car for its 2020 season. Fraga registered four podiums in the first six races and won twice at Hampton Downs to take the points lead from Lawson. However, a tricky penultimate weekend put Lawson back in the lead.
"The five weekends were very intense," Fraga tells The Race. "We were trying to push each other, on the limit most of the time. Coming up to the last weekend, I was eight points behind, if I wanted a chance, I needed to be nearly perfect that weekend."
Fraga wasn't far off perfection in the finale. He outqualified Lawson in both sessions, taking pole for the New Zealand Grand Prix by just 0.004 seconds ahead of his fellow countryman and Renault junior Caio Collet, and 0.018s ahead of Lawson.
Fraga took a lights-to-flag victory in race one, battled past Lawson in the reverse grid race two, and defeated Lawson in a head-to-head fight to win the New Zealand GP and the title, despite multiple safety car interruptions.
"Been able to qualify in front of Liam was really good," he explains. "It was good for the confidence heading into the weekend. For race two, I did a very recovery from the reverse-grid, and for the last one, starting pole, I knew the start was very important to keep the position.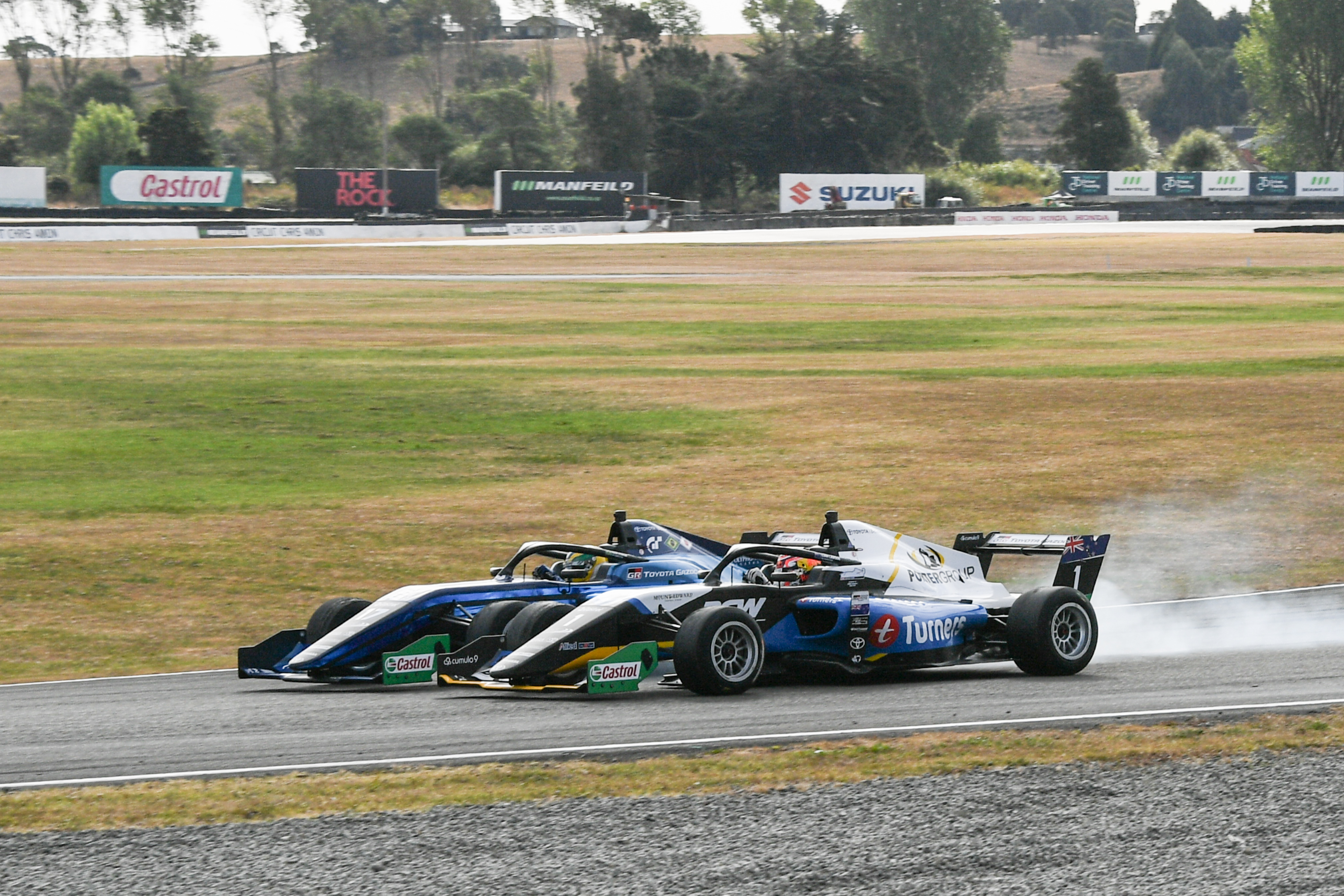 "After that, it was just defending, and receiving the chequered flag there was unbelievable. It went so well through the weekend, I was very happy and at the same time quite shocked.
"All the [safety car] restarts were a little bit intense. I knew Lawson was going for it. I managed to defend well and that was important because whoever finished in front took the championship."
Fraga and Lawson raced for the all-conquering M2 Competition outfit, which had won 14 of the 15 races in 2019. For Fraga, racing for a top team in a series had been a previously unfamiliar occurrence.
"I was hoping I could battle for the championship," Fraga says. "It's my first time with a really competitive team, with really big experience from the previous year.
"Last year, I was able to finish in the good positions competing against the big teams. Been able to be in the one team like this, the possibility was high, I was very focused on delivering the results.
"The team was very helpful on this side [pre-season preparations], they provided a lot of onboards, a lot of data. We had been studying the data, looking for the bumps in the tracks etc. There was a new track for this year too."
"Gran Turismo is a game that's been a part of my life since I was a little kid. Now being able to represent them and win the championship, we could prove our value in real motorsport" :: Igor Fraga
Fraga's racing preparations often involve sim racing, but TRS's tracks are unsurprisingly scarcely replicated on racing games.
"They were released on rFactor, but it was quite near to the championship so I couldn't get much practice on that," Fraga says. "On the simulator, I had done one day in the M2 base in Belgium, after finishing the FIA Prize Gala in Paris."
Fraga was attending that FIA Prize Gala to collect his Gran Turismo Manufacturer Series title. The 2020 GT World Tour kicked off hours before Fraga's TRS finale, and Fraga's title-clinching race was shown on the giant screens at the GT event in Sydney.
"It was really nice," Fraga says. "On Saturday, they were asking me when the race is because they want to watch it. I really felt all the support they were giving me as a community and as a family. This was a really nice thing.
"Gran Turismo is a game that's been a part of my life since I was a little kid. Now being able to represent them and win the championship, we could prove our value in real motorsport.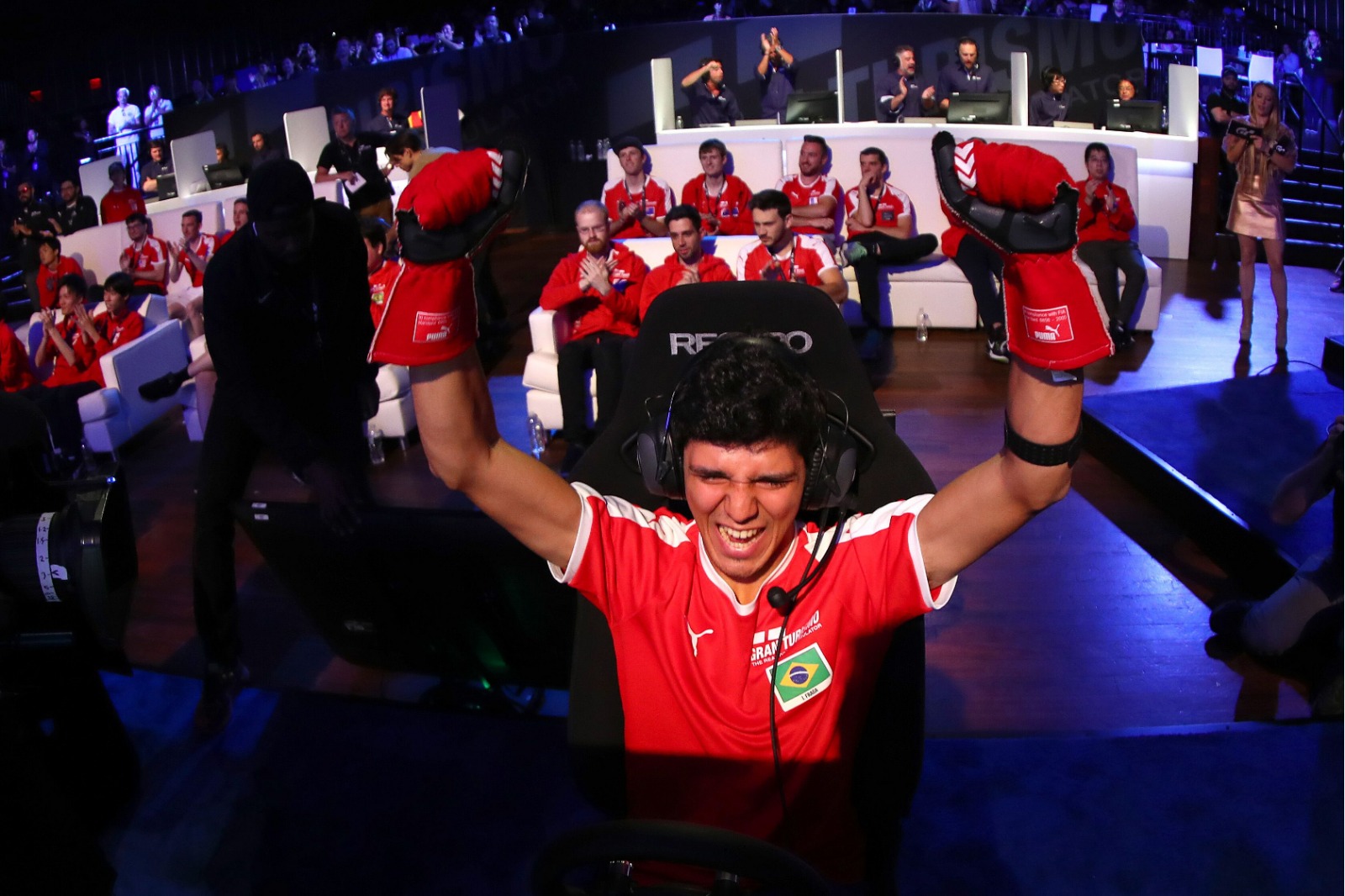 "For Gran Turismo, I have plans to do the World Tour events that I can do. That will be it, for other [Esports] championships, I will be too busy.
"I want to go back to Gran Turismo, the events are amazing, it's really nice to be a part of that family. I want to be back definitely."
Fraga's main 2020 focus will be making his debut in the FIA F3 series with Charouz Racing System alongside fellow rookie David Schumacher and series veteran Niko Kari. Having raced against Schumacher in F3 Regional, Fraga recognises the talent of the line-up.
"It's good to have a driver line-up like this so that we can push each other, and to try to develop the car as quick as possible," he explains.
"We have to put our strengths together and build that competitive car, then we can focus on beating each other.
"I've learned a lot about organisation from M2 and I can head to FIA F3 with a different mindset. The car is getting quicker, we have almost 400hp with a V6 engine. It's much quicker than Regional F3 that I drove last year."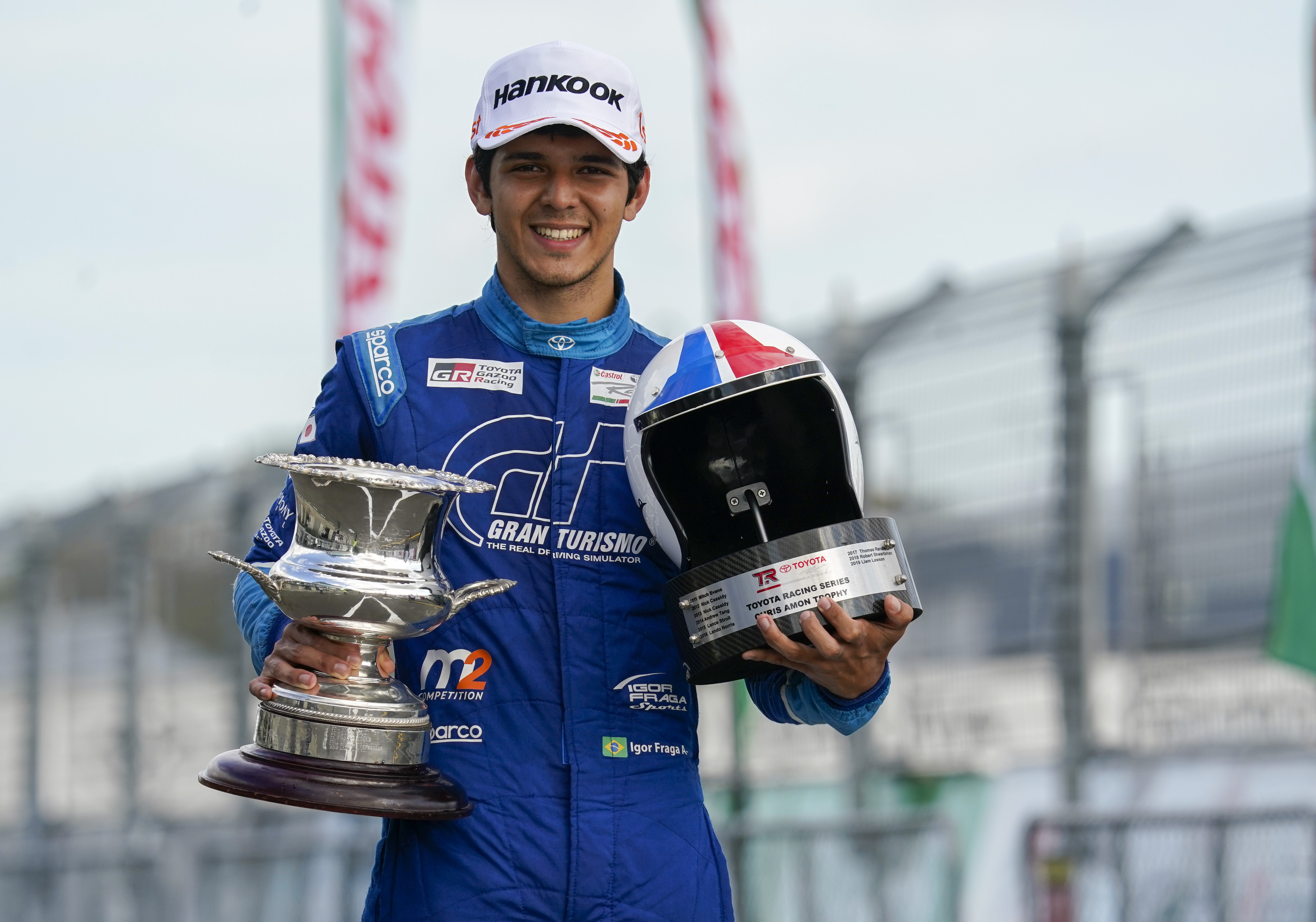 Fraga earned 10 F1 superlicence points with his TRS title victory, putting him closer to his dream than ever before.
The void for a successful Brazilian F1 driver left by Felipe Massa's exit has yet to be filled. Felipe Nasr's early success proved to be a false dawn, Sergio Sette Camara has switched to IndyCar alongside Nasr and Nicolas Todt's protegee Collet's TRS campaign was disappointing.
This may well leave Fraga as not only his nation's best hope of reaching F1 but as one of the leading ambassadors for the further unification of the real and virtual motorsport worlds.