The 2023 Formula E title fight got even closer as the Porsche teams rebounded in Jakarta, but it was a painful one for erstwhile championship leader Nick Cassidy and featured more intra-team tangling at Jaguar.
Sam Smith makes his pick of the biggest winners and losers from the Indonesia double-header.
Winners
Maximilian Guenther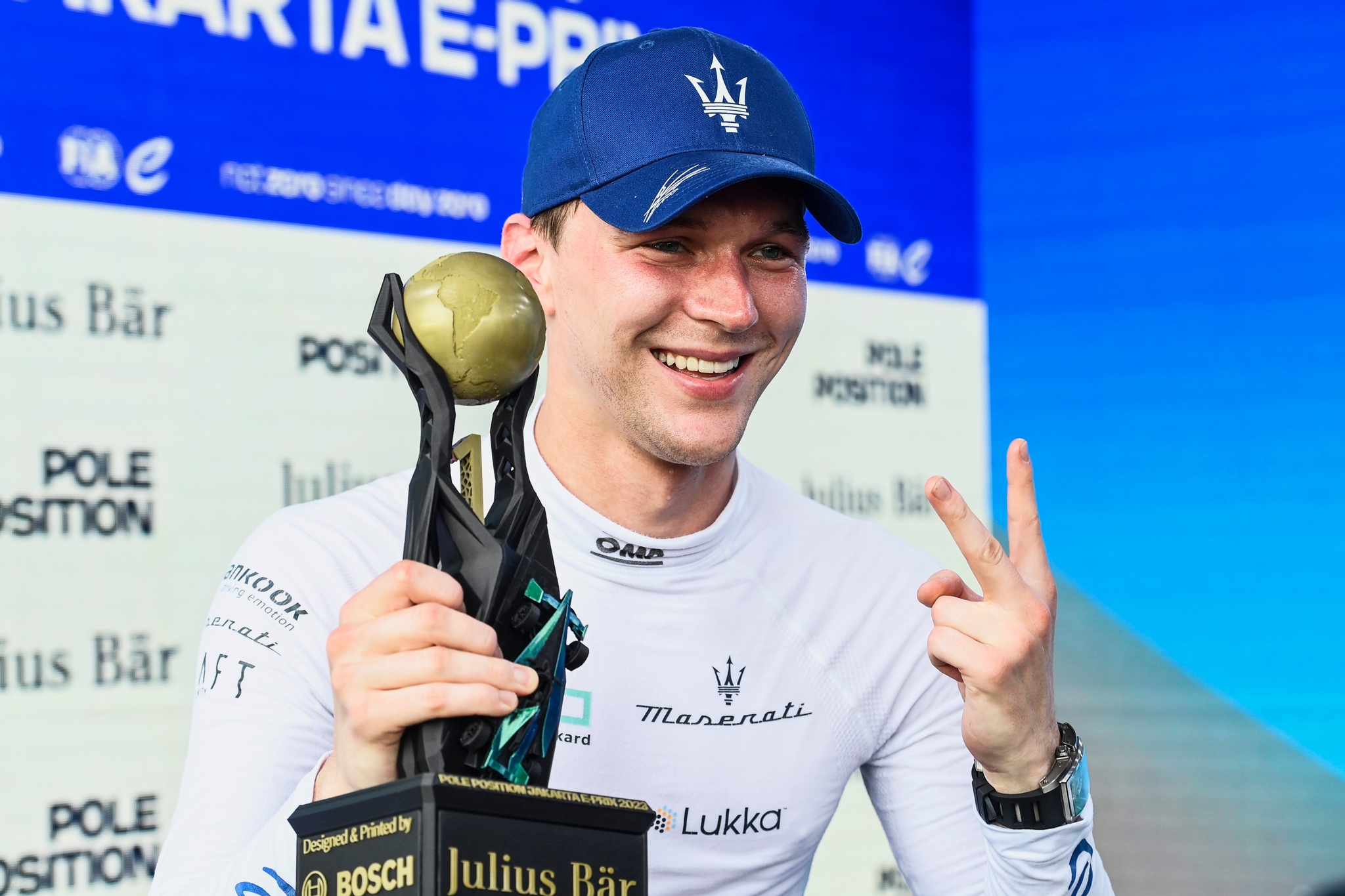 Maximilian Guenther was in another realm completely in Indonesia at the weekend. It was one he was letting no one else into.
Never before has a driver topped every single session prior to double-header races in Formula E. His dominance on pace profoundly deserved a reward. He got it in abundance with his first E-Prix win since New York in July 2021 with BMW.
Why was the young German so quick last weekend? He clearly had a feel for how to treat the Hankook tyres in the unforgiving temperature. He also benefitted from his own and his Maserati MSG team's hard work which has been even more intense in recent months since its awful start to the season started to dissipate during the Sao Paulo to Berlin gap in April.
But the way he converted his second pole of the weekend on Sunday took everyone's breath away. The lessons of Saturday were heeded and he broke free, leaving Jake Dennis with no option to submit.
Jake Dennis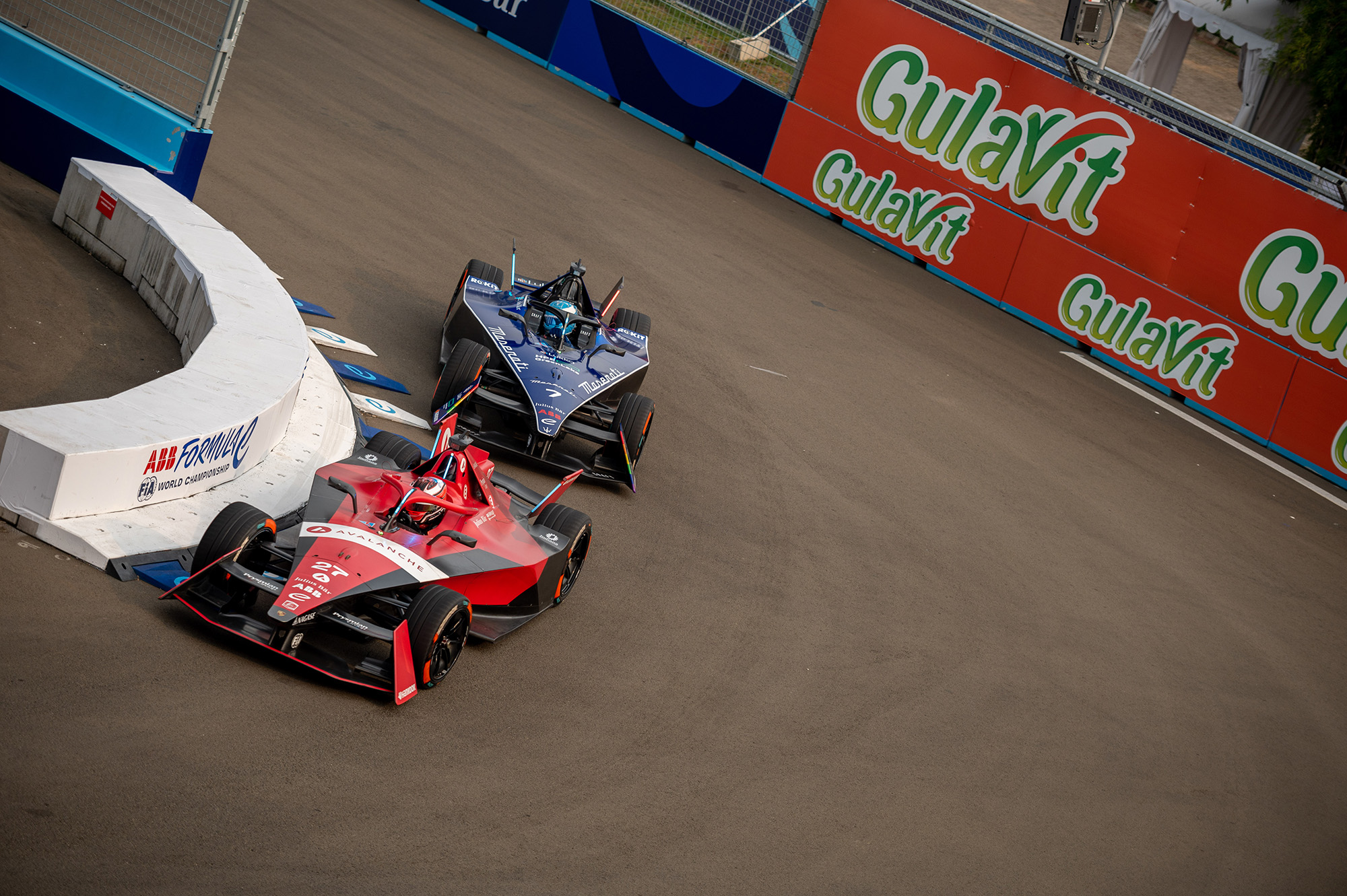 Jake Dennis reasserted his and his Andretti team's belief that he can take the 2023 title with his fourth consecutive podium of the season in an accomplished display last weekend.
Ironically Dennis was much more satisfied with his Sunday runner-up position, with the irk of Saturday's chop from Pascal Wehrlein angering him, probably excessively, well after the chequered flag had fallen.
Dennis was not going to beat Guenther on Sunday. The Maserati trident was way too sharp, but he could have made his former BMW-era Andretti team-mate's life more uncomfortable had it not been for getting stuck behind Mitch Evans' Jaguar for too long.
Andretti team principal, Roger Griffiths, told The Race that "we just got caught behind the Mitch for too long, and that really didn't allow us to open enough of a gap for when the attack mode was necessary.
"We executed as we intended to, but we didn't count on the fact that we'd lose as much time as we did behind Mitch.
"Given the pace of the Maserati here, and they've obviously found a little bit more than we have, I think we're pretty happy coming away with back-to-back second places here."
Andretti's dip in form between Hyderabad and Sao Paulo three months ago is well and truly over. It now looks like the force it did in Mexico and Riyadh at the start of the season. With Dennis looking hungrier by the race, it feels like the momentum is tipping back towards the Porsche-powered pair of Wehrlein and the 'Nuneaton Flyer'.
Mitch Evans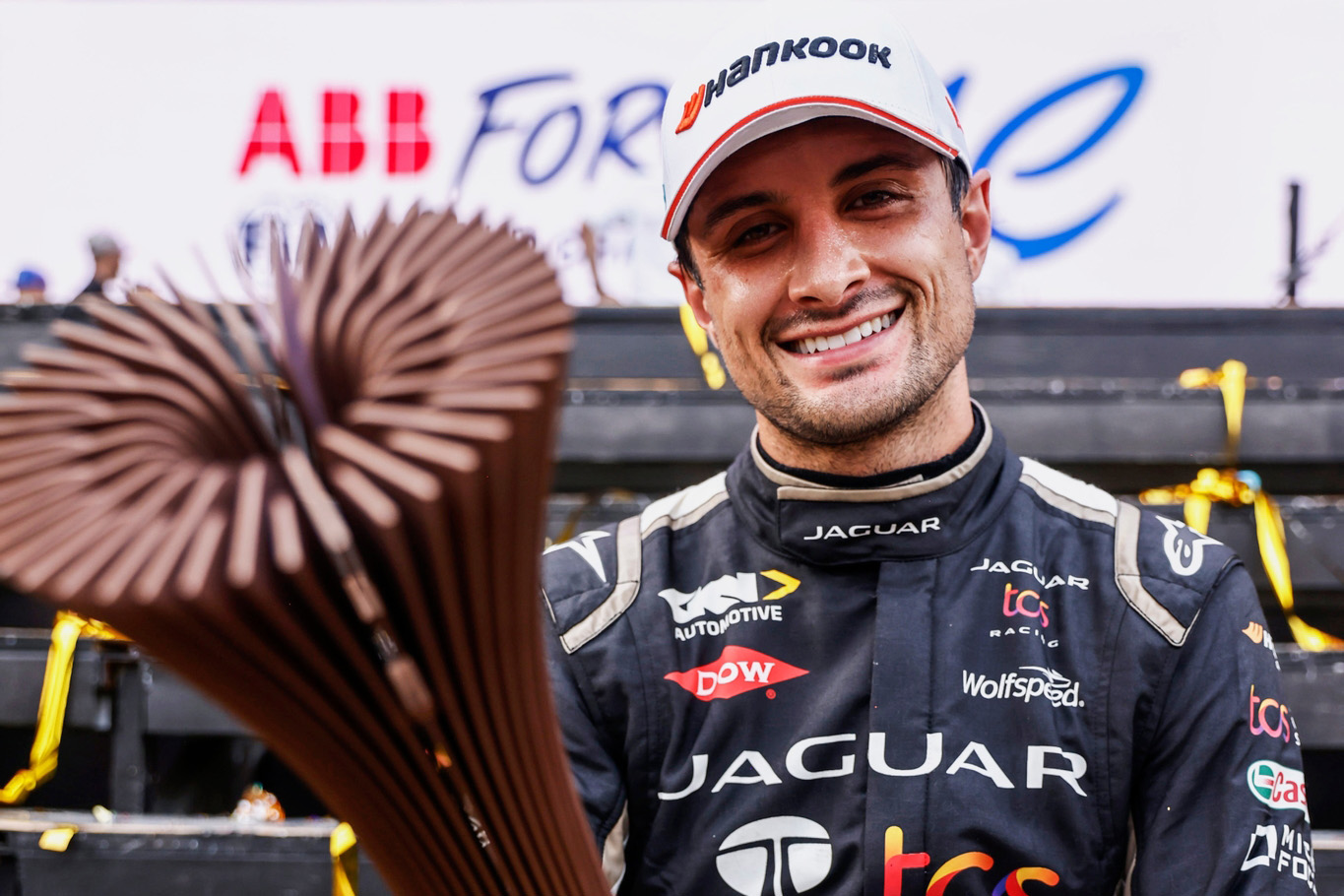 Mitch Evans was a kind of lo-fi winner in Jakarta, the scene of one of his victories in 2022.
Jaguar was disappointed with its performance on Saturday where Evans and team-mate Sam Bird were nowhere near competitive enough.
Still, there were a few crumbs of points on offer, only for Bird to scatter them far and wide with his unfathomable error in clouting his team-mate.
The @JaguarRacing drivers collide with each other for the SECOND TIME this season 😱

Gulavit #JakartaEPrix pic.twitter.com/euhuxbCoRA

— ABB FIA Formula E World Championship (@FIAFormulaE) June 3, 2023
For Evans to then get to within 0.001s of the final qualifying duel was therefore a massive boost on Sunday. There were initial hopes of a joust for victory with Dennis and Guenther but it soon became evident the Kiwi just didn't have enough.
He then soaked up extreme pressure from the flying and rejuvenated Nissans for a hard-fought podium and one that keeps him in the title-chasing slipstream of Wehrlein, Dennis and Nick Cassidy.
This was one of those races where Evans proves he's probably the best in the business in extracting results his package probably doesn't deserve.
"We just really struggled and we've got no idea really of why," Evans said on appraising his weekend.
"We've tried every set-up that we could think of to try and make the car work around here and it's weird off the back of the last few races and also last year when we were competitive here but it was just way out of the window.
"I think you could see that it was not our usual pace. Normally, the race is where we really shine and I was lacking efficiency and just general pace. I was a proper roadblock at the end."
Pascal Wehrlein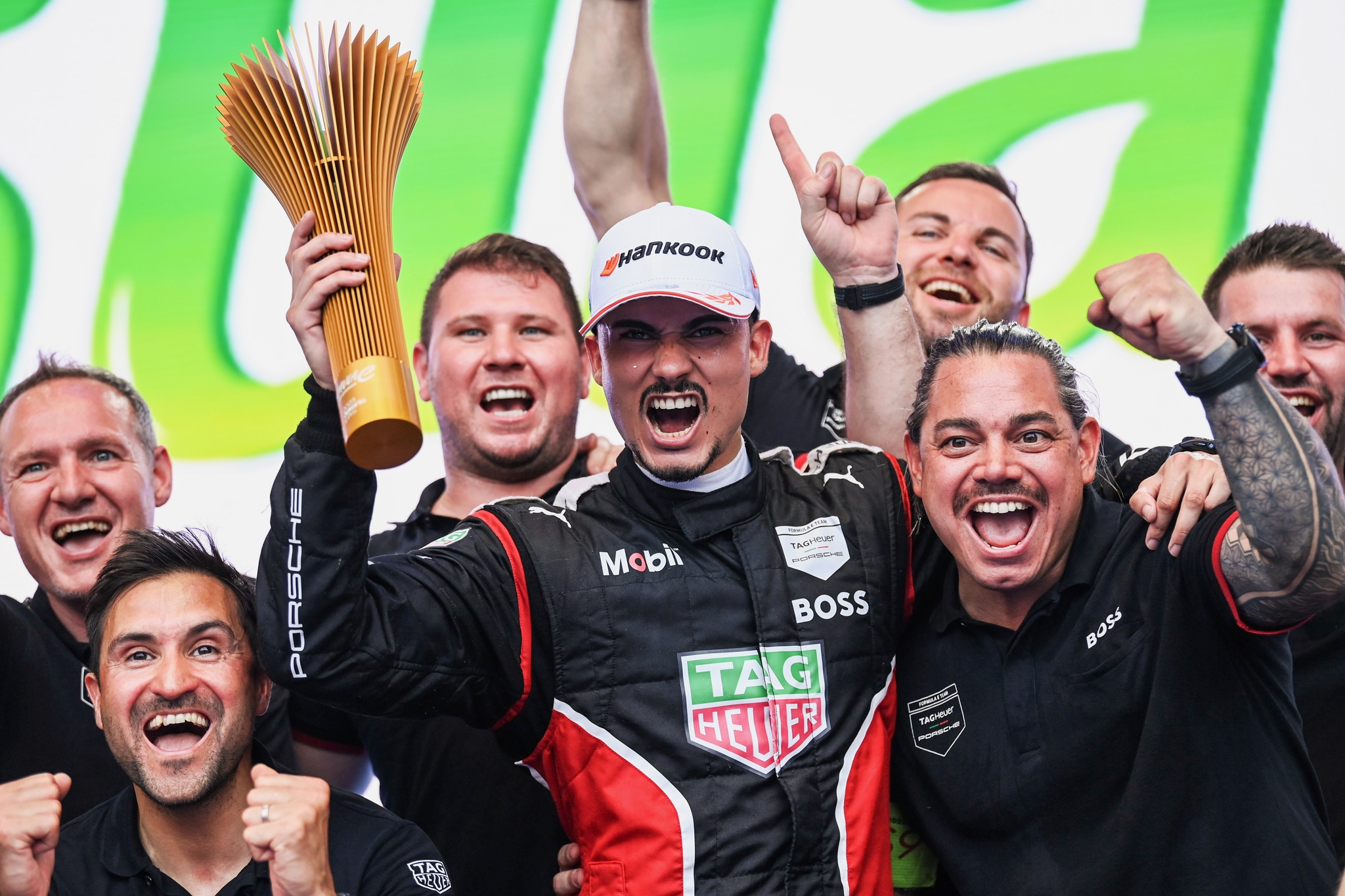 Pascal Wehrlein was back on the top step in Jakarta and it felt overdue.
Cape Town apart he's scored points in every race but it's the big points that were lacking in several of those. In Jakarta he made amends, executing a brilliant win on Saturday.
That it came with a marginal defensive move on Dennis is all part and parcel of winning Formula E races. It wasn't the latest move ever compared to some of the dodgy ones he dished out last year, but it irritated Dennis no less.
His Sunday race was less smooth, although Porsche team principal Florian Modlinger refuted the notion that a late attack mode strategy compromised him.
"When you see how the race went and which strategy options we had it was the correct decision to wait and take it as late as possible to be able to make the moves because we had no other opportunity, no gap was opening," he told The Race.
"Then he had the chance with the extra power to overtake. But overall, you've also to see that it was a clever race from him because we needed to do a proper risk/chance management against cars who are not fighting for the championship, and everything was conducted as planned."
Again, Porsche found its cars in close proximity in Sunday's race and again it was clear that Antonio Felix da Costa was in a difficult position. He did 'protect' Wehrlein before the German took his final attack mode as it started to become clearer that team orders of sorts are likely to be deployed much more overtly in the final five races.
Nissan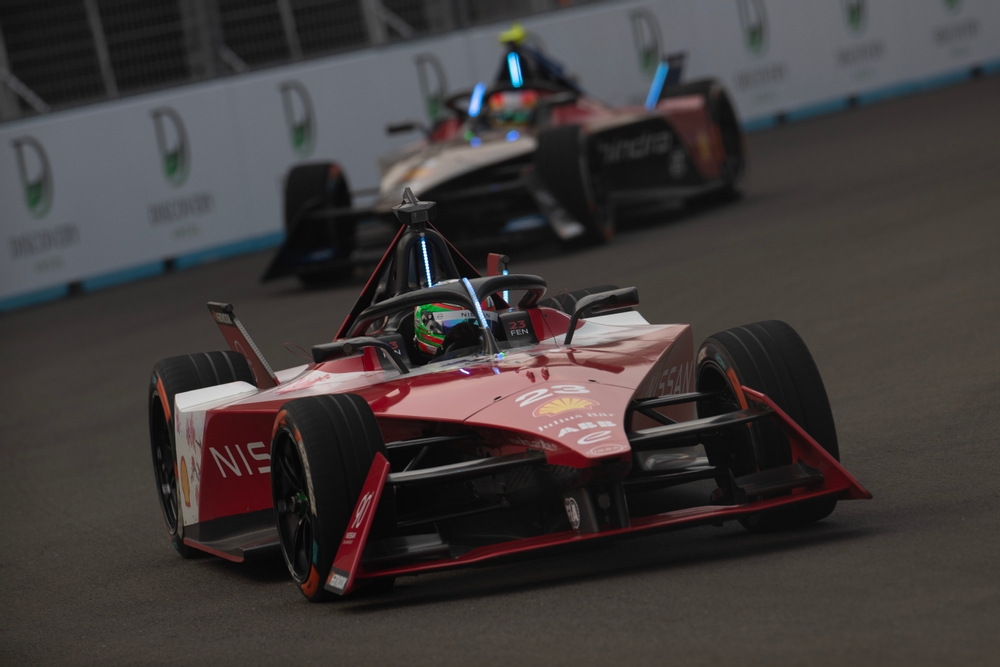 Nissan wasn't especially quick in Jakarta, so the fact that it came away with its best-combined result in almost three years says a great deal for its drivers' guile and its strategists' skill.
Saturday was completely compromised by qualifying as Sacha Fenestraz started 12th and Norman Nato 17th.
That gave them way too much to do in the race, which for Fenestraz was ruined anyway by a power overspike which meant he dropped from a finishing position of 16th to a classification of 19th.
Sunday was much better with Fenestraz in particular maximising his package to qualify seventh.
The race was all about what team principal Tommaso Volpe described to The Race as being sculpted by "the strategy, which was amazing, perfect".
"The drives were both perfect. Sasha was also fighting for P3 and Norman made many overtakes and defended very well against Da Costa, so the drive of both guys was excellent."
It was a refreshing change for Nissan, which despite flashes of form this season has never been able to find any consistency in races. Whether this will be a turning point remains to be seen but it will be a massive morale boost heading into the final five races.
Abt Cupra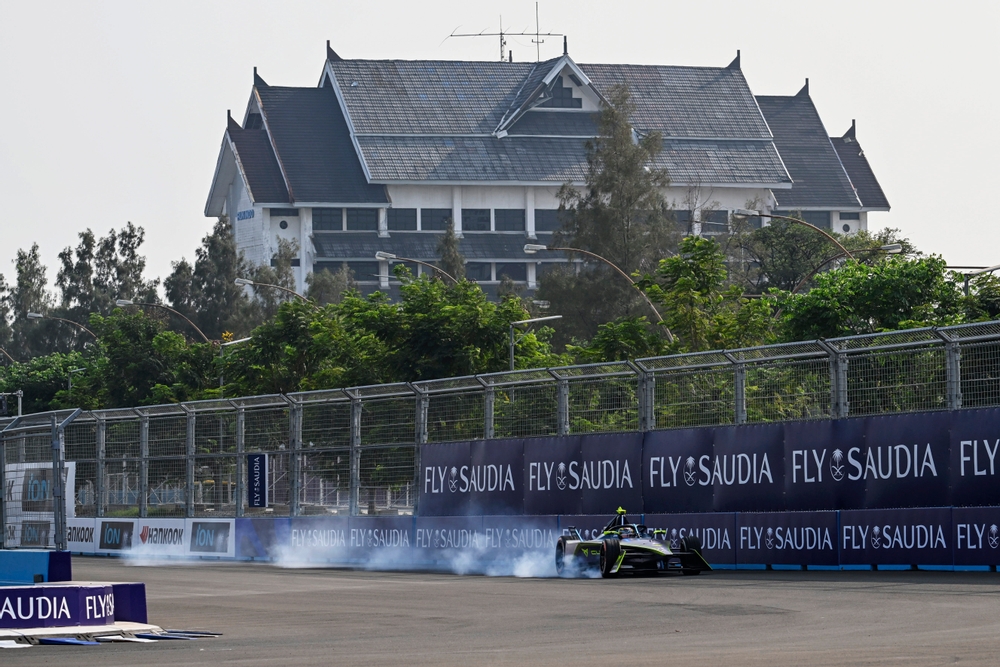 Two points from two races shouldn't get you into a winners list, yet Abt Cupra's improvement in recent races has tipped its powertrain provider Mahindra into the bracket of also-rans.
For Robin Frijns to get into the duels on Saturday, and for Nico Mueller to just miss out in ninth, was momentous. In reality they had little place being there but against all odds they made it/nearly made it.
Abt Cupra is clever when it comes to managing its tyres, treating them to get into the awkward window of temperature compliance. Both Frijns and Mueller did it to great effect.
The team knew that a point was essentially its victory and so it was that Frijns delivered with a combative drive. That he did so in pain still from his devastating hand injury earlier in the year made it all the more heroic.
Those valiant efforts couldn't be rewarded on Sunday. But it mattered not because a building sense of pride and confidence is now coming back to the team which started the first half of the season with effectively both of its hands tied behind its back.
Losers
Nick Cassidy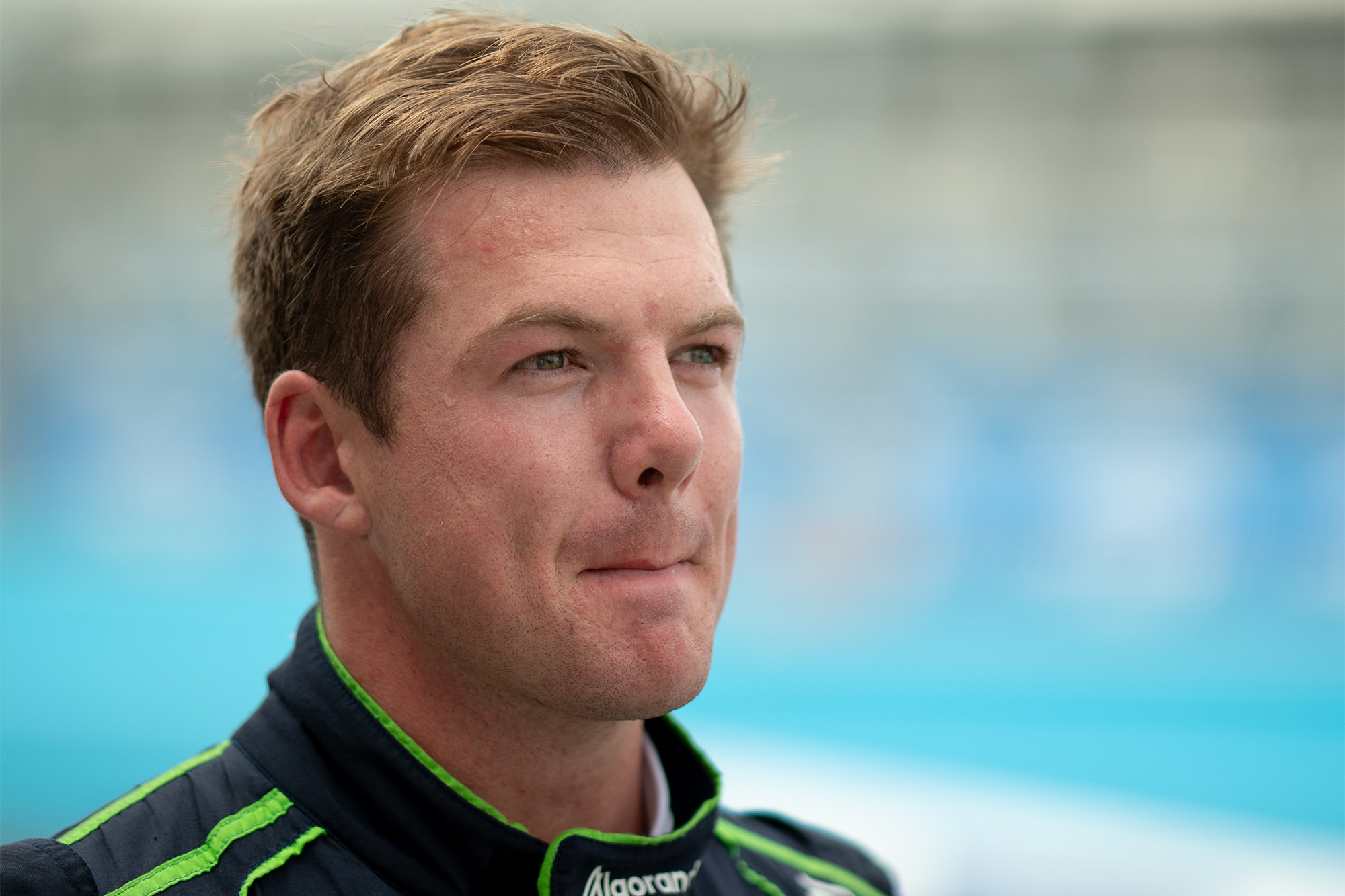 Nick Cassidy lost his points lead and his remarkable momentum he had built since the Hyderabad E-Prix back in February.
In the context of Envision realising from a reasonably early stage that Jakarta was just not going to be its track, Cassidy's seventh place on Saturday was actually a bit of a result.
A day on and it felt that could be improved on. Unfortunately, Cassidy made a mistake in qualifying that put him in the midfield pack and his race unravelled as a consequence.
Could this be a championship defining moment for @NickCassidy_?😬

Gulavit #JakartaEPrix pic.twitter.com/SPnvPPM2Ok

— ABB FIA Formula E World Championship (@FIAFormulaE) June 4, 2023
He was fighting with the Porsches when he then made a poorly judged move on his title chase combatant, Wehrlein.
"I was trying to be patient and the Porsches were obviously working together to give Pascal the attack and that was fine," Cassidy told The Race.
"I needed some moving forward and I made a poorly judged move on Pascal and took myself out of the race. So that was my mistake. Apologies to him and to my team.
"No regrets from being on the attacking side but I'm better than that move and it wasn't enough on my side."
Cassidy didn't need to make such a rash move. He'd threatened to do the same with a late lunge on Jean-Eric Vergne on Saturday. While he got away with that one, 24 hours later he was ruing contact that probably lost him the points lead.
Sam Bird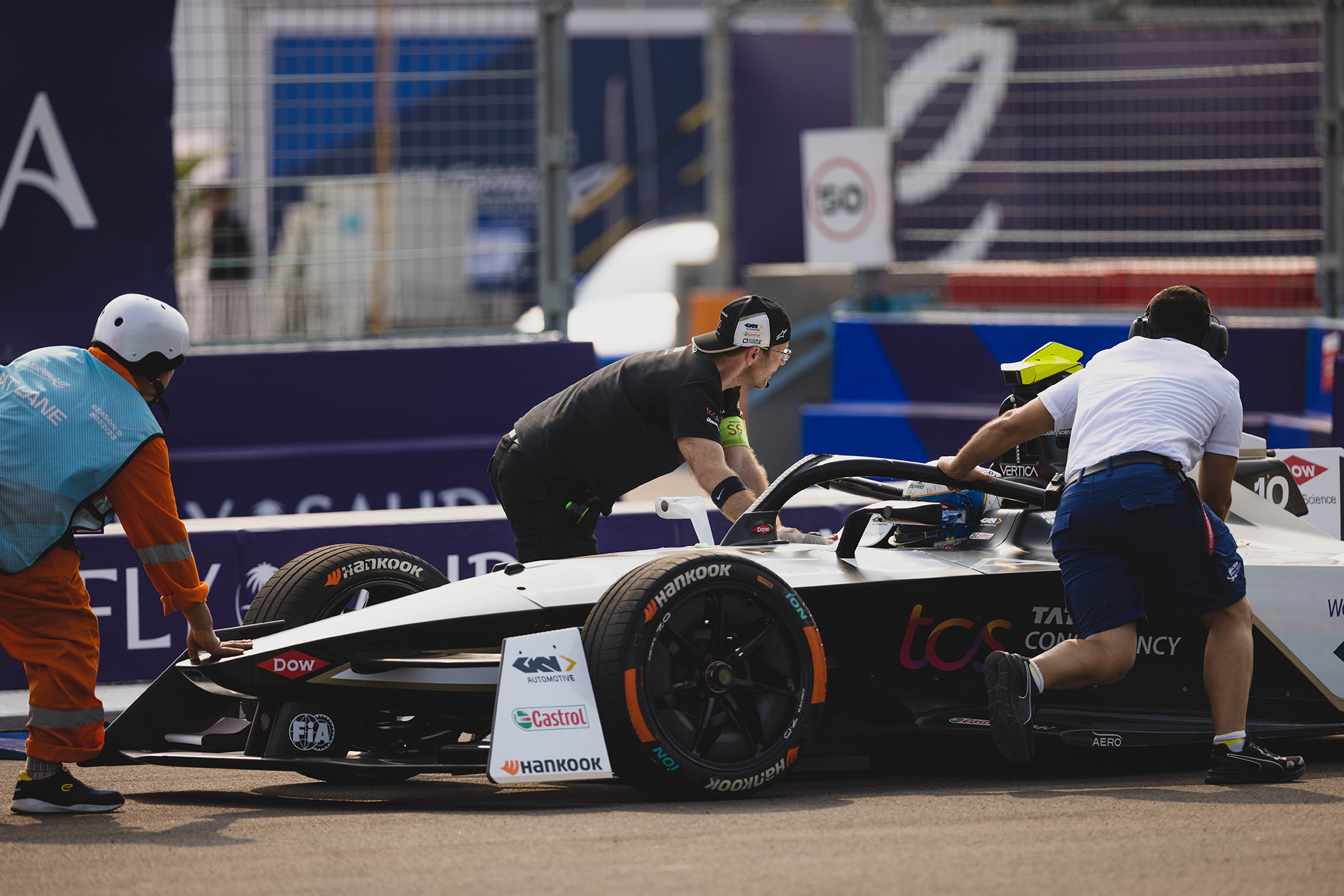 Seldom has there been a more disastrous weekend for Sam Bird in Formula E.
He was cruising to a point or two on Saturday when he got caught out by the closing distance to Evans while he was in attack mode and tagged the rear of his Jaguar team-mate, tipping him in to a spin.
It was a small error, but added to his Hyderabad incident and the fact that he is currently in negotiations with Jaguar over a new deal, the timing could not have been worse.
A cruel nail was hammered into his coffin on Sunday when his car failed to start on the grid. The team is still investigating the specific cause.
It left Bird in a dark place as he will now defer completely to assisting Evans in his quest to win a first title. Portland is already looking like the most crucial race of his illustrious Formula E career to date.
M
c

Laren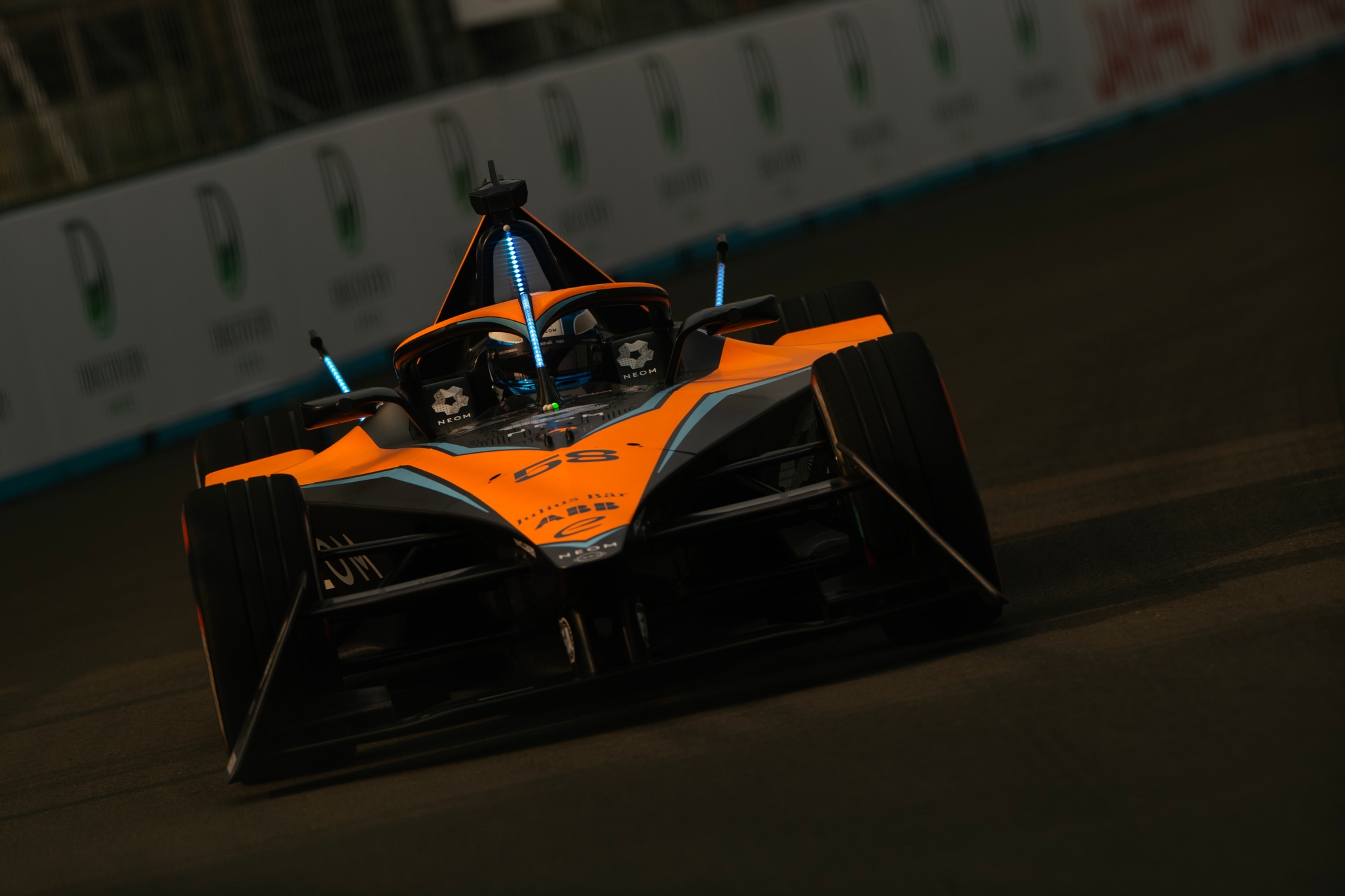 McLaren's season is in jeopardy of tailing off completely after another poor weekend which harvested just one point.
It means the team has scored just 20 points from the last six races and most atypically for the 2023 season it was outperformed by its mothership team, Nissan. In fact, the Japanese manufacturer had only once in 2023, at Hyderabad, outscored McLaren before now.
Jake Hughes grabbed the hard-fought point on Saturday, from 20th on the grid, and while team-mate Rene Rast qualified reasonably well in eighth place, his race was typically combative. It involved a Turn 7 spin and then contact with Bird on the final lap, in what was another messy race with several unspecified technical challenges.
Sunday brought little in the way of progress with Hughes retiring at half distance when his battery started to derate. Rast took a low key 15th.
Frustration and a lot of head scratching was in the air at McLaren in Jakarta, especially as the works Nissans made hay throughout the race to take their best combined result since Berlin in August 2020.
Mahindra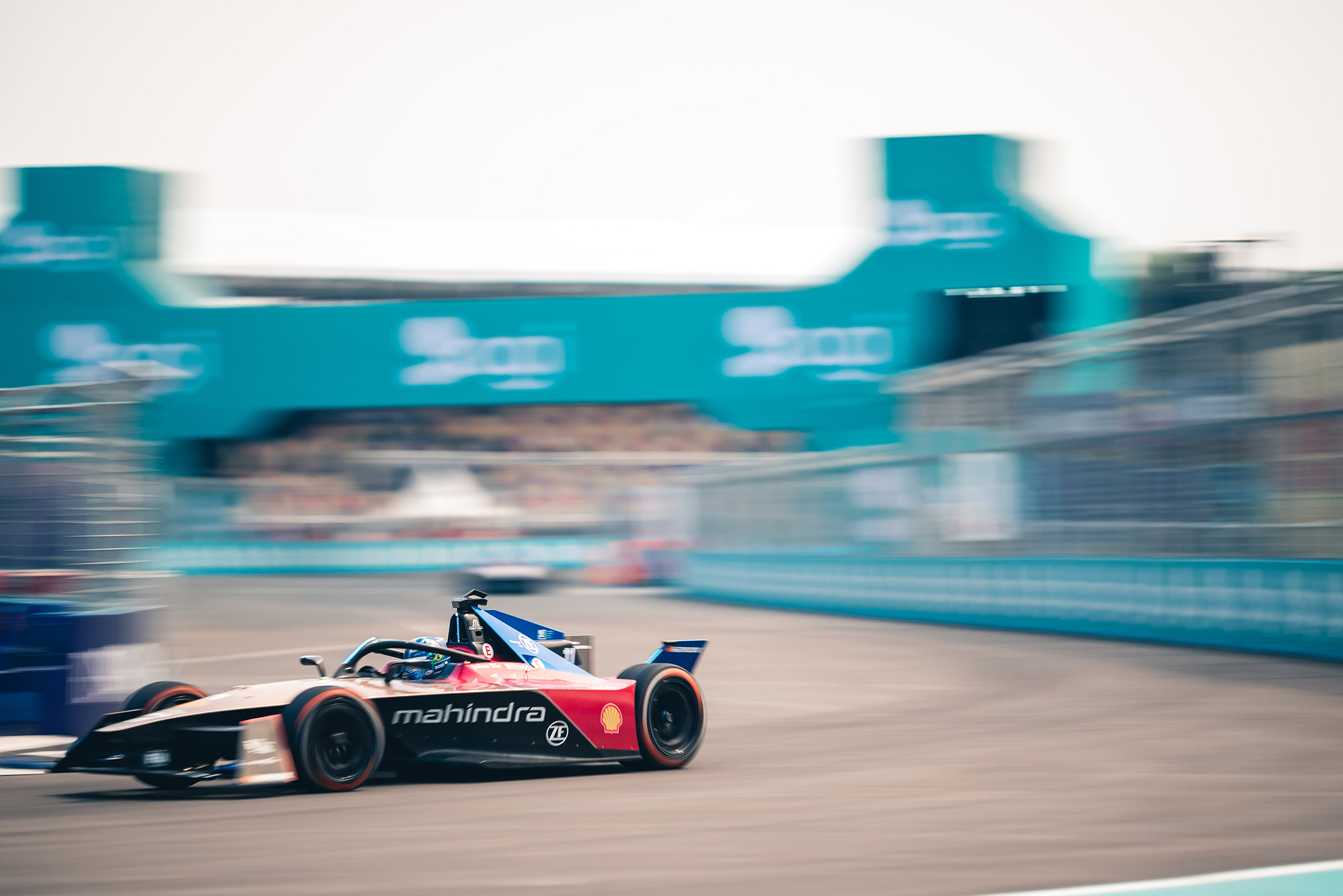 Mahindra's least competitive season in Formula E continued upon its trail of woe in Jakarta with little sign that it is capable of making improvements.
The combination of falling further away from the midfield pack and its customer team Abt Cupra starring in Saturday qualifying and then scoring two points with Frijns' heroic run to ninth was really rubbing salt into the wound.
Some hopes were high that a test after Monaco would help to some extent, yet there was no sign of that on the track as Lucas di Grassi and temporary stand-in team-mate Roberto Merhi never remotely looked capable of challenging for a point.
The only possible bright spot on the horizon for the Indian team at the moment is the season finale in London where an anticipated element of at least one flat out race could be the one remaining opportunity of getting points on the board this season.