Maximilian Guenther bolted clear at the end of the second Jakarta E-Prix to deliver Maserati its first victory in Formula E.
Sunday's Jakarta E-Prix was two laps longer than Saturday's more-or-less flat-out race and while the first half featured a tight pack at the front, poleman Guenther and Andretti driver Jake Dennis sprinted away in the final 15 of the 38 laps.
Guenther had lost the lead to Dennis early on but Guenther took his final attack mode later than Dennis, who was bottled up behind Mitch Evans's Jaguar, and managed to jump Dennis for the lead.
Dennis initially harried Guenther for the lead but Guenther was able to build a small buffer over Dennis and bring his DS-powered Maserati machine home for his fourth win in Formula E and his MSG team's first in its new guise. It's officially the Maserati marque's first victory in international single-seaters since Juan Manuel Fangio's win in Formula 1's 1957 German Grand Prix.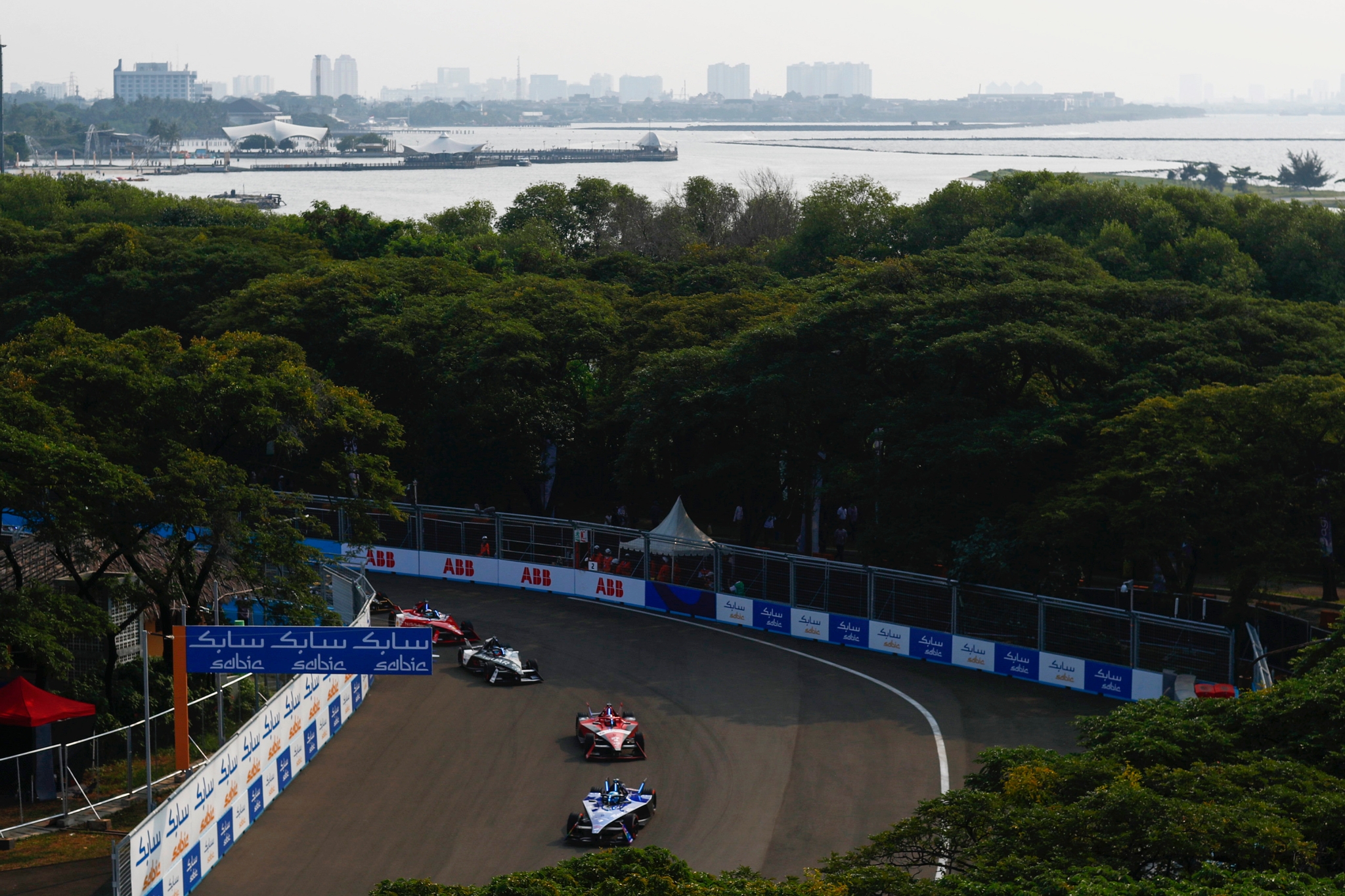 Guenther is also the first 2023 Formula E polesitter to convert pole into victory.
Dennis had to settle for second place for the second successive day – albeit this time without any ire over rivals' driving standards – but it still marks his fourth consecutive podium, one that brings him within one point of the championship lead.
Dennis had a comfortable margin to third-placed Evans who couldn't live with the two leaders but managed to keep the charging Nissan factory drivers behind for a podium that keeps his title hopes alive.
Sacha Fenestraz and Norma Nato charged from seventh and 12th to fourth and fifth places, which is Nissan's first double points finish of the season.
Porsche's Pascal Wehrlein finished sixth and scooped the points lead as Nick Cassidy ruined his race with an unsuccessful race-wrecking move on Wehrlein into the tight Turn 16 left-hander.
THE CHAMPIONSHIP LEADER SLIPS ALL THE WAY DOWN THE ORDER! 🤯

Has Nick Cassidy thrown the Championship lead away with this risky move!?

Gulavit #JakartaEPrix pic.twitter.com/N44Df8UVpY

— ABB FIA Formula E World Championship (@FIAFormulaE) June 4, 2023
Antonio Felix da Costa finished behind his Porsche team-mate Wehrlein in seventh place with Edoardo Mortara (Maserati), Stoffel Vandoorne (DS Penske) and Envision's Sebastien Buemi completing the top 10.
Andretti's David Beckmann, who is making his debut this weekend along with ex-F1 driver Roberto Merhi, had to retire after contact with Lucas di Grassi's Mahindra.
Jaguar's Sam Bird and NIO 333's Sergio Sette Camara retired before the race even started with technical issues.
Race Results
| Pos | Name | Team | Car | Laps | Laps Led | Total Time | Fastest Lap | Pitstops | Pts |
| --- | --- | --- | --- | --- | --- | --- | --- | --- | --- |
| 1 | Maximilian Günther | Maserati MSG Racing | Maserati Tipo Folgore | 38 | 23 | 44m57.285s | 1m09.371s | 0 | 28 |
| 2 | Jake Dennis | Avalanche Andretti | Porsche 99X Electric | 38 | 10 | +2.822s | 1m09.171s | 0 | 19 |
| 3 | Mitch Evans | Jaguar TCS Racing | Jaguar I-TYPE 6 | 38 | 5 | +18.498s | 1m10.137s | 0 | 15 |
| 4 | Sacha Fenestraz | Nissan | Nissan e-4ORCE 04 | 38 | 0 | +19.307s | 1m09.918s | 0 | 12 |
| 5 | Norman Nato | Nissan | Nissan e-4ORCE 04 | 38 | 0 | +19.924s | 1m09.937s | 0 | 10 |
| 6 | Pascal Wehrlein | TAG Heuer Porsche | Porsche 99X Electric | 38 | 0 | +20.108s | 1m10.169s | 0 | 8 |
| 7 | António Félix da Costa | TAG Heuer Porsche | Porsche 99X Electric | 38 | 0 | +20.521s | 1m09.996s | 0 | 6 |
| 8 | Edoardo Mortara | Maserati MSG Racing | Maserati Tipo Folgore | 38 | 0 | +20.996s | 1m10.171s | 0 | 4 |
| 9 | Stoffel Vandoorne | DS Penske | DS E-Tense FE23 | 38 | 0 | +26.63s | 1m10.133s | 0 | 2 |
| 10 | Sébastien Buemi | Envision Racing | Jaguar I-TYPE 6 | 38 | 0 | +27.273s | 1m10.275s | 0 | 1 |
| 11 | Daniel Ticktum | NIO 333 Racing | NIO 333 ER9 | 38 | 0 | +28.614s | 1m09.88s | 0 | 0 |
| 12 | Nico Müller | ABT CUPRA | Mahindra M9Electro | 38 | 0 | +28.787s | 1m10.405s | 0 | 0 |
| 13 | Robin Frijns | ABT CUPRA | Mahindra M9Electro | 38 | 0 | +29.125s | 1m10.5s | 0 | 0 |
| 14 | Lucas Di Grassi | Mahindra Racing | Mahindra M9Electro | 38 | 0 | +29.53s | 1m10.196s | 0 | 0 |
| 15 | René Rast | NEOM McLaren | Nissan e-4ORCE 04 | 38 | 0 | +30.67s | 1m10.595s | 0 | 0 |
| 16 | Jean-Eric Vergne | DS Penske | DS E-Tense FE23 | 38 | 0 | +56.598s | 1m09.364s | 0 | 0 |
| 17 | Roberto Merhi | Mahindra Racing | Mahindra M9Electro | 38 | 0 | +1m06.645s | 1m10.385s | 0 | 0 |
| 18 | Nick Cassidy | Envision Racing | Jaguar I-TYPE 6 | 38 | 0 | +1m06.879s | 1m09.585s | 0 | 0 |
| | Jake Hughes | NEOM McLaren | Nissan e-4ORCE 04 | 36 | 0 | DNF | 1m10.79s | 0 | 0 |
| | David Beckmann | Avalanche Andretti | Porsche 99X Electric | 5 | 0 | DNF | 1m11.072s | 0 | 0 |
| | Sam Bird | Jaguar TCS Racing | Jaguar I-TYPE 6 | 0 | 0 | DNF | 0s | 0 | 0 |
| | Sérgio Sette Câmara | NIO 333 Racing | NIO 333 ER9 | 0 | 0 | DNF | 0s | 0 | 0 |