Some Formula E teams are increasingly concerned about the safety of their Gen3 cars in relation to not having a secure method to satisfactorily slow down in the event of a technical failure.
Talks between representatives from the teams and the FIA took place at Valencia last week and are expected again in the coming days after Sebastien Buemi's accident on Friday.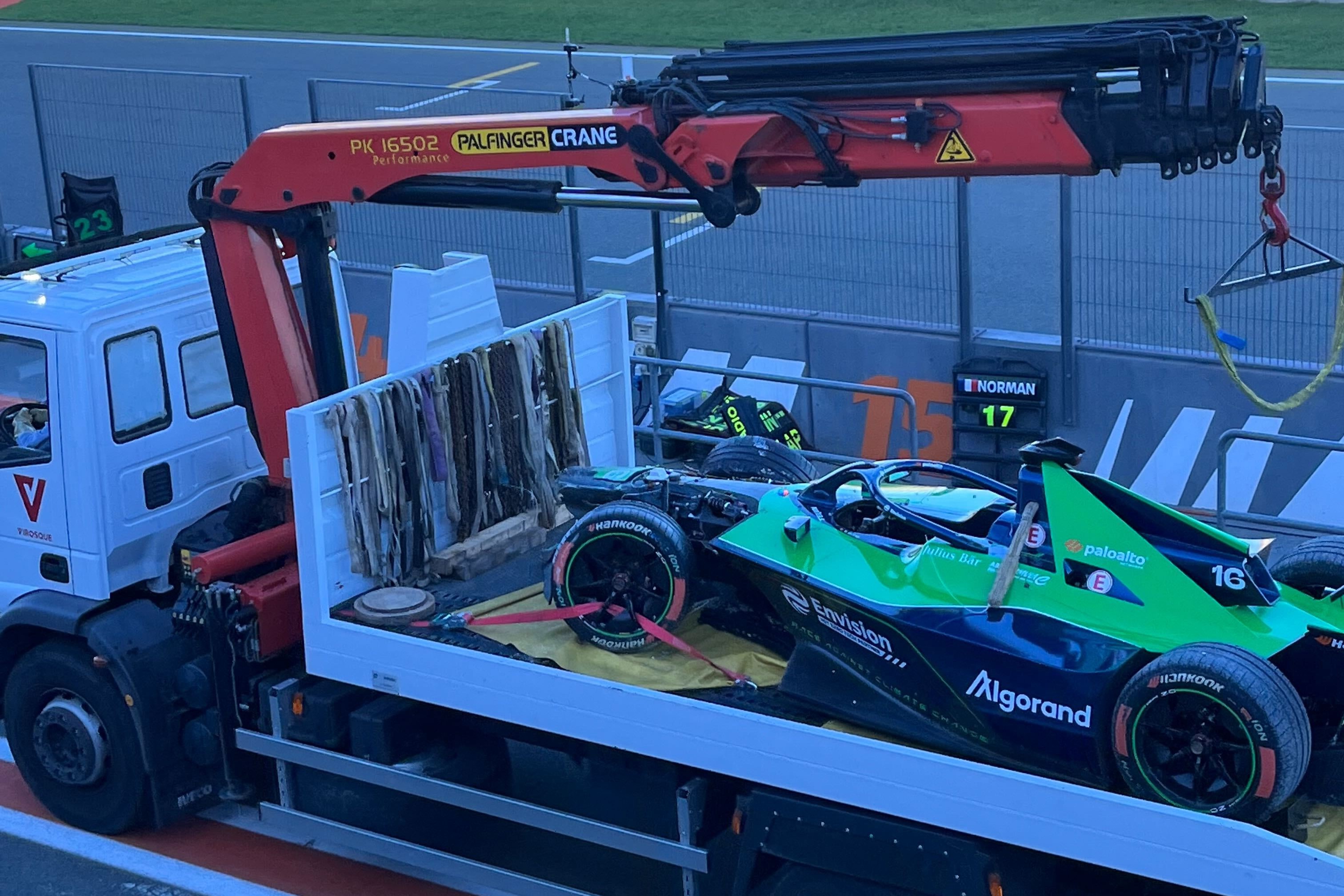 It is understood, although not yet officially confirmed, that a problem with the Envision Jaguar's inverter caused the car to shut down as Buemi approached the medium-speed Turn 4 corner.
This rendered the Swiss unable to adequately stop his car as it went off just before the entry point for the corner.
The Envision driver went for the brakes but, with only cold front mechanical brakes on the Gen3 car complementing the enhanced use of regenerated energy, which is being used for retardation via the front powertrain, Buemi was unable to slow his car as it skated through the gravel and into the tyre wall.
This wasn't the first such incident that occurred during the testing, as Buemi's team-mate Nick Cassidy had a similar episode on Tuesday, although he was able to cut through a gravel trap rather than being faced with an oncoming barrier.
Incidents have also occurred in private testing although it is not known which ones specifically had similarities to Buemi's episode.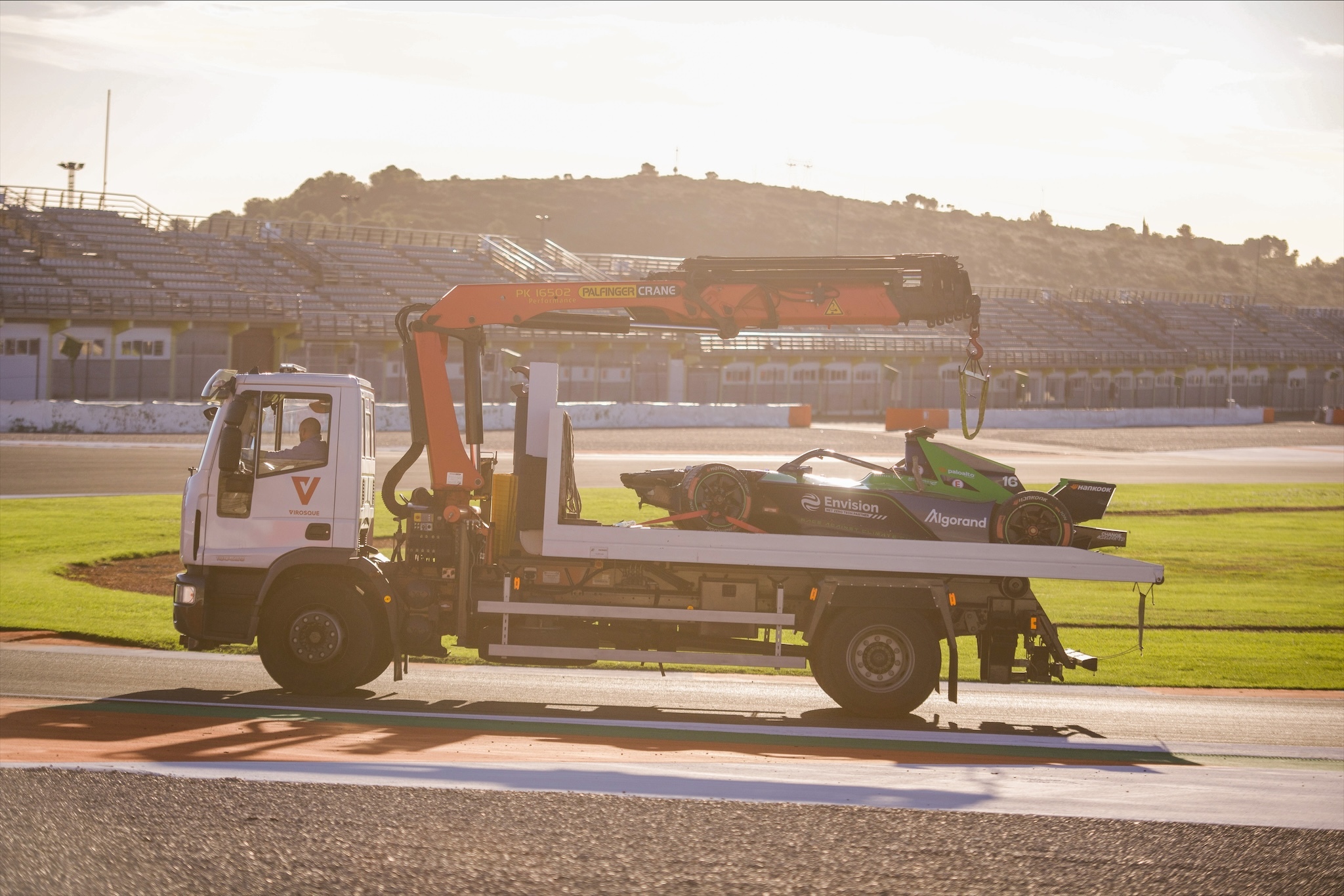 The Buemi incident was the first to be witnessed live by all teams and it triggered some apprehension in the paddock. This is because Formula E will be racing almost exclusively on street or semi-street racing venues in 2023 that feature limited or no run-off areas.
The FIA confirmed to The Race last month that a secondary braking system, one that would effectively act as a failsafe mechanism in such incidents as Buemi's, would be implemented.
However, the FIA's technical director Xavier Mestelen-Pinon, who was in attendance at Valencia, revealed it wouldn't be available until partway through the 2023 season.
This has led to some speculation regarding the liability status of the teams and the manufacturers in the championship.
The Race understands that Porsche in particular has asked questions on this topic and that at one stage earlier this month it was considering not running at the Valencia test at all.
Now, Porsche's Formula E manager Florian Modlinger says that after Buemi's shunt he is "expecting transparency and a response from the FIA that we are informed of what happened there, because clearly question marks are coming up".
"When you see Turn 4," added Modlinger, "you have a track with run-offs, you have a gravel trap and here in the past with some driver mistakes the car did not look like this [damaged].
"This is the first thing I expect, clear transparency. Until now no further information, therefore we are curious to hear what happened there."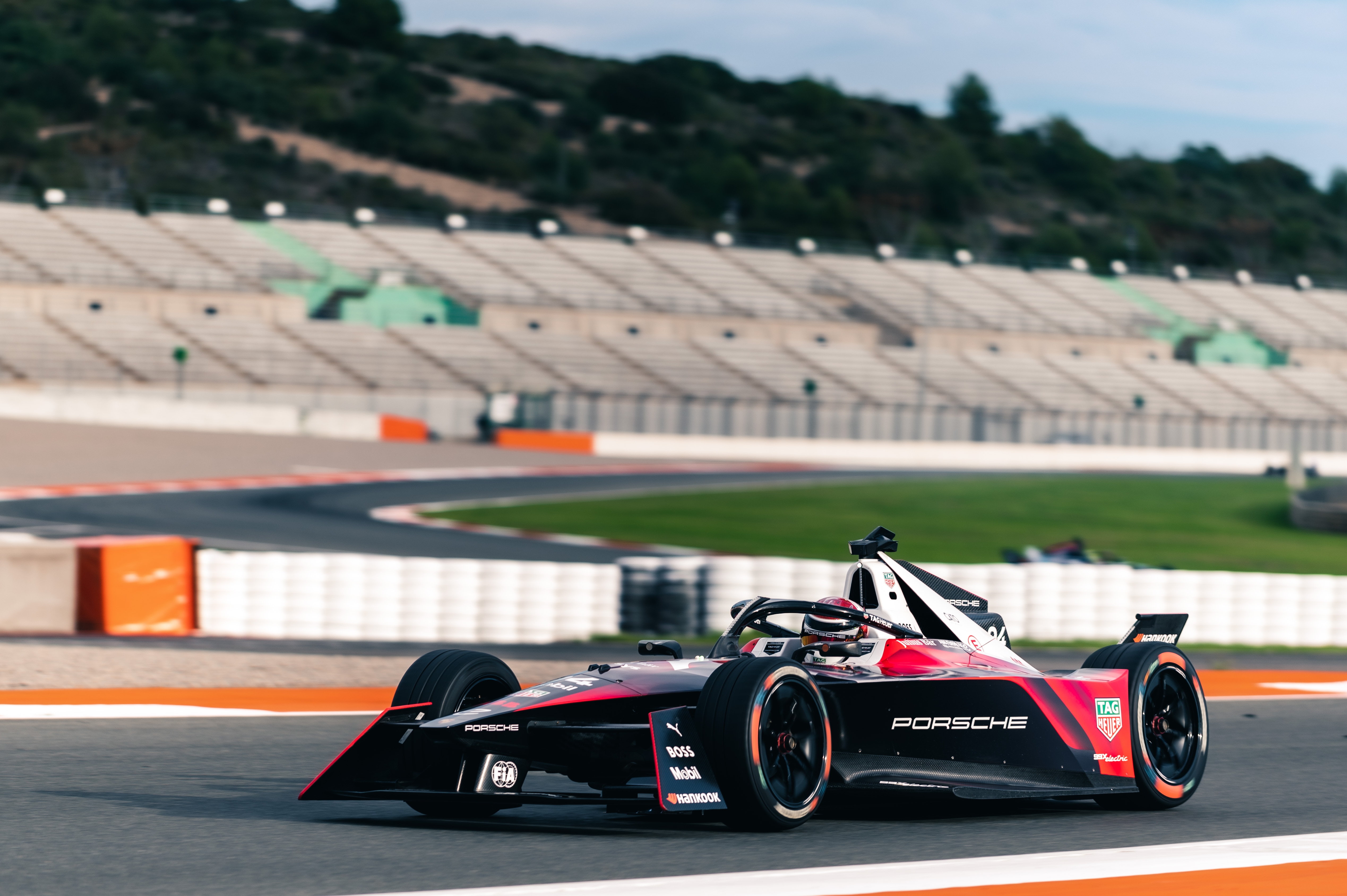 With the full secondary braking system thought to be at least two months away from implementation, an interim solution could be found before Mexico City but the precise nature of what that might be is currently unknown.
The Formula E cars were scheduled to be freighted to Mexico City on Sunday, meaning that any practical application or change to the brakes would have to be undertaken immediately prior to the race at the Circuit Hermanos Rodriguez next month.
"It's the pre-season test and it's the last test session now before we go racing in Mexico," said Modlinger.
"The cars were homologated by FIA, this means homologation sheets are done and homologation is finished and according to the FIA a homologated car is [done so] according to their safety standards, and passed by the Failure Mode and Effects Analysis group, and that's what we count on.
"We have to have full trust that they homologated the cars, and according to their safety standards all cars which run here are homologated."
The implications of an accident occurring and where the full liability sits now appears to be with the teams as their cars have all been homologated.
It is believed that, in the FIA's eyes, the fact homologation documents have been confirmed and signed mean liability rests on the manufacturers in the event of an accident.
This could open up a multitude of conjectures around the spec of the Gen3 car, which runs without rear traction brakes. Some manufacturers and teams are known to have questioned this move when the Gen3 concept was conceived in 2019.
It is also known to have been a topic discussed by some manufacturers in recent weeks, although Modlinger would not go into detail about whether Porsche had been one of the parties that had sought clarity on insurance practicalities for its representation in the championship, in relation to the possibility of accidents occurring with effectively limited ways of stopping cars leaving the track and hitting barriers.
"The liability topic regarding if anything is happening – well, I'm not a lawyer, I can for sure not answer this question directly, but clearly the cars are homologated by FIA according to their safety standards," said Modlinger.
"The rest we need to see now, when we get info of what happened today [Friday].
"I think that's also an action topic and we need to have clarity on what happened, and then we need to go ahead with the discussion and the measures that need to be taken."
Porsche's Pascal Wehrlein appeared to have a similar incident to Buemi's on the final lap of the test on Friday, although he was able to cross a lengthy gravel trap before his car came to rest. He then restarted his car before coming back slowly to the pits.
The only team principal in the unique position to have actually tested the Gen3 car is Maserati MSG's James Rossiter.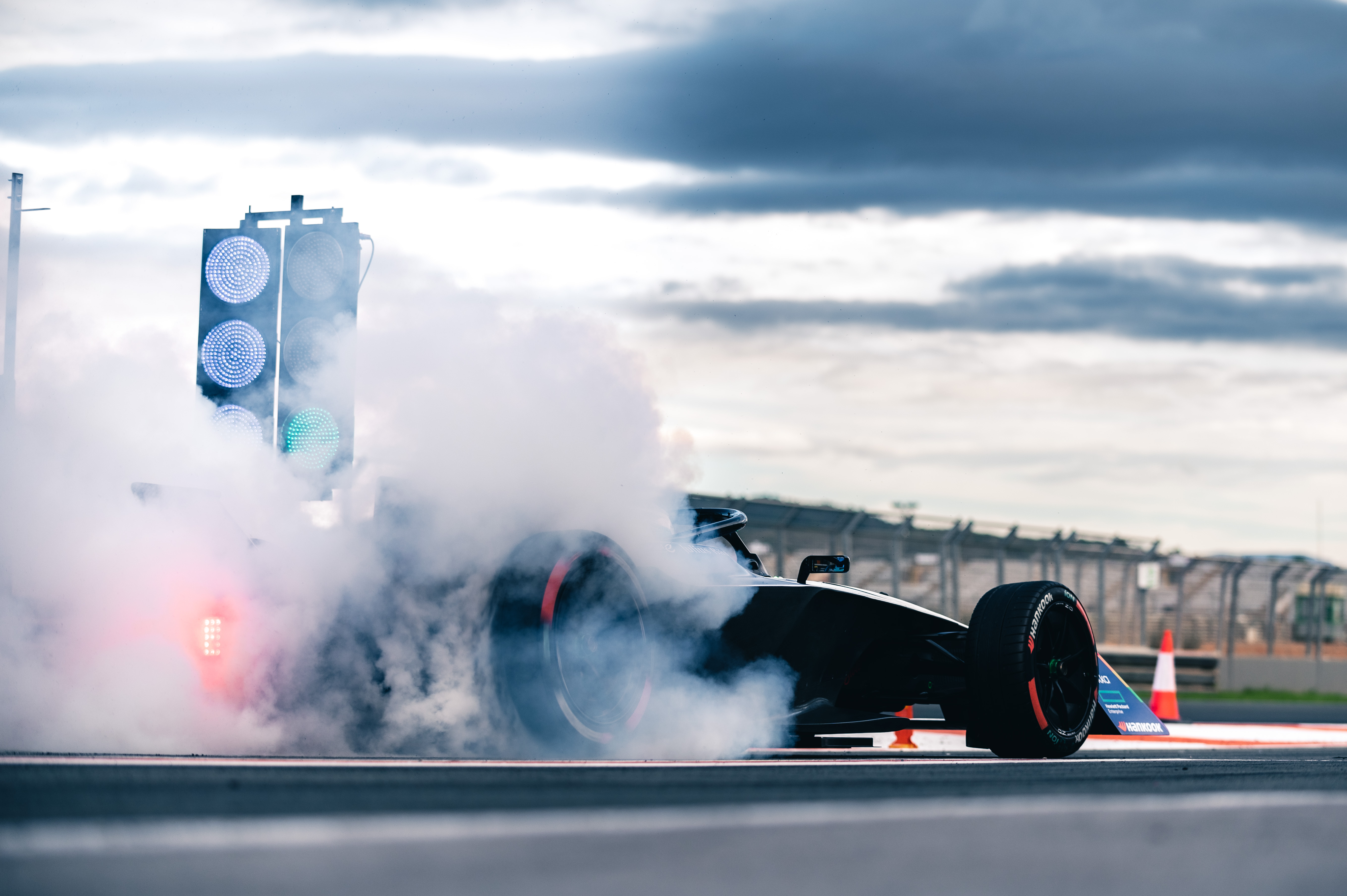 He told The Race after Buemi's accident that the DS powertrain, which is also used in the Maserati cars, has safety and alert systems in place in the event of an emergency shutdown.
"I think we're in very good shape in terms of reliability and in terms of safety measures that have been put in place and alarms that alert the driver should we see anything starting to cause an issue," he said.
"I don't know what the other manufacturers did on that, obviously I was the one sat in the car for those first four or five days, so I know the length of work that went into it and I feel very confident that all the measures are being put in place by FIA, by Formula E and also by our powertrain provider and that they are very safe."
Discussions about a possible emergency solution to braking in the event of a shutdown or technical problem that affects cars are set to be carried out in the run-up to the first race in three weeks' time.
Interim measures are unknown at this stage but one solution might exist. This could include the possibility of putting rear calipers, purely for use in an emergency, onto the cars.
Some sort of bolt-on bracket, which uses some existing features of the Gen3 upright for attachment purposes, might be one emergency option ahead of racing commencing in Mexico City.