Jake Hughes secured his and McLaren's maiden pole position in Formula E after eclipsing Jaguar driver Mitch Evans by just 0.104s in a nail-biting final qualifying duel in Diriyah.
Hughes will start the second race of the Diriyah double-header from pole after he beat points leader Jake Dennis and race one polesitter Sebastien Buemi to set up a clash with Evans – the second of those duels featured Hughes brushing the wall at Turn 7 but surviving to advance to the final.
Evans had overcome Maserati's Edoardo Mortara and Hughes's team-mate Rene Rast to make it to the final, but he lost out on pole to Hughes in the final by just over a tenth.
It continues Hughes and McLaren's impressive one-lap speed this season, with the rookie's qualifying record reading third, second and first so far.
Rast made it two McLarens in the top three while Buemi will start race two in fourth place.
Porsche's Pascal Wehrlein was the fastest of the quarter-final losers and will line up in fifth place – his best qualifying performance in a season where he's already charged from sixth to second and from ninth to first.
Dennis, who has a slender one-point advantage over Wehrlein at the top of the drivers' championship, will start in sixth place ahead of Mortara.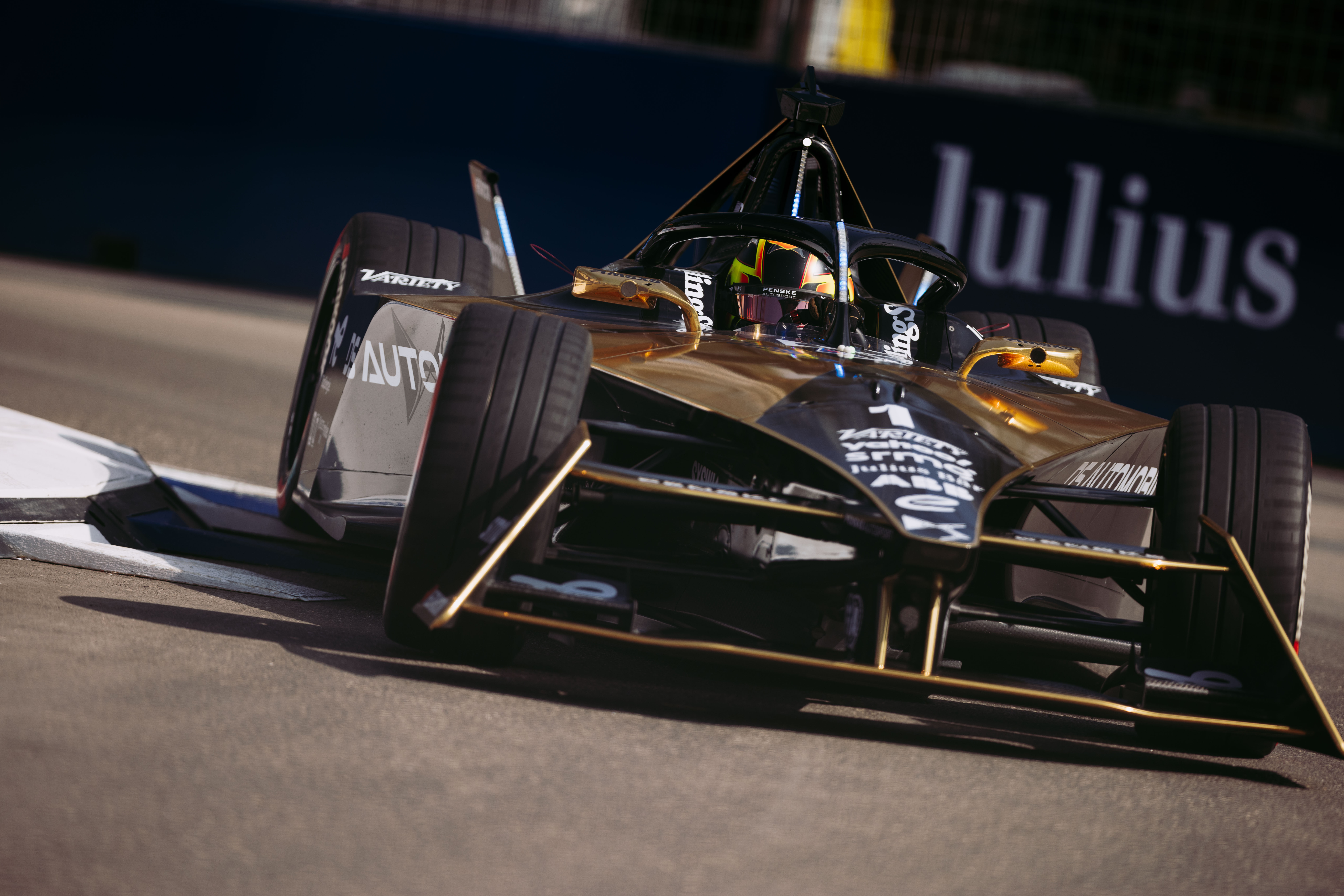 Defending series champion Stoffel Vandoorne and DS Penske broke into the duels for the first time this year but he was beaten by Buemi in their quarter-final clash and will start eighth.
Race one podium finisher Sam Bird couldn't join his Jaguar team-mate in the duels, missing out to Dennis by a small fraction in the group stages.
He'll be joined on the fifth row by Maximilian Guenther, who was able to compete thanks to his Maserati team's lengthy overnight repair job following his crash in qualifying on Friday.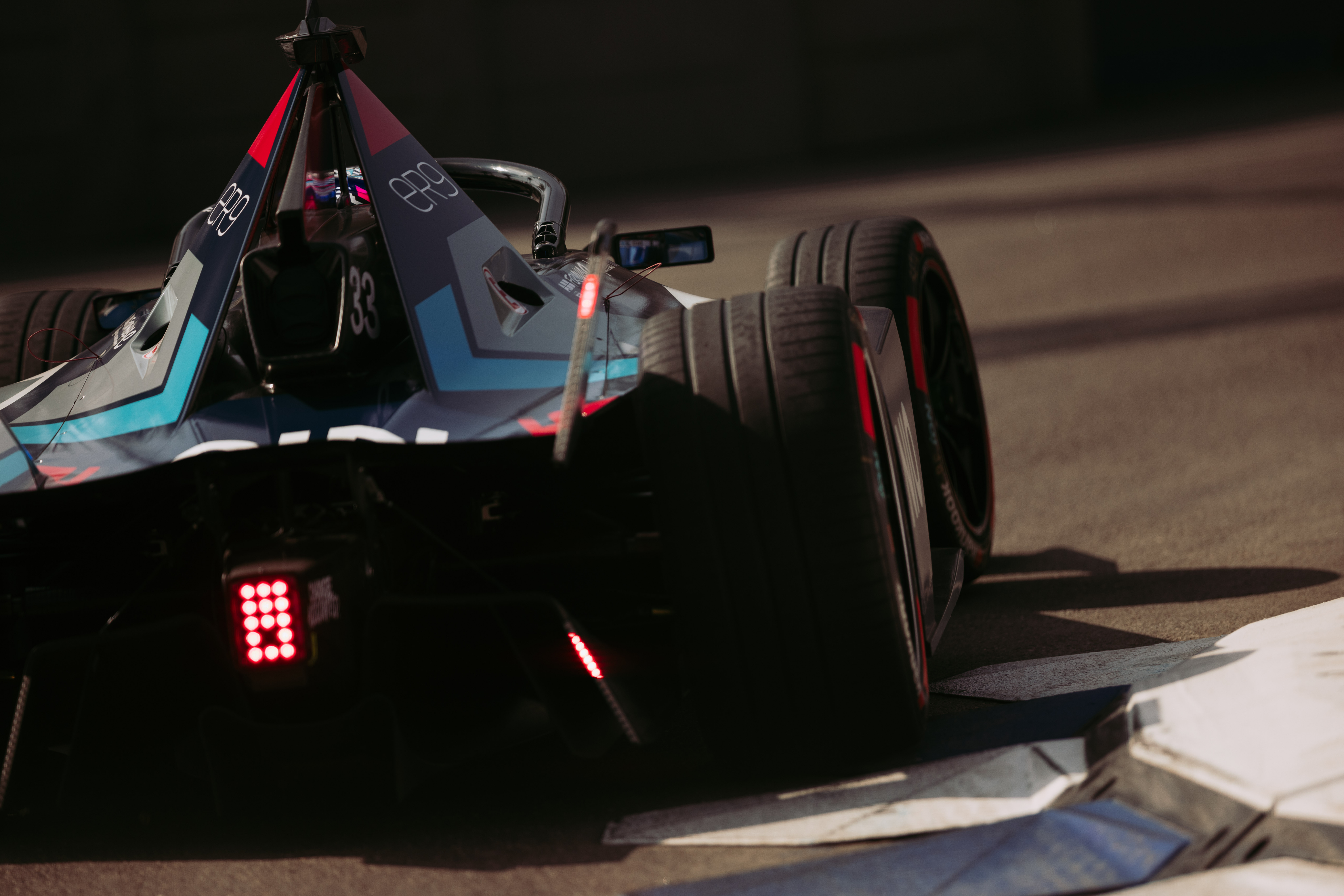 NIO 333 driver Dan Ticktum's streak of duel appearances came to an end as he was sixth fastest in his group ahead of team-mate Sergio Sette Camara.
Ticktum will share the sixth row of the grid with Nissan rookie Sacha Fenestraz while Mahindra's Oliver Rowland will line up alongside Sette Camara.
DS Penske's Jean-Eric Vergne failed to match his team-mate's duel heroics after finishing eighth in his group – putting him alongside the second Envision of Nick Cassidy.
Antonio Felix da Costa's rocky adaptation to life at Porsche continued in qualifying as he was only ninth fastest in his group, the same position fellow Porsche-powered driver Andre Lotterer finished in his qualifying group.
The 2016-17 champion Lucas di Grassi couldn't get his Mahindra slowed down in time for the Turn 18 right-hander on his last flying lap, grounding himself to the 10th row of the grid.
He'll start alongside Nissan's Norman Nato and ahead of the Mahindra-powered Abt duo of Kelvin van der Linde and Nico Mueller, who will occupy the back row of the grid.
Qualifying Results
| Pos | Name | Team | Car | Q1 | Q2 | Q3 | Q4 |
| --- | --- | --- | --- | --- | --- | --- | --- |
| 1 | Jake Hughes | NEOM McLaren | Nissan e-4ORCE 04 | 1m09.361s | 1m08.748s | 1m08.68s | 1m08.693s |
| 2 | Mitch Evans | Jaguar TCS Racing | Jaguar I-TYPE 6 | 1m09.401s | 1m08.909s | 1m08.69s | 1m08.797s |
| 3 | René Rast | NEOM McLaren | Nissan e-4ORCE 04 | 1m09.435s | 1m08.855s | 1m08.922s | |
| 4 | Sébastien Buemi | Envision Racing | Jaguar I-TYPE 6 | 1m09.422s | 1m08.925s | 1m08.926s | |
| 5 | Pascal Wehrlein | TAG Heuer Porsche | Porsche 99X Electric | 1m09.576s | 1m09.028s | | |
| 6 | Jake Dennis | Avalanche Andretti | Porsche 99X Electric | 1m09.572s | 1m09.198s | | |
| 7 | Edoardo Mortara | Maserati MSG Racing | Maserati Tipo Folgore | 1m09.623s | 1m09.279s | | |
| 8 | Stoffel Vandoorne | DS Penske | DS E-Tense FE23 | 1m09.518s | 1m09.282s | | |
| 9 | Sam Bird | Jaguar TCS Racing | Jaguar I-TYPE 6 | 1m09.628s | | | |
| 10 | Maximilian Günther | Maserati MSG Racing | Maserati Tipo Folgore | 1m09.643s | | | |
| 11 | Daniel Ticktum | NIO 333 Racing | NIO 333 ER9 | 1m09.698s | | | |
| 12 | Sacha Fenestraz | Nissan | Nissan e-4ORCE 04 | 1m09.67s | | | |
| 13 | Sérgio Sette Câmara | NIO 333 Racing | NIO 333 ER9 | 1m09.735s | | | |
| 14 | Oliver Rowland | Mahindra Racing | Mahindra M9Electro | 1m09.69s | | | |
| 15 | Nick Cassidy | Envision Racing | Jaguar I-TYPE 6 | 1m09.761s | | | |
| 16 | Jean-Eric Vergne | DS Penske | DS E-Tense FE23 | 1m09.794s | | | |
| 17 | António Félix da Costa | TAG Heuer Porsche | Porsche 99X Electric | 1m09.832s | | | |
| 18 | André Lotterer | Avalanche Andretti | Porsche 99X Electric | 1m09.843s | | | |
| 19 | Norman Nato | Nissan | Nissan e-4ORCE 04 | 1m10.107s | | | |
| 20 | Lucas Di Grassi | Mahindra Racing | Mahindra M9Electro | 1m09.975s | | | |
| 21 | Kelvin van der Linde | ABT Cupra Formula E Team | Mahindra M9Electro | 1m10.221s | | | |
| 22 | Nico Müller | ABT CUPRA | Mahindra M9Electro | 1m10.072s | | | |