Porsche-powered drivers Pascal Wehrlein and Jake Dennis continued their domination of the 2023 Formula E season with Wehrlein holding off a charging Dennis to complete a sweep of the Diriyah E-Prix race wins.
Wehrlein, who won the opening race of the weekend by charging from ninth to first, started race two in fifth place and was up to fourth by the end of the opening lap after displacing Sebastien Buemi.
He sat behind the frontrunning McLarens and Mitch Evans who squabbled for a race lead that increasingly looked destined to be Wehrlein's, such was the extra useable energy Wehrlein built up while running behind the trio.
Wehrlein picked off first-time polesitter Jake Hughes on the run to the Turn 18 right-hander on lap 12 of 39 and made a similarly comfortable move on Jaguar's Evans shortly afterwards.
Evans had taken the race lead from Hughes at the race start but was jumped by Hughes's team-mate Rene Rast through the first attack mode phase.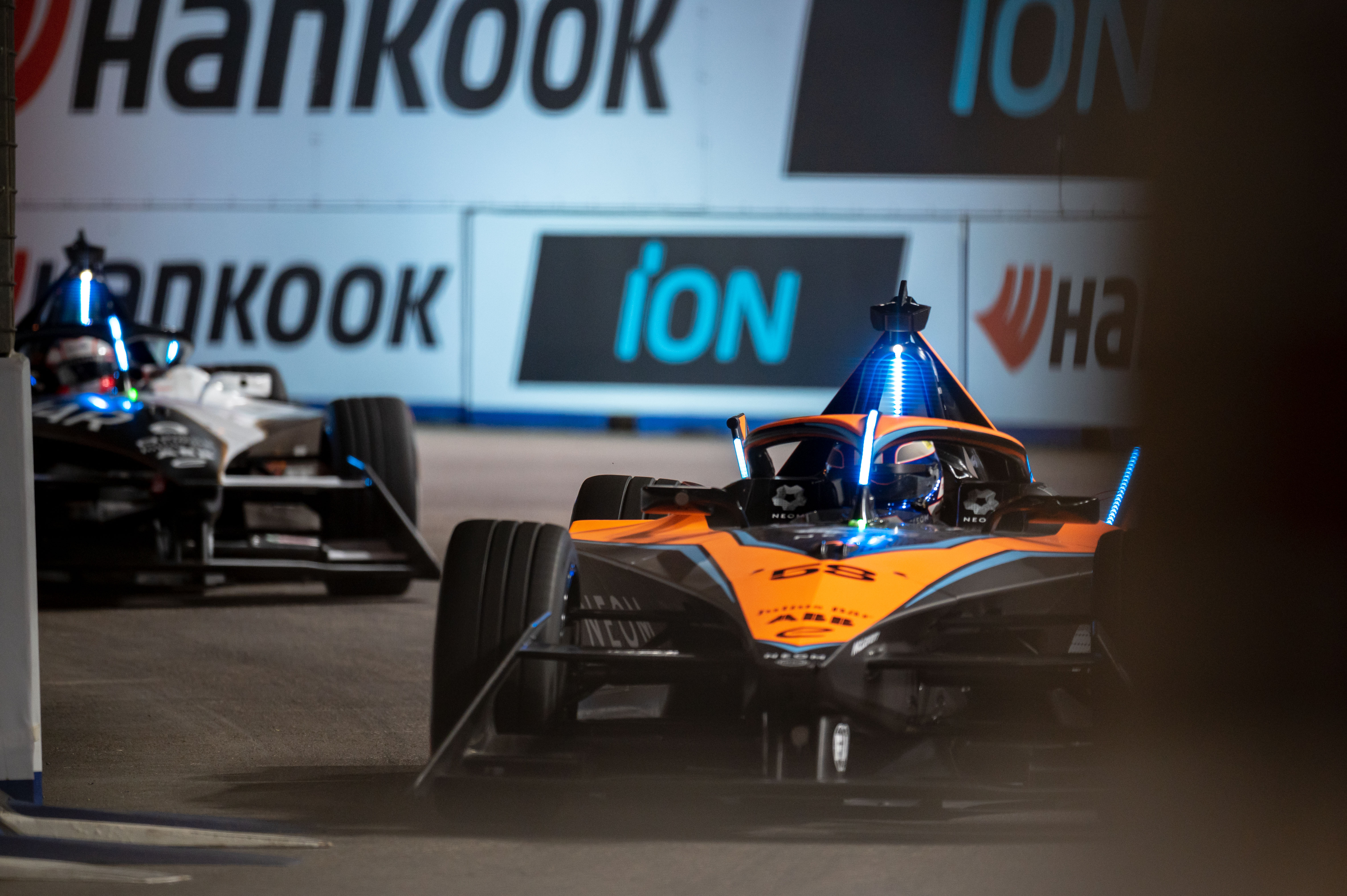 Rast then surrendered the race lead to Wehrlein when he took his second attack mode and Dennis quickly became Wehrlein's main challenger for the second successive day.
Dennis and Jaguar's Sam Bird built up their useable energy in the early part of the race and started their charges halfway through the race, quickly finding themselves in second and third place – threatening an exact repeat of the race one podium.
The lead battle was paused when Nico Mueller's Mahindra-powered ABT went into the barriers at Turn 1 and caused a safety car with 14 laps to go that cut Wehrlein's two-second buffer to Dennis.
Wehrlein had already used all of his attack mode at that point but Bird needed to visit the attack mode activation zone twice to use all four minutes of his attack mode, while Dennis had one lot of three minutes remaining.
Dennis and Bird took attack mode one lap after the safety car came in and while Dennis came out ahead of Rast, Bird came out right behind the McLaren driver.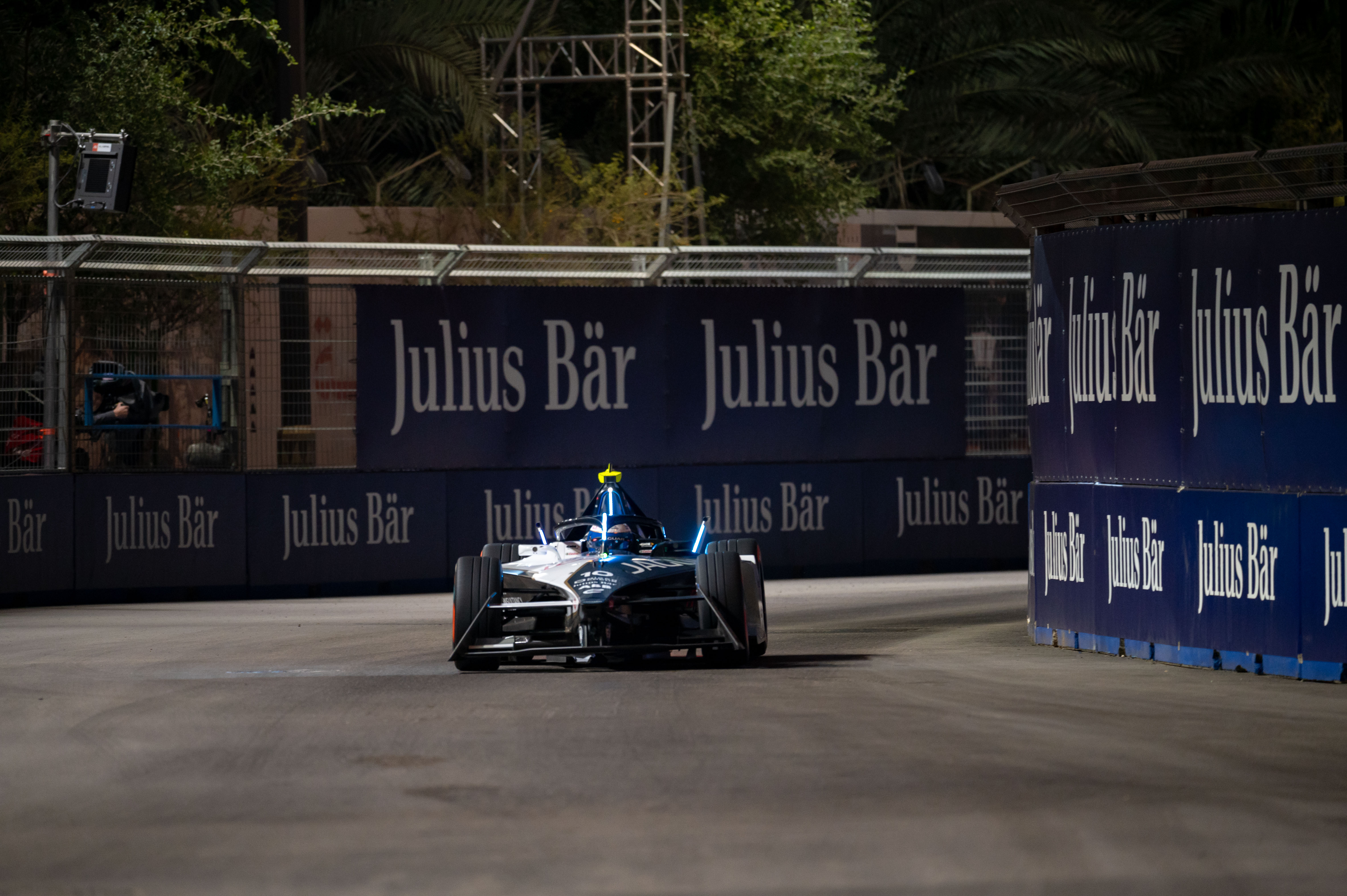 Bird got his braking wrong while trying to pass Rast into Turn 18 and took to the run-off, rejoining just in front of the other McLaren of Hughes and his team-mate Evans.
Bird recovered, re-caught Rast and harried him for the final place on the podium in the final laps – including a final-lap nudge into Turn 18 – but he couldn't find a way through.
At the front, Dennis pressured Wehrlein in the closing laps but couldn't get within striking distance of his nearest rival in the championship.
Wehrlein took the chequered flag 1.252 seconds ahead of Dennis to secure his second victory of the weekend and the points lead.
Rast earned his first podium of his return to Formula E and McLaren's first in the all-electric championship in third place ahead of Bird.
Hughes put up a staunch defence against Evans at the final corner on the last lap and was inadvertently pushed by Evans over the line – a move that allowed Buemi to jump Evans for sixth place, as Hughes clung onto fifth.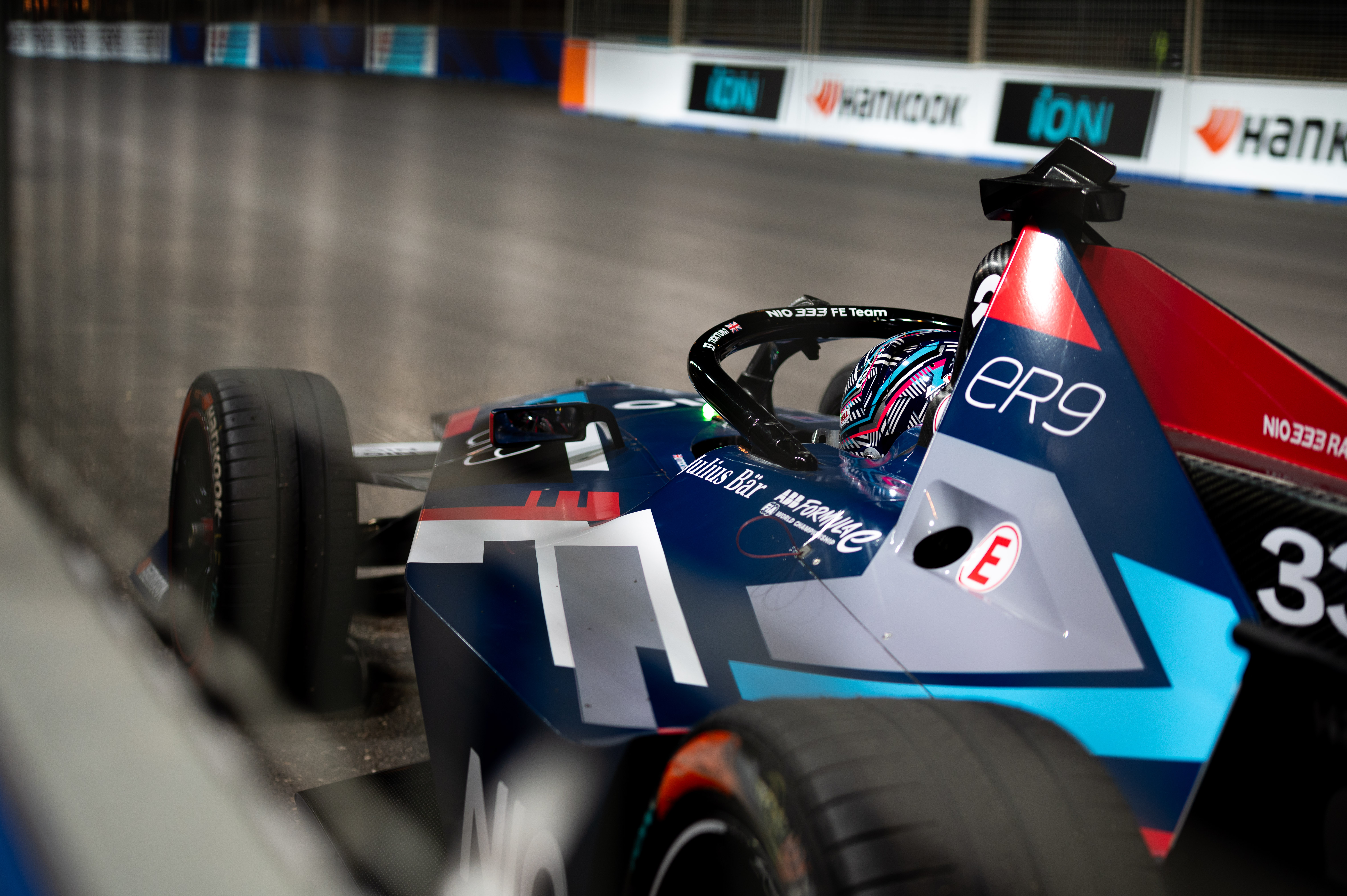 Nissan's rookie Sacha Fenestraz secured his first points in Formula E in eighth ahead of Edoardo Mortara and Dan Ticktum (pictured above), who scored Maserati's and NIO 333's first points of the year respectively.
DS Penske's Stoffel Vandoorne was running in the points but crossed the line in 11th after a failed attack mode activation. He was given a drivethrough penalty, converted into a 24-second penalty, post-race for this and dropped to 20th in the classification.
Mahindra driver Oliver Rowland had to stop after picking up a puncture and was one of two retirees from the race along with Mueller.
Race Results
| Pos | Name | Team | Car | Laps | Laps Led | Total Time | Fastest Lap | Pitstops | Pts |
| --- | --- | --- | --- | --- | --- | --- | --- | --- | --- |
| 1 | Pascal Wehrlein | TAG Heuer Porsche | Porsche 99X Electric | 40 | 0 | 50m40.304s | 1m09.409s | 0 | 25 |
| 2 | Jake Dennis | Avalanche Andretti | Porsche 99X Electric | 40 | 0 | +1.252s | 1m09.114s | 0 | 18 |
| 3 | René Rast | NEOM McLaren | Nissan e-4ORCE 04 | 40 | 0 | +4.554s | 1m09.584s | 0 | 15 |
| 4 | Sam Bird | Jaguar TCS Racing | Jaguar I-TYPE 6 | 40 | 0 | +4.851s | 1m09.01s | 0 | 13 |
| 5 | Jake Hughes | NEOM McLaren | Nissan e-4ORCE 04 | 40 | 0 | +10.869s | 1m09.846s | 0 | 13 |
| 6 | Sébastien Buemi | Envision Racing | Jaguar I-TYPE 6 | 40 | 0 | +10.947s | 1m09.876s | 0 | 8 |
| 7 | Mitch Evans | Jaguar TCS Racing | Jaguar I-TYPE 6 | 40 | 0 | +11.088s | 1m09.817s | 0 | 6 |
| 8 | Sacha Fenestraz | Nissan | Nissan e-4ORCE 04 | 40 | 0 | +12.409s | 1m09.631s | 0 | 4 |
| 9 | Edoardo Mortara | Maserati MSG Racing | Maserati Tipo Folgore | 40 | 0 | +12.753s | 1m10.022s | 0 | 2 |
| 10 | Daniel Ticktum | NIO 333 Racing | NIO 333 ER9 | 40 | 0 | +13.275s | 1m09.69s | 0 | 1 |
| 11 | Stoffel Vandoorne | DS Penske | DS E-Tense FE23 | 40 | 0 | +13.572s | 1m10.125s | 0 | 0 |
| 12 | António Félix da Costa | TAG Heuer Porsche | Porsche 99X Electric | 40 | 0 | +15.229s | 1m09.97s | 0 | 0 |
| 13 | André Lotterer | Avalanche Andretti | Porsche 99X Electric | 40 | 0 | +15.623s | 1m09.876s | 0 | 0 |
| 14 | Nick Cassidy | Envision Racing | Jaguar I-TYPE 6 | 40 | 0 | +17.038s | 1m09.233s | 0 | 0 |
| 15 | Norman Nato | Nissan | Nissan e-4ORCE 04 | 40 | 0 | +19.569s | 1m10.237s | 0 | 0 |
| 16 | Lucas Di Grassi | Mahindra Racing | Mahindra M9Electro | 40 | 0 | +20.796s | 1m10.582s | 0 | 0 |
| 17 | Jean-Eric Vergne | DS Penske | DS E-Tense FE23 | 40 | 0 | +21.221s | 1m10.166s | 0 | 0 |
| 18 | Sérgio Sette Câmara | NIO 333 Racing | NIO 333 ER9 | 40 | 0 | +22.243s | 1m10.577s | 0 | 0 |
| 19 | Kelvin van der Linde | ABT CUPRA | Mahindra M9Electro | 40 | 0 | +25.291s | 1m10.597s | 0 | 0 |
| 20 | Maximilian Günther | Maserati MSG Racing | Maserati Tipo Folgore | 40 | 0 | +27.137s | 1m09.985s | 0 | 0 |
| | Oliver Rowland | Mahindra Racing | Mahindra M9Electro | 30 | 0 | DNF | 1m11.186s | 0 | 0 |
| | Nico Müller | ABT CUPRA | Mahindra M9Electro | 25 | 0 | DNF | 1m11.055s | 0 | 0 |