The unique design of the Gen3 Formula E car could cause issues for teams that need to repair or replace cars that are damaged in pre-race sessions this season according to a series champion.
Lucas di Grassi is one of several drivers to have had an accident in the Gen3 car. He went off during private testing at the Almeira circuit in Spain in November.
The Mahindra test and development car was significantly damaged in the accident and needed several days of repairs before it was able to return to action.
Incidents such as di Grassi's have raised some concerns that damage in pre-race sessions at E-Prixs will result in cars being withdrawn from races.
Teams are allowed to build up new monocoques at races but concerns over the availability of spare parts in the early stages of the season and the fact that teams now run with a front powertrain as well as a rear one is a worry for teams.
Several mechanics and team managers told The Race at last month's Valencia test that there would be no chance of teams changing entire cars in the event of an accident in practice or qualifying and making it to the race.
Di Grassi's car suffered damage around the front driveshaft element of his Mahindra, which would have likely counted him out of the E-Prix had it occurred on a race day morning.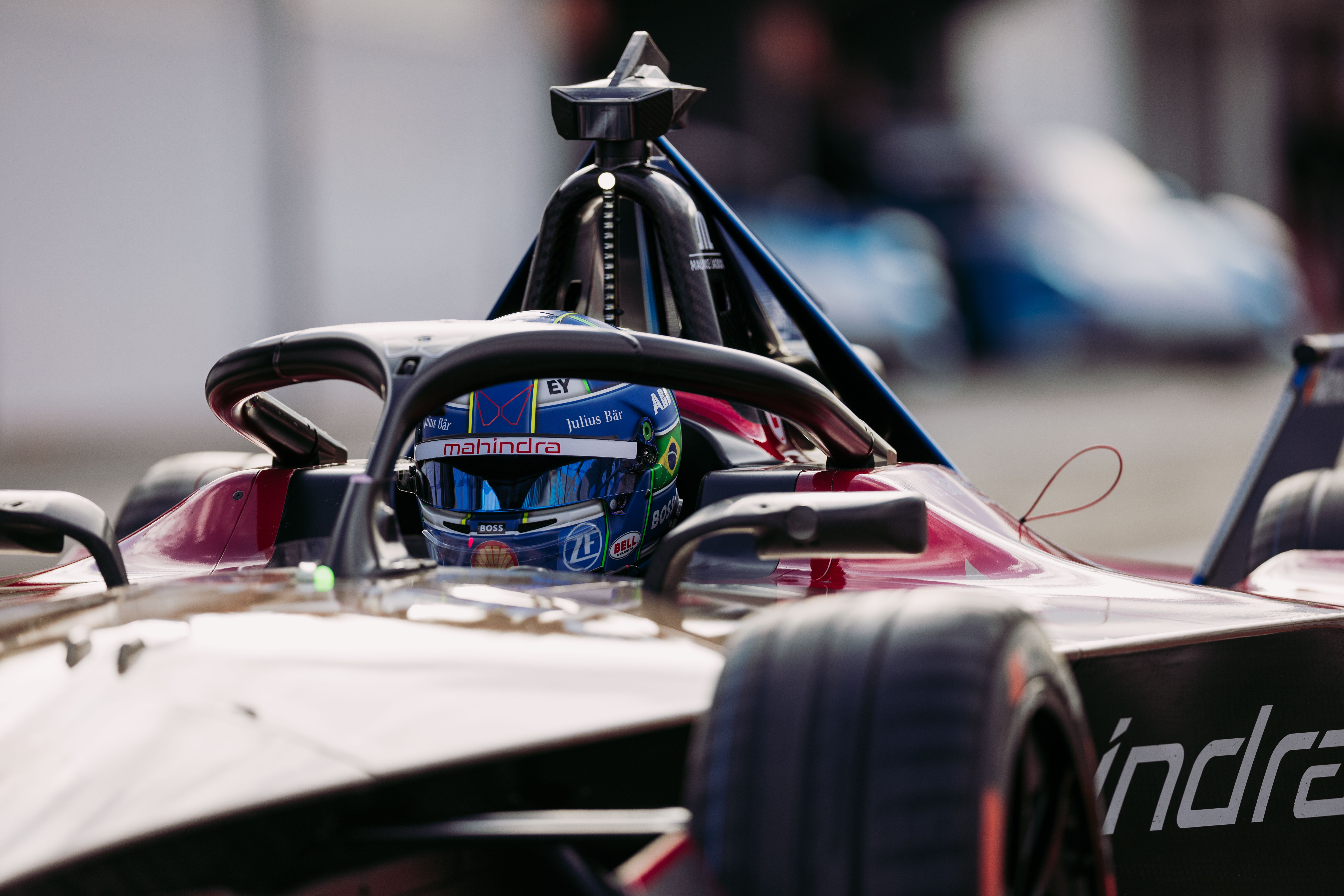 Previously teams were able to build up new cars in a single day, as was evidenced in Hong Kong in 2017 with Robin Frijns and at Mexico City in 2019 after Daniel Abt suffered a violent frontal impact.
But the Gen2 cars ran without a front spec powertrain, which is being provided for Gen3 by the Atieva company that was part of the battery supply for the Gen2 period.
Although Sam Bird and Theo Pourchaire suffered sizeable accidents in testing, di Grassi's was not at significant speed but still inflicted time-consuming damage.
Speaking to The Race about the incident for the first time, di Grassi confirmed it was "not a big shunt, it was 80km/h, not big".
"The problem is with these driveshafts, the way the front works is that if you have an impact it damages the chassis a bit," said di Grassi.
"But it's not that the chassis was damaged, it was just where it goes out of the car, that's where the issues were.
"If you have a crash in qualifying or FP2 and that driveshaft breaks, it could delaminate a bit the monocoque and you're out of the weekend, depending on the angle. I was not sideways, it was a frontal crash into the tyres, but it was not big.
"I was 100% OK and I walked out. It was nothing special but that delayed us a few days of testing so we still have a lot to do to make the car faster."
Di Grassi, who didn't offer a reason for the accident, also pointed to the fact that the car is much more exposed at the front as for the first time since 2018 Formula E will race with a complete open-wheel design.
This is expected to change the style of racing with drivers facing much more jeopardy of damaging their cars should contact with rivals occur.
Several times during the Gen2 period the racing came under fire for what many believed to include 'tactical contact' throughout the field.
This triggered a disciplinary rule relating to contact between drivers which was effectively equivalent to a yellow card in football.
"The car is much more fragile; the front wing is very fragile, the side of the car is fragile," said di Grassi.
"In my opinion, it's negative because in some of the tracks, I think sideways, side contact is as far as it could go [in Gen2].
"Let's say, fighting for a position in a fair way I think it is good. I think people like to see this, it's a form of fighting, right? Everybody is trying to fight for that millimetre there.
"With these cars, I think it will happen much less. Or if it happens you will be damaged and you will have to retire."