Logan Sargeant had a time penalty before the Japanese Grand Prix event even started after his Williams Formula 1 team committed an unusual rules breach relating to 'third cars'.
Sargeant's heavy qualifying crash at Suzuka gave Williams a big rebuild job before the race as the chassis was damaged beyond immediate repair.
Head of trackside engineering Dave Robson said on Sunday morning that Williams had done "as much as we could" with the spare chassis before getting on with the rest of the build when parc ferme ended.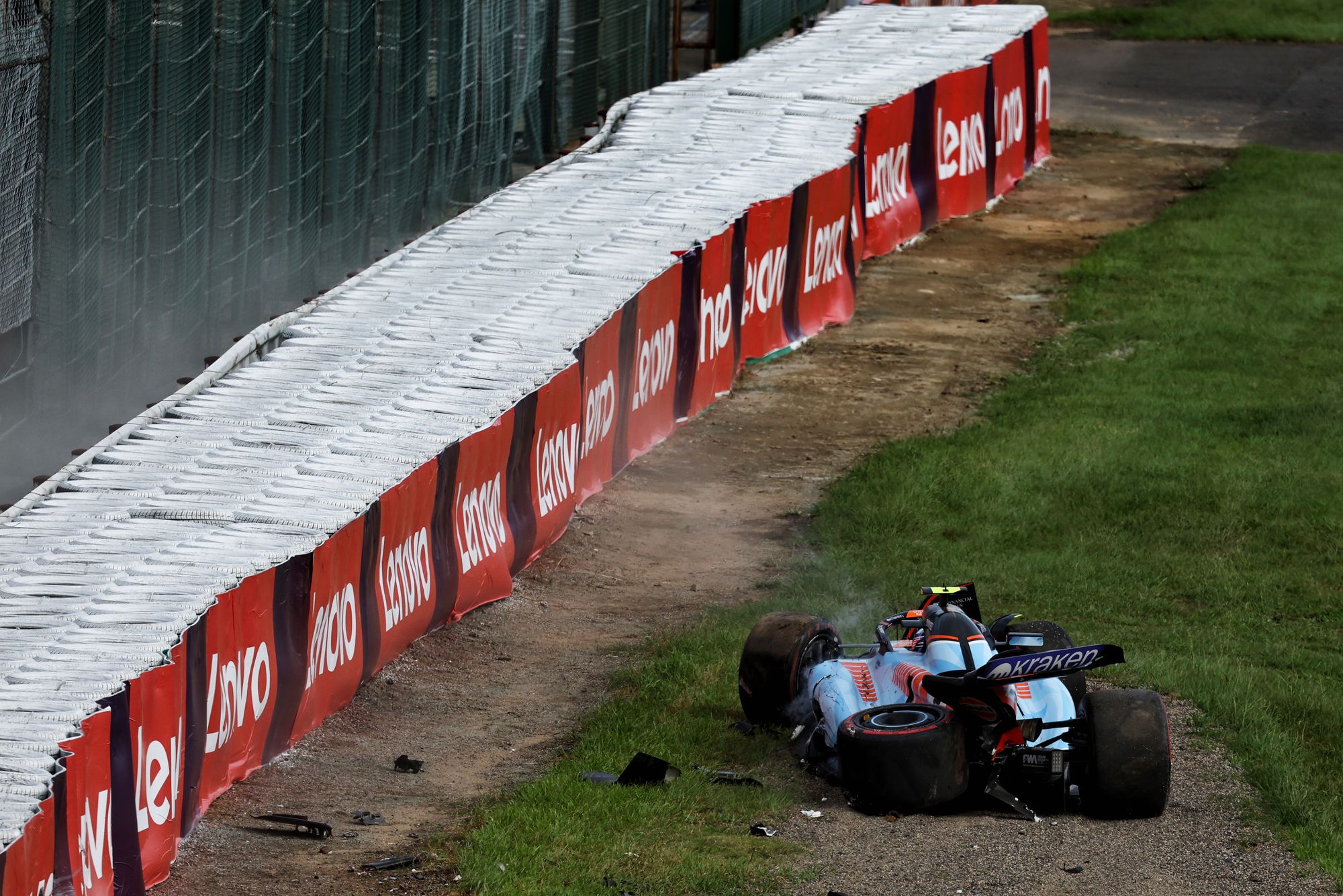 However, FIA officials were not satisfied with how much work Williams had conducted before then.
FIA technical delegate Jo Bauer felt that two hours after qualifying officially ended Williams built up its spare chassis "to more than an assembly comprising a survival cell" as defined by the rules - and that "this has to be considered as a third car available to the competitor".
The regulations around spare chassis are designed to stop teams having a third, ready-to-go car built up and on standby.
As a result the matter was referred to the stewards, who shared Bauer's view and found Williams had broken the rule that states each competitor may not have more than two cars available at any time during an event.
While it is not completely clear how much Williams had actually done, the rules that a "survival cell" can only be fitted with components that exist wholly or partially within the survival cell (except the energy store), front axle components of the sprung suspension, the steering assembly, the side impact structures, any components permanently bonded to the survival cell and any fasteners attached to the survival cell (such as engine mountings).
Anything beyond that, and it will be considered a "car".
Whatever Williams did was deemed to constitute building the spare chassis to "a level exceeding [the definition of] the state of assembly for a chassis to be considered to be a car".
And it was a third car because the damaged existing chassis was still considered by the FIA as a separate car at that moment in time.
The minimum penalty for the rules breach is to start from the pits but Sargeant was already on course to do that as Williams opted to make set-up changes as well, to experiment for the grand prix.
As this meant the penalty for making the third chassis available was already being served, and the stewards have the option of imposing further punishment, they felt it appropriate to apply the 10-second penalty as well.
It has also been suggested that this matter gets discussed at again in F1's Sporting Advisory Committee.
DOUBLE DNF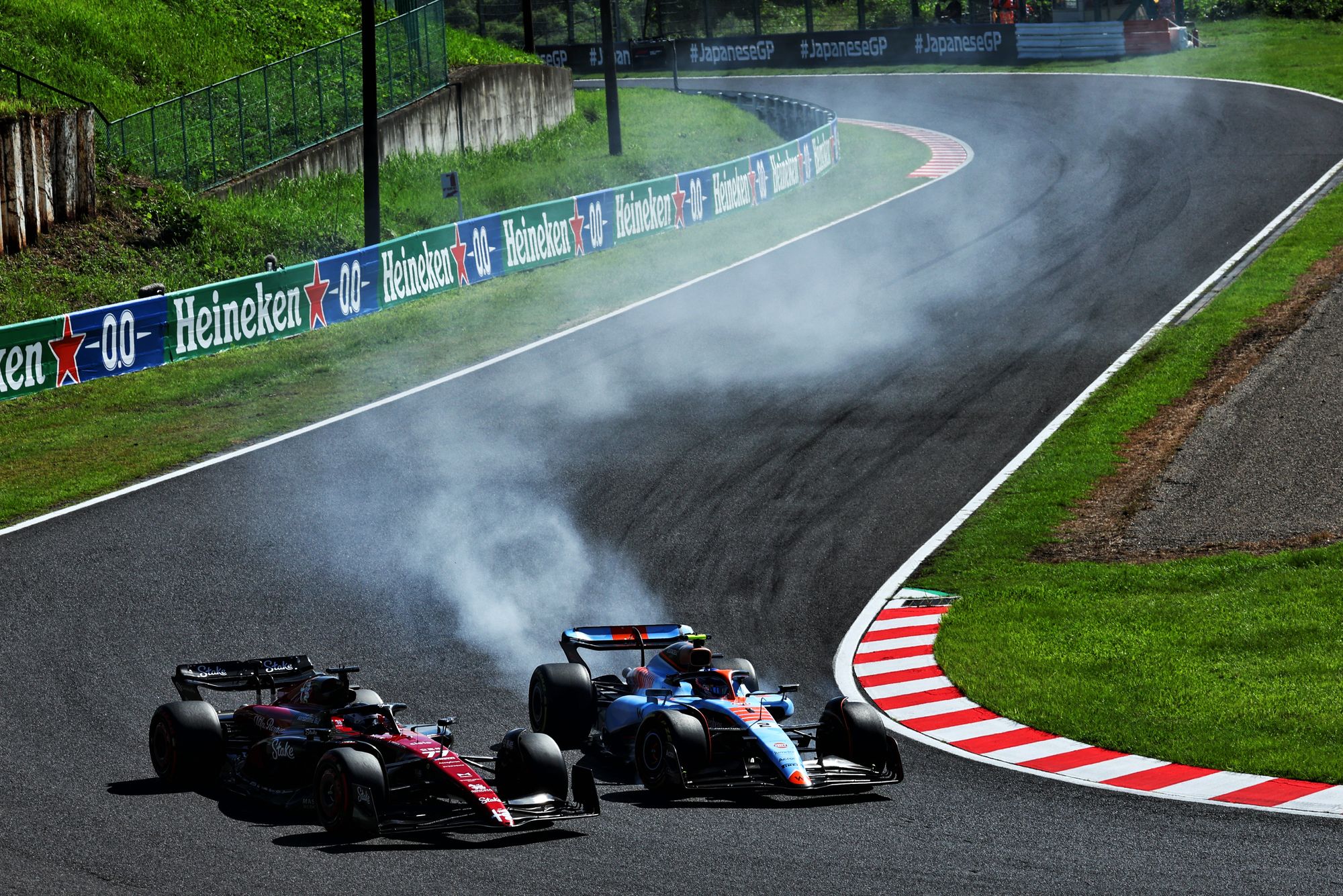 Sargeant's weekend did not get better from there. He quickly picked up a second time penalty, this time only five seconds, for a strange clash with Valtteri Bottas.
Sargeant locked up into the hairpin defending from Bottas and despite entering the corner ahead (as a result of his excess speed because of the lock-up) he ended up clouting the left rear of the Alfa Romeo as Bottas navigated the corner on the outside.
That caused yet more front wing damage for Sargeant and also floor damage, too, and the combined impact meant Williams had to retire the car.
"From my side, just the second I touched the brake in Turn 11, I was locked," said Sargeant.
"I thought he [Bottas] would have seen it and gone inside, because I was never going to make the corner.
"But once he went to the outside, there was nothing I could do to avoid it.
"I tried to stop it. I thought he might have seen it to try and avoid it.
"It's my fault."
The other Williams did not fare any better as the team recorded a double DNF.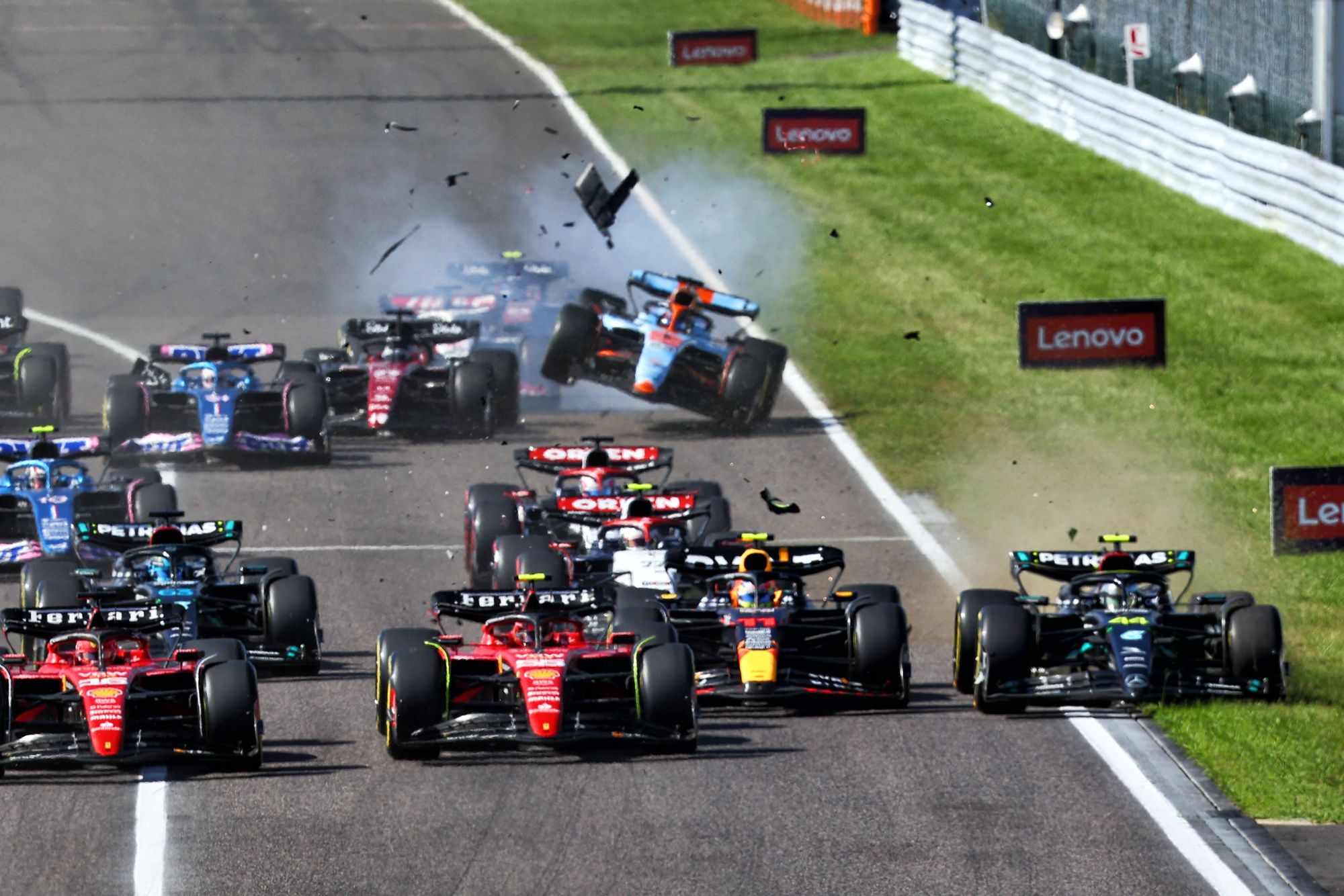 Alex Albon was an innocent victim of the pack compressing on the run to Turn 1 at the start and had a violent and briefly airborne impact after his car was hit on the right side – ironically, by Bottas.
Albon said that "no car is strong enough to survive those kinds of crashes" and although he persevered for a while, Williams opted to retire him as well.
"If you get squeezed, you get squeezed - there's nowhere really to go," said Albon.
"A bit of a shame, with all of the retirements happening, it was a good chance for us to at least try to finish in front of one of the Alpines.
"But I took so much damage from that first hit, I was way down on downforce."
SARGEANT'S SPEC SITUATION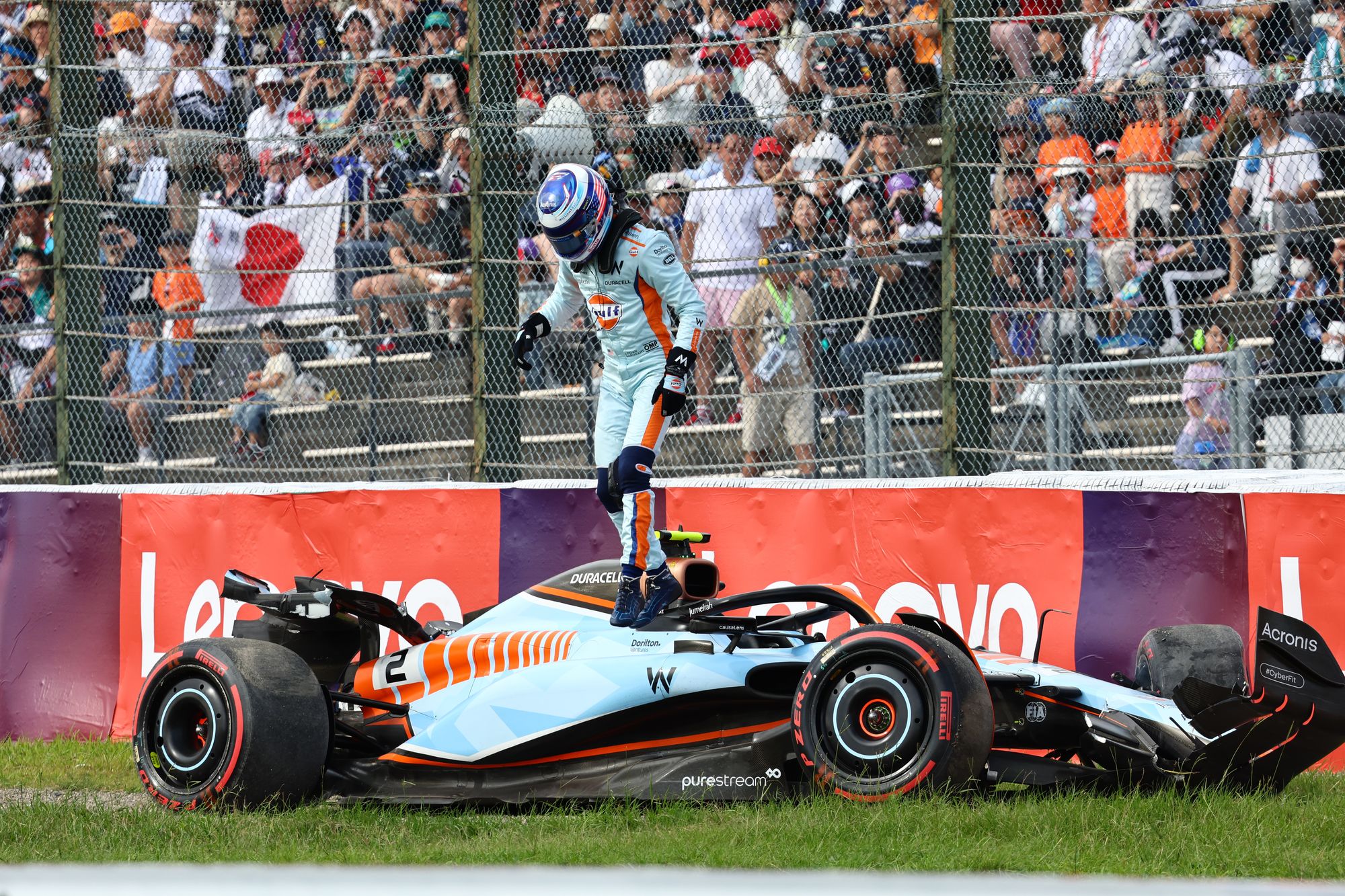 The damaged chassis from qualifying will at least be easily repaired, according to Williams.
It suffered some radiator inlet damage rather than anything significantly structural, and Robson indicated "it will probably take longer to get it back to the UK than it will to actually repair it".
The bigger issue for Sargeant is what this means for Williams's stock of front wings and spares.
After Sargeant crashed it emerged that he has remained on a different car specification to Albon for several grands prix.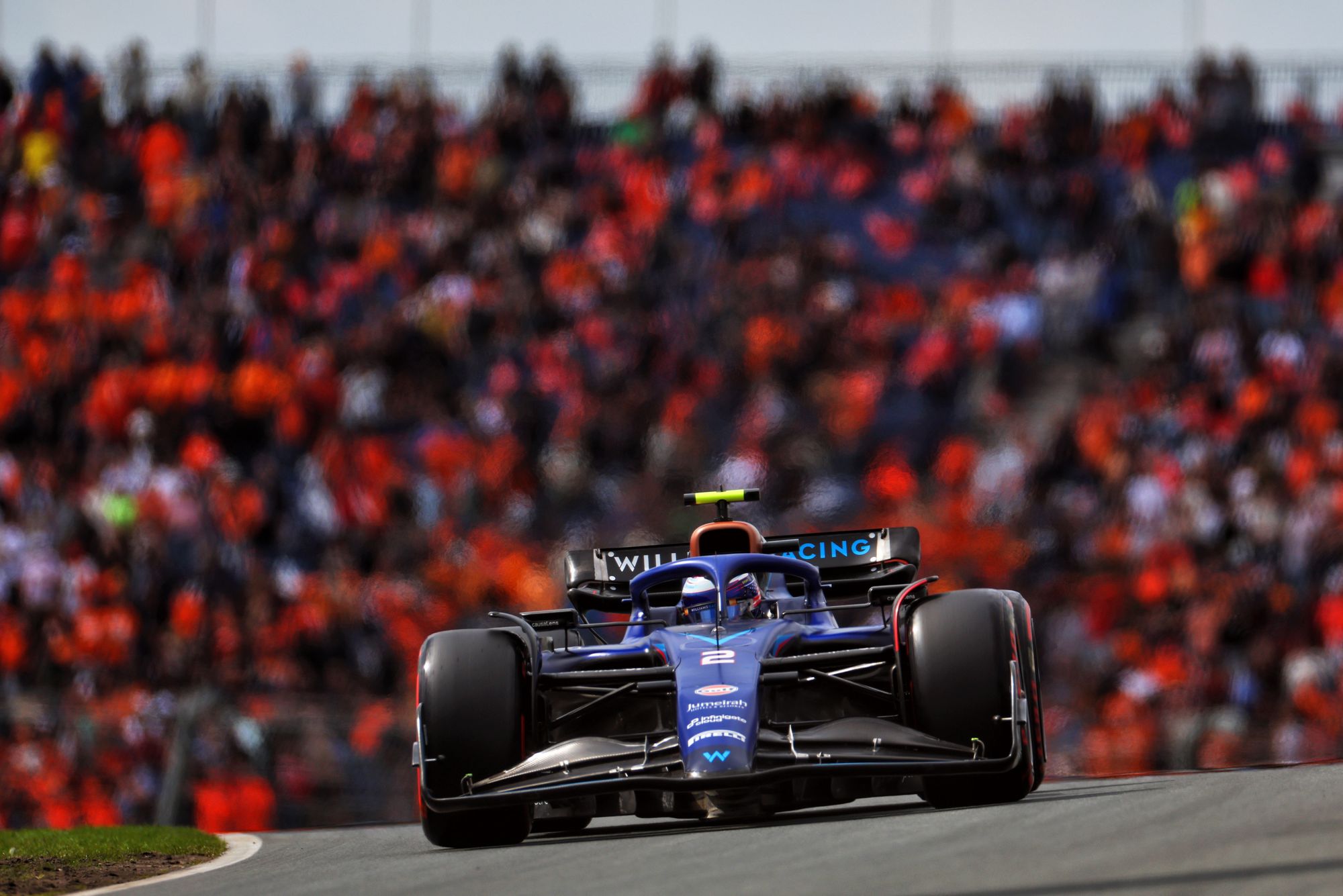 It was known after he shunted in Dutch GP qualifying that Sargeant had cost himself the new-spec front wing for the race at Zandvoort and the following weekend at Monza.
Team boss James Vowles then said in Japan that this has continued since, which means Sargeant also had a difference against Albon in Singapore and Japan as well.
However, Robson says that is the extent of Sargeant's spec discrepancy, so did not apply to the races before the summer break.
And as hinted at on Saturday, it does sound like Sargeant's crash into the wall in the Singapore race plus the qualifying crash in Japan means he could well have to make do with pre-existing old-spec front wings for even longer.
That would make it easier for Williams to manage part production to the end of the season, given the budget cap limitations at this stage of the year.
"We've got enough parts around us, it just becomes a bit of a logistical exercise," said Robson.
"How many do we want to actually ship and have at the circuit? What do we send on to the next? What have we sent back to the UK?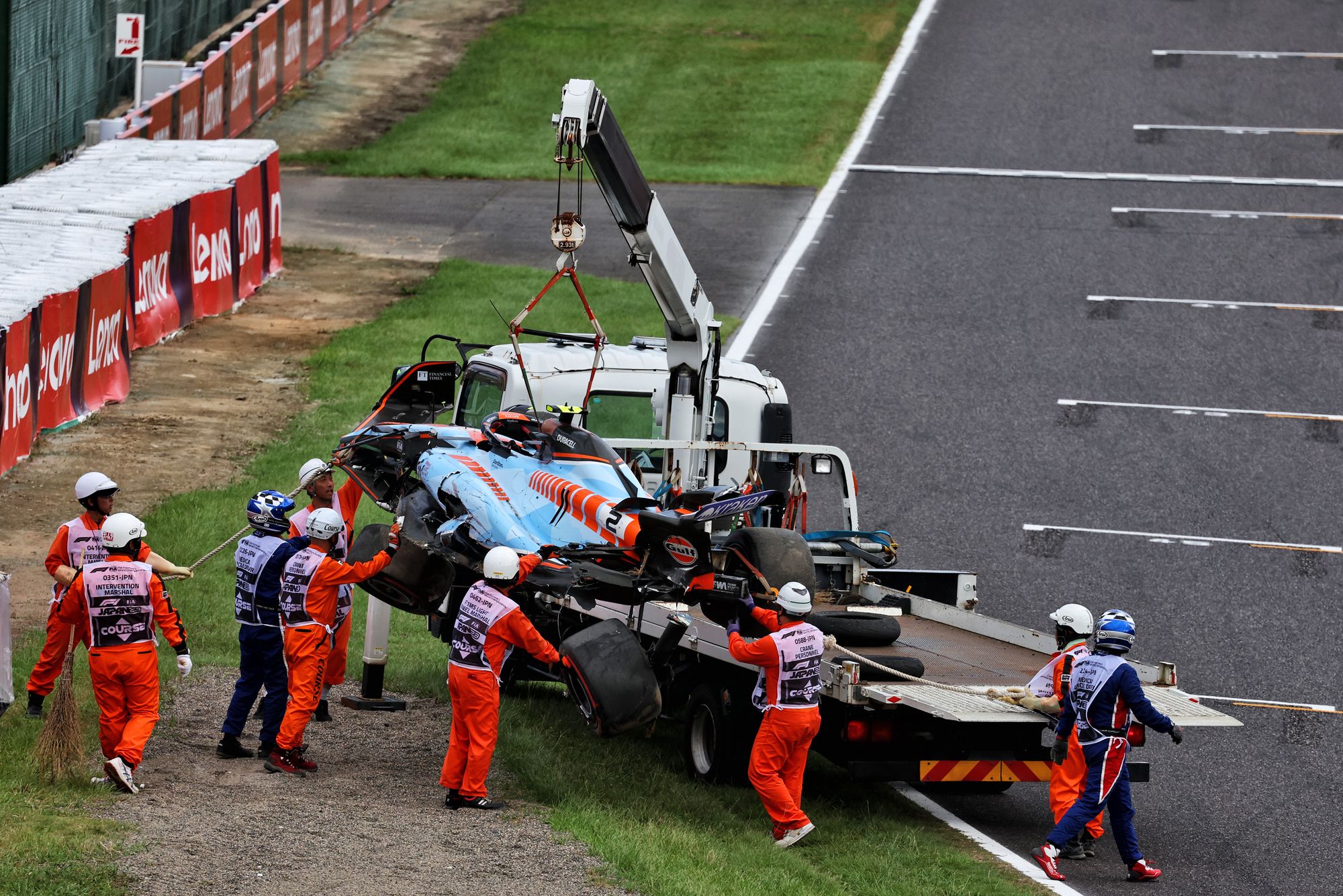 "And so I don't think there's too much panic.
"We'll need to get that chassis repaired, which will consume a little bit of time at the factory.
"But otherwise, we've got enough bits around us that we could carry on."
Even if it is not the case at present, Robson hinted that further crashes would definitely leave Sargeant with a spec discrepancy to the end of the season. And this had been pre-race - before Sargeant did indeed have another accident on Sunday.
"To some extent, you end up having to drop back on specs because for all of the long-lead items and then having to ship them around the world, it's already too late to make more new ones, really," said Robson.
"Even if you had the money and the time to do it. So yeah, you inevitably make do and mend."