With real racing slowly coming back and Formula 1 returning with the Austrian Grand Prix on July 3, it brings with it the end of Virtual GPs.
It also means the accompanying Pro Exhibition series, featuring esports drivers, has finished after seven rounds.
Points weren't awarded as it was a non-championship stretch of races acting as a precursor to the F1 Esports Pro Series taking place later this year.
But if it were a points-scoring championship, then Racing Point's Lucas Blakeley would've ended the campaign as the champion with 94 points to his name.
Drivers' standings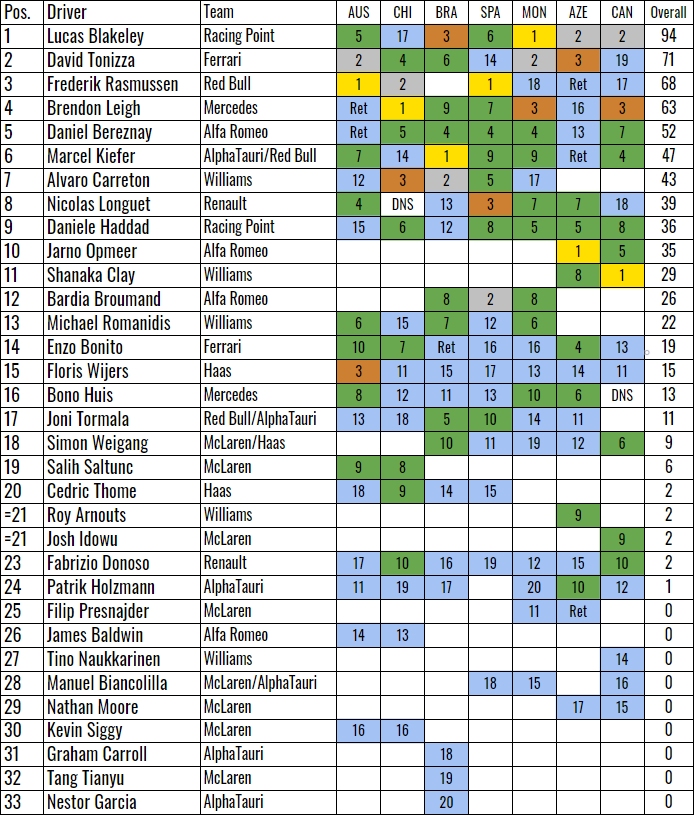 One race win and four podium finishes put Blakeley 23 points clear of 2019 F1 Esports champion David Tonizza.
In the 2019 F1 Esports Pro Series, Blakeley finished 15th in the drivers' championship, although he only took part in four of the 12 races.
Red Bull's Frederik Rasmussen was the only driver to win multiple races, and he finished one position behind Tonizza as was also the case in last year's Pro Series.
Two-time F1 Esports champion Brendon Leigh is fourth in the standings, an improvement on his fifth-place finish in the 2019 F1 Esports Series.
Jarno Opmeer and Shanaka Clay, for Alfa Romeo and Williams respectively, only took part in the final two races and yet both have race wins to their name.
Opmeer the Pro Exhibition round in Azerbaijan and Clay converted pole into a victory at Montreal, after electing not to pit for intermediate tyres as the track was drying up.
Clay is the highest-placed driver not to have taken part in the 2019 Pro Series.
He was a Pro Draft finalist in 2019 and has qualified for the 2020 Pro Draft, due to take place later this year.
The unofficial constructors' champion is Racing Point, courtesy of Blakeley's championship winning run and Daniele Haddad's string of points finishes.
Red Bull, the highest-scoring team in the 2019 F1 Esports series, was second and 11 points adrift of Racing Point, with Alfa Romeo only a further six points back.
Constructors' standings
1. Racing Point – 130
2. Red Bull – 119
3. Alfa Romeo – 113
4. Williams – 96
5. Ferrari – 90
6. Mercedes – 76
7. Renault – 41
8. Haas – 25
9. McLaren – 9
10. AlphaTauri – 8