Mercedes Formula 1 engine boss Andy Cowell will leave his role and be replaced by Hywel Thomas from the start of next month.
As managing director of Mercedes High Performance Powertrains, Cowell oversaw the development of the V6 turbo-hybrid engine that helped put Mercedes on a course for dominance when the new regulations came in from 2014.
Mercedes has won six consecutive drivers' and constructors' doubles while Cowell has been in charge of its Brixworth engine division.
However, he informed Mercedes in January this year of his intention to leave and HPP will have a new senior management structure from July 1.
Cowell will remain onboard to support the transition and "will consult to Mercedes-Benz AG on a major future project until at least early 2021".
"Andy's leadership of the team at HPP has been a key factor in our championship success in recent seasons," said Mercedes F1 CEO and team boss Toto Wolff.
"He has made an outstanding contribution to our motorsport legacy and I have valued and enjoyed our working relationship since 2013; I am sure he will enjoy great success in the next challenge he decides to take on."
Cowell leaves Mercedes HPP after a 16-year stint to "seek a new engineering business challenge".
"I have appreciated the opportunity to work with Markus (Schafer, Daimler board member) and Toto in defining the future leadership structure of the company and I have every confidence in the ability of Hywel and the team to lead the company forward.
"It has been an absolute honour to work for Mercedes and especially to be managing director of HPP for seven years."
Thomas will succeed Cowell (pictured below in Mercedes' 2016 title celebration) as managing director with direct responsibility for the F1 power unit.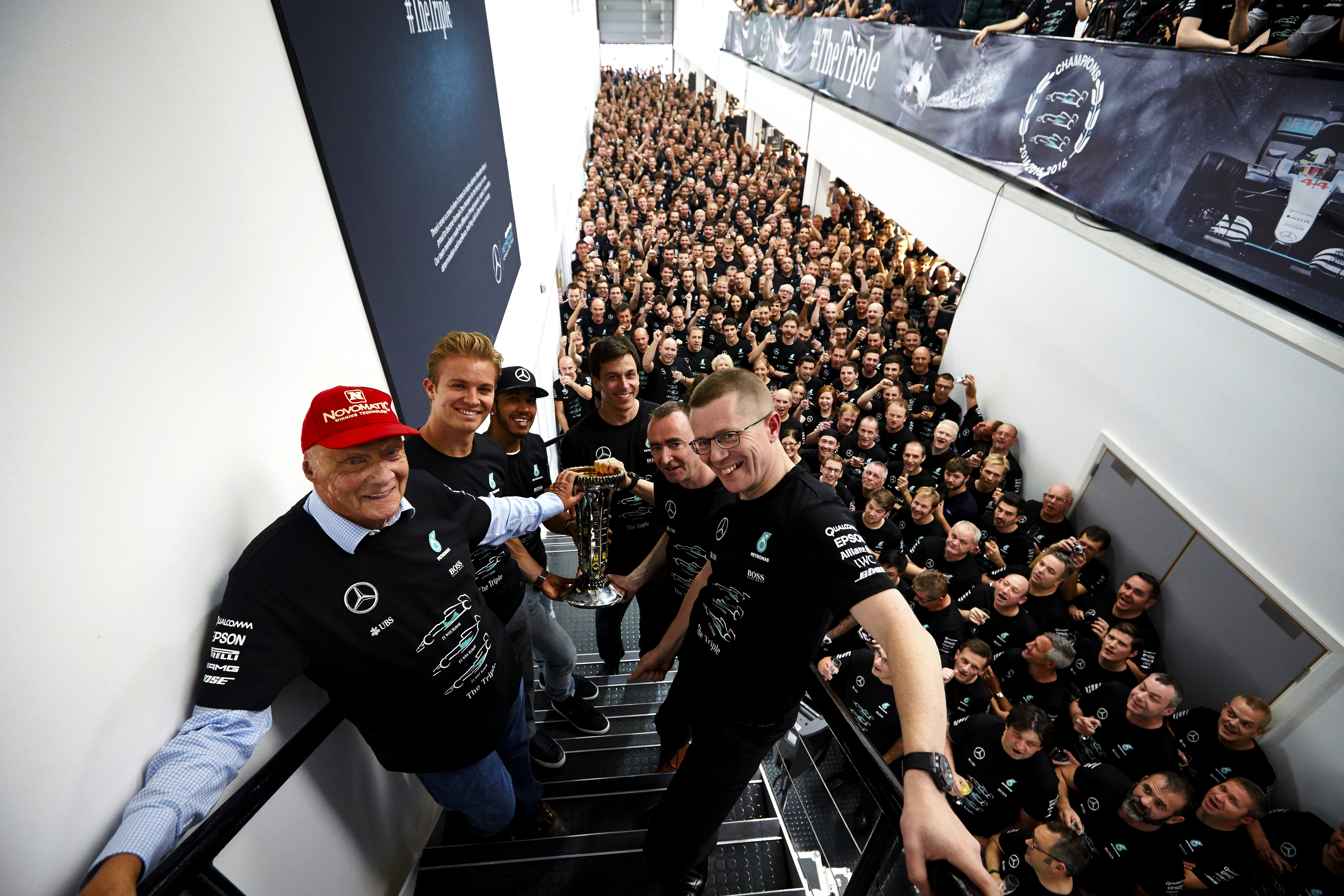 He will be supported by Adam Allsopp as powertrain director of the Project One hypercar effort, operations director Richard Stevens and finance and IT director Ronald Ballhaus.
FE powertrain chief engineer Pierre Godof "will continue to lead development for the all-electric racing series".
Mercedes said the new structure will underpin the F1, FE and hypercar projects "in the coming years".
"Our philosophy has always been that a winning team is a dynamic organisation, and that change is a natural part of every company's development," said Wolff.
"I am particularly pleased that we have been able to work together to create a new leadership structure, by building on the strength in depth of the team in Brixworth.
"It puts us in a very strong position for the years ahead, as we aim to set new benchmarks in Formula One and Formula E."
Daimler board member Schafer, who is also non-executive chairman of Mercedes HPP, said Cowell's legacy is not just in Mercedes' title success but also the "competitive spirit and engineering ambition" within the Brixworth facility.
He said that the new senior leadership team "knows the business inside out" and "are responsible for some of our most exciting and challenging R&D projects on our journey towards carbon free mobility and raising our digital competence to a next level".
Thomas, who like Cowell has worked for HPP for 16 years, said: "Andy and I have worked together throughout my time here and I am thankful to have been able to learn from him during this time and through a period of great success for the team.
"Our new leadership group is very excited to step up to this new challenge: we have an incredible team of people at Brixworth, and we are all focused on delivering maximum performance on track in the years ahead."