Has McLaren finally rattled Red Bull? In a Formula 1 season of unprecedented dominance for Max Verstappen, it's been rare to see him actually have to defend the lead from another car, or debate with his engineer whether he needs to speed up to get the job done.
But thanks to the efforts of McLaren and Lando Norris in the 2023 Brazilian Grand Prix (and its sprint race forerunner) that's exactly the situation F1's triple world champion found himself in - actually having to think about another competitor rather than just disappearing off into the distance.
Ever since its mid-season upgrade McLaren has looked like a team transformed - into something that can genuinely beat Aston Martin, Ferrari and Mercedes and be best-of-the-rest. But recently McLaren has started to look like something potentially greater than that.
Christian Horner feels McLaren is now Red Bull's "closest competitor" and he's justified in feeling this way.
Since that initial Austrian Grand Prix upgrade, McLaren is F1's second-highest scoring team, amassing 25 points more than Ferrari, 50 points more than Mercedes and 158 points more than Aston Martin over the past 11 events.
Over a single lap in qualifying, McLaren has started to look like a potential Red Bull-beater. Oscar Piastri and Lando Norris have both taken a sprint race pole position this season, and Norris was almost a tenth and a half clear of Verstappen in Friday's Q2 session for the Brazilian Grand Prix before a storm blew in and messed McLaren up in Q3.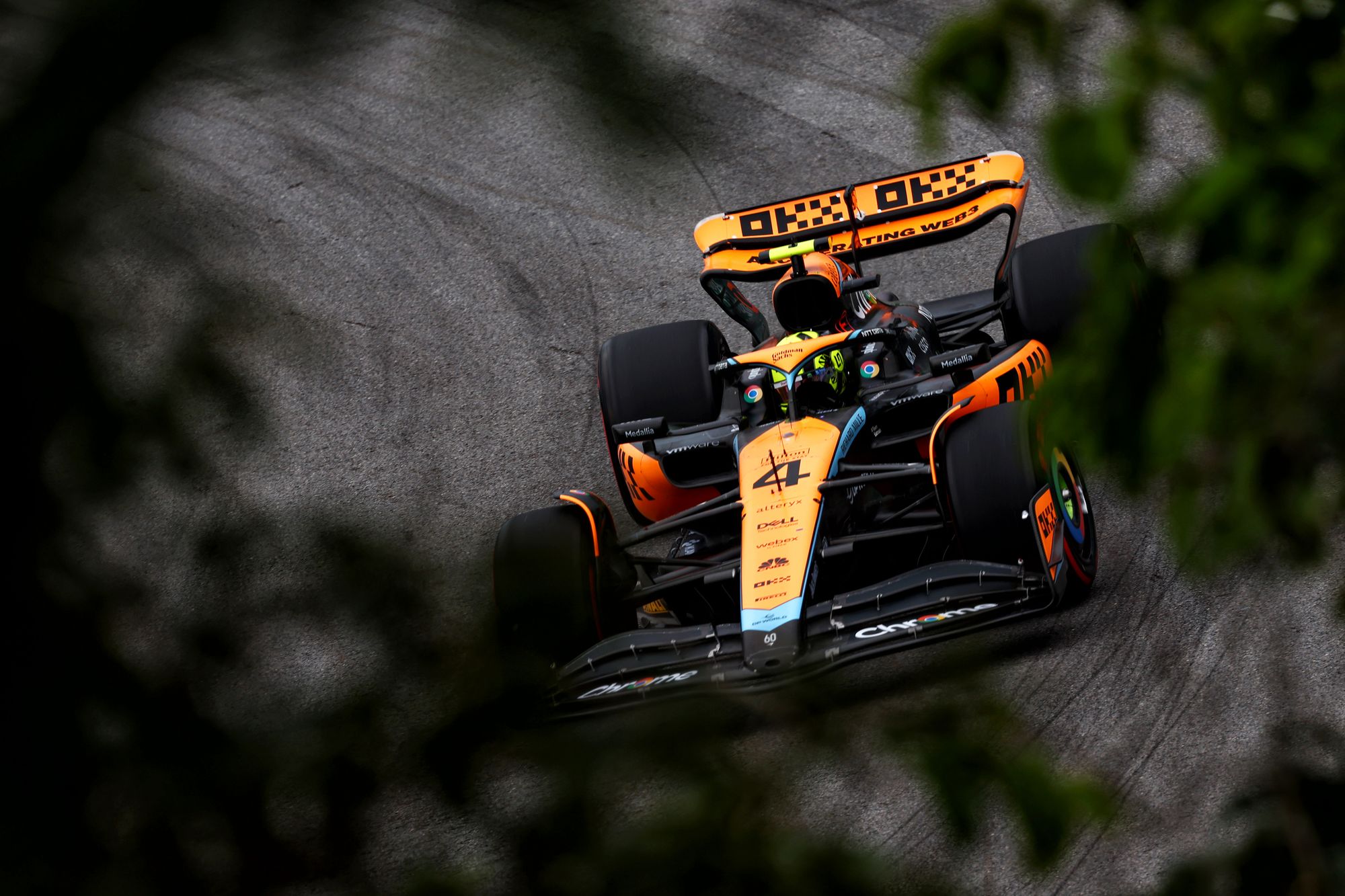 But, Singapore anomaly aside, beating a Red Bull in qualifying isn't the true stress test of where McLaren is at.
Ferrari has taken several pole positions this season but usually then goes backwards in the races.
Even Lewis Hamilton's "miserable" Mercedes has been on pole once this year, in Hungary. But again, he didn't come close to challenging Verstappen for victory. And even though Hamilton got closer than anyone has in the US GP, his car wasn't legal there.
In Brazil we got four race stints where Red Bull's fastest driver and McLaren's fastest driver went head-to-head in a straight fight, using pretty much identical tyre strategies too. And the sum total of that was the McLaren giving away just over a tenth per lap - 0.137s to be precise - over 92 laps of racing.
WHERE McLAREN THINKS THE DEFICIT LIES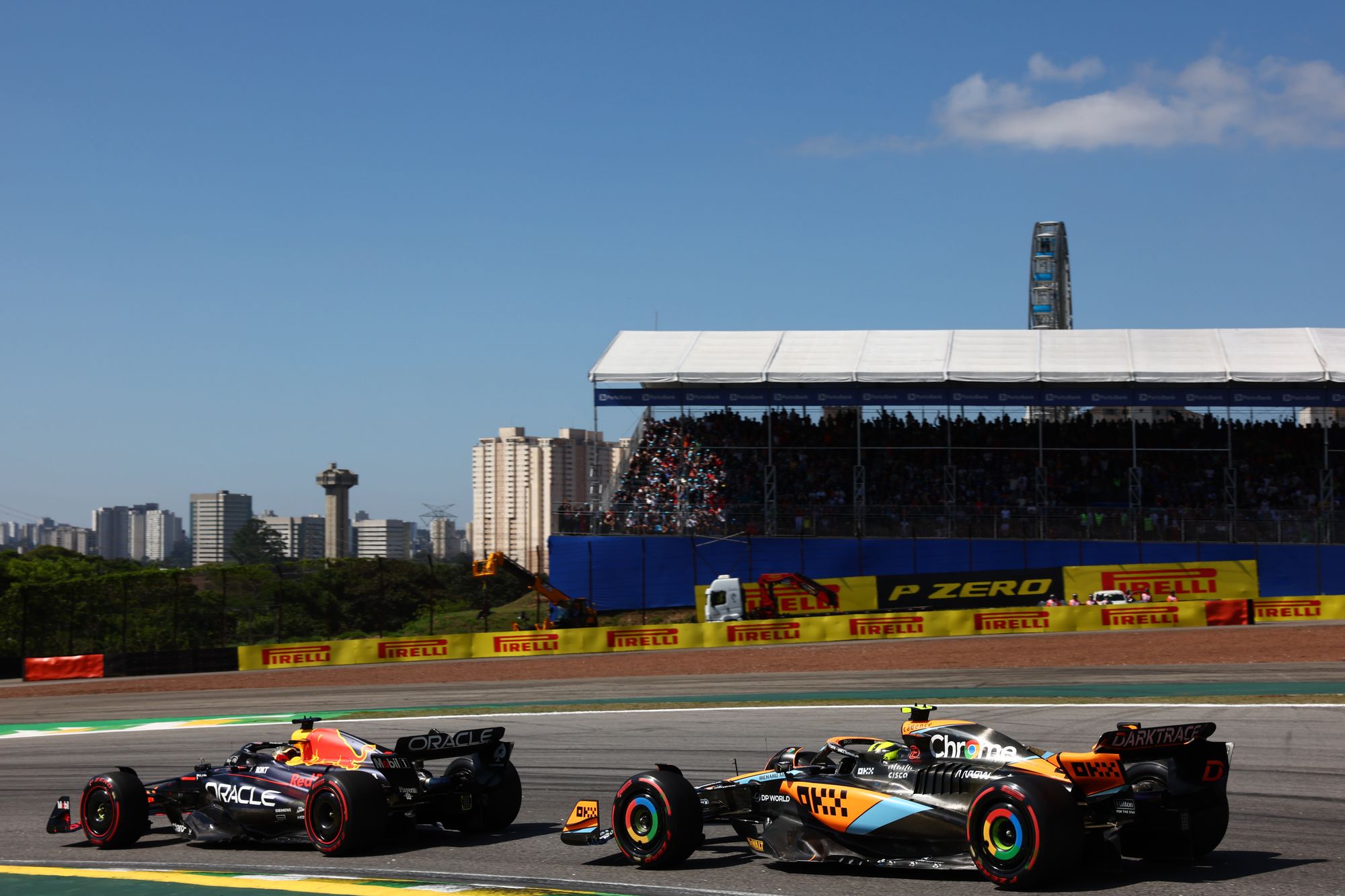 The most encouraging thing for McLaren, compared to Ferrari, Mercedes and Aston Martin, is that McLaren has consistently brought upgrades to its car that have delivered clear steps in performance.
This suggests a team that has a much stronger understanding of its strengths and weaknesses compared to the past. Those phased summer upgrades brought a huge step forward in pure laptime, while a further major update for Singapore is credited by team principal Andrea Stella for significantly improving McLaren's tyre management.
In both the sprint race and the grand prix itself, Norris was quick enough to threaten Verstappen, requiring Max to think strategically about how best to utilise his own tyres and also deploy his Honda power unit's recovered energy. But crucially Verstappen still had something in reserve to make sure he wasn't eaten up by the McLaren.
Norris feels the Mercedes engine in his McLaren is every bit as good as the Honda powering the Red Bull, so this remaining race pace deficit comes down to chassis and driver.
And although running behind other cars tends to hurt the tyres more than running in clean air, Stella remains unconvinced that the McLaren in its current guise could beat the Red Bull if only it could somehow gain track position.
"On new tyres, we can fight for pole," he said on Sunday in Brazil, "but as soon as the tyres degrade it would appear Max, Red Bull, they have less degradation."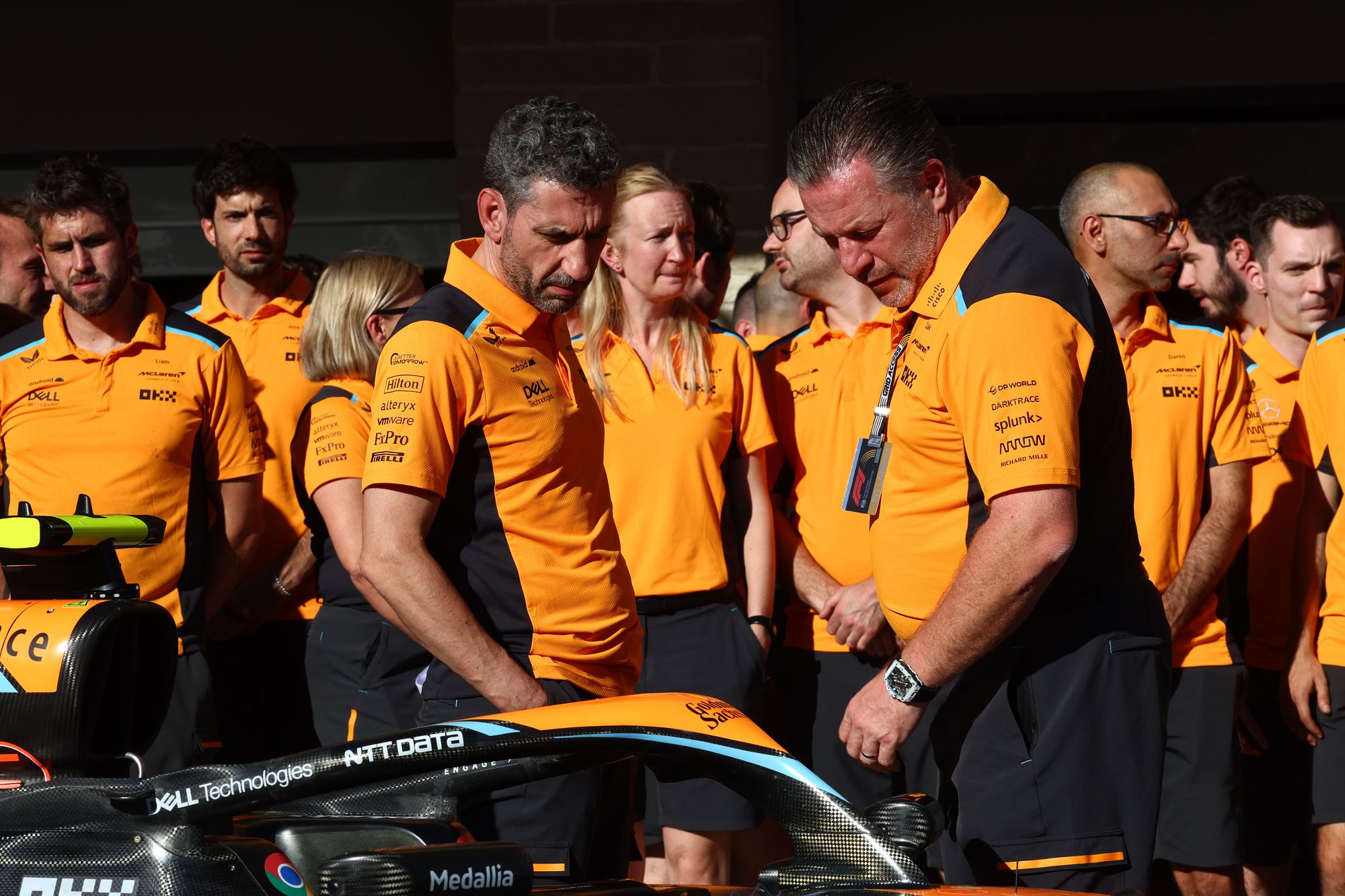 He feels the RB19 is "superior" in how it limits the amount the tyres lose grip over a stint, and strongly hinted at some fundamental architecture on the current McLaren limiting his team's capacity to react and close the gap.
"Where we think the difference is made we can't do very much with this car," he added.
Stella was extremely coy when asked in Brazil how much of Red Bull's apparent tyre degradation advantage over McLaren relates to aerodynamics and how much relates to mechanical grip.
He was only prepared to say "it's a combination of both". He indicated McLaren has "set some targets" in terms of developing its way out of this situation - but added: "I can't say in which area and how".
But he did at least confirm McLaren's area of focus is "not only aero".
WILL RED BULL'S DEVELOPMENT RUN OUT OF STEAM?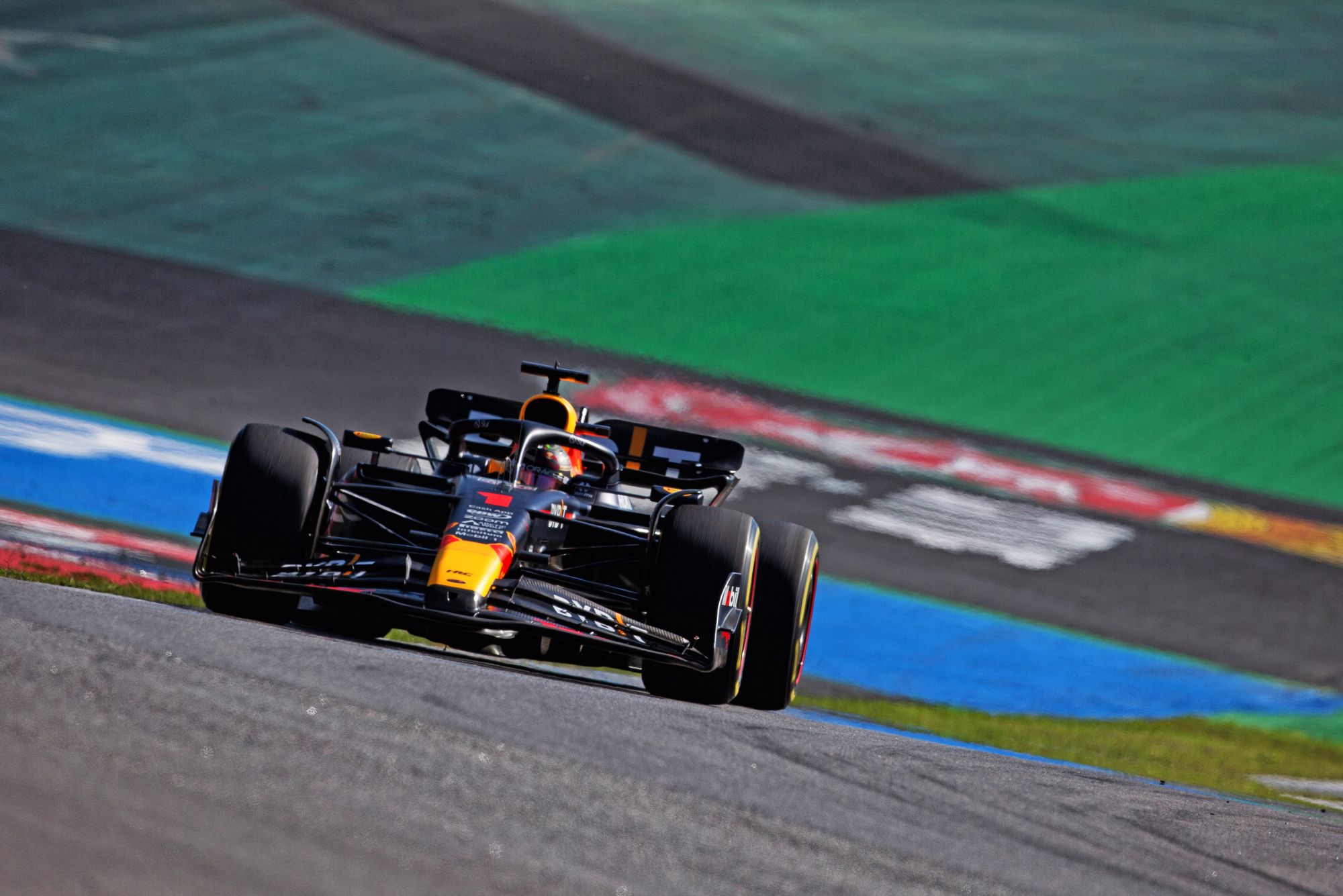 Obviously Stella doesn't want to give away McLaren's key 2024 development priorities to a bunch of nosey and loose-lipped journalists, but his careful answers still offer some important clues.
Stella was also asked about Red Bull's clever rear-suspension layout, which is considered to be a vital component in stabilising the RB19's aero platform and allowing it to produce more downforce more consistently than other cars, while also meaning Red Bull can run smaller wings for a straightline speed boost.
In response to a direct question about the importance of mechanical development, given the apparent source of Red Bull's advantage, Stella described the suspension as "very important" because it "enables" aerodynamic development and plays a "fundamental role" in what he called "tyre utilisation" - because the tyres are connected to the circuit and the thing connecting them to the car is the suspension.
Suspension is not easy to develop, especially in-season, so any significant work in this area ideally needs to be done early and locked in before the rest of the car's development path is set.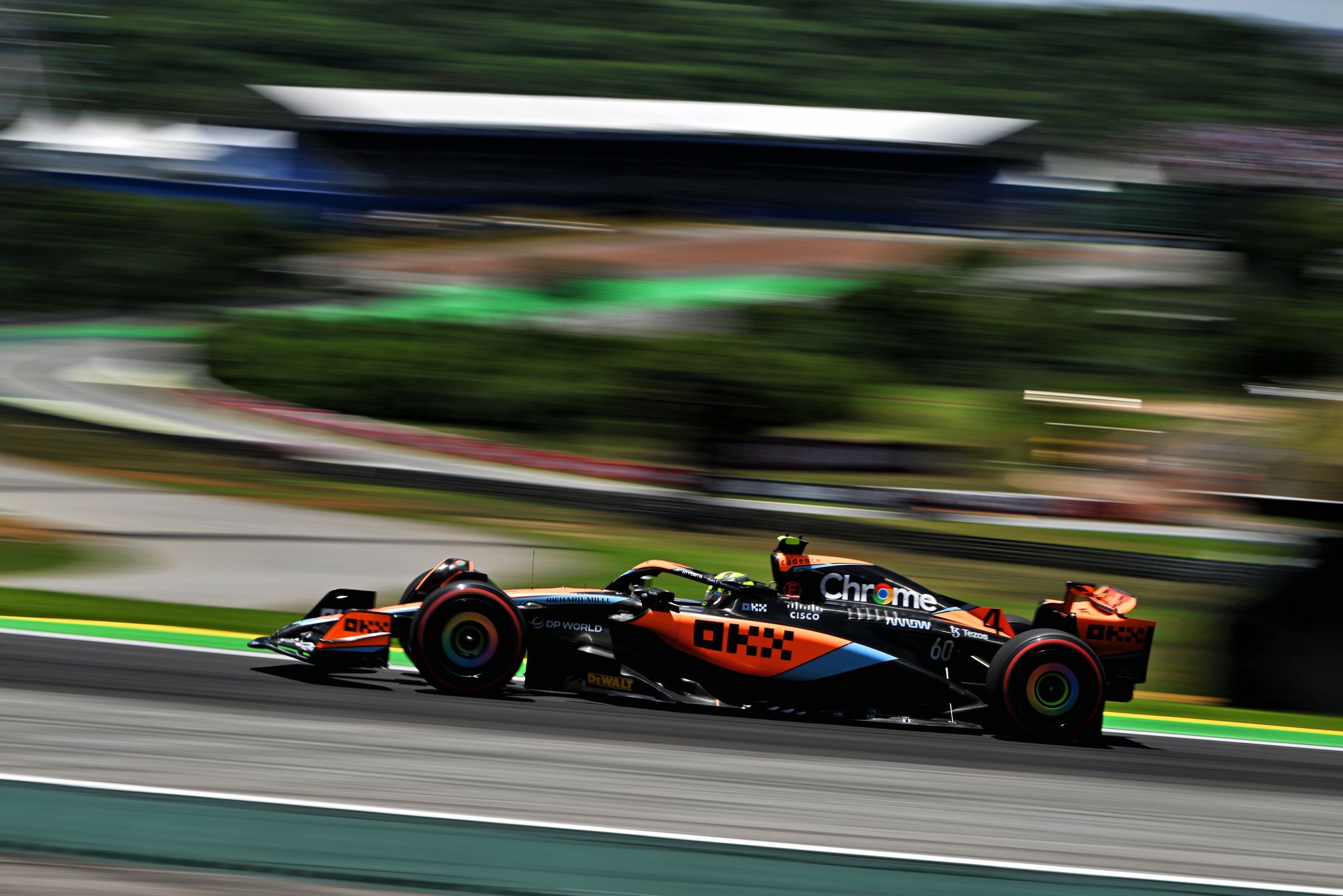 As Stella put it, aerodynamic components are "much more susceptible to development than evolving suspensions" so the focus of any F1 team will naturally be on "developing the components that are much easier to develop, like the bodywork parts".
But getting the right suspension layout is critical in unlocking the potential for that aerodynamic development, and this should then produce a compound benefit on tyre life over a stint - because the better your mechanical platform is and the more stable your aero platform is, the less likely you are to slide and overheat the tyres.
It sounds easy, but of course, it's anything but simple. Ferrari appeared to have a reasonably strong mechanical and aero platform in 2022, but attempts to make the car less draggy over the winter completely scrambled the picture, turning the Ferrari into a peaky and inconsistent car to drive.
Mercedes tried what Toto Wolff now calls sticking plaster solutions with revised bodywork, floor and front suspension on this year's W14, as it sought to change course completely and reverse out of its unique 'zero-pod' concept. But that team's disaster class in Brazil shows how quickly even a major strength - like that car's ability to look after its tyres over a race distance - can turn into a crippling weakness.
Stella feels suspension will be a major focus for every team over the winter of 2023 - in his words, "everyone will be investing in developing their suspensions, I'm pretty sure" - so we can take that to mean McLaren too.
And if Stella's team can achieve the sort of progress in that area of the car that it has clearly managed so well with this year's in-season aero development, then no wonder Lando Norris feels "excited" by what's to come in 2024.
Obviously there is still the danger that McLaren looks artificially close to Red Bull right now because the development of RB19 has been mostly de-prioritised this season so Red Bull can get ahead on developing its successor, RB20. Horner mentioned this very thing in Mexico and it should act as a clear warning to other teams not to let complacency set in.
But, as Horner later pointed out after Verstappen's 8s victory over Norris in the Brazilian GP, at some point the "returns are going to diminish" for Red Bull because, as he put it, Red Bull will hit the "top of the curve" in terms of its own car development. Horner thinks the field will then "concertina" and "become closer".
When that happens, McLaren needs to be ready to strike first.