Lewis Hamilton is "counting down the days" to the 2024 Formula 1 season but he has emphasised his need to do "better" in one particular area during the rest of the 2023 season.
Mercedes' draggy W14 was third-best last weekend at the Italian Grand Prix, where Hamilton salvaged sixth place from a tough race to finish one place behind team-mate George Russell.
The drivers at least had a more competitive car than McLaren and Aston Martin, but Monza furthered a trend of the Mercedes having a fairly consistent deficit to the dominant Red Bull this season and the team's place in the pecking order being decided by other teams moving around in competitiveness from track to track.
Within that though is the Mercedes W14's inherently tricky nature. It is hard to get into the sweet spot and though things started off well initially in FP1 for Hamilton at Monza he felt it got more complicated thereafter, whereas Russell was just a bit happier throughout the event.
By qualifying Hamilton still did not have the feeling he wanted in the car, and though the gap to Russell was minimal at 0.15s, the condensed nature of the field meant Russell started fourth and Hamilton only eighth.
That led to a complicated race with an offset strategy, running long on the hards before an attacking final stint on the mediums in which he had to pass several cars on track and overcome a five-second penalty for an avoidable collision with Oscar Piastri's McLaren to finish sixth.
Hamilton said he generally finds the races "pretty straightforward" but stressed: "I've just got to do better in qualifying, so it's not such a difficult day.
"And [it's about] just living with the car that we have at the moment.
"[At Monza] it's the third-fastest car and it's obviously painful for all of us.
"We wish we were quicker. But we're just counting down the days to February."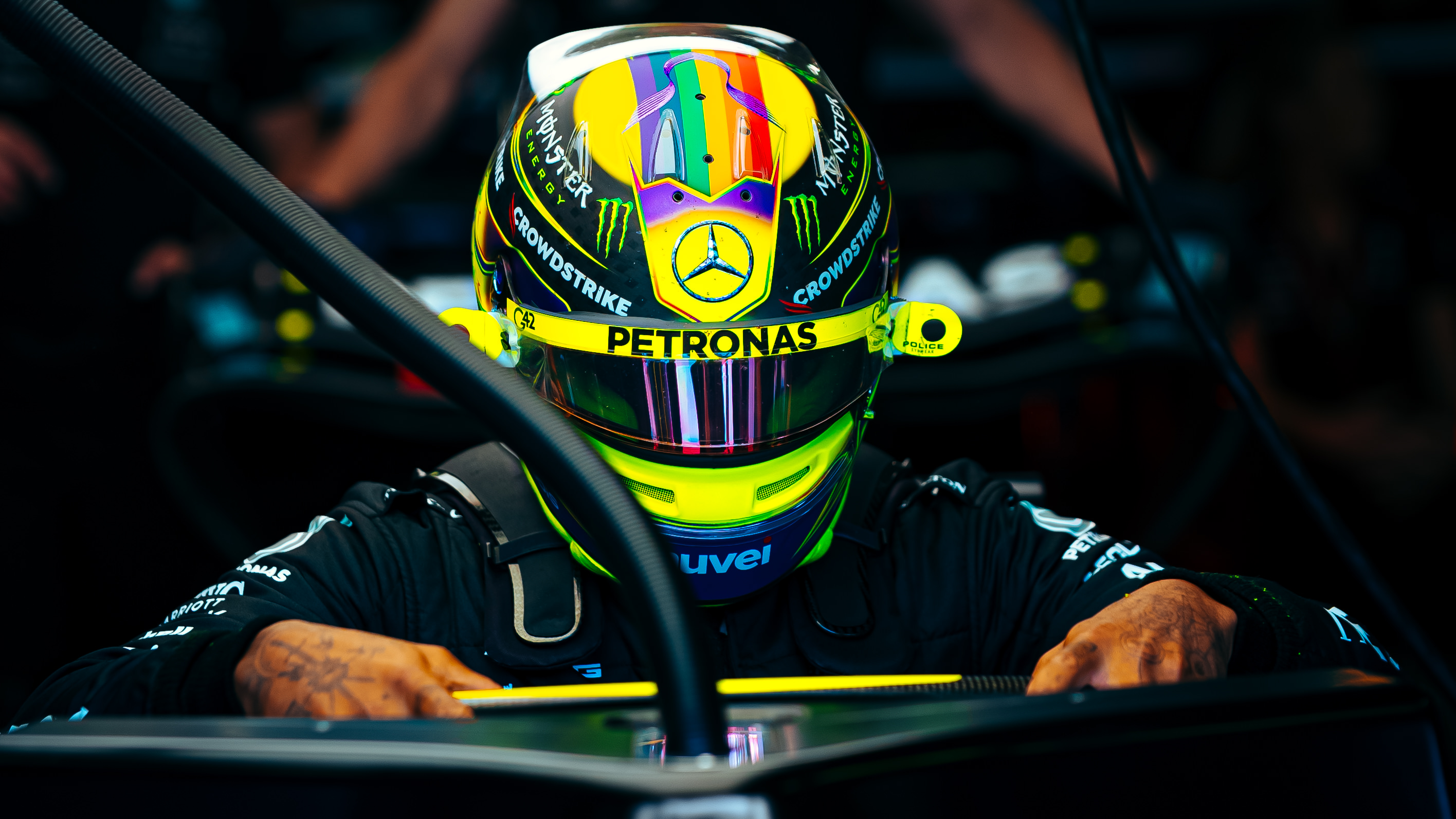 By saying that, Hamilton is acknowledging what Mercedes and its drivers have been saying for quite a while – this season is what it is, with the car that they have, and next year is the bigger priority.
He's not waving a white flag for the rest of 2023, though. It is the opposite. By putting the emphasis on dealing with the car's evils in qualifying as that is such a sensitive part of the weekend, Hamilton is identifying something that will make it easier to at least achieve the most of what the W14 is capable of.
Prior to the summer break, that is exactly what Hamilton was doing. He outqualified Russell in six of the seven races before the shutdown.
Now Russell is the one who sounds a little more content, albeit over a smaller sample set of races. But the difficulty of the Mercedes in qualifying is well represented by the fact Russell has three Q2 exits and even a Q1 exit, and now even Hamilton has two Q2 exits to his name.
Monza was not so severe a manifestation of this. But Hamilton's grid position still led to some specific, tough circumstances in the grand prix.
A DRS train stymied him in the first stint, in which Mercedes also didn't seem to have comprehensive rear tyre data.
That was not ideal on a day when managing the rears was crucial in high ambient temperatures, especially as Mercedes struggled to keep the tyre temperatures down through the weekend as the car was sliding around a little too much.
Being tucked up behind other cars would not have helped that, and doing so on a very hot day also gave Hamilton another quite critical problem with the front left brake overheating, with retirement looking like a serious risk at one stage.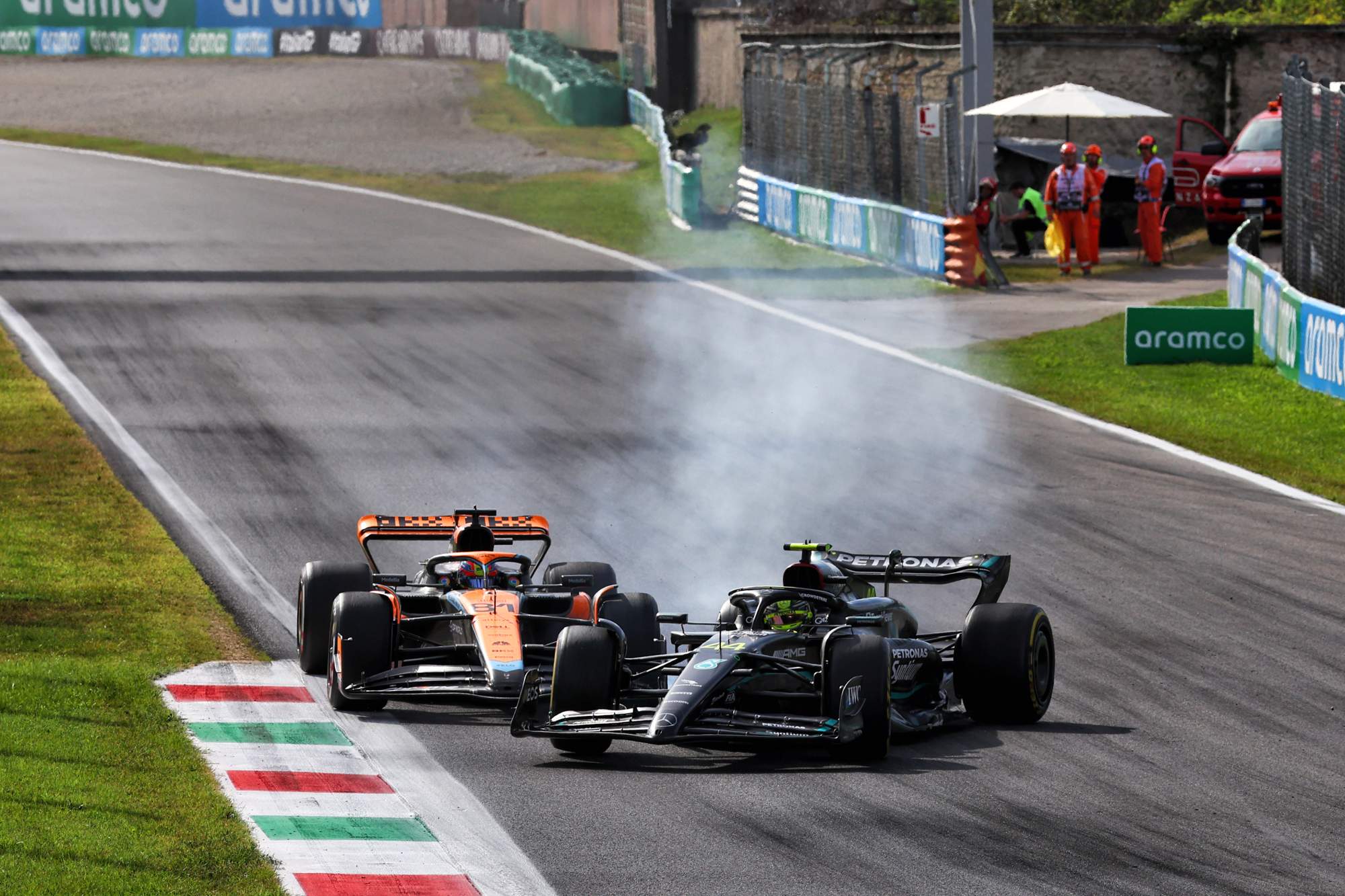 The clash with Piastri presented another hurdle in the form of that five-second penalty, but such was Hamilton's pace advantage on the mediums that – with his own car undamaged – he was able to catch and pass Lando Norris and Alex Albon and pull enough of a gap before the finish to stay ahead.
That meant no tangible loss from an incident that, almost immediately over the team radio, you got the sense that Hamilton suspected he was to blame for.
That was confirmed a little while after when he told his race engineer he didn't think he had left Piastri enough space, which is why Hamilton immediately sought the rookie out in parc ferme after the finish to apologise.
"I apologised because It was obviously my fault," said Hamilton.
"And it wasn't intentional. I got up alongside and just misjudged the gap that I had to the right.
"But I knew shortly afterwards it must have been my fault. So, I wanted to make sure he knew that it wasn't intentional.
"And that's what gentlemen do, right?"
Both Mercedes and McLaren agreed. Team boss Toto Wolff called Hamilton "very sportsmanlike" with these things while "pretty much everyone is otherwise complaining and moaning just to try to not get a penalty".
And while Piastri's team principal Andrea Stella said it was a needless clash, and was justified in feeling aggrieved given it cost McLaren a double points finish, he also made a point of acknowledging Hamilton's actions afterwards.
"Maybe Lewis got a little frustrated because in reality, I think Lewis would have overtaken Oscar – if not there, he would have taken up the next opportunity," said Stella.
"There was no need to take too much risk for Lewis because he had the pace to overtake with more margin.
"But Lewis is a fair competitor, if he apologises it shows his qualities as a competitor and as a person and he definitely has our respect."