Mercedes team boss Toto Wolff said Lewis Hamilton and George Russell's clash in qualifying at the Spanish Grand Prix was "a trivial incident that just looked silly" but admitted it "shouldn't happen".
Hamilton and Russell were summoned to the stewards over an incident on the pit straight at the end of the second part of qualifying, when they collided as both attempted to start a lap.
Hamilton broke his front wing after trying to pass Russell on the outside as his team-mate had moved right then back to the left on the run to Turn 1.
The hearing resulted in a "formal warning" for both Russell and his Mercedes team.
"Team-mates should never collide and even with another car you shouldn't collide in qualifying," said Wolff.
"It's always unfortunate circumstances that can potentially penalise both cars.
"This is a team effort and something in our communications we need to review after that incident, to avoid it in the future."
It took a peculiar set of circumstances to happen because Russell and Hamilton were not in sync for their final runs in qualifying, with Russell on a push lap while Hamilton was on an outlap, so they should not have encountered each other like this.
Contact between Russell and Hamilton during the final stages of Q2! #SpanishGP #F1 pic.twitter.com/JgQJmXphe5

— Formula 1 (@F1) June 3, 2023
But Russell aborted that lap and turned it into effectively a reset lap, which put him in sync with Hamilton.
There was still enough distance between them to be safe, though, until the end of Russell's prep lap became more complicated.
He was passed by Yuki Tsunoda's AlphaTauri, also preparing for a lap, which slightly compromised what had looked like very good track position.
At that point Russell was halfway down the straight between Turns 9 and 10, while Hamilton was only just exiting Turns 7 and 8, so there was a significant gap between them.
Russell briefly tried to get back ahead of Tsunoda in the final sector but tucked back in behind him as Max Verstappen was approaching at full speed.
He backed off before the penultimate corner to let Verstappen past but was told that Carlos Sainz was approaching on a push lap too, so stayed tight to the inside to leave room for the Ferrari.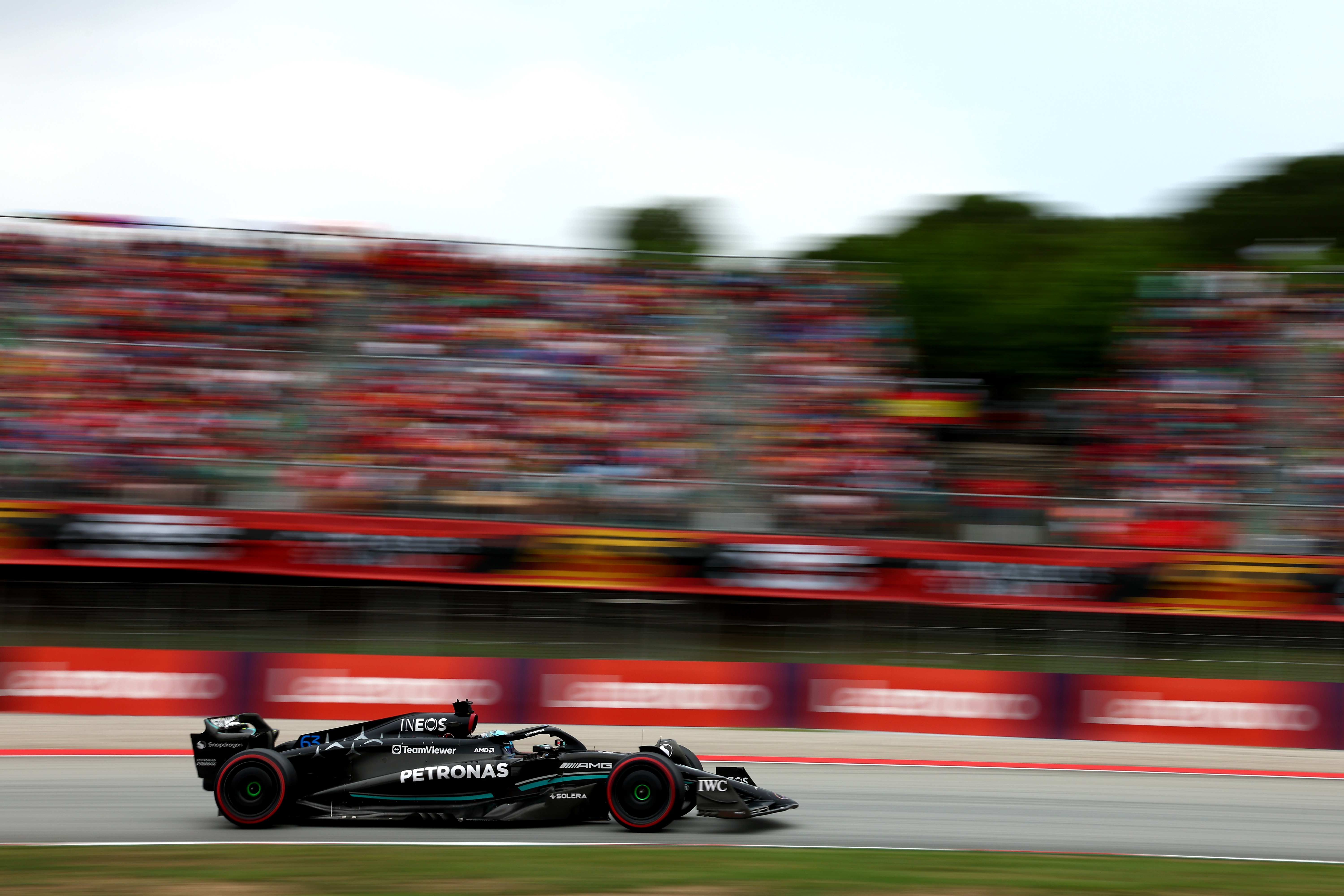 After Sainz passed, Russell accelerated and moved from the right side of the track to take the racing line quite late – he was so close to the pitlane and moving so slowly when Hamilton rounded the penultimate corner that Hamilton thought Russell might be pitting.
Russell had not been told that Hamilton was also approaching, quite close to Sainz, to start his flying lap, while Hamilton was not told that Russell was moving slowly up ahead and was about to start another lap.
Presumably neither side of the garage factored in the other car, either because they were meant to be on different run plans or simply because the gap between the two cars had been eradicated so rapidly by how slowly Russell was going and the fact Hamilton was already at full speed after Turn 12.
The upshot was Hamilton was baulked significantly by Russell entering the final corner and the two cars came onto the start-finish straight, each starting a lap, very close together.
Hamilton thought Russell might be giving him a tow, especially when Russell then moved to the right halfway down the straight.
But that was only because Russell was trying to catch a small tow himself from Sainz's Ferrari.
The misunderstanding meant Hamilton tried to pass Russell on the left thinking he was being let by and Russell moved back across unaware Hamilton was there.
Hamilton reported it was "really dangerous" over the radio while Russell said to media after the session "we need to talk internally how that happened, because between two team-mates that should never happen".
But quickly after qualifying Hamilton said he had already spoken to Russell, shaken his hand, and understood it was a miscommunication.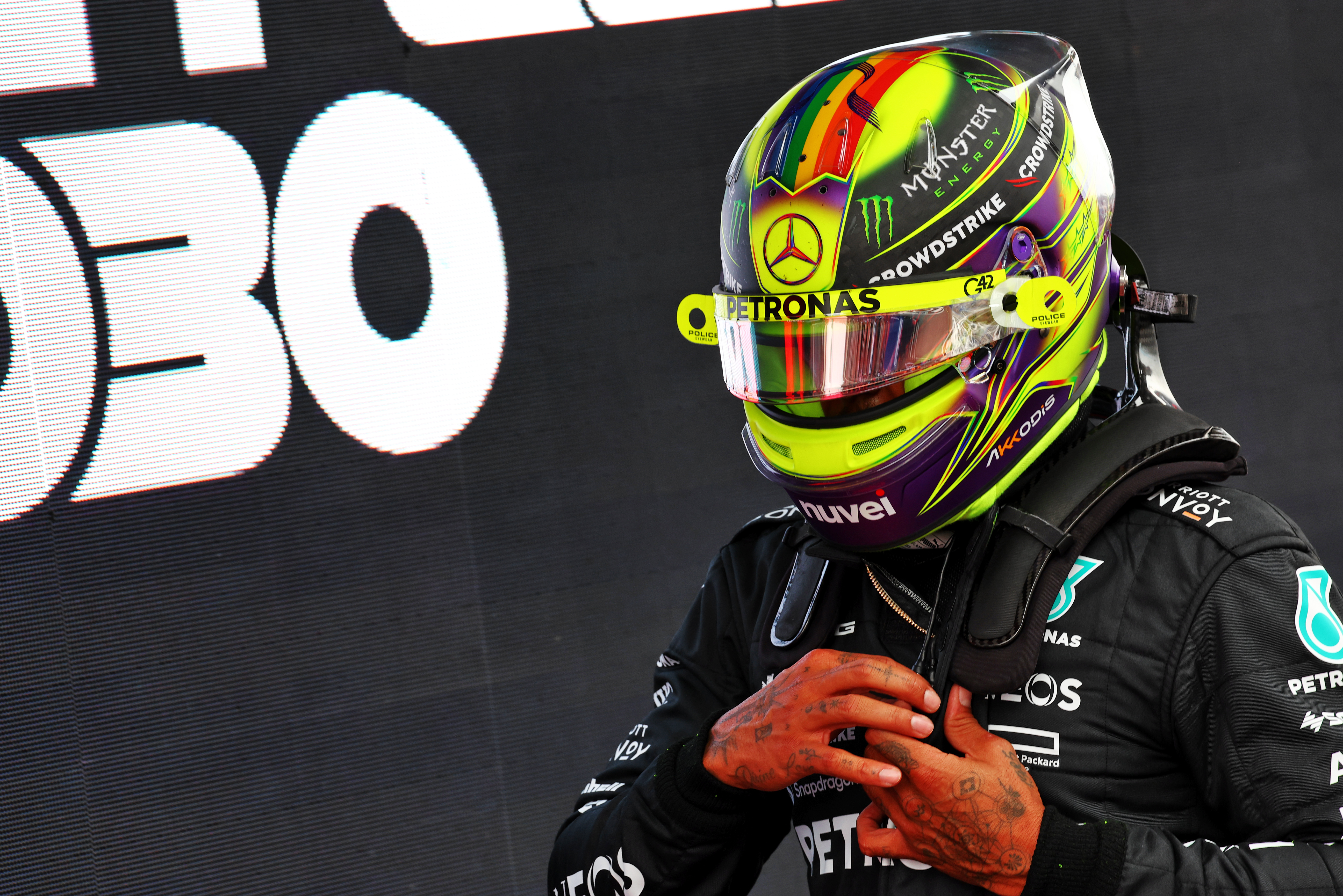 "Everyone was starting [their laps at full speed] from Turn 12, so when I came out of Turn 12 there was no one ahead," said Hamilton.
"I got on the gas, started to pick up the pace. Came out of 13 and George looked like he was going into the pitlane and kept going and suddenly he cut back across.
"It was a bit confusing because I didn't even know he was there.
"So I was then [following] him just in case he was giving me a tow, he started moving to the right, so I was like 'oh he's giving me a tow', and went to the left.
"It was a misunderstanding."
Russell agreed, adding that he was looking ahead to get the slipstream from Sainz and therefore unaware of where Hamilton was.
"It's nothing that necessarily I, the driver, did wrong, just within the team, it shouldn't happen and the communication can be better given towards us," Russell said.