Mercedes hailed outgoing driver Valtteri Bottas's Turkish Grand Prix win as a "10/10" performance and "probably his best race" in Formula 1.
Bottas's faultless drive in tricky conditions at Istanbul Park earned him his 10th victory in F1, 12 months on from arguably his worst performance.
He joked after this year's race that he "lost count" of how many times he spun in last year's wet Turkish GP, a miserable affair that started with a first-corner spin and only got worse.
There was never any sign of a repeat from Bottas in this year's edition, with a grippier track and a well-sorted Mercedes giving him the kind of confidence he could only have dreamed of in 2020.
Mercedes team principal Toto Wolff called it an "absolutely dominant drive from him from the get-go" and added. "He had it absolutely under control, not only the pace but also how he managed the tyres, so this was a 10 out of 10 for me."
With so much focus on team-mate Lewis Hamilton's attempt to recover ground after a grid penalty dropped him from pole to 11th, Bottas was an invisible figure for much of the race.
"Valtteri's drive was stunning and it almost went unnoticed, it was so accomplished and effortless from him," reckoned Mercedes trackside engineering director Andrew Shovlin.
"He had the whole race under control from start to finish. I think it probably was his best race and in difficult conditions.
"You saw how fast he was when he went for the fastest lap at the end, but I don't think there was any moment of it where anything was really troubling him at all.
"So, really really impressive and a well deserved win from him."
Bottas has now moved onto 10 victories, which presents a small set to choose from when ranking his best.
But this one quite quickly climbs the ranking for the simple reason that several of Bottas's wins have come from times Mercedes had a clear car advantage and team-mate Lewis Hamilton was out of the picture.
Having Max Verstappen nipping at his heels in conditions that have historically caught Bottas out was a worst-case scenario.
There was more pressure than just the fight for victory, too, as it was imperative for Mercedes' dual championship hopes. By holding on, Bottas was earning a 14-point swing for both the team in the constructors' championship and Hamilton in the drivers' contest.
In the face of that came an impressive, professional job from Bottas to keep Verstappen at bay throughout the race and then unleash serious pace at the end, as if to say: 'I had way more to offer here, I just didn't have to.'
"To some people, it could have looked easy but it's far from that in these conditions," said Bottas.
"You can't make any mistakes and it's quite easy to make mistakes in the conditions and when it's drying when there is only one dry line.
"Just everything went smoothly which I'm very glad [about]. The car has been good in any conditions this weekend and that makes things easier but I could really control.
"The key thing today was the tyre management and not to kill the tyres at the beginning of the stint and trying to play the long game."
So, is Shovlin right to call it Bottas's best drive? That is his opinion in an entirely subjective debate for which there is no definitive answer.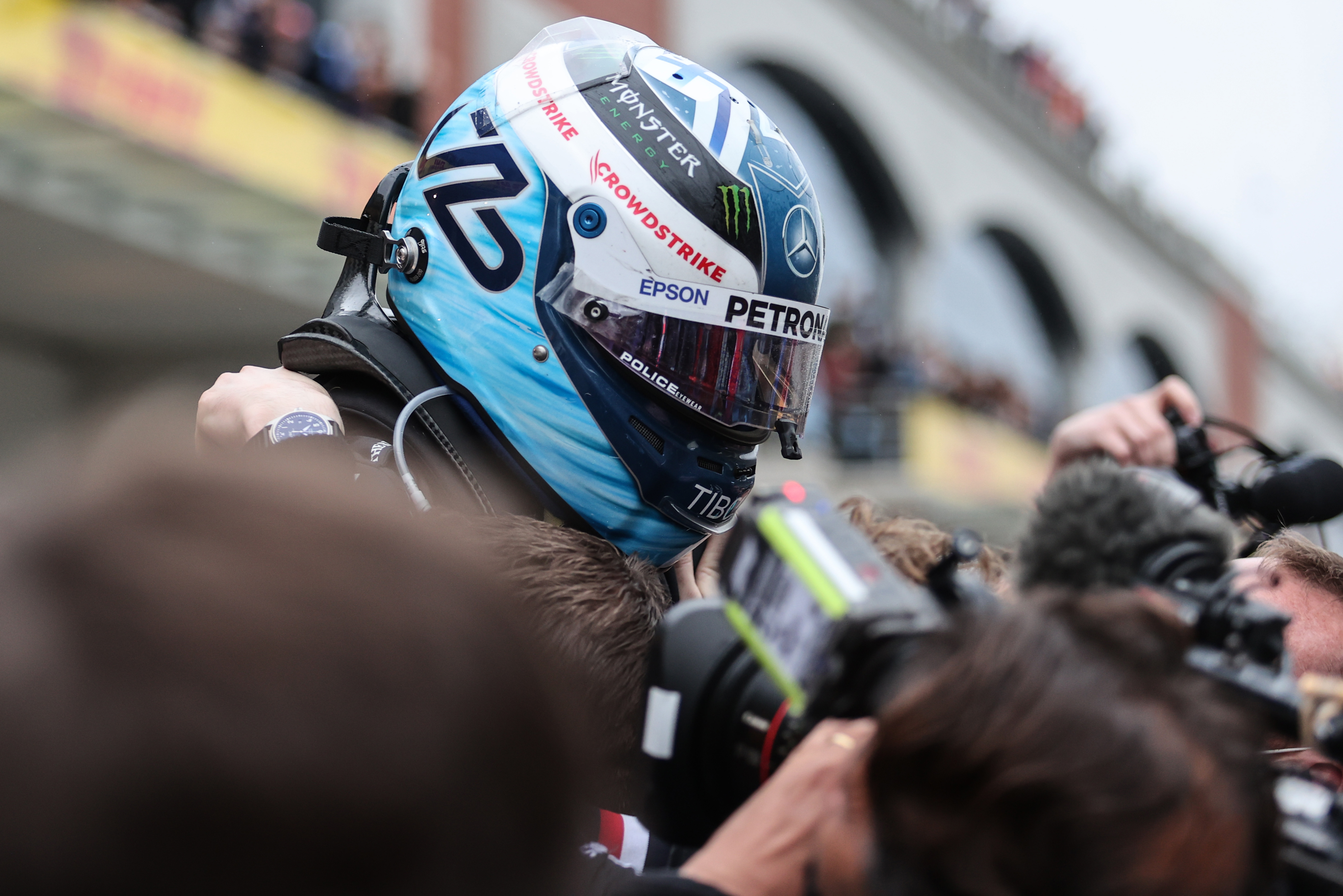 But this one does suffer from the fact that Hamilton did outqualify Bottas and, like so with many previous Bottas wins, was out of the equation early on.
So, while this was a great performance in many ways, it didn't tick the ultra-rare box of 'beat Hamilton in a straight fight'.
For that reason there's a strong case to be made that this was in fact only Bottas's second or third-best victory, vying with two drives that are the clear benchmarks for an emphatic Bottas performance: the 2019 Australian and United States GPs.
In the 2019 season opener in Melbourne, Bottas crushed Hamilton. He beat him off the line and then won by a commanding margin as Hamilton even fell into the clutches of Verstappen's slower Red Bull.
But it emerged after the race Hamilton was carrying some undetected floor damage – and the loss of car performance that inevitably would have inflicted has to put an asterisk against the deficit to Bottas.
That race was followed several months later by a win that had no doubts and still stands as Bottas's outright most convincing victory even after Turkey. With Hamilton pushing to clinch the 2019 title, Bottas stole a small amount of his team-mate's thunder by beating him in a straight fight at Austin.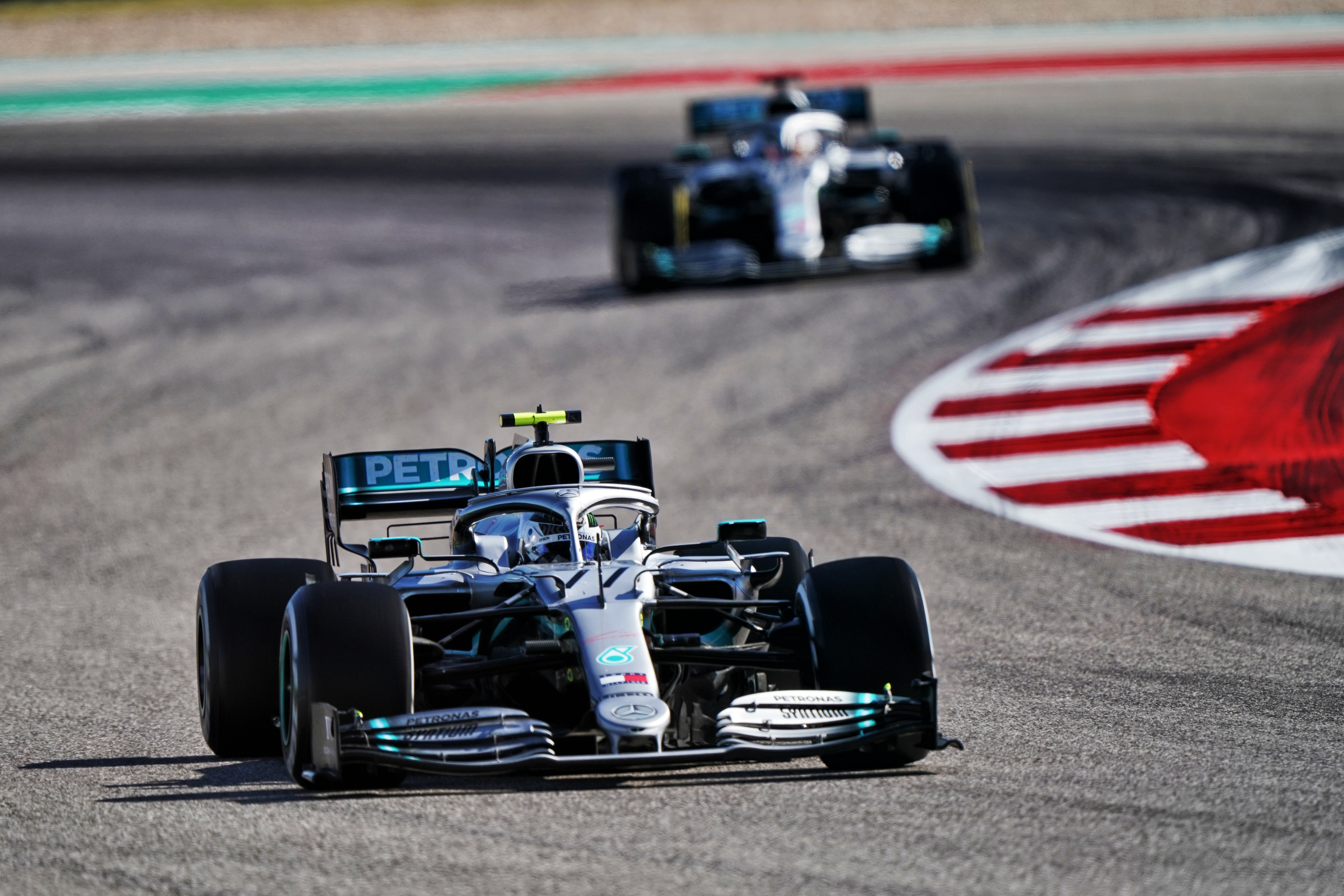 There was a strategic deviation in that race that meant Bottas, on a two-stop strategy having led from pole, had to catch and pass the one-stopping Hamilton on-track.
This earned Bottas two important ticks: he passed Hamilton to win, and he proved he can execute that kind of strategy – which can easily look the theoretical fastest, only for a driver to get stuck once they catch their opponent and waste their tyre offset.
Bottas only caught Hamilton in the final few laps and when he did, his first attempted pass was met with a robust defence as Hamilton showed his team-mate onto the run-off. This was a lead Bottas had to earn, and he did.
So that stands out in the memory as Bottas's clear best victory. But for what it's worth, he himself did not know where to place Turkey among his best successes – he just knew "it was one of my best races".
"I don't have a list of what is the best, second, third," said Bottas when asked by The Race about this.
"But yeah, it's up there. I think overall, obviously a win is a win, but in tricky conditions and actually having a bit of a margin and so on, it's high up there.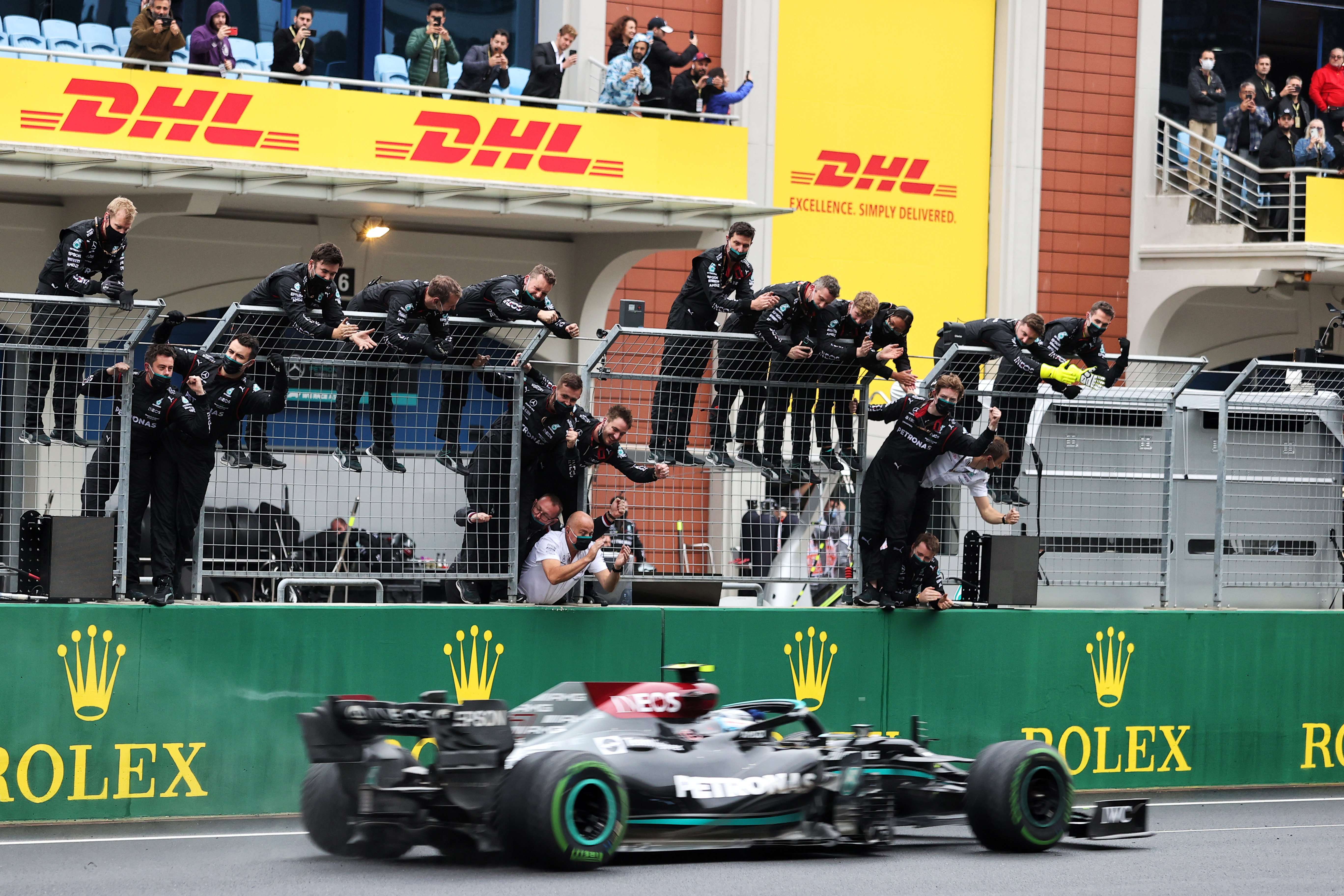 "The main thing is that I didn't do any mistakes, only one that I had a bit of a snap in Turn 1 on the exit, that was the only one, but apart from that it's really clean which is ideal and makes me happy."
You might think that a driver who has just pulled off a career-topping performance would just know they had. But Bottas can be forgiven for not immediately recalling the entire back catalogue, even if in this context it was specifically his 10 wins.
Some wins mean more than others but really all that matters is that Bottas did win. This has been one of his toughest F1 seasons with Mercedes and there was a danger his time at the top would peter out without another victory – heading to Alfa Romeo next season, there's a chance he will never be in a position to win again.
As we've seen in the past, Bottas's peaks are not the problem. He is a highly accomplished grand prix driver at his best, especially when he is in the right headspace and leading from the front.
Drives like the Turkish GP show why Bottas has been a Mercedes driver for so long. The fact they are so rare is why he will not be much longer.
There are still six more races left in his Mercedes career, though. And if Bottas replicates this performance again there is every chance he will add to his tally of wins.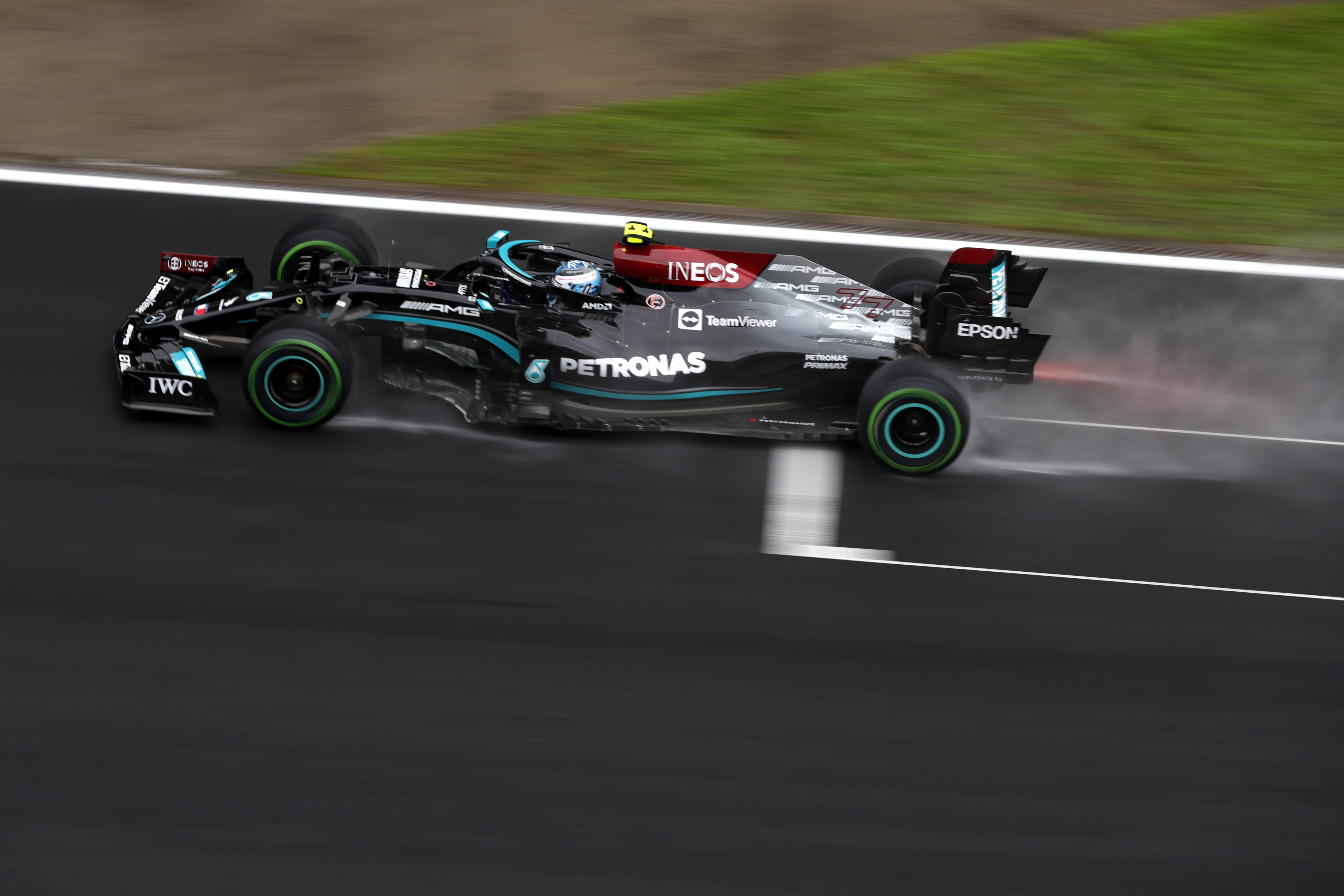 "It may not be his last this season because what he's delivered this weekend was just unbelievable," said Wolff.
"He started with an easiness from pole, he was the quickest man on track, the best in terms of tyre management, kept it always under control, and scored fastest lap.
"And this is, as we've said, a 10 out of 10."