Valtteri Bottas suggested his run to 14th in the Turkish Grand Prix, which was punctuated by six spins and a collision, might have been his most difficult race in Formula 1 – describing it as a "disaster race".
Bottas started ninth having lapped 0.698s off team-mate Lewis Hamilton's qualifying time as both Mercedes drivers struggled to build tyre temperature on the wets.
But while Hamilton went on to win the Istanbul Park race by just over 30 seconds in a car that proved prodigiously rapid once it had benefitted from a run of laps to build tyre temperature in the wet, Bottas finished a lap down.
Bottas climbed to sixth on the run to the first corner after a good start, but spun avoiding Esteban Ocon's Renault. Ocon had been tipped into a spin by team-mate Daniel Ricciardo, who was squeezed between Hamilton and the other Renault.
Bottas rejoined 18th and quickly repassed Lando Norris and Romain Grosjean but locked up and clattered into Ocon's Renault at the Turn 9 left-hander while attempting to pass Charles Leclerc's Ferrari.
As well as dropping to 19th, he picked up front-wing endplate and steering damage in the impact, while Ocon suffered a puncture that ruined his chance of points.
The combination of front-wing damage and steering damage meant that when the rear end did get away from him, he was unable to catch it. Every spin cost him tyre temperature, accelerating his downward spiral and increasing the risk of another mistake. The desire to avoid rear-end sliding also led to him trying to be a little more progressive on corner entry, which also didn't help tyre temperature.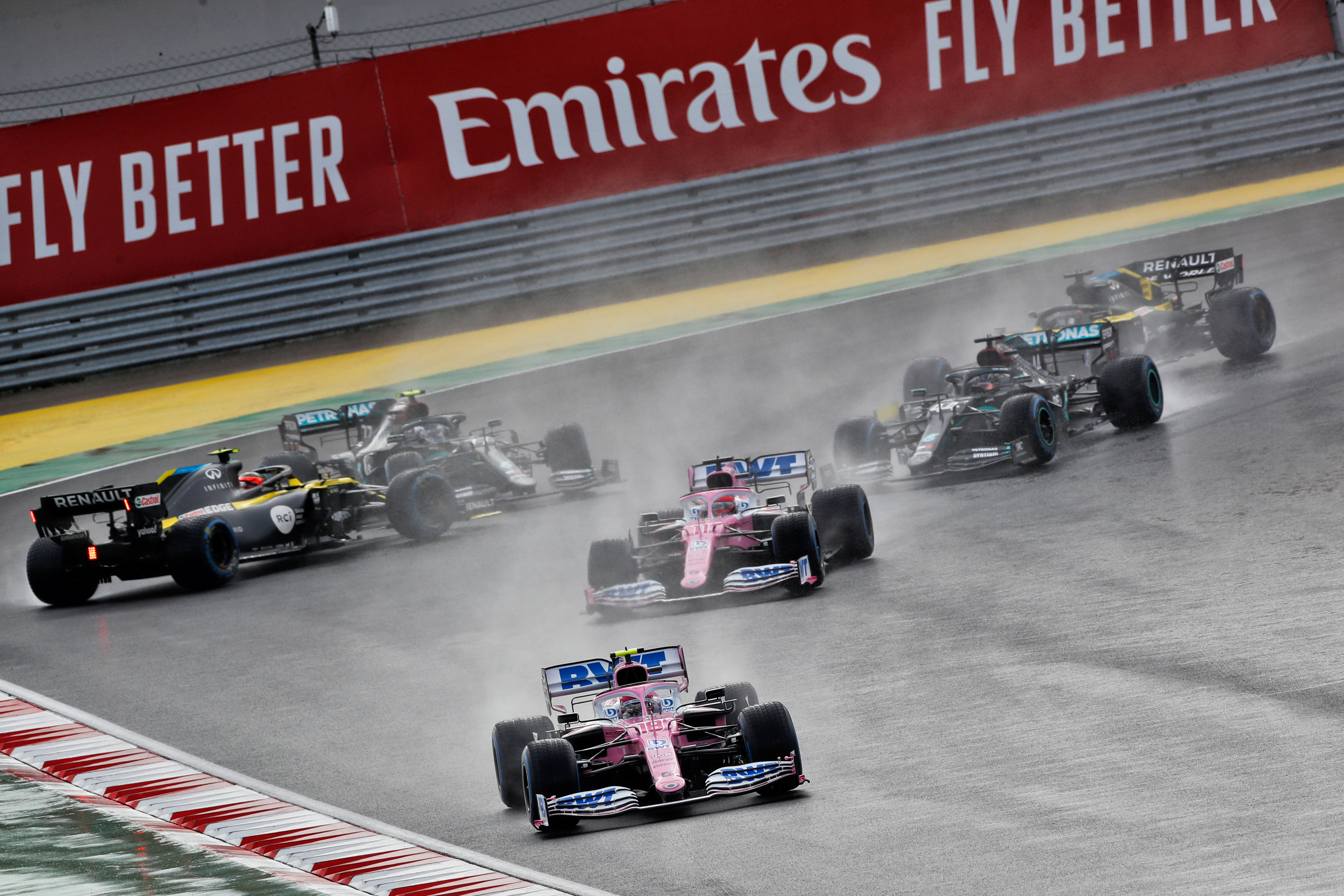 Team boss Toto Wolff described this, in the negative sense, as "the perfect storm" for Bottas.
"It was a disaster race for me," said Bottas.
"Obviously, I had the spin in the first corner. I avoided one of the Renault spins, then I had the collision in Turn 9 on the first lap.
"The car was not right after that. I could feel that the steering wheel was pointing to the left on the straight and then in left and right corners, the car behaved differently. So all the moments I had, it was not like how it should be.
"It was a messy race, a disastrous race and obviously I was trying to push as hard as I could because there was nothing to lose for me today. When I dropped back, I was pushing as hard as I could and made mistakes and with the damage as well, it made it quite tricky. It could be the most difficult race I have had in Formula 1 so far."
Realistically, Bottas's race was over after the collision with Ocon on lap one
Bottas accepted that he was too eager to make up places quickly after the initial spin, resulting in his collision with Ocon at Turn 9.
He blamed this on misjudging the amount of standing water on the inside line on the approach to the corner, an area of the track that had caught out several drivers in such conditions during the weekend.
"I had a spin in Turn 1," said Bottas of the first lap. "I was last, but actually I was catching up on the train pretty quickly, so at Turn 8 I was behind many other cars and I saw that I could make a move into Turn 9.
"But then I locked up. There was more water [than expected] on the inside of Turn 9. Obviously, the visibility is pretty poor, I was pretty eager – maybe a bit too much. I locked up and hit one of the Renaults."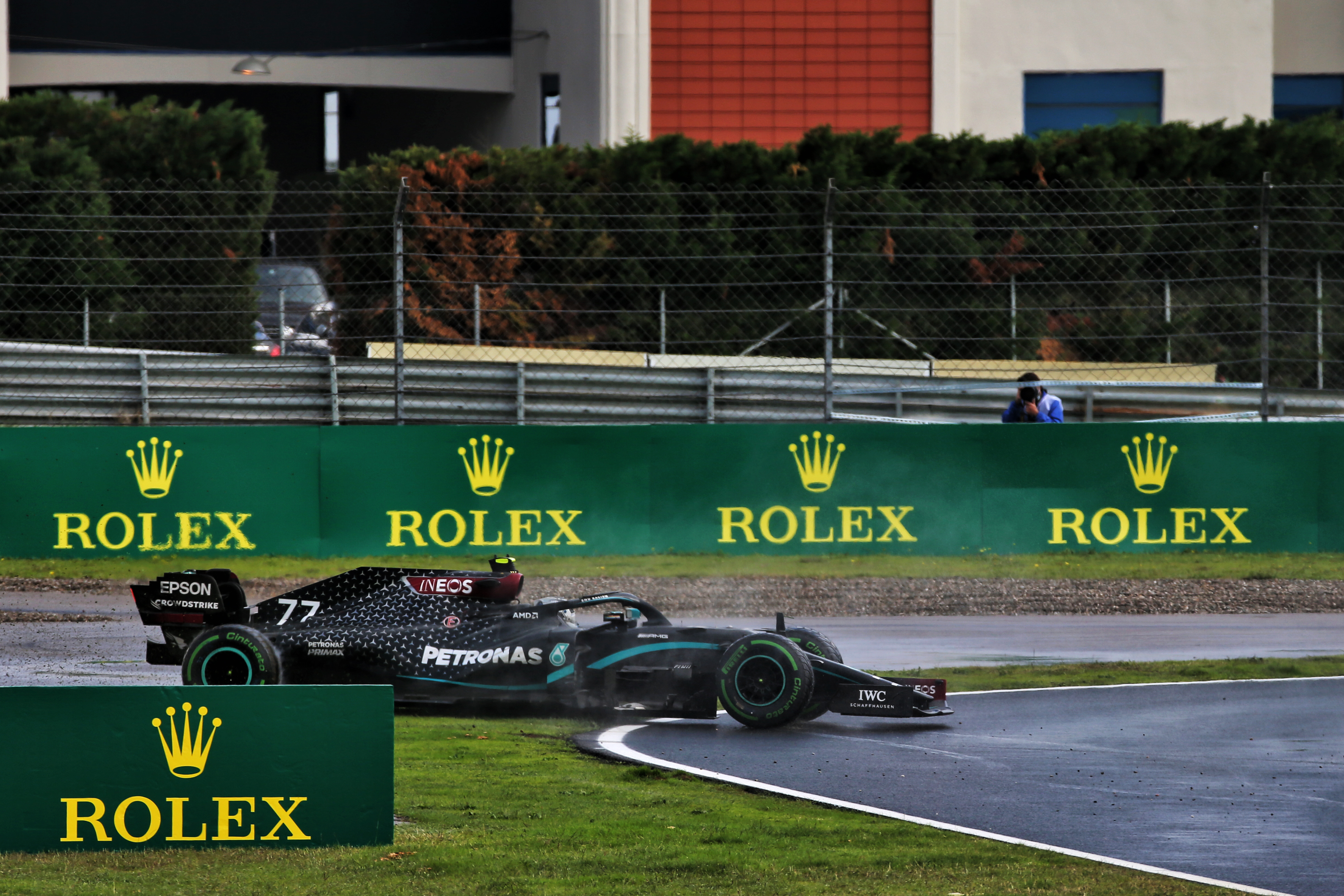 Bottas suffered a further five spins, all at different corners, during a desultory race.
Having gone into the afternoon as the only driver other than Hamilton still in world championship contention, albeit only in a mathematical sense, his race reached its nadir when Hamilton lapped him. This happened when Bottas was on his 45th lap, with the total gap between them at the finish just over two-and-a-half minutes.
"Not surprised because I made so many mistakes, I wasted I don't know how many minutes with my spins," said Bottas when asked about Hamilton's success.
"It seemed that once the track was getting drier our car was starting to work and I could feel that as well myself. He had a good race, he had a really solid race without mistakes so for him it was a good race to win the title. But I wasn't surprised, I knew that he would want to win in this style."
Bottas accepted he had deployed "a bit too much attack" while struggling on with damage, but the car limitations made his job almost impossible.
Realistically, his race was over after the collision with Ocon on lap one, and while that was Bottas's mistake, he is correct to admit that he had been over-eager.
He now has three more 2020 races without the pressure of a nominal world championship fight – realistically, his title aspirations have been over for some time but he was keen to stay in contention for as long as possible – but insisted after the race that he's looking forward to next season.
"I was on the back foot and knew that unless I really made progress quickly and would be able to win the race there was no chance [to stay in title contention], so I would rather go for it," said Bottas of the reasons for his attacking approach.
"But obviously was a bit too much attack with the damaged car I had. For future races, there's no pressure. I look forward to those races, trying to get good results and learn more.
"But mostly, already I look forward to next year."