Red Bull-Honda driver Max Verstappen took pole position for the final Formula 1 race of 2020, beating the Mercedes duo in a thrilling Abu Dhabi qualifying.
Verstappen's pole snaps a streak of six consecutive Abu Dhabi poles for the Mercedes team that had dominated at Yas Marina since the start of the hybrid era.
Valtteri Bottas had taken the lead after the opening runs in Q3, but Verstappen managed to slot in between him and his team-mate Lewis Hamilton, while Verstappen's own team-mate Alex Albon was just 0.156s off the pace in fourth.
And though Hamilton, returning to F1 having skipped a race due to COVID-19, briefly jumped to the top spot with his second attempt, both Bottas and Verstappen would make up their deficits to him in the third sector.
Verstappen pipped Bottas to pole by 0.025s, with Hamilton ending up another six hundredths down.
Albon was only fifth at the end of what had looked like being his best qualifying session of the year, as he failed to improve on his final run and fell prey to Lando Norris, who was a quarter of a second off pole to claim a superb fourth place for McLaren.
Sainz's team-mate Carlos Sainz Jr made it two MCL35s in the top six on the grid, giving the team a genuine shot at overhauling its rival Racing Point for third in the constructors' standings.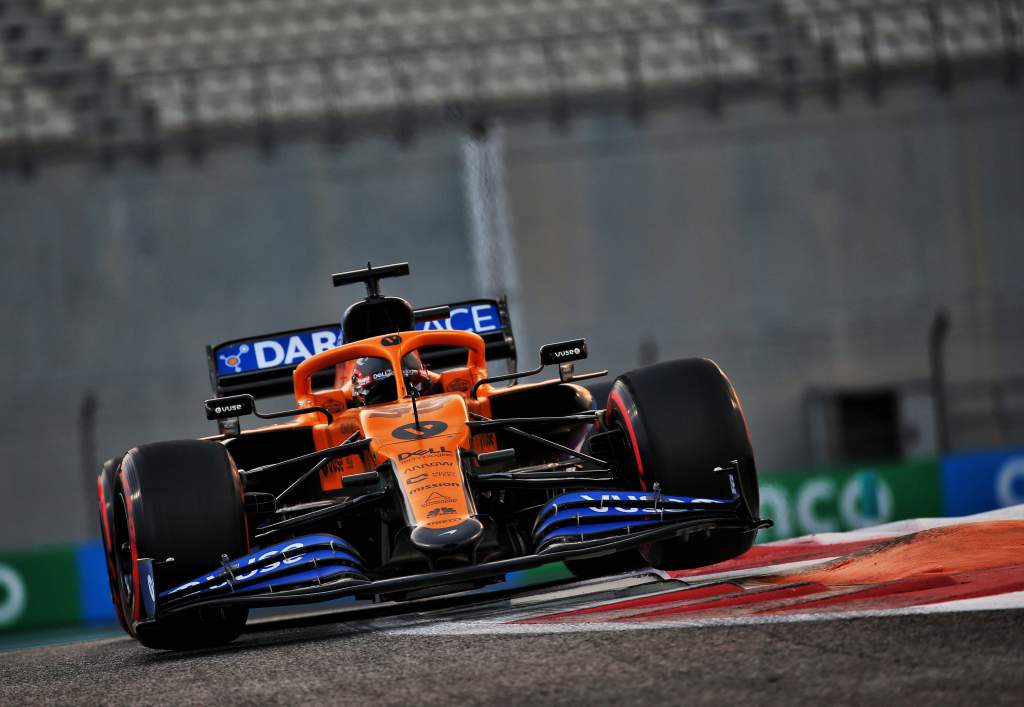 AlphaTauri had two cars in Q3 for the third race running, and Daniil Kvyat – who is set to be replaced at the team by Yuki Tsunoda – bested Pierre Gasly by nearly three tenths, taking seventh to Gasly's 10th.
Racing Point driver Lance Stroll and Ferrari man Charles Leclerc slotted in between Kvyat and Gasly.
Renault driver Esteban Ocon scored his first dry qualifying head-to-head victory over Daniel Ricciardo in their final grand prix weekend as team-mates, beating the Aussie by half a tenth to head him on the sixth row.
Sebastian Vettel will line up a disappointing 13th for his Ferrari farewell, outpaced by a mammoth seven tenths by Leclerc in Q2 despite switching to soft tyres for his final run while Leclerc had stuck with mediums.
He will be joined on row seven by Alfa Romeo driver Antonio Giovinazzi, who had been last when the chequered flag flew in Q1, having had his sole push lap deleted for a track limits infringement.
Giovinazzi put a lap together to escape elimination at the final moment, beating team-mate Kimi Raikkonen by half a second.
This meant he got to claim 14th place overall, with Racing Point's Sergio Perez electing not to set a time in the second segment due to penalties that will ensure he will start at the back of the grid anyway.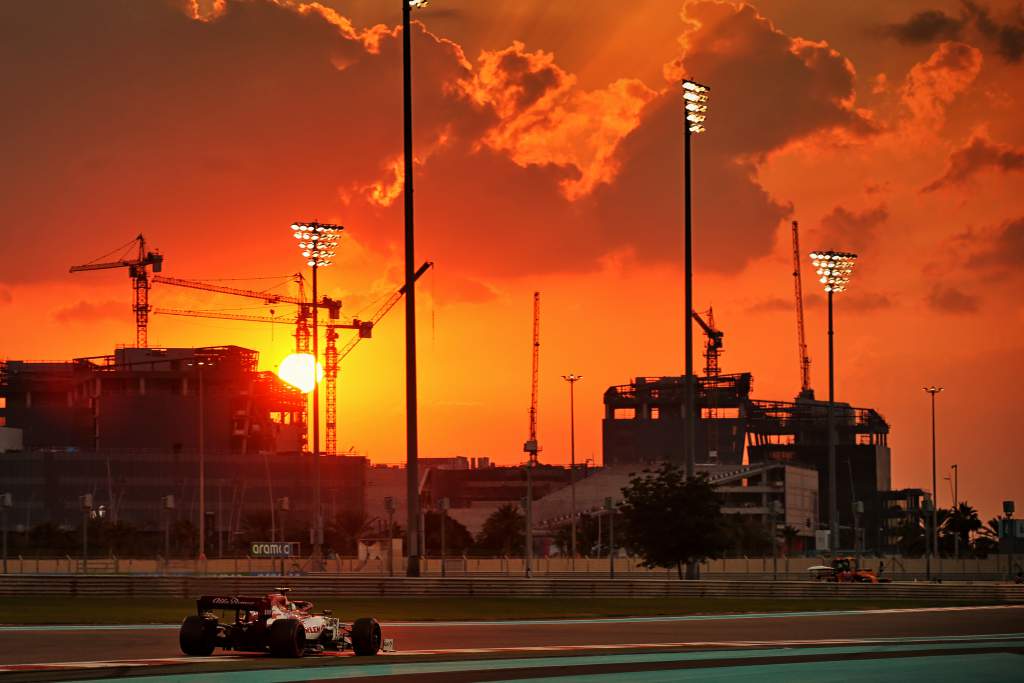 The lead Haas of Kevin Magnussen was 17th behind Raikkonen yet nearly eight tenths off advancing to Q2, although is due to start at the back alongside Perez, likewise due to a spate of power unit penalties.
George Russell, returning to Williams this weekend after a one-off as a stand-in at Mercedes, preserved his perfect head-to-head qualifying record at his full-time team despite reporting that the tyres were "sugared" as he qualified only 18th.
Romain Grosjean's Haas stand-in Pietro Fittipaldi was three tenths behind Magnussen in 19th and three tenths ahead of the second Williams of Nicholas Latifi – who was only 20th after spinning while getting on the throttle out of the final corner in order to start his final flying lap.
Latifi is under investigation after being released into the path of Verstappen early in Q1, which led to Verstappen slamming on the brakes and flat-spotting his right front tyre – although this ultimately didn't complicate the Dutchman's progression to Q2 too much.
Qualifying Results
| Pos | Name | Car | Q1 | Q2 | Q3 |
| --- | --- | --- | --- | --- | --- |
| 1 | Max Verstappen | Red Bull-Honda | 1m35.993s | 1m35.641s | 1m35.246s |
| 2 | Valtteri Bottas | Mercedes | 1m35.699s | 1m35.527s | 1m35.271s |
| 3 | Lewis Hamilton | Mercedes | 1m35.528s | 1m35.466s | 1m35.332s |
| 4 | Lando Norris | McLaren-Renault | 1m36.016s | 1m35.849s | 1m35.497s |
| 5 | Alex Albon | Red Bull-Honda | 1m36.106s | 1m35.654s | 1m35.571s |
| 6 | Carlos Sainz | McLaren-Renault | 1m36.517s | 1m36.192s | 1m35.815s |
| 7 | Daniil Kvyat | AlphaTauri-Honda | 1m36.459s | 1m36.214s | 1m35.963s |
| 8 | Lance Stroll | Racing Point-Mercedes | 1m36.502s | 1m36.143s | 1m36.046s |
| 9 | Charles Leclerc | Ferrari | 1m35.881s | 1m35.932s | 1m36.065s |
| 10 | Pierre Gasly | AlphaTauri-Honda | 1m36.545s | 1m36.282s | 1m36.242s |
| 11 | Esteban Ocon | Renault | 1m36.783s | 1m36.359s | |
| 12 | Daniel Ricciardo | Renault | 1m36.704s | 1m36.406s | |
| 13 | Sebastian Vettel | Ferrari | 1m36.655s | 1m36.631s | |
| 14 | Antonio Giovinazzi | Alfa Romeo-Ferrari | 1m37.075s | 1m38.248s | |
| 15 | Sergio Pérez | Racing Point-Mercedes | 1m36.034s | | |
| 16 | Kimi Räikkönen | Alfa Romeo-Ferrari | 1m37.555s | | |
| 17 | Kevin Magnussen | Haas-Ferrari | 1m37.863s | | |
| 18 | George Russell | Williams-Mercedes | 1m38.045s | | |
| 19 | Pietro Fittipaldi | Haas-Ferrari | 1m38.173s | | |
| 20 | Nicholas Latifi | Williams-Mercedes | 1m38.443s | | |