Twenty-two different drivers raced in Formula 1 during the 2022 season, with battles raging throughout the field despite the world championship title being wrapped up by Max Verstappen relatively early.
The Race's F1 team – Scott Mitchell-Malm, Mark Hughes, Ben Anderson and Edd Straw – closely followed the progress of every driver this year and have combined to create our annual ranking list of the top 10 drivers of the season.
This is generated through each individually creating their own list, then the four being combined to come up with the overall order. This was set using the F1 points system, with 25 points awarded for first place, 18 for second, 15 for third etc. Drivers equal on points were separated by countback to best individual placing in our individual lists.
This is not about ranking the best 10 drivers in F1 based on our evaluation of their ability, but specifically on their performance level (relative to the available machinery) over the course of the season.
This takes into consideration myriad factors – pace in qualifying and the race, consistency, rate of mistakes, their response to pressure points, how they progressed through the season and many more.
10 ALEX ALBON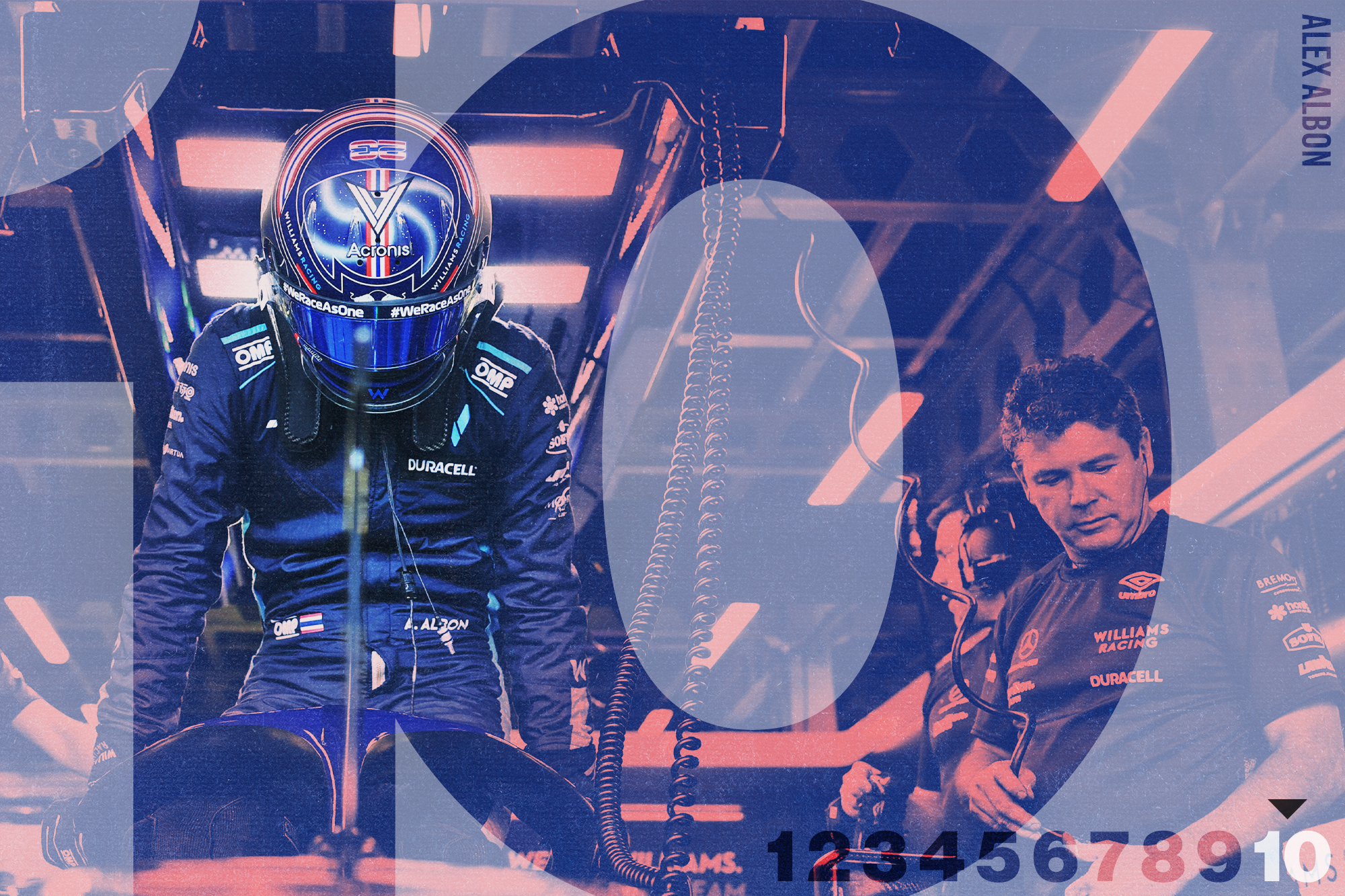 MARK
Away from the pressures of being Max Verstappen's team-mate as a virtual rookie, Albon resumed his former trajectory as a driver of great potential, his very handy turn of speed and his willingness to make bold moves now combined with great consistency and fewer errors.
He led Williams just as convincingly as George Russell had and his margin over Nicholas Latifi was greater (though Latifi did have particular problems with the ill-balanced FW44). The problem he faces is now one of perception, in that he was replaced at Red Bull by Sergio Perez who has gone on to do the job Albon was unable to.
Whether that perception can be supplanted is going to be a question of time and the quality of the machinery Williams provides him with.
SCOTT
This was a make-or-break year for Albon, one that he entered knowing he would leave the Red Bull stable if everything went well.
The chance to secure his F1 future put a lot of pressure on him to perform after a season on the sidelines, knowing his reputation had been dented by a difficult time as Max Verstappen's team-mate.
But he proved up to the task, leading Williams on-track and imposing the lessons he learned in his year out off-track too.
To paraphrase the team, the affable Albon still needs to be more of a bastard behind the scenes. On-track, though, he did a fine job leading it through a tricky year.
EDD
Albon had the air of a more confident, certain driver than he had been during the latter stages of his Red Bull stint.
It wasn't just Albon's occasional points finishes in improbable circumstances that impressed, but also the number of times he produced high-quality drives to, say, 12th or 13th place that few noticed.
Along the way, he shifted the focus of the Williams set-up philosophy to focus more on the entry-phase characteristics given his willingness to hang on to whatever the car was doing mid-corner provided he got that initial rotation right. In doing so, he made Williams his team.
BEN
This was a heartening example of a driver taking a massive career setback in their stride, making good use of the enforced sabbatical, then translating the lessons into a superb comeback – so good that Albon earned a longer-term Williams contract.
He regularly hauled the slowest car on the grid into places it didn't really belong, and his qualifying performances at Spa and Austin were truly outstanding.
OK, he was up against a relatively weak team-mate, but for those peaks – plus racing that car so consistently near to the lower-points positions – Albon deserves his place in this list.
9 SERGIO PEREZ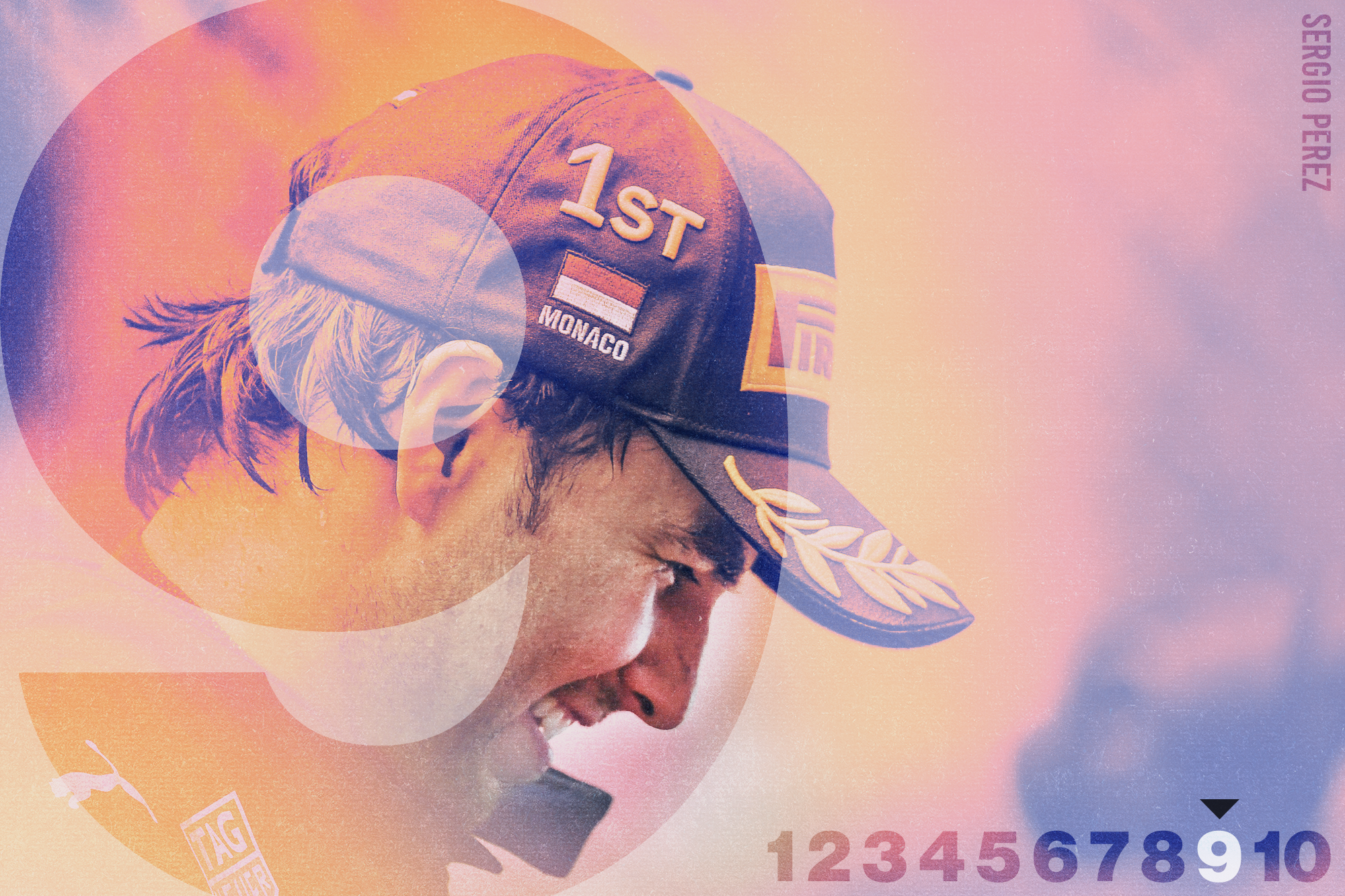 SCOTT
Perez had a better year for Red Bull. He won twice and made a good contribution to its constructors' championship success, for which he deserves his share of credit.
Verstappen is an elite F1 driver, will go down as one of the best in history, and this is his team. He sets a very high bar and Perez did his best to match it.
In the process, Perez proved exactly what Red Bull needed in 2022. That's a good level to hit. But he did have a slightly disappointing season in that he failed to finish second in the championship in the best car, so underperformed slightly versus what was possible.
EDD
Few roles are more draining in F1 than being the support act to an all-time great team-mate. But Perez battled on even as he found it more difficult to extract the performance from the quicker – but more pointy – Red Bull as the season progressed.
When the car was more front-limited early on, he excelled with a superb pole position in Saudi Arabia and his Monaco Grand Prix win.
Perez is cast as number two not out of malice, but because that's his level relative to Verstappen – and most would be in the same position. But he did a difficult job effectively.
BEN
Perez would be much higher up this list if he could somehow have sustained the level he produced across the first seven-and-a-half races.
But as the Red Bull became lighter and livelier, Perez fell away from Verstappen's pace to an alarming extent.
Singapore (where Perez was excellent) provided something of hard reset, and from then on he was back within the 0.2-0.4s range to Max. Nothing special, but respectable – and more in line with where Albon was (in a worse car).
It shows how tough it is to be #2 to an absolutely elite talent, even in the best car.
MARK
Two wins is about right as a support driver in the best car on the grid. It's not a disgrace when the other guy is Verstappen.
There were days early-season, when the car had the understeer he prefers, where he was a close match. But as soon as the RB18 developed into a more responsive tool mid-season, a chasm appeared and it took him time to re-adapt.
His pole lap at Jeddah was stunning and he could have won were it not for the unfortunate timing of a safety car. In Singapore he was there to pick up the pieces of Verstappen's compromised weekend with a great under-pressure victory. Monaco maybe was based heavily upon his Q3 crash, but if that were to emerge as having been deliberate – something he denies – he was quick enough for the plan to work.
8 ESTEBAN OCON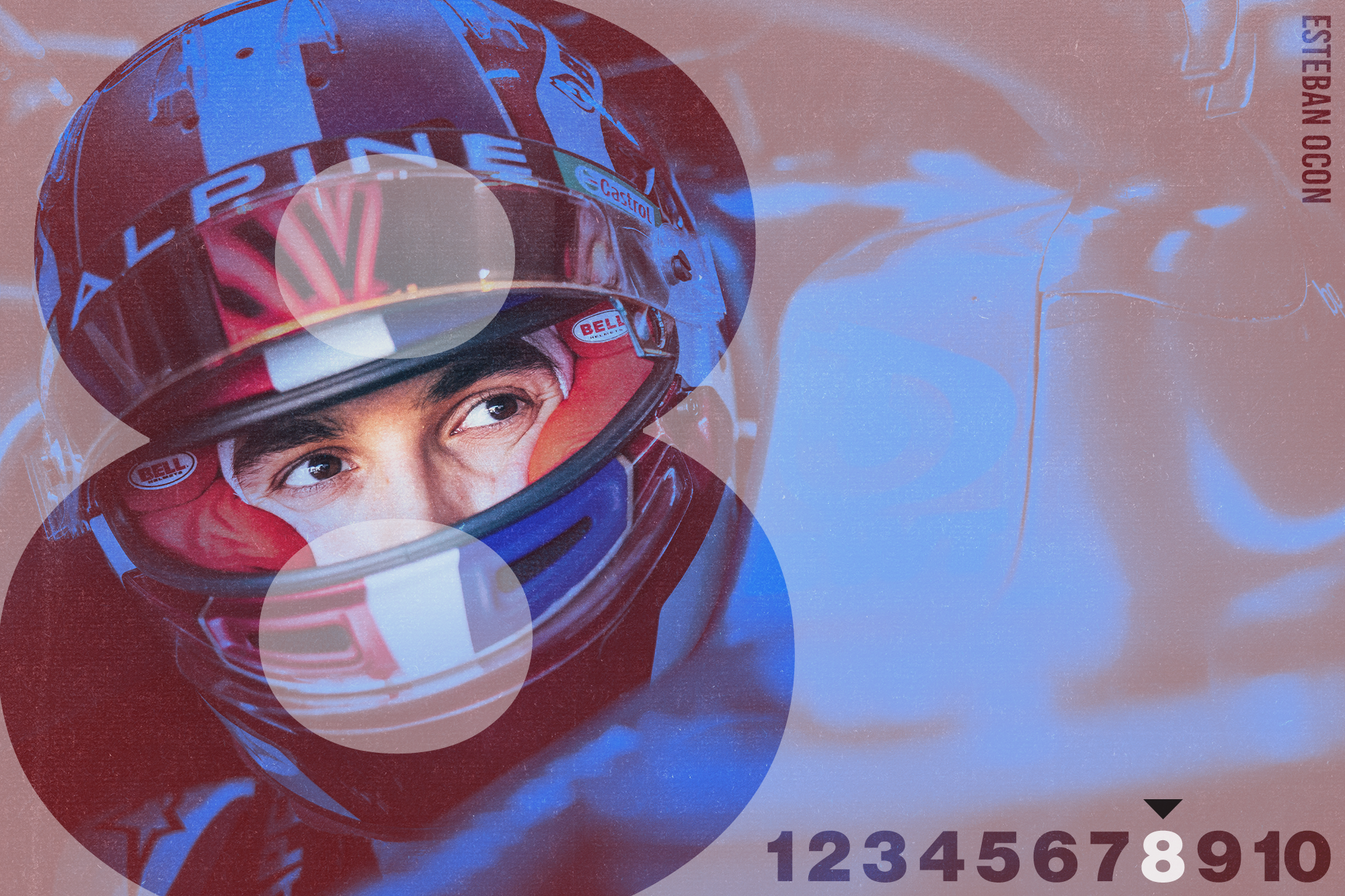 EDD
Ocon was the second-best Alpine driver, despite what the points table suggests. But he was frequently close to Alonso's level, racked up consistent results and at his best, for example when holding Hamilton off on his way to fourth at Suzuka, was formidable.
A sensitive driver, there were occasional weekends when he didn't feel at one with the car. There were also tracks, such as Albert Park and Montreal, where he couldn't match his team-mate's startling turn of pace.
But by and large, he was extremely dependable and error-free – albeit willing to sail close to the wind in combat with Alonso.
BEN
Ocon is relentlessly committed to his cause, to the point where his physical training regime is quite frightening in scope and intensity! But he credits this for boosting him psychologically, as well as expanding his bandwidth to help him achieve greater consistency behind the wheel.
He was not quite at Alonso's level in terms of adaptability and peak performance with the car at hand – hence the occasional large delta (Melbourne, Montreal, Silverstone, Austin) between them – but Ocon gelled pretty well with this new stiffly-sprung, ground effect iteration of F1, and is performing probably as well as we've ever seen.
MARK
It would have been very easy to have been overwhelmed by the force of nature that is Fernando Alonso, but Ocon's not the type to shirk away from anything. Behind the ready smile and jokey manner is a mercenary, with a fierce competitive spirit very much like that of Alonso.
After two years it inevitably ended in tears, with their double collision on the opening lap of the sprint in Brazil.
He's not as quick onto the pace as Alonso at the beginning of a weekend, but he is usually somewhere close by the time of the crucial qualifying lap. Ready then to do battle, from which he never shirks.
SCOTT
This was another quietly strong and often underrated season from Ocon, who continues to chip away at any deficiencies and become an increasingly well-rounded driver.
That makes him a dependable point-scorer who was key to Alpine's run to fourth in the championship.
Though Ocon often lacks Alonso's explosive pace, particularly early in the weekend, he says his slow progression to his peak is a conscious choice, a matter of weighing up risk versus reward in early sessions.
Whether he has the absolute, ultimate ability to be a consistent frontrunner is a key question. But his value to Alpine is clearer than ever.
7 CARLOS SAINZ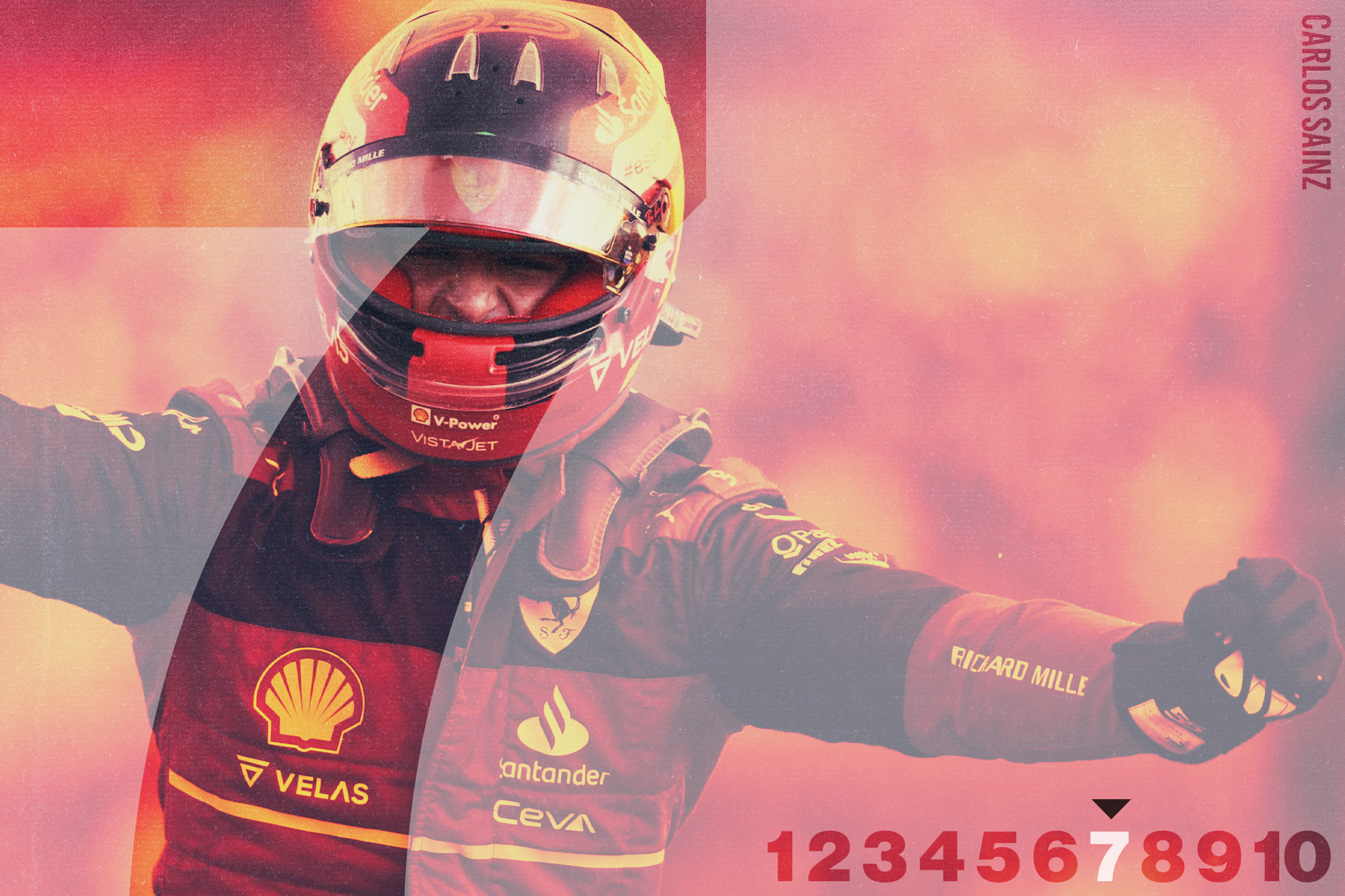 BEN
Sainz gets marked down for a very iffy start, when he was overdriving and regularly sticking his Ferrari in the gravel. He also missed two or three tenths of pace then – finding the driving style for hustling Ferrari's new car as Leclerc could wasn't coming naturally.
But Sainz overcame this with characteristic determination and intelligence. He was usually the faster Ferrari driver in qualifying post-Austria – and only fractionally behind when not.
Unfortunately, he grew stronger as Ferrari tailed off, but anyway the challenge now is to produce the standard of his past 11 races across the full season.
MARK
Having got himself on terms with Leclerc at Ferrari over the previous season, Sainz was somewhat shocked at his deficit to him in the F1-75. Consistently two tenths or more off the pace, it did not initially compute. He did what he always does in tough situations: bedded down, set about understanding and forced himself into contention.
Unfortunately, by the time he'd worked out the notes, the instrument was a little out of tune, the Ferrari a lesser force in the second half of the season than in the first.
But he was arguably Ferrari's best strategist: his calling of getting straight to slicks from wets at Monaco, the restart strategy at Silverstone, the tyre strategy for Q3 in Brazil. Each time he correctly overruled the team.
SCOTT
Sainz felt there were times in the second half of the year that just summed up the frustrating nature of his entire season.
He wasn't that quick when the car was its most competitive. Once he'd got more on top of the car and could challenge Leclerc, Ferrari had fallen away from Red Bull. Or he got punted into a spin by George Russell.
It was a weird season for Sainz, who probably wasn't at his best when he enjoyed his first win at Silverstone, but he cannot be begrudged that as a reward for how well he tackled his initial deficiencies.
Just ask Daniel Ricciardo how hard it is to actually do that…
EDD
This was a curate's egg of a season and one that you could take two very different perspectives of.
The negative view is he took far too long to adapt to the specific demands of the Ferrari compared to Leclerc and was left behind early on. The positive is that he grafted long and hard to get on top of the car and got himself to a good level in circumstances where many drivers would have failed to do so.
This was not Sainz's most impressive season in F1, but one in which his diligence and intelligence allowed him to recover from the bad start and make a decent contribution to Ferrari's cause.
6 FERNANDO ALONSO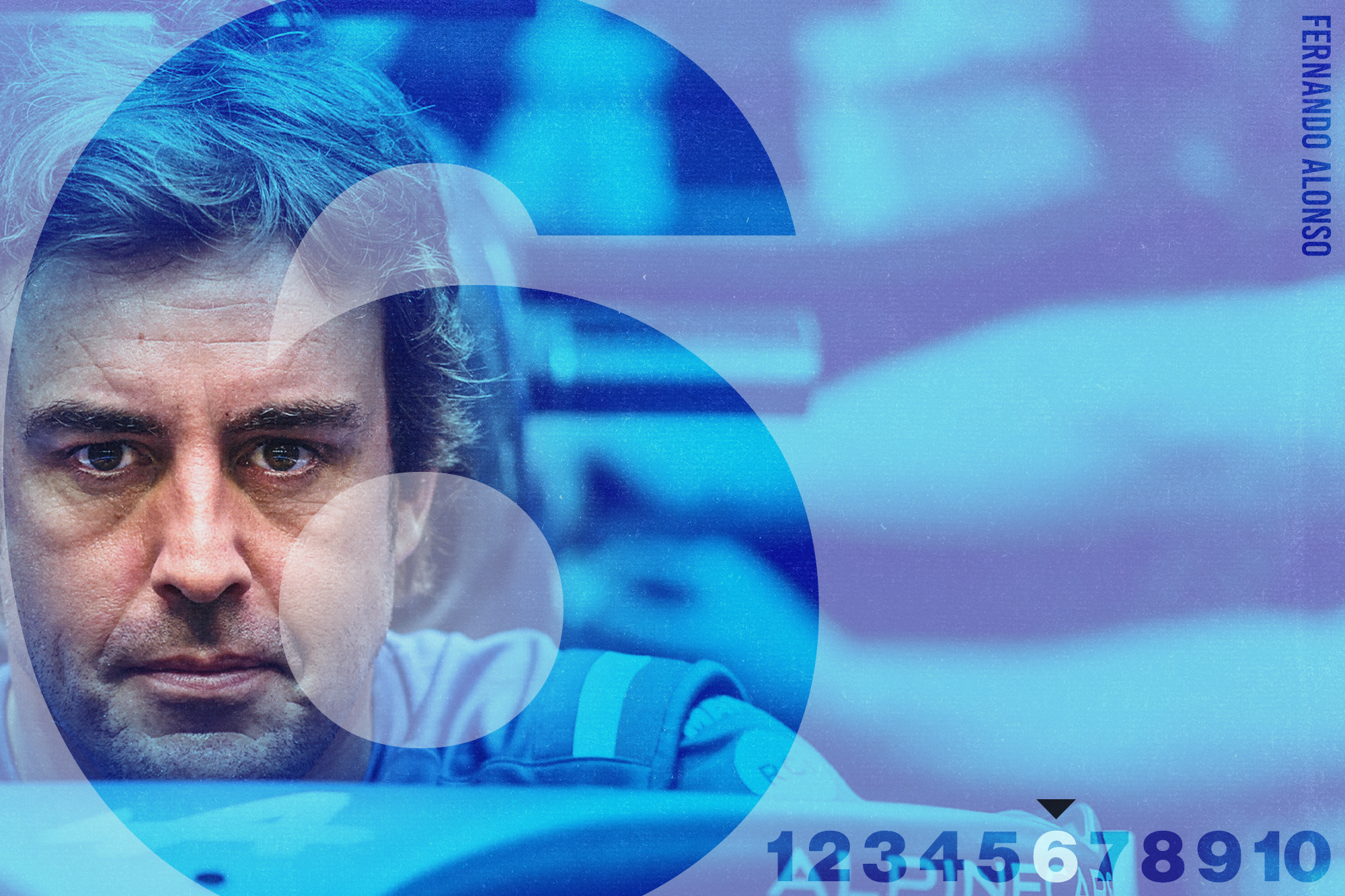 MARK
At 42 he was back to something very close to his peak years, staggeringly combative, improvisational and perhaps the shrewdest positioner of his car in a dice that there is. In fact he's very much like an older version of Verstappen.
It sounds trite to say qualifying has never been his greatest strength because he's faster than all but a very select few, but it is his savage and super-smart race performances which mark him out. He's suffered pretty appalling luck and unreliability so his points performance relative to his team-mate can be ignored.
In reality he has outperformed a young, fast and super-tough racer as a team-mate and his front row in the rain of Montreal was one of the great feel-good moments of the season.
SCOTT
Some still doubt whether Alonso has really performed in his F1 comeback – but this year should have eradicated any lingering concerns about how quick or committed he still is.
Only an astonishingly poor reliability record stopped Alonso finishing the lead Alpine driver in the points. While he says he doesn't care about that, it was the least he deserved.
Though he departs on poorer terms than he should have, as those DNFs started to erode Alonso's patience, Alpine would have been nowhere near achieving its 2022 goal without him.
Frankly, his performance makes a mockery of Alpine questioning whether his age might finally get the better of him in the next 12 months.
EDD
There's no questioning that the fire still burns and that the strengths that have made him so formidable throughout his career remain undiminished. Time and again he produced dogged, determined race drives even when the results didn't show it.
If anyone doubts he's still capable of winning races in a frontrunning car, the frequency with which he excels in F1's midfield should disabuse them of that notion.
The only downside is that there were times late in the season when he let his frustration with Alpine get the better of him, for instance when he clipped the back of Ocon at Interlagos.
BEN
The man is an absolute phenomenon. When you consider how Michael Schumacher and Kimi Raikkonen both raced very capably into their forties in F1, but clearly in decline, Alonso's light shows no obvious sign of dimming.
Alpine can't fathom how a driver as old Alonso cannot be anything other than regressing – but their loss will be Aston Martin's gain in 2023 (and beyond, no doubt). Ocon was excellent this season, but Alonso's peaks with the car – particularly Melbourne, Montreal, Singapore and Austin qualifying – were on a different level.
Feels he's good as he was in 2012 – and it's difficult to argue.
5 GEORGE RUSSELL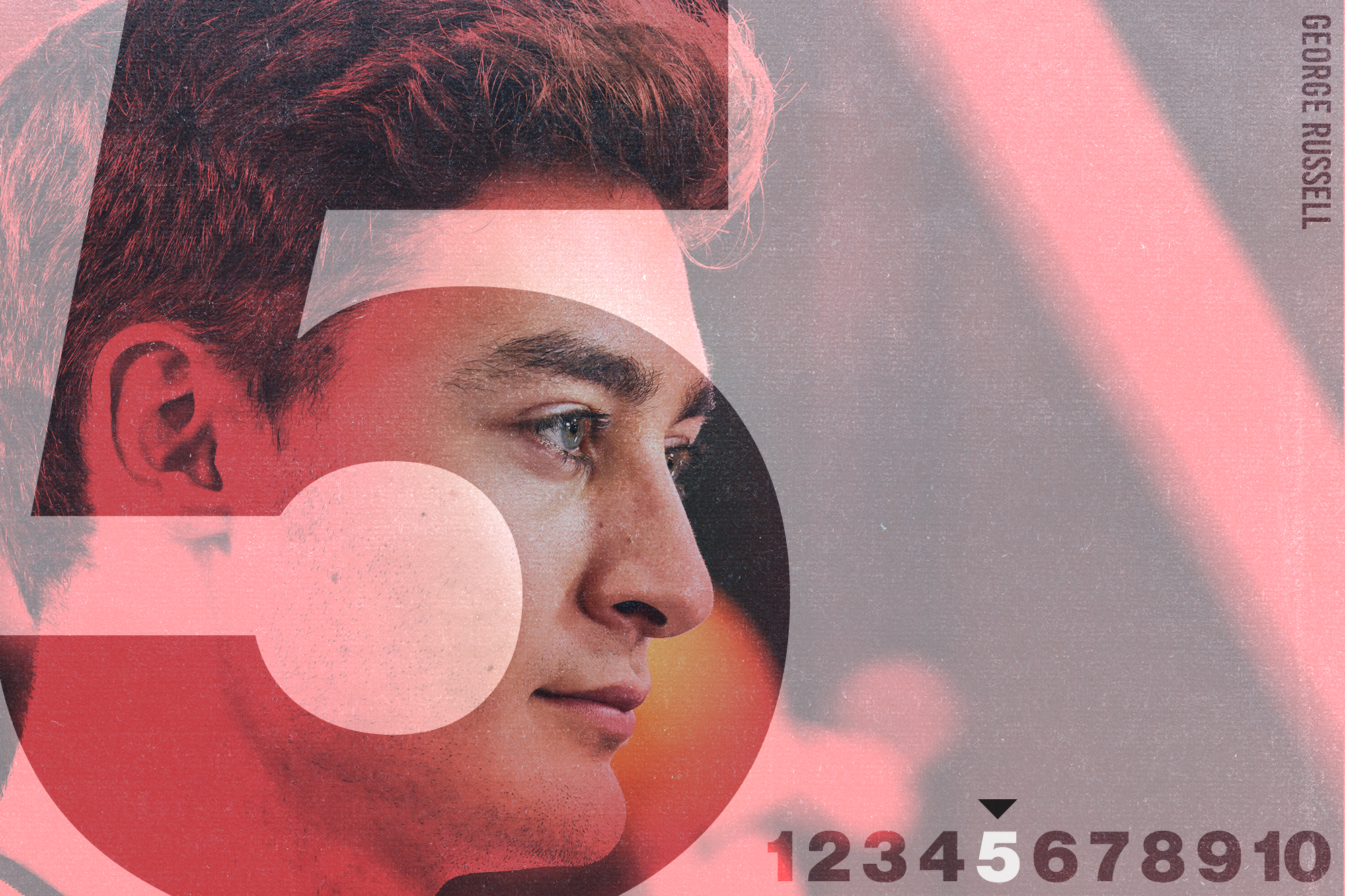 SCOTT
Russell's consistency early on was excellent and he coped well with a W13 that was hardly well-balanced and needed a lot of refinement. Russell's peak was a fraction lower in the second half of the year, though, which led to some quite strong self-criticism in public.
Rebounding from that with an increasingly strong final set of races, including his first grand prix victory in Brazil, said a lot about Russell's mental resolve and work ethic, as well as his ability.
Even at his 'worst', he only lacked a small amount to his illustrious team-mate. And on balance he did more than enough to justify his promotion to the top table.
EDD
Russell was the second-best of the two Mercedes drivers in 2022, but not by much. In particular, he represented a significant upgrade over his predecessor in the team, Valtteri Bottas, in terms of race-day performance while also stacking up well in qualifying.
The early part of the year perhaps gave him a false sense of confidence in the battle with Hamilton as he had the advantage. Once Hamilton and the team got into their stride, it became a little harder for him.
But that strong end to the season and victory at Interlagos eliminated any suspicions that he might settle into a number two role for good.
BEN
It's incredibly rare that any driver does this well against Lewis Hamilton in the same car. Alonso was a reigning double champion in 2007, Jenson Button already a champion by 2011, while Nico Rosberg took four seasons to do it (with the benefit of three years' incumbency at Mercedes).
Russell enjoyed none of these advantages, being the junior partner – and although the final standings betray Hamilton to an extent this season, Russell was so close to Hamilton's level anyway that Mercedes can now say for sure it has F1's most potent driver pairing. Promoting Russell from Williams was absolutely the right call.
MARK
Super-fast, super-confident, there's no stopping George. Not even arriving in Lewis Hamilton's team in a bad year. His approach to that situation was to keep things simple and just try to maximise every weekend.
Sometimes faster than Hamilton, sometimes slower, he came closer than any team-mate to matching him since Alonso in 2007. Which is just the natural order of things.
He pounced on opportunities, took his first pole in Hungary and was flawless in taking his breakthrough victory in Brazil. There are a whole lot more of those to come in the years ahead.
4 LEWIS HAMILTON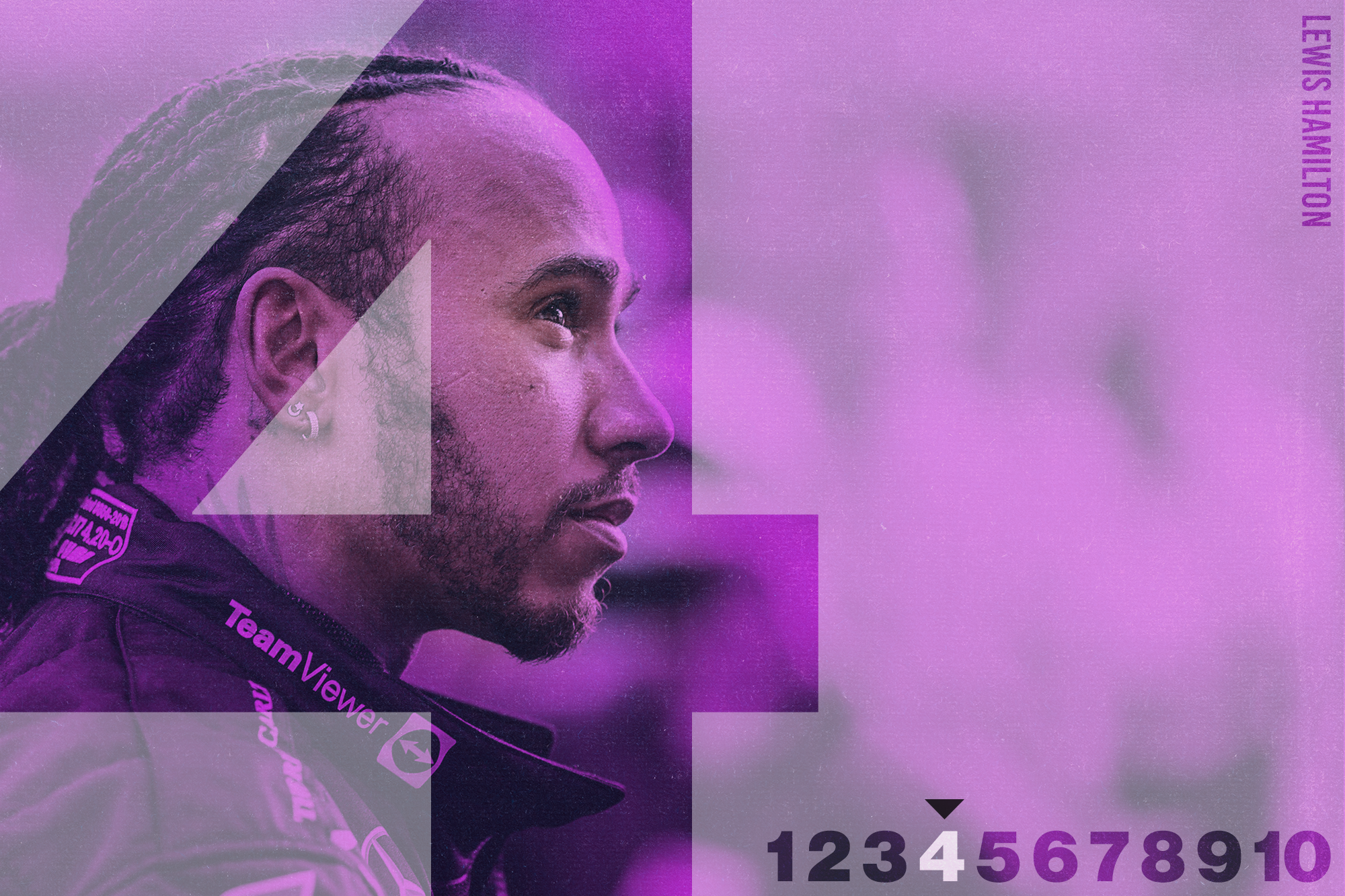 EDD
Didn't produce his finest work in the first part of the season, often going down experimental pathways with set-up that didn't pay off. That contributed to some erratic performances in the first half of the year, as well as poor weekends such as those in Saudi Arabia and at Imola.
But once Mercedes got into what was described as "normal development" heading into the middle stages of the season, Hamilton established a small but significant performance advantage over Russell.
There was still the odd mistake, notably turning in on Fernando Alonso at Spa, but by and large he was the Hamilton of old.
BEN
It says much for Hamilton's enduring class that he's so high up this ranking despite failing to win a race for the first time in 16 seasons – and being outscored by his team-mate to a degree not seen since 2011.
Dealing with the psychological fallout of Abu Dhabi 2021, plus Mercedes' alarming regression, appeared to take a toll. But the points deficit to Russell is deceptive. Hamilton was below par at Jeddah, Imola, Spa and Singapore, true, but on balance he was the stronger Mercedes driver across the season – and perhaps unlucky not to win Zandvoort or Austin.
MARK
He's still got the magic in him even if the difficult Mercedes W13 didn't always give him access to it. Much of the first half of his season was spent trying to decode the car, with all sorts of experiments.
As its limited operating window was found, so we then saw the pummelling pace unleashed – and there followed a 10-race sequence in the season's second half in which team-mate Russell had no answer.
The set-up window in which its aerodynamics worked could make it an unpredictable mule of a car into slow corners but Hamilton was brilliant at improvising a tune from it. He's more than ready to go wheel-to-wheel with Max once more.
SCOTT
Hamilton wasn't at his best early on even if that was at least in part down to the aforementioned experimenting at Mercedes as the extent of its W13's deficiencies became clear.
Once Mercedes 'normalised' its season though, Hamilton was much more formidable. He tended to set a benchmark on track and off it that played a key role in Mercedes' improvement and making Russell up his game.
While Hamilton's performance level had a lower basement than Russell, it also had a higher ceiling, even if Russell winning and Hamilton not might suggest otherwise.
And, on average, Hamilton was very marginally better overall.
3 CHARLES LECLERC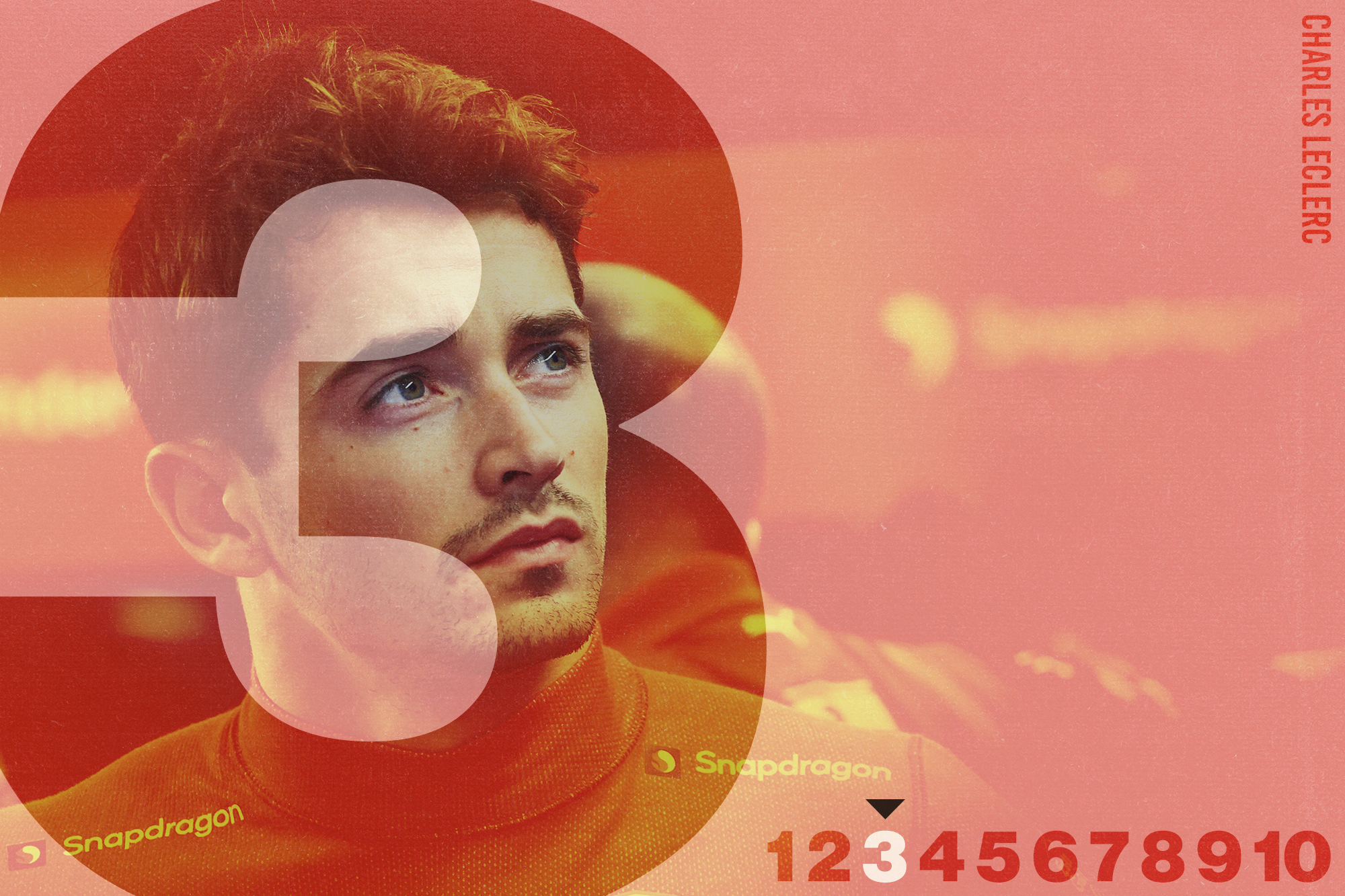 BEN
Charles Leclerc is without doubt one of the very fastest drivers in F1. Nine poles in 2022 (the most of anyone) attest to his incredible feel for ultimate grip, and his dexterity in controlling the car when it's on the outer edge of that adhesion.
But there are rough edges still, evidenced by costly mistakes at Imola and Paul Ricard when Ferrari still had the legs on Red Bull.
Poor reliability let Leclerc down, and Ferrari's operational weaknesses are well-documented, but Leclerc also seems passive compared to Sainz in crucial situations. To make the final step, Leclerc needs a ruthless edge added to his searing pace.
MARK
He's routinely strays into the red zone, just backs his own talent in pulling himself out of the emergencies his desire takes him to during a qualifying lap. His incredibly intricate use of throttle and brake to both manipulate the chassis and maximise the turbo is the most bewitching dance and it left Sainz dazed at the beginning of the season.
His readiness to commit to a ballsy move (like around the outside of Hamilton at Copse on old tyres) is part of his toolbox. Yet he races smart too, as his dices with Verstappen at Bahrain and Jeddah showcased perfectly.
SCOTT
Leclerc's pole-to-win ratio became increasingly absurd in 2022, a testament to his incredible one-lap pace and Ferrari's sketchiness on Sundays.
He still needs to improve as a team leader and either have a better command of the race situation or simply be more assertive when Ferrari's strategy starts to look questionable. And he still has a penchant for a couple of high-profile errors a season.
But generally Leclerc performed to a very high level and looked like a title-calibre driver.
Whether he could have beaten Verstappen in a straight fight over a season, we don't know. But he's not responsible for us failing to find out this year.
EDD
Leclerc is probably the fastest driver in F1 over a single lap, but that doesn't mean he's not a formidable performer in the races. Unfortunately, he was driving a Ferrari that was less strong over a race distance, run by a team that consistently dropped the ball.
It's no exaggeration to say that Leclerc should have won double the races he did in 2022. He also produced some outstanding race drives when the Ferrari was less competitive, finishing the season strongly with good performances in Brazil and Abu Dhabi.
Only the two major unforced errors cost him second in the list.
2 LANDO NORRIS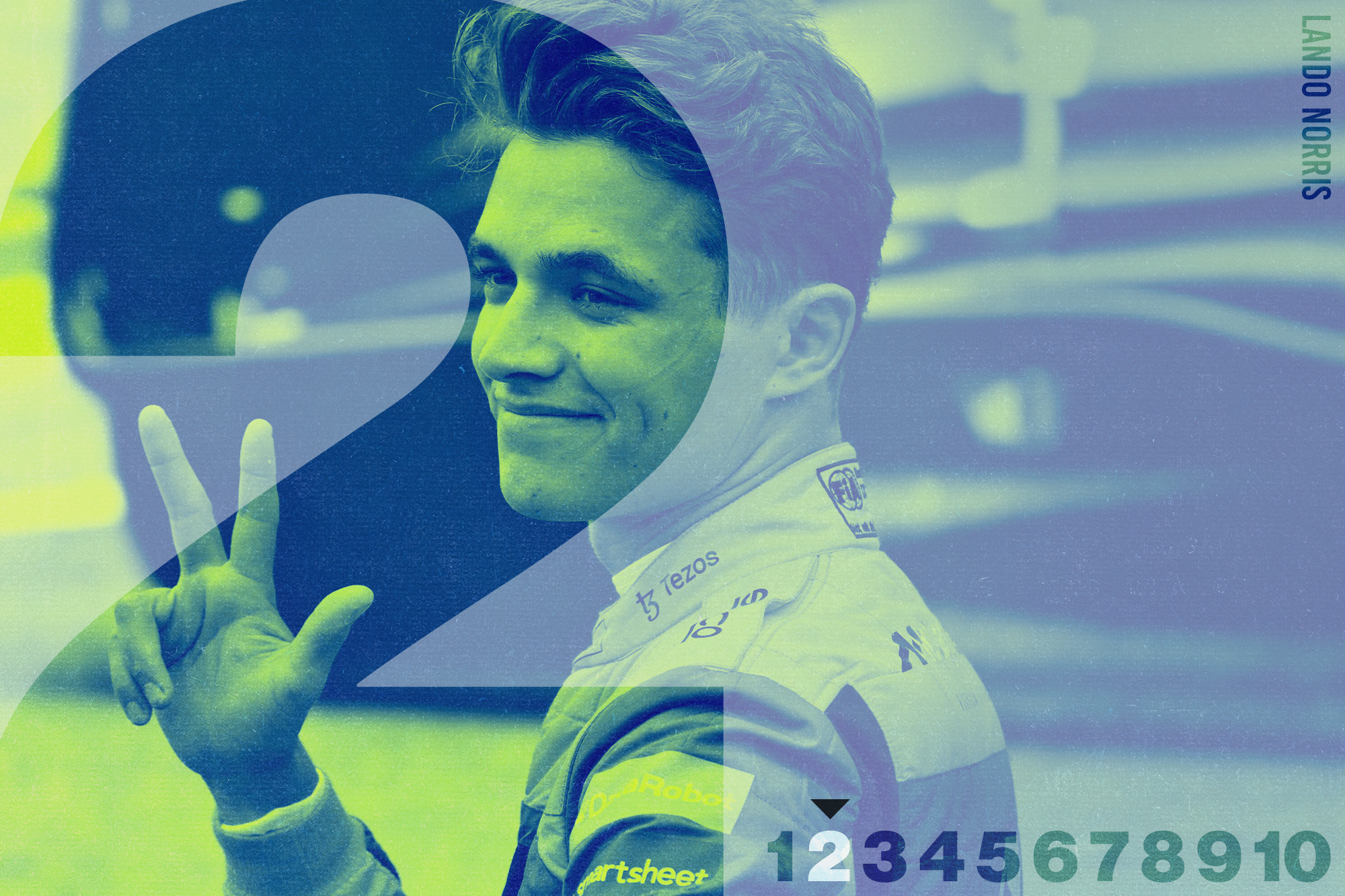 MARK
It was too easy for Norris' fantastically high level to go unnoticed this year, in a McLaren which, unlike last year's, wasn't good enough to ever mix it with the top cars. So he was forever in this no man's land.
The McLaren's imbalance meant it wasn't even good enough to be fighting with Alpine as best of the rest – yet he could usually conjure a way of getting it to be there.
Some of his qualifying laps were incredible and very often the only reason the orange car lined up ahead of the blue-and-pink one. He'd then calmly deliver a flawless race, even wheel-to-wheel with Alonso if need be.
SCOTT
It is very hard to fault Norris this season and identifying races at which he underperformed is even trickier.
The low points are all easily explained: Bahrain was an outlier with the car at its most compromised, he was an innocent victim of Pierre Gasly's in Miami, an engine issue set him back in Canada, McLaren was badly uncompetitive in Belgium and he was on the wrong strategy in Mexico.
In 13 of the 22 races, Norris finished seventh or higher. Given he had the fifth-fastest car on average, that's a great return.
The results were not as stunning as 2021 (how could they be with a clearly inferior car?) but the performances were even better.
EDD
Norris spent most of the season excelling in obscurity, but among his collection of minor points finishes were multiple drives of unobtrusively high quality. In midfield terms, his was the equivalent of a driver winning the title in the second-best car.
He kept the mistakes to a minimum, which was no mean feat in a McLaren that was tricky to drive and that he found inconsistent from lap to lap. In doing so, he showed the adaptability and the confidence that is an essential part of a true top-liner's skillset.
With each passing season, Norris looks ever more a world champion in waiting.
BEN
No one crushed their team-mate more convincingly in 2022 than Norris did. For a driver of Daniel Ricciardo's pedigree to only genuinely outqualify his team-mate once (Spain) just boggles the mind, really. And the gaps were consistently and truly alarming.
Norris was so good that McLaren binned Ricciardo a year early; so good he finished seventh in the points despite driving the fifth-fastest car; so good he frequently beat one or both Mercedes in qualifying. If McLaren had any lingering doubts Norris is the real deal, this season should dispel them. McLaren's battle now will be to hang on to him.
1 MAX VERSTAPPEN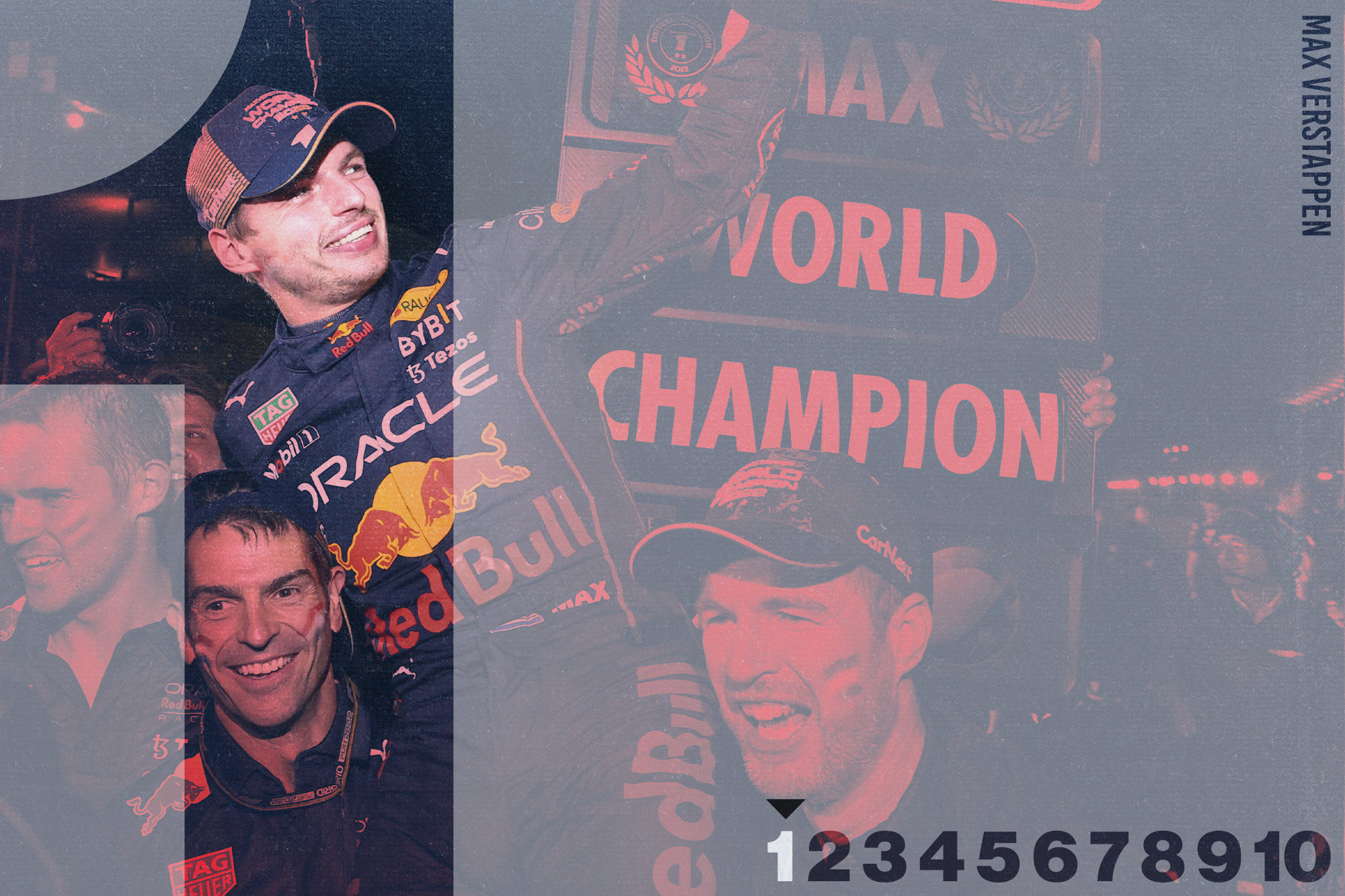 SCOTT
Verstappen outraced a faster package in some of the early grands prix and blew everybody away with precious few exceptions when Red Bull's car morphed into F1's best.
His tyre management continues to be an integral yet often underrated part of his make-up and his patience improved, leading to excellent come-from-behind victories in Hungary and Belgium.
There were times when Verstappen erred. Tempers flared mainly in the early part of the season when Red Bull was suffering reliability problems (big and small), and there was the rare sight of an unprompted Verstappen mistake in Spain and Hungary. He also went down the escape road in battle with Lando Norris in Singapore and clashed with Lewis Hamilton in Brazil.
Perhaps the scariest thing for Verstappen's rivals is that, even after a record-breaking year, there is still room for improvement.
EDD
Verstappen showed in 2022 that he could ruthlessly crush the opposition with relentless performance.
While it was certainly an easier season than 2021, few drivers have the capacity to sustain such a high level of performance, so his 15 victories are testament to how intensely the will to win burns.
There were three significant in-race errors, plus the clash with Hamilton at Interlagos, so there was the odd blemish – but that's always going to be the case with 22 races.
Plus, as Perez struggled with a faster but trickier car, Verstappen's adaptability and capacity to live with a more on-edge rear end shone through.
BEN
Verstappen's utter domination of Formula 1 this year was Schumacher-esque. Controversial first world championship, now superseded by a crushing display of superiority in what wasn't (for a while at least) the absolute fastest car on the grid.
Even when the fatter and lazier version of RB18 was stifling Verstappen's preferred style, he had the beating of Leclerc and Perez more often than not. Once driver, car and team found the correct rhythm Verstappen was unstoppable.
His peaks – think Montreal qualifying, charging through the field in Budapest and Spa, plus that crushing wet victory at Suzuka – were staggeringly good.
MARK
If you need a case study of the immense level of Verstappen's performance, look no further than the Belgian Grand Prix. Yes, the car's advantage around this particular track was outrageous – for very specific technical reasons we don't need get into here – but there was special rarefied air territory available to a driver with the genius to have a neutral balance through some of the most demanding fast corners on the calendar. Just the slightest extra input after jumping straight onto the tightrope upon corner entry would have spat him off.
He did it like it was child's play. The more difficult the task, the greater Max's advantage.