For 24 hours at the Nurburgring 21 years ago, the much-loved Jordan team really did look like it was a serious consider for that season's world championship.
The 1999 European Grand Prix is best remembered for Johnny Herbert and the Stewart team's sensational win in changeable weather.
But its first half was all about Heinz-Harald Frentzen and Jordan putting themselves in position to thrust right into the middle of Mika Hakkinen and Eddie Irvine's title battle with two rounds to go.
Earlier this year, Glenn Freeman, Edd Straw and Matt Beer explored Jordan's 1999 championship bid in series one of our Bring Back V10s podcast of classic F1 tales.
This is how the Nurburgring race went from being the making of that fairytale to the moment it realistically ended.
HOW GOOD WAS THE CAR?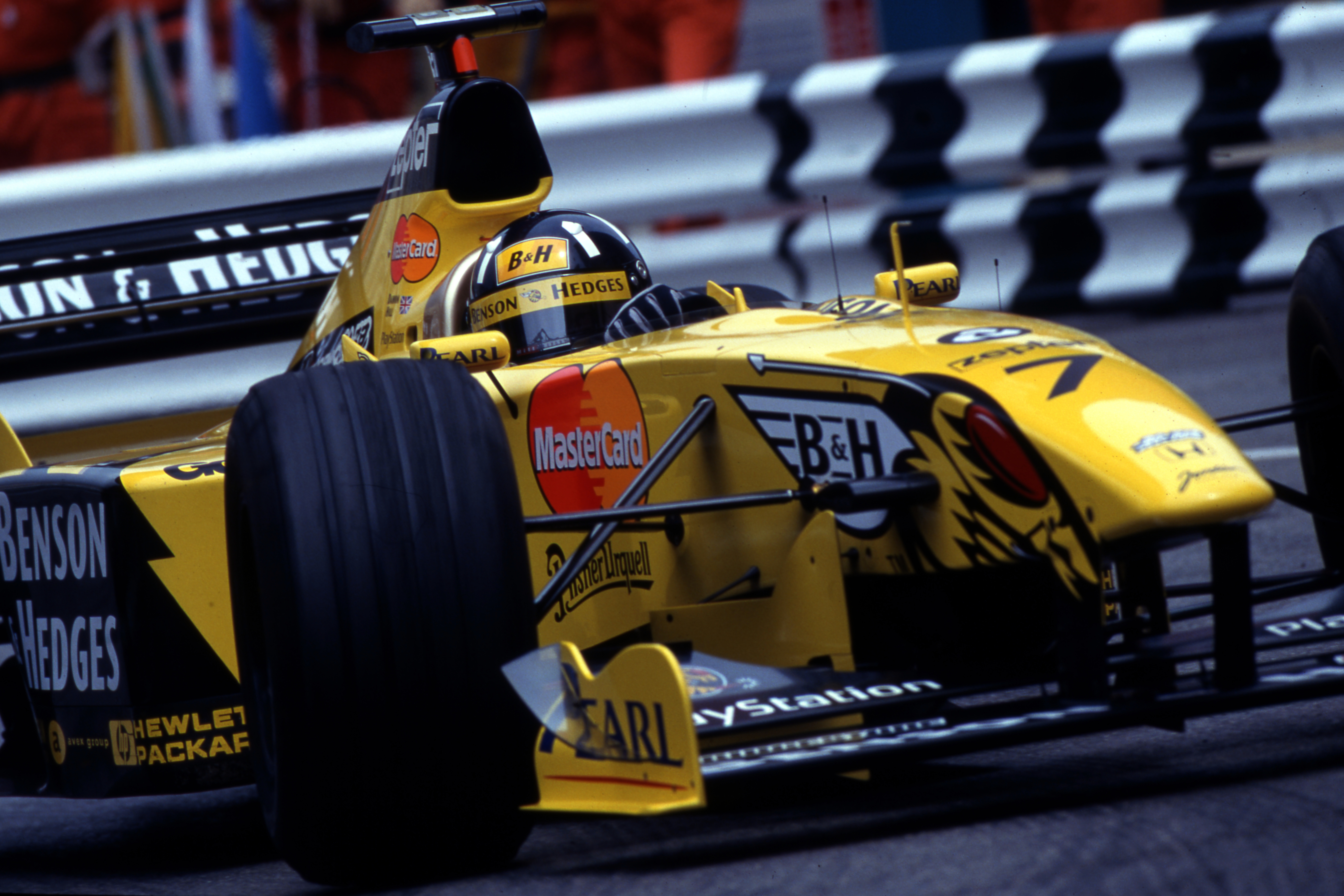 Jordan had taken its breakthrough 1-2 with Damon Hill and Ralf Schumacher at the previous year's Belgian Grand Prix.
The team's 199 chassis was designed by Mike Gascoyne following the departure of its founding technical director Gary Anderson, and continued to run Mugen Honda power.
Speaking in a Motor Sport magazine feature, Gascoyne called his first Jordan design "mechanically an evolution of the old car, with a new aero package put on it". The team also did some work to reduce the weight and lower the centre of gravity.
How good was it? The team finished third in the constructors' championship for the only time in its history, and that was with Hill only contributing seven of its 61 points.
"The McLarens have the speed but either the team or the driver has screwed up on too many occasions. There is a litany of failure" :: Eddie Jordan
It's fair to say the car was Jordan's best in F1, and the stats put it as third fastest overall for the season by a small margin over the Stewart-Ford – which had a lot of reliability problems.
Ultimately the 1999 Jordan was a decent improvement over what had become a pretty competitive machine by the end of 1998, so the team had a good usable, solidly run car that was never the absolute best in the field, but was close enough that when circumstances came into play the team was able to do something special.
Not on McLaren and Ferrari's pace, in similar territory to Stewart but more dependable, and faster than Williams and Benetton.
THE FRENTZEN FACTOR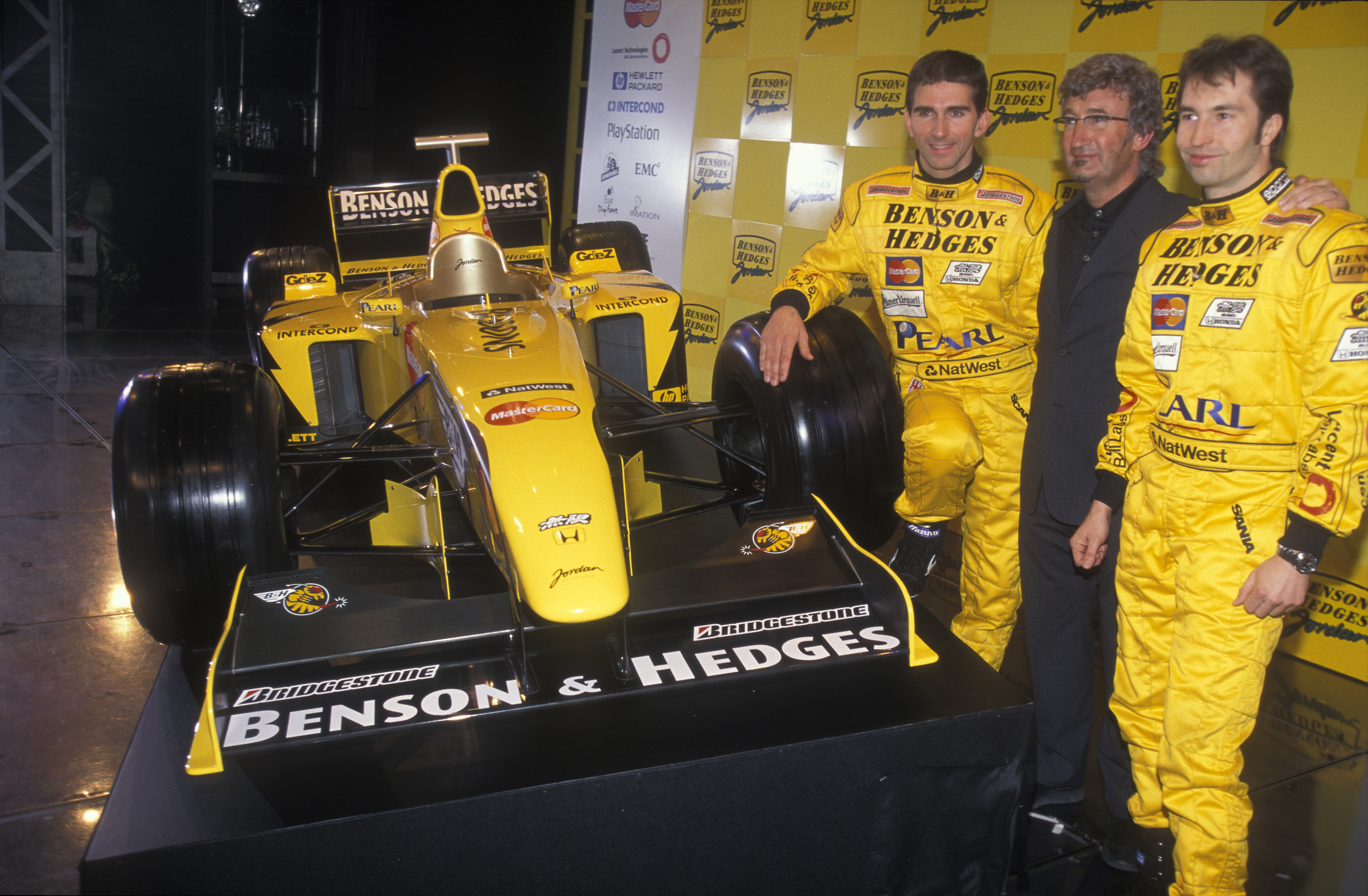 Ralf Schumacher and Heinz-Harald Frentzen swapped seats over the winter, with Frentzen arriving at Jordan from Williams with his reputation absolutely battered given how poorly his stint as Hill's replacement at the erstwhile champion team had turned out.
But 1999 at Jordan was the best Frentzen ever looked in F1. A second place in the Australia opener, right on winner Irvine's tail, set the tone.
Frentzen thrived in the Jordan environment having been unhappy at Williams, with Gascoyne suggesting that in 1999 he just drove the car, rather than trying to get too involved in engineering or developing it as well – which is where it all went wrong for him later in his time at Jordan.
He was a driver who needed to get a bit of momentum and get onto a crest of a wave to really perform at his absolute best. And when that happened, he was brilliant.
Frentzen's average qualifying position in 1999 was 5.3, basically leading 'best of the rest' behind McLaren and Ferrari, and excluding DNFs his average result was 3.2. He'd end the year third in the drivers' points, amazingly ahead of McLaren's David Coulthard, with two wins and four other podiums.
He was perhaps helped by the circumstance of going into a team with an evolutionary, well-sorted, proven car, and he quickly became undisputed number one at Jordan as it became clear Hill was going a season too far in his F1 career.
THE MONZA WIN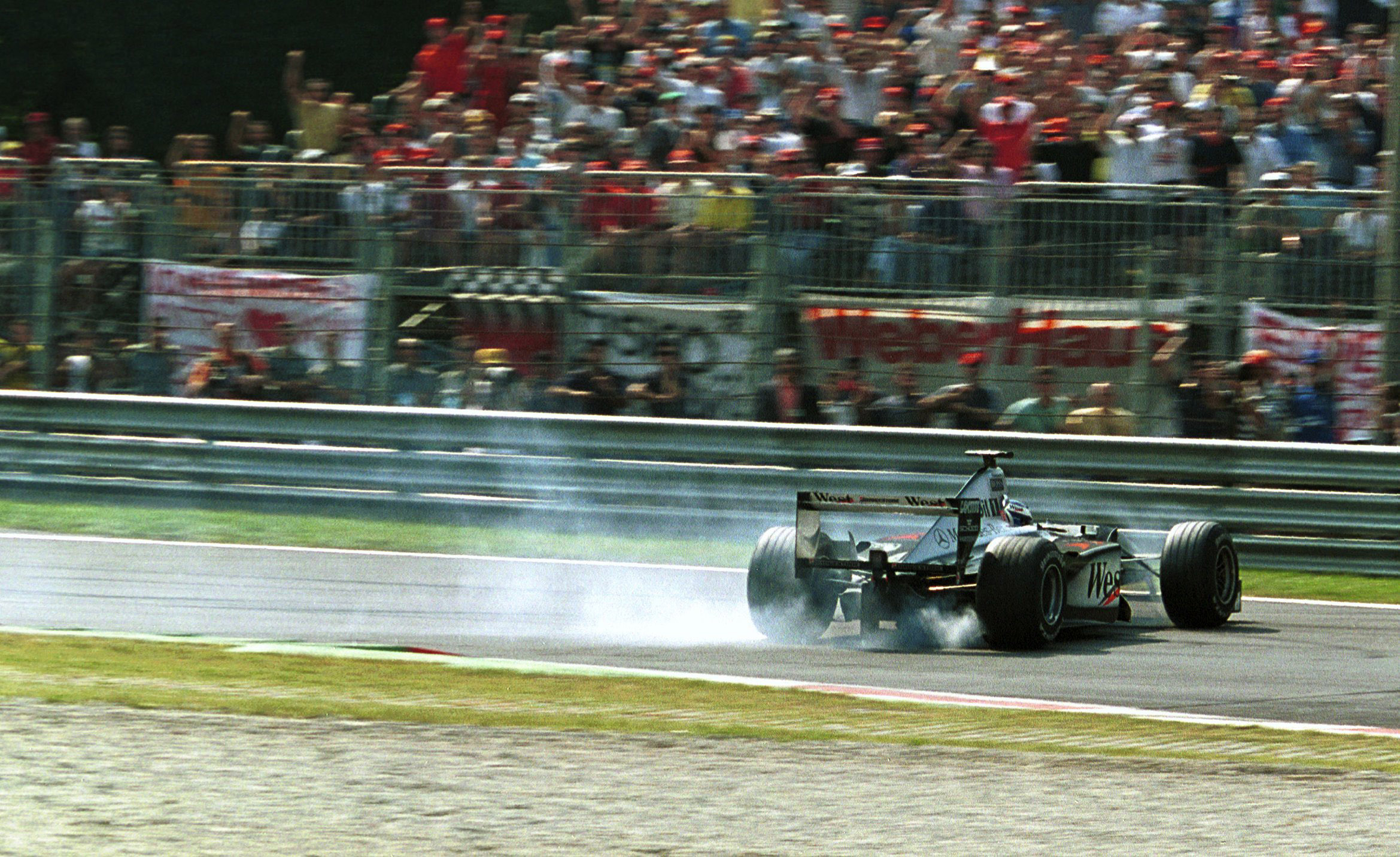 Until Michael Schumacher suffered his broken leg at Silverstone, the 1999 title battle was all about him and Hakkinen.
Frentzen had taken his first Jordan win as he and the team judged changing weather at Magny-Cours perfectly a fortnight before the Silverstone race, which put him 17 points behind leader Hakkinen.
He then reeled off a string of consistent fourth and third places across the next five races, during which Hakkinen won just once.
A lost wheel at Silverstone, a punt from team-mate Coulthard at what was then the A1-Ring, a puncture at Hockenheim and defeat to Coulthard at Spa meant Hakkinen wasn't taking control of the championship in the manner expected after Schumacher's injury.
And though Irvine had won twice and kept Ferrari in the title hunt, his car was by now little faster than the Jordan – Irvine suspecting Ferrari had switched its development focus to 2000 once Schumacher was sidelined.
By Monza, Frentzen was still within 20 points of the championship lead – in the 10-for-a-win era – but only fourth in the standings.
He split the McLarens to start on the front row in Italy and then ran second to Hakkinen.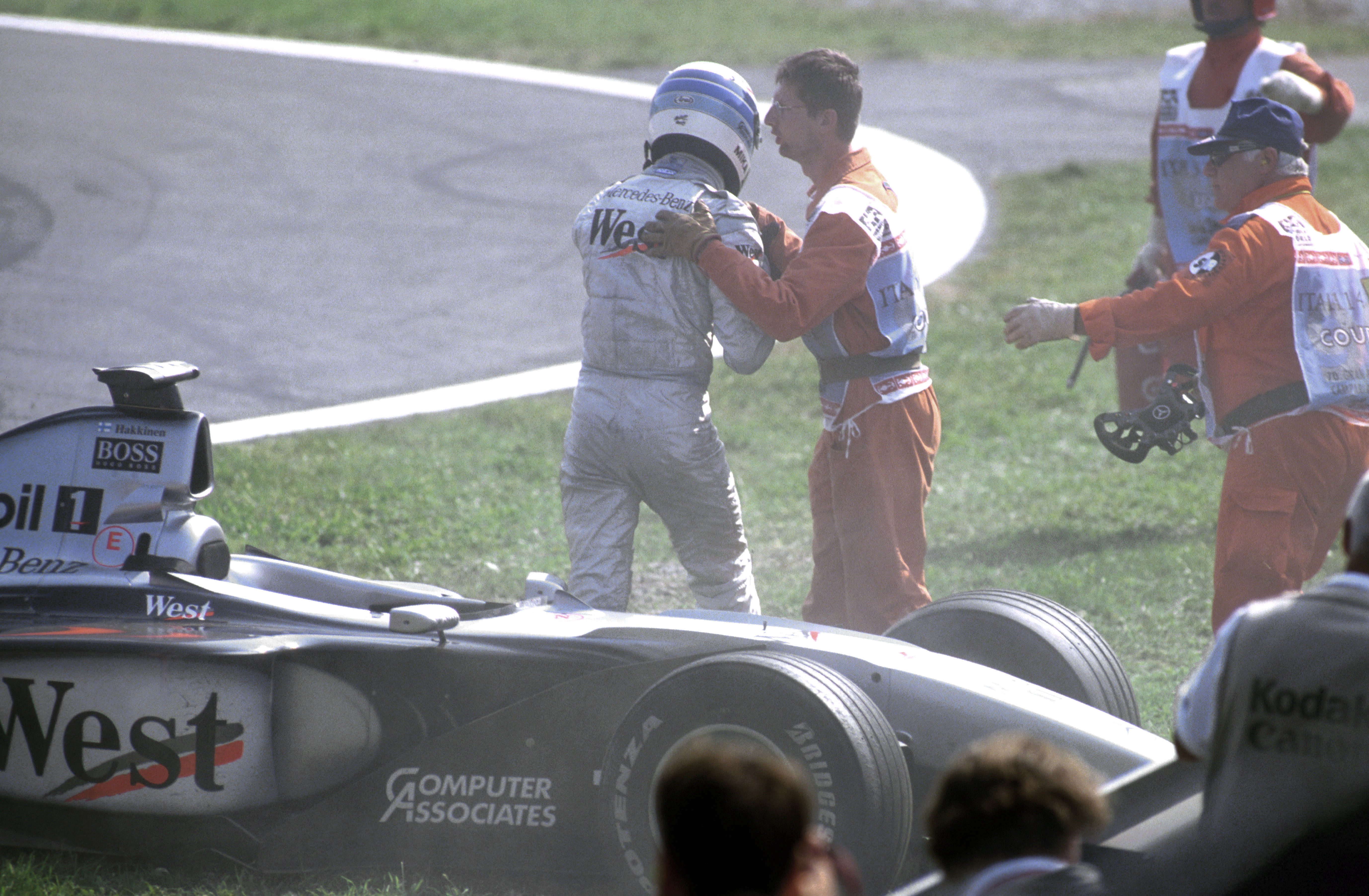 As Frentzen began to gain slightly approaching the pitstops, Hakkinen accidentally changed down to first not second gear into the first chicane and spun out of the race, prompting his famous tears among the trees.
Frentzen duly won. Coulthard and Irvine could only manage fifth and sixth. Now the championship looked like this:
1 Hakkinen 60
2 Irvine 60
3 Frentzen 50
4 Coulthard 48
Jordan reckoned McLaren had been trying to get Hakkinen to build a gap because it feared Frentzen was going longer on his first stint – a tactic that tended to work out very well at Monza in that era. The Jordan was widely estimated to have the biggest fuel tank on the grid that year, which is one of the reasons Frentzen was able to win in France.
Eddie Jordan took a swipe at McLaren after Monza, clearly enjoying winding up team boss Ron Dennis.
"In theory, Frentzen's win puts him in the running. But the truth is, he is just a red herring" :: Eddie Irvine
"Right now I would have my money on Frentzen before I would put it on Hakkinen," Jordan said.
"The McLarens have the speed but either the team or the driver has screwed up on too many occasions.
"There is a litany of failure and they should have won the championship by 50 points and it should all be over by now.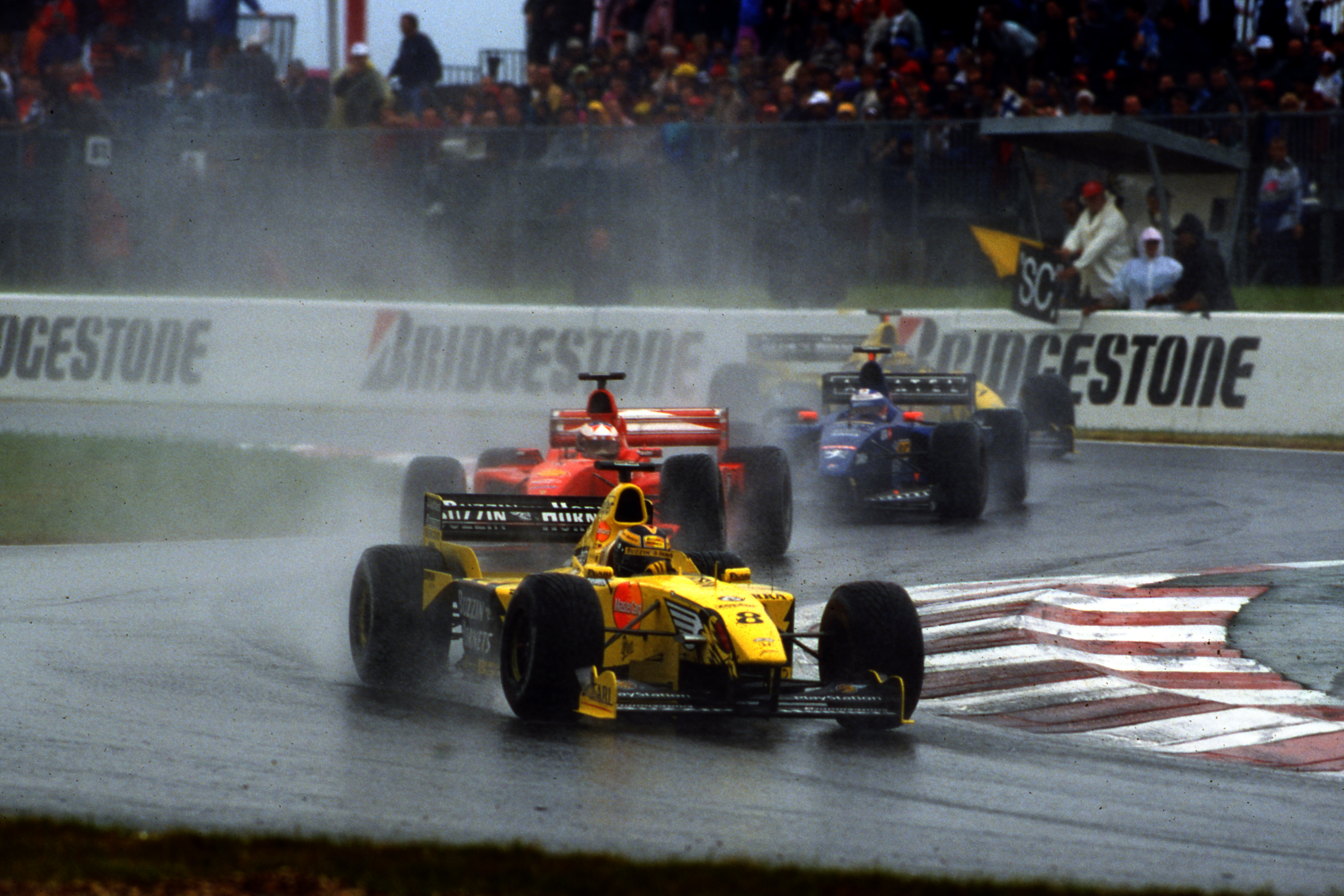 "But now they have another contender in the shape of Heinz-Harald, which nobody expected.
"Ron is a great competitor. I admire the guy and I think his team is sensational but if I had a team as good as that and I had not won the world championship by now then I would be sick."
Jordan loved winding up Dennis, and says their relationship behind the scenes was better than how it played out in public where he was always making jabs at McLaren and Dennis was always dismissing Jordan for not being serious enough.
But even Ron gave about as much of a compliment as he could after Monza, telling Jordan "At least you've won one race by merit" – a nod to Jordan's two other wins coming in rain-hit races.
Some still weren't taking Frentzen seriously. Irvine dismissed Frentzen's chances in a newspaper column, writing: "In theory, Frentzen's win puts him in the running along with me and Mika. But the truth is, he is just a red herring.
"Much as I respect what my old boss Eddie Jordan has done with his team, Heinz-Harald's victory was down to the fact this track suited their car. It will all come down to a scrap between me and Hakkinen."
Jordan still knew it was a big ask. He says in his book that he felt the Monza win "proved once and for all that the Jordan 199 was a serious contender", but in public back then he was still aware that the championship was a "long shot".
But his point was "had we said at the start of the season that we would be fighting for the title, we would have been laughed at. So just to be where we are is fantastic."
THE NURBURGRING BRILLIANCE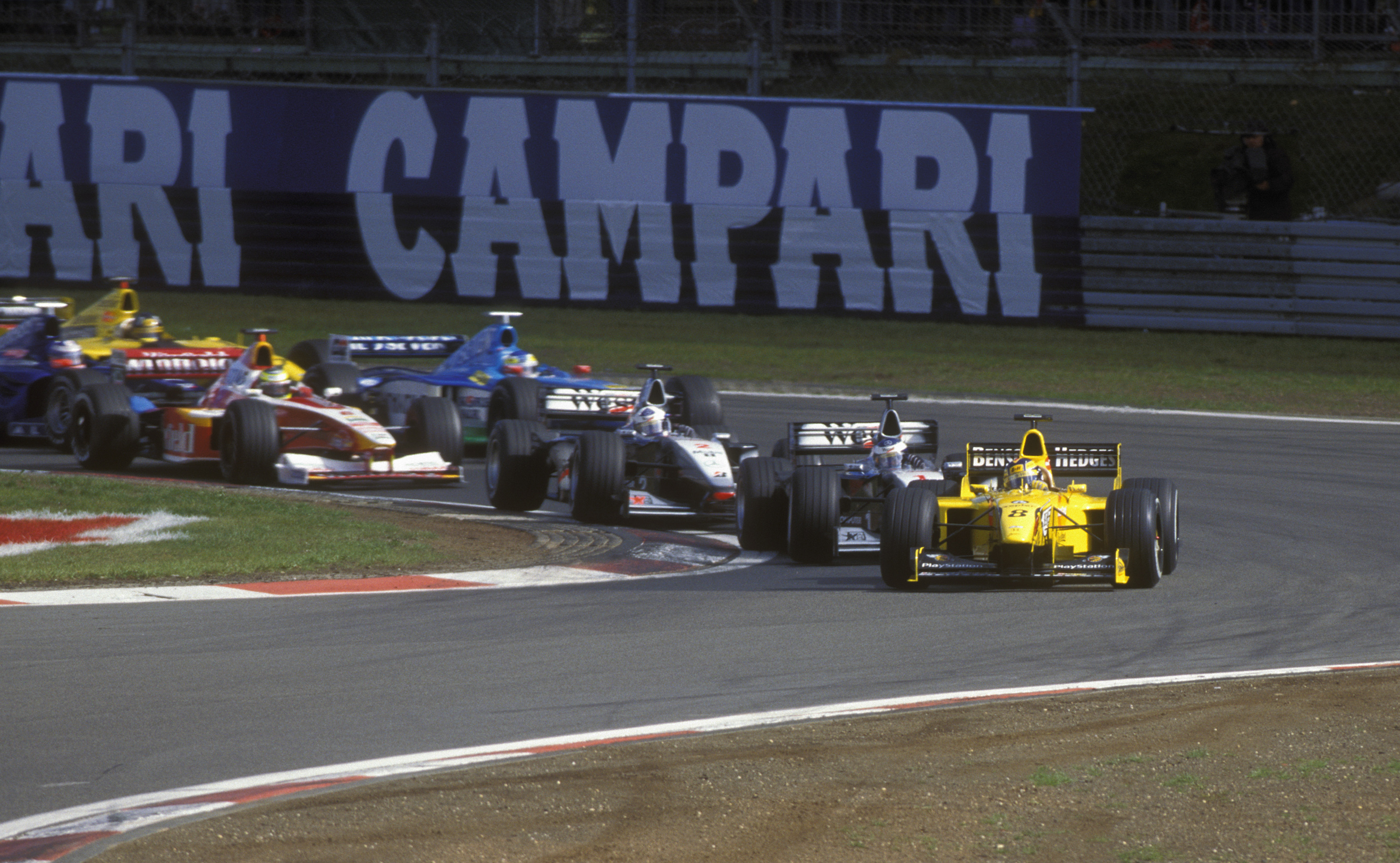 Jordan tested some aero updates and a new Mugen-Honda engine spec at Magny-Cours after Monza, and went to the Nurburgring confident it could live with McLaren and Ferrari on dry-weather pace.
Frentzen delivered on that promise by taking pole in a straight and dramatic fight. His practice sessions had been heavily disrupted by car problems, but on a drying track he put in the fastest lap of the weekend after a quick 'racing pitstop' for fresh slicks. Despite running extra fuel due to the frantic circumstances of the end of the session, he took pole ahead of Coulthard and Hakkinen, with Irvine only ninth.
Jordan said that performance was "a measure of the guy in 1999".
Frentzen then led the first stint of the race under enormous pressure from the two McLarens and Ralf Schumacher, getting away with skipping across the chicane twice without losing the lead.
When an initial shower hit the circuit, both Hakkinen and Irvine guessed wrong and made unnecessary pitstops for wets that wrecked their afternoons, while Frentzen stayed out in the lead and continued to hold Schumacher and Coulthard at bay through the slippery period before the track dried.
THE NURBURGRING PAIN
Then came the heartbreak. After leaving the pits from his first stop, Frentzen's car ground to a halt at the first corner.
It's a haunting image, the moment Jordan's surprise hope of winning this championship evaporated.
At the time Jordan was very secretive about what caused the failure, but over time we've learned that it was one of the teams getting around the driver aids ban with a clever, and effectively legal, launch control system.
However, the trick required the driver to manually disable it after his launch, otherwise the car would shut down.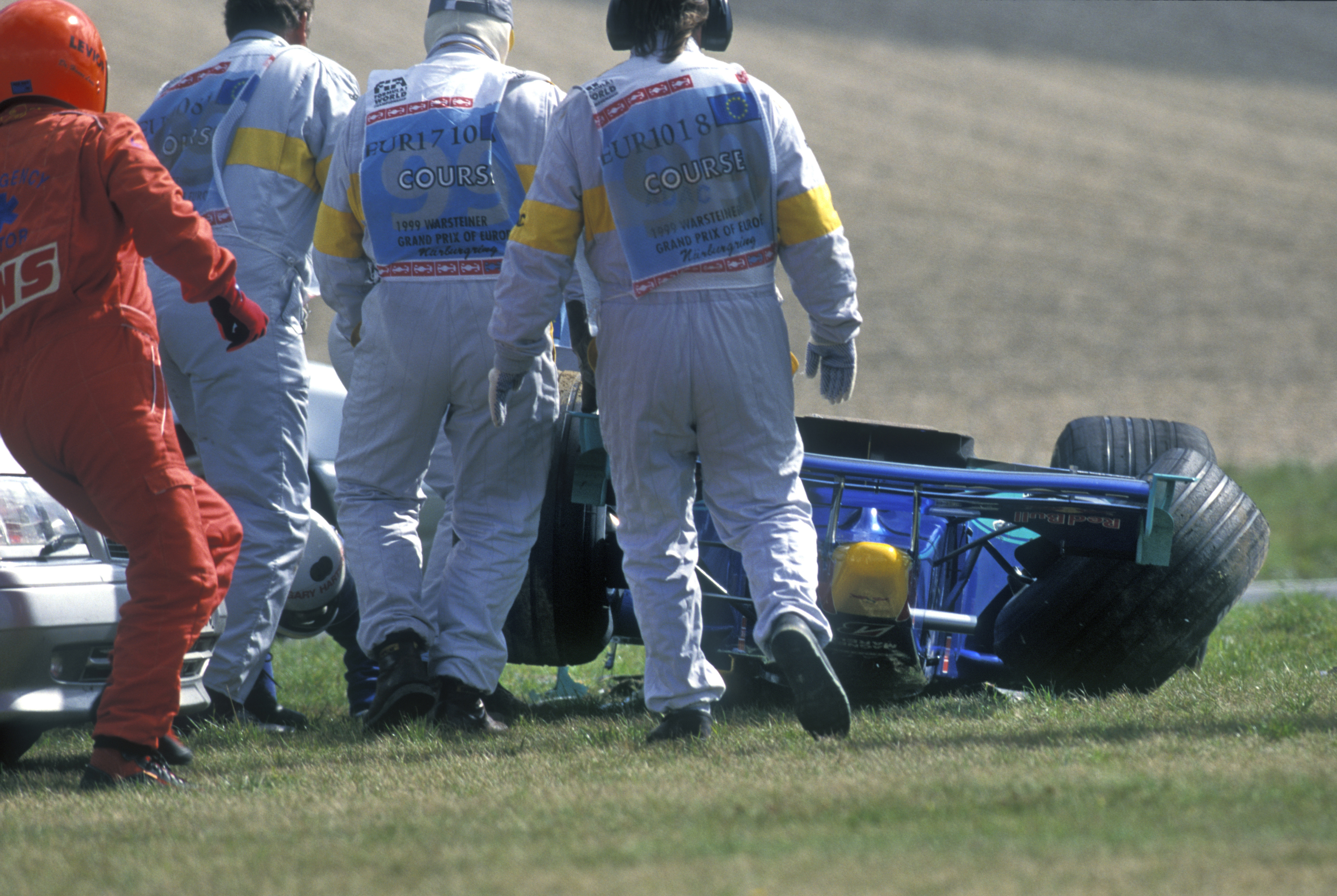 The same thing happened to Hill at the start, triggering the accident that sent Pedro Diniz upside down into the grass and caused the Sauber's rollhoop to break.
Ultimately it was forgetfulness from Frentzen that led to his retirement, but Jordan suggests his engineer Sam Michael could also be considered at fault for this unfortunate incident.
In his book, Jordan writes: "Each time, without fail, Sam would say to Heinz, 'Press cancel, press cancel' as a reminder. On this occasion, he simply said 'You've 4.5 seconds on Ralf, bring it home first'.
"No sooner had Sam said that than we heard Heinz reporting that the engine had cut out. It was the most sickening feeling to see the pictures of our car rolling to a halt."
WOULD FRENTZEN HAVE WON?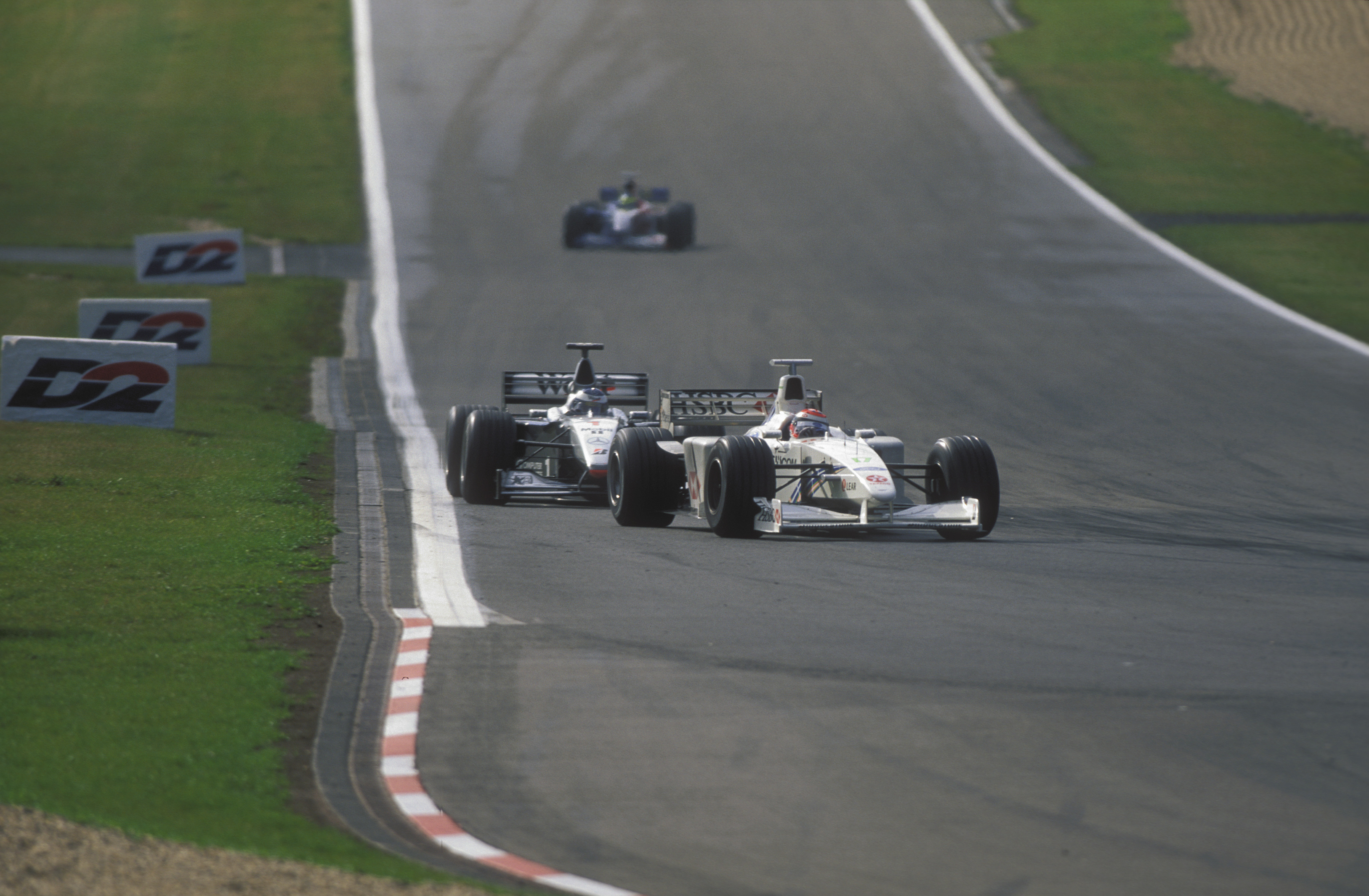 That race had more curveballs to come. The rain returned with a vengeance. Coulthard crashed out as it did so. Ralf Schumacher was left in control, but suffered a puncture that dropped him to fourth.
Herbert, Jarno Trulli and Rubens Barrichello handled the changing conditions best and pulled off a shock Stewart-Prost-Stewart podium. Hakkinen and Irvine – the Ferrari further delayed by an embarrassingly shambolic pitstop – were consigned to fifth and seventh, battling Minardis to get there.
So there's no guarantee that Frentzen holding the lead after his first pitstop really meant anything given what the following 35 laps still had in store in terms of weather and incidents.
"Hopefully this is the year I remember as the one that gave us the confidence to make a serious breakthrough to take on the world championship" :: Eddie Jordan
But it's not crazy to speculate that this would've turned out well for Frentzen and Jordan.
He'd handled pressure and changing weather perfectly once already in this race in the first shower. Jordan had made the right shouts over the conditions both in the first stint at the Nurburgring and at Magny-Cours earlier in the year. Throw in Spa 1998 and you'd have to say the data suggests crazy wet races in that era were ultimately Jordan territory.
If Frentzen had hung on and won, that would've meant Hakkinen and Irvine were sixth and eighth. The title contenders would've headed to the final two rounds in Malaysia and Japan looking like this:
1 Hakkinen 61
2 Irvine 60
3 Frentzen 60
4 Coulthard 48
WHAT HAPPENED NEXT?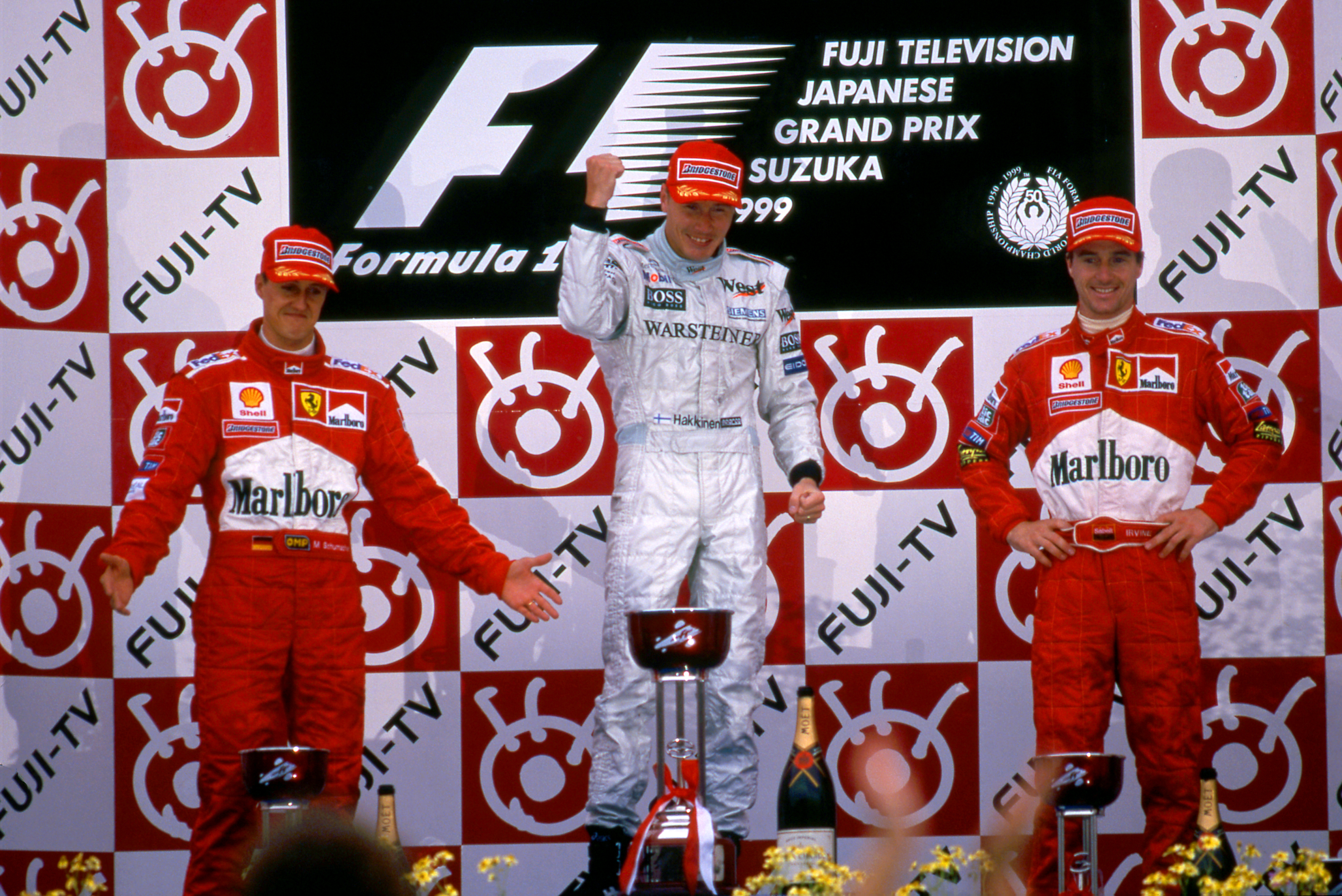 Michael Schumacher returned for Malaysia, and that plus Ferrari's 2000 developments yielding upgrades that could reinvigorate its fading 1999 car changed the picture.
Schumacher helped Irvine to victory in a Ferrari 1-2 ahead of Hakkinen at Sepang, before the Ferraris were briefly disqualified over a bargeboard issue before later being reinstated.
But Hakkinen's defeat of both Schumacher and a muted Irvine in the Suzuka finale meant he became a double champion, and Ferrari's title drought continued.
What of Frentzen and Jordan?
They were officially ruled out of championship contention in Malaysia, where myriad problems left Frentzen only 14th on the grid. He did well to convert that to sixth behind the Stewarts in the race, setting the second fastest lap. At Suzuka he beat Irvine to fourth on the grid, but was denied third by the Ferrari on race day, albeit not by much.
Frentzen finished the year third in the championship, 22 points behind Hakkinen and 20 adrift of Irvine.
If Frentzen and Jordan had won at the Nurburgring, would they have been more competitive at Sepang? Was that performance a sign of mental fragility and driver and team struggling to cope with their disappointment?
Not really, it was simply a weekend when things didn't go right for a team that needed everything to run smoothly as it was punching above its weight.
Jordan was really struggling at Sepang. It was a new, low-grip track, Frentzen spun in qualifying when his headrest detached, had brake problems and had to switch to a spare car that he hadn't driven before and which didn't have a qualifying-spec engine.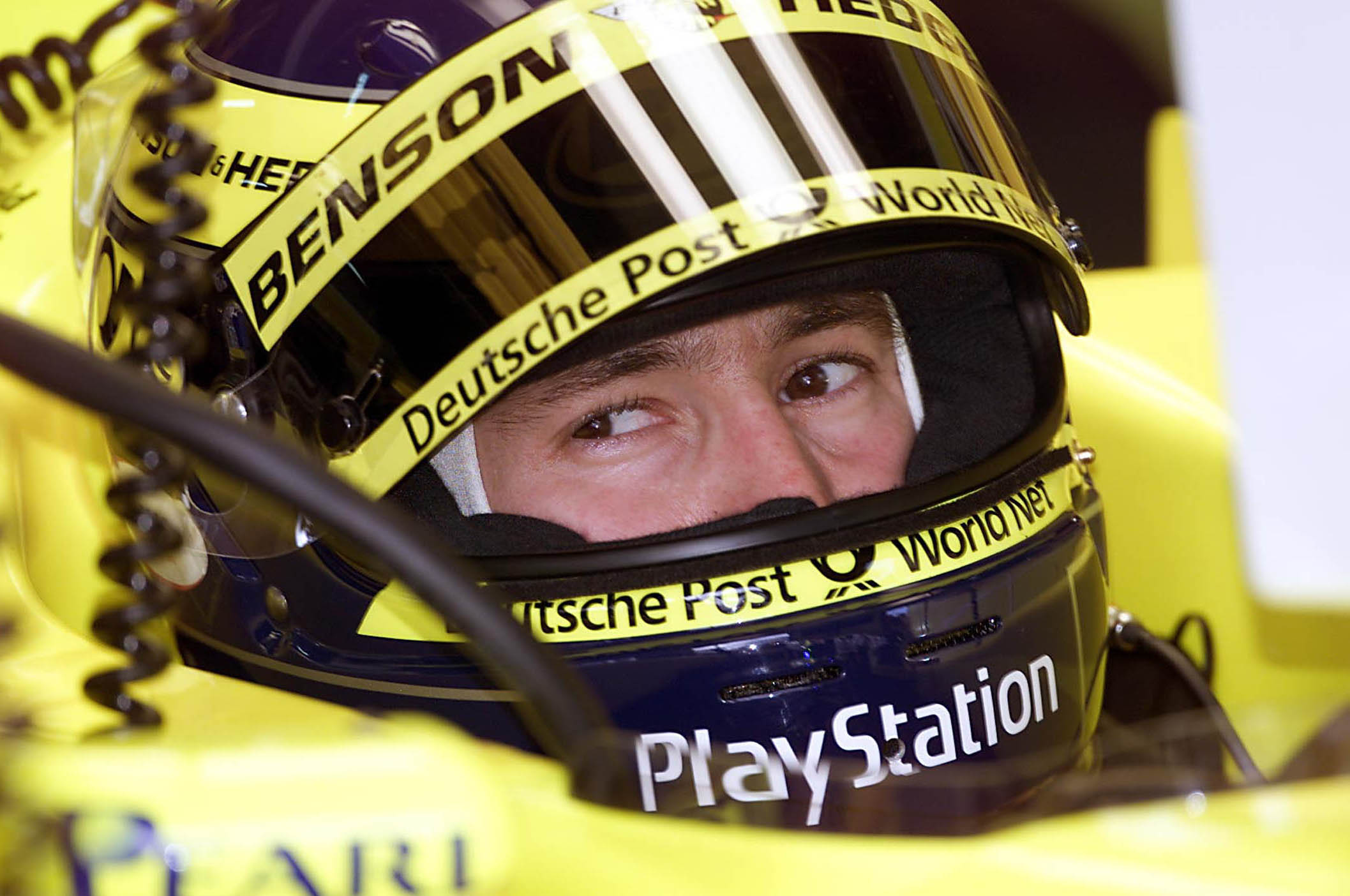 Everyone accepted that was it for Jordan, and in Eddie's book he says there was "a feeling of anticlimax" in the team after the final race at Suzuka.
"Yes, we finished third in the championship but the fizz seemed to go out of that last race because we knew we could not win the title," he wrote.
"Everyone was depressed, but we had no reason to be. Jordan was third. That was fantastic.
"We had done brilliantly for a team that had started less than 10 years previously. We had hauled ourselves up in a very short period of time from being no-hopers to having a crack at the world title."
At the time, he said "Hopefully this is the year I remember as the one that gave us the confidence to make a serious breakthrough to take on the world championship".
But 1999 was as good as it was going to get for Jordan.
That year, a team in its position could still be competitive enough to pounce if the bigger squads messed up.
The manufacturer boom of the 2000s was coming up over the horizon – BMW was about to bring Williams back into the hunt, Honda was about to transform BAR, Renault would soon revitalise Benetton and Toyota was on the way. Becoming Jaguar did Stewart no favours, but it did give it more resources than Jordan.
Its subsequent cars were more fragile and perhaps overcomplicated after the user-friendly 1999 machine. It still had three front row starts with Hill's replacement Trulli and Frentzen in 2000, but fell to fifth in the championship.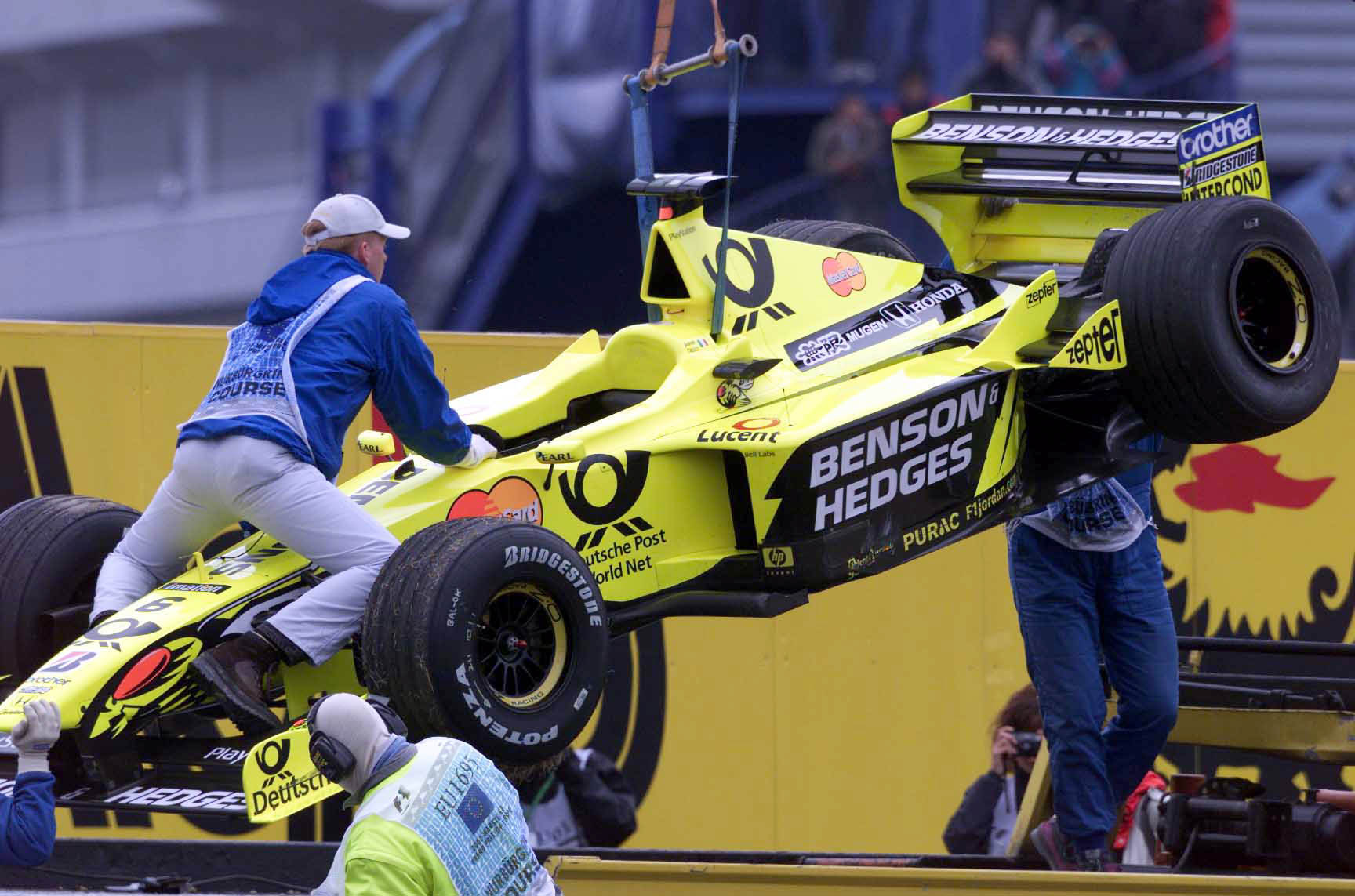 Frentzen was ultimately sacked mid-season in 2001, and though Jordan would win again with Giancarlo Fisichella in Brazil in 2003, that race was even madder than Nurburgring 1999. The car's real level was shown in that it only scored twice more all season and beat only Minardi in the constructors' championship.
It wasn't long before Eddie Jordan was heading off, justifiably proud of all he'd achieved with the team he'd brought up through the ranks, but aware its era was over.
Having since been Midland, Spyker, Force India and Racing Point, it's now about to become Aston Martin. It's led races and taken podiums since Nurburgring 1999, but it's never looked like the sort of championship threat it did for those glorious laps.