George Russell has described crashing under the safety car while on course for a points finish in the Emilia Romagna Grand Prix as "the biggest mistake I've ever made in my career".
Russell, who also labelled the crash as "amateur", spun into the barrier just before Acque Minerale while running in 10th place, eliminating him from the race on the spot.
He was attempting to retain temperature while on his 41st lap on a set of hard-compound Pirellis ahead of the restart knowing he had to hold off Kimi Raikkonen's Alfa Romeo, running relatively fresh softs, when the race resumed.
"It was such an amateur mistake that I almost could not believe it happened" :: George Russell
"It's definitely probably the biggest mistake I've ever made in my career," said Russell when asked by The Race how he felt after the crash.
"And I'm kicking myself even more because previously, in junior series, if I were to make a mistake and lose a race or lose a victory, you know that you go to the next one and you're in that position again.
"The team did an amazing job this weekend and there's a lot of things to take away that were positive to be in that position and equally we were in that position because we were very aggressive.
"We weren't leaving absolutely anything on the table. That's that got us there in first place, but equally the reason how it ended."
GEORGE: "I don't know what to say" 🎧 😳 🙈#ImolaGP 🇮🇹 #F1 pic.twitter.com/qefrtEPvCD

— Formula 1 (@F1) November 1, 2020
Having apologised to the team after a period of silence over the radio, he then sat against the circuit wall to reflect on the crash that had potentially cost him his first Formula 1 points finish on his 34th start.
When asked by The Race about his feelings immediately after the accident, Russell described it as disbelief.
"It's just almost disbelief, in all honesty, because it was such an amateur mistake that I almost could not believe it happened," said Russell.
"It was just pure frustration and annoyance at the error I had just made.
"I've been through difficult times in my career before and with a mistake like this it is very strange, because it was such a schoolboy error.
"We've got a lot to be positive and pleased about with this weekend. We were incredibly fast, relatively.
"But ultimately, I've definitely learned from this experience. These cars are brutal and can definitely go at any moment, especially in these cold conditions on very worn tyres."
Russell was quick to take responsibility for the crash and offered no excuses for what happened when offered the chance to do so.
"It would have been very, very tricky, but I believe I could have held Kimi off" :: George Russell
While keeping the temperature in the hard tyres was going to be challenging given the level of wear, others avoided such a mistake in similar circumstances.
"I feel like a number of times this year, because I've not been in a position to fight, I've essentially maybe driven a little bit too conservatively and I was pushing like hell from the start to finish [today]," he said.
"And under the safety car, I was just giving it absolutely everything to keep the tyres in and really trying to find the limit.
"There's absolutely no excuses. I hit a small bump as I changed gear and I was already in the wall before I could, I could save it. So just absolutely gutting."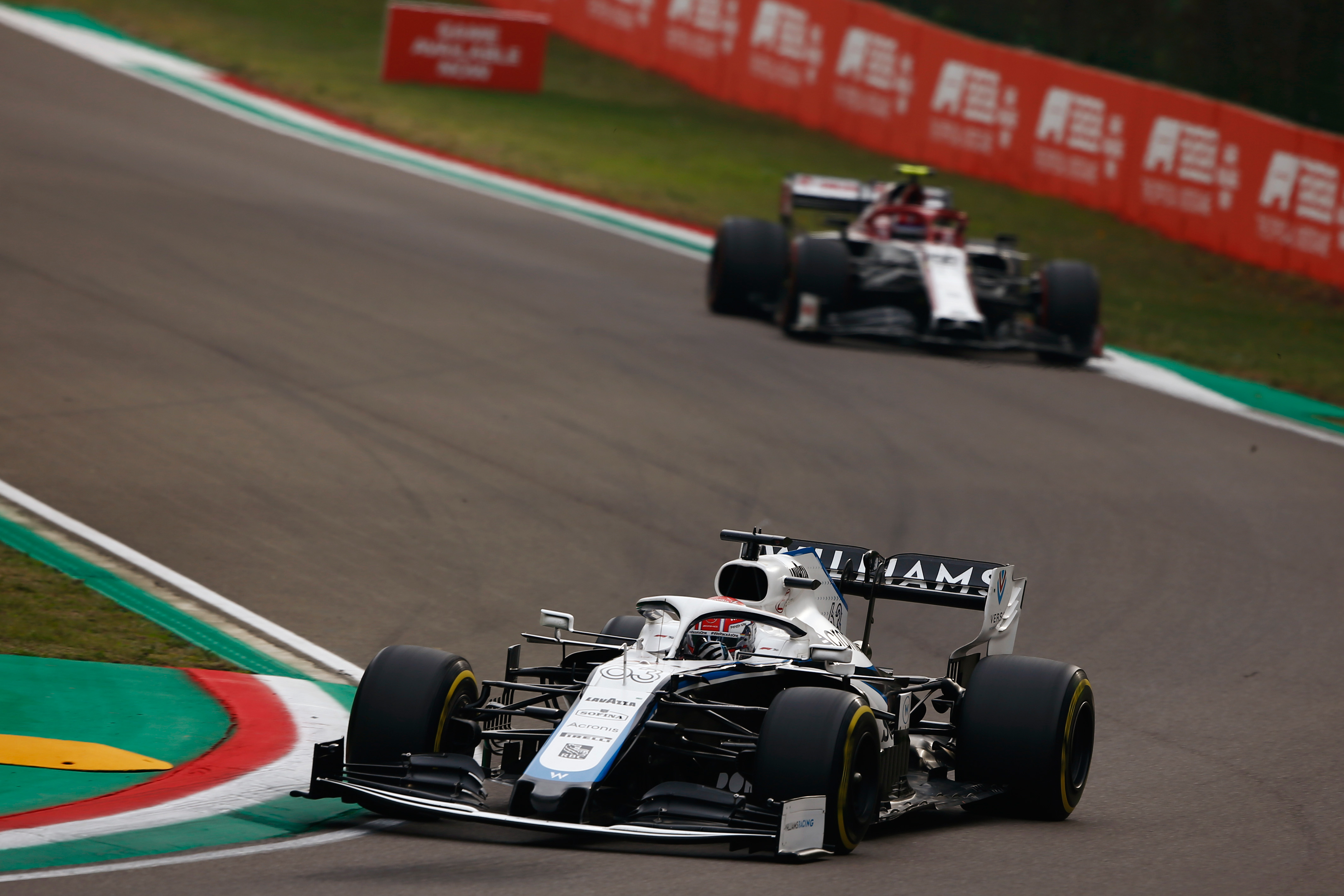 Russell is confident he would have been able to hold off the cars behind to retain 10th place, which could even have become ninth place given Alex Albon spun during the run to the chequered flag.
He pointed to the strong straightline speed of the Williams-Mercedes package as putting him in a good position despite the grip advantage of Raikkonen behind.
"We set the car up to have good straightline speed this weekend," said Russell.
"I knew it would be very difficult to hold Sebastian [Vettel] and Kimi up and it's why I was pushing so hard because I just saw the tyre temperature plummeting.
"And they were obviously on new, hot tyres. I think we had enough of a pace advantage on the straight to have been able to hold him off.
"It would have been very, very tricky, but I believe I could have held him off."