Things fell right for Lewis Hamilton on Formula 1's return to Imola, but he clinically pressed home the good fortune with his usual blend of savage speed and silky tyre usage.
A piece of Sebastian Vettel's front wing was lodged in Valtteri Bottas' race-leading car from the second lap onwards. It lost him 15 points of downforce (as measured), costing him around 0.7s per lap (as calculated).
This happened with Hamilton sitting in third place, trying not to over-stress his tyres in Max Verstappen's wake.
The two cars that had run ahead of Hamilton stale-mated each other out of his way – all because of that Vettel debris
The Mercedes is the fastest car but it's not 0.7s per lap faster than a Red Bull driven by Verstappen. So the moment Red Bull pulled the undercut plug early by pitting Verstappen on the 18th of 63 laps, Mercedes was absolutely obliged to respond by pitting Bottas next lap.
He wasn't fast enough, with a chunk of Ferrari endplate lodged in his left-hand bargeboard, to have prevented Verstappen getting past if he'd stayed out just one more lap than he did.
So the two cars that had run ahead of Hamilton had stale-mated each other out of his way – all because of that Vettel debris from when the Ferrari driver nudged the Haas of Kevin Magnussen into a spin on the first lap out of Tosa.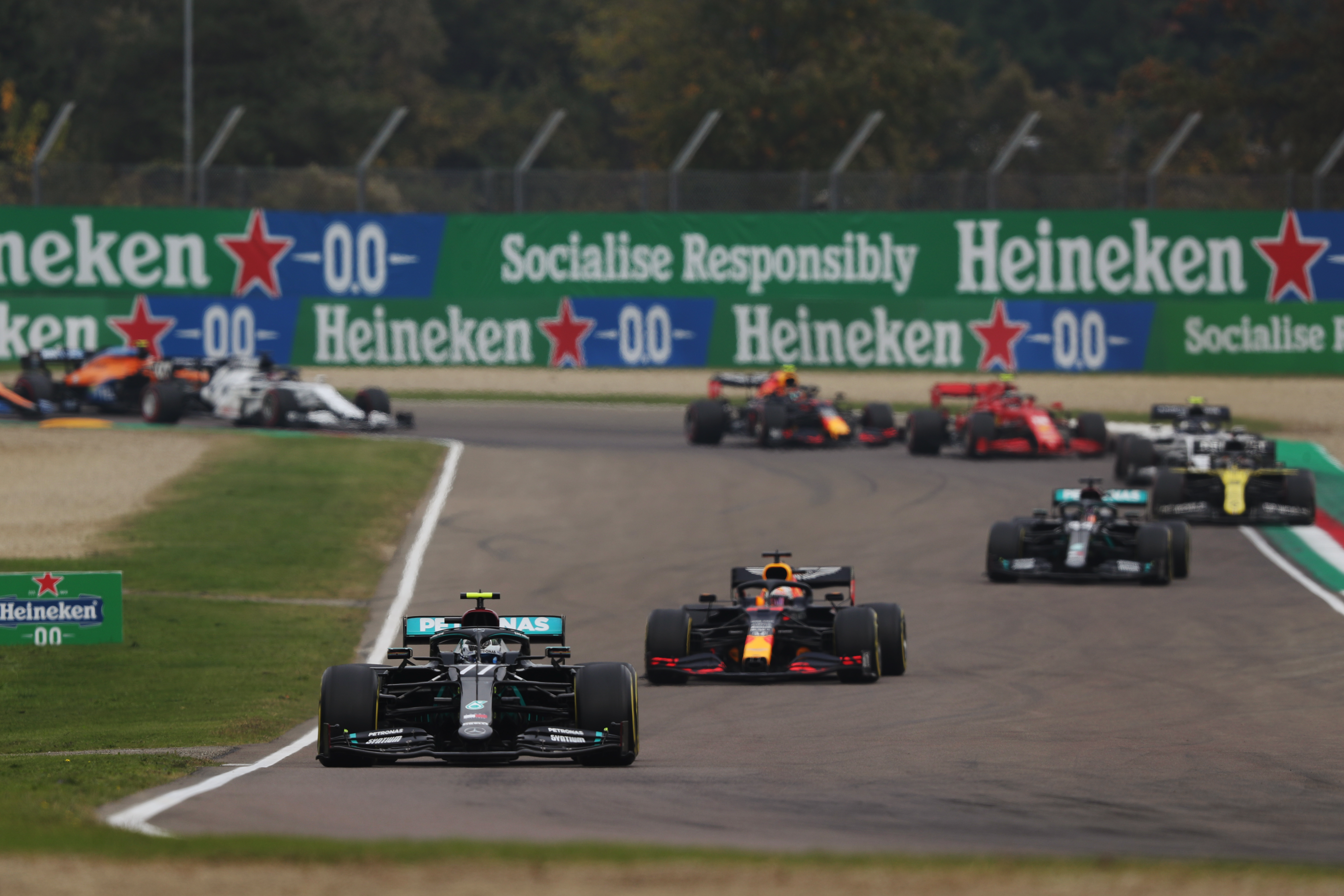 All Hamilton had to do from that point was to keep his tyres in good enough shape for long enough to pull out a 27-28s gap (the standard pitstop loss here, more costly than usual because of the long exit) over Bottas/Verstappen, with Max still constrained to the compromised pace of Valtteri.
As Bottas rejoined from his enforced early stop, still just in front of the Red Bull, Hamilton led by 23s and still had a load of life in his tyres.
He therefore had plenty of laps in which to pull out the required extra 4-5s. He was bang on course to do that, despite encountering a big line of traffic.
Just prior to catching the tailenders he had in theory just enough of a lead to pit and get out still ahead of Bottas. Mercedes was hovering on doing it. But it would've been marginal.
The crew is not up to full strength because of covid absentees and around 10 people are out of their usual positions. So the stops were not likely to be super-quick.
Furthermore, the warm-up of the hard tyre onto which he'd be going was slow – and he would quite possibly have been passed into the first chicane by Bottas and Verstappen.
'Can you make another 10 laps?' He was asked. Yep. And so even cutting through the traffic, he still extended his lead.
It was out to over 28s and was still lapping faster than Bottas when the lap 30 VSC (for Esteban Ocon's broken-down Renault) came just as Hamilton was rounding Rivazza, two corners from before the pit entry. The lucky VSC timing just made the victory more comfortable, saving him around 10s to Bottas/Verstappen.
Hamilton, having been outqualified by Bottas for a second time in three weekends, was beaten off the line by him – and by Verstappen too.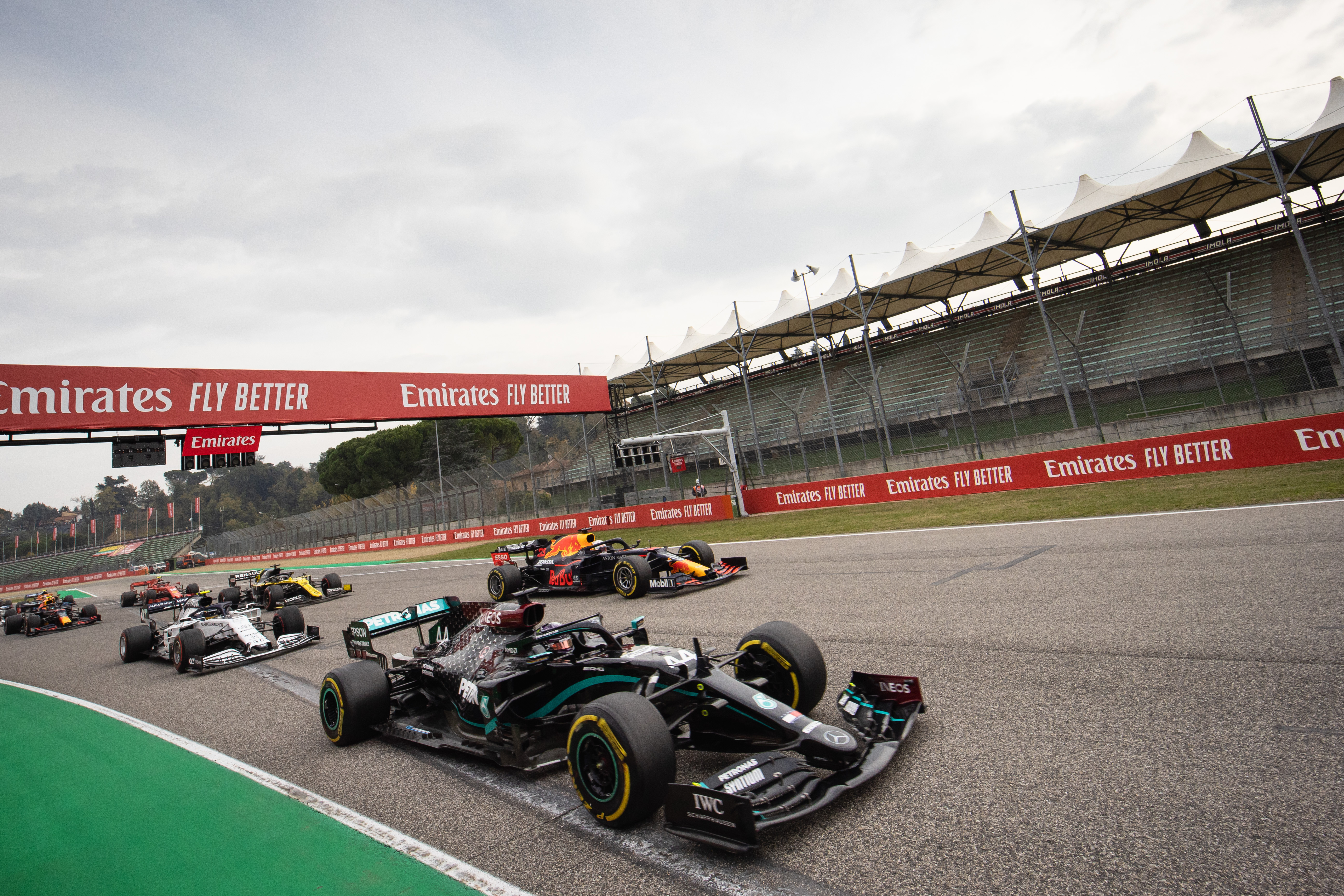 "In hindsight I made a mistake there," he said of his placing of the car into the first chicane, his veering right to keep out Pierre Gasly contributing to Verstappen finding his way through on the left.
Bottas was already 1.2s clear of the Red Bull by the end of a storming opening lap – and that looked to be that. The number 77 Mercedes was surely going to open out a big gap and with the cushion of the slower Red Bull between him and Hamilton he'd be home and dry.
But rounding the Tosa hairpin for the second time, a big lump of red-painted carbon fibre sat smack on the racing line.
"I couldn't react quick enough to miss it," recounted Bottas, "so I just made sure I drove over it with the centre of the car so that I didn't puncture a tyre."
He thought he'd got away with it. But then he noticed through the high speed corners the Red Bull was now catching him.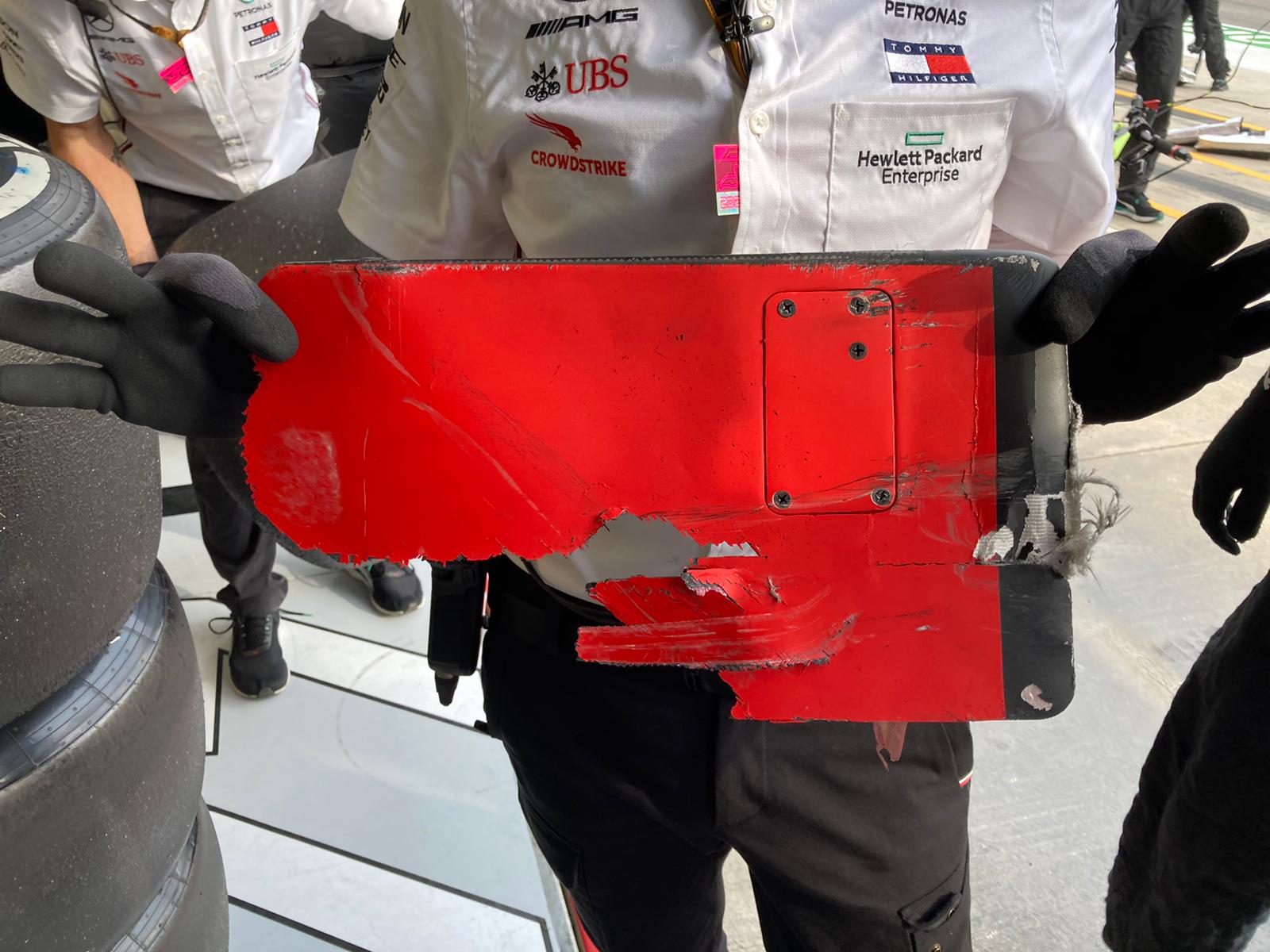 The debris – Vettel's right-hand front wing endplate – lodged itself solidly in the Mercedes bargeboards.
"I'd been dicing with George [Russell] into Turn 5-6 [Villeneuve] at the start," recounted Vettel, "but I had a bit of a moment, lost momentum, allowing Kevin to go side-by-side.
"I was on the inside and didn't have much room. I tried to avoid him but we had a small touch which ended with him spinning."
The incident would have important repercussions beyond just those of Bottas's race.
Magnussen's spin dropped him a long way back (ahead only of Lance Stroll who'd pitted for damage after glancing Ocon). That combined with almost all of the soft-shod runners pitting way early put Daniel Ricciardo, Charles Leclerc, Alex Albon, Daniil Kvyat, Carlos Sainz Jr and Lando Norris in a frustrated DRS-assisted line behind the long-running, slow Haas.
Which enabled Sergio Perez, in staying out long on his mediums, going faster than the Magnussen-constrained pace of the pitters, to overcut himself ahead of them all.
What had caused the soft runners to pit so early? Leclerc in fifth had tried for the undercut on Ricciardo on lap 12 – and pretty much triggered everyone else in the closely-matched group into following suit (although Ocon at the tail of that bunch came in then because his brake duct was blocked by a tear-off visor. He'd later stop with a gearbox problem).
So Leclerc's attempt at the undercut on Ricciardo had been a perfect present to Perez, and into the bargain the soft didn't have the pace advantage expected over the medium.
"It was just really unpredictable as the downforce wasn't consistent. I was having to push over my limits just to maintain position" :: Valtteri Bottas
This had been apparent from Saturday morning. The soft was just surrendering in the high-speed corners, tearing the tread from the front-right. But although its single lap pace advantage over the medium was only around 0.3s rather than the 0.6s expected, that was still enough to force everyone except Mercedes and Verstappen to use it in Q2.
That would prove an expensive penalty in the circumstances of race day. Ferrari attempted the medium in Q2 but Leclerc only got through by switching to the soft (with Vettel only 14th).
Regardless of tyre compound and regardless of Bottas's compromised pace, the lead trio quickly left the soft-shod midfield behind, to be leapfrogged by Perez. Which in hindsight made it a good thing for Racing Point that it failed to get into Q3 for the first time this season.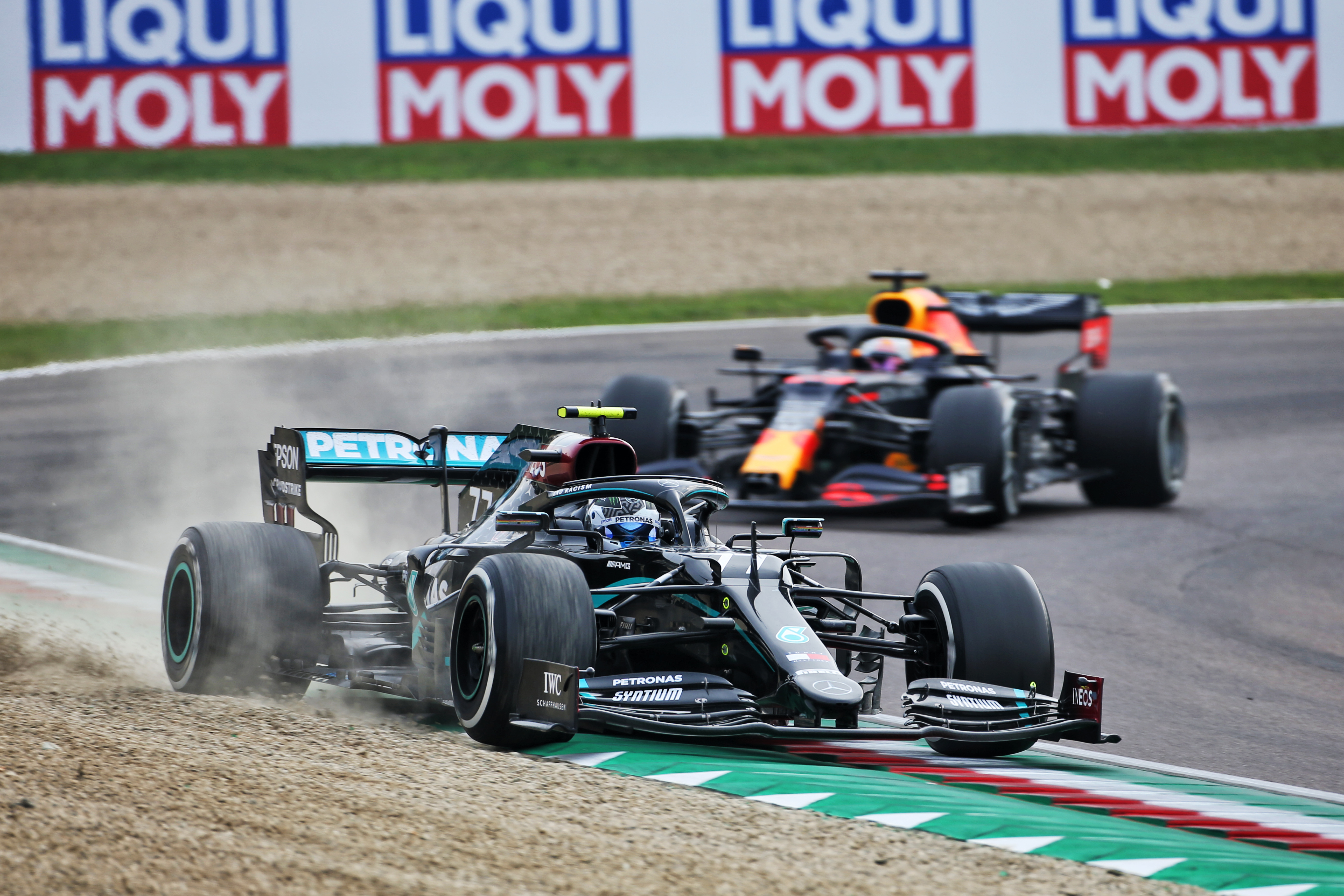 Bottas had his hands full. "It was just sliding a lot in the high-speed corners and really unpredictable as the downforce wasn't consistent. I was having to push over my limits just to maintain position. And it was really tricky under braking."
Although Mercedes had kept him ahead of Verstappen by pitting him on the very next lap after Red Bull, he couldn't maintain the place. Locking up into Rivazza and dipping a wheel into the gravel made him slow onto the straight – and Verstappen zapped by with the aid of DRS.
There were only 20 laps to go by this point – and Hamilton was 13s up the road. Verstappen pushed on but Hamilton responded.
Then tyre vibrations for both. Then the failure of Verstappen's right-rear as he approached the Villeneuve chicane, possibly because of debris. Possibly not.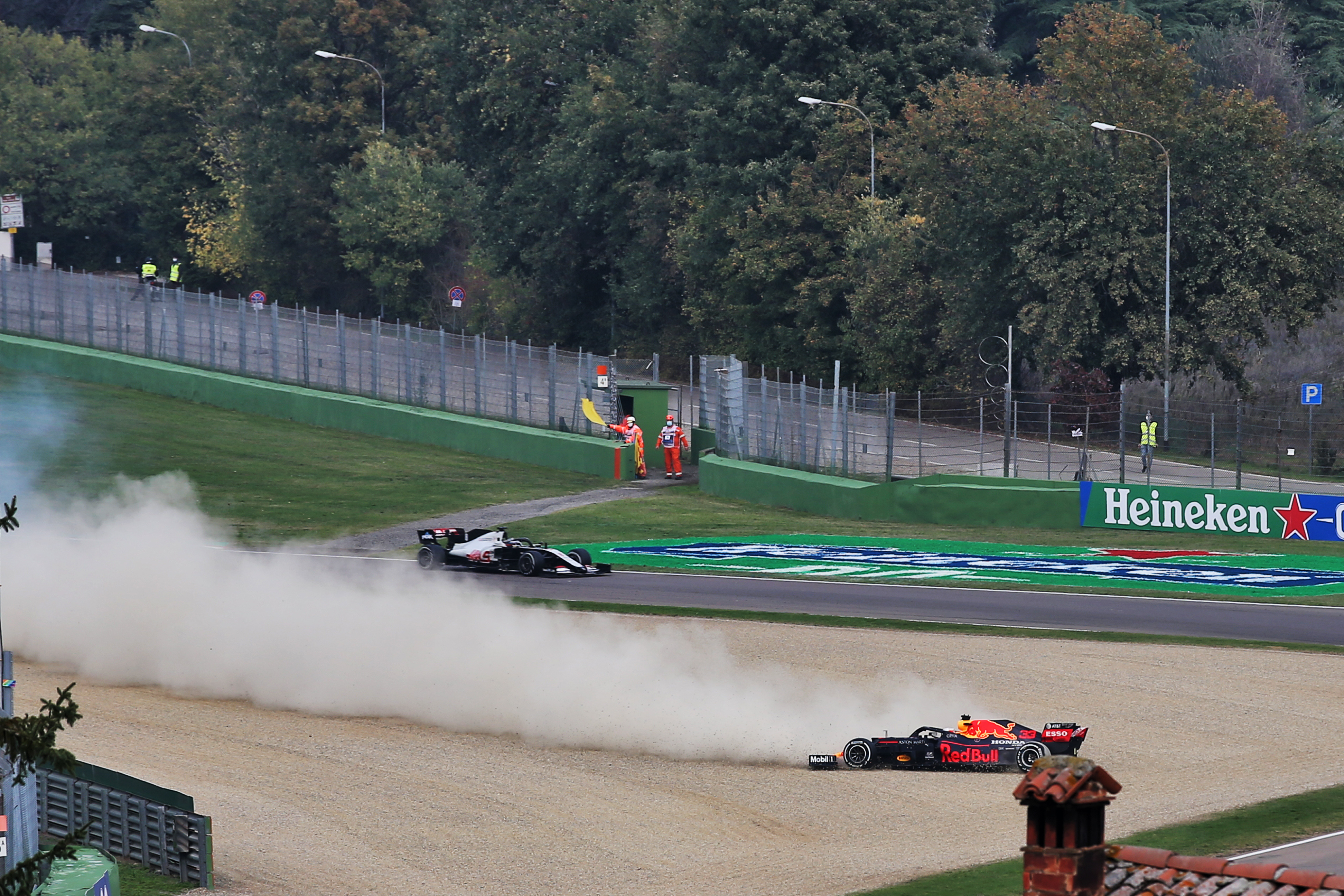 The rear tyres that subsequently came off Hamilton's car had virtually no wear. The non-flat-spotted part of the remaining three tyres on Verstappen's were only around 30% worn. Verstappen's tyres had done 33 laps, not an outrageous distance for the hard compound, which was reckoned good for 50 laps.
After the events in the late laps of the British Grand Prix, teams are naturally a little spooked when drivers report a tyre vibration. An investigation into the failure was taking place at the time of writing.
The resultant safety car made some races and ruined others. George Russell was left thumping himself after spinning his Williams out of 10th place trying to warm his tyres directly behind the safety car.
He'd starred up until that one moment of inattentiveness, qualifying 13th, making up places at the start, jumping ahead of Ocon by stopping early but then holding off the Alfas of Kimi Raikkonen and Antonio Giovinazzi quite comfortably. But he wasn't the only one losing out to the safety car, which came with just 12 laps to go.
Without Verstappen's tyre failure the order a long way behind him would likely have been Perez-Ricciardo-Leclerc-Albon-Kvyat. But the safety car made for some agonising decisions on the pitwall about whether track position or performance was going to be more valuable.
The answers were split – which livened up the battle behind the Mercedes and meant Renault's Ricciardo emerged on old tyres for his second podium in three races.
Racing Point was left ruing bringing Perez in. It had watched Mercedes bring Bottas in for a set of softs (Hamilton was past the pit entry and had to do another lap) and assumed everyone else would do the same. But only Kvyat and the McLarens did so.
By contrast, AlphaTauri was delighted it had brought Kvyat in, as he was dynamite on his softs at the restart, using his superior traction to launch himself out of the last corner to pass the dicing Albon and Perez in one go down the pit straight and following up with a ballsy sixth-gear around-the-outside move on Leclerc at Piratella.
The resultant fourth place was some consolation for the team after Gasly was forced to retire from fifth in the other car just eight laps in with a failure in the power unit, having set a starring fourth-fastest qualifying time.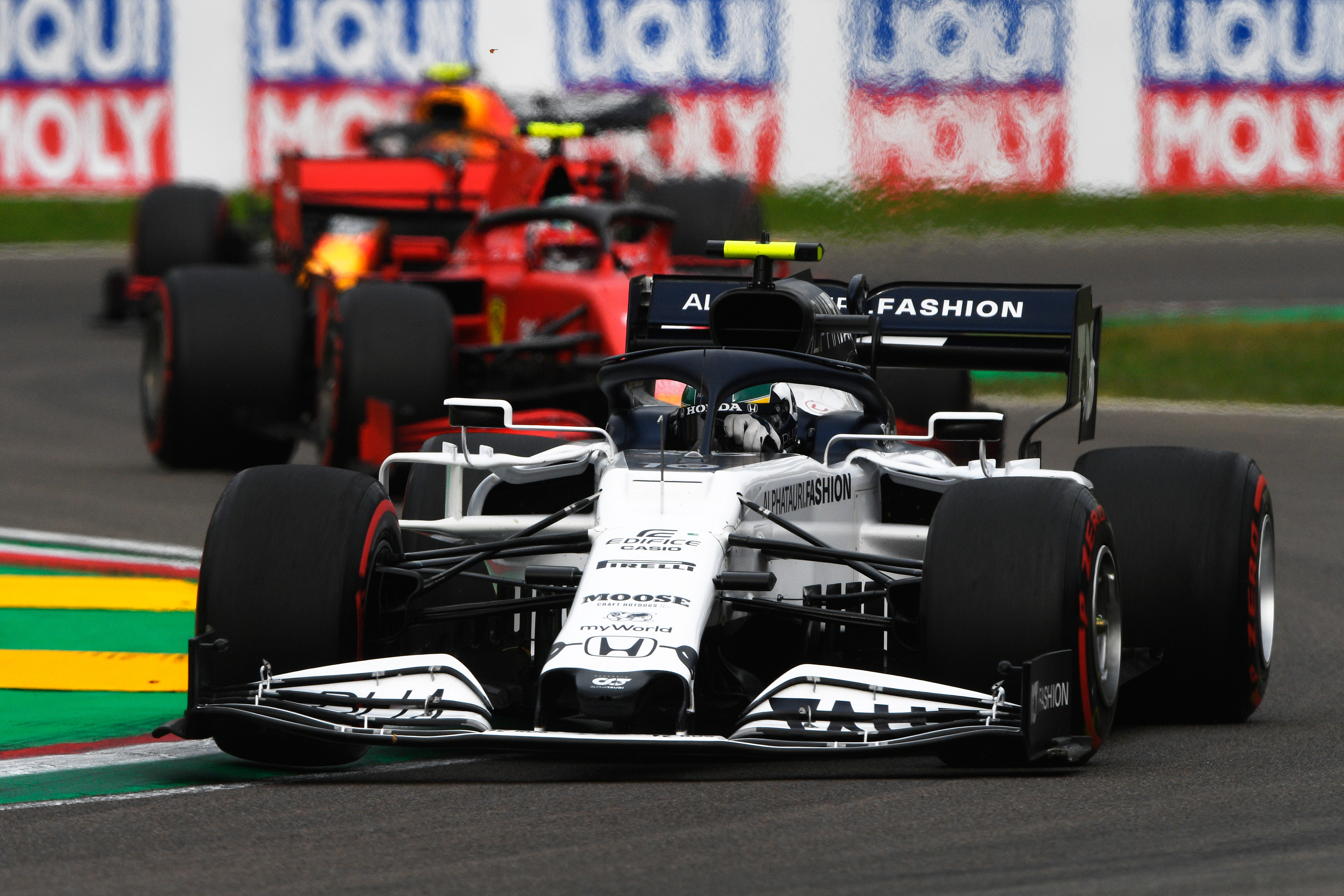 He'd been neck-and-neck with Verstappen and Hamilton off the line before being chopped by the latter, allowing Ricciardo to nip up the Tauri's inside. The AlphaTauris were fastest of the 'Class B' pack behind Mercedes and Red Bull all weekend and Gasly's coolant leak denied him what would have been another great result.
Kvyat's result has probably come too late to save his drive and in the senior team Albon probably sealed his 2021 fate by spinning out of a lacklustre sixth place in the frantic restart after the safety car, trying to fend off the new-tyred Perez.
"It was another one of those races in which I was stuck behind other cars," he rued. The only sure way of avoiding that is to qualify ahead of them – and his Q3 lap was beaten by both Gasly and Ricciardo.
Albon's spin brought Giovinazzi into the points, behind the other Alfa of Raikkonen who made a long first stint really work for him. Vettel would've been ahead of him but for a stripped wheel nut at his pitstop losing him around 11s.
That was how it was as the big monster of downforce and power that is a modern hybrid F1 car dwarfed a legendary circuit.
"It's just incredible the speeds we are going through some of these corners," said Hamilton. "They are like fighter planes around here."
This was never more true than at the Tamburello left-right-left sequence, fifth gear for what ostensibly looks like a chicane, quickly followed by the Villeneuve chicane – entered in seventh gear with a couple of downchanges for the second part.
If you're familiar with the contours of Acqua Minerale at the bottom of the hill mid-way through the lap, it doesn't seem feasible that they are going through the first part of that in seventh gear at not much short of 180mph. The driver skill looked more like guiding a missile than driving a car.
"It's visually hard to register what is happening and to keep up," said Norris. "You turn in and hope for the best."
This for sure played its part in the difficulty some were having with track limits – particularly those defined by a painted line rather than a kerb – as they first took to the circuit in the single practice session, Saturday morning.
"At the speeds we're going, it's very difficult to pick out where the white line is," said Sainz. "The kerb is much easier to see. But really I'd prefer gravel rather than having the FIA check whether we're staying within the lines or not."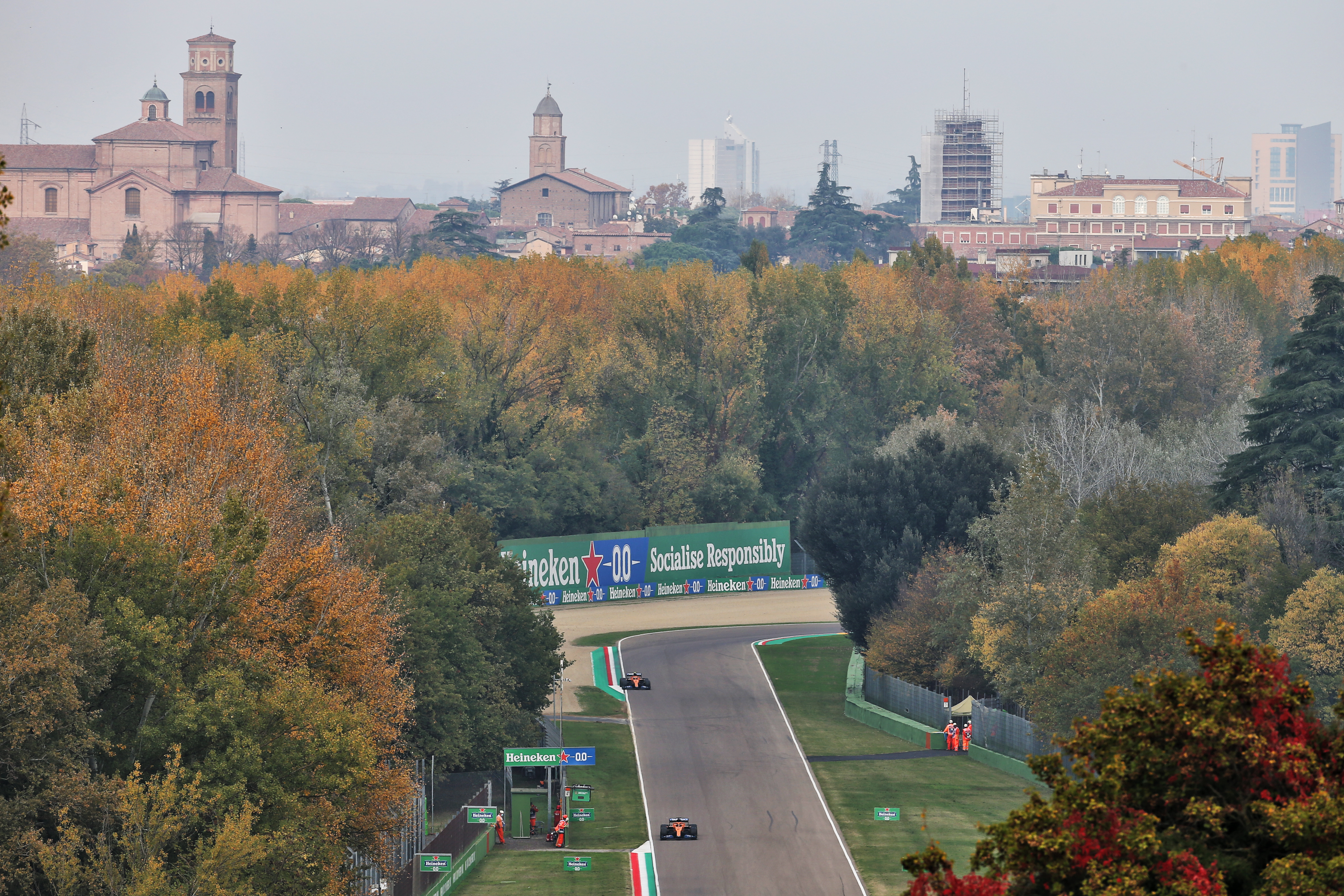 The gravel beds that are there found favour.
"The exit of Turn 6 [Tosa] is just gravel so there's no chance to run off," Norris said. "I went off there a couple of times just dipping a wheel into the gravel and that's punishing enough.
"Ideally we'd have it like that or the last corner where it's just gravel and if you go off you go off and it's kind of game over."
If the pandemic has brought anything worthwhile to F1, it's the old-school tracks' reminder of what has been lost in recent years.
So Mercedes takes a record-breaking seventh consecutive constructors' title and it's now mathematically certain that the world champion will be a Mercedes driver.
This team has competitively devoured the F1 landscape just as surely as the current cars devoured Imola.