Mercedes "couldn't quite believe" how much performance Valtteri Bottas was losing for most of the Emilia Romagna Grand Prix after a Ferrari endplate embedded in his car on lap two.
Bottas led the first phase of the race on Formula 1's return to Imola but was under pressure from Red Bull's Max Verstappen and the other Mercedes of Lewis Hamilton early on.
He was able to keep Verstappen out of DRS range in the opening stint but when Verstappen made his pitstop first, Bottas had to respond and come in on the next lap.
That released Hamilton, who was able to extend his stint significantly and use a pace advantage over the struggling Bottas to eventually take the lead when he finally stopped, aided by a perfectly-timed virtual safety car.
Mercedes reported during the race that Bottas suffered from damaged bodywork on the left-hand side, which later turned out to be because on the second lap of the grand prix Bottas had driven over Sebastian Vettel's detached endplate on the exit of the Tosa hairpin.
Bottas saw the debris late and opted to hit it with the middle of his car to prevent running over it with one of his tyres, which Mercedes believes avoided an instant puncture.
However, the endplate got wedged within Bottas's W11, which Mercedes could not spot on the cameras. But it saw on the data a huge downforce loss that was worth up to seven or eight tenths of a second in lap time.
"We were seeing a big drop in performance but the issue is the scale of the drop in terms of laptime," said Mercedes trackside engineering director Andrew Shovlin.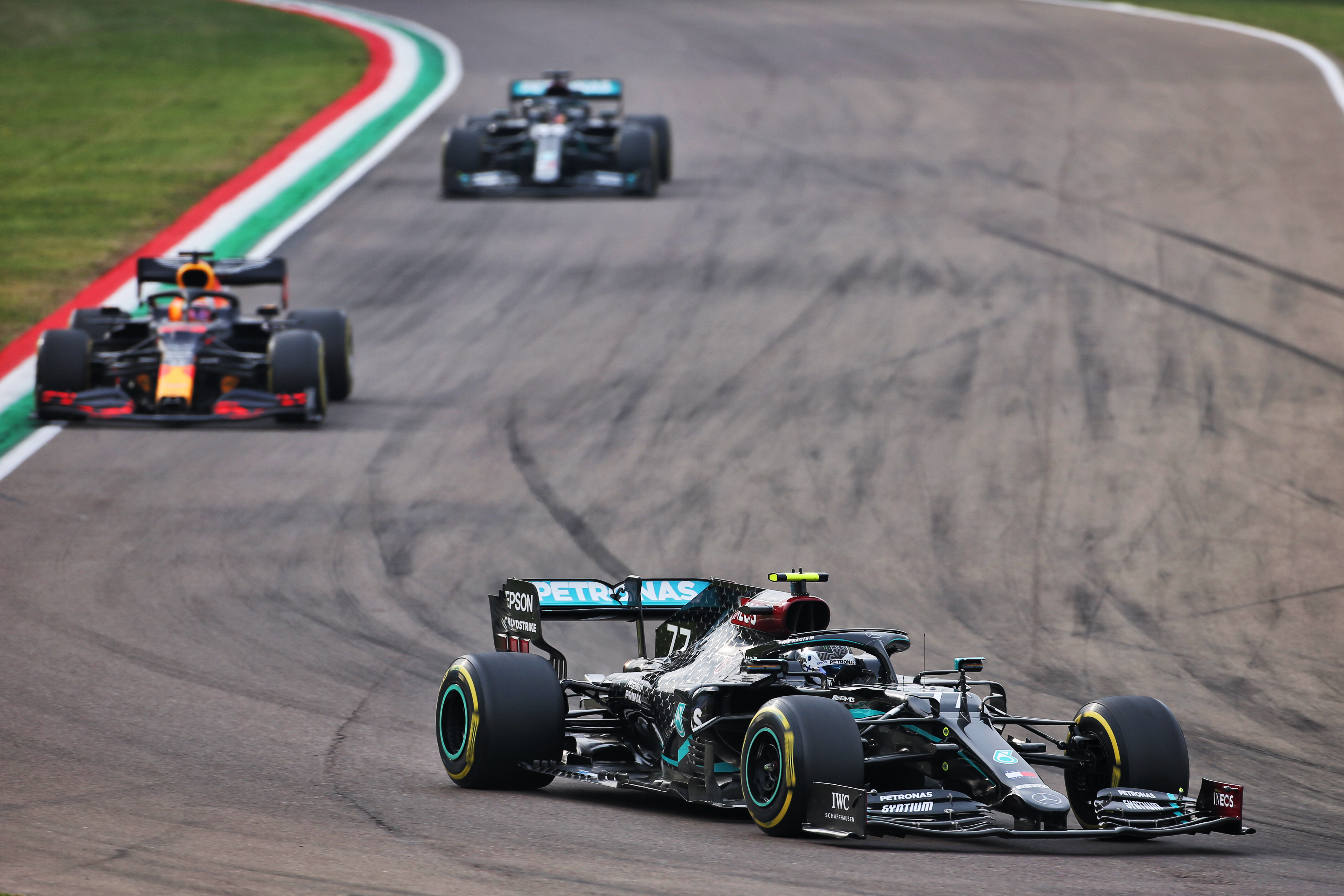 "If you translate it to laptime it was seven or eight tenths of a second.
"We weren't really believing the sensors because we were looking at how Valtteri was not pushing particularly hard, able to do reasonable lap times, and when we needed him to he could build a bit of a gap.
"It's very difficult to put an absolute laptime loss on these because they can often affect the car in a quite non-linear way around the circuit or different behaviour in different directions of corners.
"But early on we couldn't quite believe how big it was."
Shovlin explained that Mercedes also had no idea what was causing the loss of performance initially.
The team was able to identify and remove the endplate but not until Bottas's second pitstop under the safety car, as the bright-red part had got lodged in a way that meant the black trim was facing outwards and was disguised among the car's black livery.
"When you look at the size of the bit and the fact that it is red, you can't believe that we couldn't see it on the cameras," Shovlin admitted.
"But it was lodged in where it was the black area that was visible and because the whole car's black there, we couldn't see that.
"If we had been able to see where it was, we could have possibly done a more effective job of getting it out at the first stop.
"But it's unlucky for him and he definitely made the right decision to go straight over it because taking that onto a tyre would very likely have caused an instant puncture so that was a good call.
"Through no fault of his own it basically held him back for the whole afternoon."
Bottas was eventually passed by Verstappen in the second stint, while still carrying the obstruction, as he slipped further and further behind Hamilton.
A lock-up at Rivazza allowed Verstappen to close within DRS range and sweep around the outside of Bottas into the Tamburello chicane.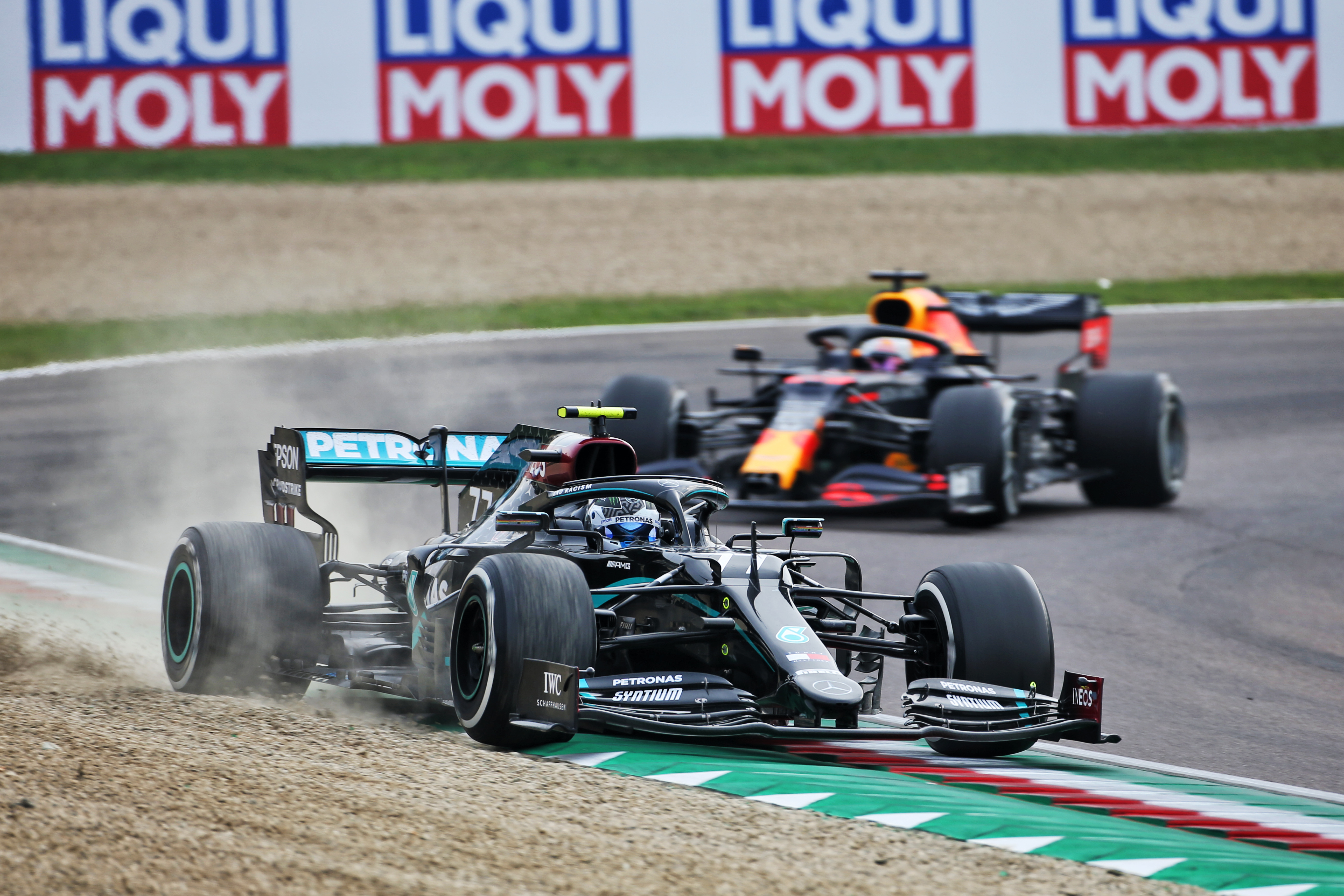 Bottas felt that the loss of "apparently like 50 points of downforce" was mainly in the high-speed corners.
"I could feel that the car was sliding a bit and in some braking it was a bit unpredictable, so sometimes I would lock the wheels and sometimes it would stop pretty quickly," he said.
"It was not really consistent, the downforce I had in the car. It made it really tricky and I could see I just didn't quite have the pace.
"Max was putting a lot of pressure and in the end he got through because I had to push over my limits to try and maintain the position. I had a lock-up and that was it.
"I didn't have a chance with that debris in the car to fight for the win, unfortunately."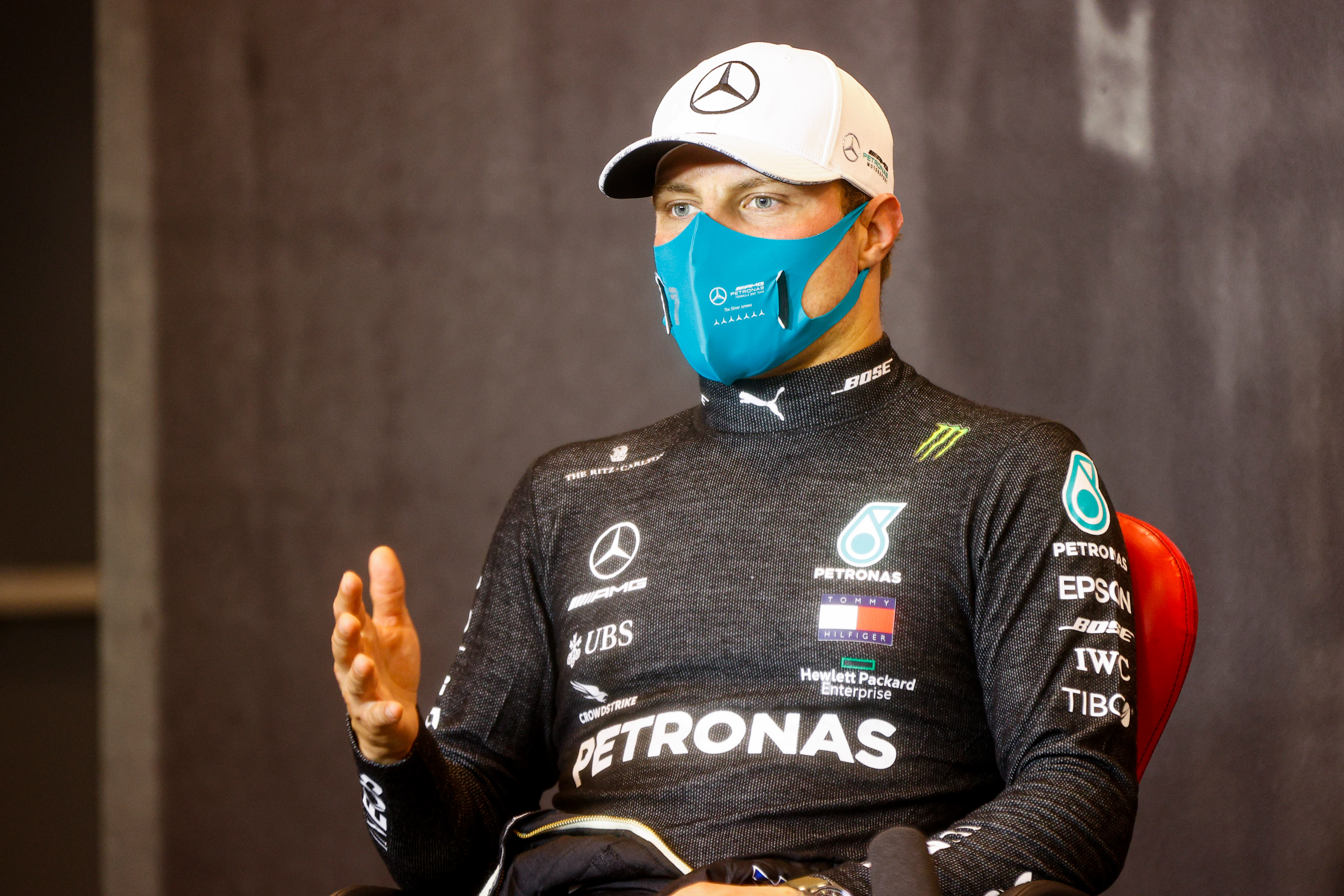 Bottas indicated he was not entirely pleased that there was no warning from the officials of a big piece of debris on the track.
Vettel had hit the Haas of Kevin Magnussen on the opening lap at the hairpin, and Bottas said while the engineers warned of "some gravel, maybe" as he approached there was "no yellow flag" signalling anything major.
"I didn't have enough time to react, to go around it, so I decided to go straight over instead of with the tyres," he said.
"It would be good to get more of an understanding why there was not any sign of a big piece of carbon because obviously it's dangerous if there's flying things around.
"It sure didn't help my race today."