Fernando Alonso felt Singapore Grand Prix qualifying was so stressful it was "borderline to be enjoyable" and riskier than any other session this year in Formula 1.
Alonso qualified fifth in mixed conditions at the Marina Bay F1 circuit, where thunderstorms left the track wet at the start of qualifying but dry – with wet patches – by Q3.
Several drivers skated down escape roads when the track was wettest while the few that made it onto slicks had plenty of wild moments.
Alonso had his own on-the-limit run to fifth, half a second from pole and six tenths clear of the next driver, McLaren's Lando Norris.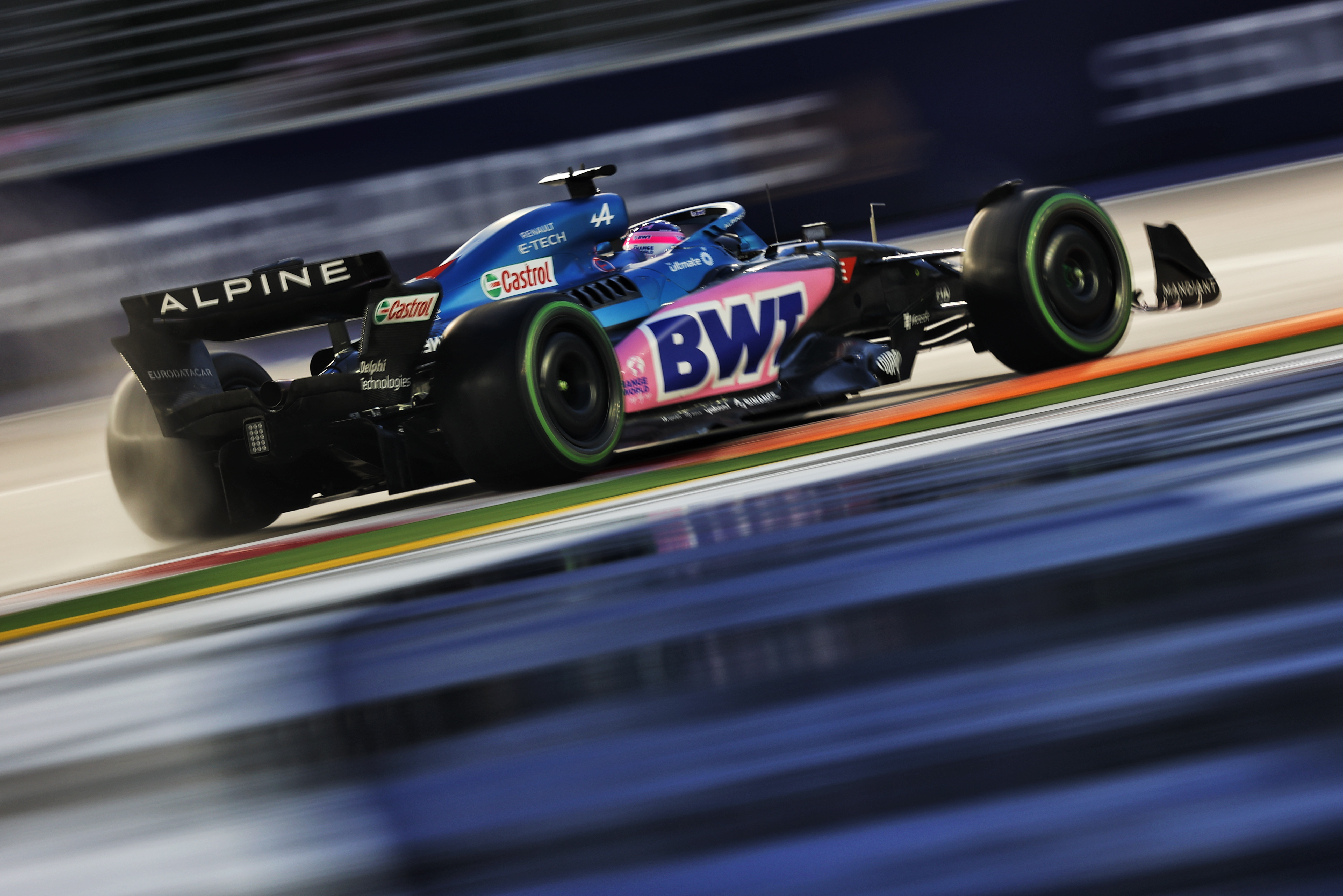 "It was stressful no doubt," said Alonso. "Even borderline to be enjoyable because the level of risk and stress is quite high.
"When we fit the dry tyres in Q3 it was a brave move from everyone, just a guess. Eventually it was right decision, to go every lap faster and faster than the last lap before, going to the corner just hoping the car will stay on track and the track will be drier than one minute and a half ago when you last went through that corner.
"It's a lot of stress, hopefully tomorrow will be a little bit of a calmer race."
Alonso's final flying lap featured snaps out of Turn 3 and 4 and wheelspin under acceleration out of Turns 14 and 17 that took him close to the wall.
These were interspersed with an ultra-precise and controlled run through the middle of the lap and with the intensity of this track in these conditions, married to the brief scares, it is little wonder Alonso found it more stressful than fun.
He said he did not enjoy it "because I'm not fighting for the world championship" and joked "it cannot be good for my heart to take this level of risk for really not much reward".
He added: "Always, even if I'm P20, I'll take the same level of risk. But today was a little bit on top of any other qualifying of the year."
The Singapore GP is one of Alonso's favoured venues. He has two wins and five podiums, and has never finished the race lower than seventh even in the McLaren-Honda nadir seasons.
He joked it was because "I'm a night person, I love the dark", then said he did not really understand why he was strong at this track.
"There's a lot of corners going on here, we come from Monza, six corners around the lap to 23 proper corners," he offered. "Definitely you need to feel the car and to be clever with how you drive in the first part of the lap to keep the tyres in the second part, all these kind of things.
"It's a street circuit, you need to have confidence with the car, you have to build that confidence in practice. And for whatever reason, Singapore I've always been fast on all my life."
The two-time world champion was once again a constant top-10 force in all conditions throughout the weekend as Alpine's upgraded car, equipped with a new floor, was easily in the best of the rest fight behind Red Bull, Ferrari and Mercedes.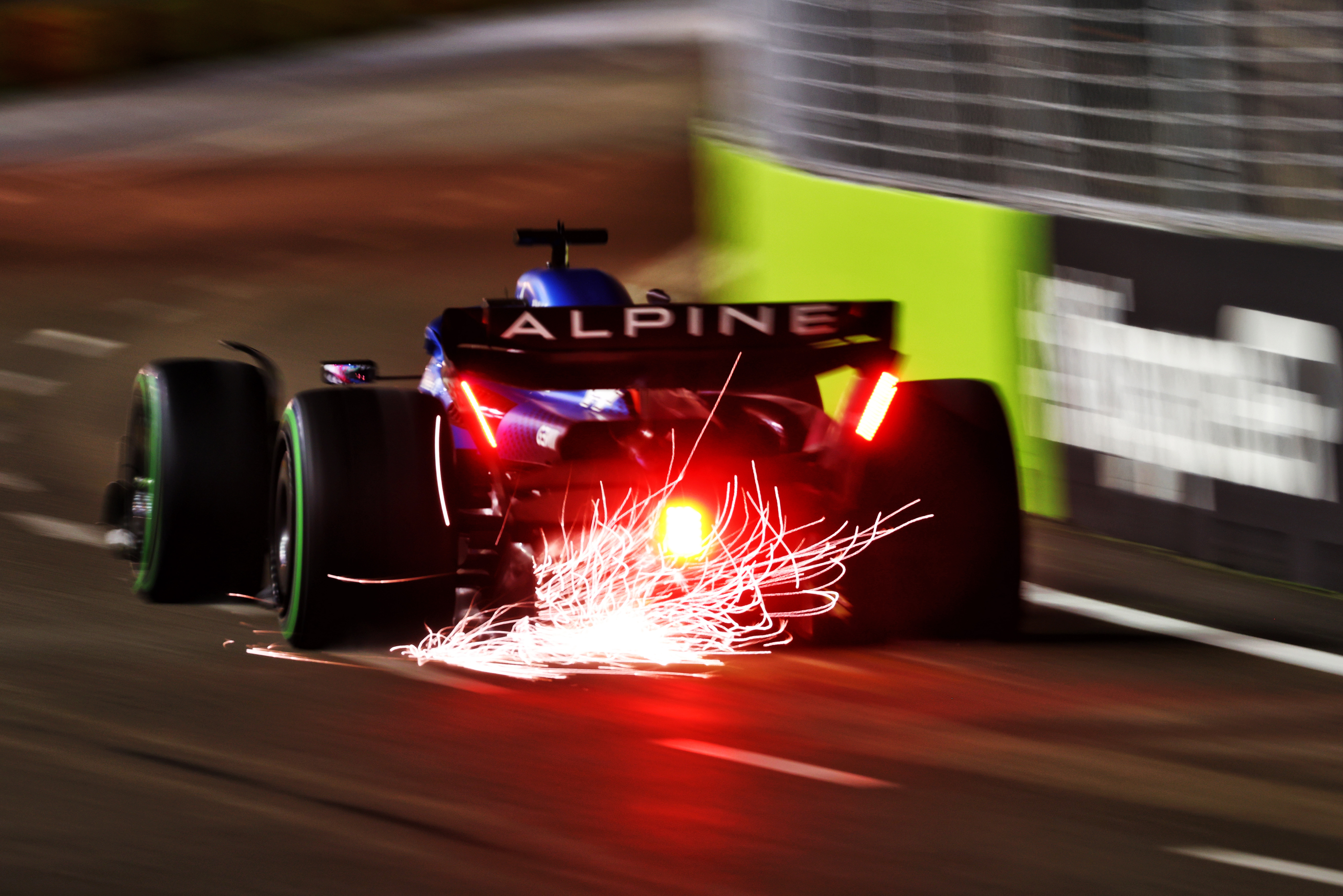 Alpine is leading the battle for fourth in the championship and Alonso outqualifying Norris, with the second cars from each team both well outside the top 10, means it is in a good position to extend its points advantage.
"If it's dry, it's going to be difficult to overtake," said Alonso. "So it will be nice to secure the top five and score points than McLaren which will be the main target again.
"If it's wet, obviously there are many things that could happen. Could be very good or very bad for us, if you crash or whatever could be a DNF.
"A lot of risk if it rains. We're two positions away from the podium why not dream big tonight?"