Lando Norris promised McLaren is "coming for Red Bull" after finishing second at Suzuka - but has the team really usurped Mercedes and Ferrari as Red Bull's biggest 2024 Formula 1 threat?
Norris knows Red Bull is uncatchable this year, but his eyes right after the race were firmly on the big picture.
A few months ago the suggestion would have appeared fanciful for a team that boasted a measly 17 points from the opening eight races, but McLaren's turnaround in 2023 has been phenomenal.
Norris has outscored Red Bull number two Sergio Perez since the introduction of McLaren's first major upgrade package at the Red Bull Ring in July and Red Bull is the only team to have scored more points than McLaren in the events since the Austrian GP.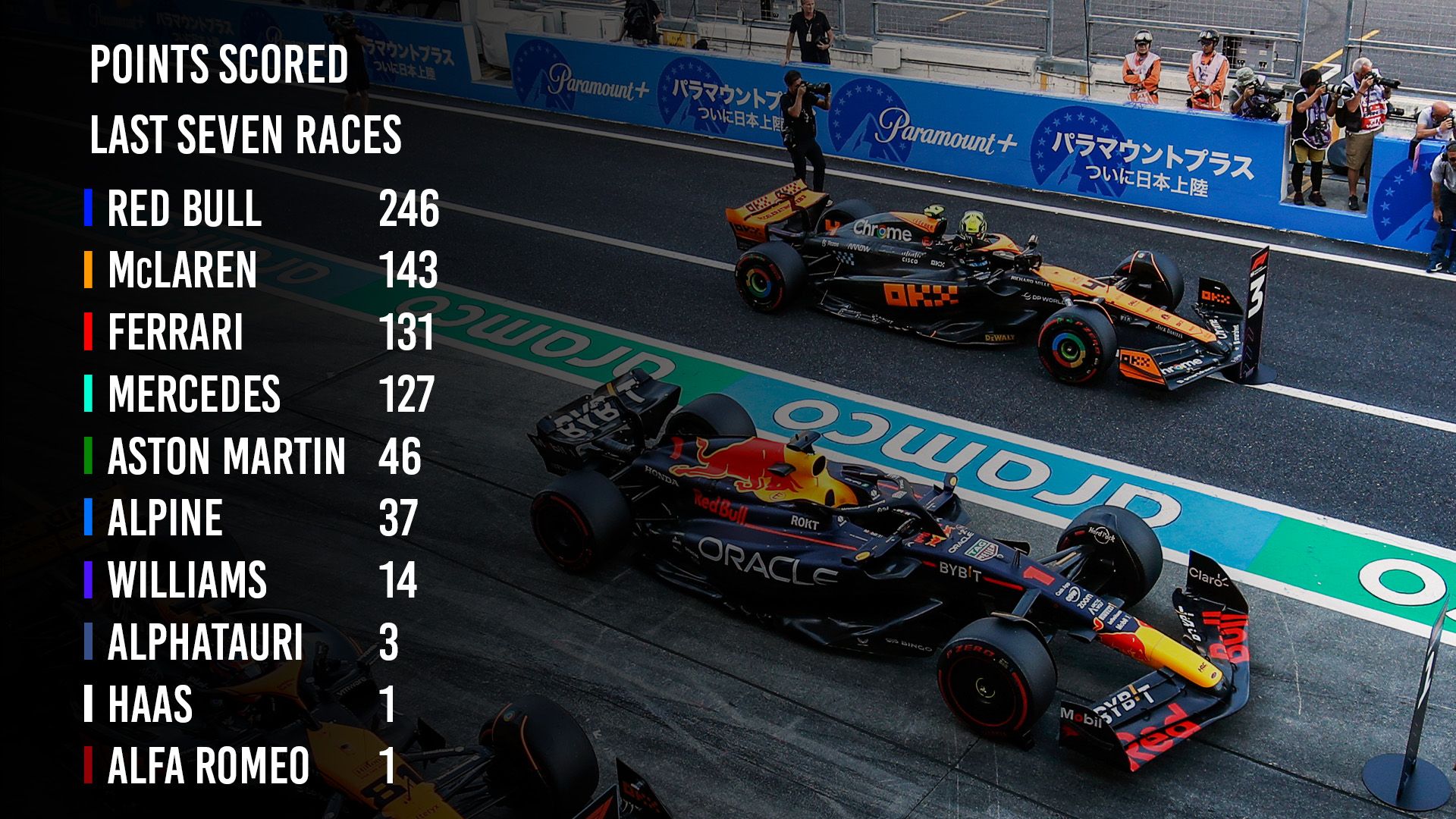 To leap from also-ran to contender is unprecedented in recent F1 history, as progress up the competitive order can be glacial. And it's all thanks to that major Austria upgrade and the subsequent evolutions.
This has transformed McLaren from a sleeping giant on the brink of sliding back into perpetual slumber - after its progress of previous years stalled - into one that has now built serious momentum.
Where McLaren stands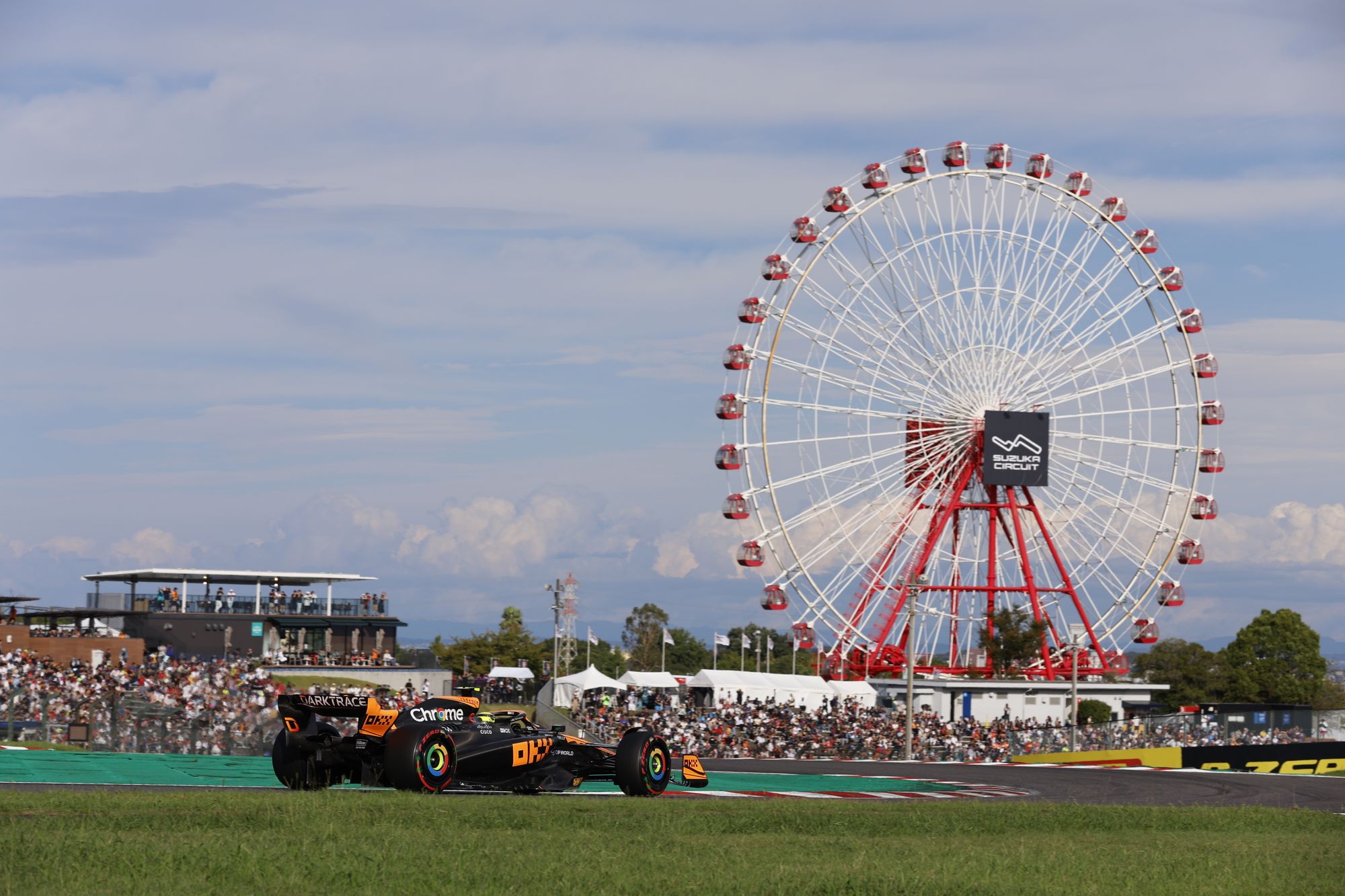 You can trace much of McLaren's current success right back to the wake-up call it got in 2018 when the switch from Honda engines to the Renault power unit exposed McLaren's serious technical weaknesses.
That led to a series of major decisions, most significantly the recruitment of team principal Andreas Seidl, who joined in 2019. He pushed for the switch to Mercedes engines, the commissioning of a new state-of-the-art windtunnel, and a new driver-in-the-loop simulator.
The windtunnel will have an impact on 2024 development and represents a big step forward both in technology and convenience compared to the Toyota Motorsport facility in Germany that McLaren has been reliant on for more than a decade.
The simulator is up and running and currently being phased in. The team plans to use it for car development soon and is confident it will correct the fact it has fallen behind in the very simulator technology it pioneered in F1.
There have also been major changes aimed at improving production turnaround and design processes.
And that's all been overseen this year under the revised technical leadership led by Andrea Stella. David Sanchez and Rob Marshall will start work next year as heads of their department too after signing from Ferrari and Red Bull respectively.
With Norris signed up to the end of 2025 and Oscar Piastri recently agreeing a new deal to stay until the end of 2026, McLaren also has an outstanding and stable driver line-up.
McLaren has the right facilities, people and resources to become a major player in F1 again - so what does it still need?
The long-standing technical weakness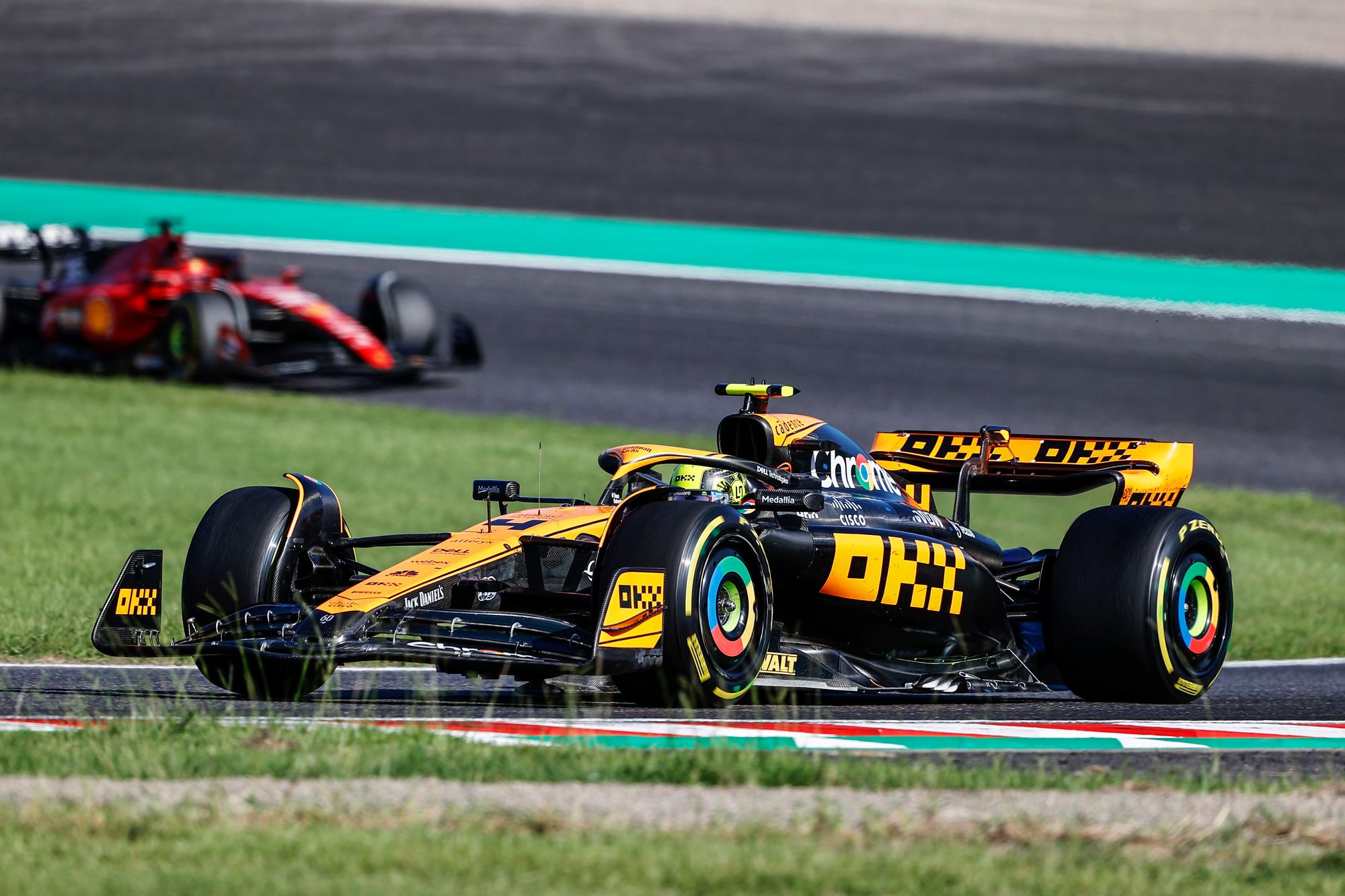 The one big question is whether it can overcome the long-standing technical weakness it has suffered from with its car. For years, McLarens have been tricky to drive and while recent developments have improved performance and added downforce, those inherent characteristics are still there.
They emanate from a combination of the tricky tyre characteristics and aerodynamic inconsistencies that Norris still says prevent him from driving the car the way he would ideally want to.
"You have to drive it one way, but it's a way I don't like to drive," Norris has explained.
He describes this as the need to 'V' the corner, rather than taking a more 'U-shaped line' to carry a higher minimum speed. The McLaren is generally too on the edge to make that style work, which is something that made life very difficult for Daniel Ricciardo in the past.
Fortunately his replacement Piastri has proven more effective in adapting to that but curing that characteristic might help McLaren to take the next step it needs to regularly challenge for race wins.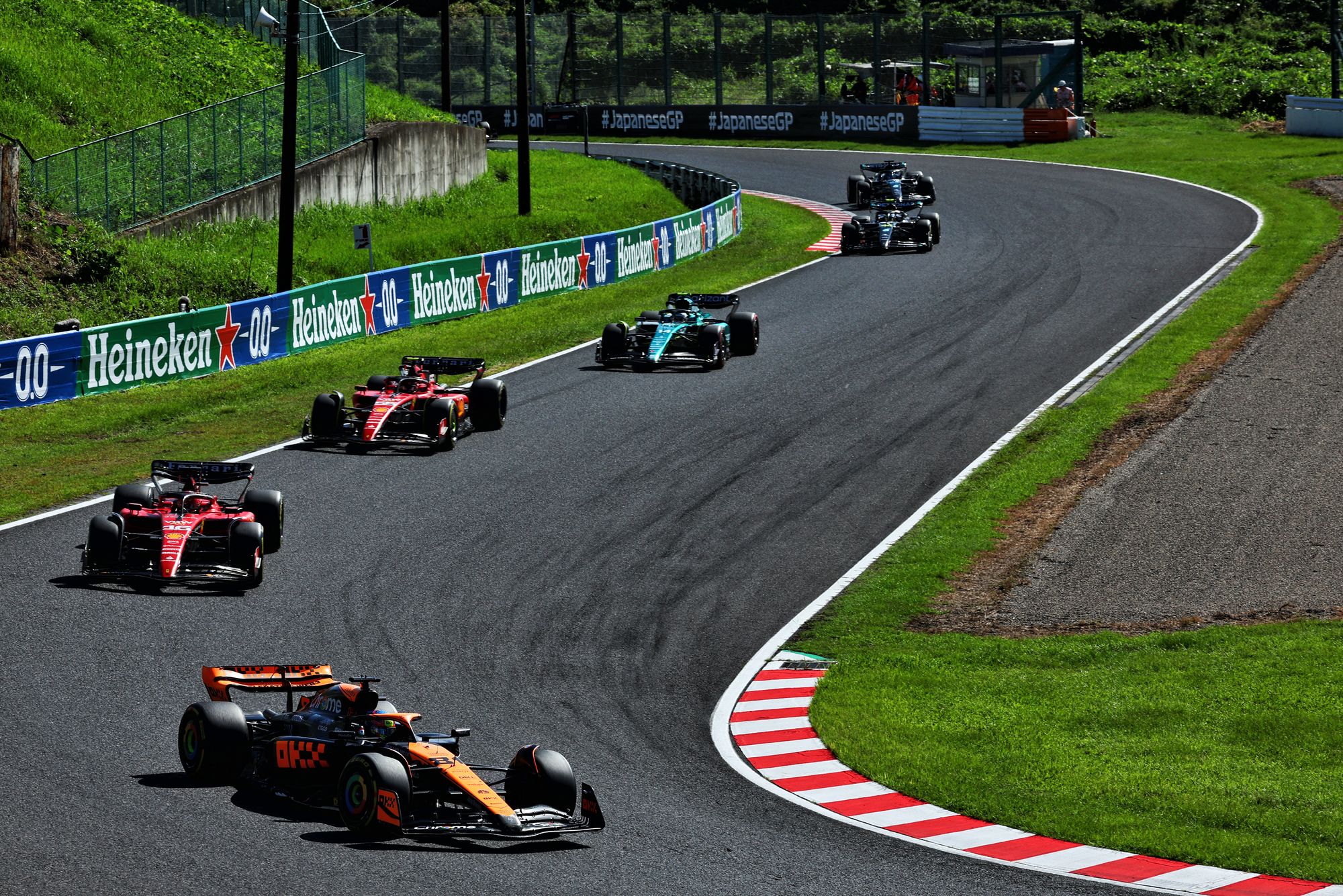 But McLaren is far from the only team that theoretically could take a step closer to Red Bull next year.
So what of its rivals' chances?
Mercedes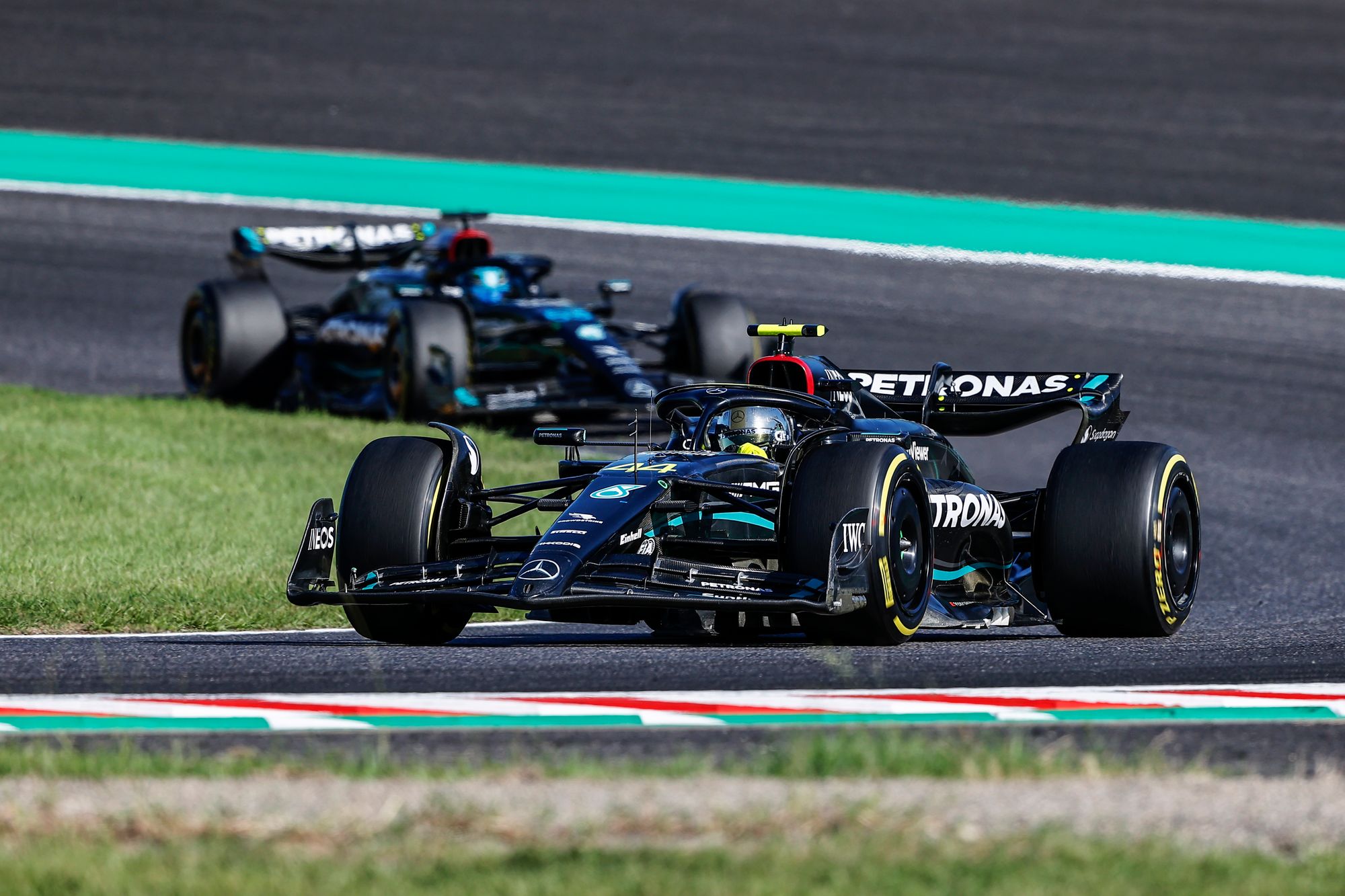 Mercedes has to be regarded as the team most likely to challenge Red Bull given its history - 15 from 16 championships won between 2014 and 2021.
But it has struggled badly since the ground effect regulations were introduced at the start of 2022. Lewis Hamilton has called on the team to produce "the greatest six months of development that we've ever had" in a bid to get back to winning ways next year.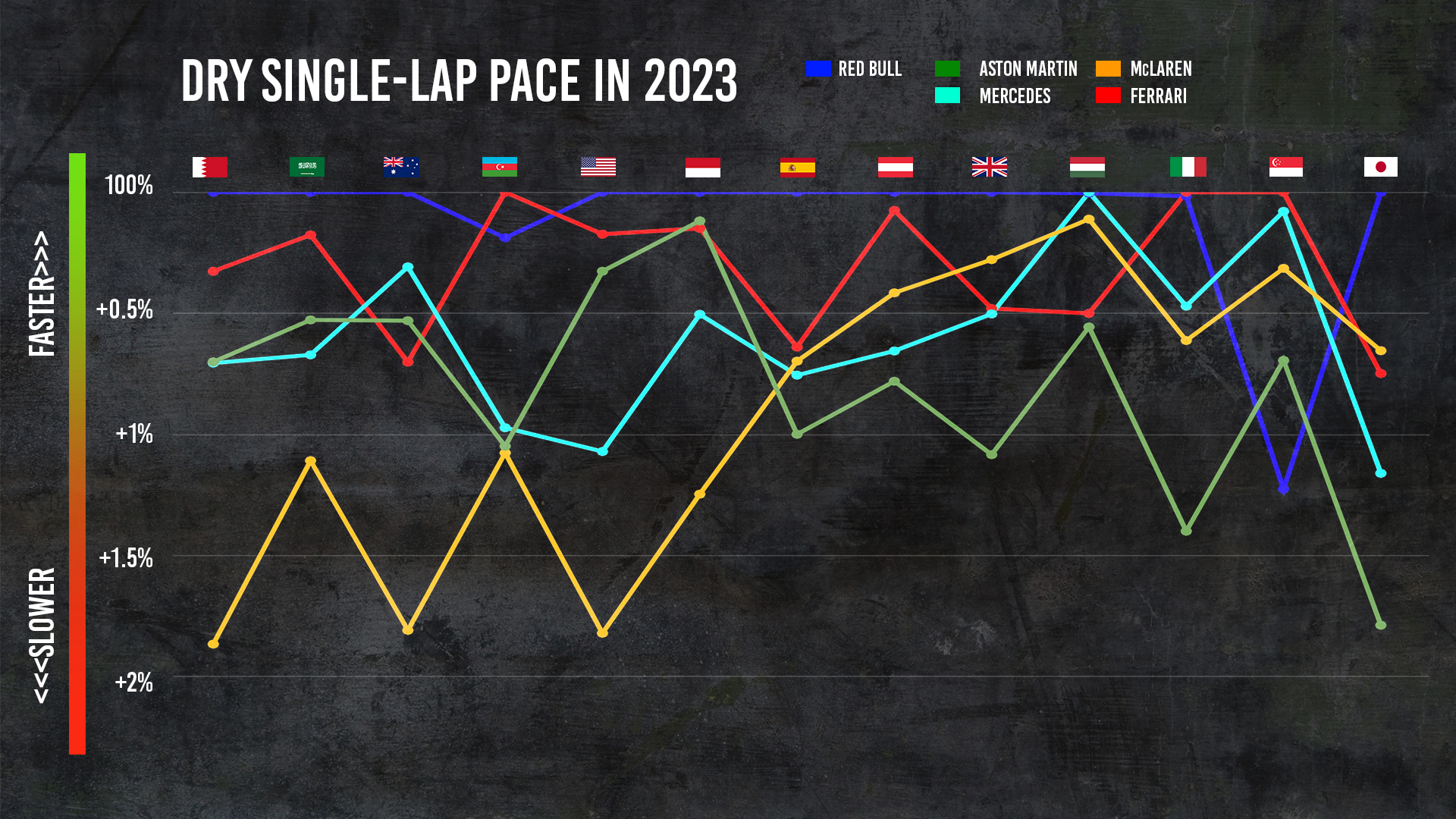 And it's not just Red Bull's car Hamilton believes inspiration should be taken from, but also McLaren. As he put it, McLaren's form is "evidence" that this is the right development direction.
Mercedes revamped its car concept this year with its Monaco Grand Prix upgrade, but plans major architectural changes for the 2024 car over the winter to take a bigger step down that path.
Arguably, that requires a bigger leap for 2024 than McLaren, which has already headed in that direction.
Ferrari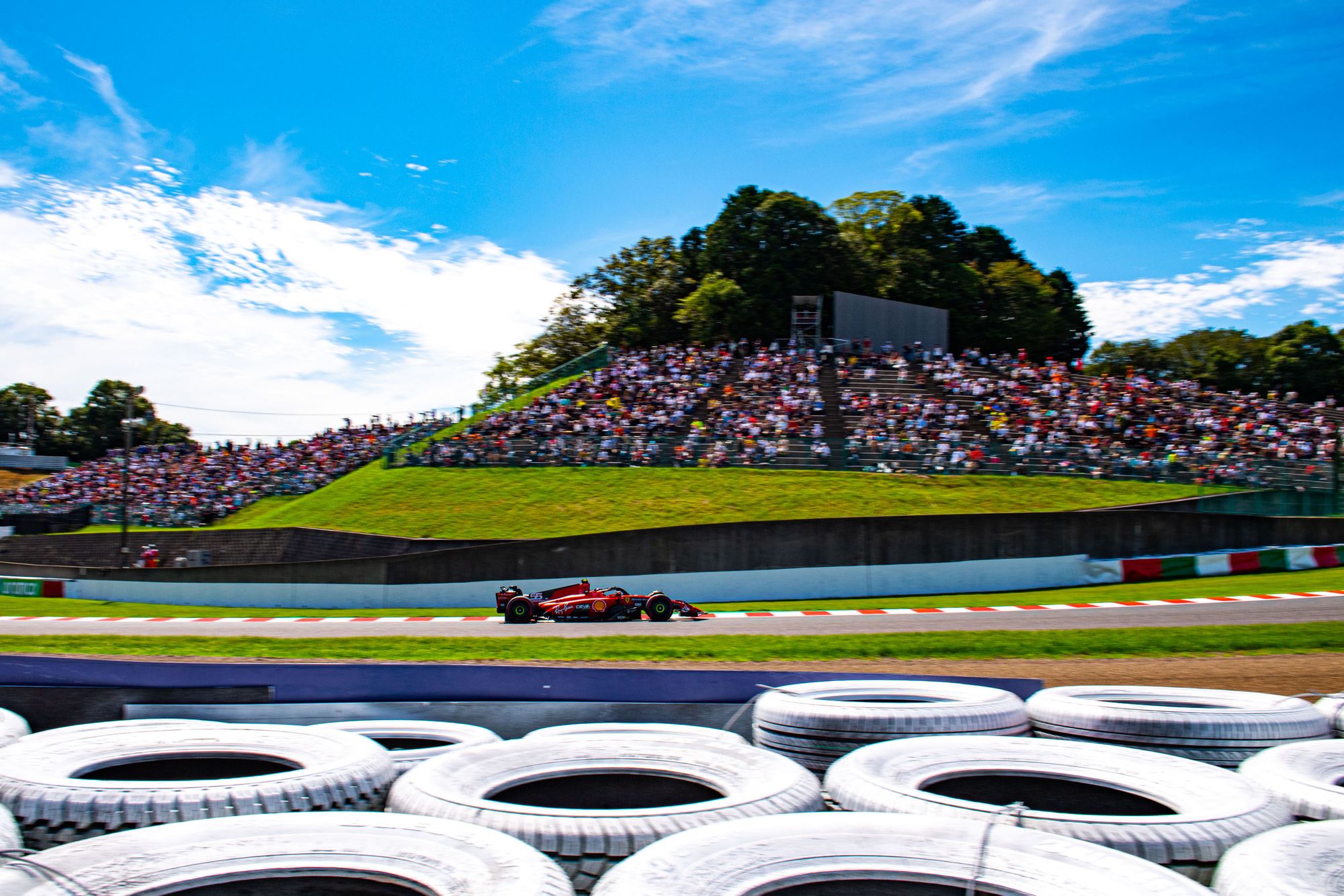 Ferrari is the only team other than Red Bull to win a race this year and despite a championship drought that stretches back to 2008 - just as long as McLaren's - it has the resources to be a title threat.
Its car has been dogged by inconsistency this year and has shown a tendency to work the tyres too hard. Generally, it's been at its best at tracks with short-duration corners such as Montreal, Singapore and Monza.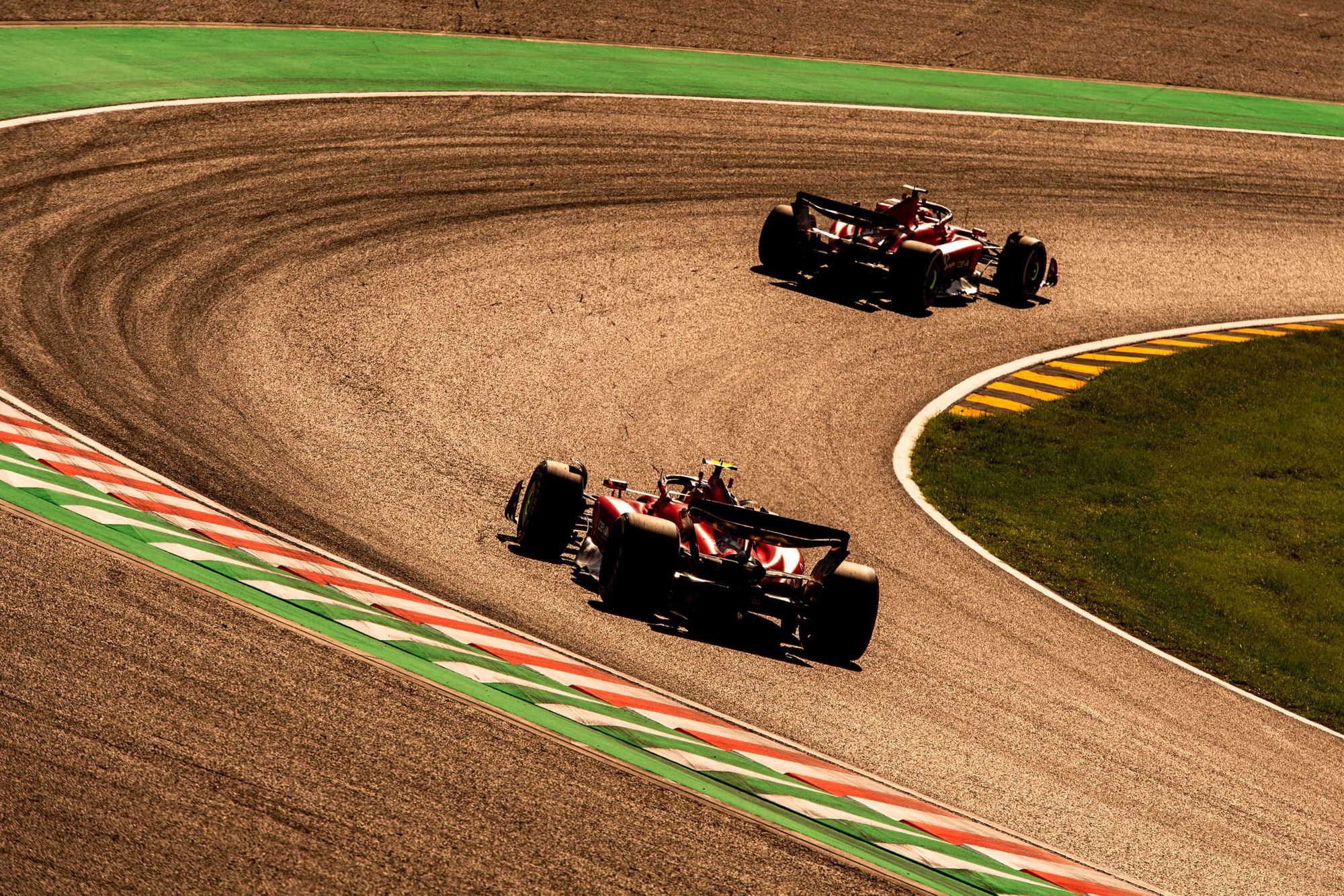 Major changes are promised for next season with what head of chassis area Enrico Cardile calls "a brand-new car".
This is expected to mean switching to the Red Bull concept and will require some major architectural changes in terms of the monocoque and suspension. So like Mercedes, Ferrari arguably requires a big change of direction to a route McLaren has already moved to.
Aston Martin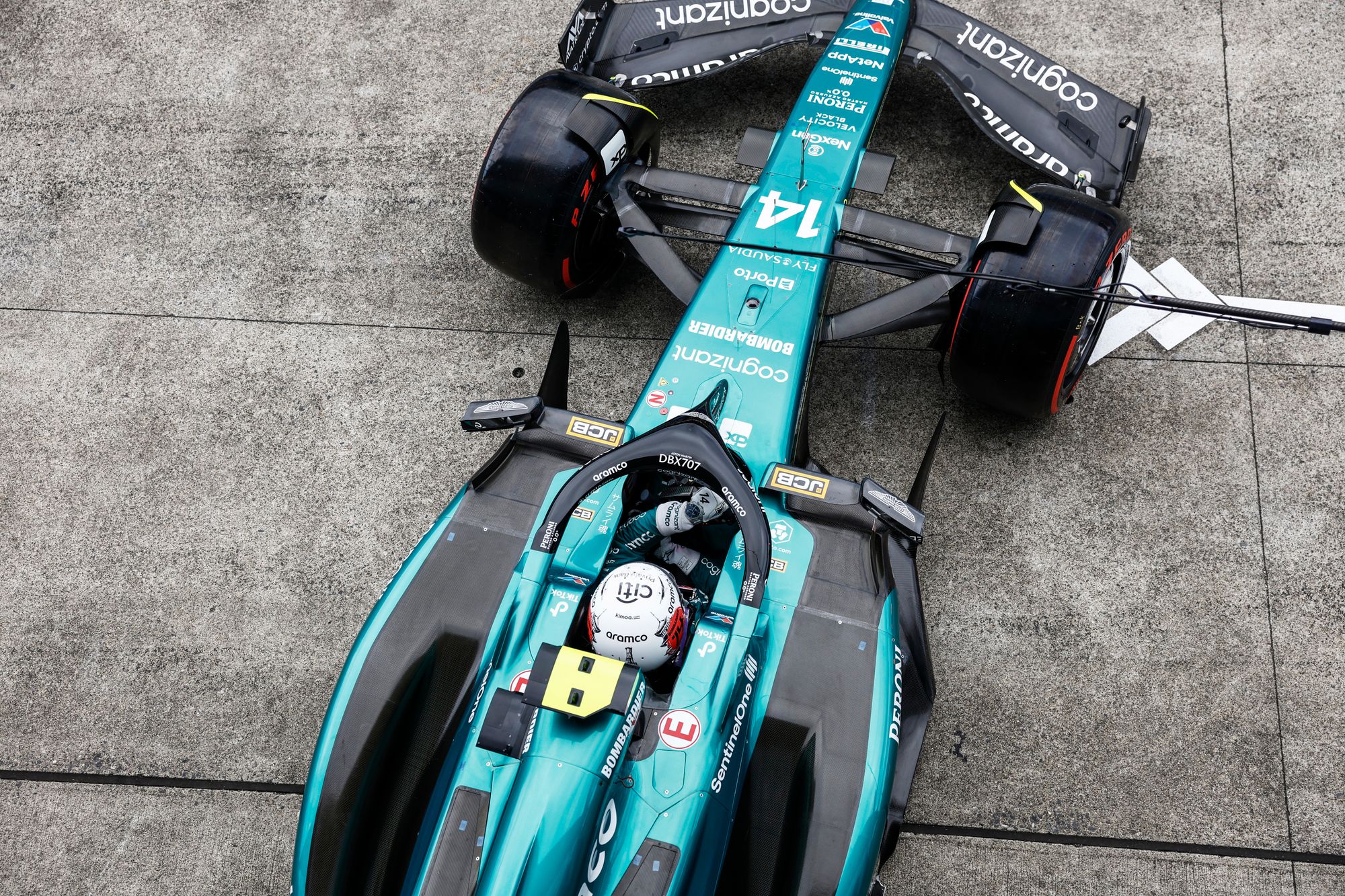 While Aston Martin has slumped in the second half of the season, transforming from podium regular to minor-points scrapper, it can't be counted out for 2024.
The step forward it took for 2023 was dramatic and it has a new state-of-the-art facility at Silverstone. It also has a new windtunnel in the works, although that won't come online until next year.
It has recruited aggressively to build a powerful technical department under the leadership of ex-Red Bull aero head Dan Fallows and has set its sights on emerging as a title contender.
It also has a car that's closer to what's now regarded as the 'right' concept. Its poor development rate of late is a concern, but its potential can't be overlooked.
But what about Red Bull?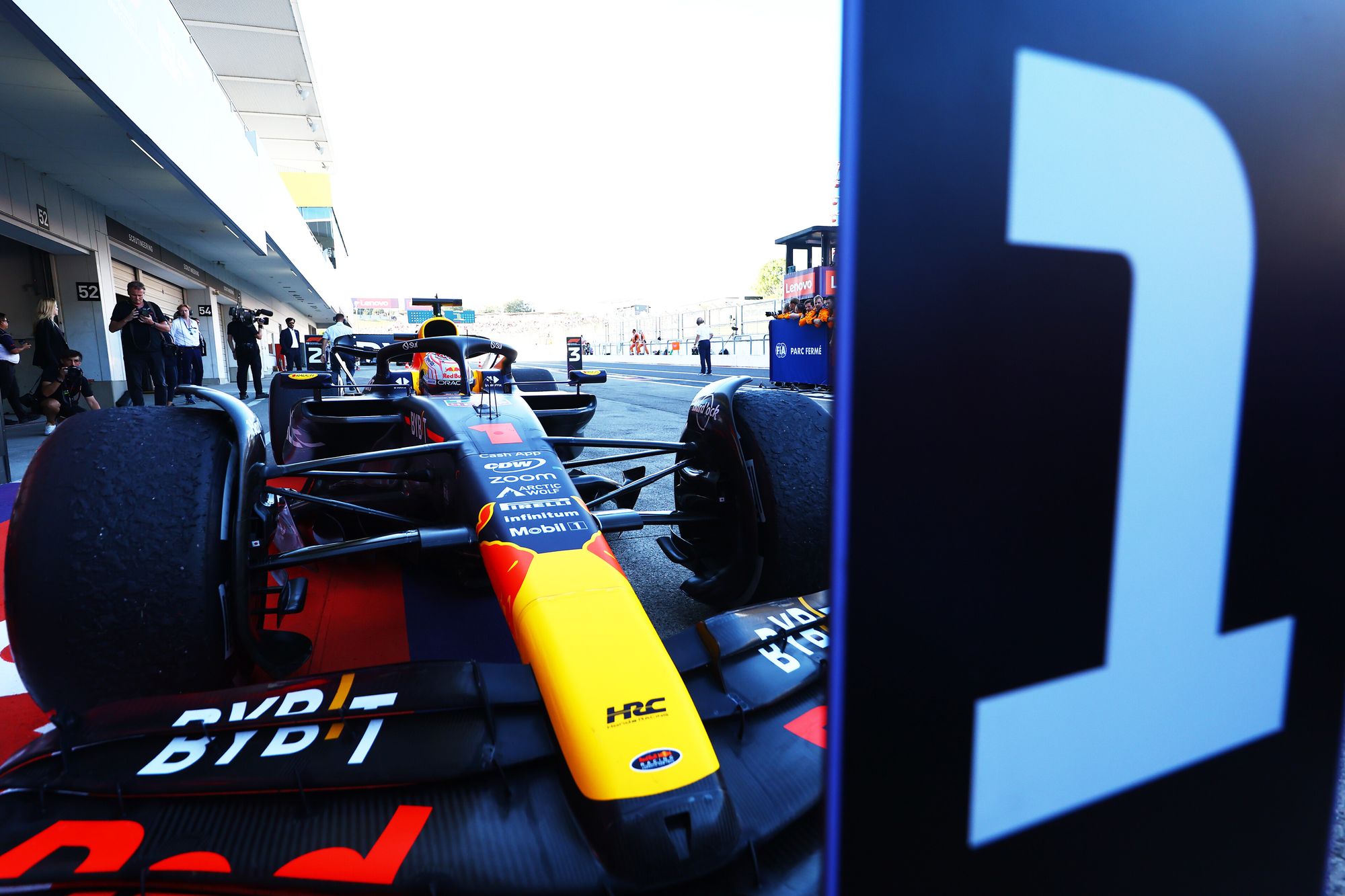 The bottom line is that regardless of how big a step McLaren takes in 2024, even if it emerges as Red Bull's leading challenger everyone expects Max Verstappen, Adrian Newey and the RB20 to lead the way.
You can have the second-fastest car in F1 but as 2023 has shown if the fastest car has the kind of advantage the RB19 has, you're not even guaranteed to take home a single race win.
Red Bull will not stand still and the utter mastery of these ground effect regulations it has demonstrated means there's every chance it will dominate in 2024 and 2025.
But even if McLaren can position itself at the head of the chasing pack, in front of Mercedes and Ferrari, that will be great proof that a return to the glory days could really be just around the corner.